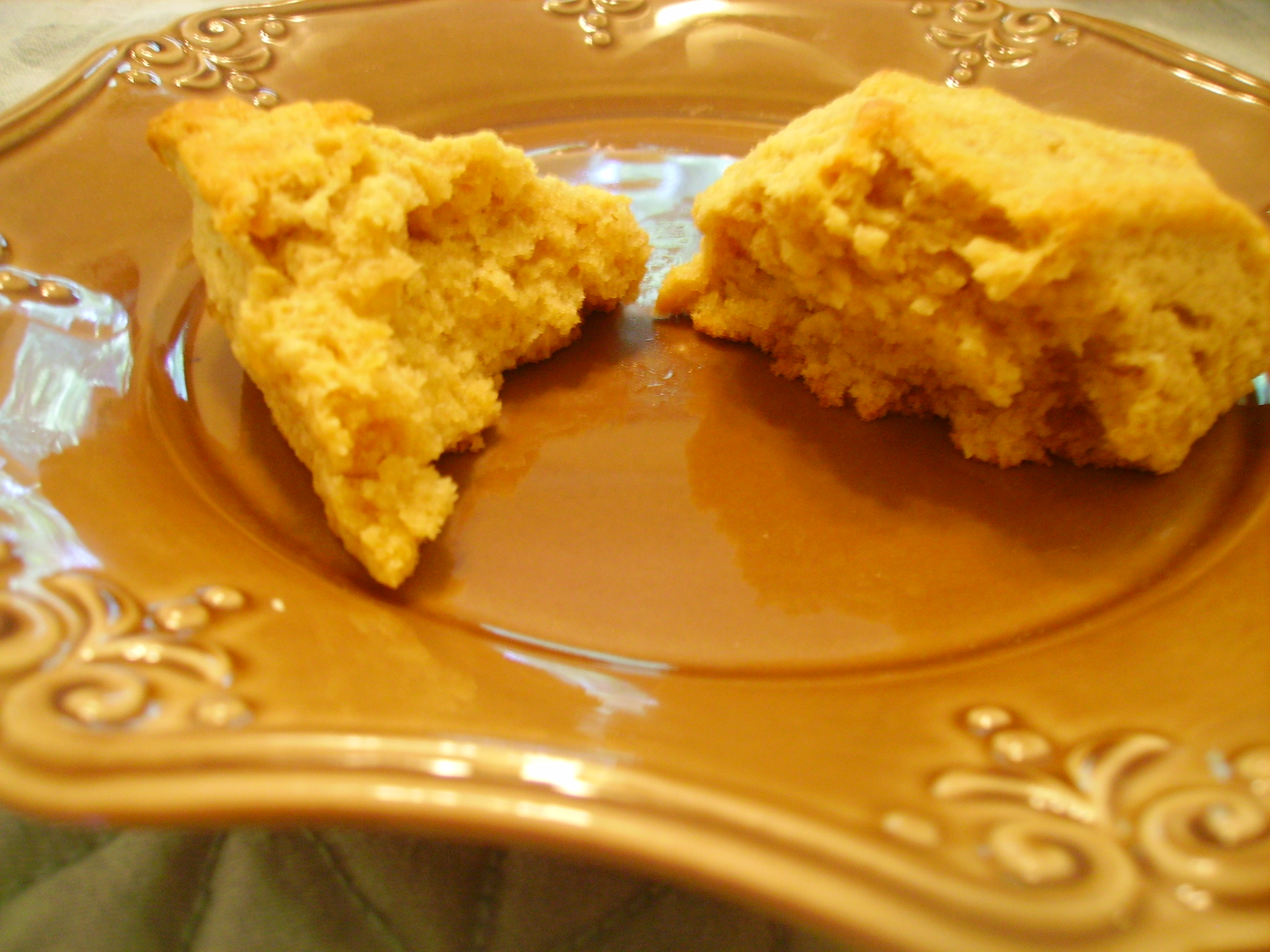 Okay, so with all the Olympics going on, I have been in a very British mood. And what could be more British than scones? The last time I popped into a coffee shop in London, about half of their baked goods contained candied ginger, so that seemed like the perfect complement to my scone craving.
Now, it may seem a bit off-season to be making a spiced scone, but I promise that the flavor of these is light and fresh, brightened by the lemon zest. You won't feel heavy or warm after one of these babies, and I know you'll think they are completely delicious!
Given that I was inspired to make scones by a series of amazing athletic feats, I thought I should up the health factor of my regular scone recipe just slightly, so I went for half white whole wheat flour (though I suppose you could use all wheat flour and skip the refined all-purpose flour entirely). Unfortunately, they are still quite buttery, so they aren't exactly a health food. Maybe take a quick jog around the block after you eat one. Do a few laps in the pool, bike to a friend's house, maybe slam down a couple of cartwheels…anything that reminds you of your favorite Olympian 🙂
I've said it before and I will say it again: scones are easy to make. All you need is a pastry cutter and you're golden. But if you don't have a pastry cutter, it's still okay! Use forks. Really. Just make some scones already!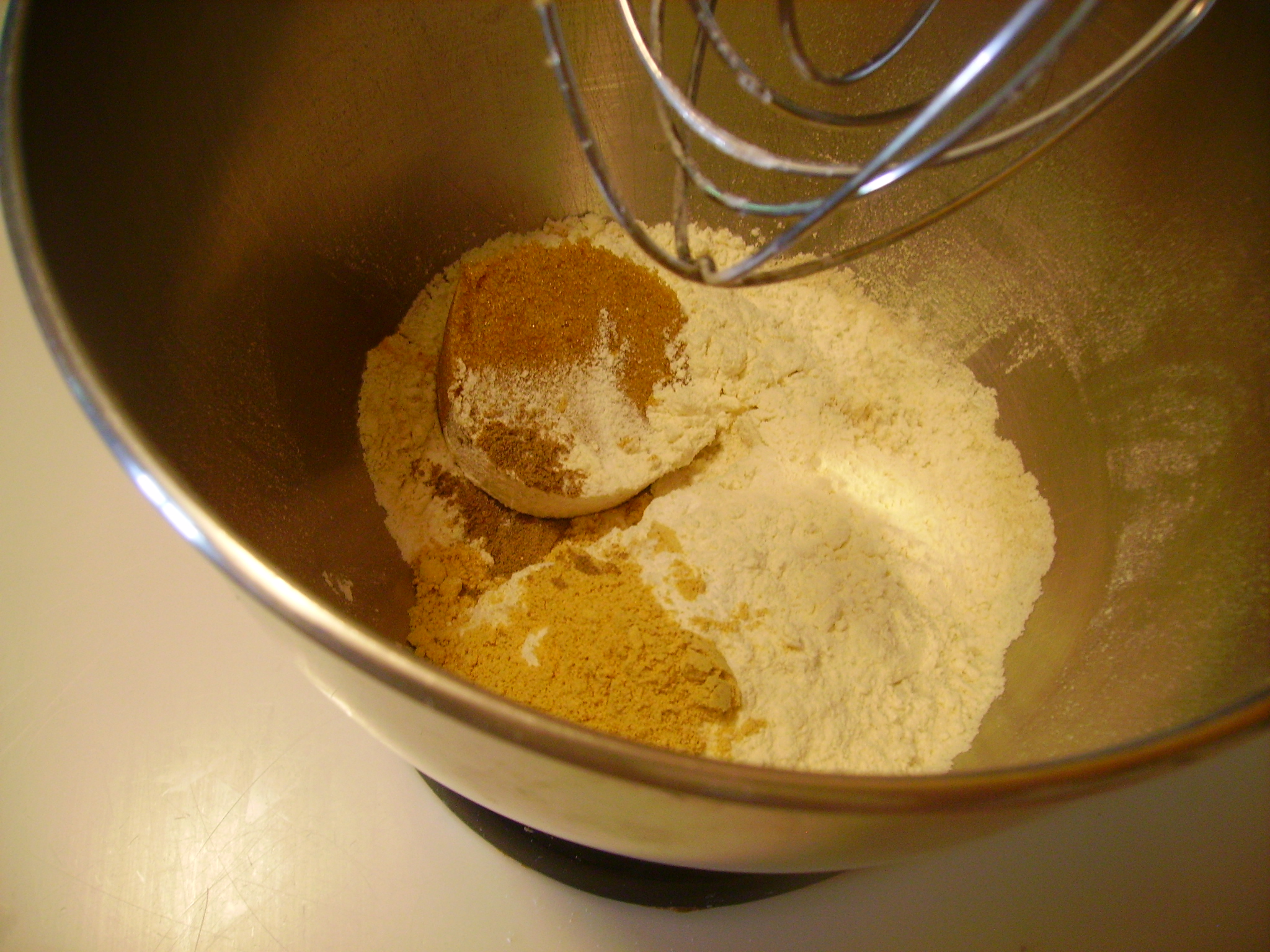 Whisk together all of your dry ingredients in your stand mixer bowl. I like to use brown sugar when I am working with whole wheat flour, because it provides a stronger balance for the nutty dryness of the whole grain. Don't forget to add in your spices! Cardamom is also a great complement to ginger…if you have never had cardamom, then the three words I would use to describe it are ginger, lemon, pepper. If you are afraid of cardamom after that description, you can do without if you must, but I think it adds a depth of flavor that you would enjoy if you were brave!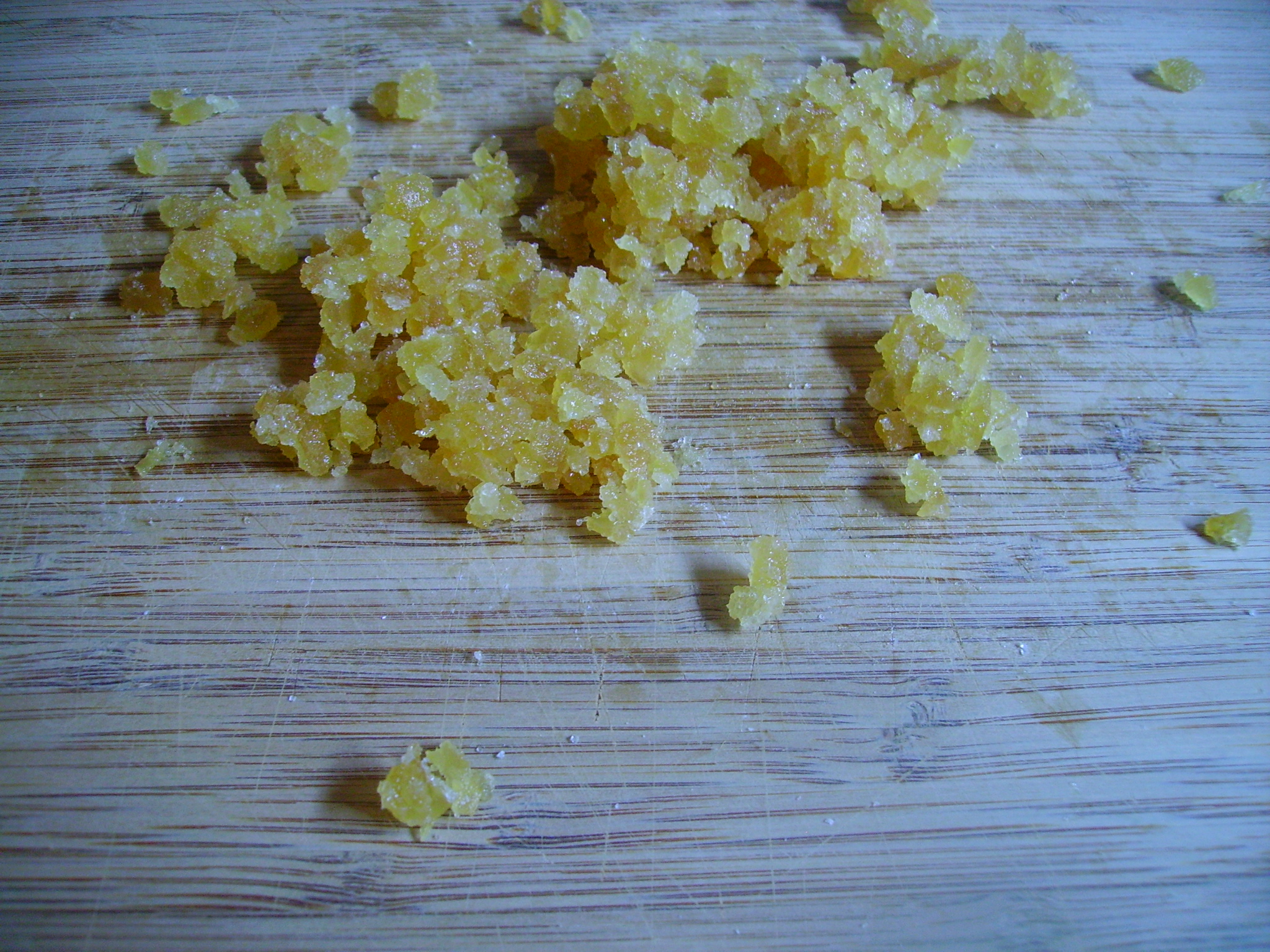 The one challenging thing about making these ginger scones is chopping all of the crystallized, candied ginger. If you have never worked with candied ginger, let me just say that it is incredibly sticky. Since it comes in large pieces, you have a lot of sticky chopping ahead of you before you can put it into the scones. Personally, I store my candied ginger in the freezer, which helps mitigate the stickiness a bit, but I still chucked it back into the freezer two or three times before I could get everything finely chopped. I really do like it to be in quite small pieces before I add the ginger into any baked goods…and if you've ever eaten a bigger chunk of ginger by itself, you might know why. It's spicy! Plus, I prefer uniformity of texture in my baked goods, so the smaller the better!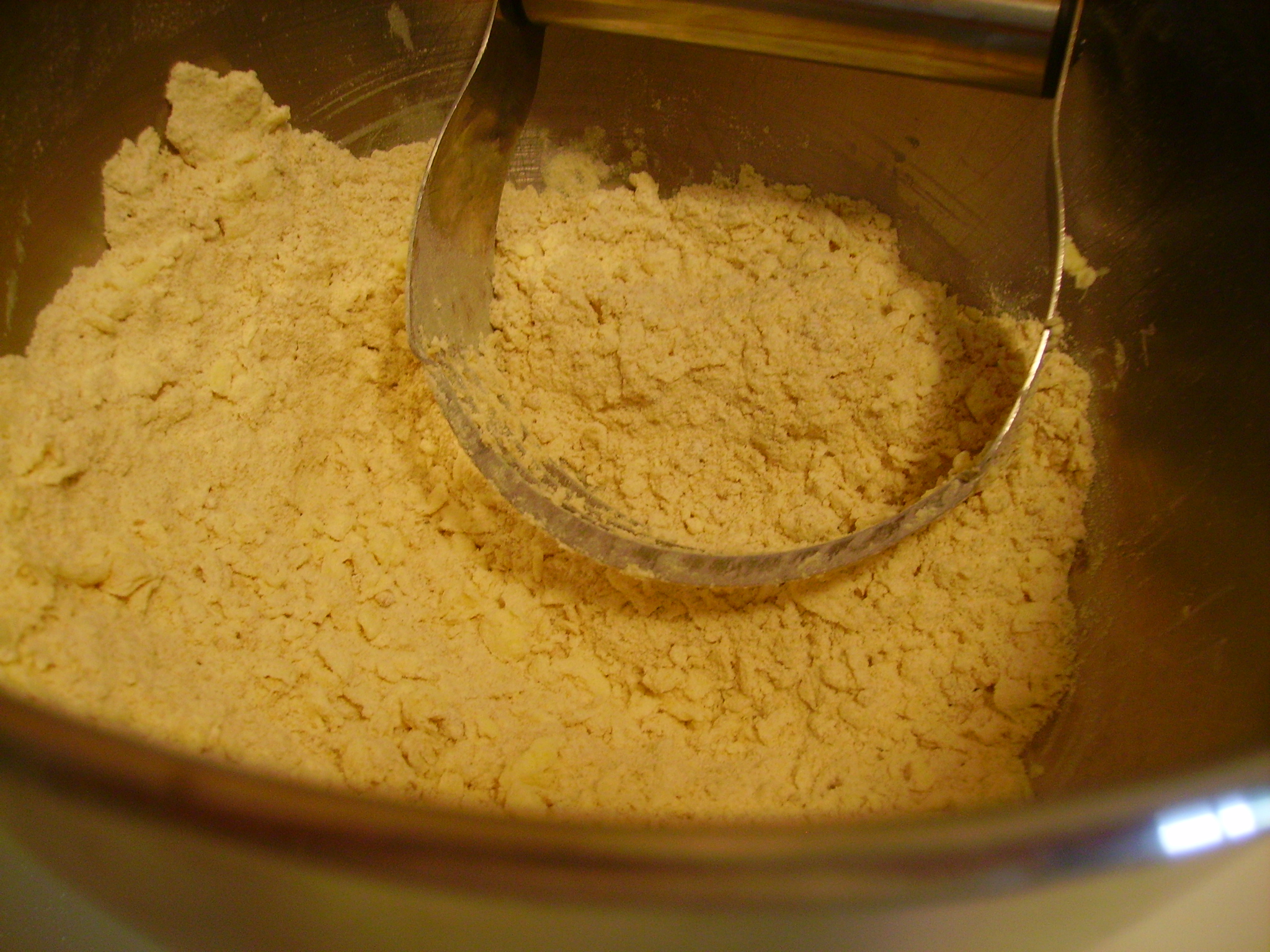 Set the finely chopped ginger aside. Grate your butter into the dry ingredients. I freeze my butter for at least 10 minutes to make it easier to grate. And why should you grate the butter, you ask? Because the key to flaky baked goods is having pockets of butter that melt in the oven, not before. So if you start with frozen butter, and then grate it into small pieces while it's still really cold, you will have to do a lot less work to cut the butter in to the dry ingredients. Meaning that it will remain colder for longer! Meaning that your scones will be niiiice and flaky. Yum.
Anyway, cut in the butter, working quickly, until it's about pea sized and well mixed into the flour.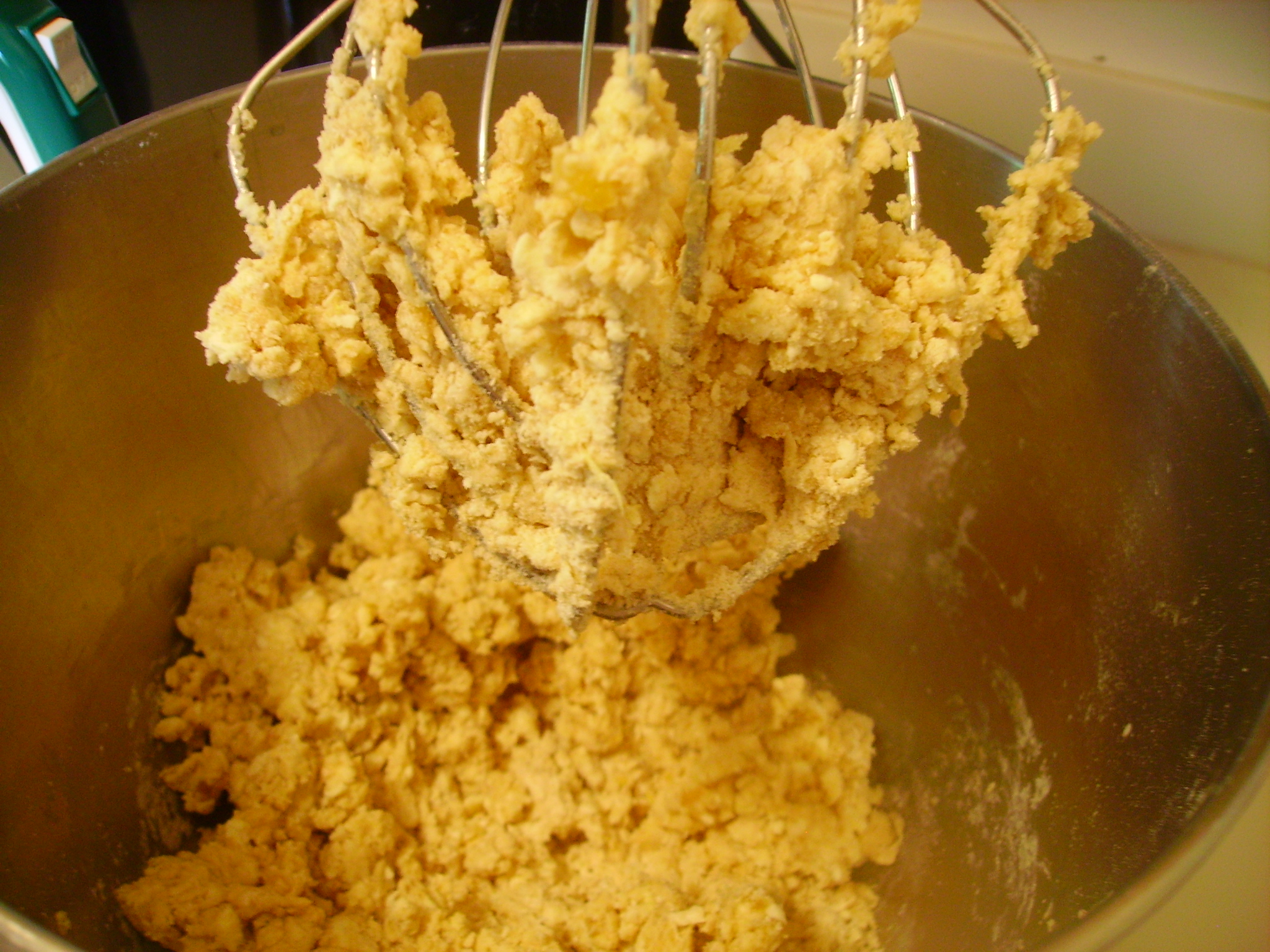 Make a well in the center of the bowl and pour in the buttermilk and vanilla. Add in the lemon zest and the chopped candied ginger. Mix quickly with the whisk attachment of your mixer, scraping out the whisk and the sides of the bowl at least once.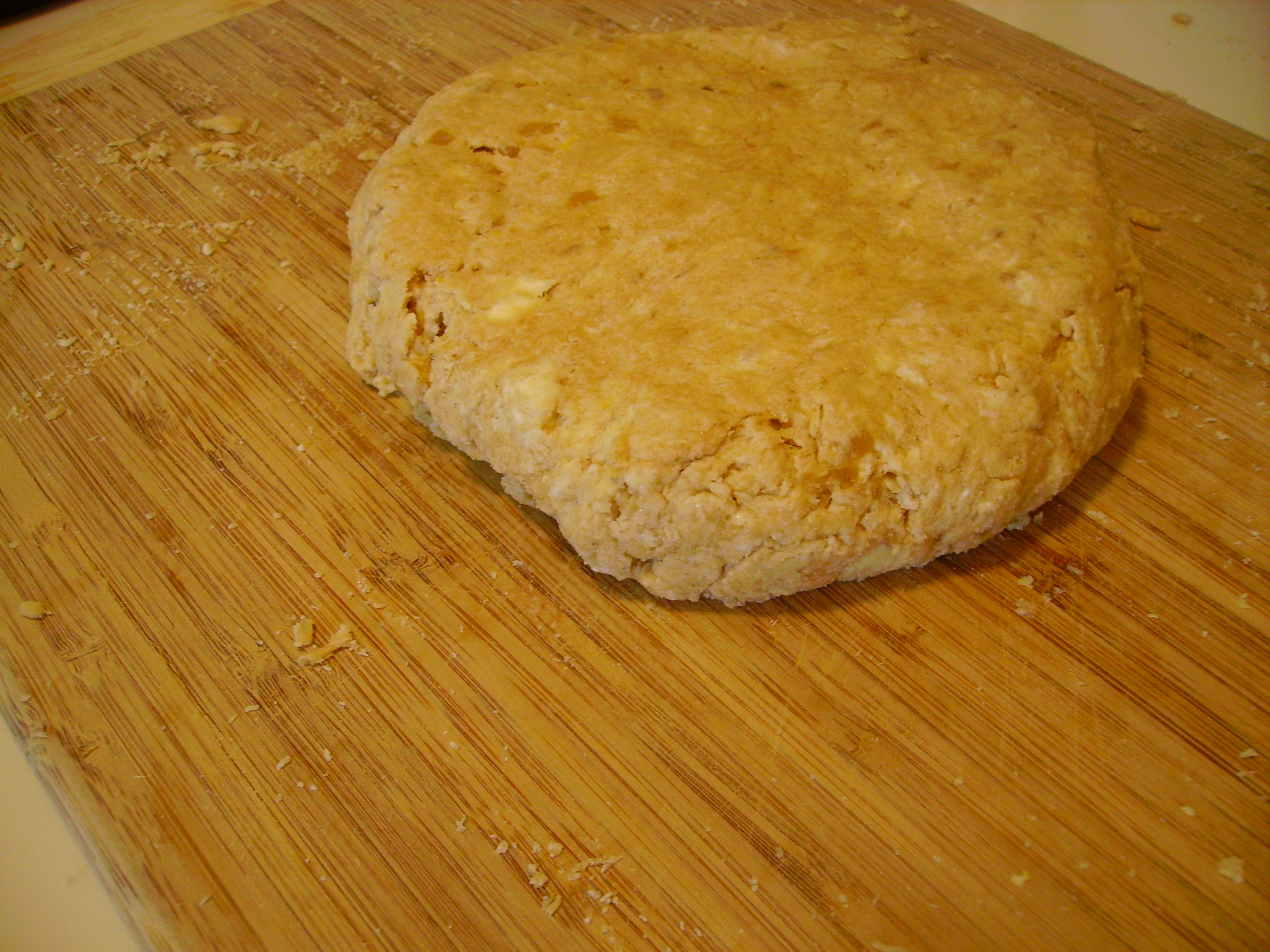 Turn the scone dough out onto a wooden cutting board. It will probably be pretty shaggy (i.e., lots of dry bits of flour that didn't get mixed in), but don't worry! Just knead that in.
Form the dough into a flat disk about 8″ in diameter. Cut into 8 triangles.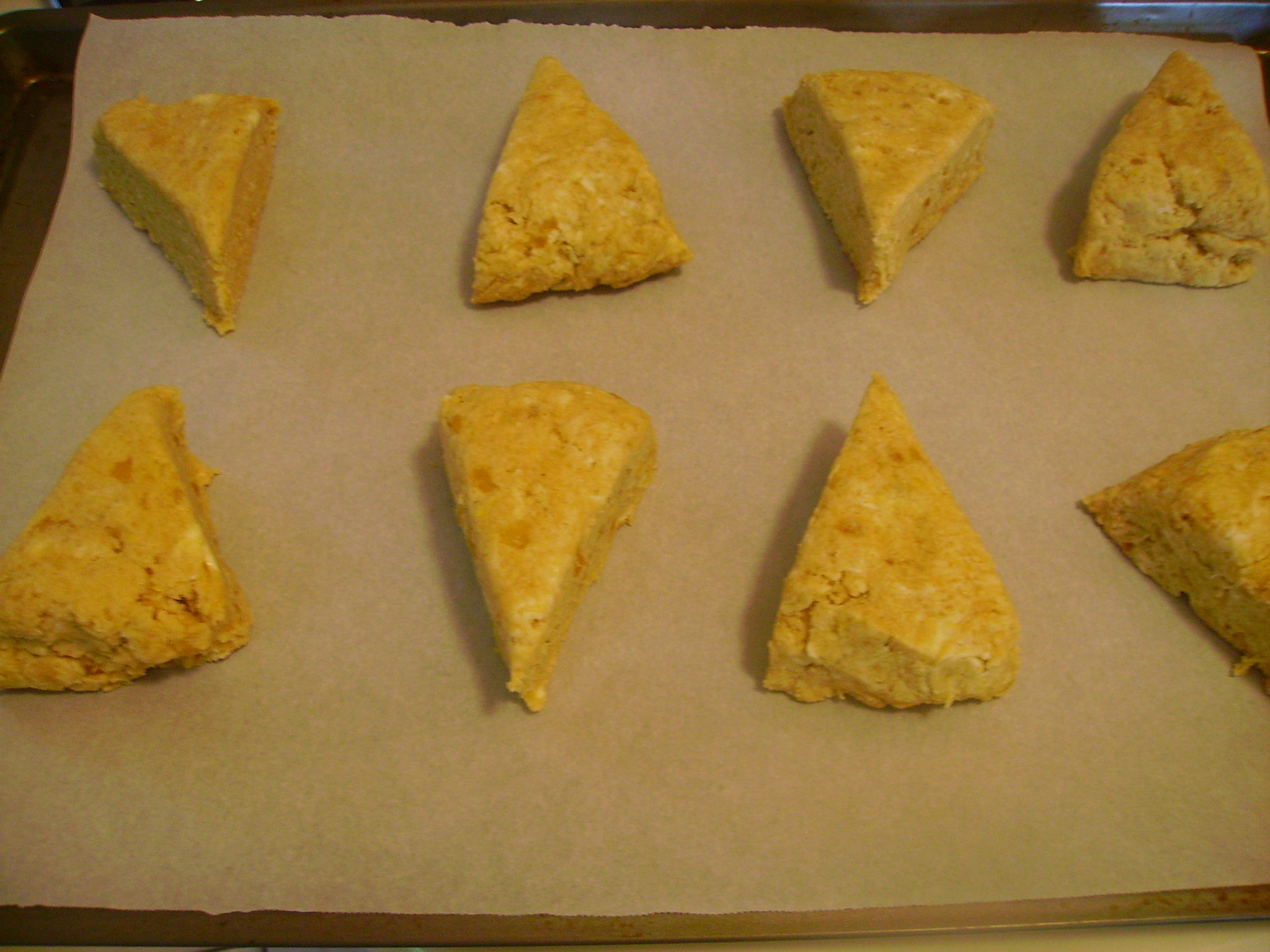 Bake the scones on a parchment-covered cookie sheet at 375° for 15–18 minutes (mine baked for 17 minutes). They should be golden brown on the outside but still a bit soft in the center.
Ginger Scones
compiled from many sources
makes 8
Ingredients:
1 cup flour
1 cup white whole wheat flour
⅓ cup brown sugar
1½ tsp. ginger
½ tsp. cardamom
1¼ tsp. baking powder
¼ tsp. baking soda
¼ tsp. salt
¼ cup minced candied ginger
½ cup unsalted butter, frozen
¾ cup low-fat buttermilk
1 tsp. vanilla extract
1 tsp. lemon zest
Directions:
Preheat oven to 375°.
In a large mixer bowl, whisk together the dry ingredients.
Mince the candied ginger. Because the ginger is so sticky, it may be easier to chop frozen. Make sure there are no large pieces remaining, then set aside.
Remove butter from freezer and grate it into the bowl with the dry ingredients. Using a pastry cutter, cut the shaven butter into the flour mixture very gently. The mixture should form crumbs; do not overwork or the butter will become too soft.
Mix together buttermilk and vanilla. Pour into the flour mixture. Add the chopped ginger and the lemon zest. Using the whisk attachment on the mixer, stir slowly together. Scrape and stir again. Do not overmix, even if there is extra flour not mixed in.
Cover the surface of a cutting board with a light dusting of flour. Turn contents of mixing bowl onto the cutting board and knead 4–5 times, working in the extra flour. Overworking the dough will produce tough scones, so be gentle and don't stress about a few extra crumbs of flour that aren't mixed in.
Form the dough into a small round and slice into 8 equal triangles.
Place scones on a parchment paper–covered cookie sheet and bake 15–18 minutes. Immediately remove to a wire rack to cool.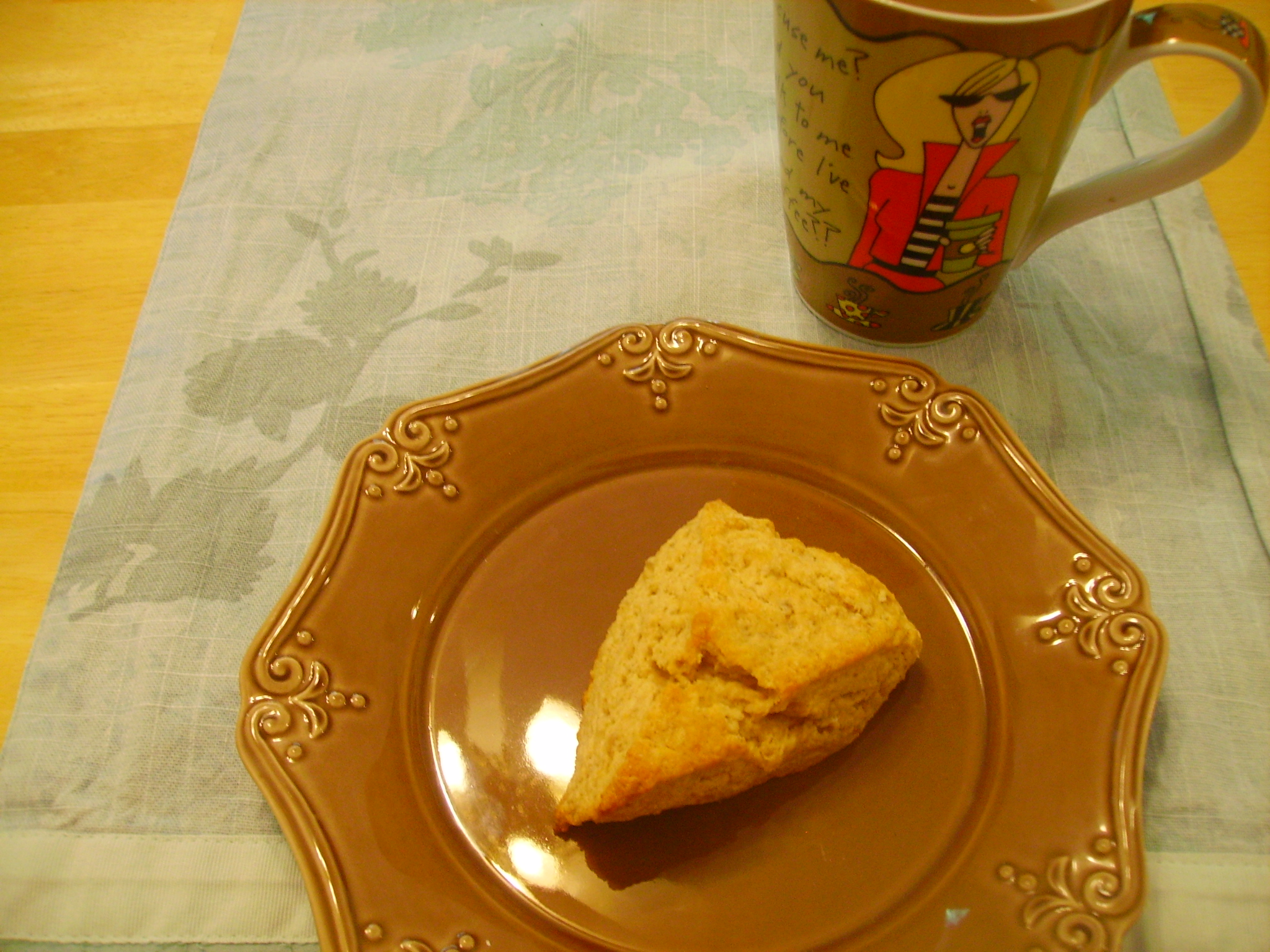 Enjoy!