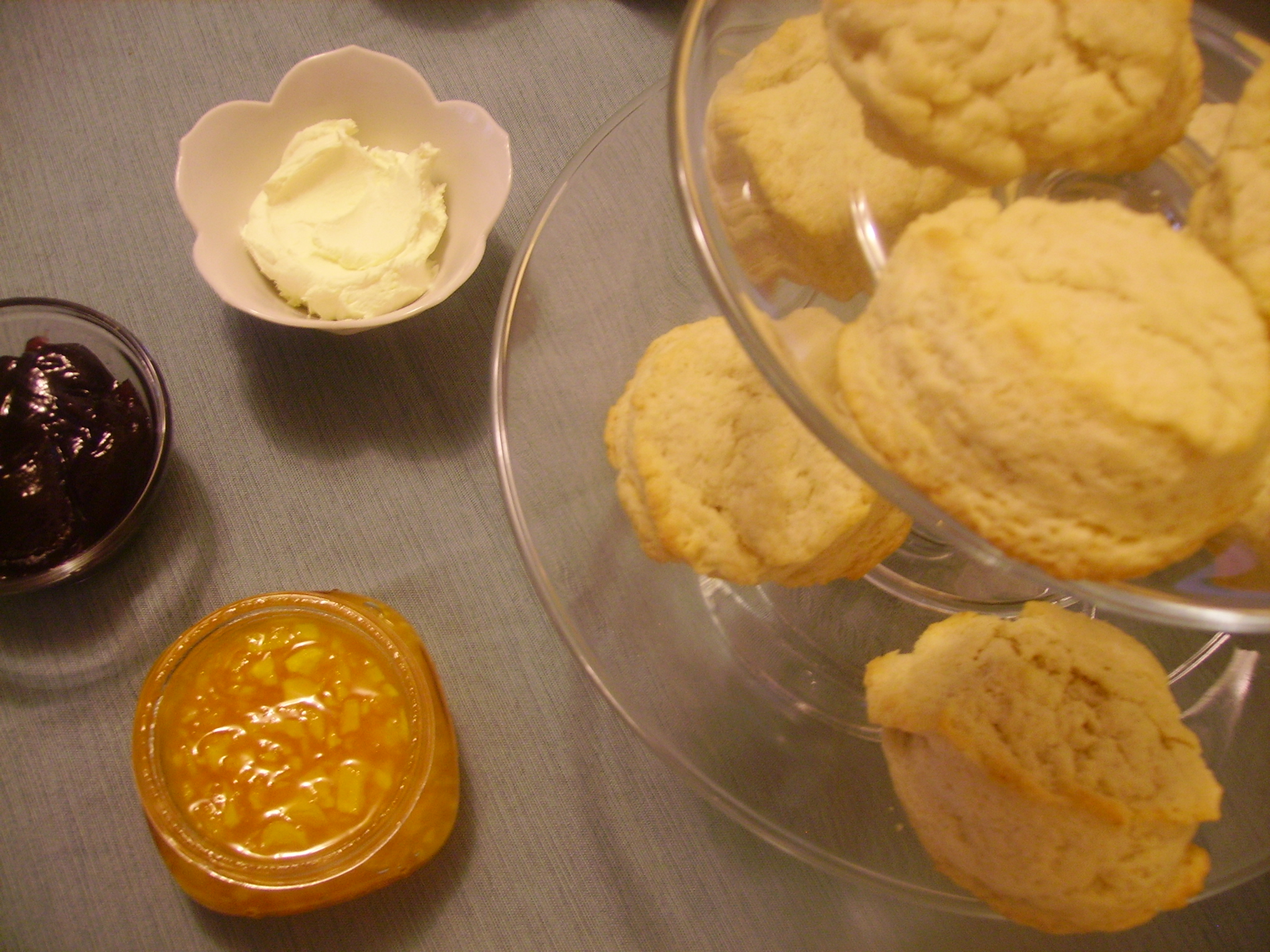 So when Dave and I were in London, we took high tea at Harrod's. We stood at the entrance to one of their many restaurants for 5 minutes, studying the menu, before we realized that the tea service included scones and clotted cream. Sold!
Before this trip, I basically refused to drink tea. I called it "weak water." But I wanted to be proper, so I ordered a pot of jasmine tea and then waited anxiously for the tea caddy to arrive. When it did, it was full of tiny tea sandwiches, raisin scones, and British-style finger pastries.
I patiently picked all of the raisins out of my scone so that I could properly enjoy a scone slathered with clotted cream.
Oh my Lord. Clotted cream is good stuff. Too bad it's so hard to find unpasteurized cream in the States, because I would just love to have a supply of clotted cream at my beck and call whenever I want it.
So this week, my sister-in-law get together was a tea party. And since I can't stop thinking about tea at Harrod's and cream scones, I decided to whip up a batch and bring them to tea. I even went to 3 grocery stores to track down pre-made clotted cream. The scones were delicate and sweet and buttery, and together with the clotted cream, they were simply divine.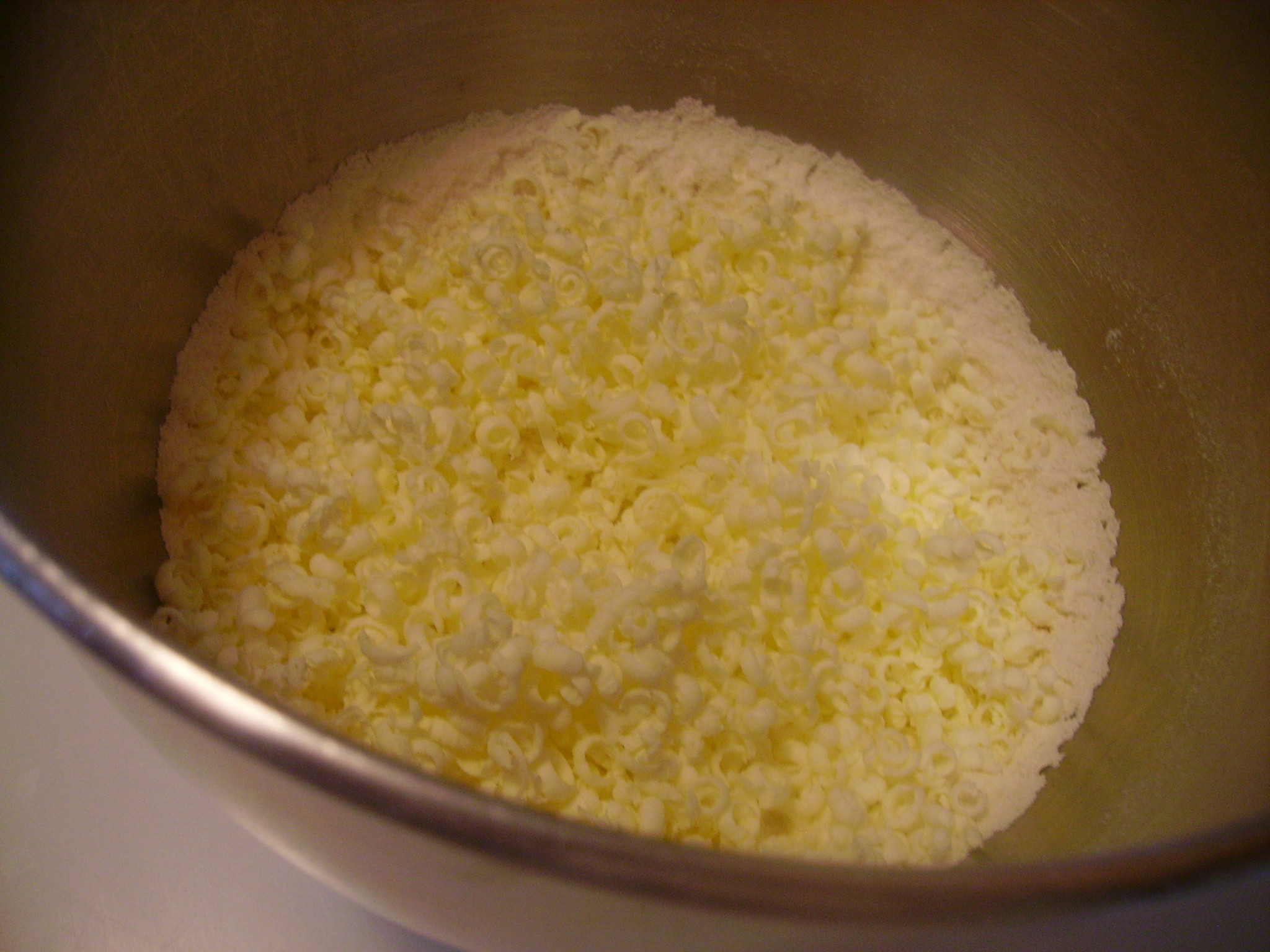 Whisk all the dry ingredients together in a mixer bowl.
Grate a stick of frozen unsalted butter into the flour mixture. Cut the butter in as quickly as possible so that it will stay cold. The colder the butter, the flakier the scones will be.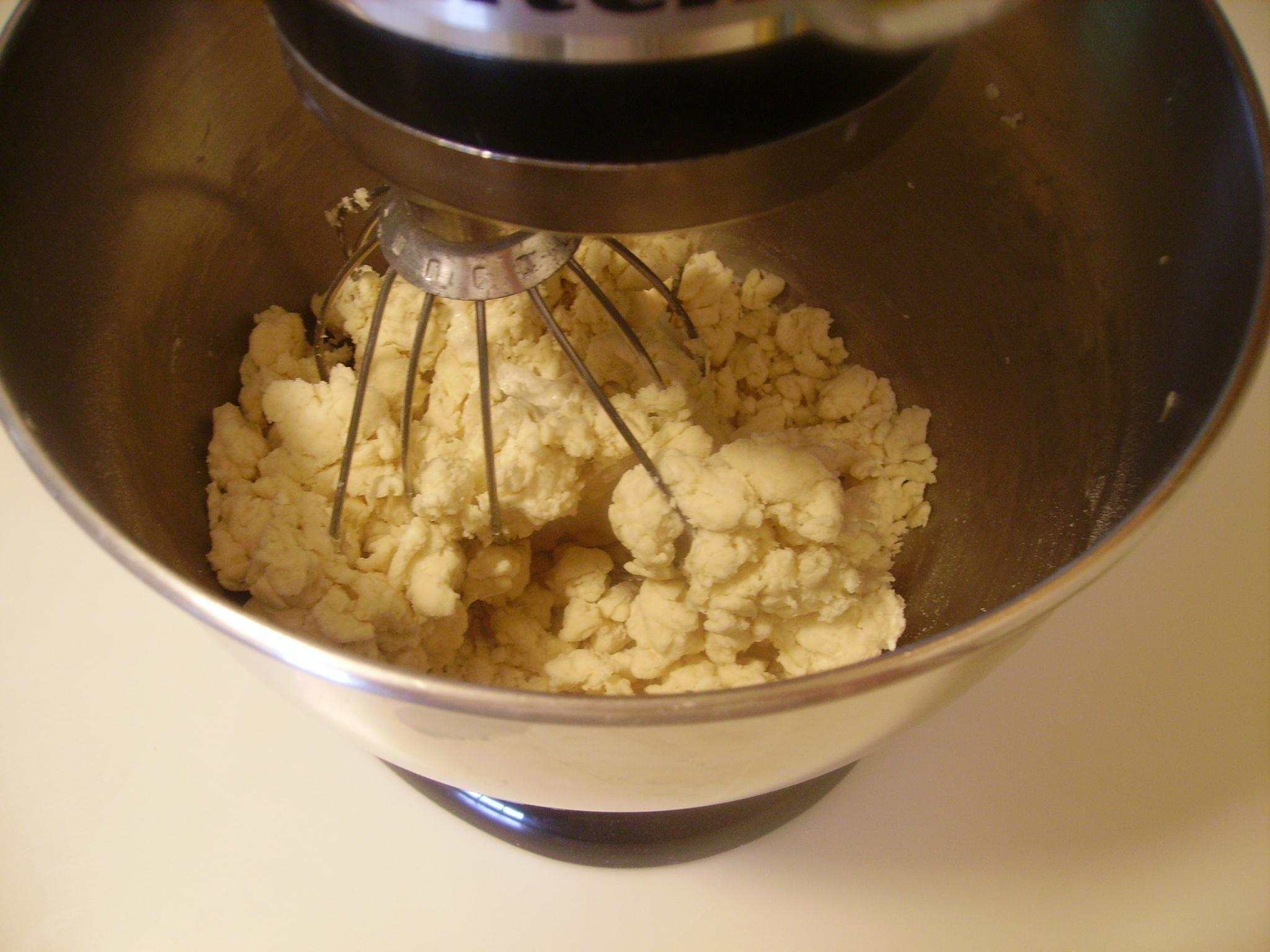 Whisk cold cream and vanilla extract into the flour-butter mixture. Avoid over-stirring, as this will make the scones tough.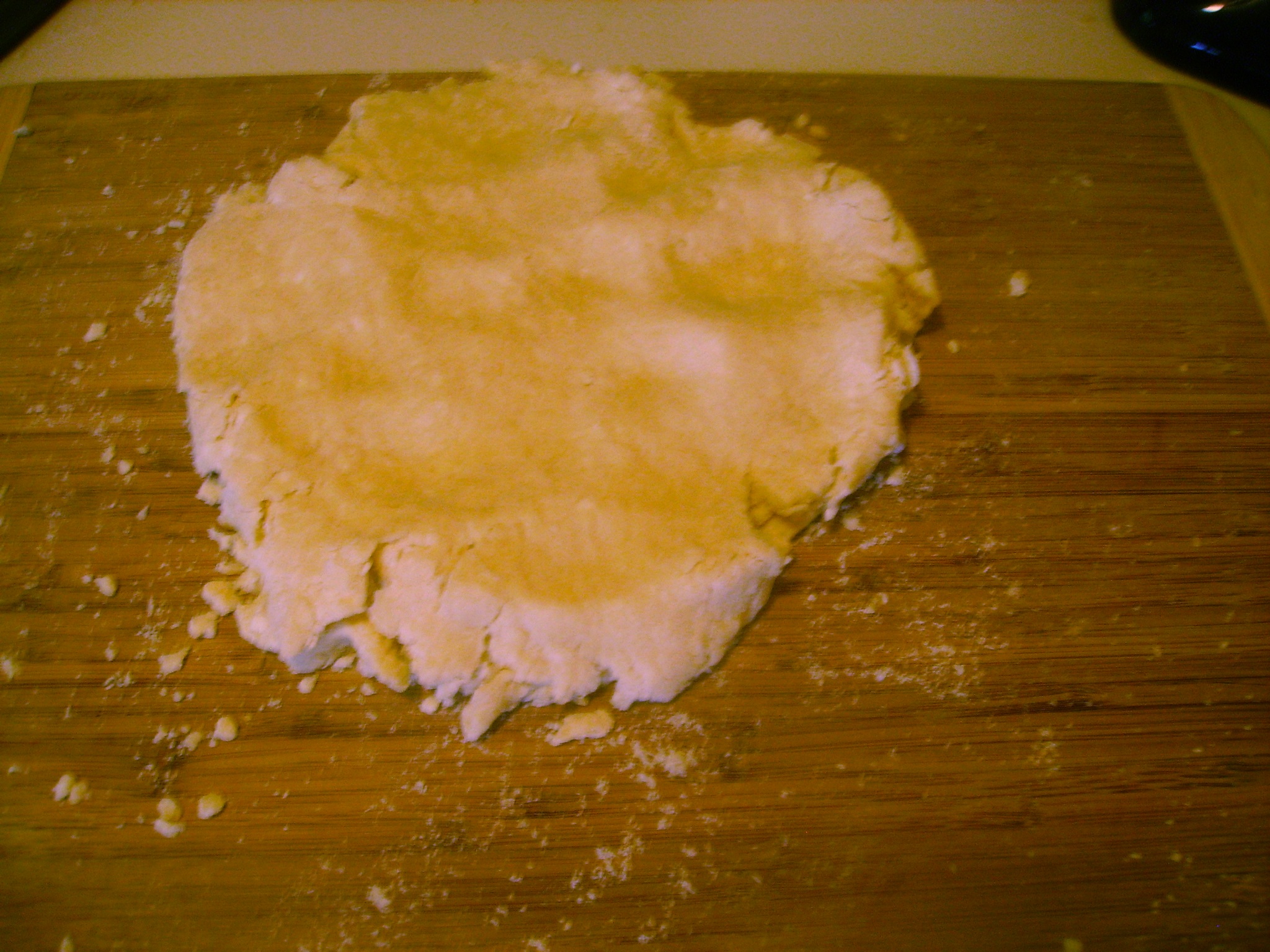 Turn the dough onto a lightly floured board. There will probably be flour crumbs that didn't get mixed in, so just knead them into the dough. Knead 4-7 times, until the dough comes together.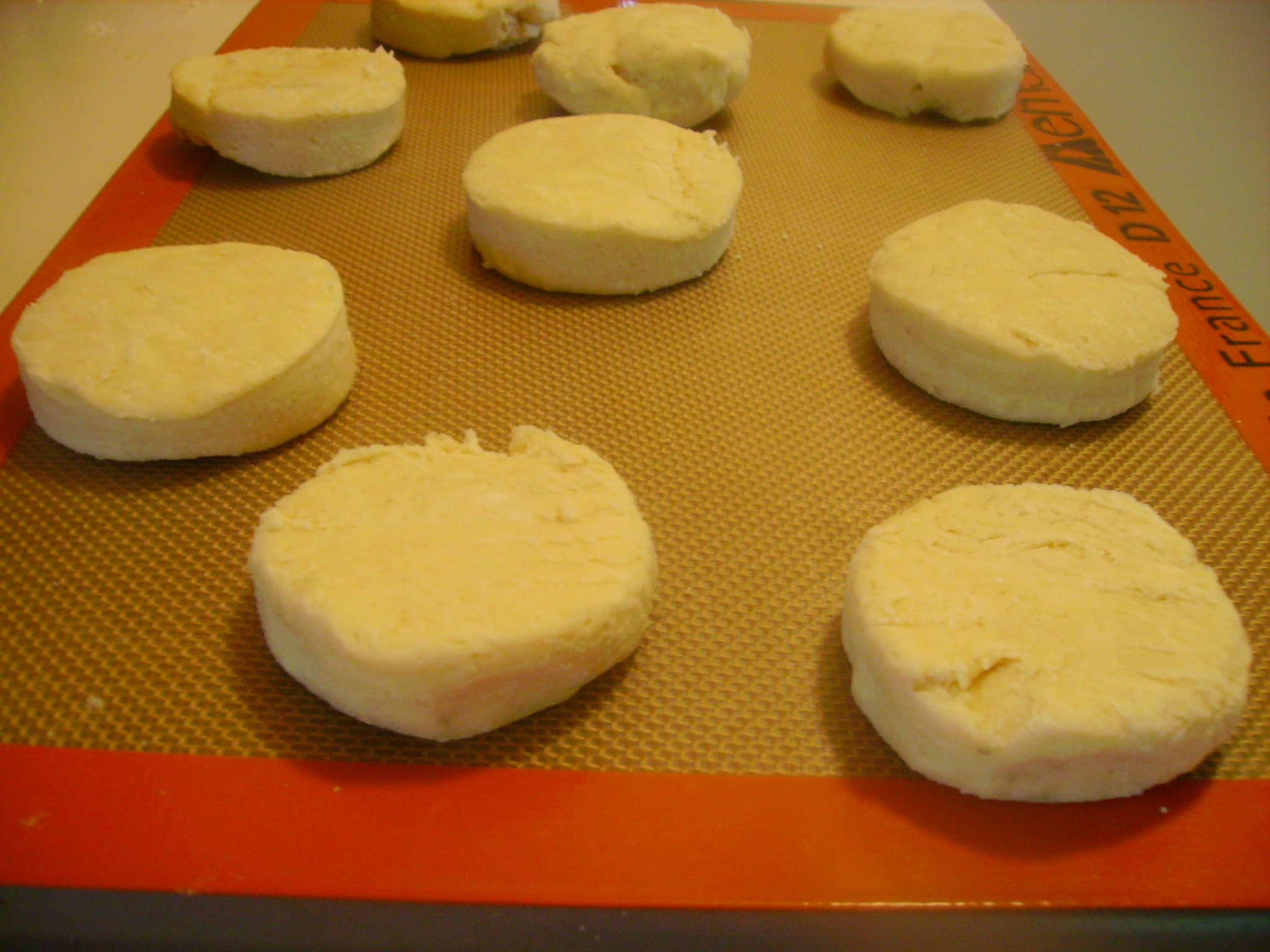 Flatten the scone dough out as much as possible. Cut out 8-9 biscuits with a round cutter. You may need to knead the dough back together once or twice, but handle it as little as possible.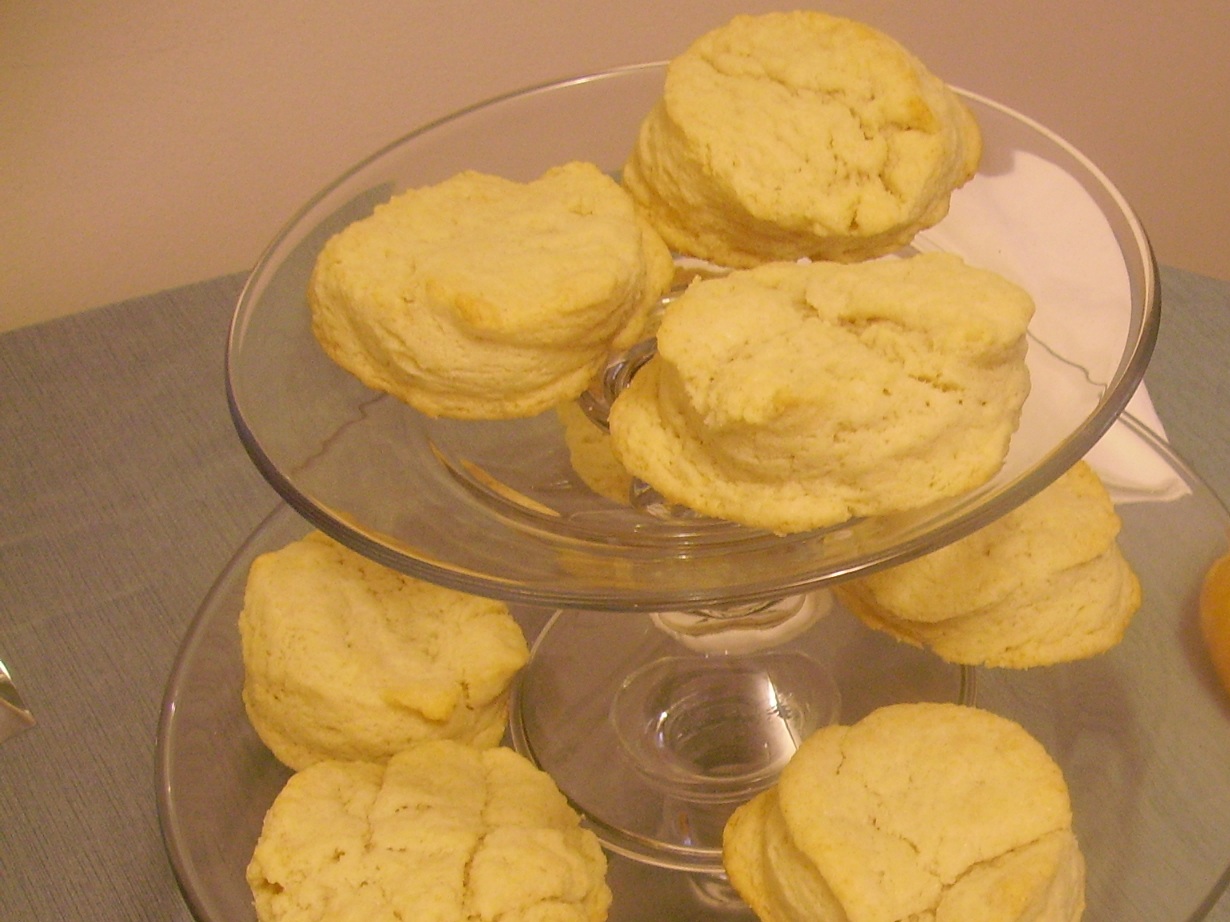 Bake the scones for 13-16 minutes on a Silpat or parchment paper–covered cookie sheet in a 375° oven. The scones are done when they give a little resistance if you press down on the tops gently. They may still be a bit soft, but they will set. And the worst travesty would be over-baking these beautiful creamy scones so that they are completely dry.
Serve the scones cool with either clotted cream or butter and a berry jam…if you like that sort of thing. My sister in law also made mango jam, which you can see in the picture, but she said that berry jam suited the scones better, so I just took her word for it. 🙂
Cream Scones
by Melissa
makes 8–9
Ingredients:
2 cups flour
¼ cup sugar
1¼ tsp. baking powder
¼ tsp. salt
½ cup (1 stick) unsalted butter, frozen
¾ cup heavy cream
1 tsp. vanilla extract
Directions:
Preheat oven to 375°.
In a large mixer bowl, whisk together the dry ingredients. Remove butter from freezer and grate it into the bowl. Using a pastry cutter, cut the shaven butter into the flour mixture very gently. The mixture should form crumbs; do not overwork or the butter will become too soft.
Mix together the cream and vanilla. Pour into the flour mixture. Using the whisk attachment on the mixer, stir slowly together. Scrape and stir again. Do not overmix, even if there is extra flour not mixed in.
Cover the surface of a cutting board with a light dusting of flour. Turn contents of mixing bowl onto the cutting board and knead 4–5 times, working in the extra flour. Overworking the dough will produce tough scones, so be gentle and don't stress about a few extra crumbs of flour that aren't mixed in.
Form the dough into a small round and slice into 8 equal triangles.
Place scones on a parchment paper–covered cookie sheet and bake 13–16 minutes. Cool before serving.
Enjoy!