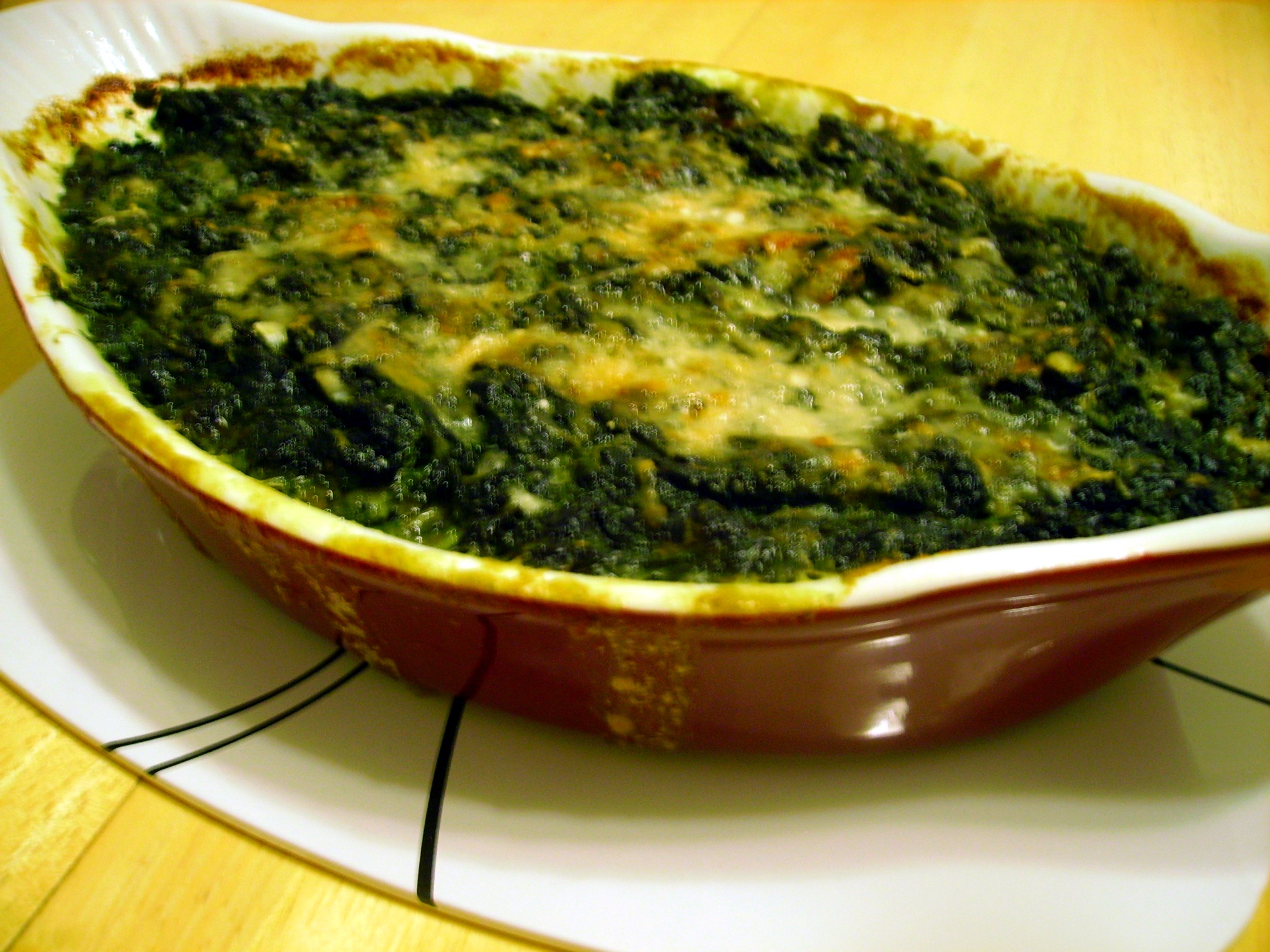 Holy moly, it's almost Thanksgiving! Let's talk side dishes.
As a vegetarian, I obviously skip the turkey and the giblet gravy, so my Thanksgiving plate is entirely dependent on the abundance of meat-free sides at the table (which is fine with me…more room for pie!). But I have to admit that Thanksgiving has never been high on my list of holidays that excite me, because I'm not a huge fan of most of the traditional dishes. If I never eat a candied yam, I will be a happy camper. Green bean casserole? No thank you. And you can forget about cranberries (for obvious fruit-hating reasons).
But instead of subsisting entirely on rolls and mashed potatoes, let's bake up some cheesy, creamy spinach. Capital YUM. And don't worry…it's not any healthier for you than the mountain of buttery carbs sitting next to it. But hey, at least it is green!
This takes almost an hour to prepare, from start to finish, but if you have a lot to do on Thanksgiving day, you can easily bake the spinach ahead of time and then pop it back in the oven to warm for 10 minutes or so on the big day. Also, this makes it an ideal dish to bring to a potluck-style Thanksgiving dinner.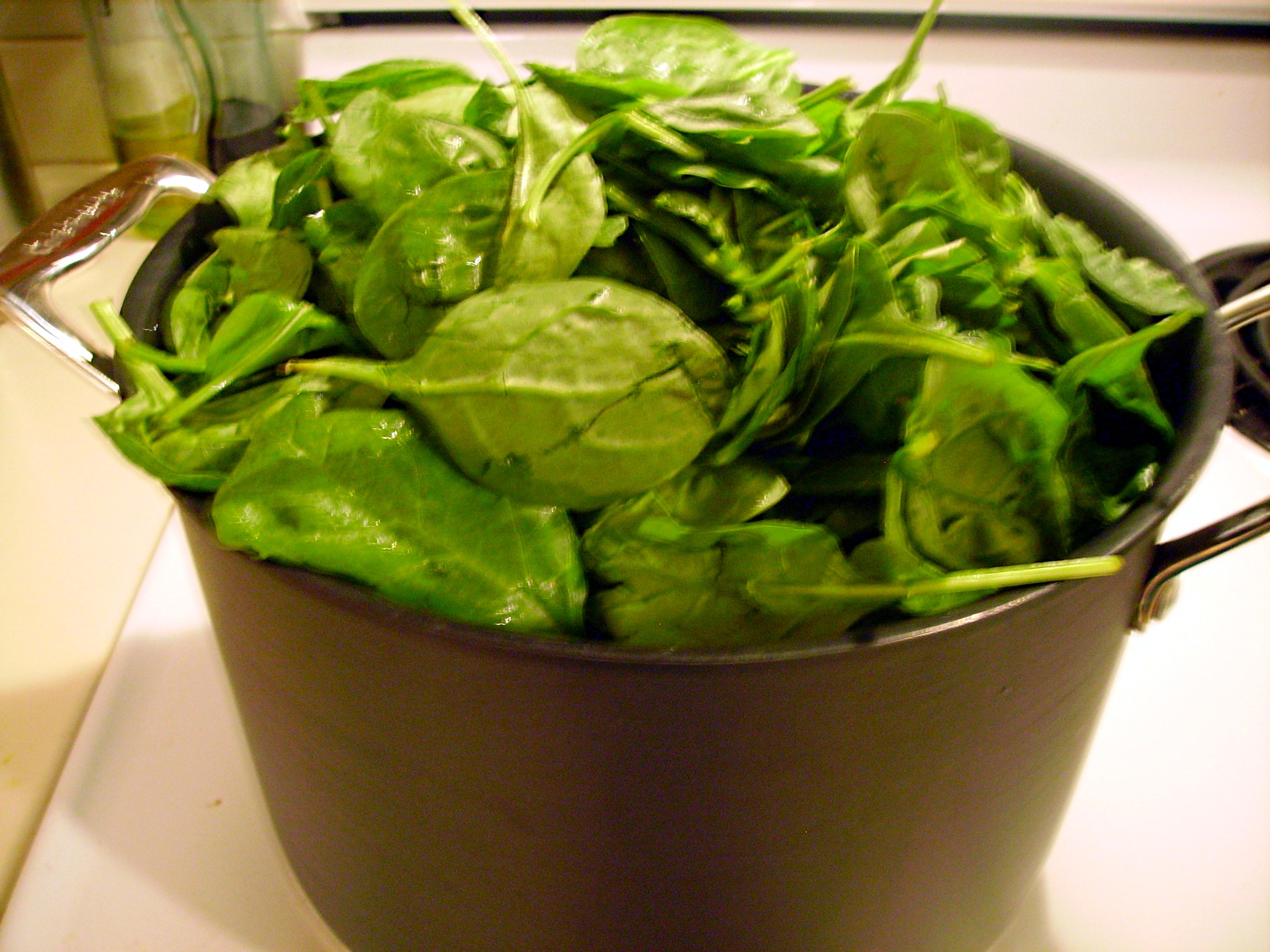 Start by stuffing 3 lbs. of baby spinach (yes, you read that right) into the largest pot you have, and cover it with about 4 tbsp. water. Have you ever wondered what 3 lbs. of spinach looks like?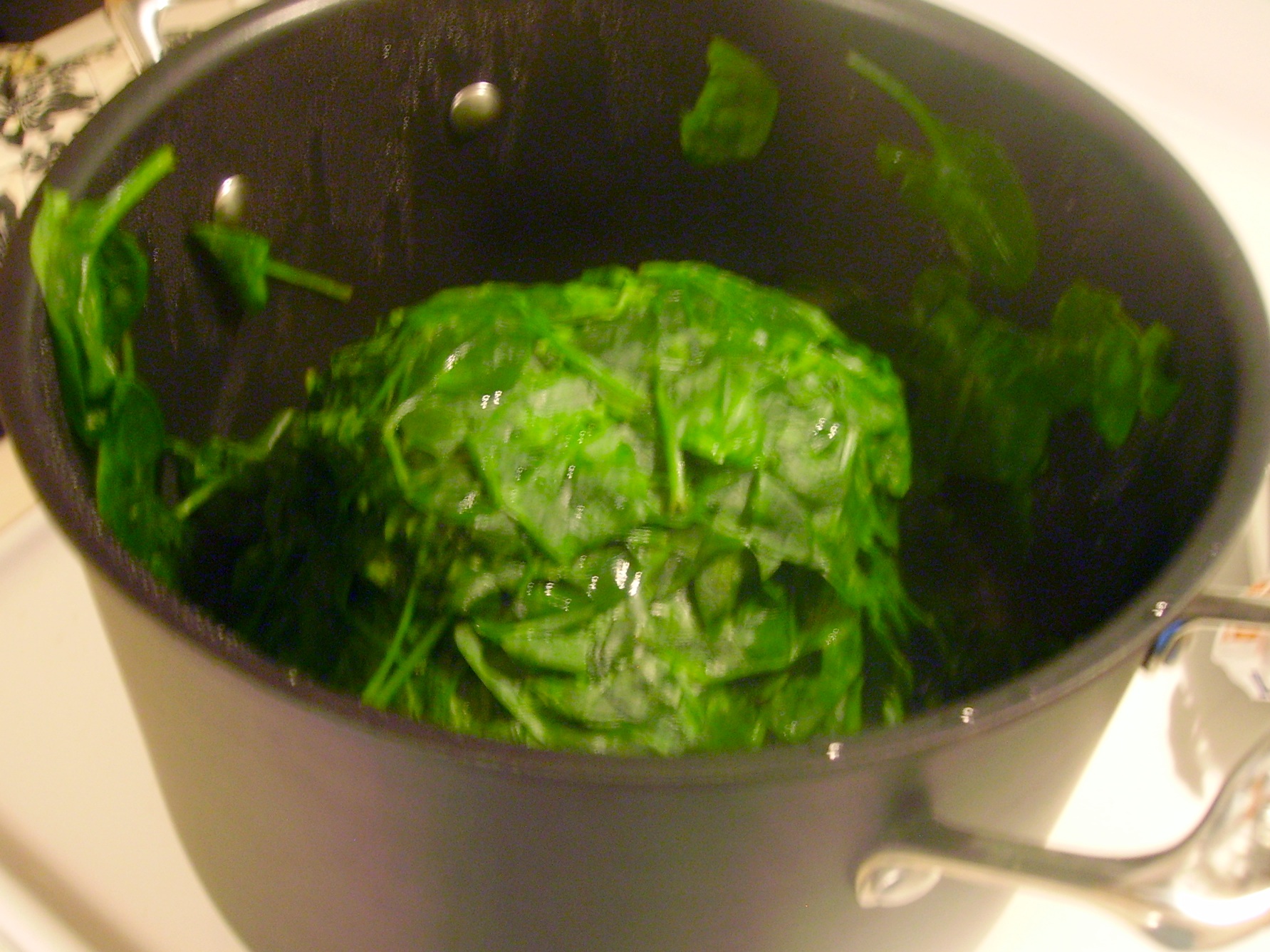 Cover the pot and let the spinach cook down for 6 minutes. When I did this, I ended up with a big lump of cooked spinach, but in the center of that lump was a smaller lump of spinach that didn't cook down at all. Don't worry, you'll cook it some more in a minute.
Rinse the spinach in really cold water, then drain. Wring out the spinach by handfuls, releasing as much of the water as humanly possible.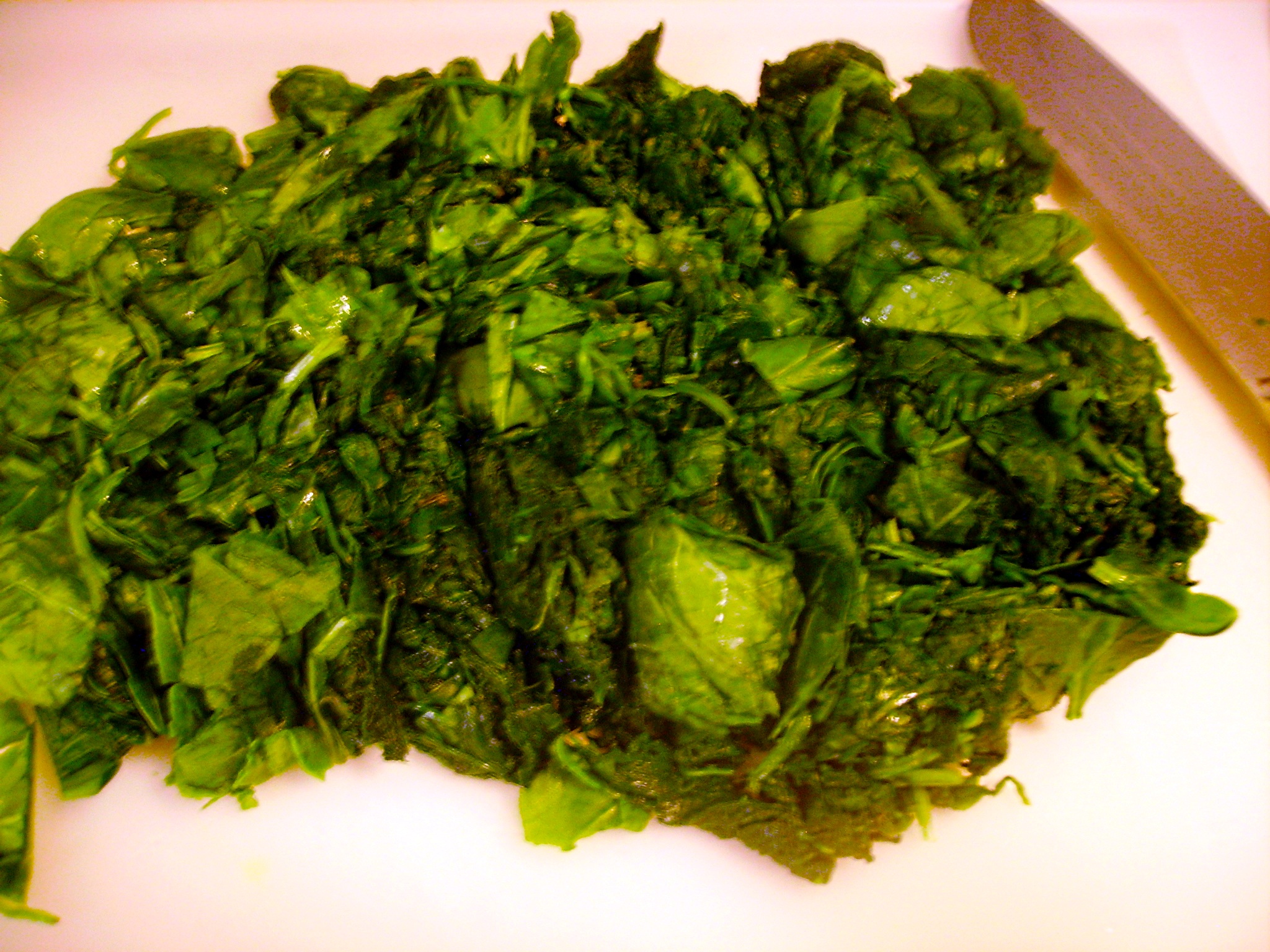 Roughly chop the wilted spinach. Wipe down the pot that you originally used to wilt the spinach (just to remove any of the icky brown residue still clinging to the bottom) and return the chopped spinach to the pot with 2 tbsp. butter. Cook on medium heat, stirring regularly, until all of the liquid cooks off. This will take several minutes, but once the spinach starts to stick to the pot a little, you are ready to move on.
Sprinkle the spinach with flour. Stir until the flour is no longer visible (remove any large lumps that form).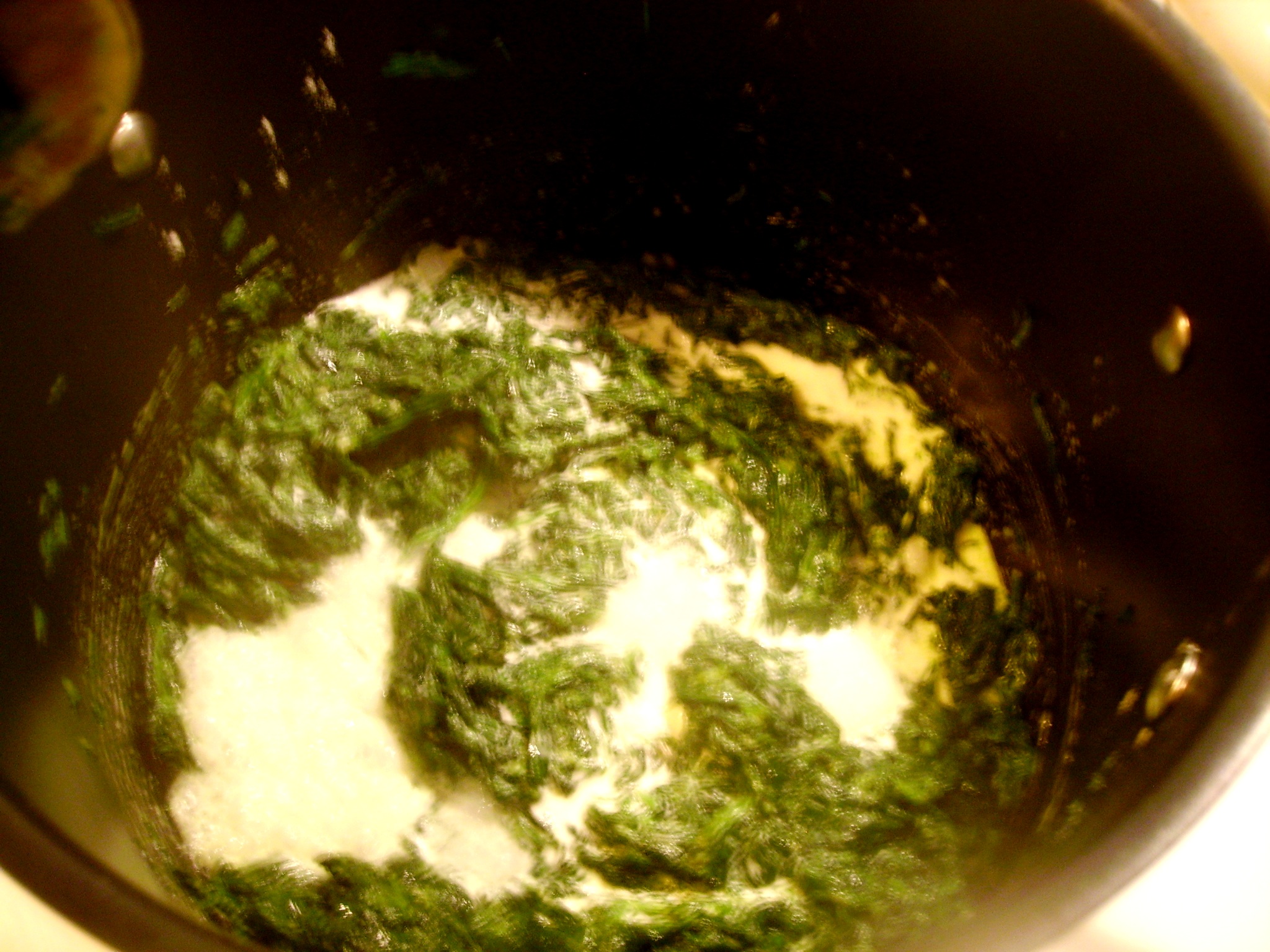 Pour in the cream/milk/veggie stock, a few tbsp. at a time (sorry about the heinous picture here…). I used cream, but I think I will try milk next time for a leaner result. Stir, and when the liquid seems to be absorbed into the spinach, add another few tbsp. until all of the liquid has been added. Season to taste with salt and pepper.
Stir in ½ cup shredded cheese. Select a very firm cheese, whichever you like best. I used parmigiano-reggiano, but I'd imagine pecorino would work well, as would parmesan.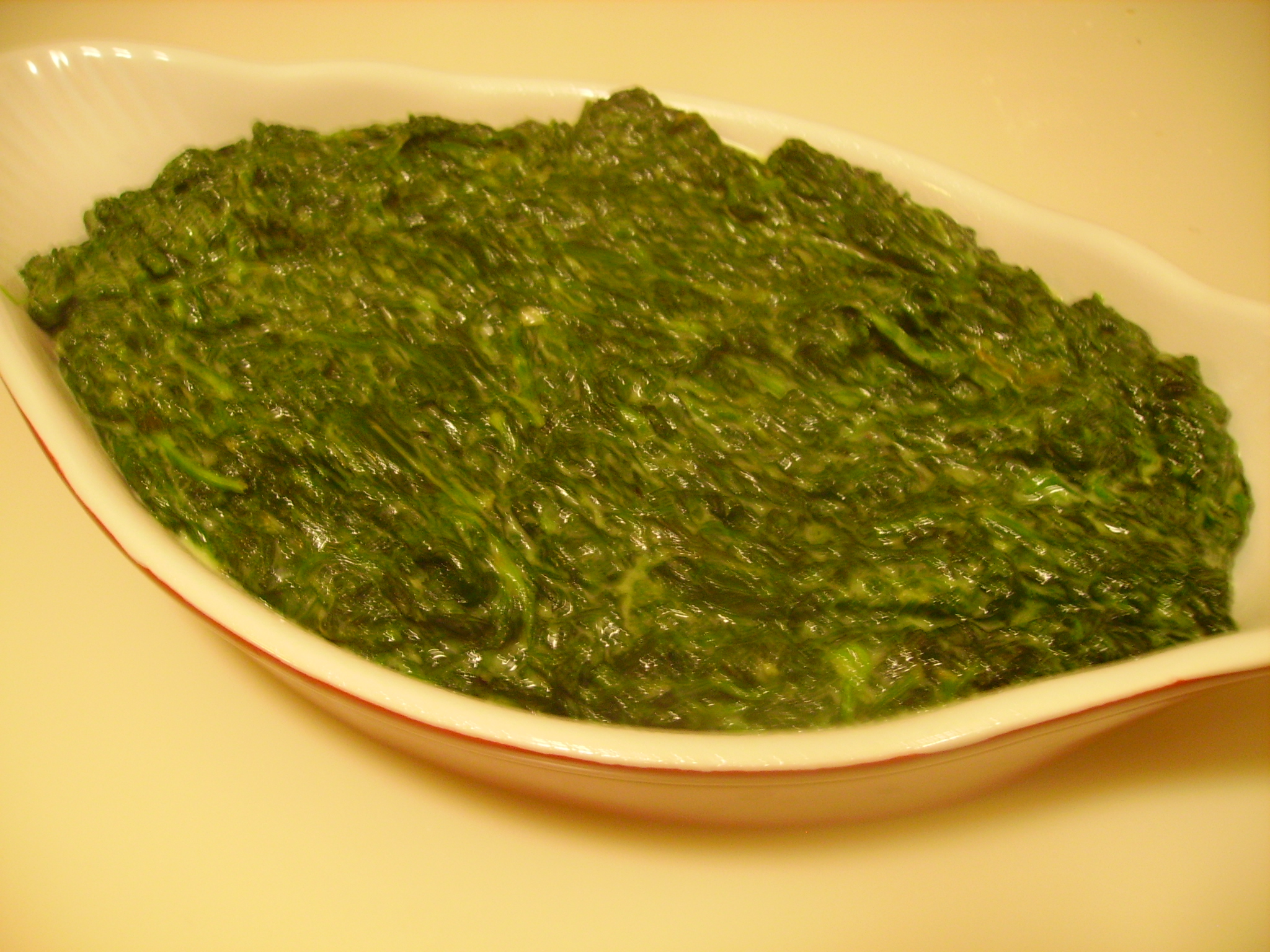 Transfer the spinach mixture to a lightly greased gratin dish. Top with the remaining shredded cheese and a little drizzle of melted butter.
Bake for 30 minutes at 375°. The top should be golden and a little bubbly. Yum!
Creamy Baked Spinach
lightly adapted from Annie's Eats
serves 6
Ingredients:
3 lbs. fresh baby spinach
3 tbsp. butter, divided
1½ tbsp. flour
⅔ cup milk, cream, or vegetable broth
salt and black pepper
¾ cup shredded parmigiano-reggiano, divided
Directions: 
Wash the spinach, draining it but letting drops of water still cling to the leaves. Place the spinach in a large pot covered with a lid over high heat. Cook, stirring occasionally, until wilted, about 6 minutes. Transfer the spinach to a colander and rinse thoroughly with cold water to stop the spinach cooking.
Working with a handful at a time, squeeze the spinach to extract as much excess water as possible.
Coarsely chop the spinach; there should be about 3–4 cups spinach once chopped.
Preheat the oven to 375°.
Wipe out the same pot and then melt 2 tbsp. butter over medium-high heat. Stir in the chopped spinach. Cook, stirring frequently, until all of the moisture has cooked off (when the spinach starts to stick to the pan).
Reduce the heat to medium and sprinkle the flour over the spinach. Cook, stirring frequently, for about 2 minutes. Stir in the milk or cream, a little at a time, scraping the bottom of the pan regularly. When all the liquid has been added, stir for another minute or two. If the mixture seems a bit dry or doesn't stick together, add a bit of extra liquid. Season with salt and black pepper to taste.
Mix ½ cup of the shredded cheese into the spinach mixture and then spread the mixture into a lightly greased baking dish. Sprinkle the remaining ¼ cup of cheese evenly over top of the spinach. Melt the remaining butter and drizzle over the top.
Bake 30 minutes, until lightly browned on top and heated through.
Enjoy!