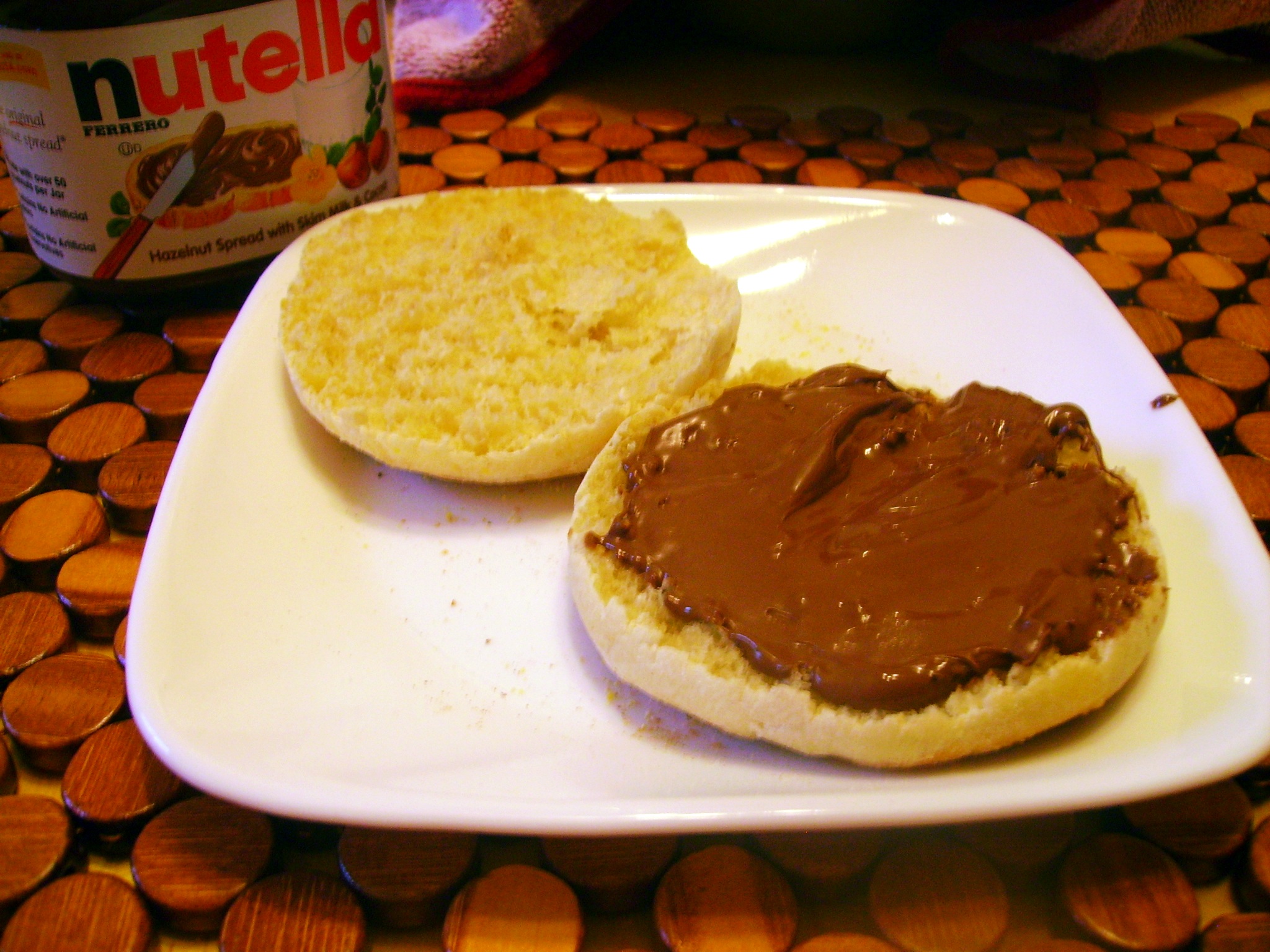 When I was little, English muffins had one primary, special purpose: fried egg sandwiches.
These were truly one of my favorite treats as a kid—fried egg sandwiches have everything a kid could ever want: a healthy dose of melted butter, a warm egg, Velveeta cheese, and plenty of ketchup. (If that sounds gross to you, don't worry…I don't mandate that you use these English muffins to make fried egg sandwiches…though I do still absolutely love them. Guilty pleasures die hard.)
Now I know most people like their English muffins topped by butter and jam. As an adult, I have come to prefer mine with Nutella, that glorious excuse to eat a mountain of chocolate for breakfast.
But no matter how you fix up your English muffins in the morning (or afternoon…or evening…), I definitely recommend that you take a break from the store brand and try your hand at making English muffins fresh! They will blow your mind, I swear.
So, as with most bread recipes, these muffins are not actually hard to make, but they do require several hours from start to finish.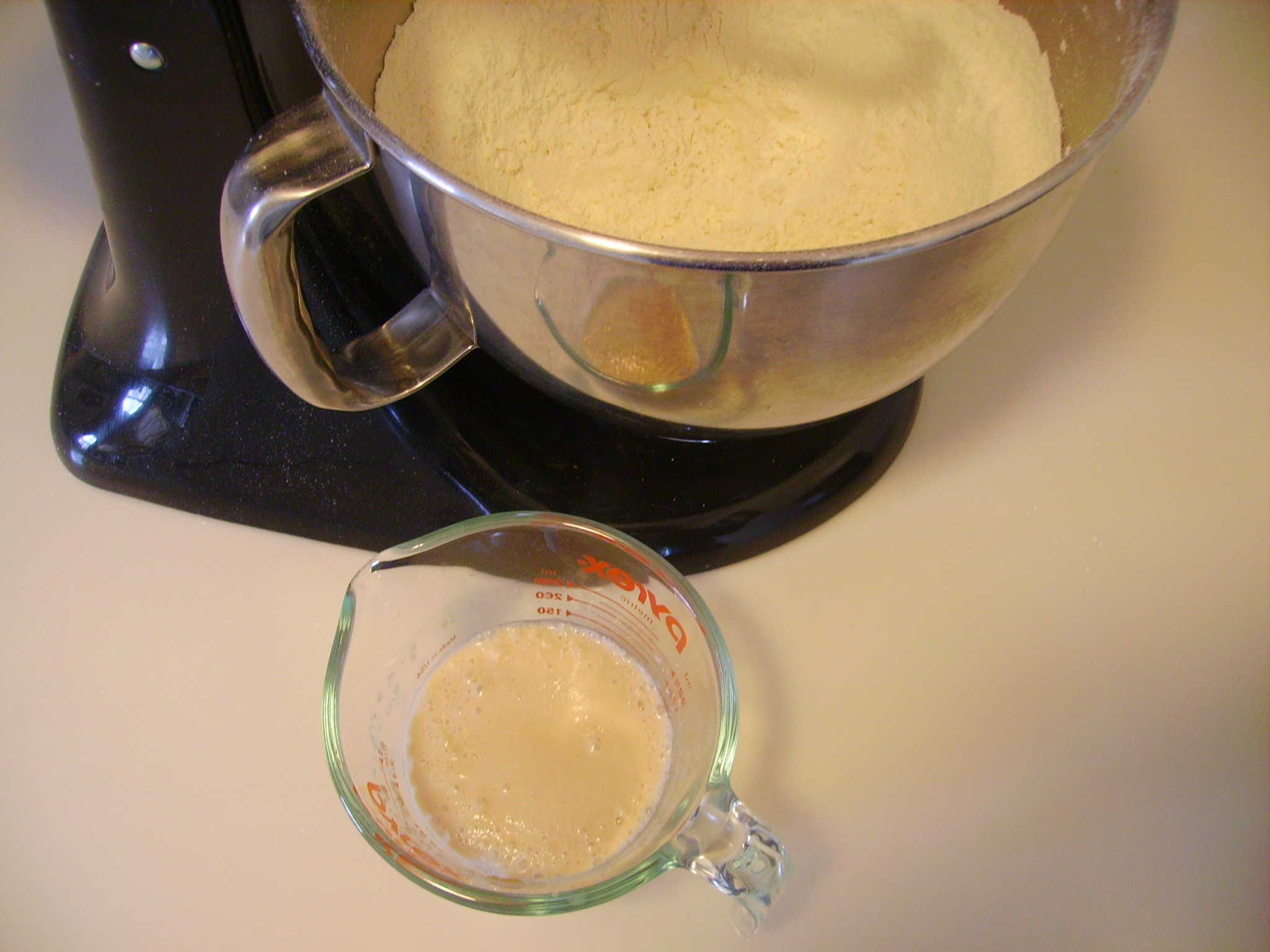 Start by proofing the yeast in warm (not hot!) water. After about 10 minutes, the surface should be foamy, indicating that the yeast has activated.
While the yeast proofs, combine bread flour, all-purpose flour, salt, and sugar in a mixer bowl. Leave a well in the center of the dry ingredients.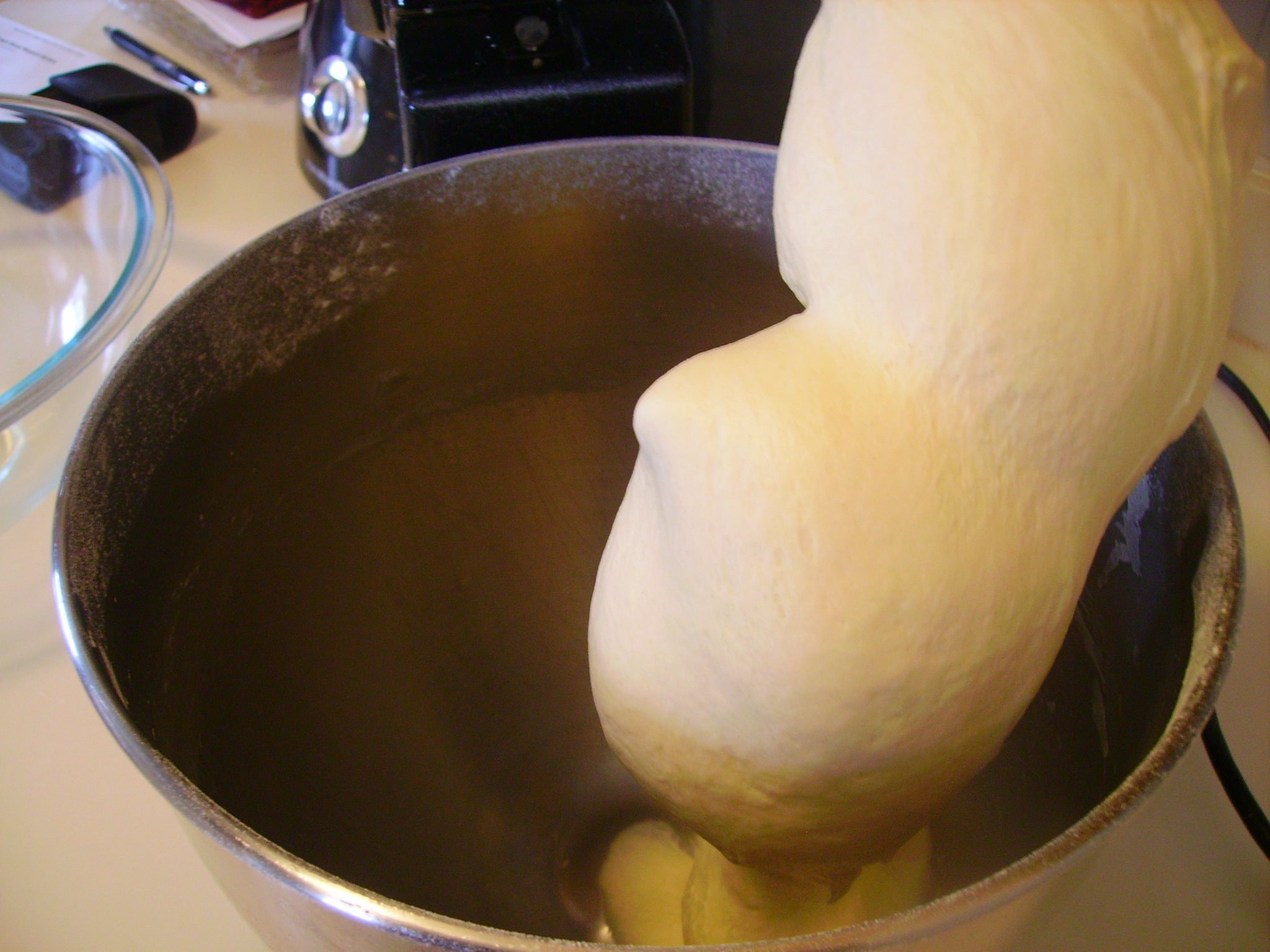 Pour the activated yeast, along with the milk and remaining water, into the well and mix until all of the ingredients have been incorporated into a sticky ball.
Continue kneading the dough with the dough hook for another 10 minutes. Keep an eye on your mixer! Mine kept walking across the counter, as the dough is fairly stiff and thus generated a bit of a heaving action every time the hook came around…don't let it fall on the floor!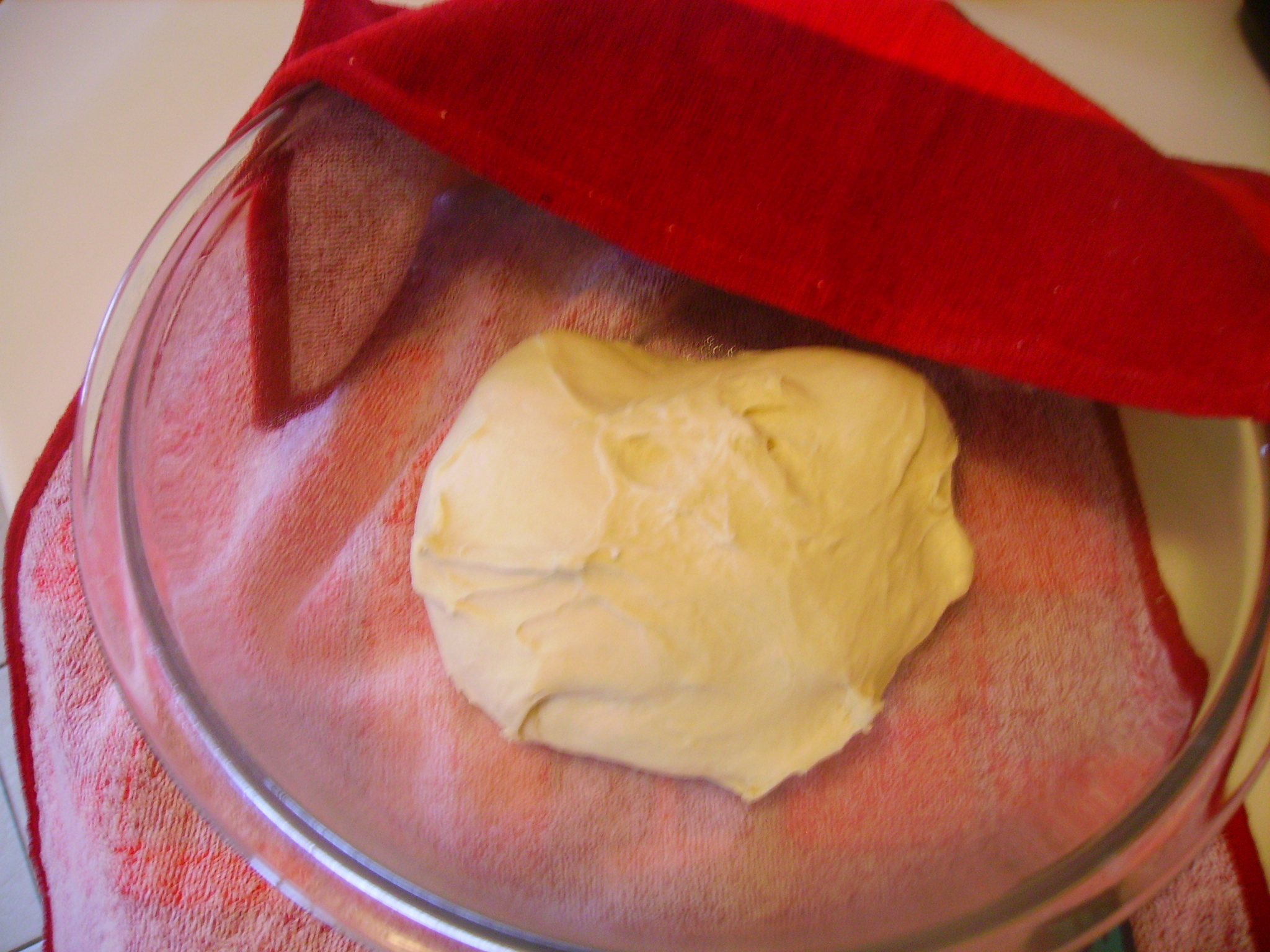 When the dough is soft and stretchy, but not sticky, place it into a lightly greased bowl and cover. Let stand for 1 hour, during which time the dough should double in size.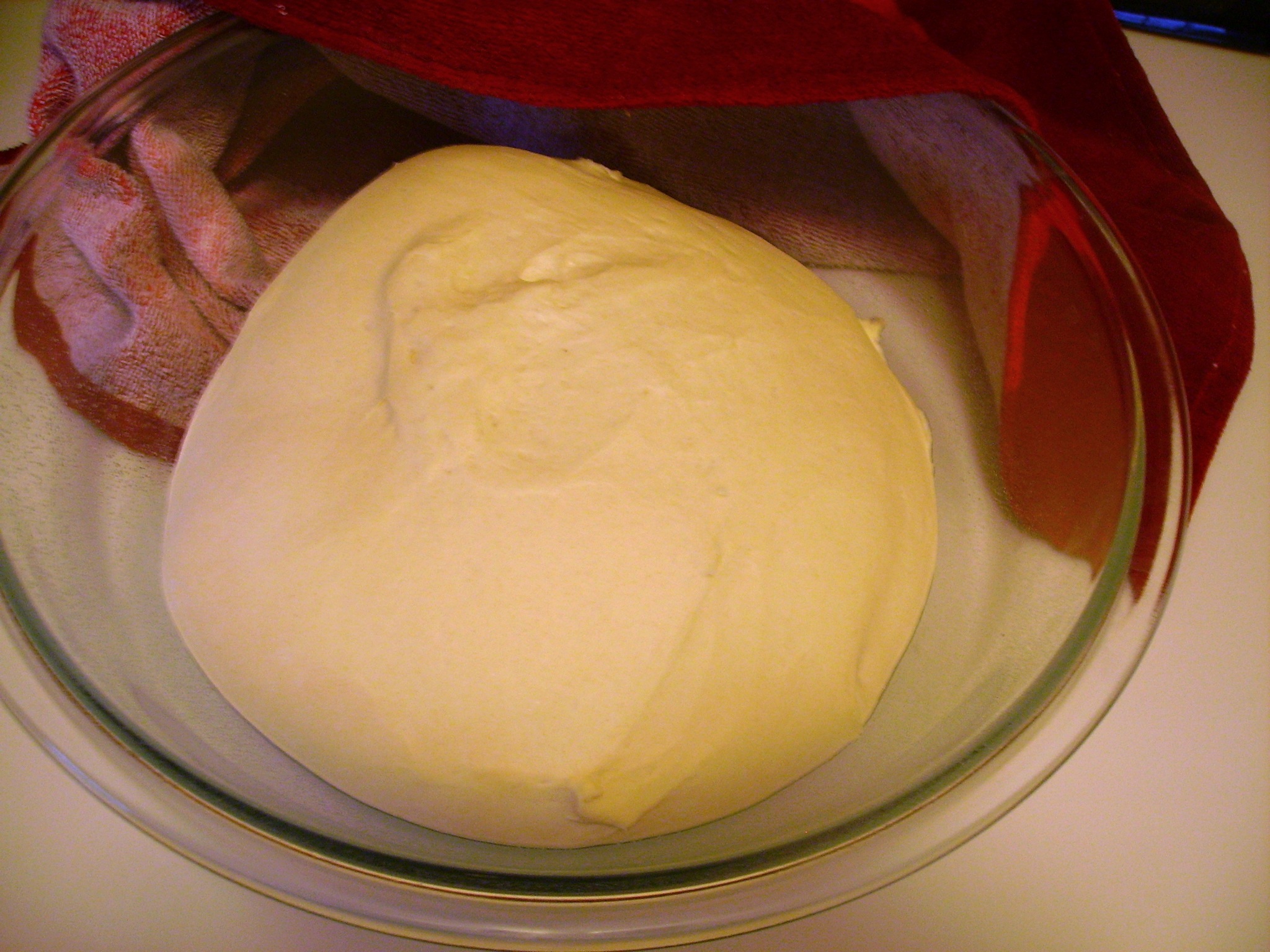 Punch the dough down and knead by hand for another 5 minutes. Return to the bowl to rest another 30 minutes.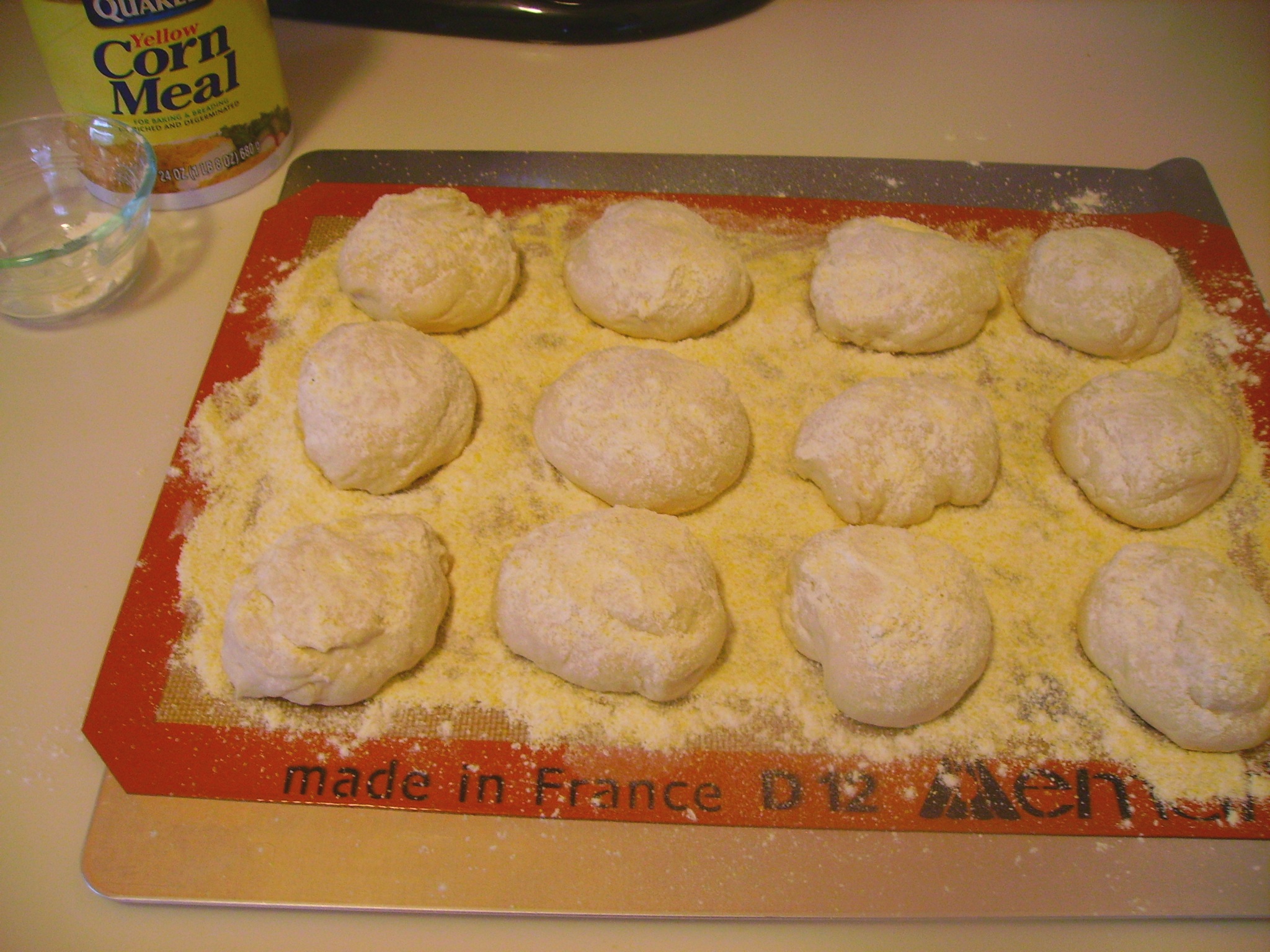 When ready, divide the dough into 12 equal pieces. I did this by pulling off approximate chunks and then weighing to make sure they were all about the same size. You could also use a cutter of some kind if you want, but I do recommend weighing the resultant pieces…if any of them are dramatically larger or smaller than the others, they won't cook properly later.
Set the dough balls onto a cornmeal-flour dusted cookie sheet to rise, covered by a damp towel, for another 30 minutes.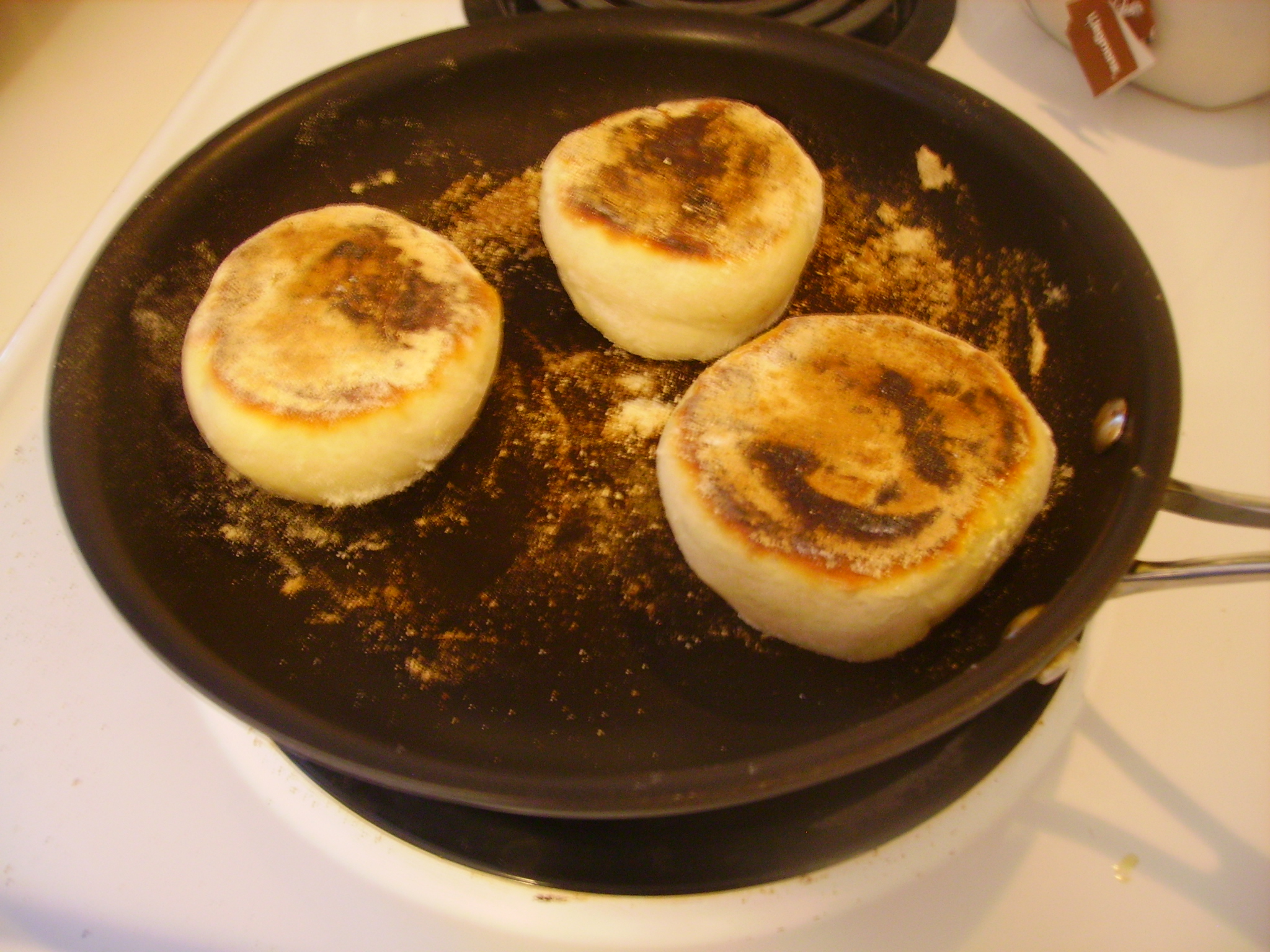 Hooray, it's time to cook the muffins! Heat a large skillet over medium or medium low heat. It's important to use low heat, otherwise you will burn the surface of the muffins without completely cooking the insides. No good. Also, I really don't recommend using cast iron here…cast iron pans conduct heat so well that it's almost impossible to cook the center of the muffins without blackening the outsides.
Working in batches, cook the muffins for about 8 minutes on each side. Flip when the bottom of the muffins is dark brown, but not burnt. If they start smoking…you have probably burned the surface of your muffins. Thus, keep an eye on them! I flipped some batches after 6 minutes, just to be sure they didn't burn. If you think the muffins are cooking too quickly, turn the heat down and that should help a bit.
Also, if you are worried that the center of the muffins is still doughy, you have the option of baking them for 15 minutes at 350°. I didn't need to do this, as long as I kept the heat of the pan relatively low.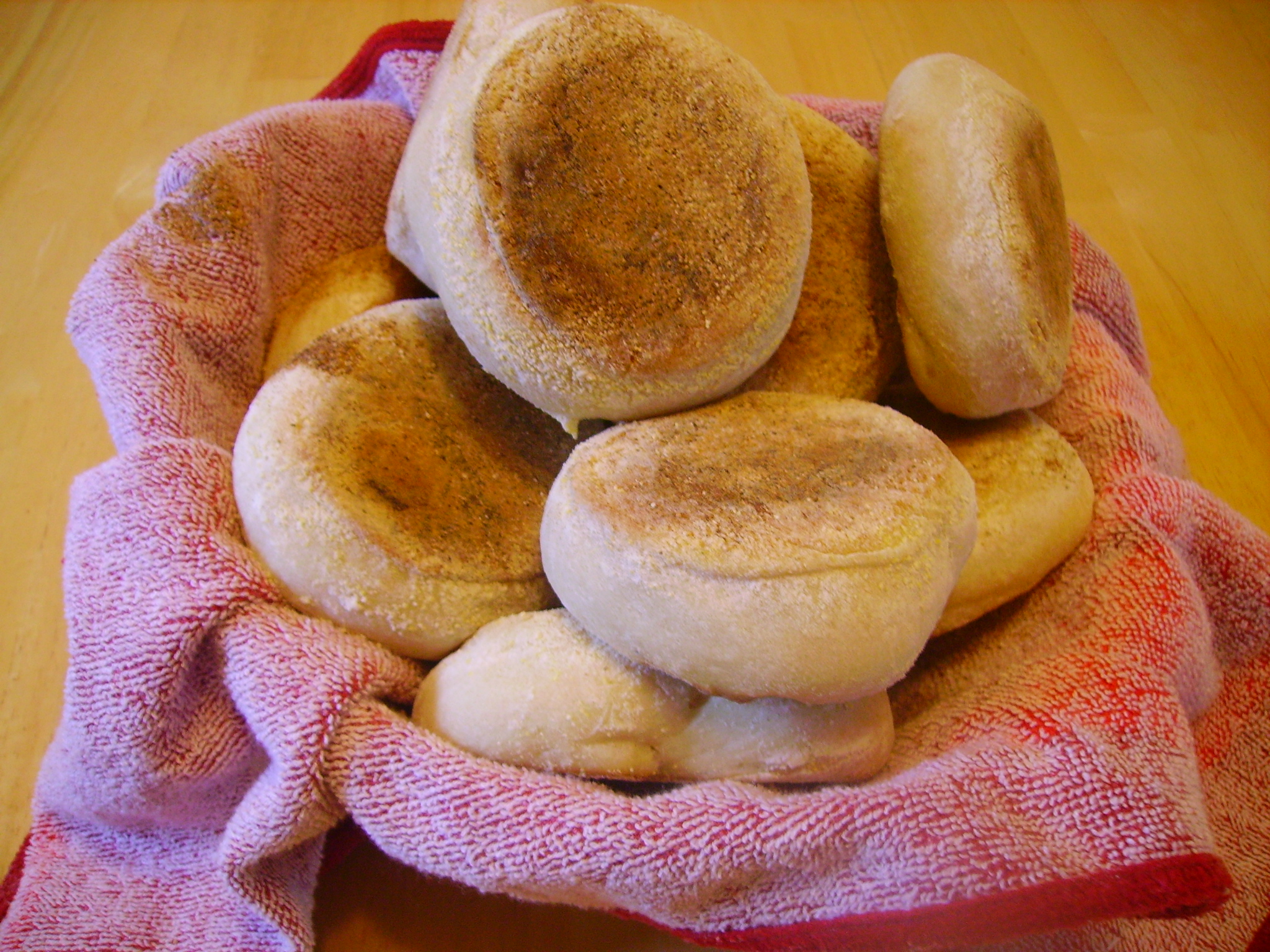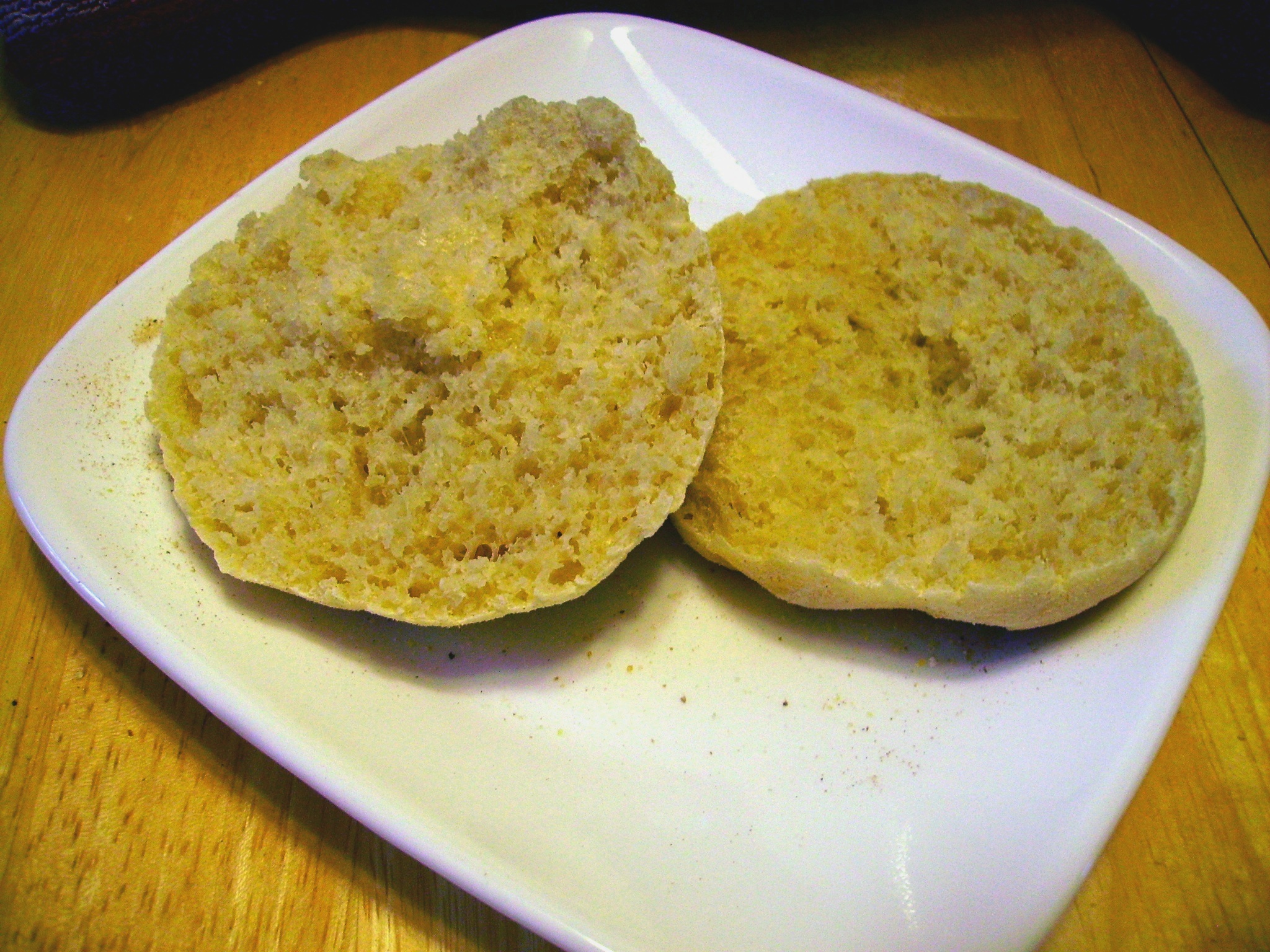 Enjoy with butter, Nutella, jam…or even a fried egg and ketchup! These muffins freeze well if you don't intend to eat them all within the first two days.
English Muffins
lightly adapted from Pass the Sushi
makes 12
Ingredients:
2½ tsp. (1 packet) active dry yeast
1 cup lukewarm water, divided
3 cups bread flour
¾ cup flour
1 tbsp. kosher salt
½ tsp. sugar
⅔ cup lukewarm milk
cornmeal and flour mixture for dusting
Directions:
In a large measuring cup, mix the yeast with ½ cup lukewarm water. Let stand until foamy, about 10–15 minutes.
Meanwhile, in a mixer bowl fitted with the dough hook, combine the flours, salt, and sugar. Make a well in the center of the dry ingredients.
When the yeast mixture is ready, pour it along with the remaining liquids into the flour mixture. Stir with the dough hook until all the ingredients have combined into a sticky mixture.
Knead with the dough hook for 10 minutes, until the dough is soft and elastic.
Form the dough into a ball and place into a large greased bowl. Cover and let rise in a warm place until doubled in size, about 1 hour.
After the first rise, punch down dough and knead by hand for another 5 minutes. Return the dough to the bowl, cover, and rest for an additional 30 minutes.
Line a baking sheet with parchment paper or a Silpat. Dust with equal parts cornmeal and flour.
Divide the dough into 12 equal portions, weighing to make sure each piece is about 2 oz. Shape into rounds. Place each portion onto the prepared baking sheet and sprinkle with more cornmeal/flour.
Cover the dough balls with a damp (not fuzzy) dish towel and let rise for 30 minutes.
Heat non-stick skillet over medium-low heat. Place the muffins in the pan, working in batches. Don't place them too close together, as they will spread slightly during cooking. Cook 8–10 minutes, until bottoms of the muffins are golden brown but not burnt. Flip and cook another 8–10 minutes.
Repeat with the remaining muffins.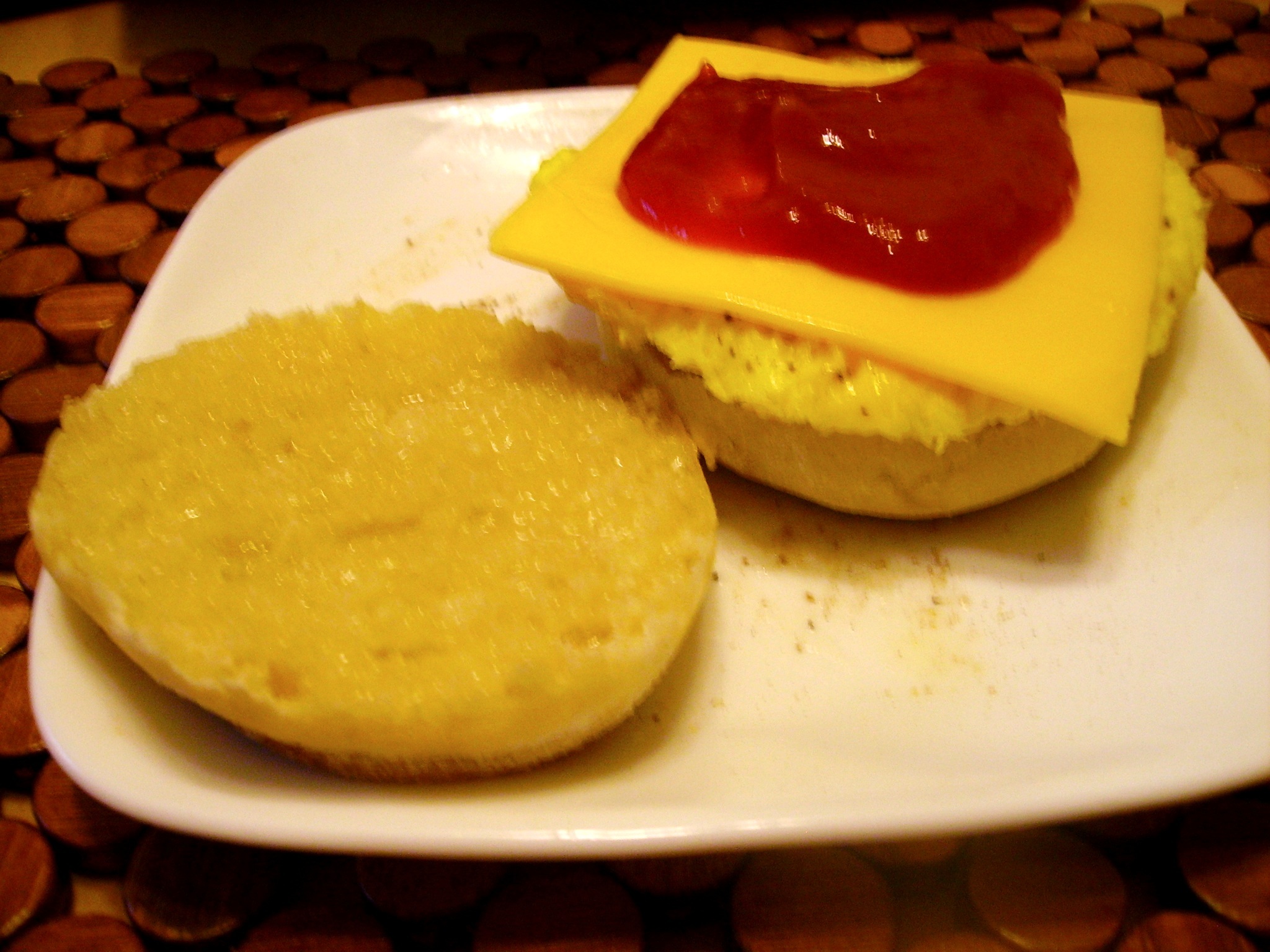 Enjoy!