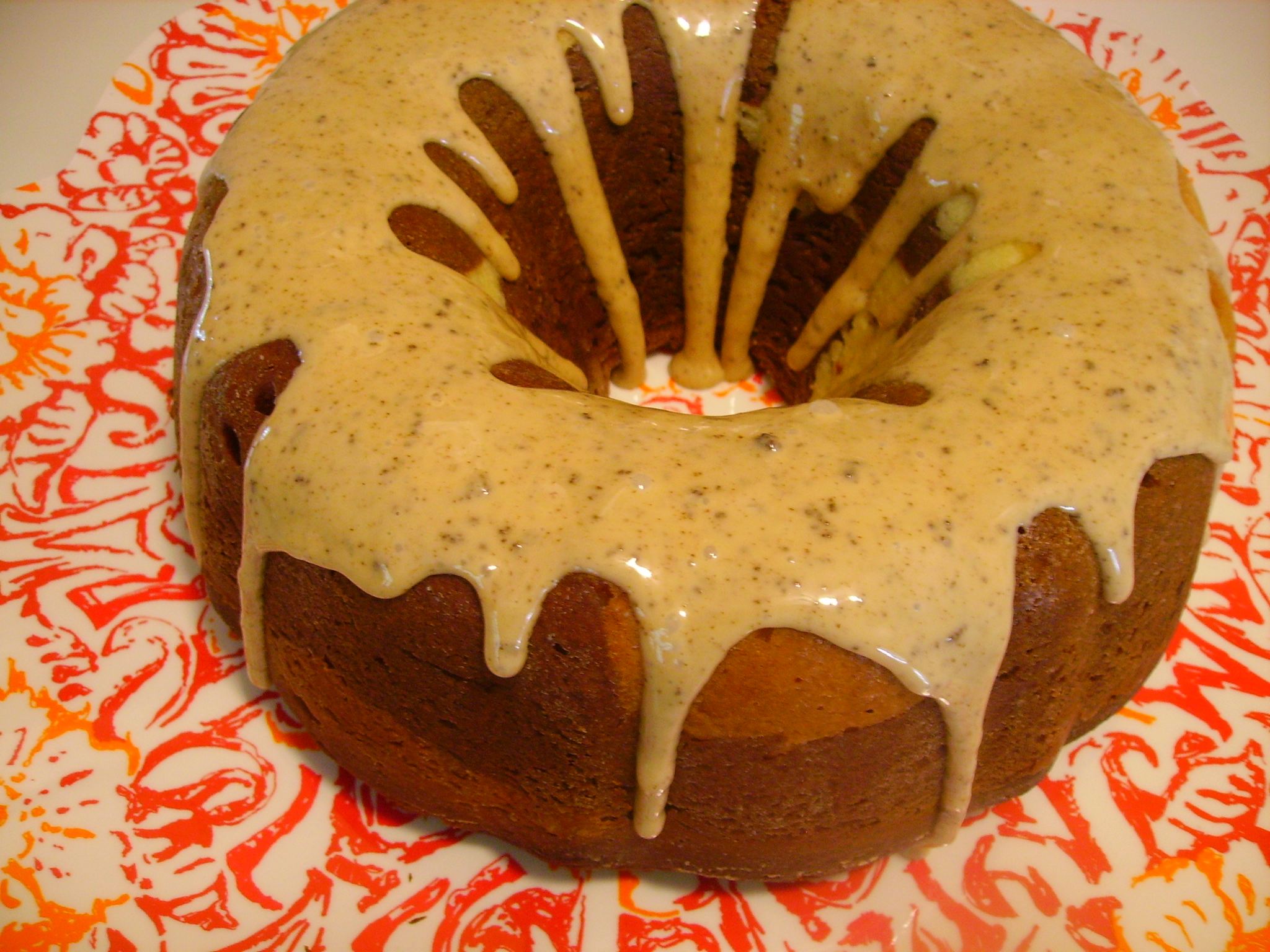 What can I even say about this amazing cake? Chocolate, coffee, and vanilla batters, all mixed together to form one single cake? Get outta here!
I hesitate to call it a breakfast food, because it's really full of butter and sugar and other unhealthy but delicious ingredients; it might really be better as an after-dinner treat with a steaming cup of java. But I will leave that up to you.
No matter when you decide to serve it, this coffee cake is sure to be a hit! It's moist and crumbly, sweet but not too sweet…in short, it's delightful. Unfortunately for you, it does require about a thousand bowls (er…three). Also it's really a danger to keep around the house when you are home alone, because slivers of it will just keep disappearing…
The original recipe is a bit more reasonable in terms of volume, but you have to have a small Bundt pan in order to bake it properly. I don't have such a Bundt pan, so I made the large version, which I am sharing here with you, and which you should definitely bring to brunch or a dinner party or you Bible study or, really, anywhere that a large quantity of it may be consumed by someone other than you.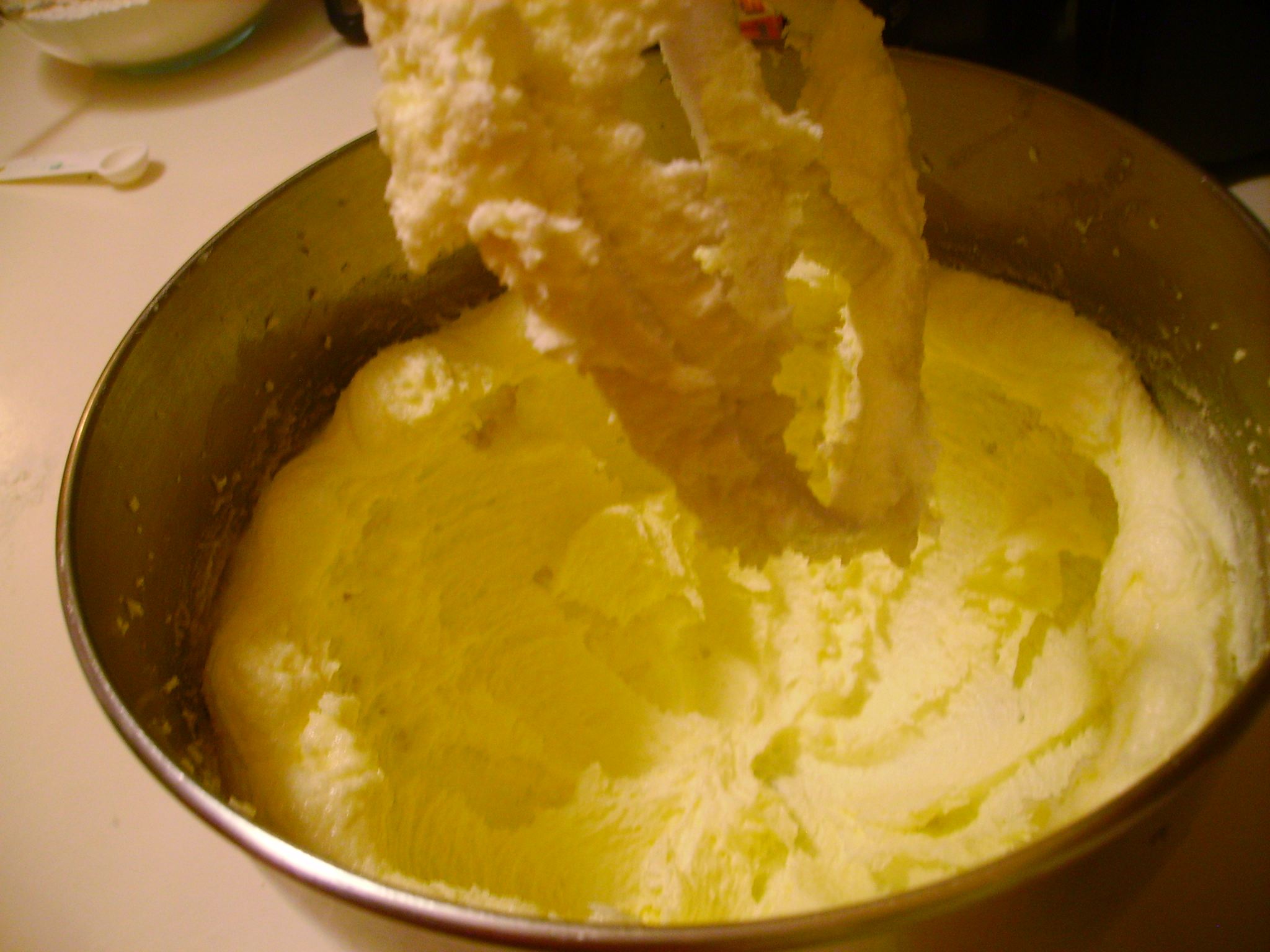 Start by creaming the butter and sugar. Yes, there will be a lot of it. When the mixture becomes very fluffy and pale in color, add the eggs one at a time, mixing and scraping between each addition. Stir in the vanilla.
While you are creaming, whisk together the flour dry ingredients.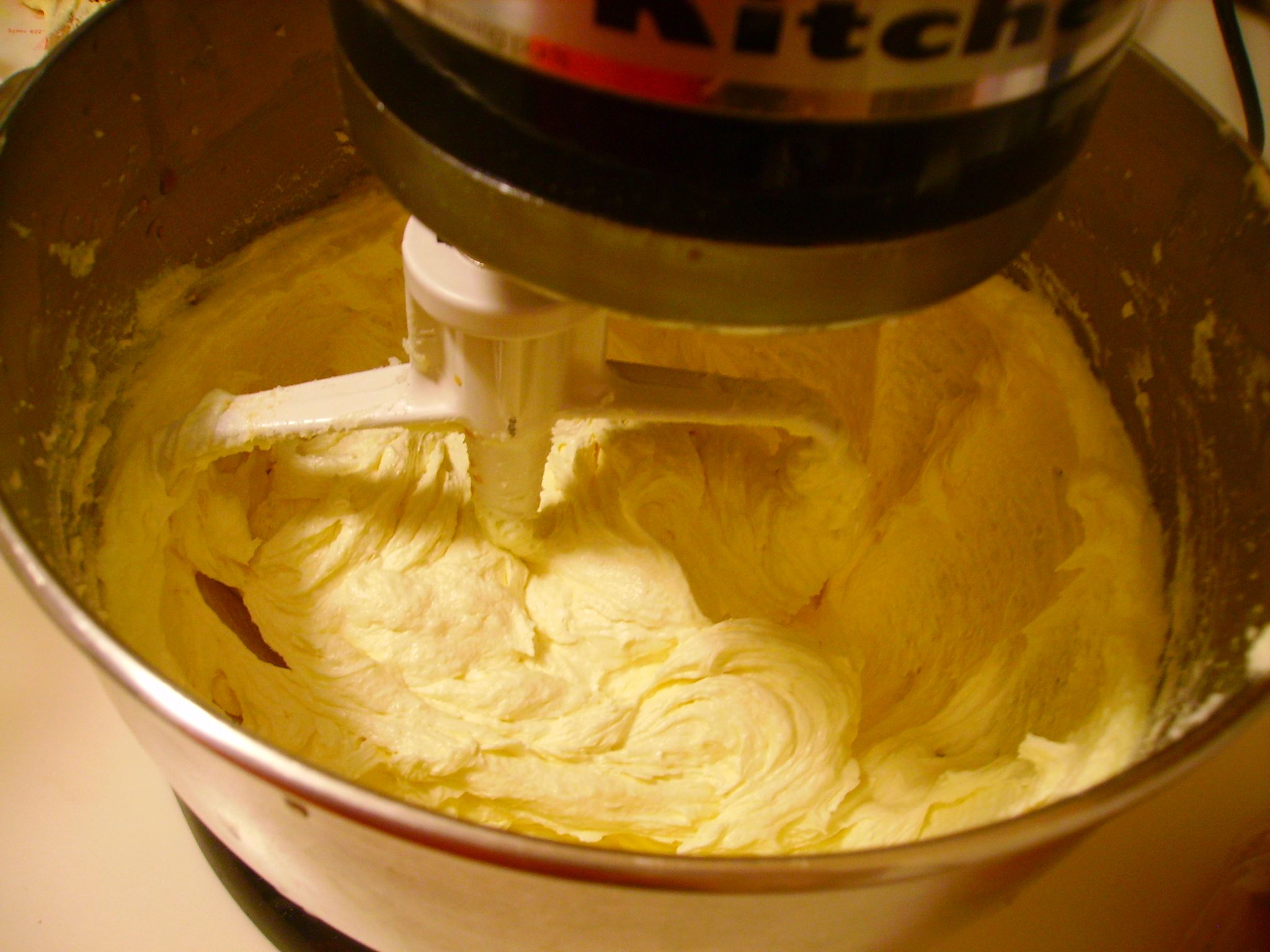 Alternate adding the flour mixture and the sour cream to the batter, mixing between each, beginning and ending with the flour. Don't overmix!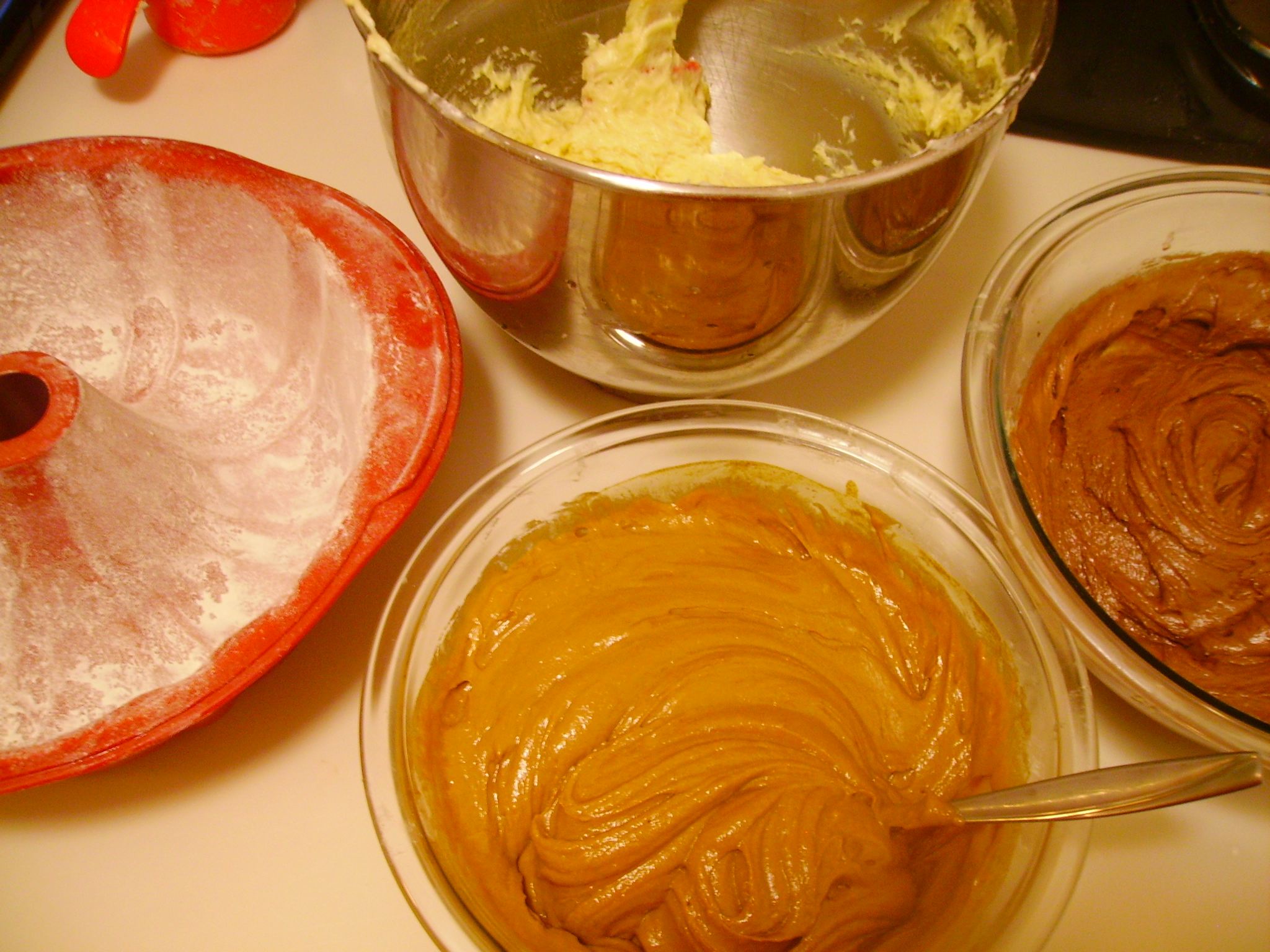 In two separate bowls (and don't hesitate to re-use that flour bowl!), make the coffee and the cocoa mixtures. The coffee mixture should be quite liquidy, whereas the cocoa mixture will be quite thick, like a paste.
Divide the dough in thirds, mixing one third into the coffee mixture, another third into the cocoa, and leaving the last third plain vanilla. It's pretty hard to divide that much batter equally, so I would recommend being a bit more cautious with how much batter you mix into the coffee or chocolate. That is, I felt like I ended up with too little vanilla batter and too much coffee batter, and I really wish it had been the other way around. Plus, it makes for a more interesting visual effect if there is a little extra vanilla. But it's up to you.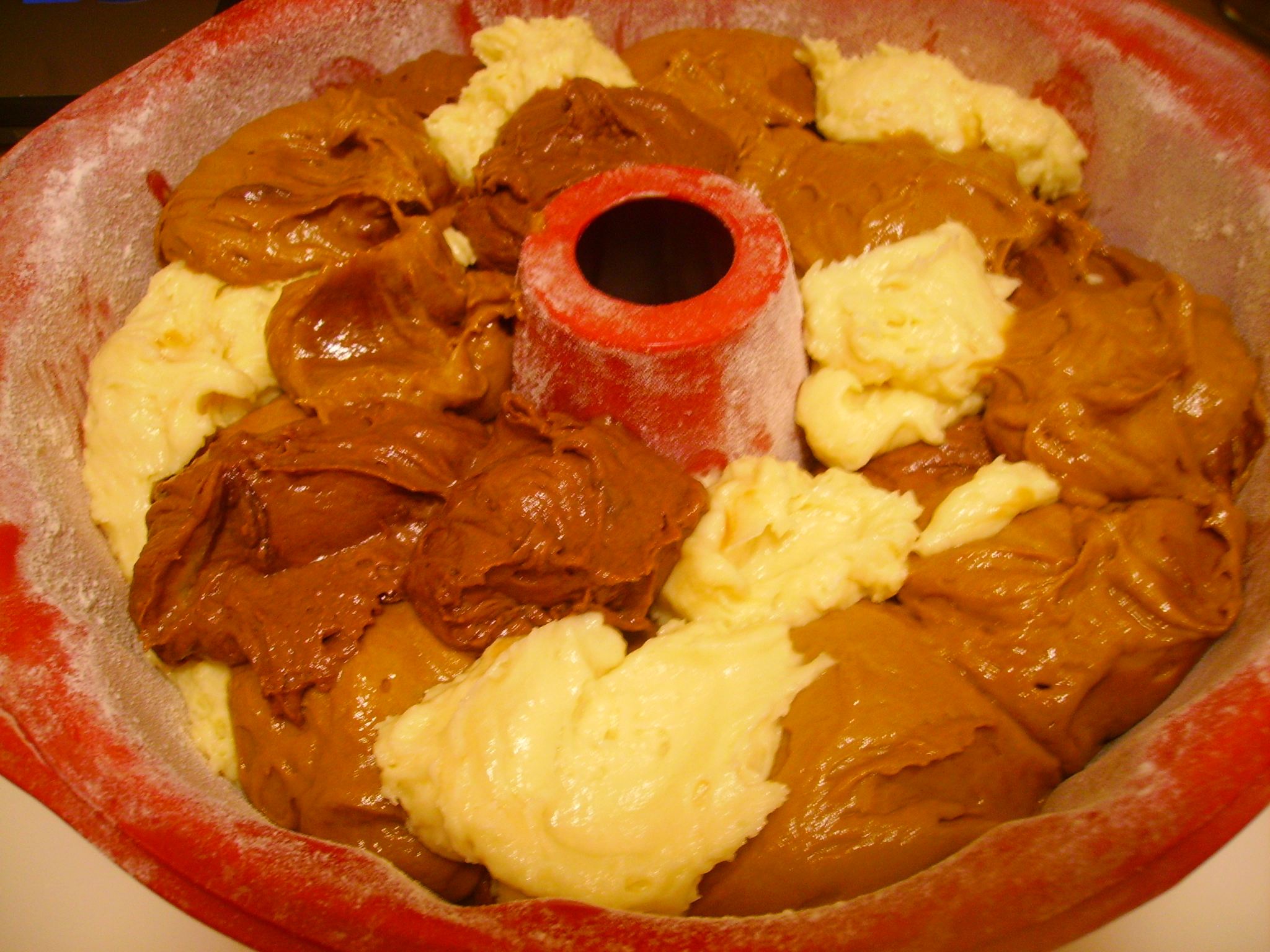 Spoon the batters into a well greased and floured 12-cup Bundt pan, alternating to create a marbled effect. You could also go so far as to actually swipe a knife through the batters when you're done, but I decided not to.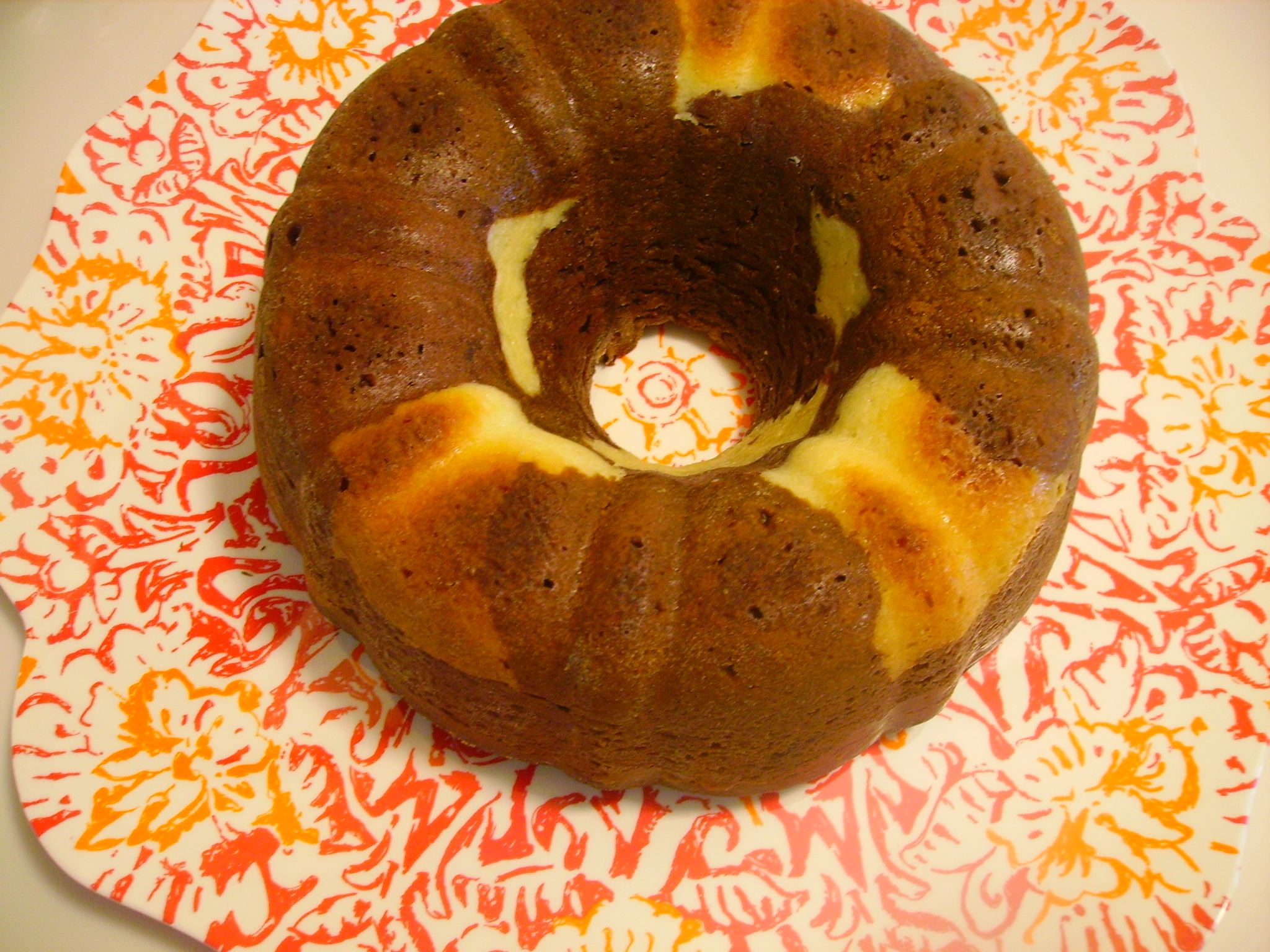 Bake for 65–75 minutes (I think mine took about 72 minutes) at 350°. Check the cake in several places with a toothpick to make sure it's not underbaked in the center—the toothpick should come out completely clean.
Cool the cake for 30 minutes in the pan, then invert onto a cooling rack to finish cooling.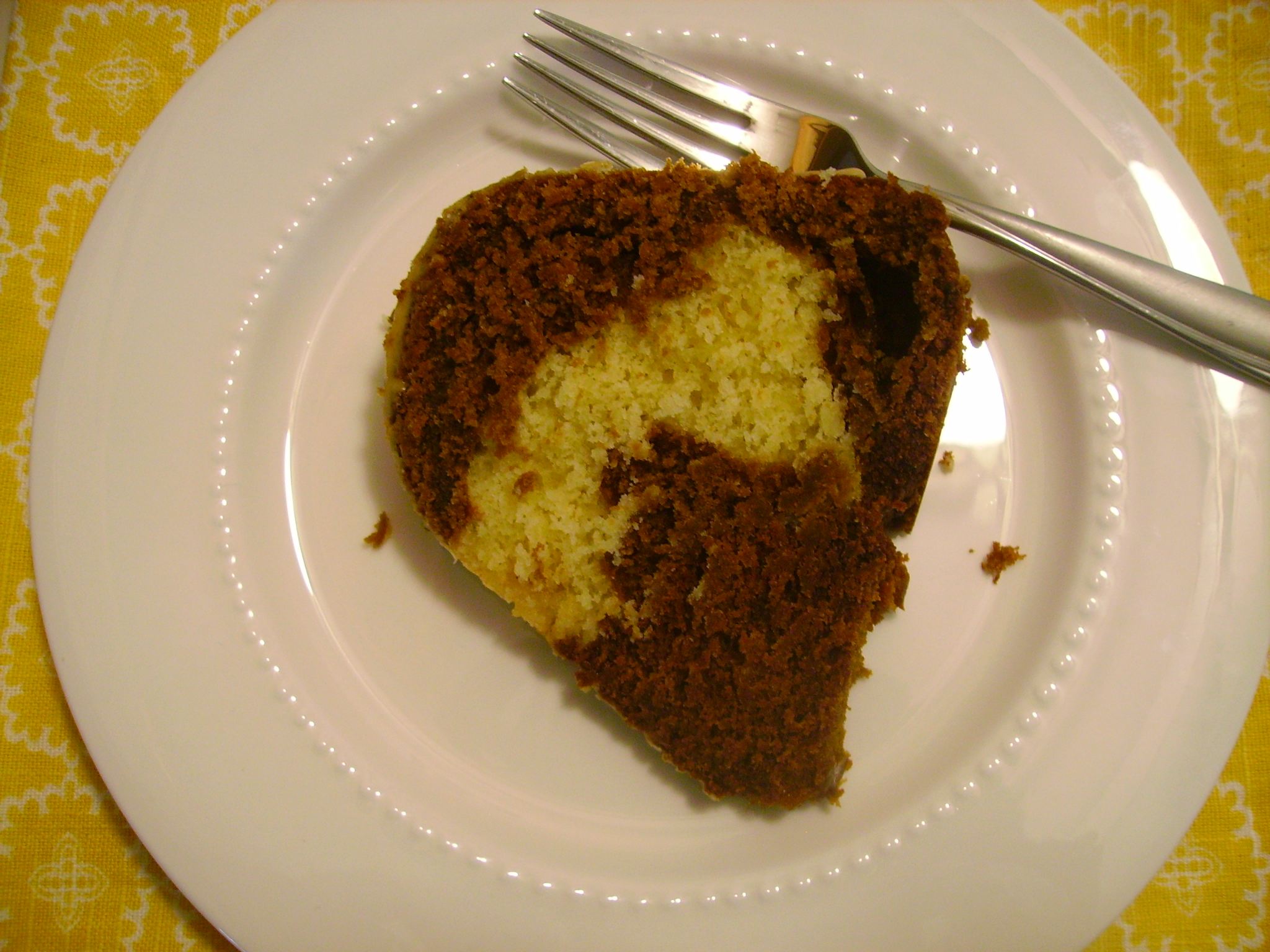 When the cake is cool, set it on a serving plate and make the espresso glaze. I don't know about you, but my glazes always seem to run more than I want them to. The only thing I can recommend is to be very cautious about mixing liquid into the confectioner's sugar. I mixed in 2 tbsp. to start, then mixed in another ½ tbsp. At that point, the glaze was thick and pourable; however, it still ran a lot before it finally set, leaving me with a puddle in the center. You do what works for you, but next time I make this, I will not worry about whether the glaze is actually pourable…I will just use a spoon or spatula and spread it over the top of the cake, then let gravity finish the job.
Marbled Mocha Coffee Cake
lightly adapted from Joy the Baker
serves 12–16
Cake Ingredients:
1½ cups unsalted butter, softened
2 cups sugar
4 cups flour
2 tsp. baking powder
1 tsp. baking soda
1 tsp. salt
4 eggs
1 tbsp. vanilla extract
2 cups low-fat sour cream
4 tbsp. cocoa powder dissolved in 3 tbsp. hot water
4 tbsp. unflavored instant coffee powder dissolved in 2 tbsp. hot water
Glaze Ingredients:
3 tsp. espresso granules
1½ cups confectioner's sugar, sifted
2–3 tbsp. strong brewed coffee (or milk, for a milder flavor)
Directions:
Preheat to 350°.  Generously butter and flour a 10ʺ (12 cup) Bundt pan.
Combine butter and sugar in a large bowl and beat with an electric mixer at medium speed until pale and fluffy, about 2 minutes.
Meanwhile, whisk together flour, baking powder, baking soda, and salt in a separate bowl.
When the creamed mixture is very fluffy, add the eggs one at a time, beating well after each addition. Scrape the bowl as needed. Beat in the vanilla.
Alternate adding the flour mixture and the sour cream to the batter, beginning and ending with flour mixture and mixing until just incorporated.
Divide the batter equally among three bowls. Mix the cocoa mixture into one third of the batter and the coffee mixture into another third; leave the last third plain.
Spoon all three batters into the Bundt pan, alternating so each flavor is distributed through the pan.
Bake 60–70 minutes, until the cake is golden or until a wooden spoon inserted in the center comes out clean. Cool in the pan on a rack for 30 minutes, then invert onto a rack to cool completely.
When the cake is cool, prepare the glaze. Quickly whisk together the confectioner's sugar and espresso powder in a small bowl. Add about 2 tbsp. of the coffee and stir. Add additional coffee by the tsp. until the confectioner's sugar is all dissolved. The glaze should be thick but pourable; add more liquid or sugar as needed to reach the desired consistency.
Pour glaze over the coffee cake and let cake stand until glaze is set, about 10 minutes, before serving.
*Note: This recipe can be halved and baked in a 6-cup Bundt pan for 45 minutes.
Enjoy!