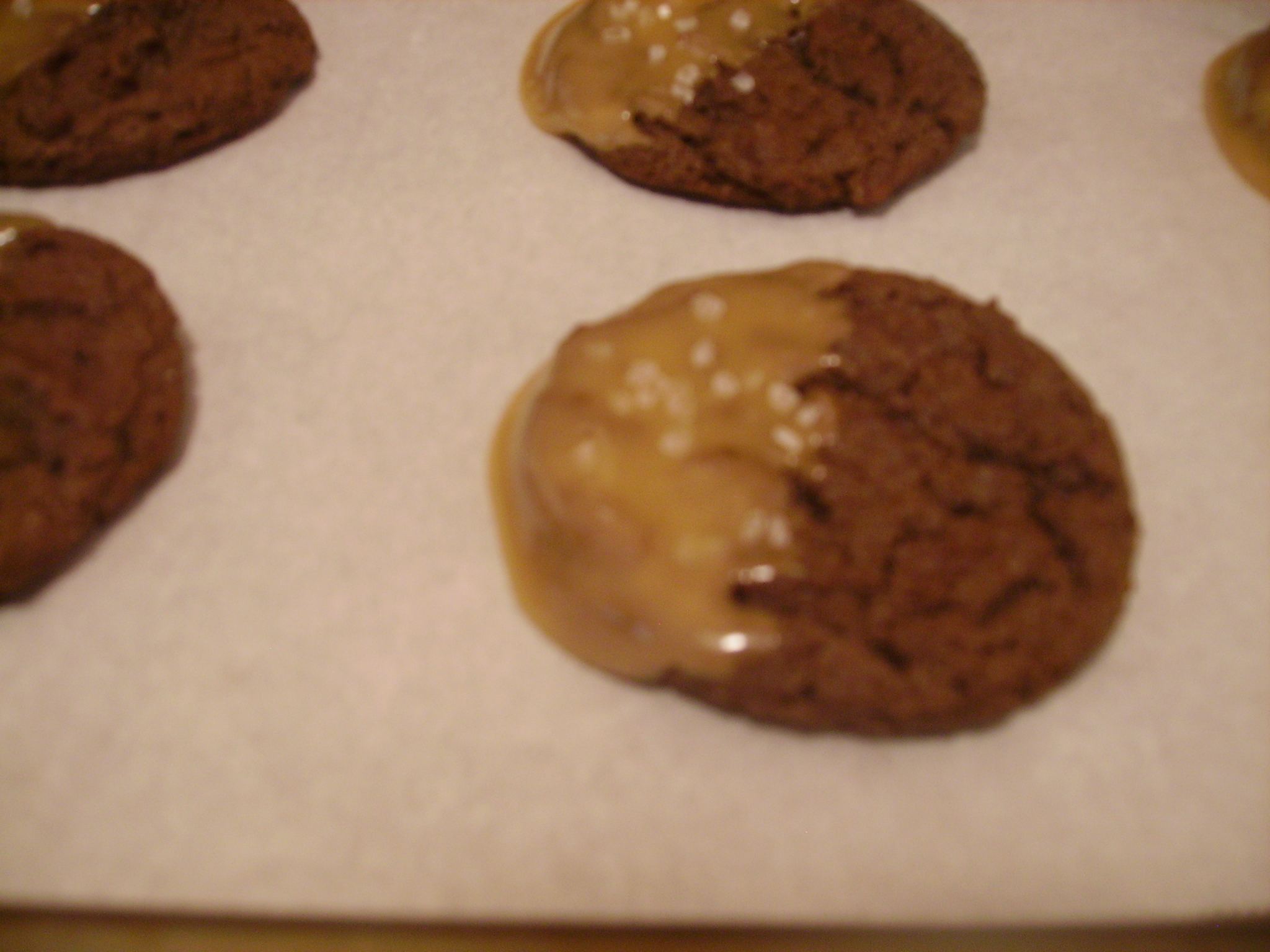 Oh my gosh. These cookies are divine. You must make them. Right away.
Soft but slightly crumbly dark chocolate cookie covered in sweet, sticky, stretchy caramel…*drool*
So I've got to warn you before you make these. It's impossible to eat just one. That's partly because if you stack them together, it will be very difficult to pull them apart…but it's also because the combination of sweet and salty goodness is just impossible to resist! I brought these cookies to my Bible study, and everyone just dug right in, pulling the caramel apart in long strands, digging it off the plate with their fingers…it was amazing.
Now, these cookies do require you to make your own caramel. It is possible, of course, to melt down premade caramels for dipping the cookies, but it will probably cool into a hard, overly chewy coating, which is not as awesome. Don't worry! Making your own caramel is easy. And you will be so glad you did it!
Let's get baking.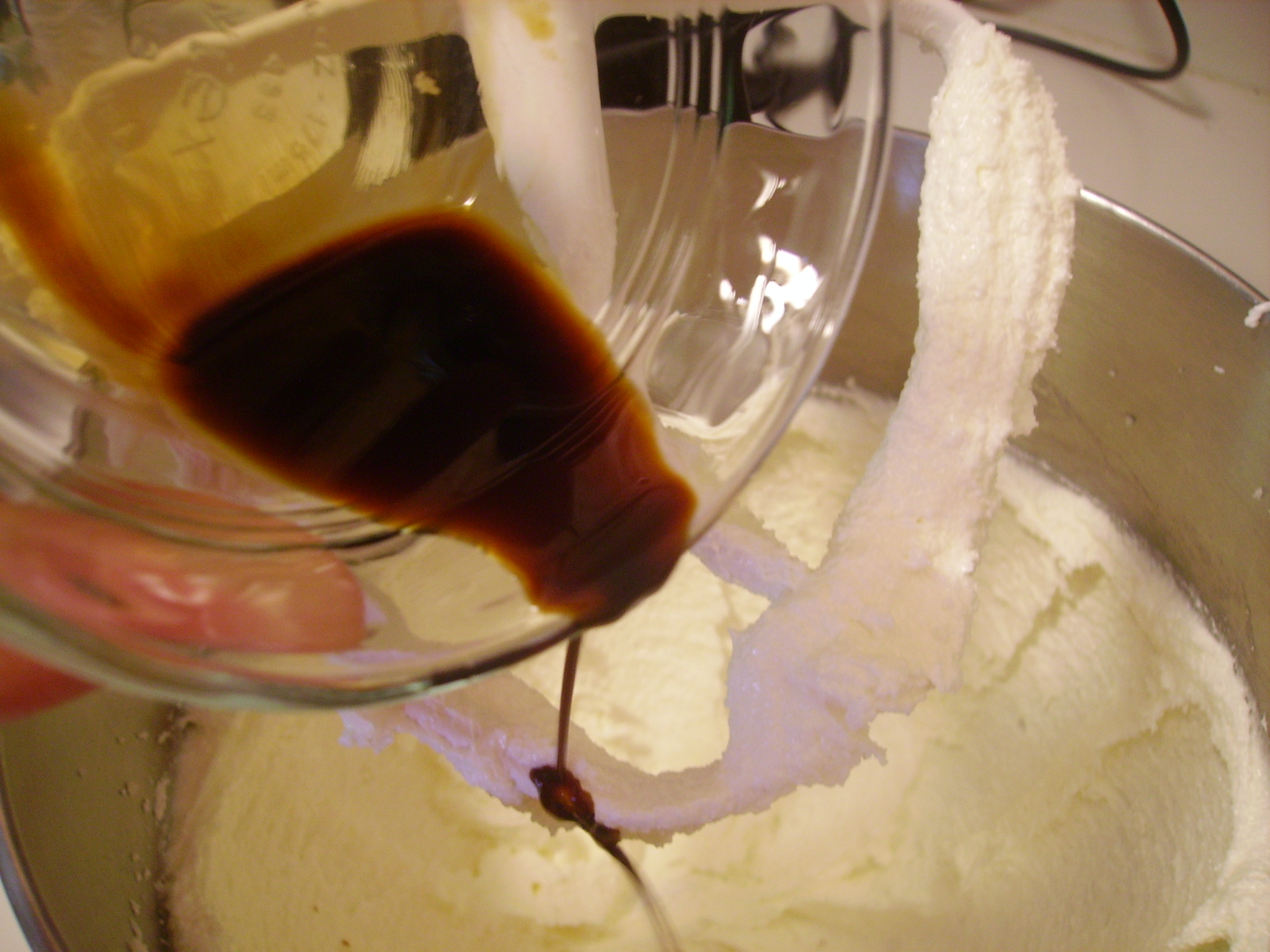 Start by making the cookies. Cream together the butter and sugar. Add in the corn syrup…this helps bind the cookies together, since there are no eggs in the dough.
Add in the espresso powder and vanilla and mix well.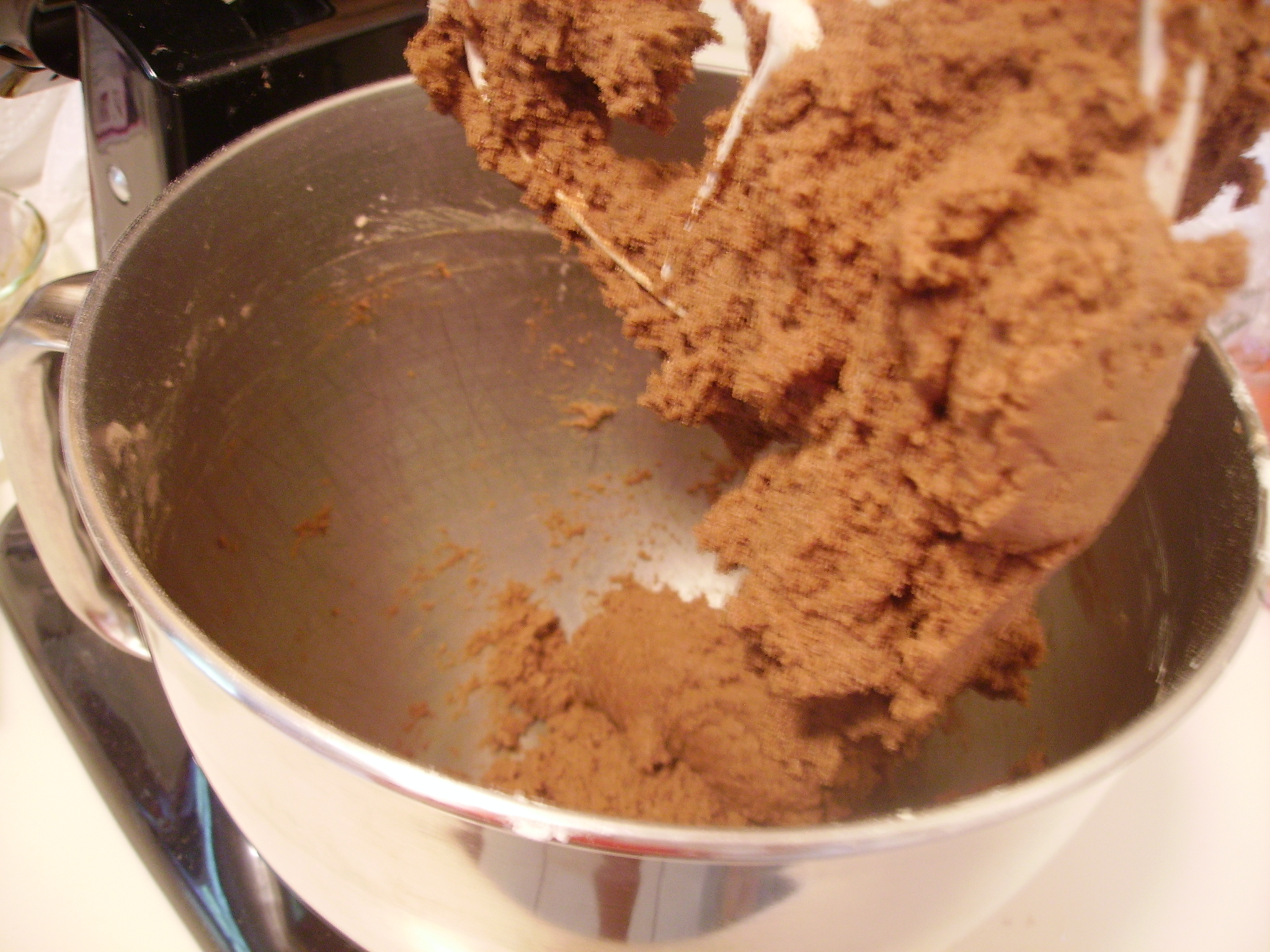 Stir in the sifted flour, cocoa, baking powder, and salt mixture. The dough should be very dry and crumbly at this point. Add in water, a little at a time, until the dough smooths out and becomes supple. Yum.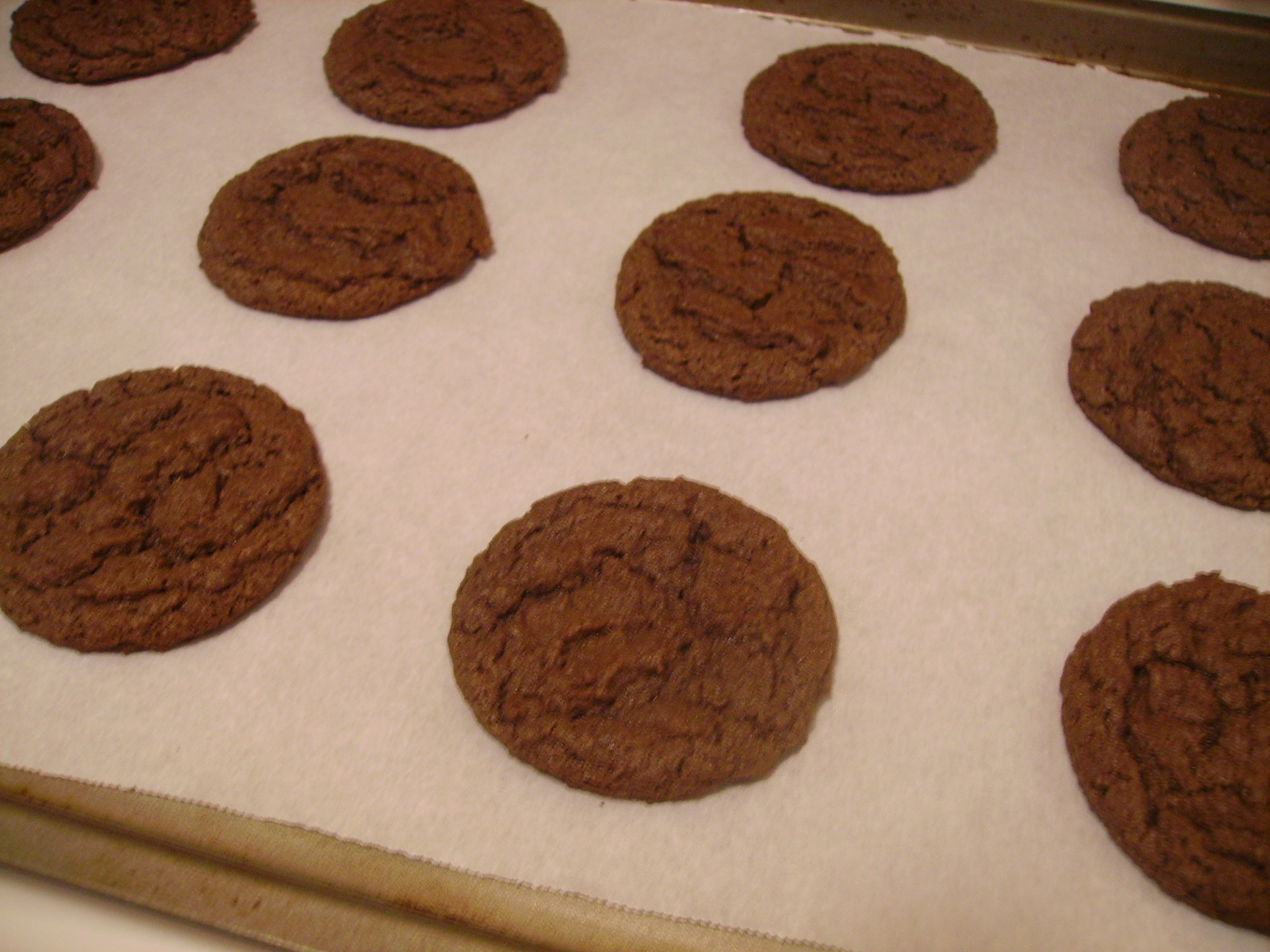 Bake the cookies for 8 minutes at 375° on parchment-covered cookie sheets. Let the cookies cool completely.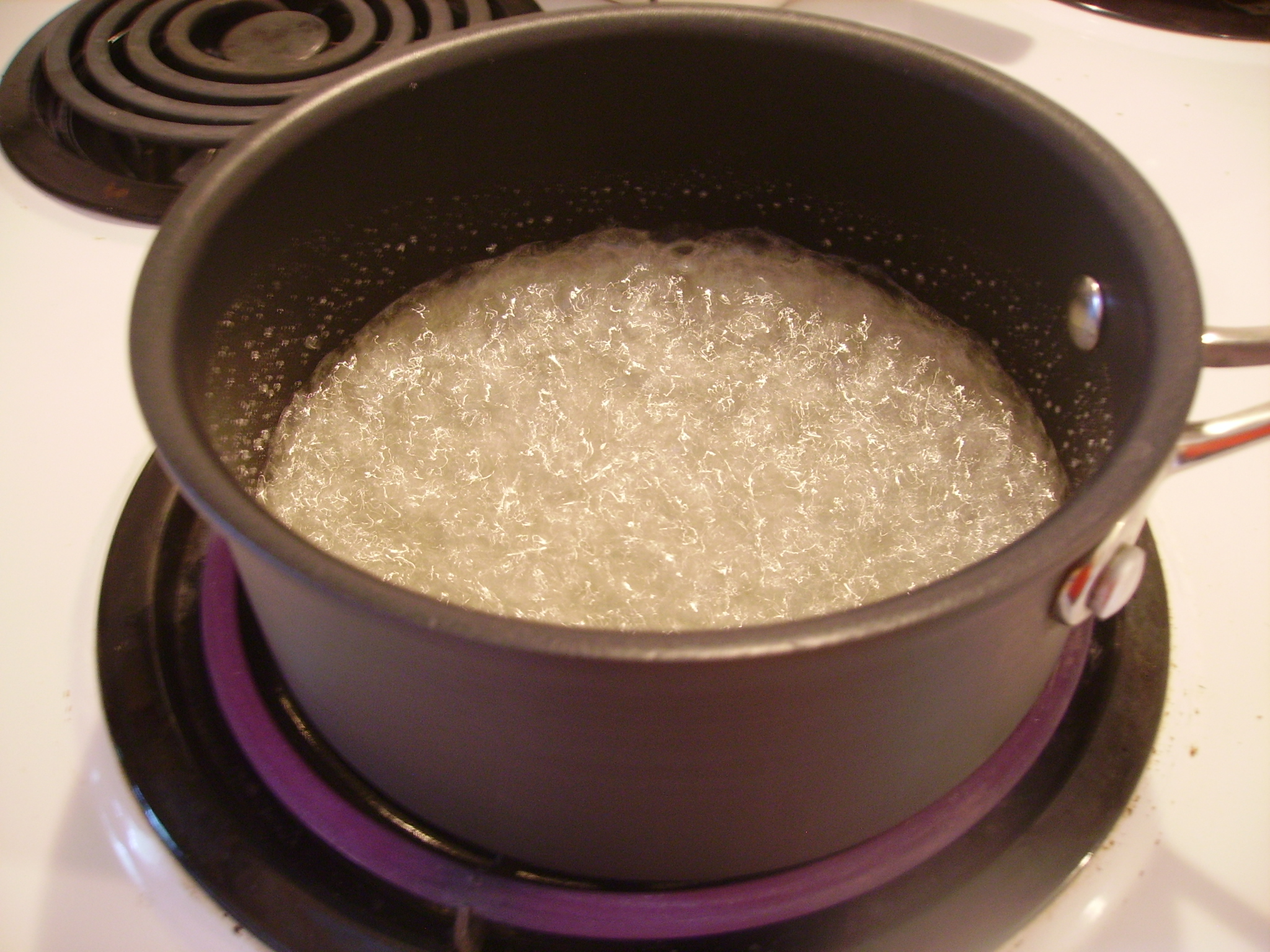 When the cookies are cool, prepare the caramel. Bring the cream, butter, salt, and vanilla to a boil in a small saucepan. Remove the pan from the heat and set it aside to cool slightly.
Meanwhile, cook the sugar (and the corn syrup and the water). Please note: the pan I used was just a smidge too small, when all was said and done, so get out a fairly large saucepan to caramelize your sugar in! Bring your sugar mixture to a boil over medium-low heat, stirring it every now and then. You will be sitting/standing by the oven for a while, but luckily, the sugar doesn't need that much attention for several minutes…so go ahead and do the dishes! You'll thank me later.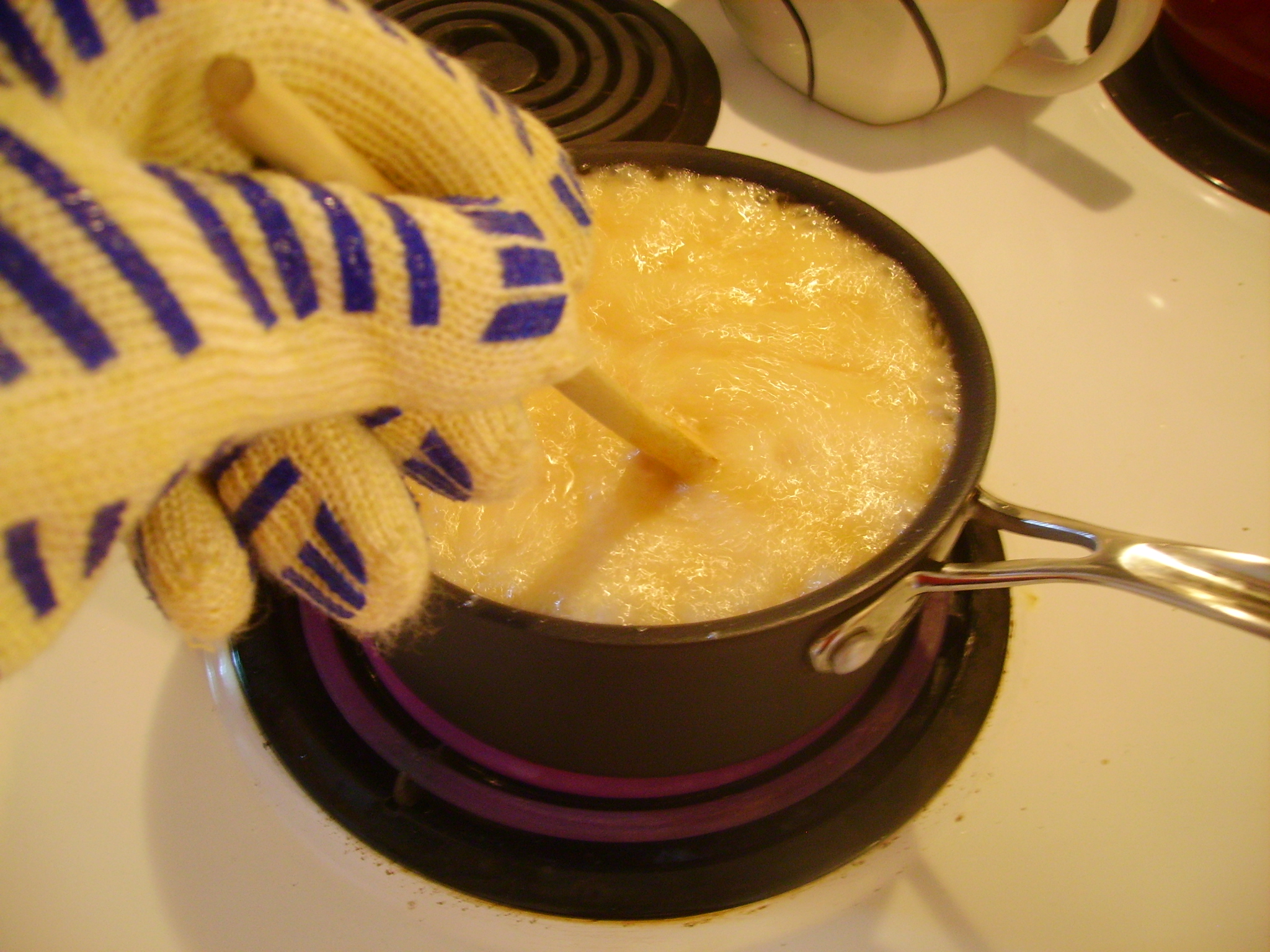 When the mixture finally turns a light golden brown, carefully pour the hot cream mixture back in, stirring all the while. I say carefully because it is going to bubble up like crazy. Remember when I told you you need a large saucepan? This is why. Be careful…sugar burns never ever stop burning. I wore an oven mitt on my stirring hand, because I really didn't want to burn myself if something splattered up onto me.
Anyway. Once all the cream is in, whip out your candy thermometer. Keep stirring the caramel as it turns an even more lovely golden brown, until it reaches 248°. This should be directly between "soft ball" and "hard ball" on your thermometer. And yes, you really do need a candy thermometer for this…otherwise you will either end up overcooking the caramel so that you crack a tooth on it (not ideal next to such a soft, crumbly cookie!) or undercooking it so that it never quite sets. Candy thermometer. You'll thank me later.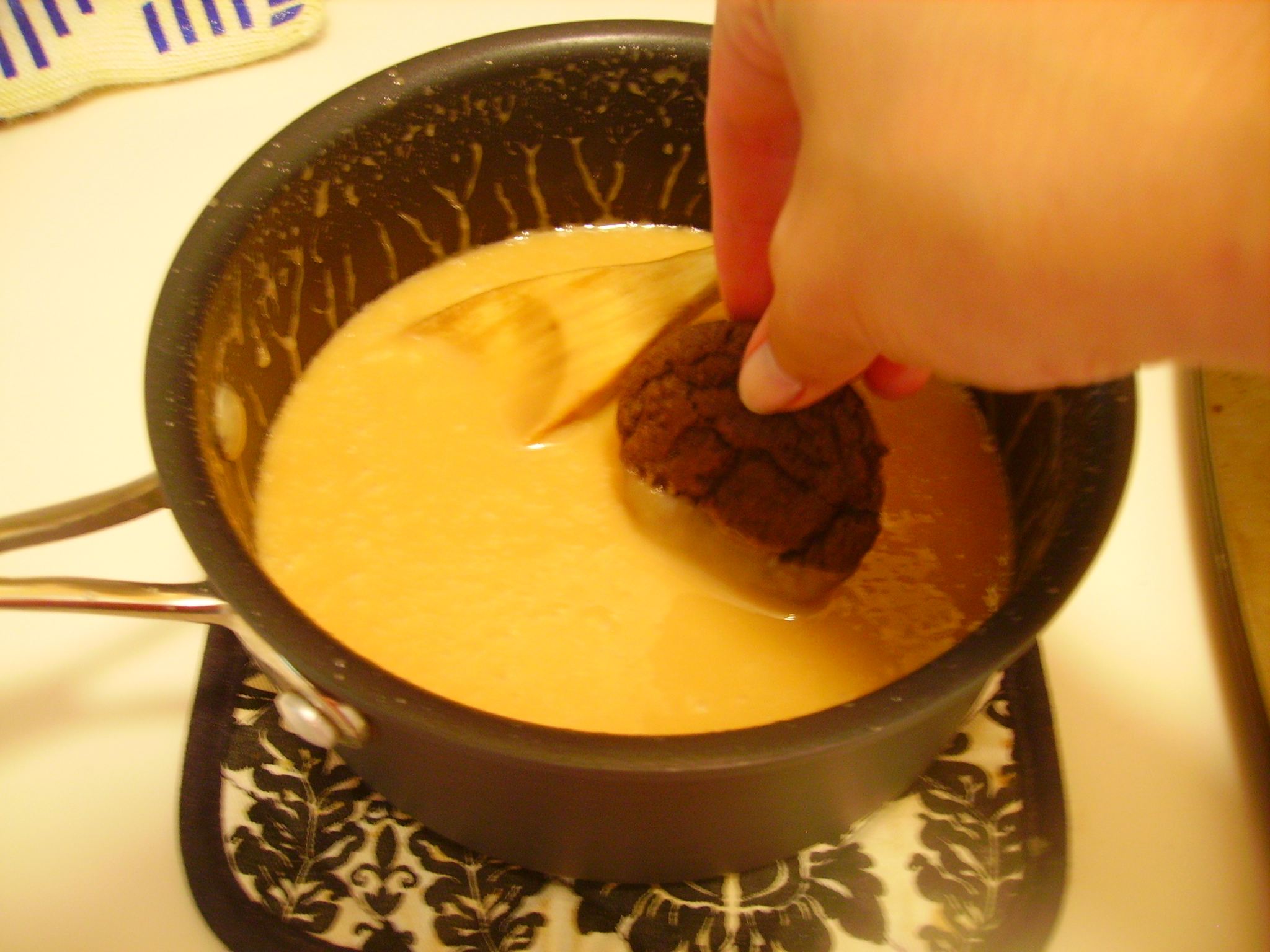 Okay! Assemble the cookies. Simply swipe a cool chocolate cookie through the caramel, let some of the excess drip off, and set it down on a sheet of parchment paper to cool. After making these a few times, I think I am going to recommend that you let the caramel set for a few minutes, then dip the cookies a second time. Trust me, there will be plenty, and this will make the coating (which may have dripped off the top of the cookie somewhat) a bit thicker and more prominent.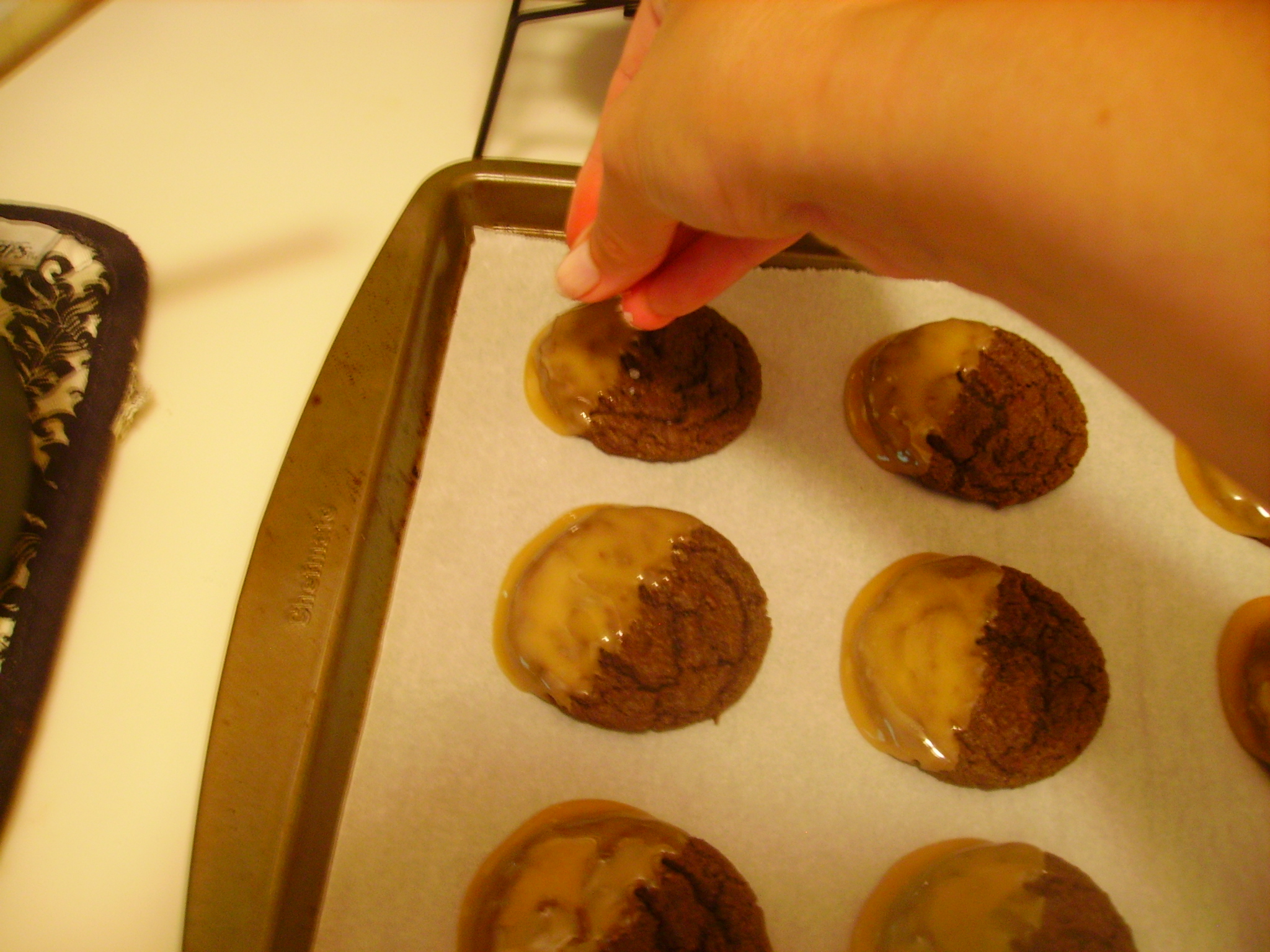 After you've coated the cookies in caramel to your satisfaction, wait about 5 minutes, then lightly sprinkle the caramel with sea salt. I actually did this by the dozen…dip a dozen cookies, then salt them, then move on to the next batch. But I think the salt crystals would have popped a little more, visually, if I had waited slightly longer.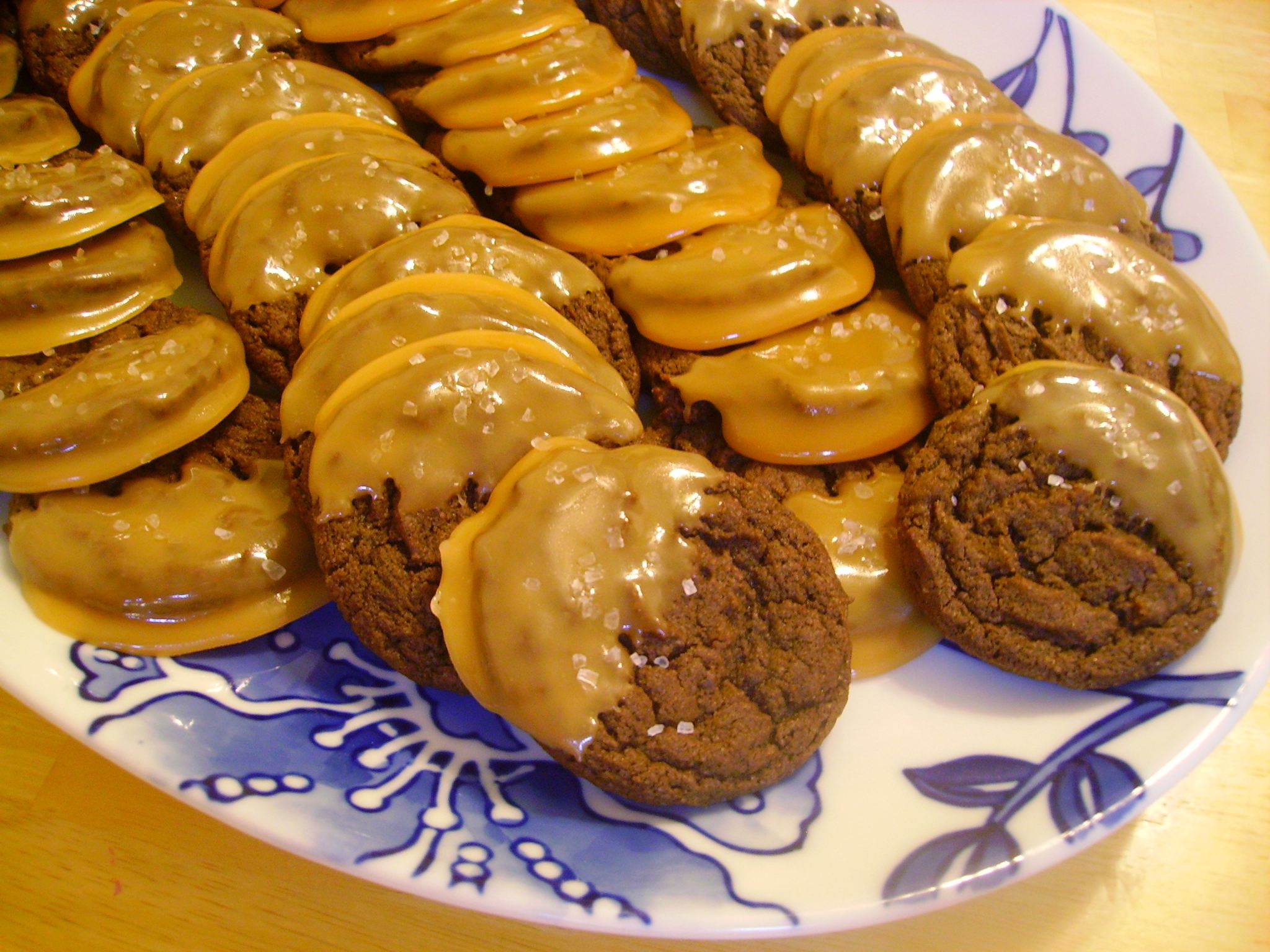 Now, one note about storing the cookies: It's really best if you store them flat, with layers of wax paper or parchment in between them…if you do like I let my husband do, and stack them together prettily on a serving platter, they will definitely all get stuck together. On the other hand, maybe that's not a problem for you…but if you want the option of eating one cookie at a time, don't let them touch! 🙂
Fleur de Sel Caramel Chocolate Cookies
adapted from Butter Flour Eggs and Annie's Eats
makes about 4 dozen
Cookie Ingredients:
2¼ cups flour
6 tbsp. cocoa powder
1½ tsp. baking soda
heaping ¼ tsp. salt
12 tbsp. butter
1 cup plus 2 tbsp. sugar
1½ tbsp. Karo light corn syrup
¾ tsp. vanilla extract
½ tsp. espresso powder
¼ cup water, as needed
Caramel Ingredients:
1 cup heavy cream
5 tbsp. butter
¼ tsp. salt
½ tsp. vanilla extract
1½ cups sugar
¼ cup light corn syrup
¼ cup water
large flake sea salt
Directions:
Preheat oven to 375°.
Sift together the flour, cocoa powder, baking soda, and salt. Set aside.
In the bowl of a stand mixer fitted with the paddle attachment, cream together the butter and sugar on medium speed until pale and fluffy, about 3–4 minutes. Add the corn syrup and continue to mix until combined.
In a small bowl, dissolve the instant espresso powder in the vanilla. Add to the butter and sugar and mix until combined.
Add the sifted dry ingredients and mix on low speed just until combined. Add water, as needed until dough pulls together to form a ball.
Scoop dough into 1″ balls and place on parchment-lined cookie sheets.
Bake for 8–9 minutes, until puffed and not too squishy in the centers. Remove to a wire rack to cool.
While the cookies cool, make the caramel. In a small saucepan, combine the cream, butter, salt, and vanilla extract. Heat over medium-high heat and bring to a boil.  Remove from the heat and set aside.
In a large saucepan, combine the sugar, corn syrup, and water. Heat over medium-high heat, stirring occasionally until the sugar is dissolved. Bring to a boil, swirling the pan occasionally but not stirring.
When the sugar mixture is a light golden brown, carefully stir in the cooling cream. It will bubble up, so pour slowly and stir constantly. Continue simmering the mixture until it registers 248° on a candy thermometer. Immediately remove from the heat, but continue stirring until the caramel stops bubbling.
Working quickly, dip the cooled cookies into the caramel and set on a parchment-covered surface. Dip twice (cooling slightly in between) for a thicker coating of caramel. Sprinkle the caramel with a few flakes of sea salt.
Let the cookies cool until caramel is cool to the touch and set, at least 20 minutes.
Enjoy!