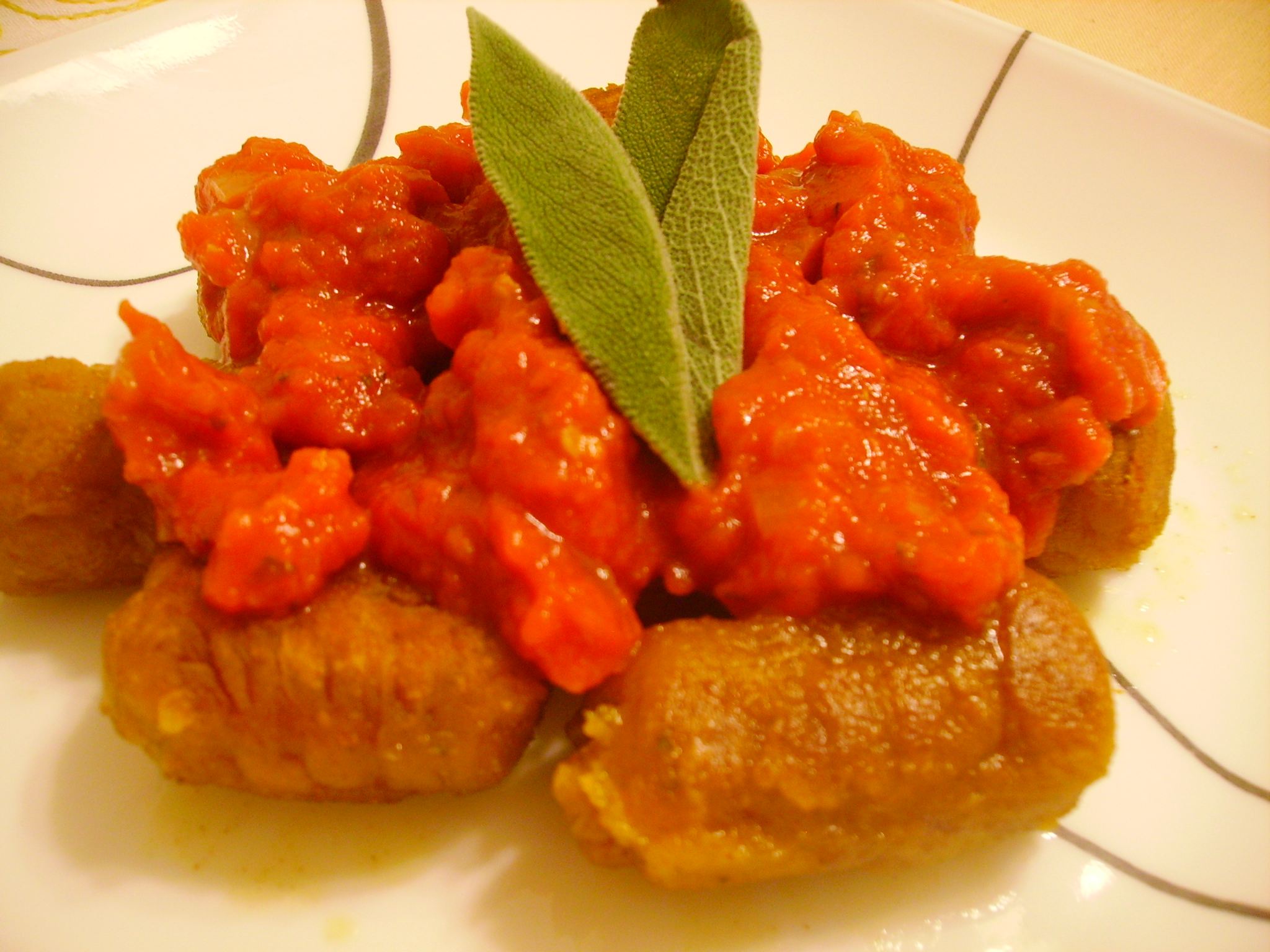 It's no secret that I love pumpkin things. Sweet or savory, pumpkin has got my attention! I know that Thanksgiving is over and I should be moving on to more wintery flavors, but I just can't give up on pumpkin for the season yet.
Take these awesome pumpkin gnocchi, for example. They are simple to make and full of rich, pumpkin goodness! What's not to love?
I added a less traditional spicy tomato sauce (you know, instead of a brown butter sauce), which cuts down on the calories a bit, in case you are still recovering from Thanksgiving. The sprinkle of sage makes it just divine!
So my process with the gnocchi themselves was a bit of trial and error. I will lay it all out on the table and let you decide which method works best for you!
The main issue is that the pumpkin is too soft and liquidy to make a good, stiff dough. Of course, you can solve this problem by adding more flour, but then you dilute the pumpkin flavor significantly. So there are two solutions! The first, which is what I did this time (though I would not recommend it necessarily) is to make the dough and then cook it down a little before forming it into little gnocchi balls. The reason I wouldn't necessarily recommend this is that while the liquid is cooking off, the bottom of the mixture begins to cook like a pancake. That being said, my gnocchi turned out delicious and the texture wasn't bizarre at all! However, what I plan to do next time (a.k.a., method number 2) is cook down the pumpkin before adding it into the rest of the ingredients, that way it packs a more intense flavor punch and the dough will hold together well.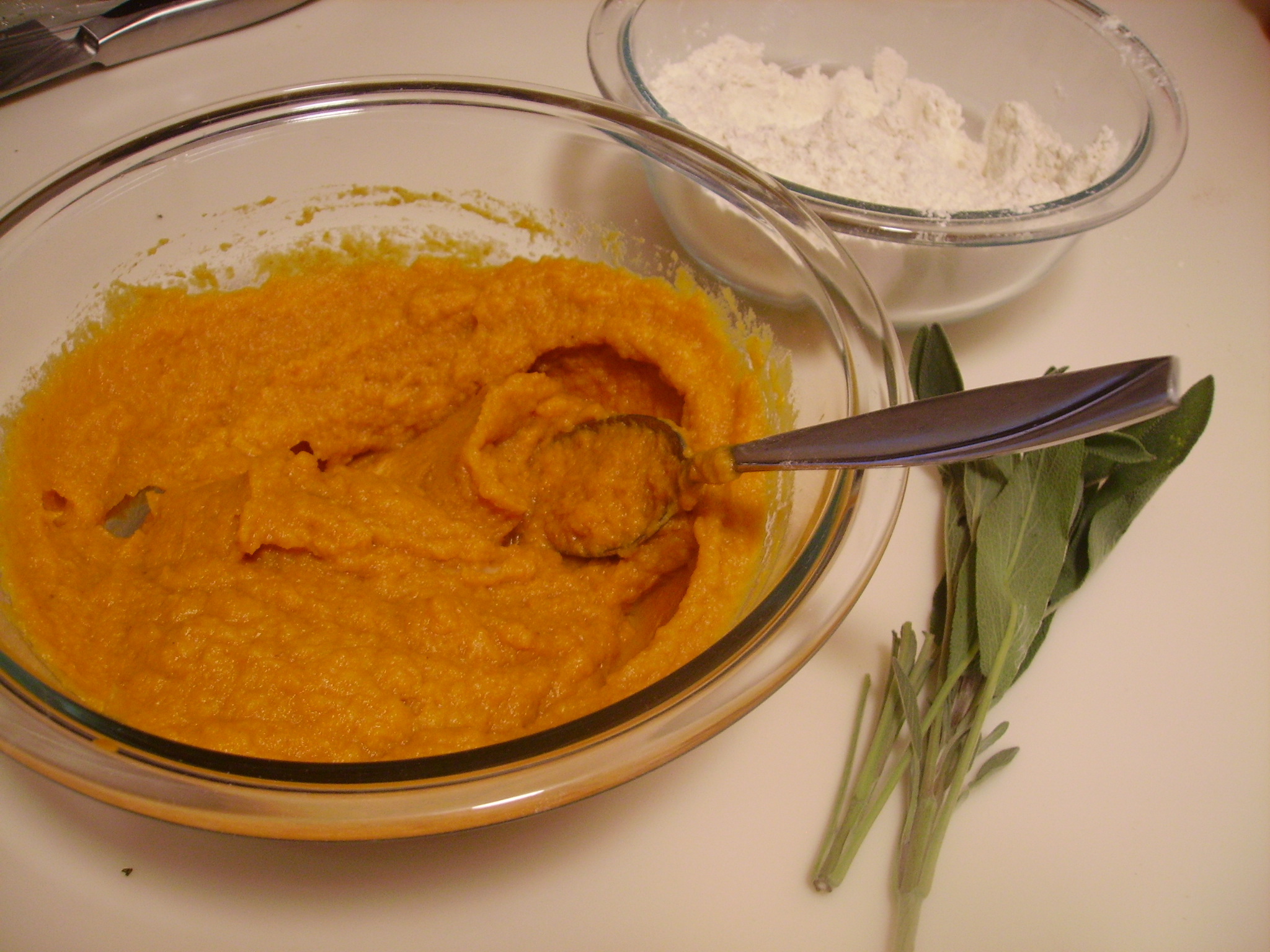 So. Let's make gnocchi! Cook your pumpkin down in a medium skillet so that it is becomes dry and a bit clumpy. Let it cool, then mix in the sugar and egg yolk.
In a separate bowl, whisk together all the dry ingredients for the dough. Don't skimp on the chopped fresh sage, as that is really the best part!
Mix the pumpkin into the dry ingredients. The dough should be stiff enough to knead a few times.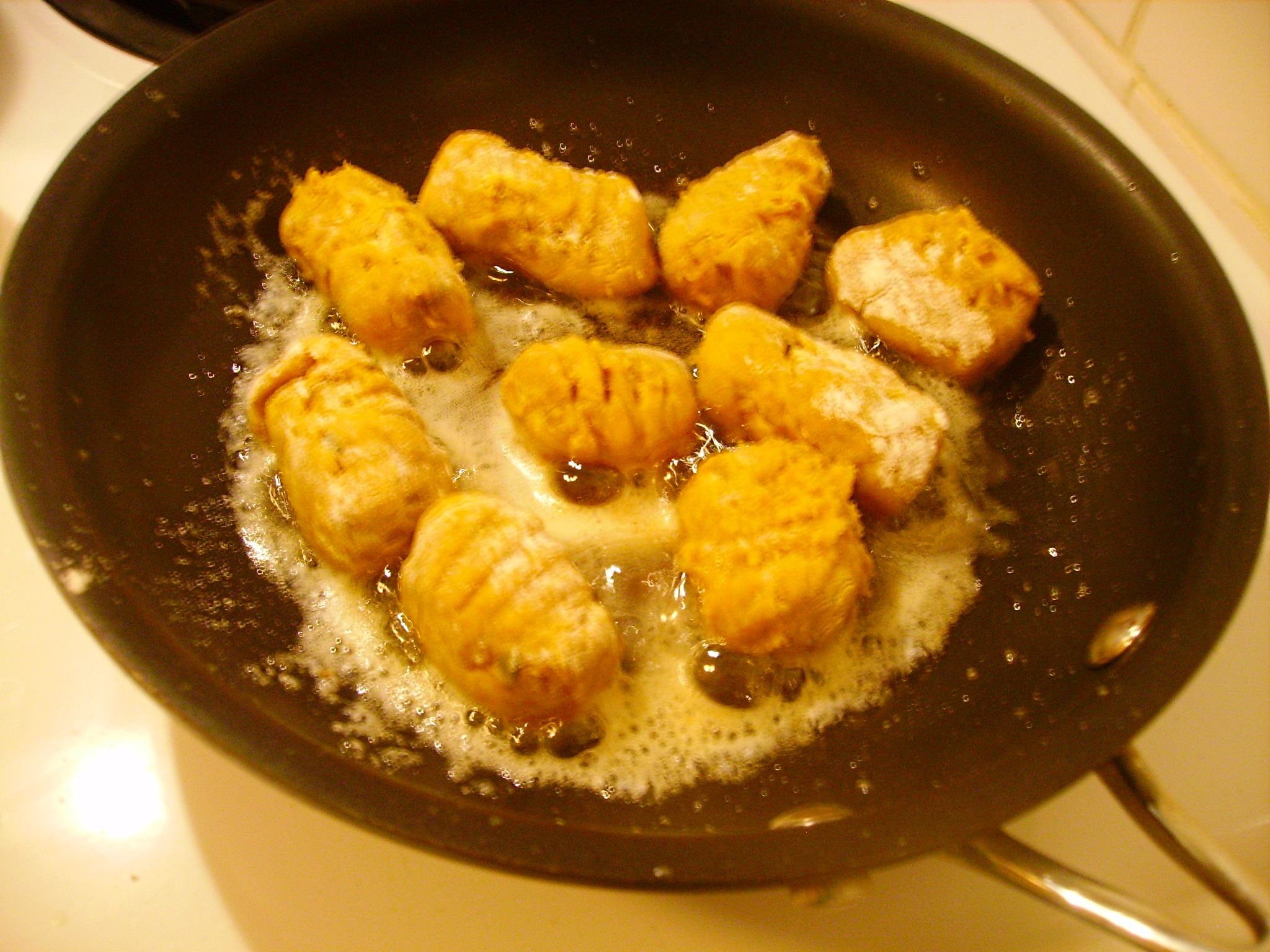 Roll it out into thin logs and cut into ¾″ pieces. (Alternatively, you can just scoop the dough into 1 tbsp. balls and roll them.) I, personally, find that it's not worth the extra effort to try to lay a ridged design onto the gnocchi, because I am going to pan-fry them and the design won't be visible afterwards anyway. However, you could take the time now to roll the gnocchi with a fork or over a floured gnocchi board if you have such a contraption…
Sear the gnocchi in about 1–2 tbsp. butter, about 3 minutes on each side, until a nice, dark crust forms. Yum!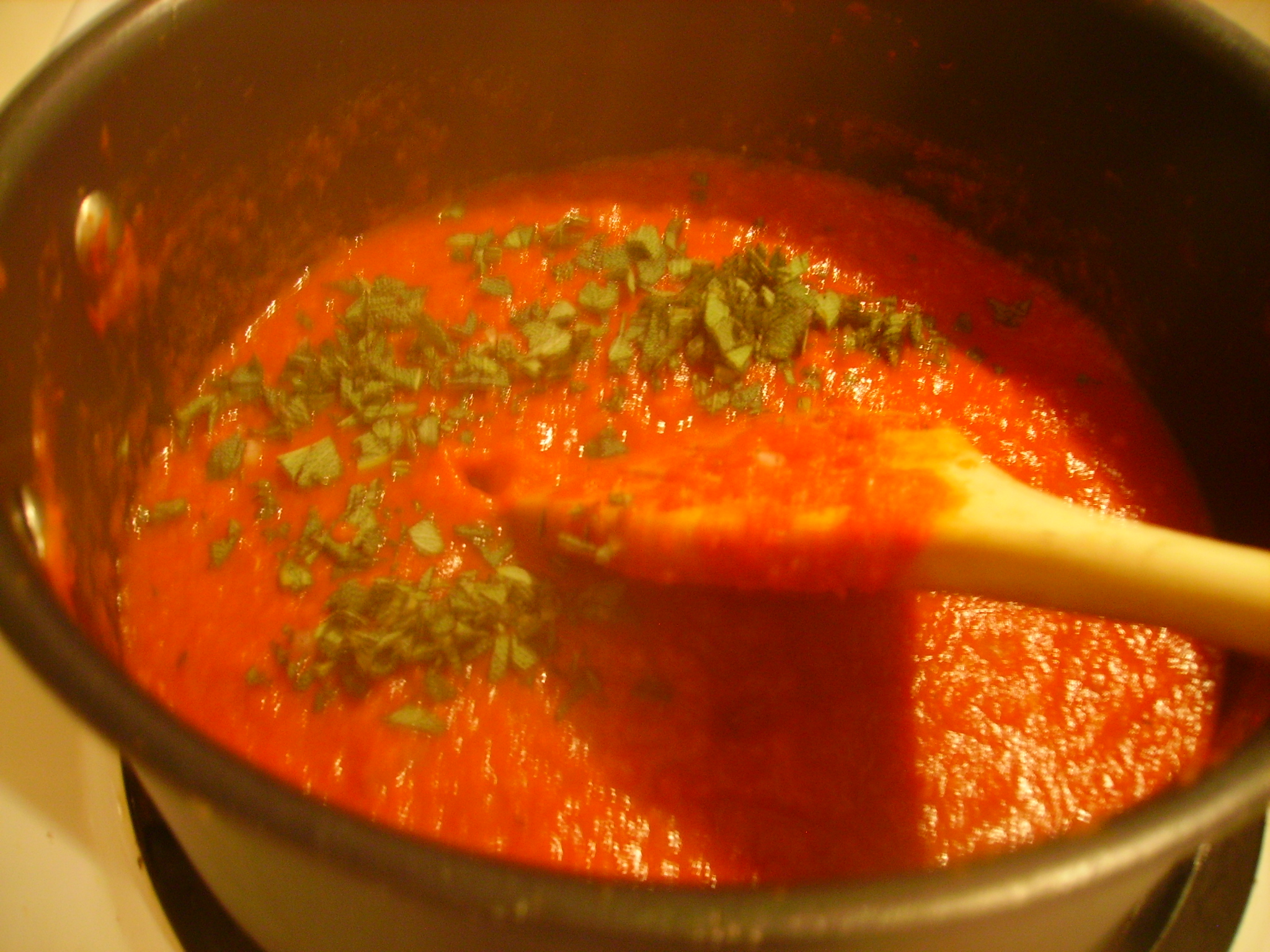 Meanwhile, prepare the sauce. This really couldn't be easier. Start by sautéeing the shallots and garlic until they become soft and fragrant. Add in the tomatoes and the seasonings. Cook for several minutes, stirring to prevent the bottom from burning, to allow the flavors to meld together.
About 2 minutes before you are ready to serve, add the remaining butter and a hearty dose of chopped sage into the tomato sauce. Stir until the butter melts, then remove from the heat.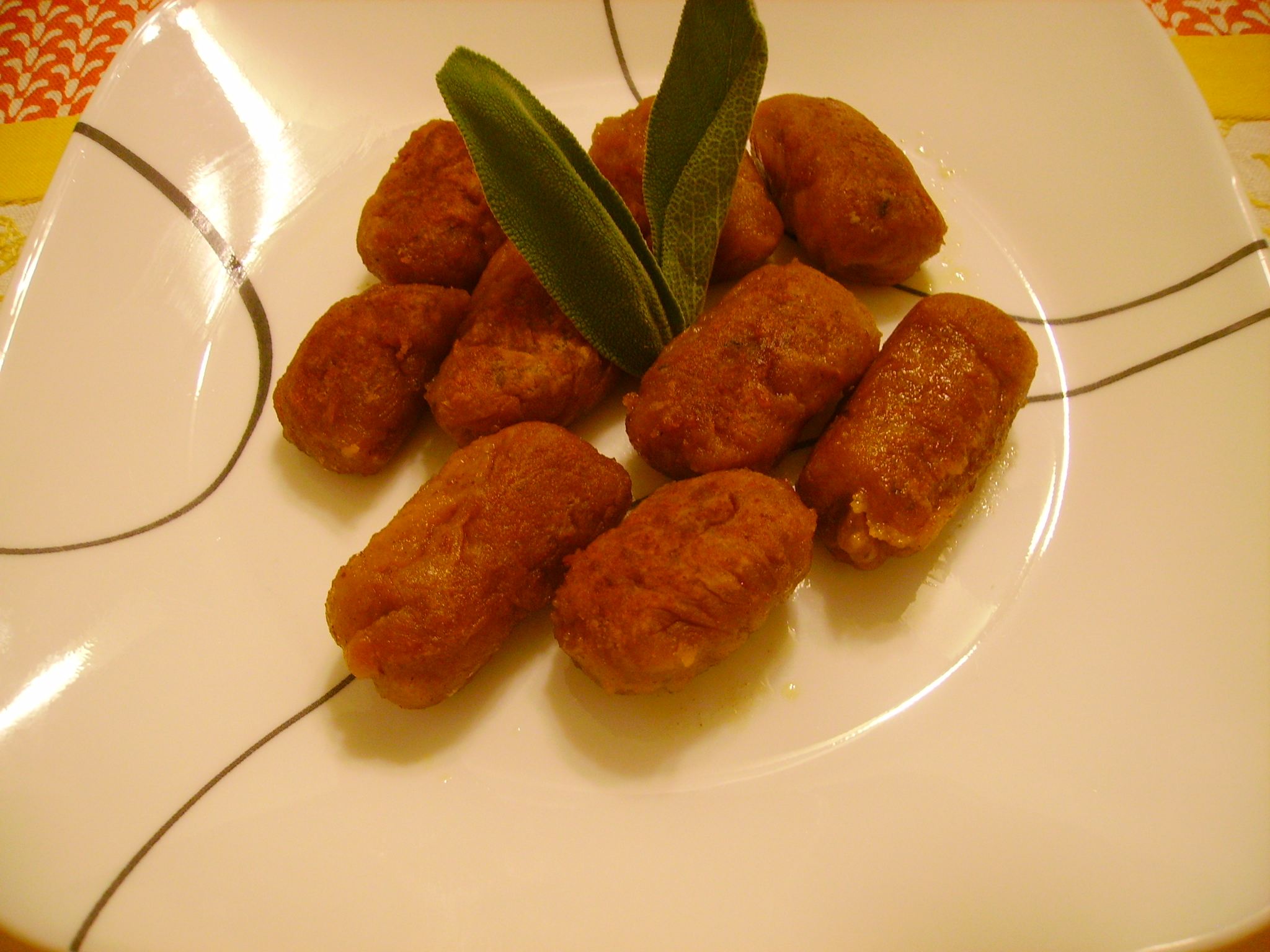 Top the browned gnocchi with a ladle full of sauce and sprinkle with extra sage and some grated parmiggiano-reggiano cheese. Try not to drool!
Pumpkin Gnocchi with Spicy Tomato-Sage Sauce
a Melissa original
serves 4
Ingredients:
2 cups pumpkin puree
2 tbsp. brown sugar
1 egg yolk
2 cups flour, divided
½ tsp. salt
¼ tsp. nutmeg
¼ tsp. allspice
3 tbsp. chopped fresh sage, divided
1 tbsp. olive oil
2 shallots, diced
2 medium cloves garlic, minced
1 29oz. can diced or crushed tomatoes (no salt added)
½–1 tsp. cracked red pepper
salt and fresh ground black pepper
5–6 tbsp. unsalted butter, divided
parmigiano-reggiano
Directions:
Simmer the pumpkin puree in a saucepan over medium heat for about 3 minutes to evaporate some of the moisture. Allow to cool back to room temperature, then mix in the brown sugar and egg yolk.
Mix 1½ cups flour with the salt, nutmeg, allspice, and 1 tbsp. chopped sage.
Stir together the flour and the pumpkin mixtures. The dough should be stiff enough to knead; if necessary, add extra flour as needed.
Knead the dough a few times, then roll into 4 thin logs. Cut into ½ʺ pieces and set aside. (If desired, press the surface of the gnocchi with a fork or roll on a gnocchi board to give them shapely ridges.)
Heat the olive oil in a large saucepan over medium heat. Add the shallots and sauté about 1 minute, until slightly softened. Add the garlic and continue cooking, stirring frequently, until the mixture is fragrant and golden, 2 minutes more.
Add the tomatoes, mix well and season to taste with cracked red pepper, salt, and pepper. Cover and continue to cook for 5–10 minutes to allow the flavors to blend. Stir occasionally to prevent the bottom from burning.
Meanwhile, melt 2 tbsp. butter over medium heat. In two batches, sear the gnocchi in the pan for about 3 minutes on each side, until a golden crust forms. Add an extra 1 tbsp. butter if needed for the second batch.
About 5 minutes before serving, add 3 tbsp. butter and remaining chopped fresh sage into the tomato sauce. Stir until the butter melts, about 2 minutes, then remove from the heat.
Serve the seared gnocchi with the tomato sauce, topped with a sprinkle of extra sage and some grated parmigiano-reggiano.
Enjoy!