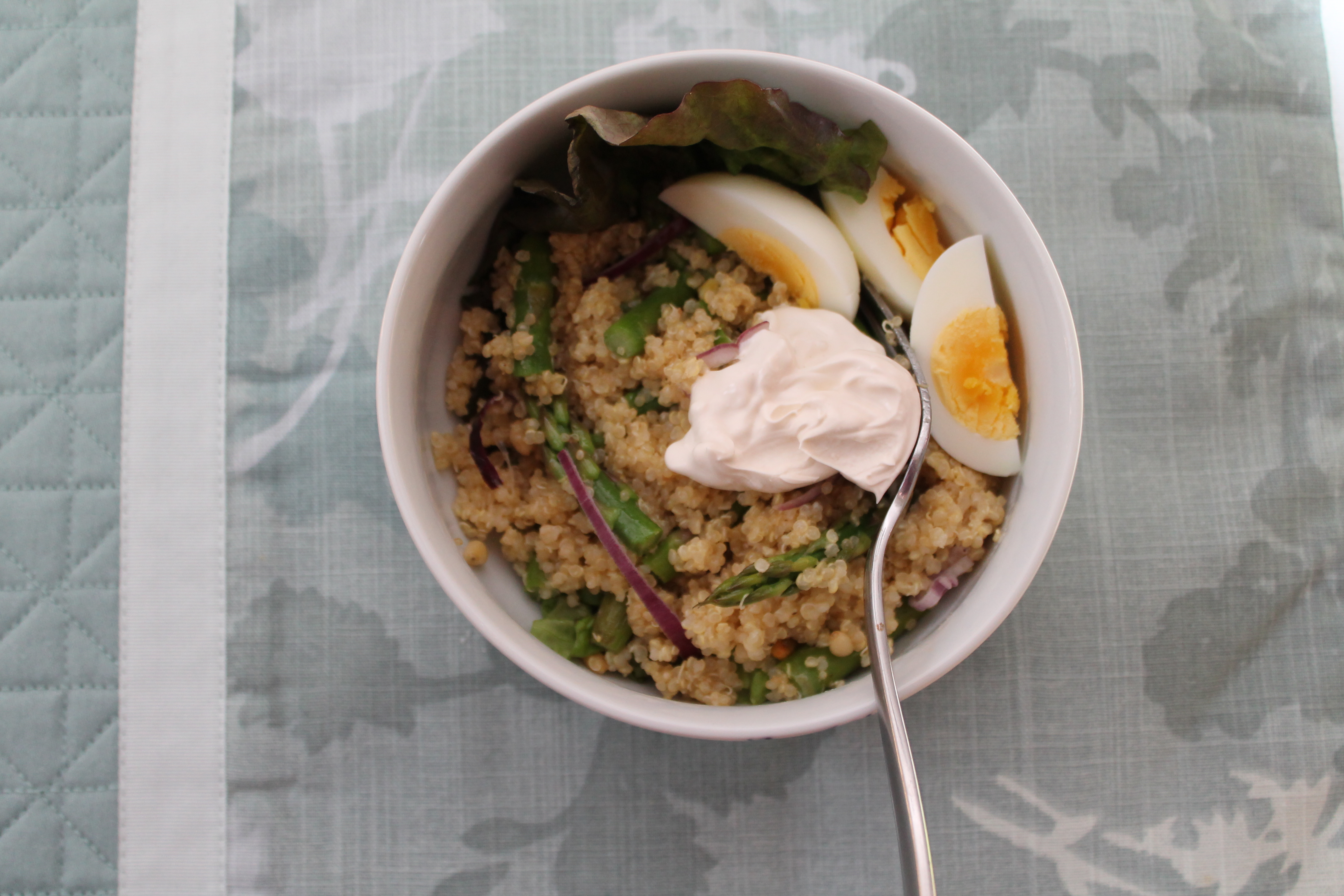 Recently, we have started making family dinners a higher priority. Honestly, I didn't realize how much eating a family dinner every night would tax my cooking repertoire!
So I started dividing meals into categories, to make it easier for me to lay out a variety of different meals over the course of each week. We have tortilla meals (loosely Mexican-themed), pasta meals (loosely Italian), soups, salads, sandwiches, fish, and of course, grain salads. (I am now realizing how many of my meals revolve in some way around carbs…yikes…at least I buy/make whole grains most of the time!)
My hubby is not such a huge fan of grain salads. Honestly, I am much more likely to make grain salads for lunch for myself than for dinners with him. But when I came across this recipe from Heidi Swanson of 101 Cookbooks, I was pretty sure it would be a hit with Dave.
And what's not to love? Butter and spicy Tabasco for him, asparagus and quinoa for me! And crème fraîche! Oh me, oh my! If you have never tried crème fraîche, this is definitely the time to take the plunge.
I'm not sure I would call this a healthy meal, exactly, but it sure was delicious! So, quick! while asparagus is in season, run out and make this meal! Promote it to dinner! You will definitely love it.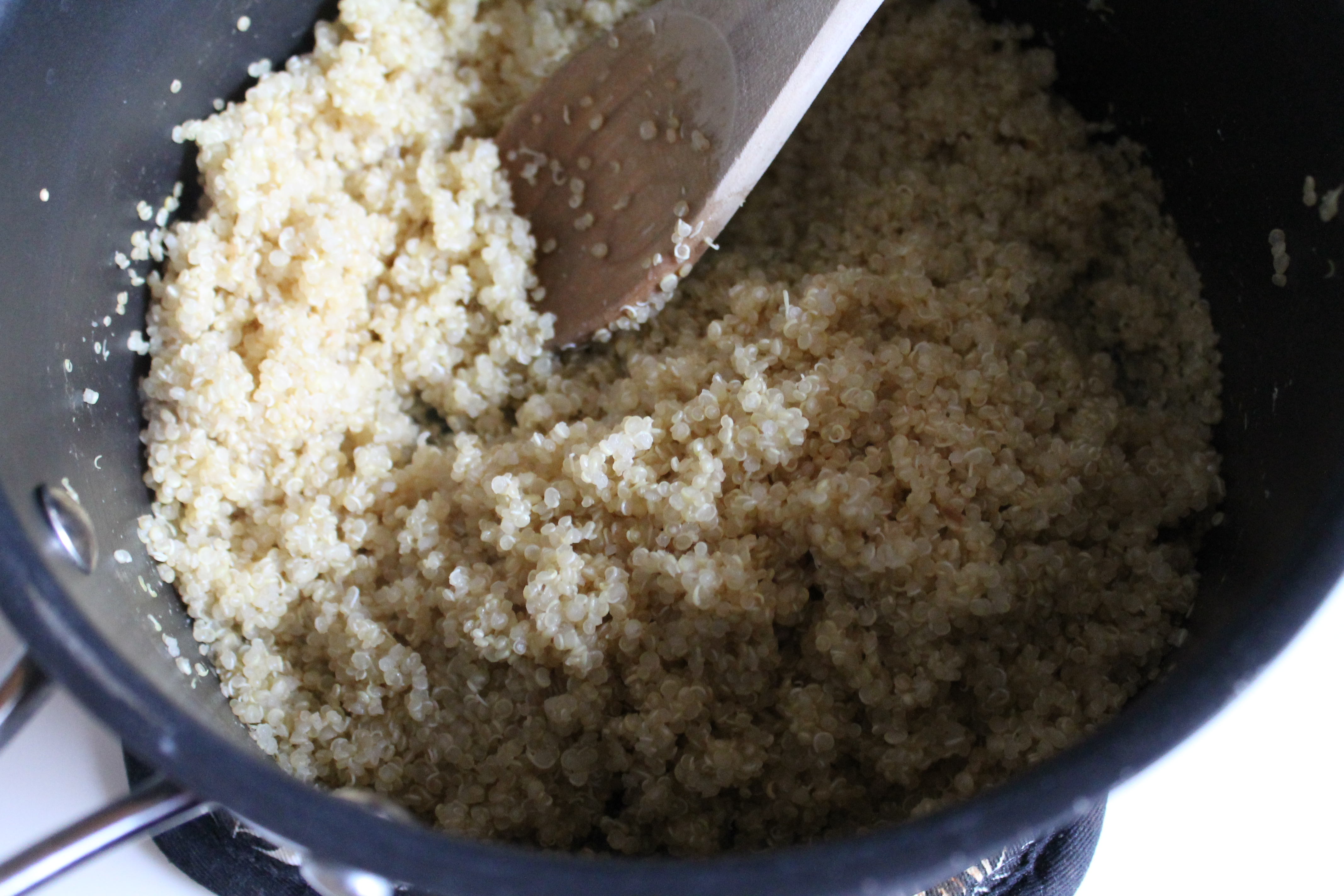 First, set the quinoa to cooking on the stove. The ratio of dry quinoa to water is 1:2. I, personally, don't usually rinse mine, because I am lazy and hate making an extra dish for myself to wash. So just dump your dry quinoa and the cold water into a pot, set the heat on your burner to medium, and let it go. Stir occasionally to prevent the bottom from getting gummy. It should cook completely in about 30 minutes.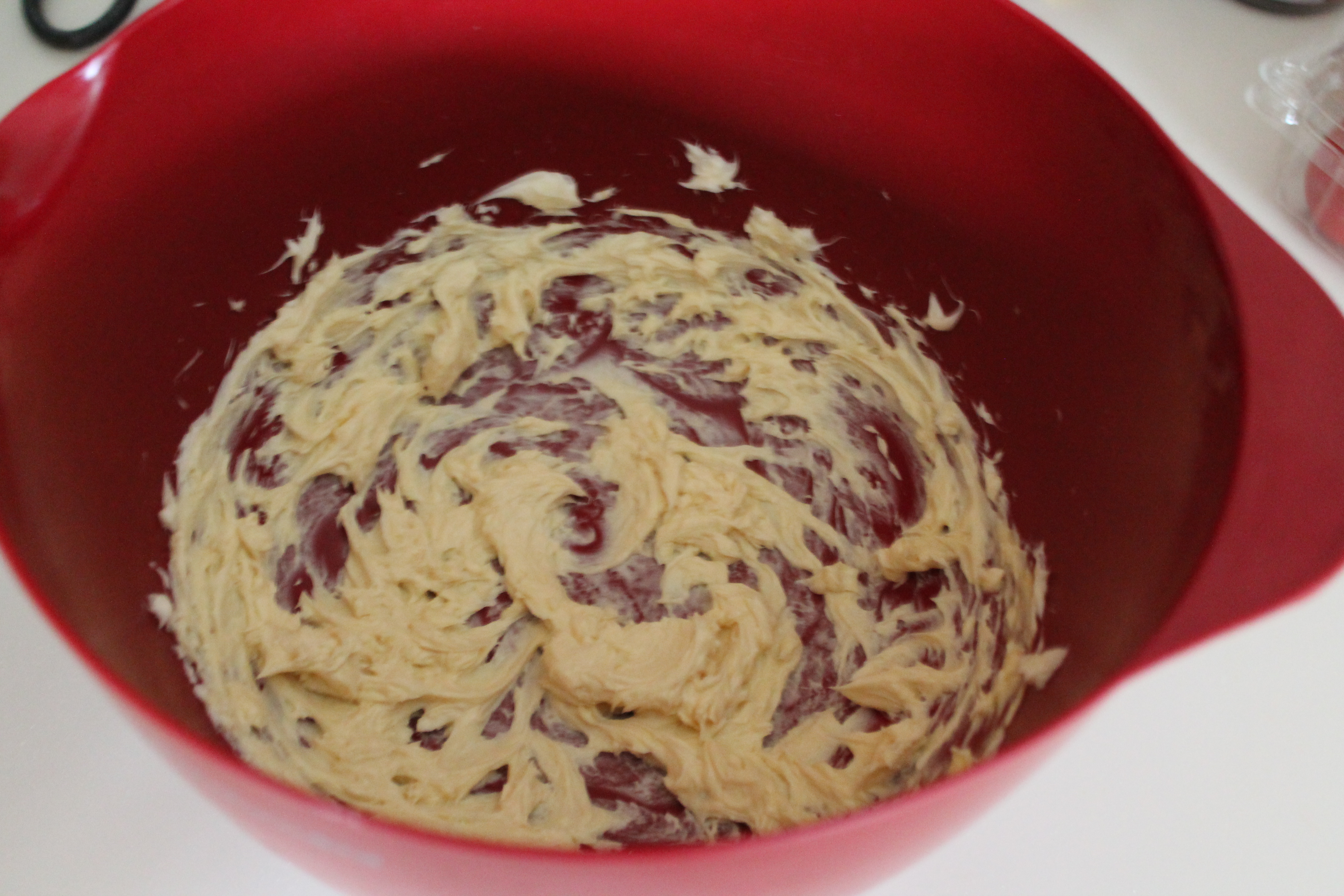 While the quinoa cooks, make your Tabasco butter. Yum! Blend together softened butter, Tabasco, mustard, and lemon juice. Set it aside.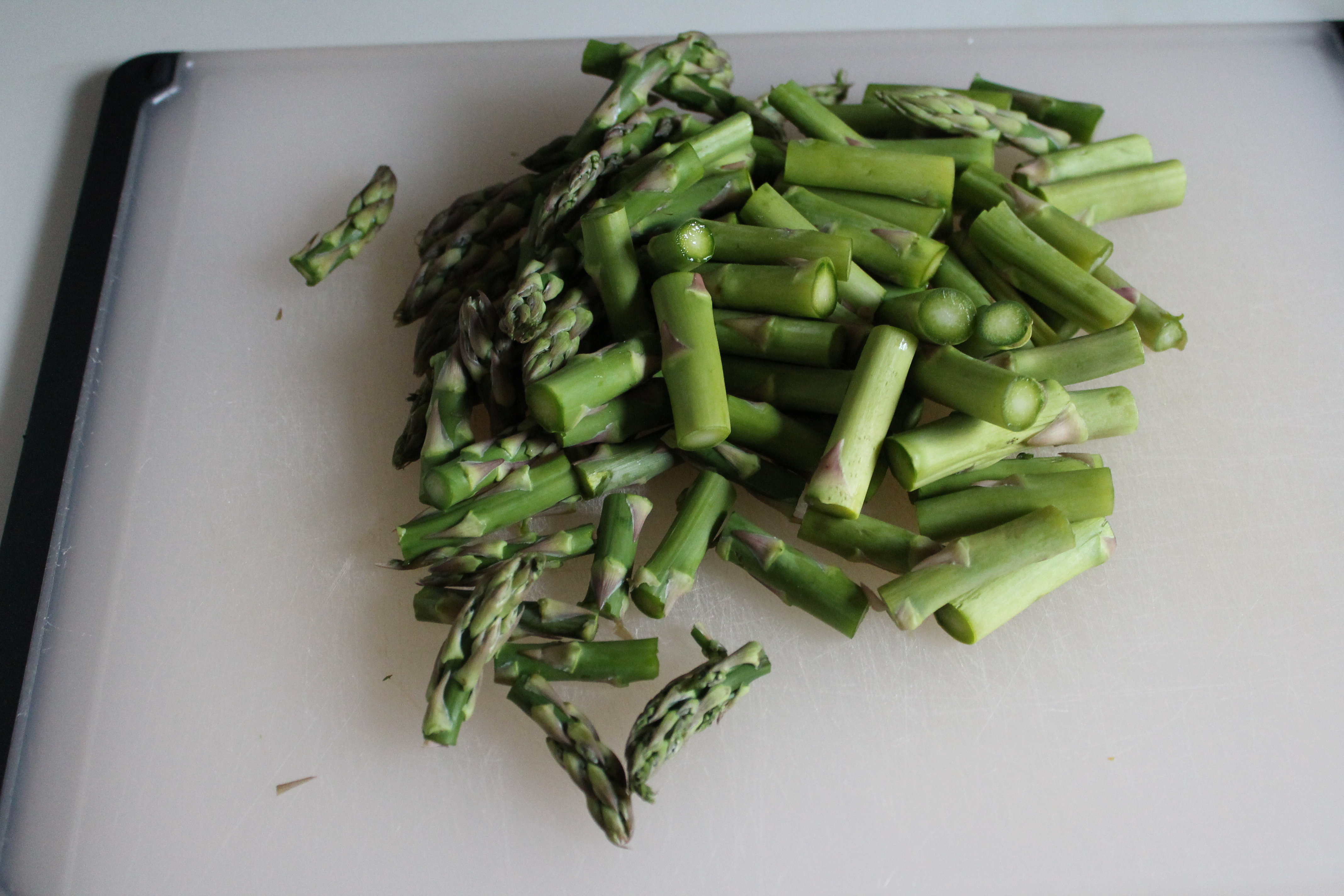 Also while the quinoa cooks, hardboil 2 eggs. In the same boiling water, quickly blanch your asparagus.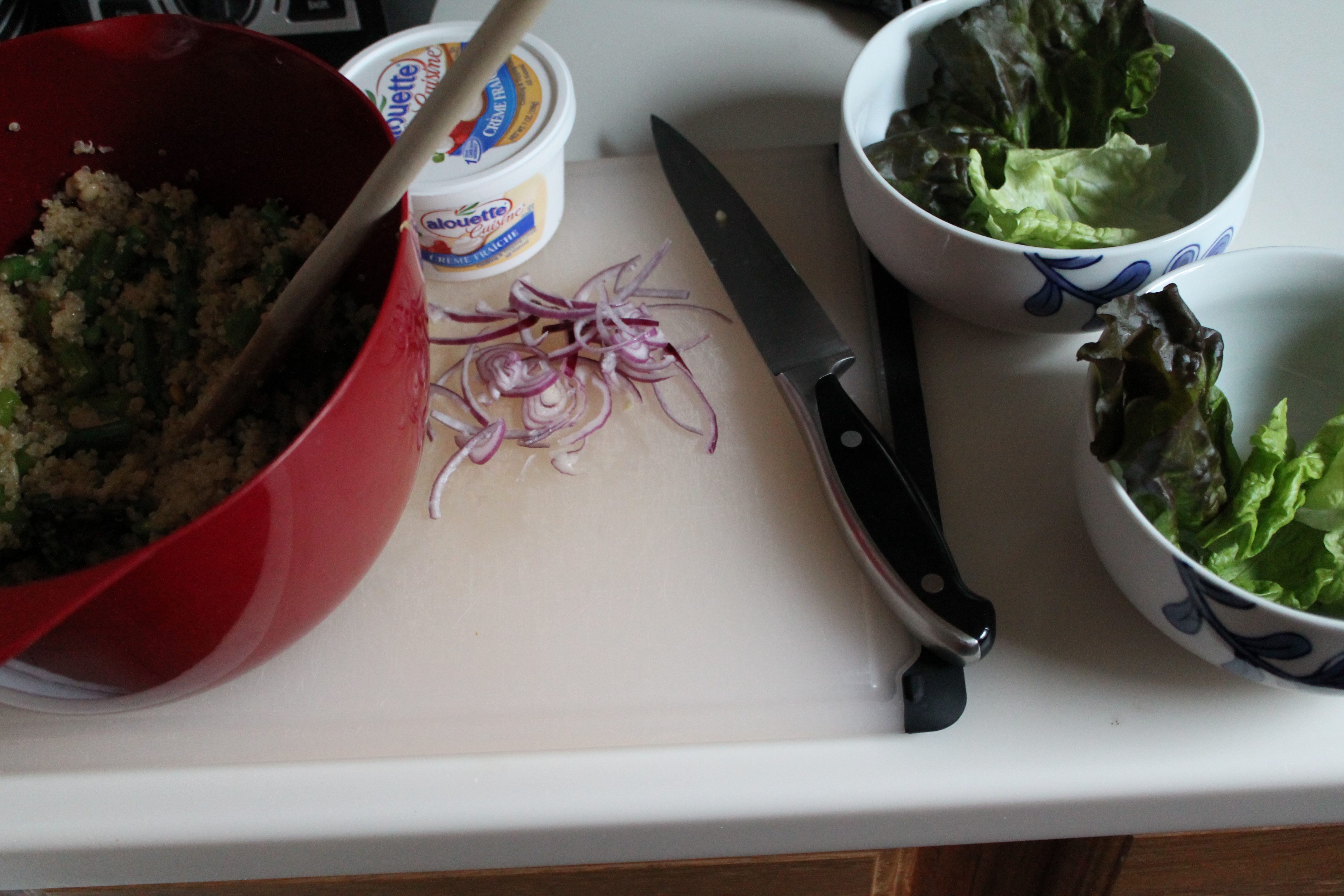 Toast your pine nuts, slice up your onions, and roughly chop the lettuce. Almost there!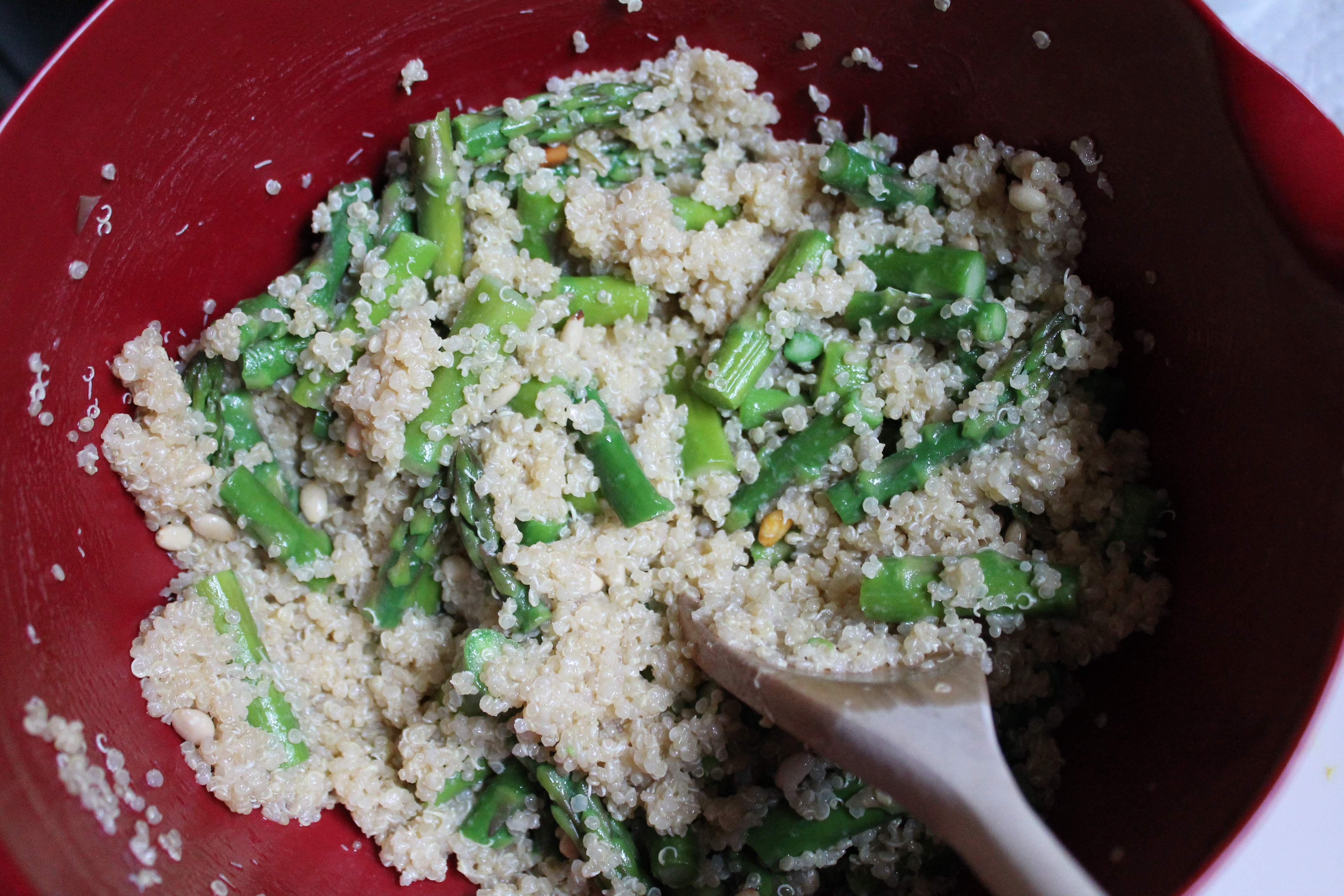 Add the warm quinoa to the Tabasco butter. Stir well; the quinoa will become a little denser and stickier. Toss in the asparagus, pine nuts, onions, and lettuce (or you could do a bed of lettuce, which is what I went for in the picture). Season with black pepper.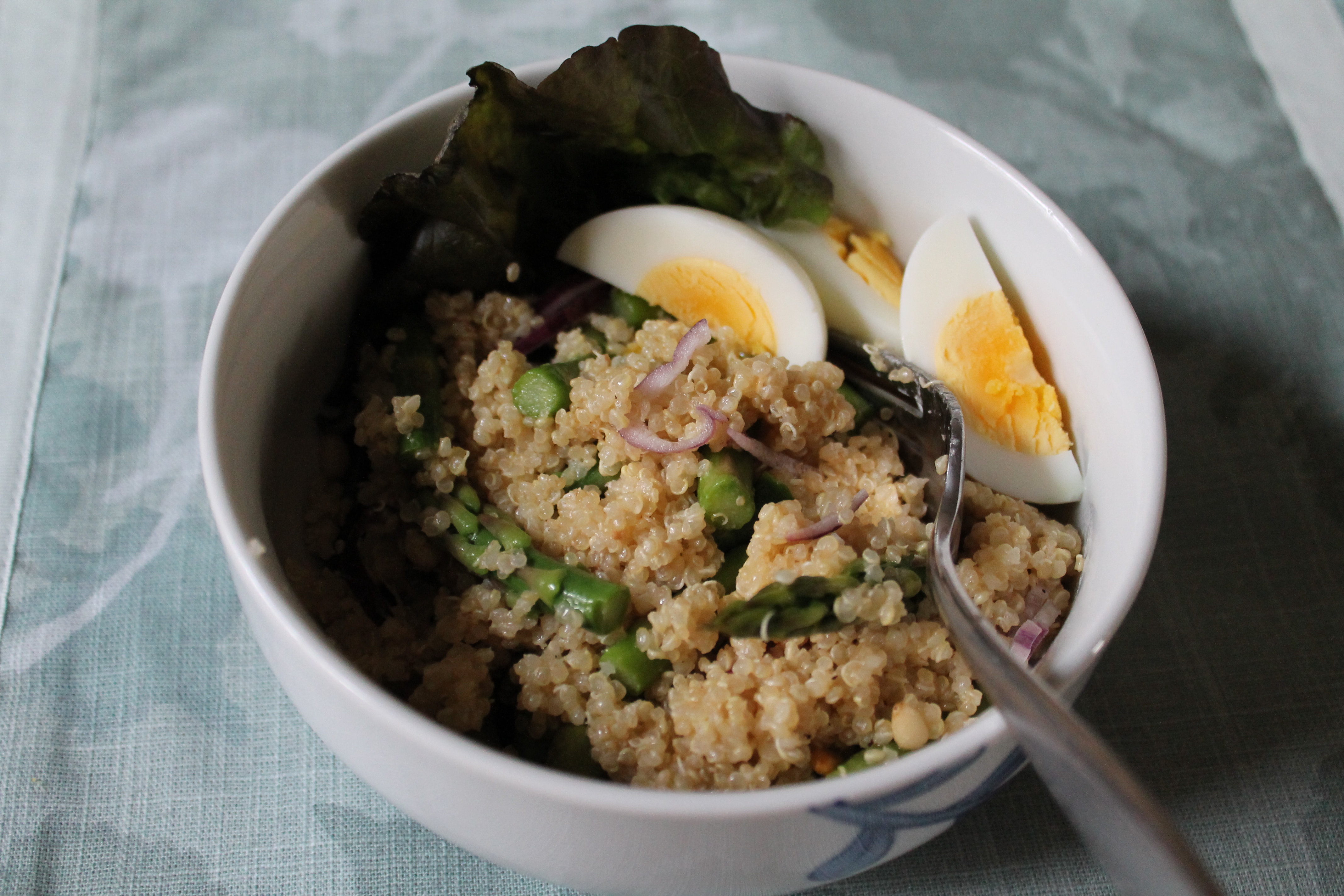 Serve the quinoa with eggs on the side. Spoon a generous dollop of crème fraîche over your grains and sprinkle with a few extra drops of Tabasco.
Tabasco and Asparagus Quinoa
adapted from 101 Cookbooks
serves 2–3
Ingredients:
1 cup dry quinoa
2 cups water
½ tsp. salt
¼ cup butter, room temperature
1 tsp. Tabasco sauce, plus extra
1½ tsp. Dijon mustard
1 tsp. lemon juice
2 eggs
1 lb. asparagus, trimmed and cut into 1ʺ segments
¼ cup red onion slivers
2 tbsp. pine nuts, toasted
black pepper
1 cup roughly chopped red leaf lettuce (about 3–4 large leaves)
2–3 tbsp. crème fraîche
Directions:
Combine the dry quinoa, water, and salt in a medium pot over medium heat. Bring to a boil, then reduce heat and simmer for 25 minutes, stirring regularly, or until the water is absorbed and the curlicues pop out.
Meanwhile, whip the butter with a hand mixer until light and airy. Mix in the Tabasco, mustard, and lemon juice.
Hardboil the eggs. Scoop them out of the boiling water with a slotted spoon, then drop the asparagus into the same water. Allow the asparagus to cook for 2 minutes, until bright green and tender. Drain and rinse with cold water to stop the cooking.
Peel and roughly cut up the eggs.
Dump the cooked quinoa into the Tabasco butter and mix well. Add the asparagus, red onion, pine nuts, and egg to the quinoa and stir to combine. Season to taste with pepper.
Lay a bed of chopped lettuce in the bottom of 2–3 deep bowls. Top with quinoa.
Serve each bowl dolloped with about 1 tbsp. crème fraîche and extra Tabasco as desired.
Enjoy!
One year ago: Trail Mix Cookies
Two years ago: Multigrain Granola