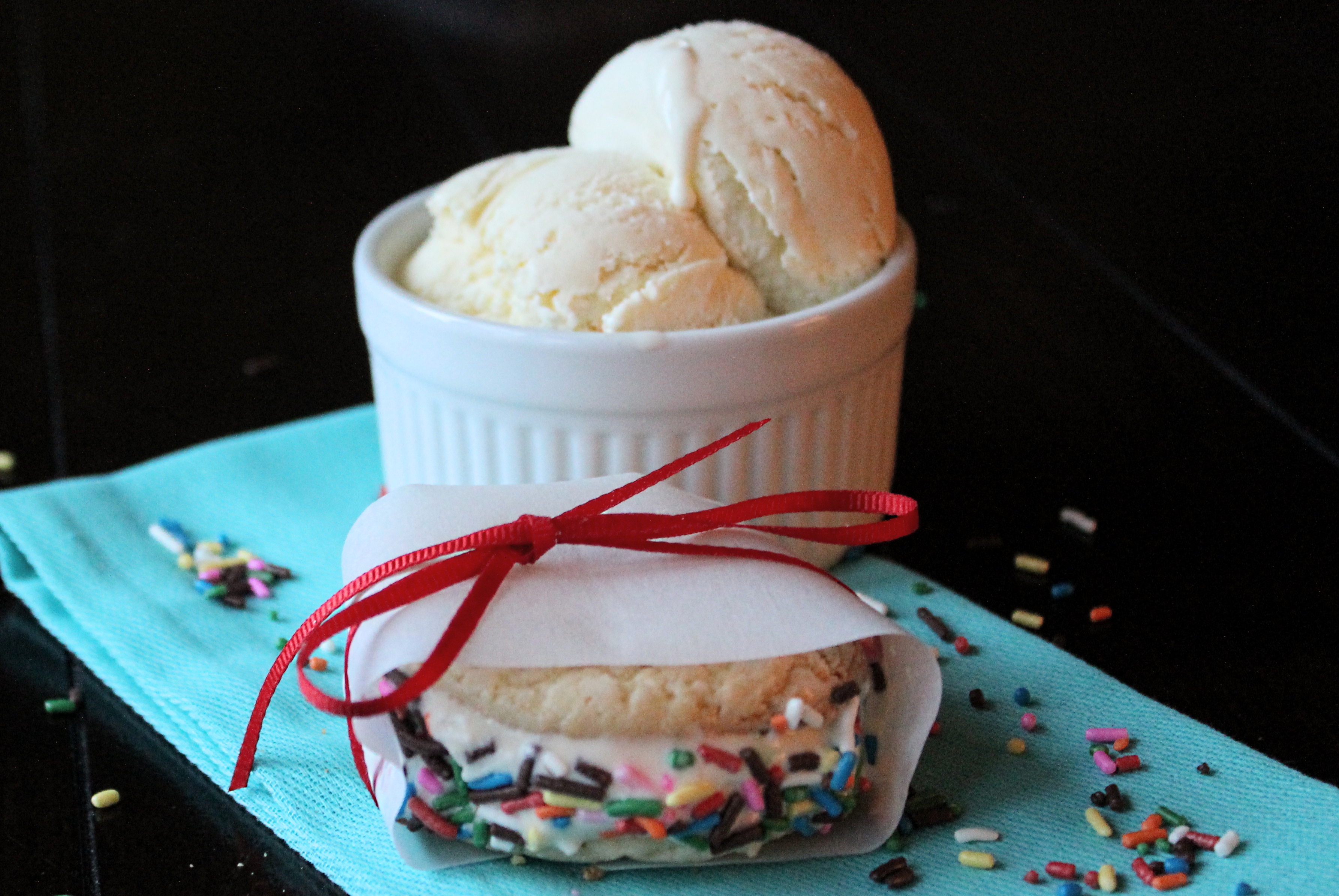 I must say, I love ice cream.
I love it all year long!
But there is something magical about ice cream on a hot day. The way it drips down your fingers and chin, the cold, refreshing sweet cream on your tongue…
I heard the ice cream truck touring through the neighborhood a few days ago and I knew it was time to get the ice cream maker out of the freezer (where it always lives, just in case I need to make ice cream on a moment's notice) and do something delicious.
One of my all-time favorite ice cream flavors is cake batter. Back in the day when I first moved out on my own, I used to buy box cake mixes specifically so I could snack on spoonfuls of cake batter (don't judge me…you know you love cake batter, too…). And when you add that unmistakable flavor to ice cream? It's pretty much perfection.
Cake batter ice cream starts out much like any other ice cream.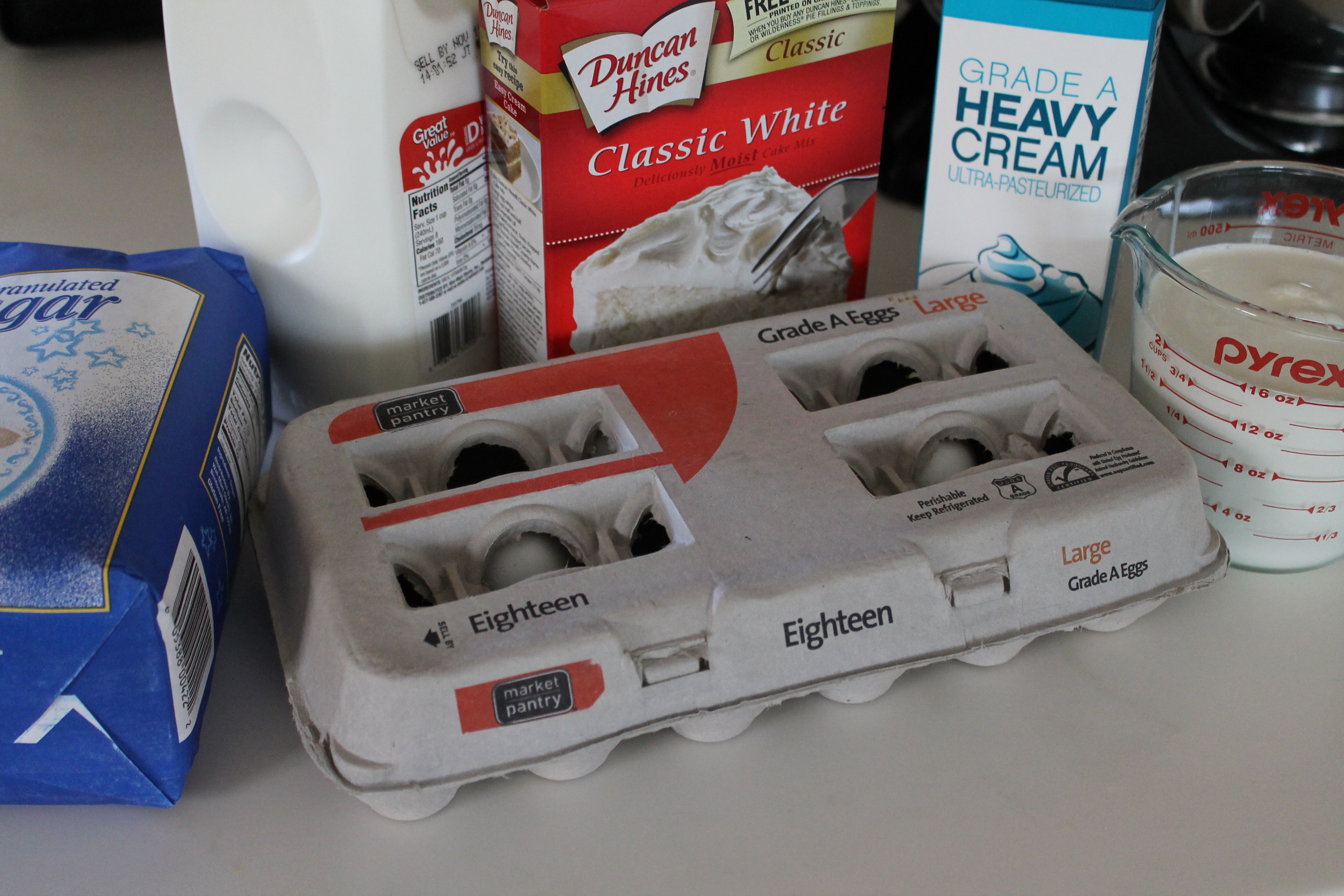 Whip the egg yolks with sugar and a pinch of salt until they are pale and thick. If you drizzle a ribbon of yolk over the surface of the mixture, the ribbon should be visible for 2 seconds or so before it sinks back into the rest of the yolks.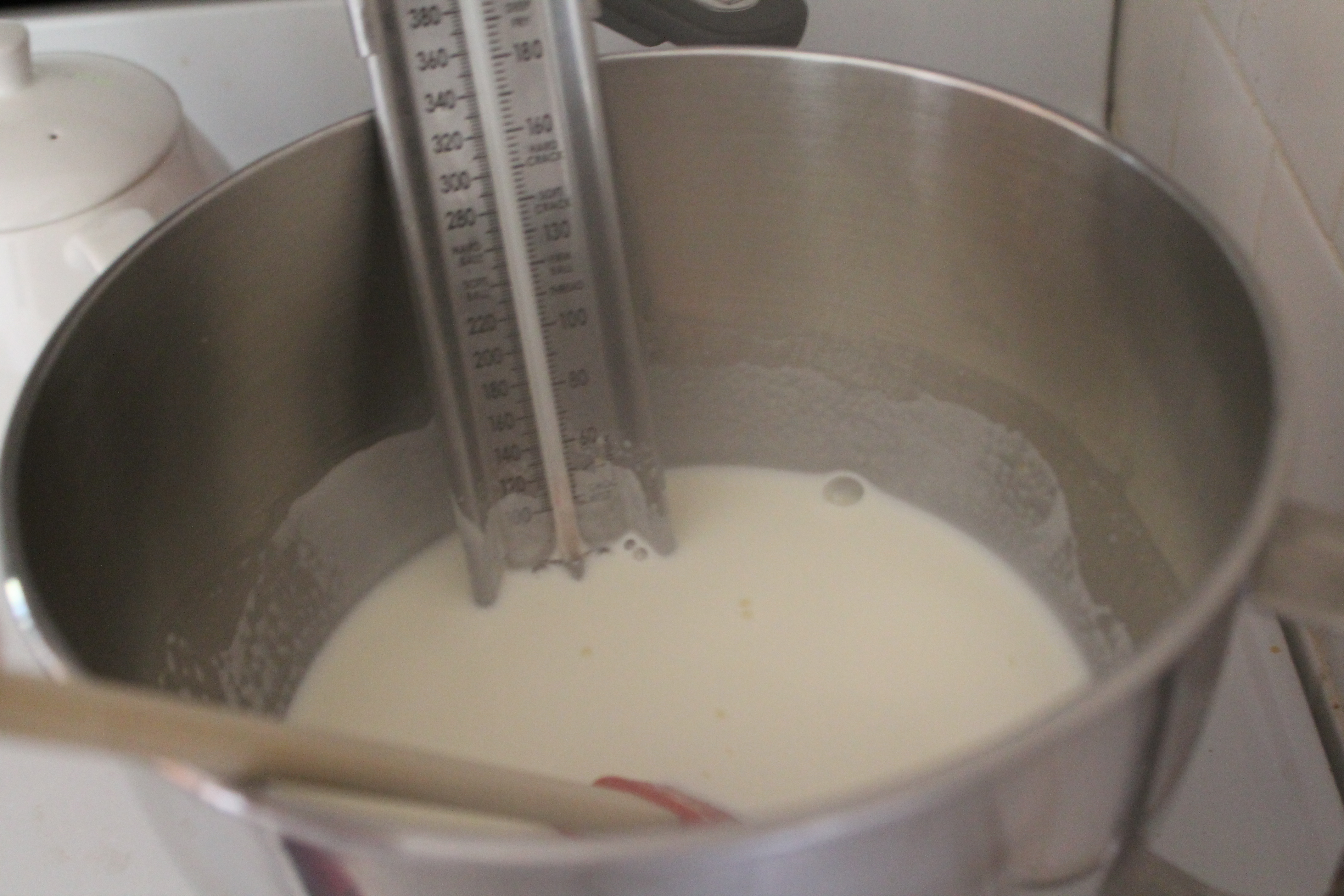 Here's the fun part. No tempering! Just go ahead and whisk the cream and milk right into the eggs. We will heat it all together over a double boiler! I like this strategy because it prevents the eggs from cooking immediately but saves me the trouble (and potential splashing or spilling) of whisking hot cream carefully into cold yolks to warm them gradually.
Set the bowl with the yolks and cream over a small pot filled with a shallow layer of simmering water. Cook over the steam, stirring constantly with a wooden spoon or spatula, until a candy thermometer reads 180°. The custard should be thick enough to coat the spoon.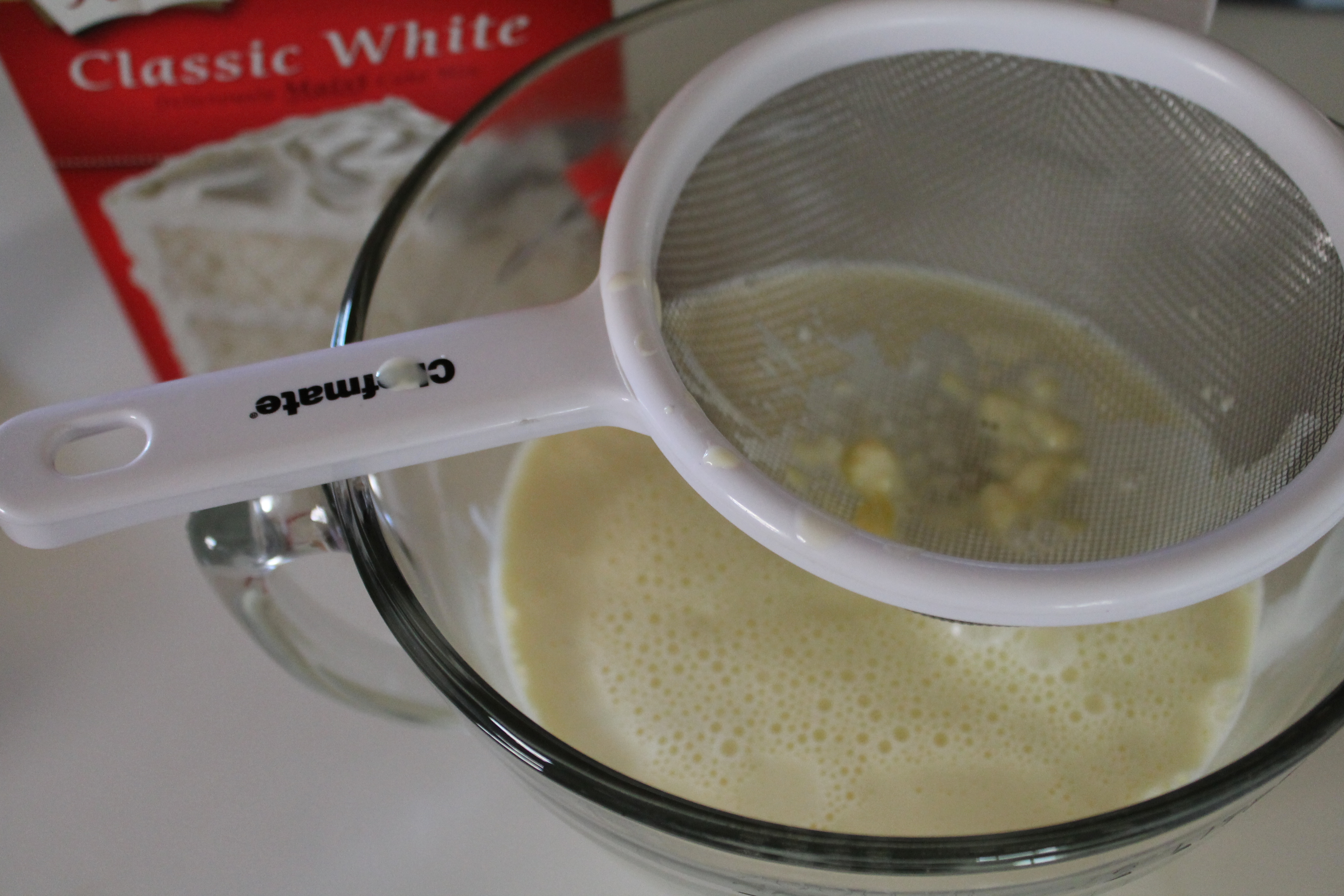 Immediately pour the custard through a sieve to catch any little bits of egg that did cook. Lay a sheet of plastic wrap against the surface of the custard to prevent it from forming a skin, and chill in the fridge about 2 hours, or until completely cool.
Now it's time to turn this bland custard into a delicious ice cream!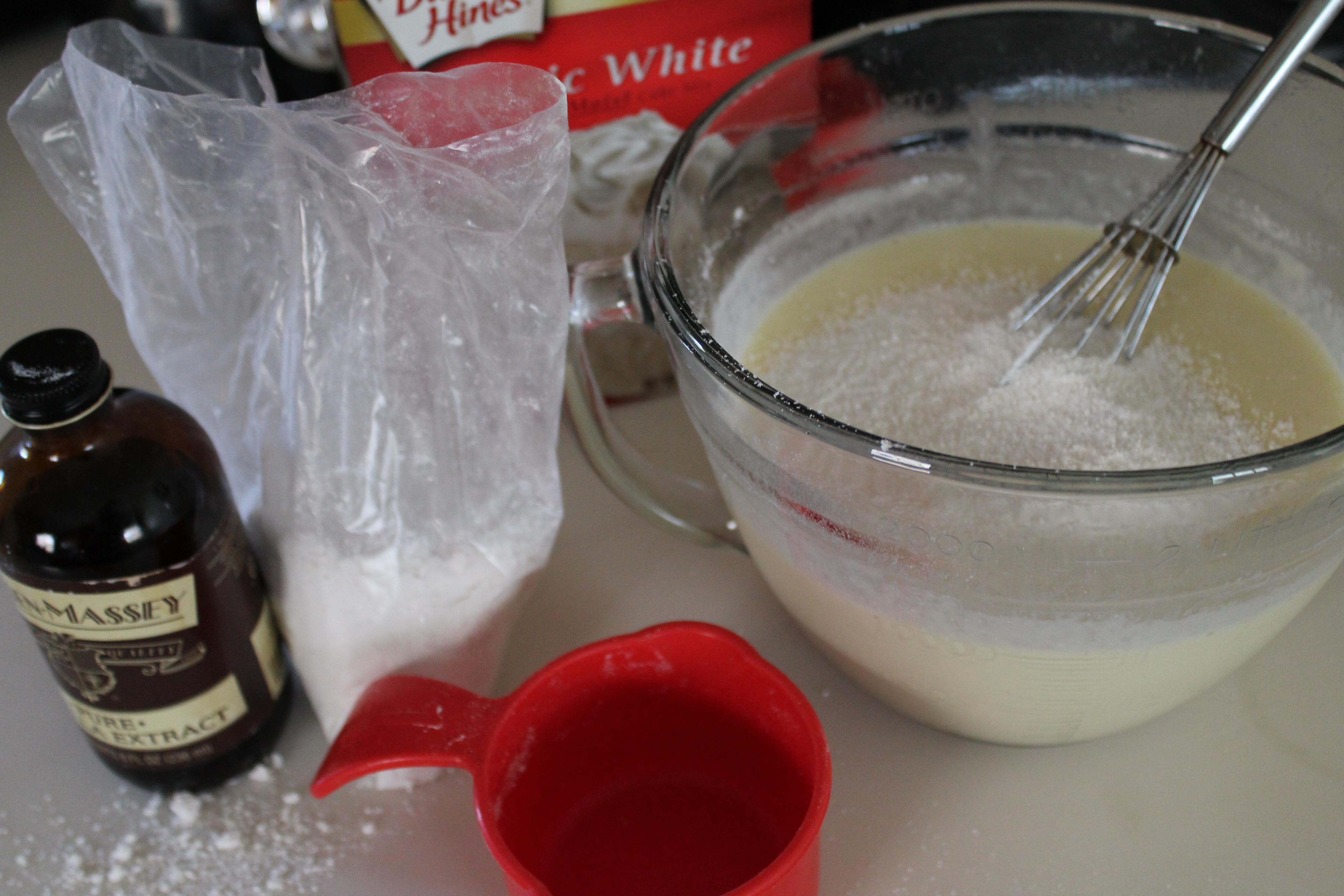 Sift the cake batter directly into the custard bowl (um…don't forget to take the plastic wrap off) and whisk it in. It's very important to sift, because most cake mixes are quite lumpy straight from the box. I used white cake mix, because I happened to have a box on hand, but you actually could use any flavor cake mix you like! Yellow, devil's food, funfetti…you name it! But I do not recommend using a pudding-cake mix (you know, the kind that's supposed to make super moist cakes because it already has a pack of pudding mixed in?) or angel food cake mix. The flavor and texture of those would be a bit odd.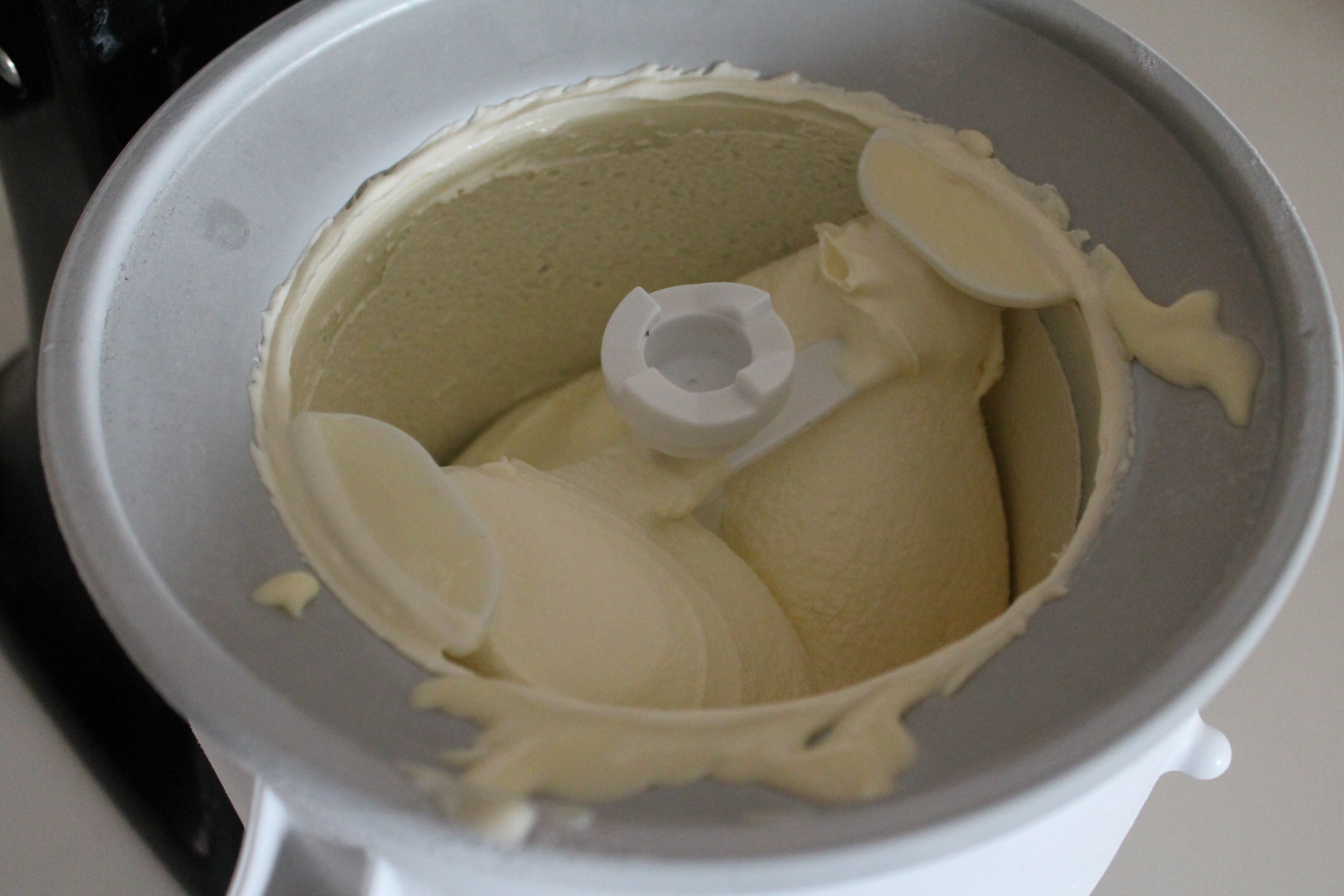 Get your chilled ice cream maker out of the freezer and set it up. Carefully pour your ice cream batter into the ice cream maker (while it's running!) and churn away!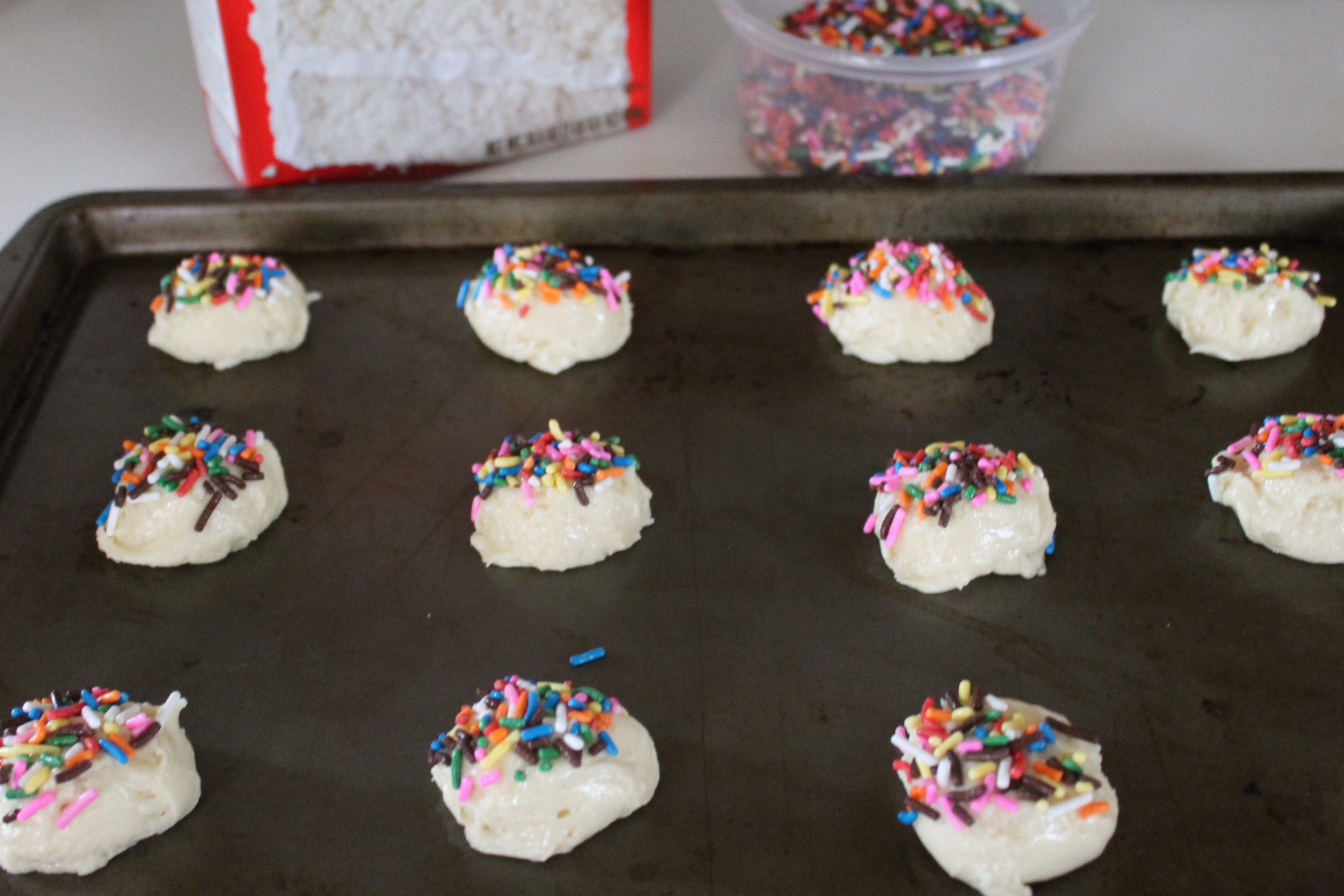 Meanwhile…what to do with all that extra cake mix? The correct answer is make cake batter cookies! This is super easy. Just whip 2 eggs and ¼ cup oil with the remaining cake batter. It will come together as a soft dough, which you can scoop out and bake just like any other cookie! I dipped a few of mine in bright sprinkles, but they are also fantastic plain.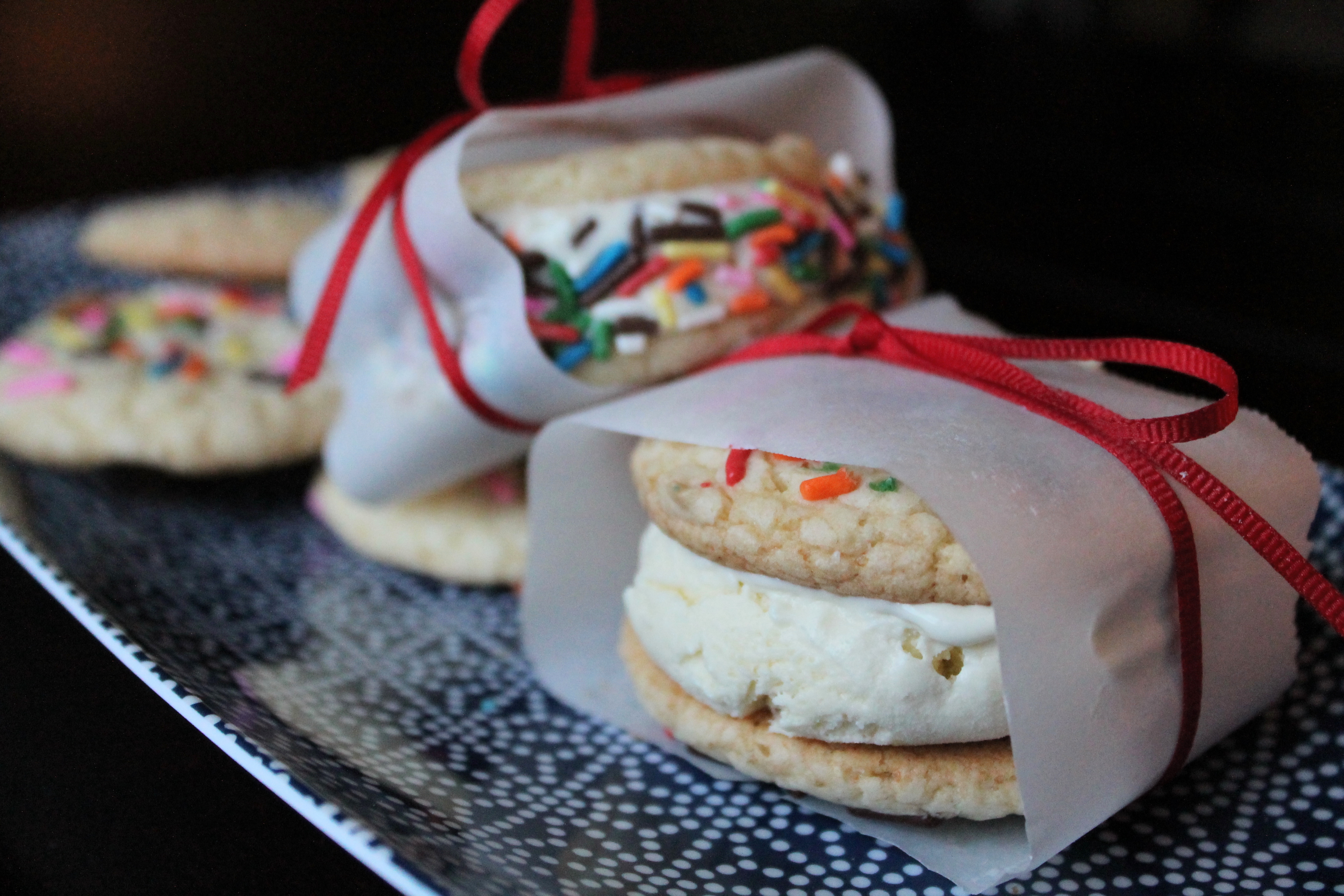 Bake the cookies for 8–10 minutes at 350°. These guys can be eaten alone, or you could even scoop some of your fresh ice cream out and make cake batter sandwich cookies! Yum.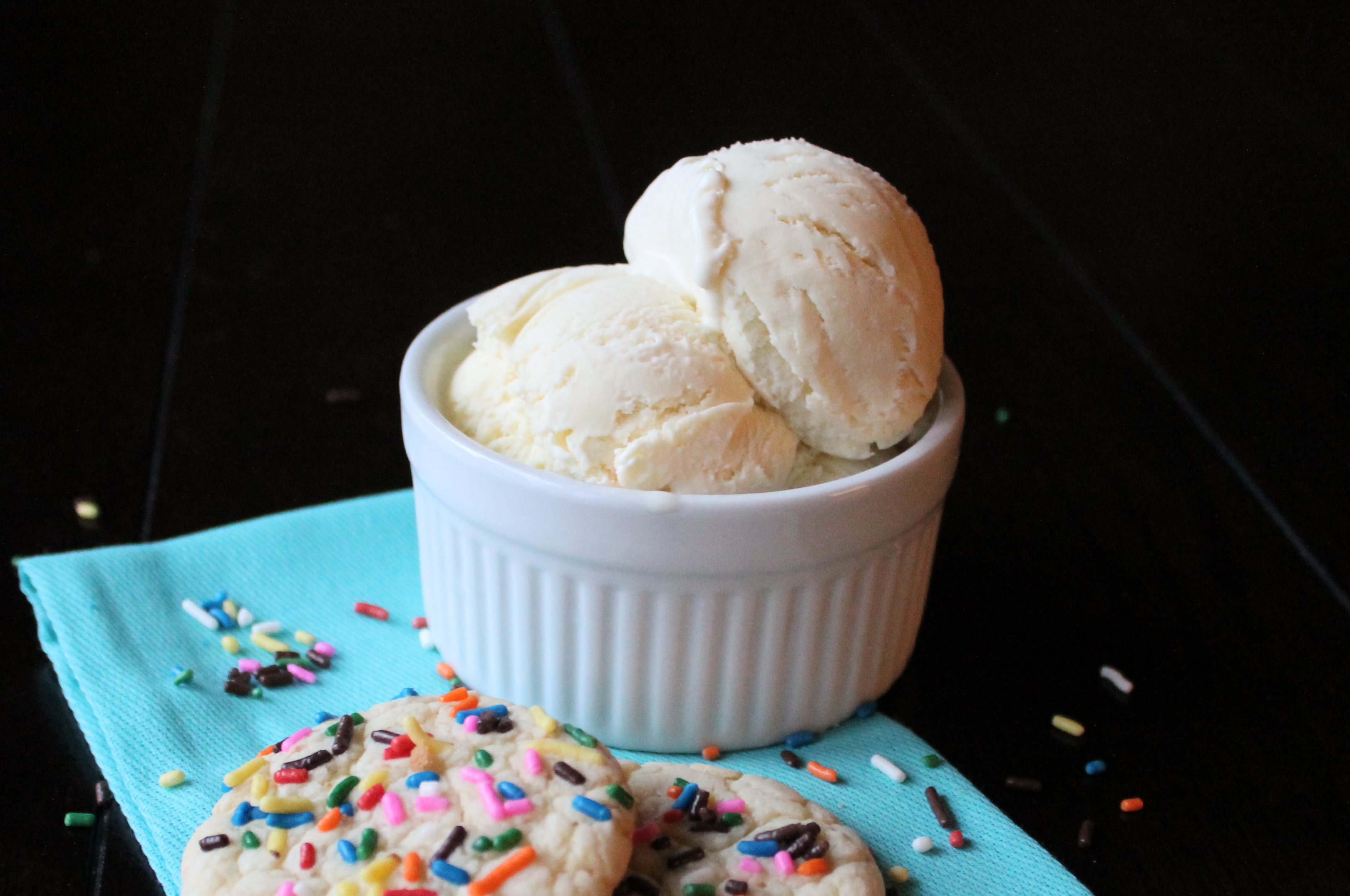 When the ice cream is done churning, scoop it into a wide, shallow container and freeze at least 1 hour before serving.
Cake Batter Ice Cream
adapted from Pop Sugar Food
makes 1 quart/serves 4–8
Ingredients:
5 egg yolks
¼ cup sugar
pinch of salt
2 cups heavy cream
1 cup whole milk
1¼ cups white cake mix, sifted
½ tsp. vanilla extract
Directions:
In a mixer bowl, whisk egg yolks, sugar, and salt on high speed for 3 minutes, or until yolks lighten in color and hold a ribbon on the surface for 2 seconds.
Whisk heavy cream and whole milk into the yolk mixture. Set the mixer bowl over small pot filled with a shallow layer of simmering water. Cook, stirring constantly with a spatula or wooden spoon, until a candy thermometer reads 180º and the custard is thick enough to coat the back of a wooden spoon, 5–10 minutes.
Immediately pour the custard through a fine mesh sieve into a cool bowl. Cover and chill in the refrigerator until completely cool.
When custard is chilled, whisk in sifted cake mix and vanilla extract.
Churn the ice cream in the ice cream maker about 20–30 minutes, according to Kitchenaid's instructions.
Transfer to a wide, shallow airtight container and chill in the freezer at least 1 hour before serving. Store in the freezer for 2–3 weeks.
*Note: The remaining cake mix can be baked into cookies with addition of 2 eggs and 4–5 tbsp. oil. The combination of cookies and ice cream makes lovely cake batter flavored ice cream sandwiches.
Enjoy!
One year ago: Sweet Pea and Spinach Soup with Fresh Mint Cream
Two years ago: The Baked Brownie
Three years ago: Ricotta Gnocchi