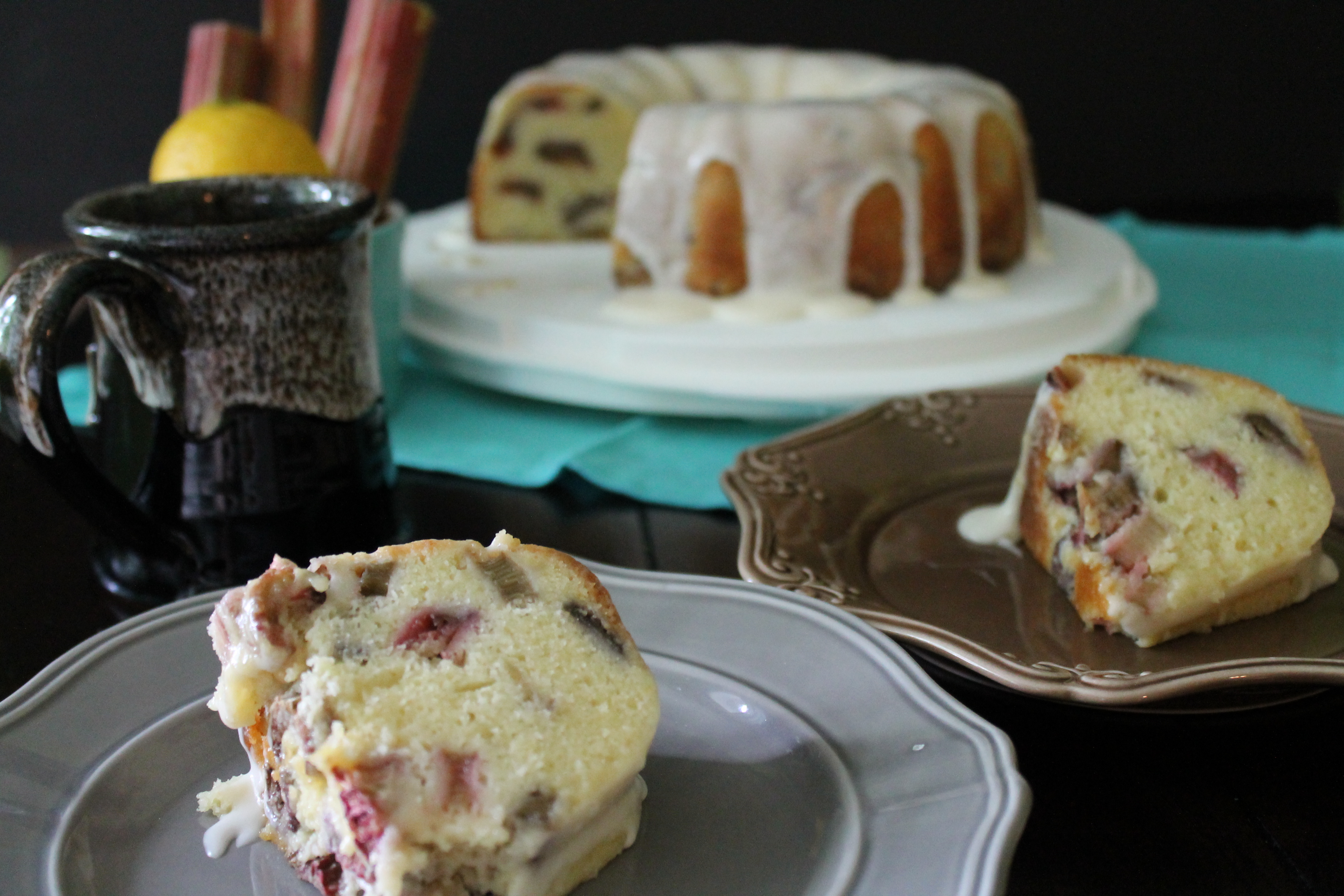 I sometimes joke that my entrance exam into my husband's family was learning the recipe for rhubarb pie.
Dave really loves rhubarb.
But he has never even batted an eye at my suggestions of non-pie rhubarb desserts…until one day last week, when he suddenly looked up and asked me to make him a rhubarb coffee cake. You could have knocked me over with a feather.
I thought about returning this big crumb coffee cake to its original rhubarb glory, but then I stumbled across a recipe for a lemony Bundt cake (oh! It's a cake!) full of chunks of rhubarb and I got kind of dorkily excited.
I have been having a really hard time finding ripe rhubarb this year (although, I admit, I wasn't looking very hard a month ago, when it might have been more plentiful, because I was still waiting for the rhubarb I had planted to make its appearance…it failed me). Less ripe rhubarb isn't something I worry about terribly much when I am making pie, because Dave actually likes a more tart rhubarb pie. But if you want your Bundt cake to taste equally of lemon and rhubarb, you should use the ripest rhubarbs you can find.
This cake is fairly simple, as cakes go. We use the creaming method, then alternate mixing in flour and whey (or buttermilk) until a delicious batter comes together.
Start by cutting up your rhubarb. I cut mine about ¼″ thick, but you could go for larger cubes instead. As you can see, my rhubarb was pretty dang green. Oh well. The cake was still delicious, but the net effect was that the rhubarb flavor was milder than the lemon.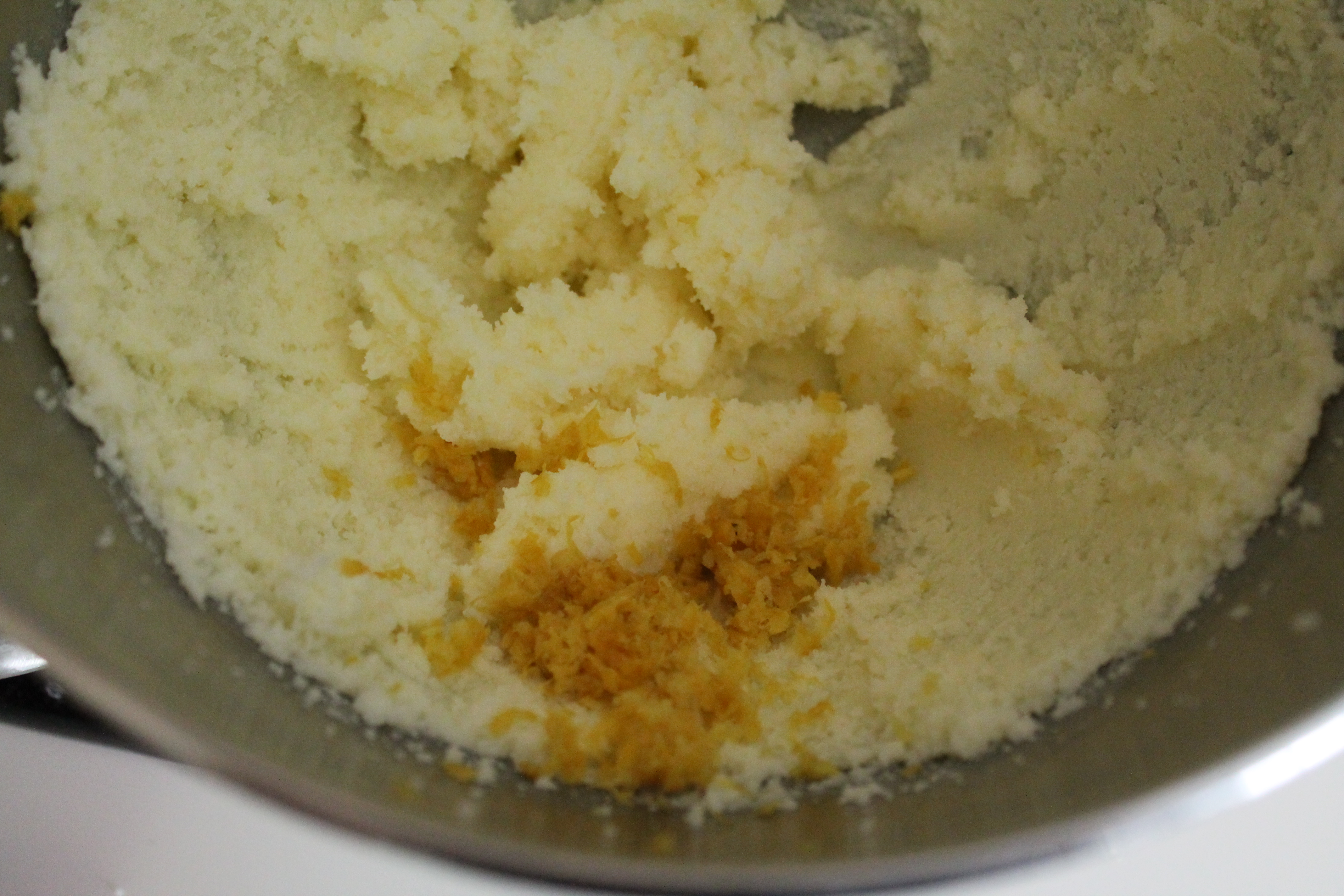 Now cream the butter, sugar, and lemon together, about 5 minutes, until it is brilliantly fluffy.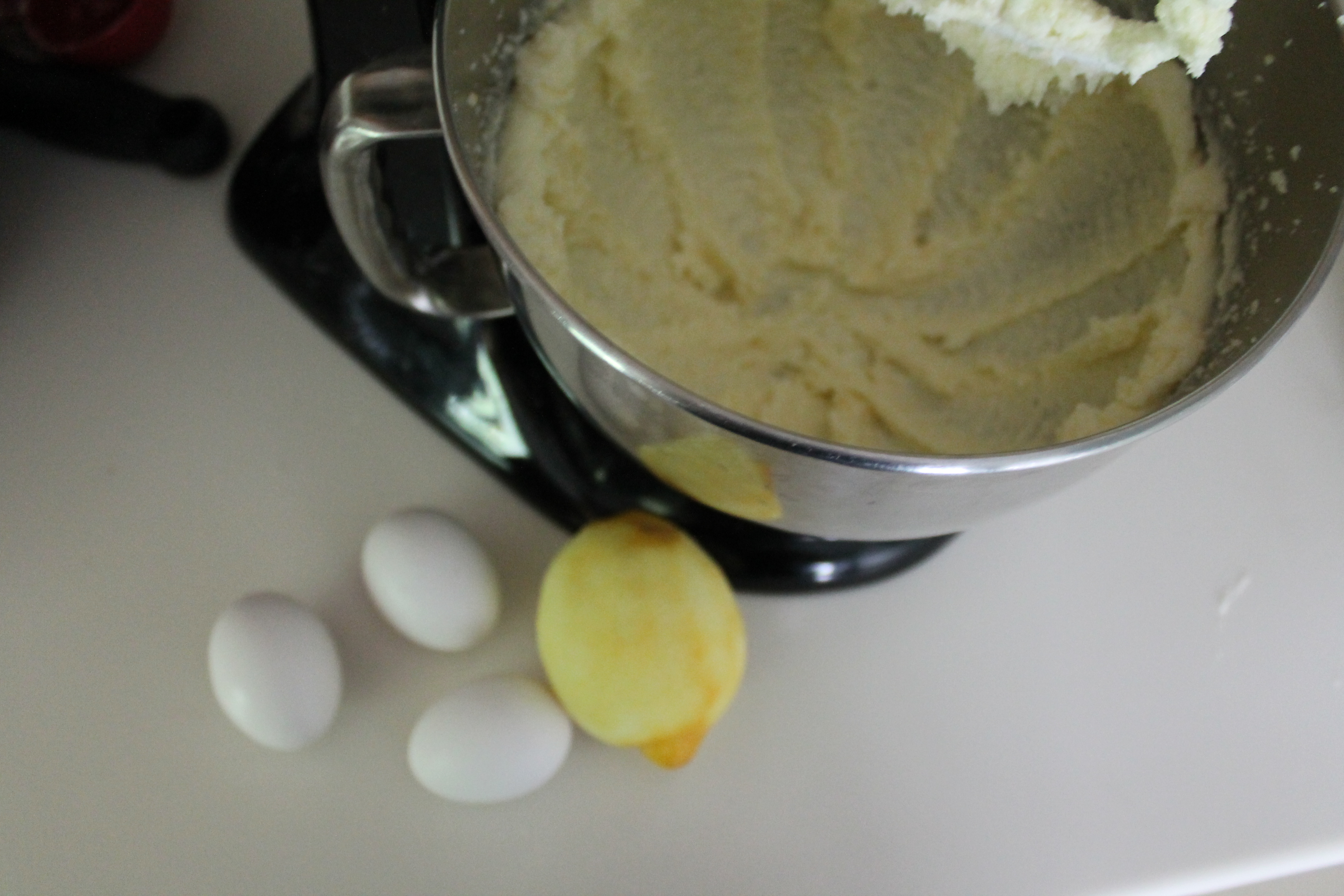 Add the eggs, one at a time, scraping the bowl after mixing in each one. Stir in the vanilla.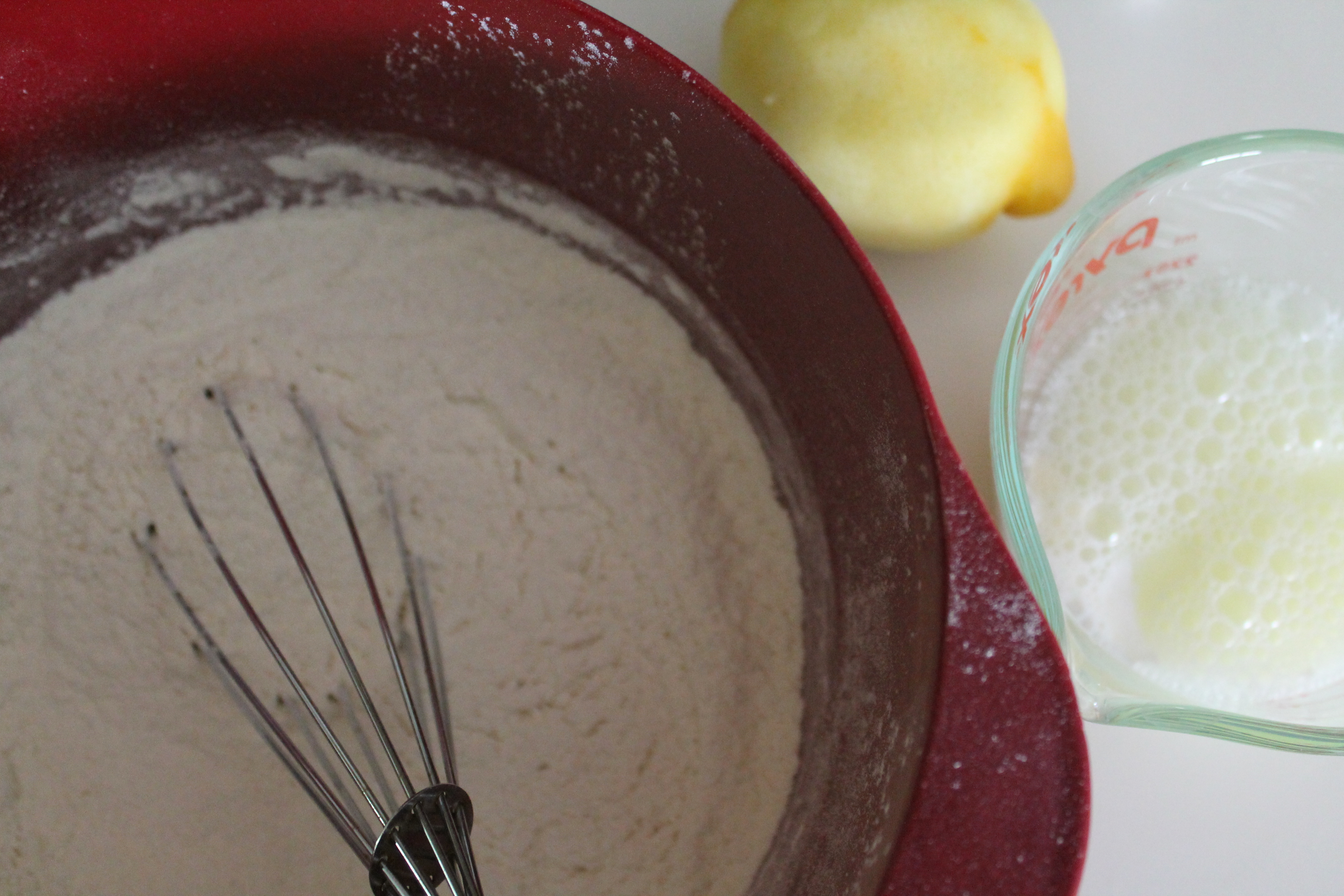 In a separate bowl, whisk together the flour, baking powder, and salt.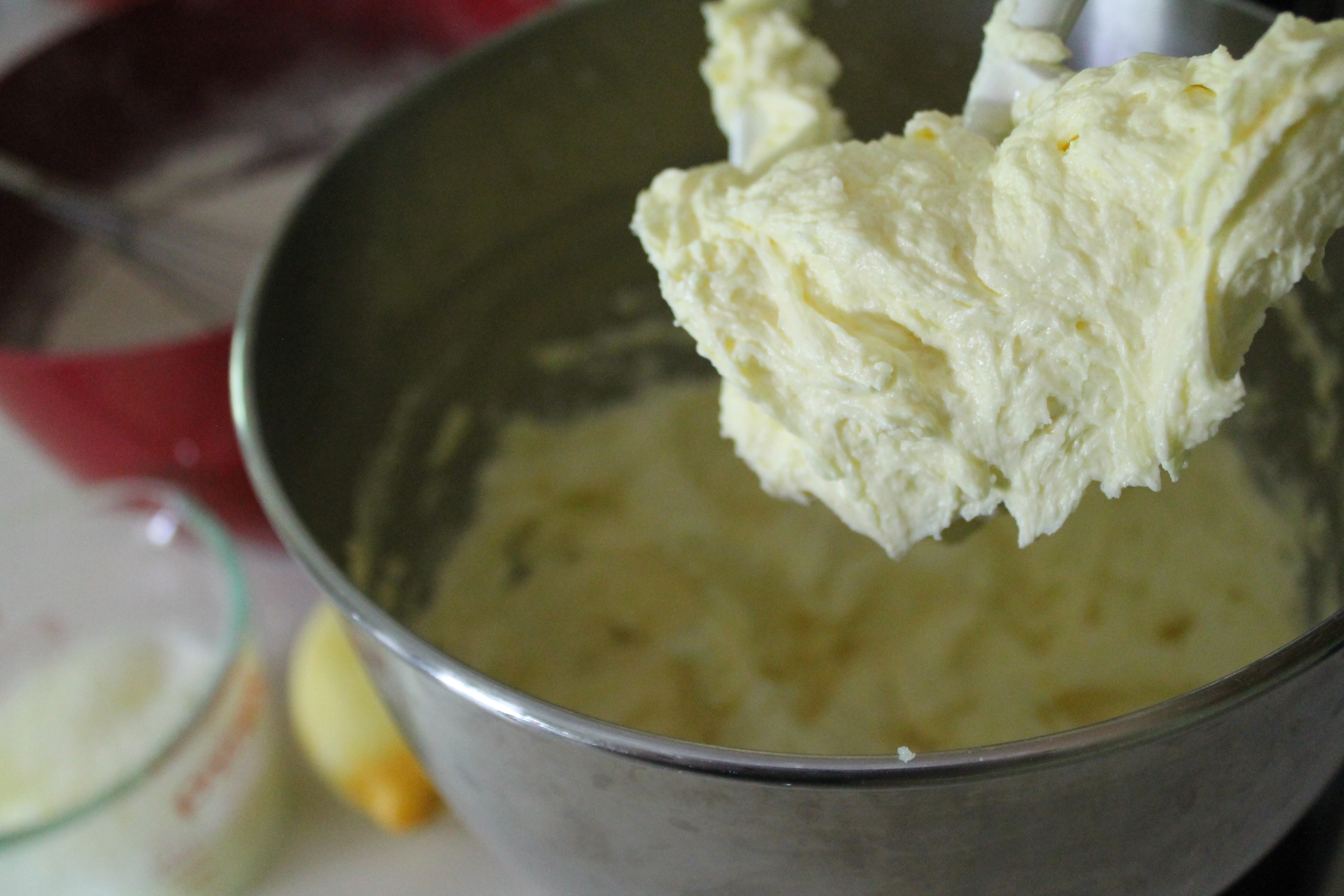 Alternate adding flour and whey (or buttermilk, of course!) to the batter, stirring between each. Start and end with flour, adding about a third at a time. The batter will look a little curdled after each liquid addition, but should become thick and smooth when all the flour is mixed in.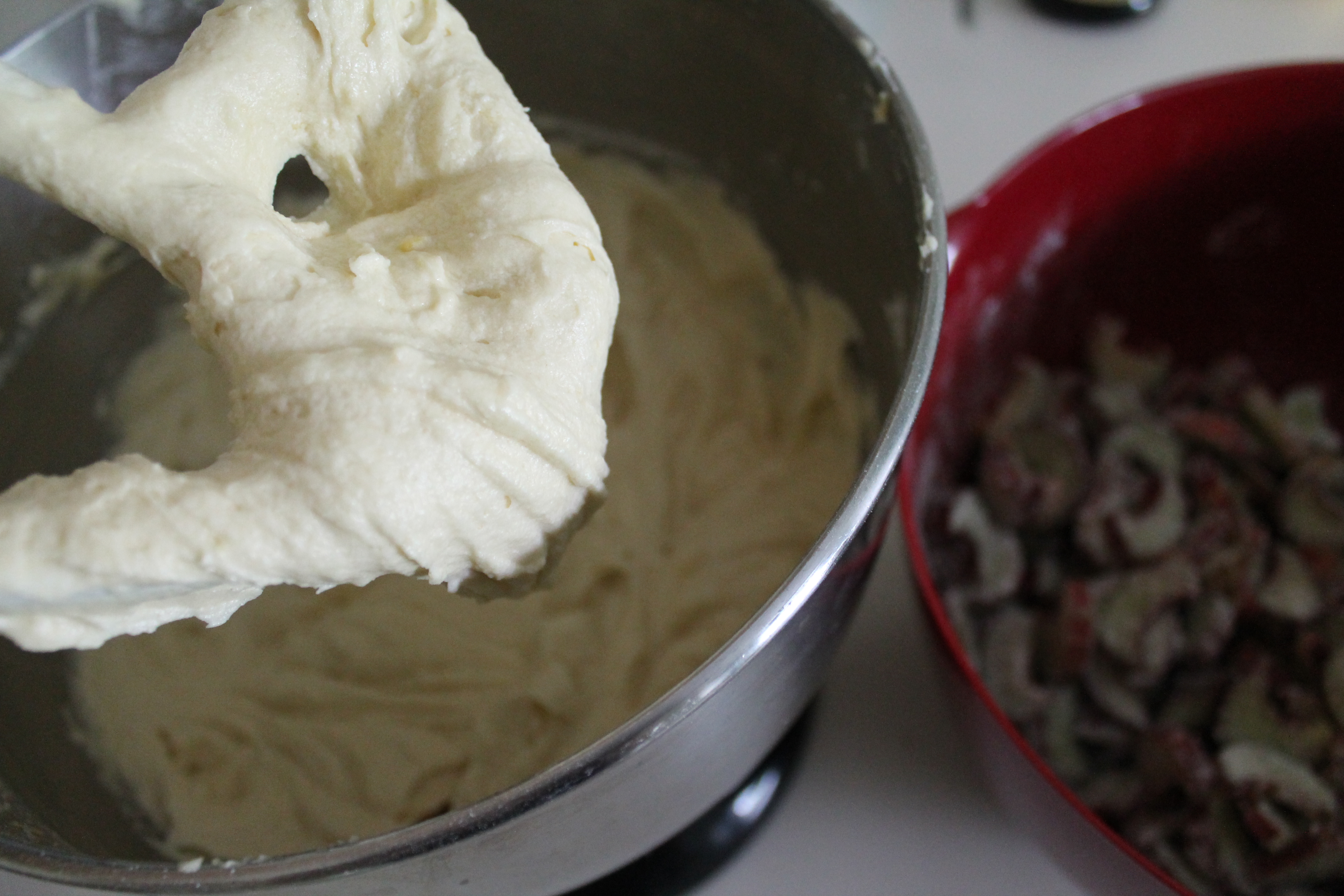 Now turn your attention back to the rhubarb. Quickly toss it with a few tablespoons of flour (this helps prevent the pieces from sinking to the bottom of the Bundt pan while the cake bakes) and stir about ¾ of the rhubarb pieces into the cake batter.
Scoop the batter into the prepared Bundt pan. Make sure the pan has been very thoroughly buttered and floured; any nooks or crannies that escape being greased will likely cause chunks to rip out of your baked cake when you try to plate it.
Sprinkle the remaining rhubarb over top of the cake.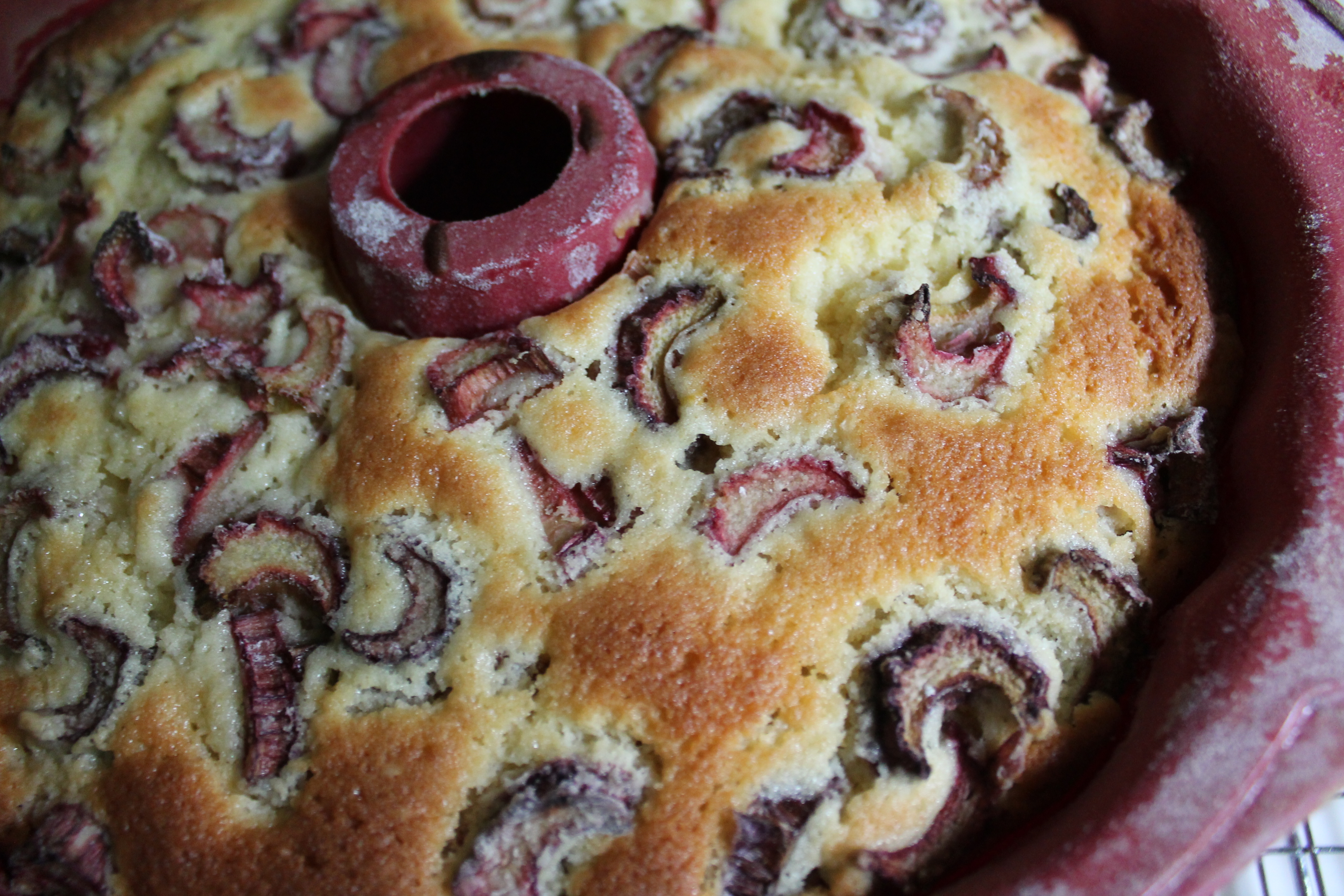 Bake for 1 hour at 350°, rotating the pan halfway through. Test the cake with a toothpick in several spots to make sure it is completely baked. I used a Silicon Bundt pan, which conducts heat a little differently than a metal pan, and I had to bake my cake for 1 hour and 15 minutes before a tester toothpick came out clean. Even then, it could have stood another 5 minutes to reach a lighter crumb.
Let the cake cool completely on a wire rack in the pan before inverting onto a serving plate. (If you want to be really neat about it, you could start by inverting onto a wire rack and setting the rack over a piece of wax paper or a baking sheet; this way you could avoid unseemly puddles of glaze around your cake. But, as Dave said, a little extra glaze is never a big problem.)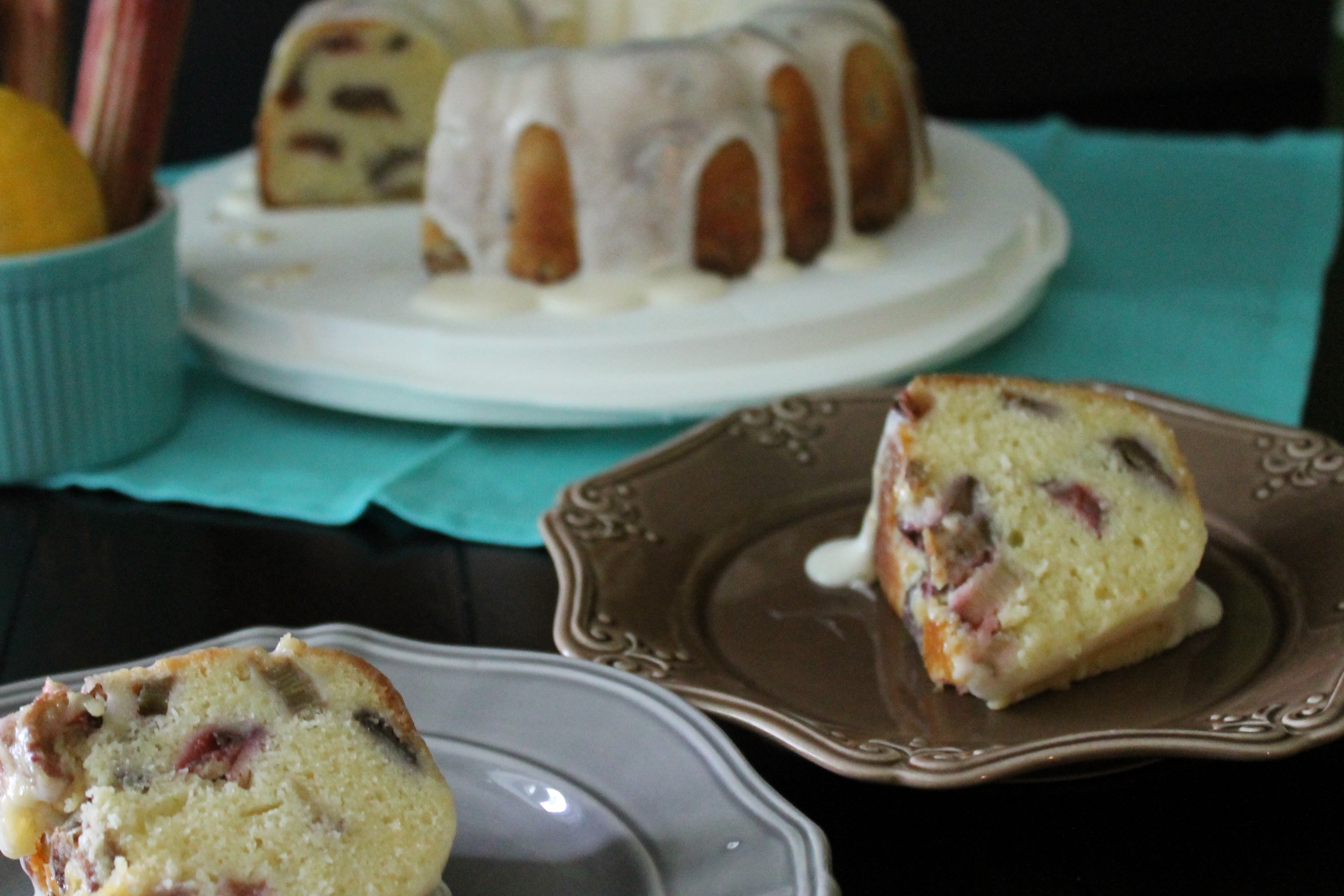 When the cake is cool, stir together the confectioner's sugar, milk, butter, and lemon juice for the glaze. If you want a less lemony cake, omit the lemon juice in the glaze entirely and sub for milk. Always make sure to add the liquids slowly to the confectioner's sugar, lest you end up with a much thinner, more runny glaze than you wanted.
Spoon or pour the glaze over the Bundt and let it set for 10 minutes before slicing.
Lemon Rhubarb Bundt Cake
lightly adapted from Flour Arrangements
serves 12–16
Cake Ingredients:
1 cup unsalted butter, softened
1¾ cups sugar
zest of 1 lemon
3 eggs
1 tsp. vanilla extract
2½ cups flour, plus 2 tbsp.
2 tsp. baking powder
1 tsp. salt
¾ cup whey or buttermilk
1 lb. sliced rhubarb (about 3 packed cups)
Glaze Ingredients:
2 cups confectioner's sugar, sifted
1–2 tsp. fresh squeezed lemon juice
1–2 tbsp. milk
1 tbsp. butter, melted
½ tsp. vanilla extract
Directions:
Preheat oven to 350°.  Thoroughly butter and flour large Bundt pan.
In a mixer bowl, cream the butter, sugar, and lemon zest for about 5 minutes, until pale and fluffy.
Add the eggs one at a time, scraping down the sides of the bowl after each addition. Stir in the vanilla extract.
In a separate bowl, whisk together 2½ cups flour, baking powder, and salt in a medium bowl.
Stir in flour mixture in about three additions, alternating with the whey, scraping down the sides between each addition.
Toss sliced rhubarb with the remaining 2 tbsp. flour and fold ¾ of the rhubarb into the batter. Scoop the batter into the prepared Bundt pan and sprinkle the remaining rhubarb on top.
Bake 1 hour, rotating the pan halfway, or until the top of the cake is firm and golden and the center passes a toothpick test. Cool the cake in the pan on a wire rack for 30 minutes.
While the cake cools, whisk confectioner's sugar with lemon juice, milk, butter, and vanilla together; start with the smaller amount of liquid and add more liquid as needed to reach a thick but pourable consistency.
When nearly cool, invert the cake onto a wire rack. Immediately spread the glaze on the cake.  When fully cooled, transfer carefully to a serving plate. Serve with coffee.
Enjoy!
One year ago: Buttermilk Ranch Dressing
Two years ago: Whole Wheat Zucchini Waffles
Three years ago: Spinach Frittata