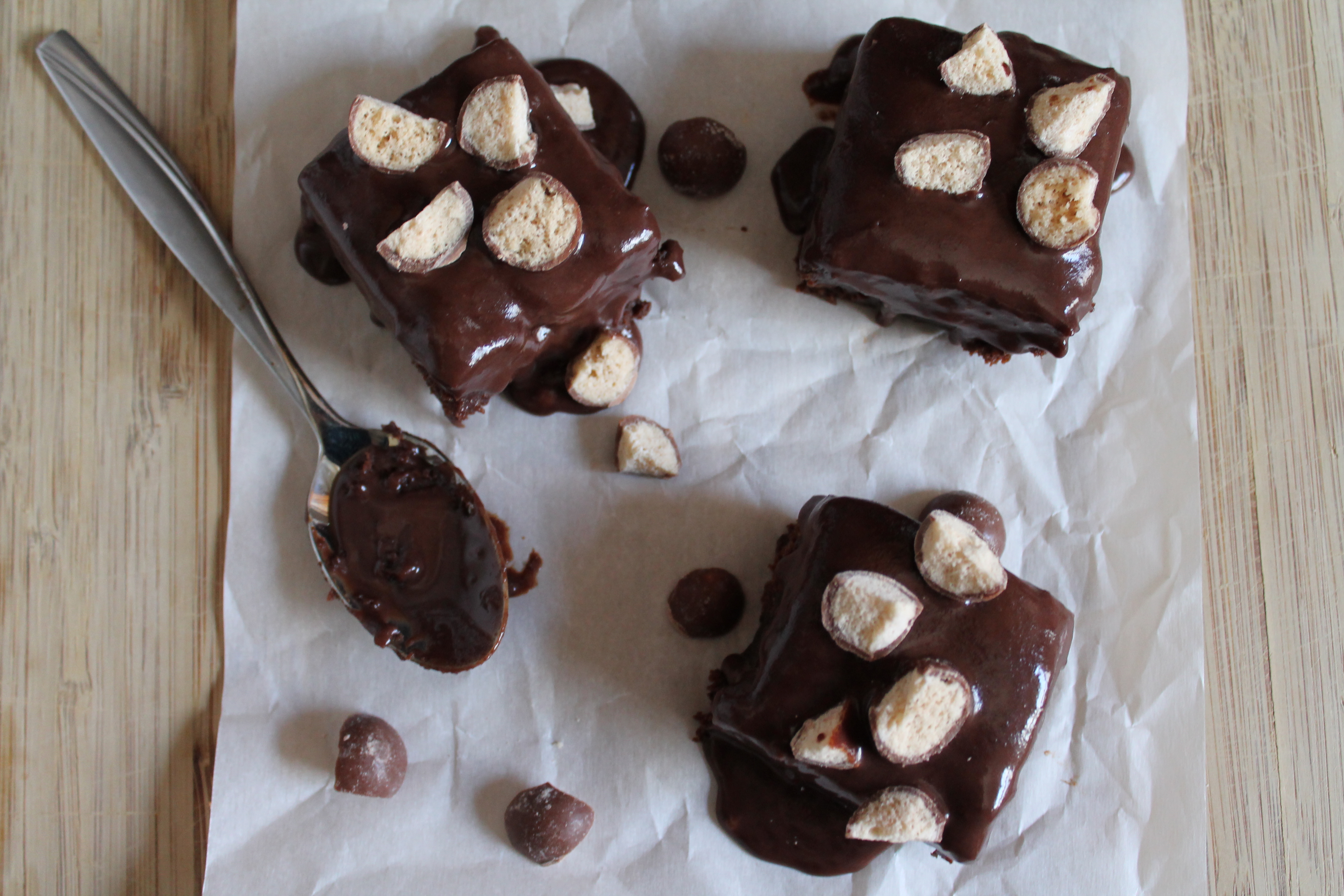 Get ready. These brownies are all kinds of amazing.
The actual brownie part is fudgy and malt chocolate flavored and full of chewy pockets of baked-in malt balls. Topped off with a rich ganache and more malt balls?
Are you running for the kitchen yet? Are you checking your cupboards for that enormous, movie-size box of Whoppers you bought a month ago to see if there are any left?
Malt as a flavor was something I could never quite get behind as a child. Since marrying a man who can't resist a chocolate malt shake, I have been truly trying to develop a taste for chocolate malt, and I think these brownies did the trick!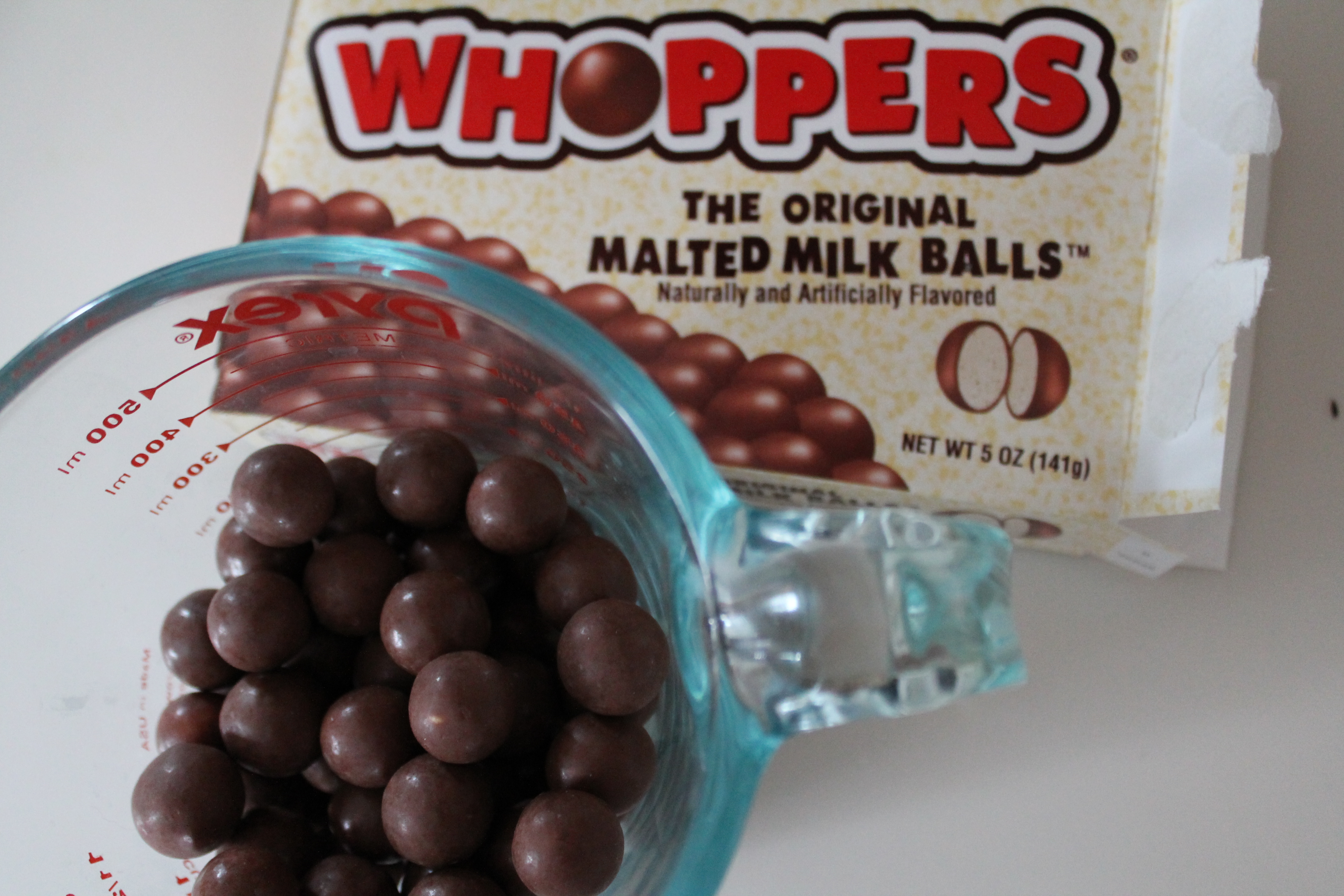 The brownies themselves are fairly straight-forward. (The only truly aggravating part is trying to chop the malt balls. Have you ever tried to chop a group of hard, round candies? Yeah…they mostly roll away. Cue chopping each one individually in half or in smaller pieces. Not cute.)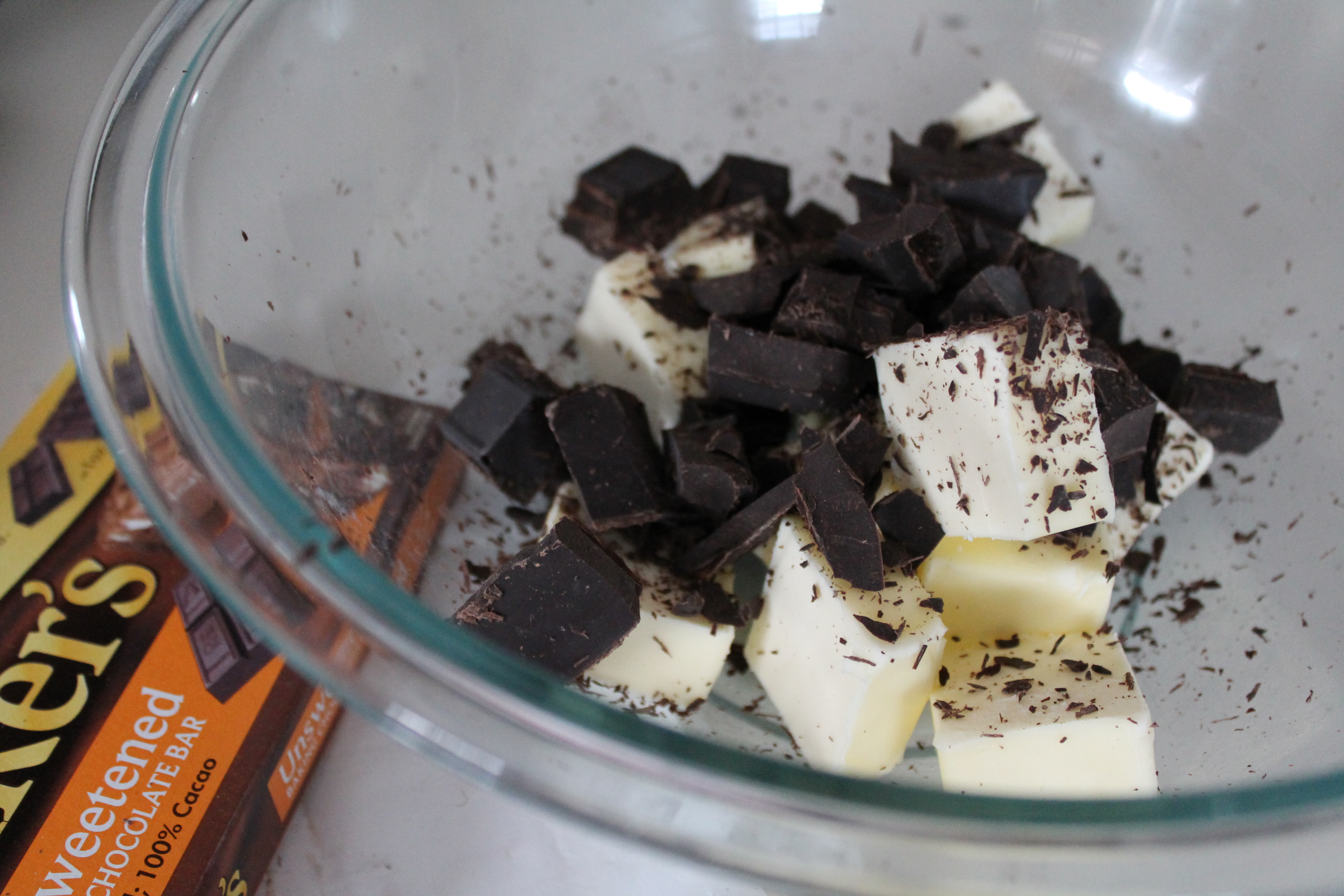 The real beginning of these brownies is melted chocolate. A great start, amiright?
When the chocolate is smooth and beautiful, whisk in the eggs, sugar, and vanilla.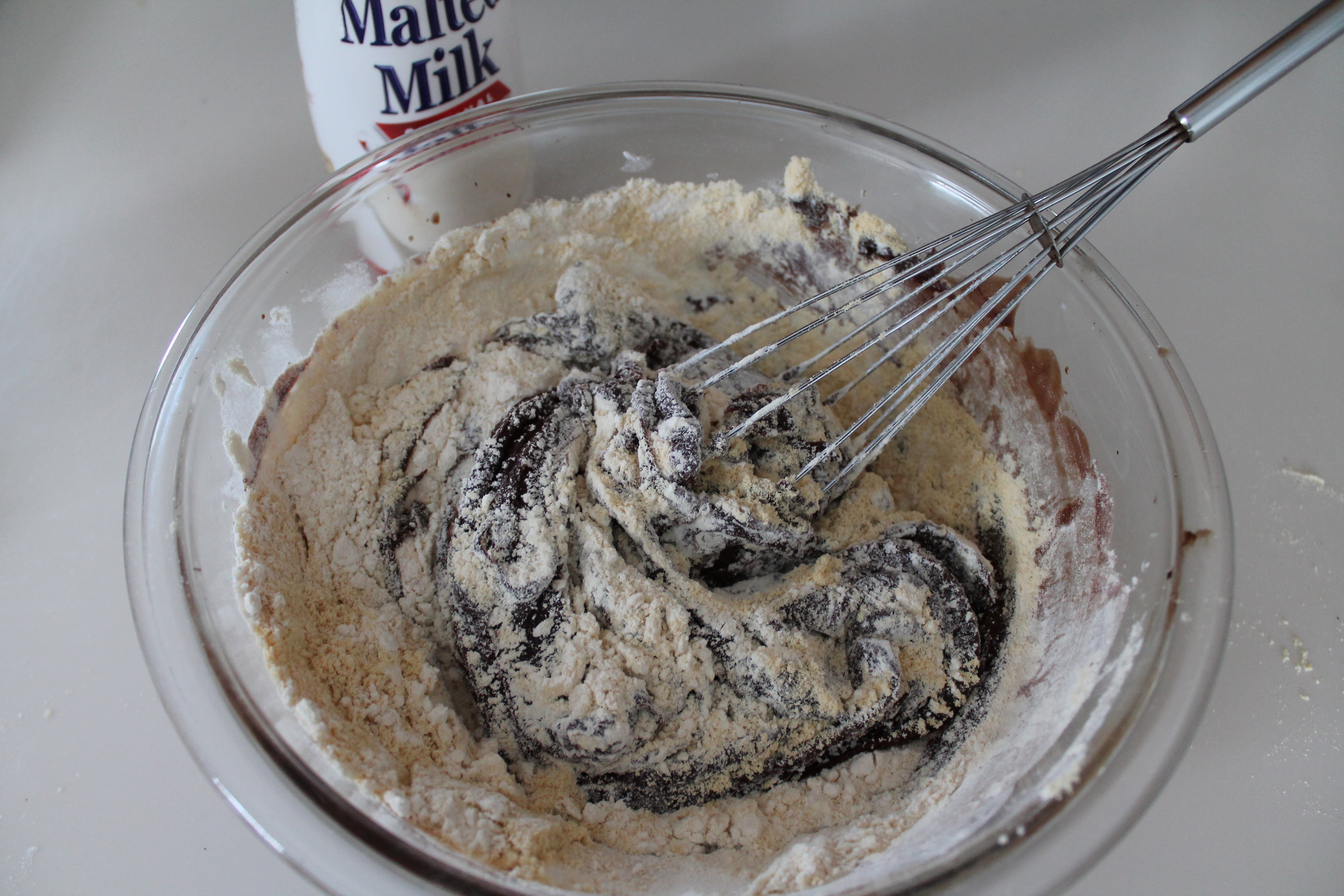 Sift the flour and malt powder together. It is really important to sift the malt powder, because it is naturally quite lumpy. If you want to get a tinge of maltiness spread through the whole batter, then sift! (It only takes a minute. Come on!) And remember, you only need to stir brownie batter juuuuuuust enough to make all the flour disappear. Too much will overwork the glutens and make tougher brownies. No good.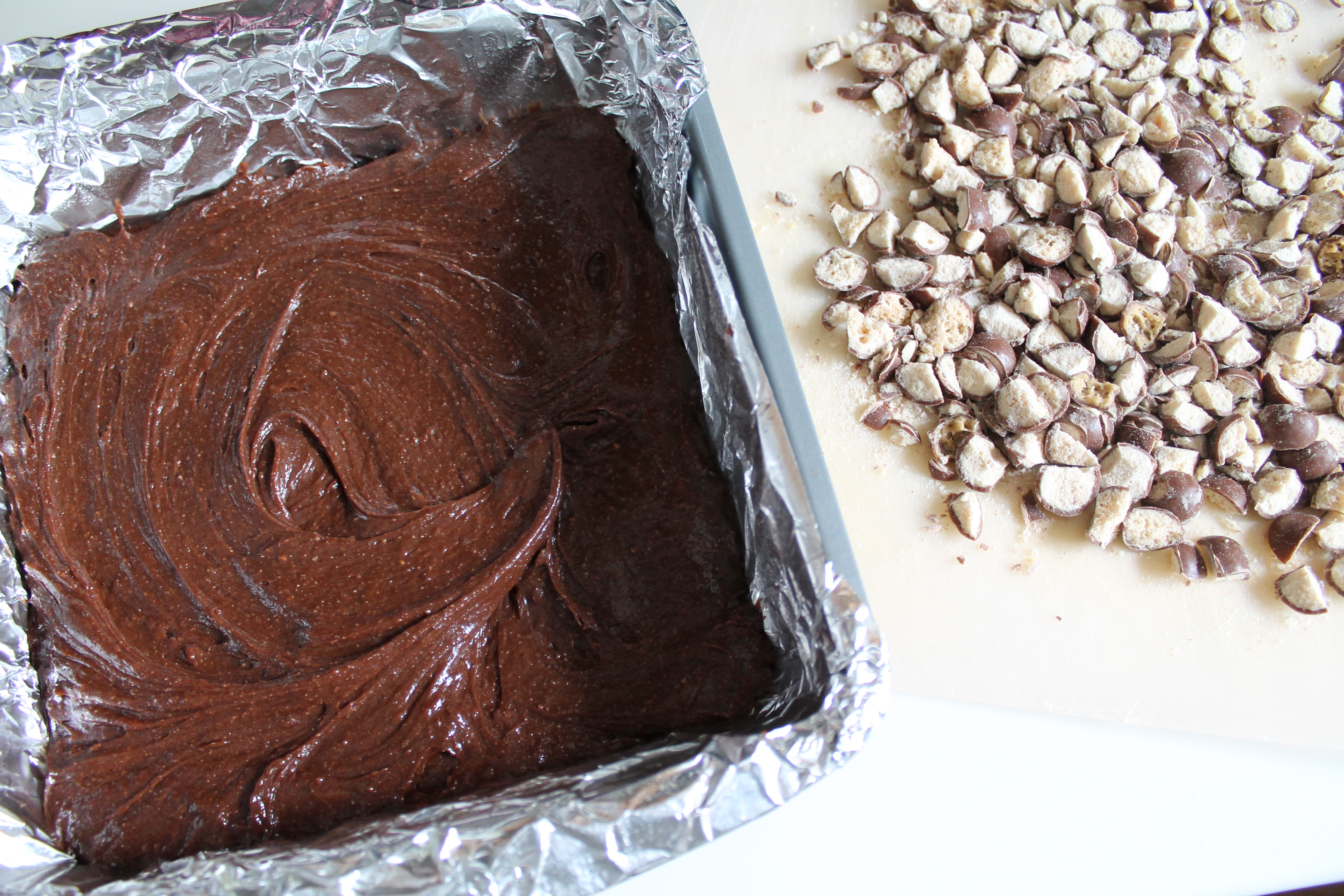 Spread about half of the batter in a lined 8″ square baking dish. Top with about two-thirds of those pesky chopped Whoppers. Spread the remaining batter over top of the candy.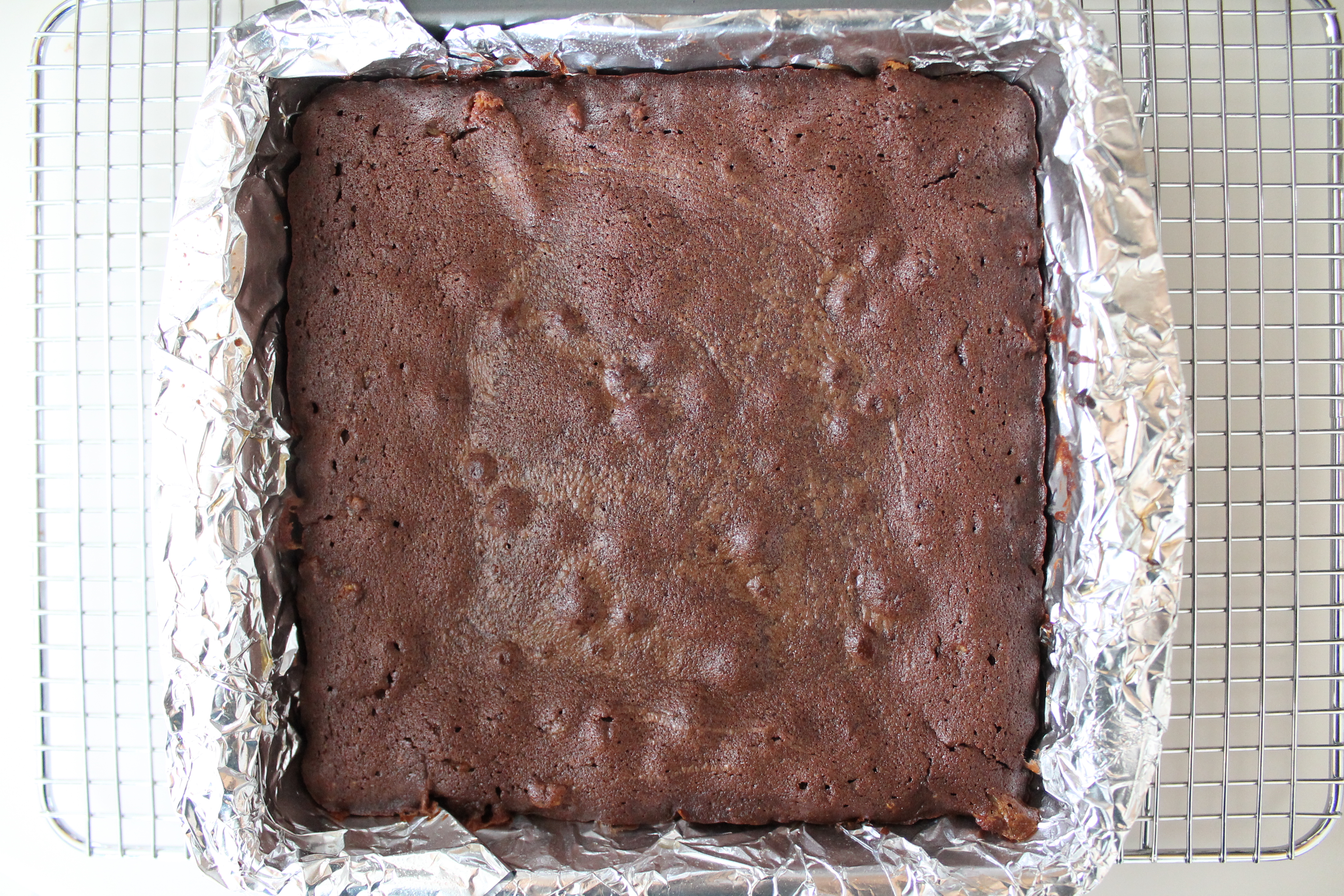 Bake for 30 minutes at 350°, or until the center is just set. Gooey-ness is really a plus, here. You don't want to overdo it and bake these brownies until the edges are super crispy, because the Whoppers can turn into crunchy little nuggets if they are in the oven too long. (I found that mine melted a bit and just left little malt-flavored pockets. Yum.)
So. Let the brownies cool.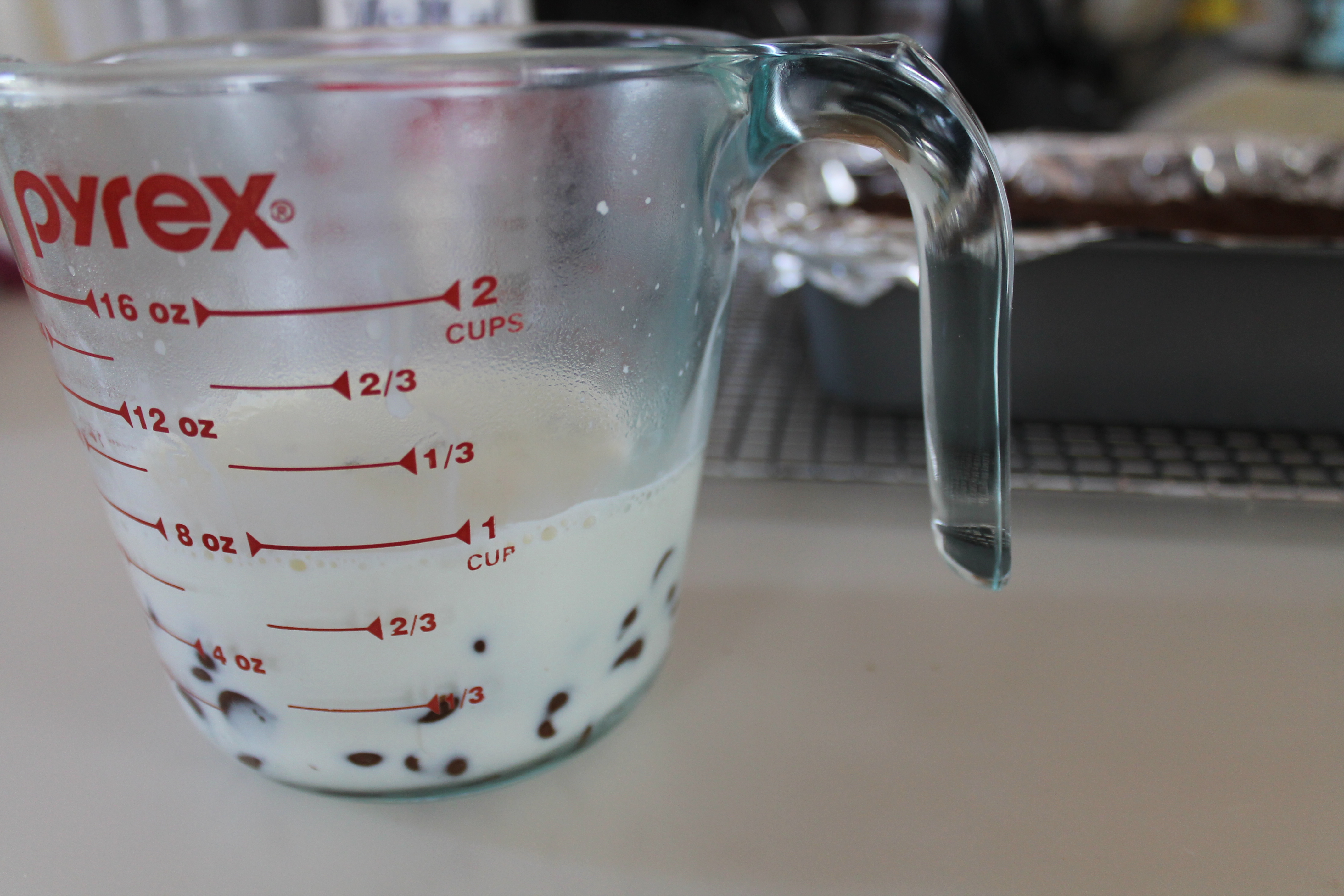 Now you have two options for the ganache frosting. If you aren't into drenching your brownies in more rich chocolate, you can make half a batch of ganache and just smear the brownies lightly after you cut them.
If you, like me, always want more chocolate with your chocolate, then you need to settle in for a bit of a wait. Make the full ganache (heat chocolate chips and heavy cream together and whisk until smooth) and pour it right over the brownies. Pop them into the fridge so the ganache can set.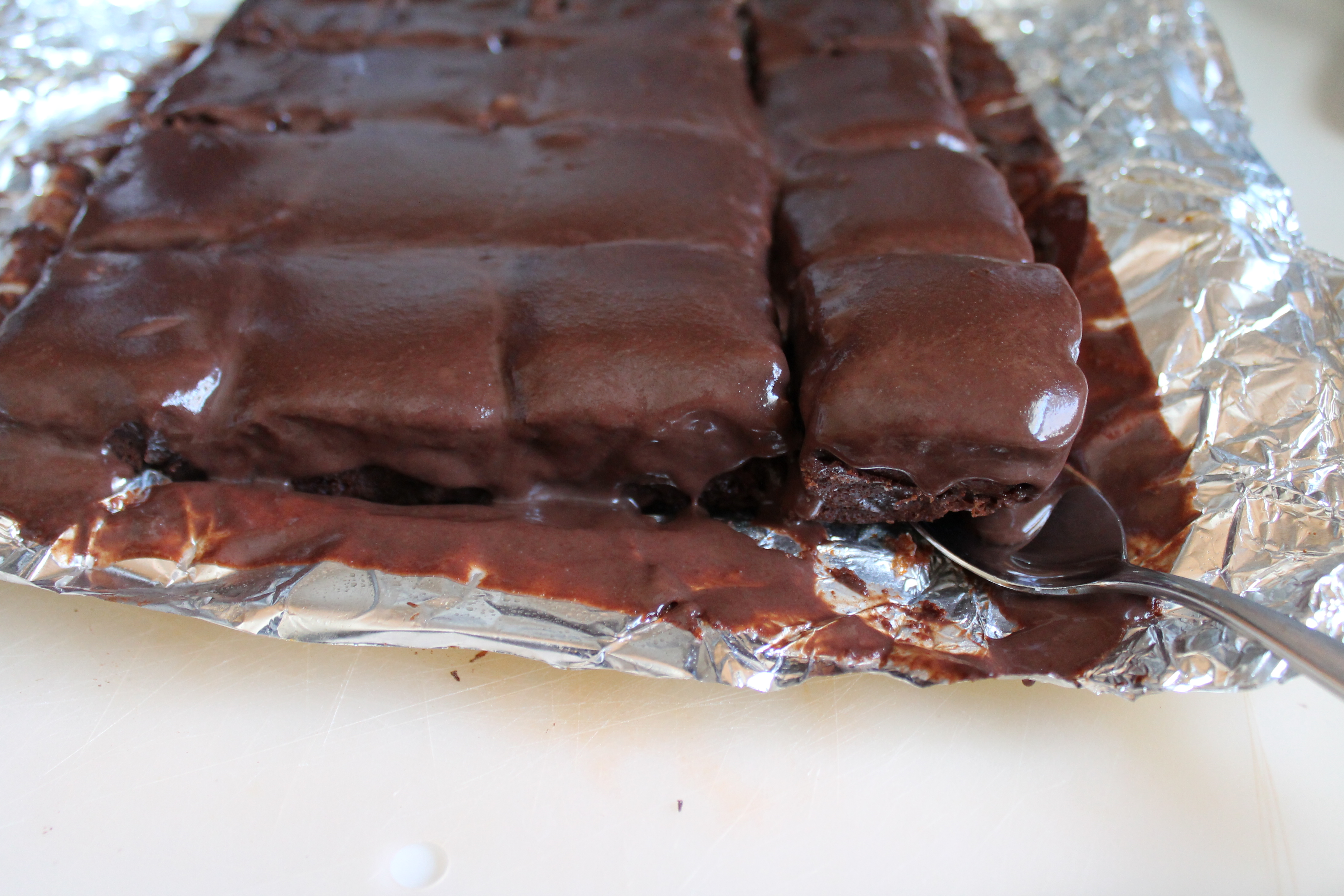 As you can see…I am never quite patient enough to let me ganache set fully before I cut into them. It takes about 2 hours for a layer of ganache ¼″ thick to set completely. You can test it by tilting the pan slightly to see whether it runs.
But if you, like me, can only wait half an hour to eat your brownies, then they will just end up looking a little like petit fours!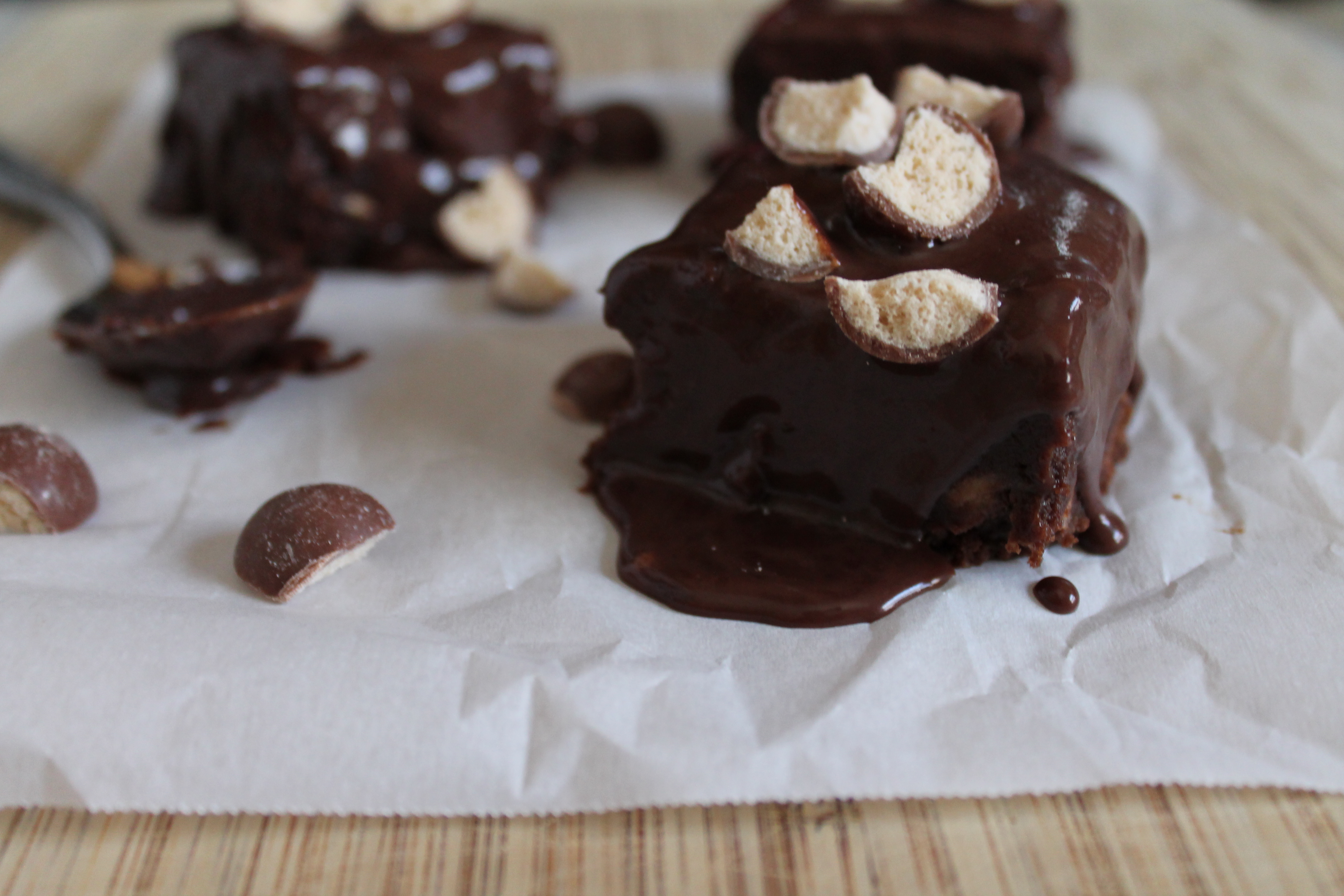 Top with the remaining chopped Whoppers. Try not to hoard them all to yourself. They are soft and indulgent, I know, but sharing is a kindness to your friends and the top buttons on your pants!
Malted Whopper Brownies
barely adapted from My Baking Addiction
makes 16
Brownie Ingredients:
4 oz. unsweetened Baker's chocolate, coarsely chopped
¾ cup unsalted butter, cubed
1¼ cups sugar
3 eggs
1 tsp. vanilla extract
¼ tsp. salt
¾ cup flour
½ cup malted milk powder, sifted
1½ cups Whoppers (about 6 oz.), chopped, divided
Ganache Ingredients:
⅔ cup semisweet chocolate chips
½ cup heavy cream
Directions:
Preheat oven to 350°. Line an 8″ square baking dish with foil and spray with nonstick cooking spray.
Microwave the unsweetened chocolate and butter in a large, microwave-safe bowl for 1 minute. Whisk and return to the microwave for 30-second increments, whisking in between until smooth and completely melted.
Whisk in the sugar, eggs, vanilla, and salt. Gradually add in flour and malted milk powder. Stir until just combined.
Spread half of the batter in the prepared pan. Add about 1 cup of the chopped Whoppers in an even layer, then cover with the remaining brownie batter.
Bake for 30–35 minutes; do not overbake.
Cool the brownies completely on a wire rack.
Prepare the ganache. Combine the chocolate chips and the cream in a microwave-safe bowl and heat for 1 minute. Let stand for 1 minute, then whisk until smooth. Pour the warm ganache over the cool brownies and transfer the pan to the fridge. Let the ganache set for 1–2 hours.
Before serving, top with remaining chopped Whoppers.
Enjoy!
One year ago: Sautéed Swiss Chard
Two years ago: Giada's Bruschetta
Three years ago: Snickerdoodle Biscotti