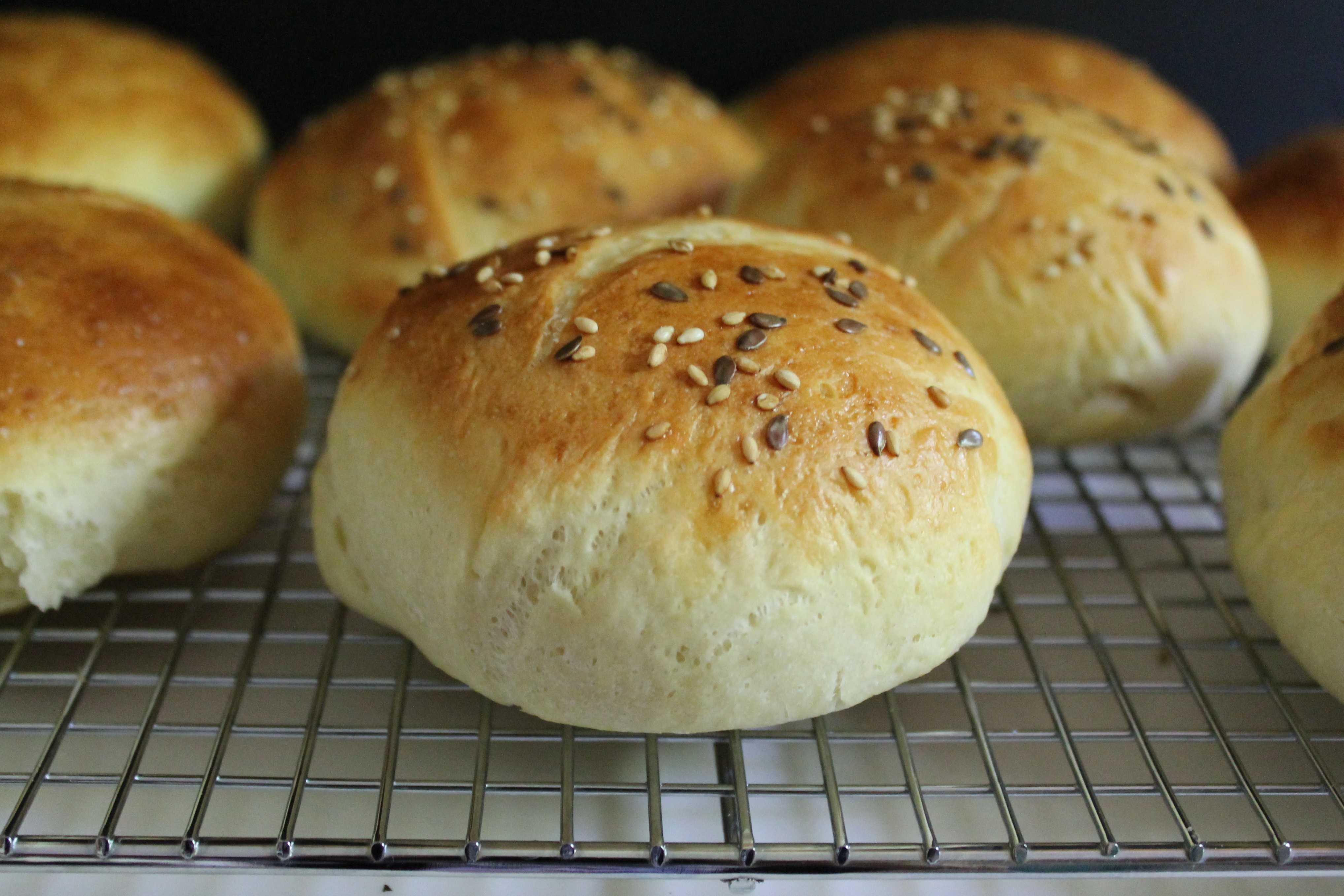 I have been slightly stress-paralyzed lately. For some reason, every time I sit down in front of my computer with the intent to write a blog post (or pay bills…you know, minor things…), I suddenly feel the overwhelming urge to take a nap.
I am going to blame this on the fact that I am still trying to slide back into my real life after our awesome vacation in New York City.
And maybe on the fact that I have made exactly three dishes in the last week that turned out to be huge disappointments. Disheartening, right?
So…I totally meant to share these burger buns with you before the fourth of July. They would have impressed your guests…they would have jazzed up any burger you served…they would definitely have made your cookouts a little more spectacular!
But, alas. Stress-paralyzed.
I actually almost didn't make them, myself. I nearly had myself convinced that store-bought buns would suffice, that it was more important to spend time on other cookout necessities like potato salad and pasta salad. But who am I kidding?
After the first time I made these, I knew I could never go back to store-bought buns. These (barely) brioche buns are dense and chewy with beautiful browned tops and fresh flavor that doesn't quit. Dave was definitely right when he said that the right bun makes all the difference between a decent burger and a delicious one!
There are a few versions of this recipe floating around the web, and it is certainly not new. As with many staple bread recipes, I turned to Annie's Eats for the recipe, because she always finds ways to simplify the method so that making bread becomes a more practical endeavor.
I actually used whey to make my burger buns because I am still trying to work my way through the massive amount of whey I accumulated over 2 weeks of making fresh cheese with Sarah. Whey is a perfect substitution for water and/or milk in bread recipes, and buttermilk in other kinds of baking! But you could, of course, use a combination of milk and water, as called for in the original recipe, if you don't have whey around.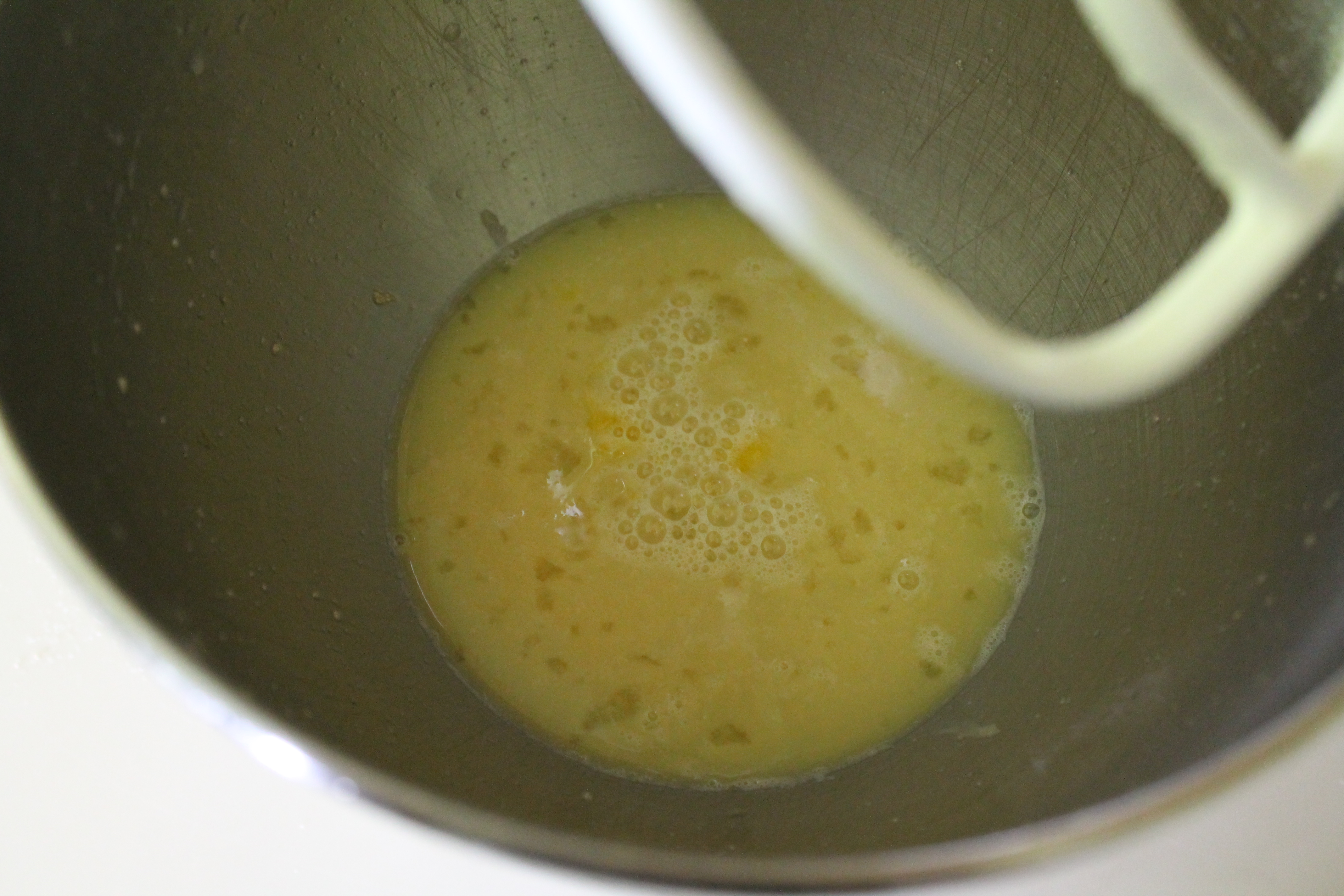 So. I started by mixing whey, yeast, sugar, salt, and 1 egg in a mixer bowl. When I took these photos, I was using the paddle to mix this first round of ingredients, but since then I have just used the dough hook for everything. One less dish is always a good choice, amiright?
No need to even let the yeast activate! Hooray! Saving 10-15 minutes!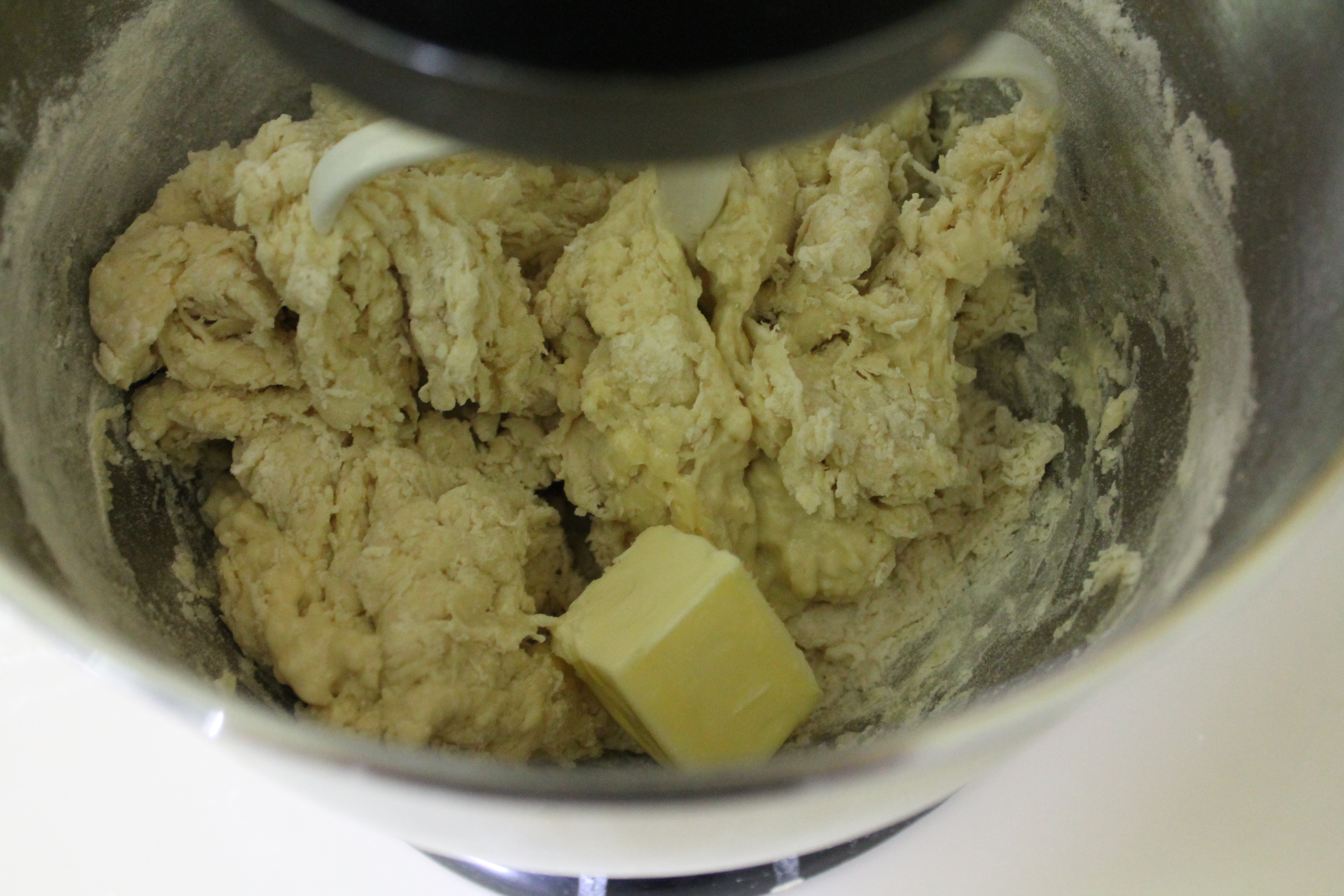 As soon as the liquids are evenly combined, add in the bread flour and regular flour. If you don't keep bread flour on hand, no worries! You can use all-purpose flour instead, as long as you add 2 tbsp. of all-purpose flour per cup of bread flour called for in the original recipe. Bread flour has a higher protein content than all-purpose flour, so it requires a larger amount of all-purpose flour to mimic the extra chewiness that bread flour lends to bread. In this case, you would need 3 cups plus 6 tbsp. of all-purpose flour plus the ⅓ cup of all-purpose flour the recipe already called for.
Or you could just buy bread flour. Because making your own bread will change your life.
When all the flour is mixed in, add in the softened butter in small chunks.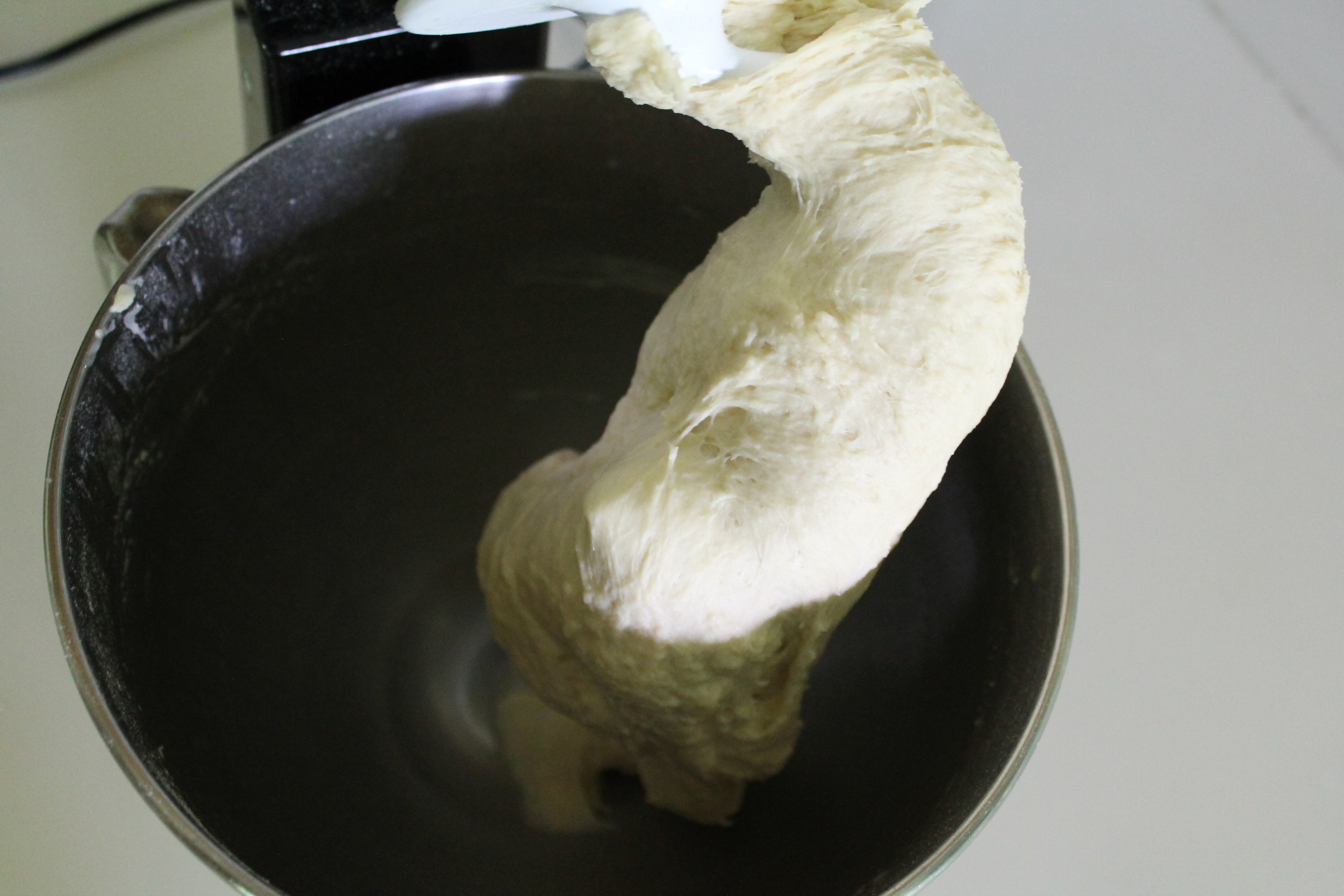 Now lock that mixer head down and turn the mixer on low speed. Knead for 6–8 minutes. The dough will still be a bit sticky, but don't add any extra flour here or you will end up with very tough burger buns!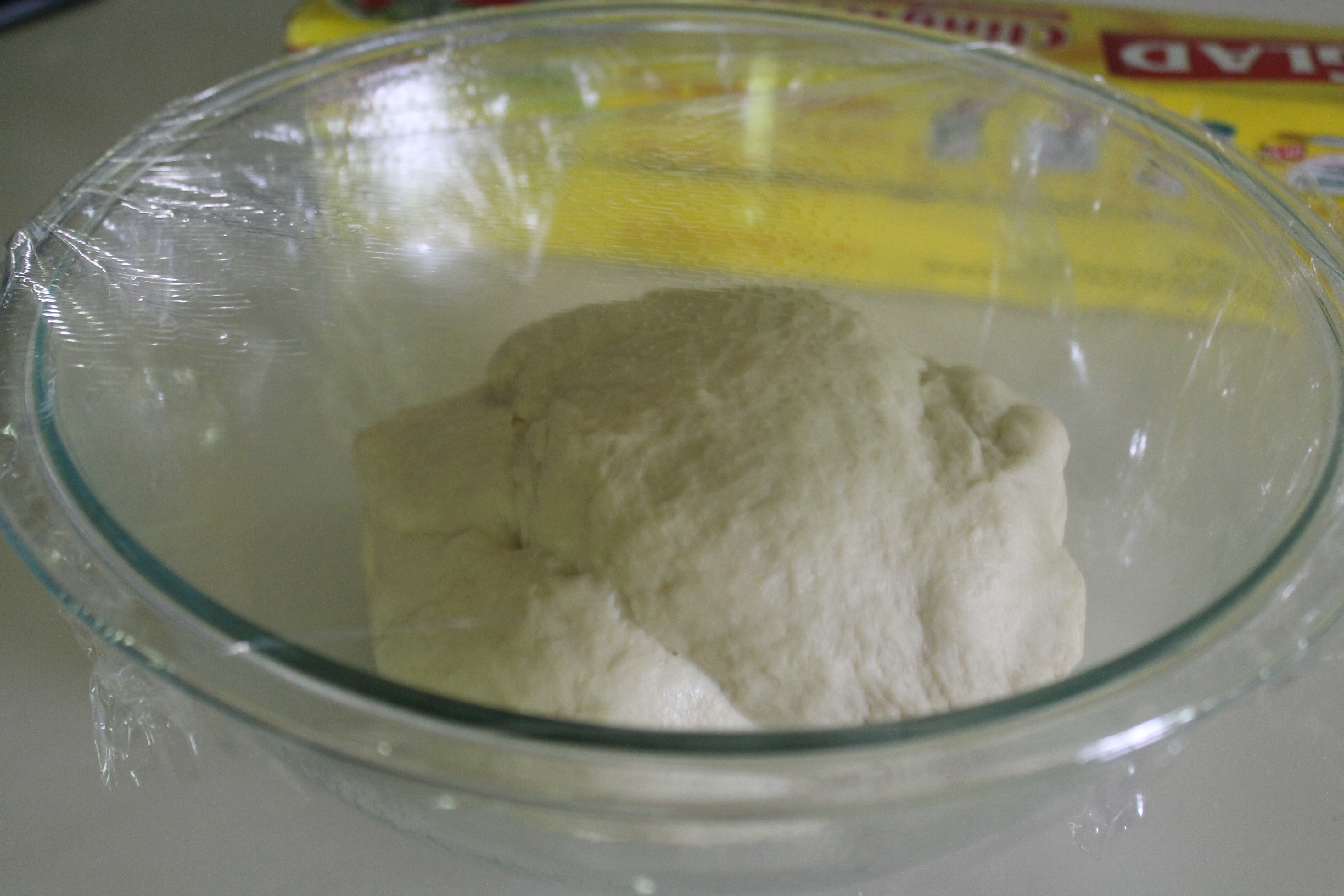 Transfer the dough to a large, lightly oiled bowl and cover tightly with plastic wrap. Let the dough rise for 1–2 hours, until at least doubled in size. I like to set my dough in a slightly warm oven to rise. The warmth helps to activate the yeast, and the oven has naturally dry air in it, so the weather conditions of the day won't interfere with the rise of the dough. Just preheat the oven to the lowest temperature possible, then turn it off and place the bowl inside.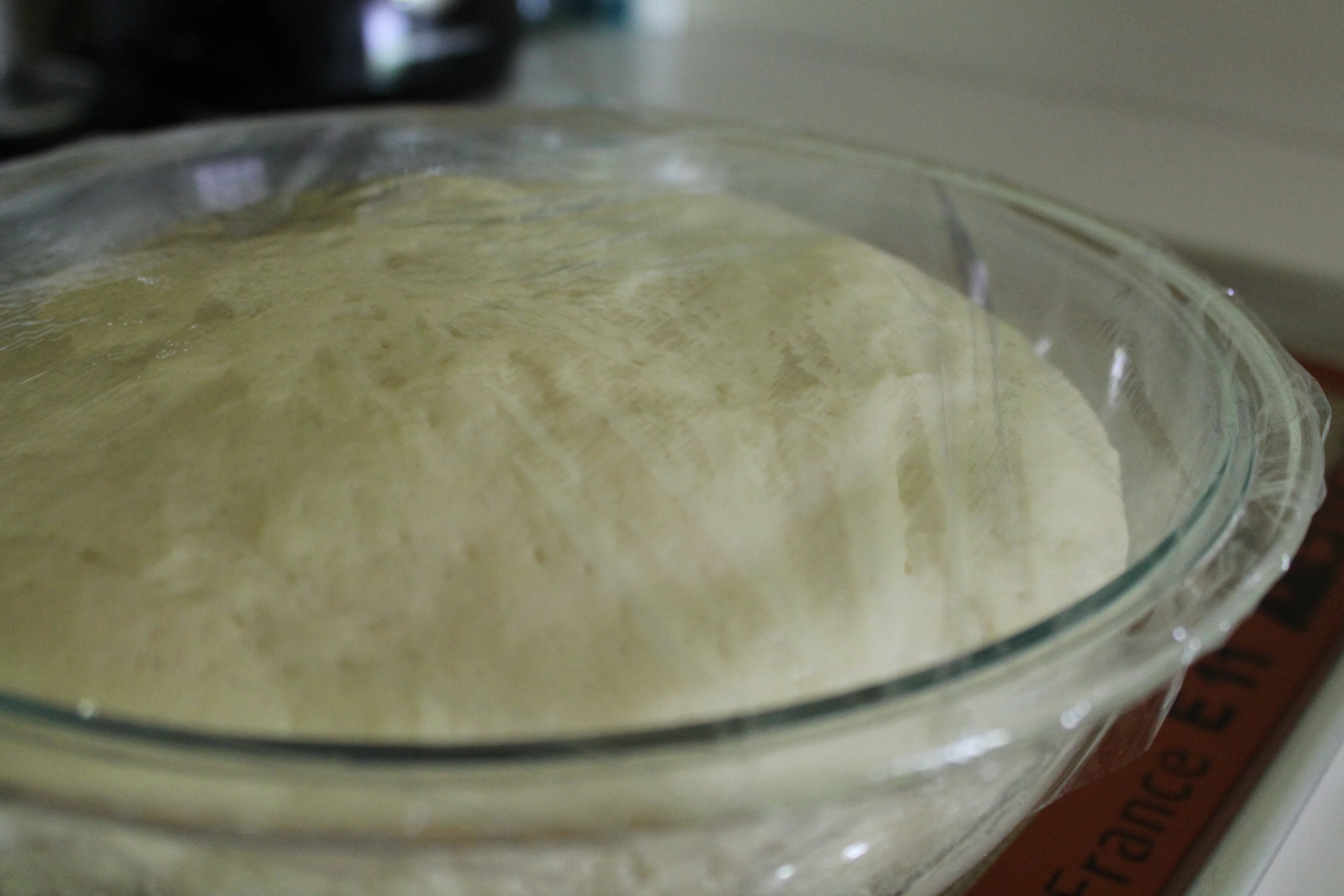 You can just go about your business for the next two hours! And so far, you've only spent about 5 minutes actively working on this bread. Whaaat!?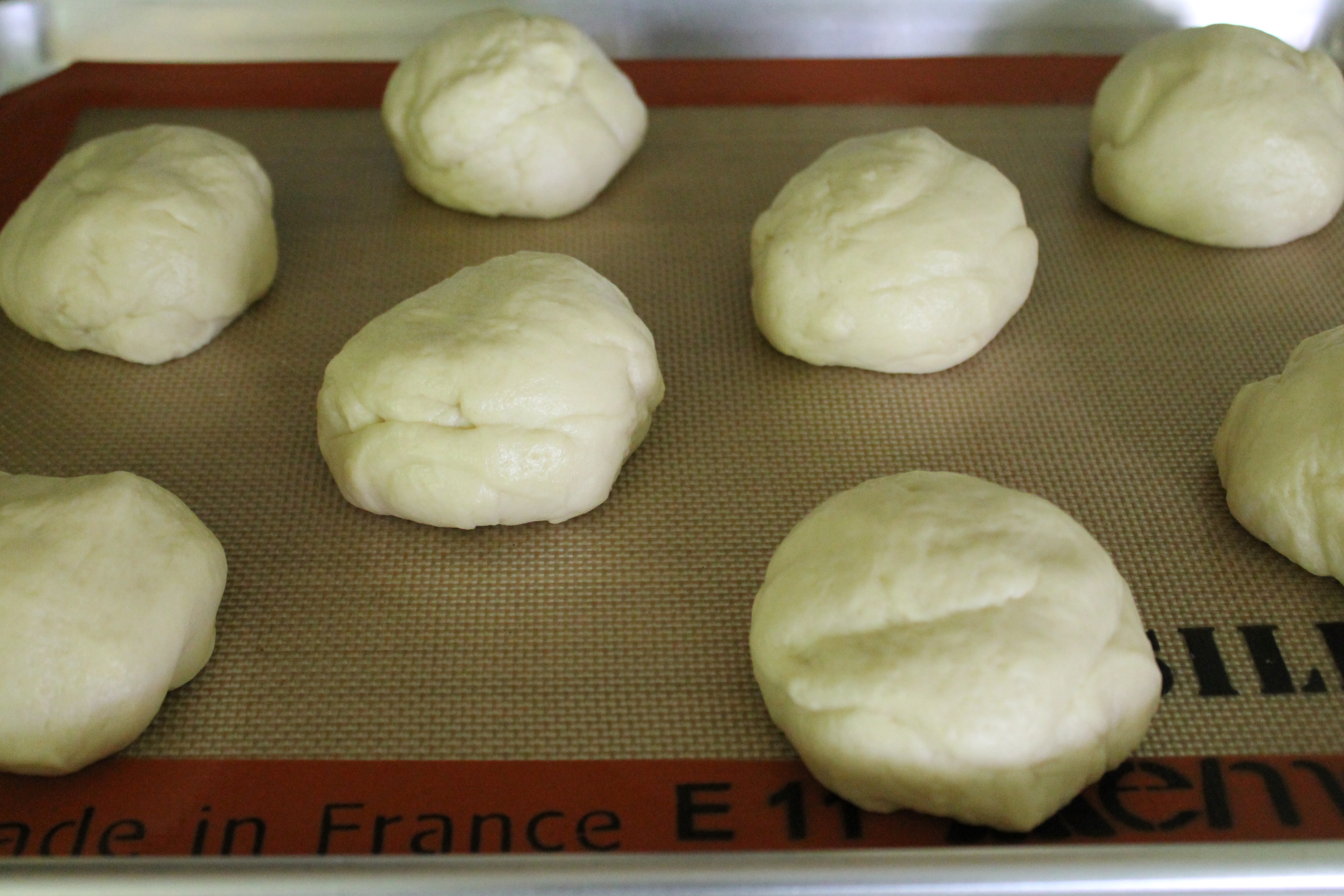 When the dough is risen, shape it into buns and set the buns on a Silpat- or parchment-covered baking sheet. Make sure to set them at least 3″ apart—although I always find that they run into each other while rising anyway. Oil a large piece of plastic wrap and cover the buns to rise again, about 1 hour.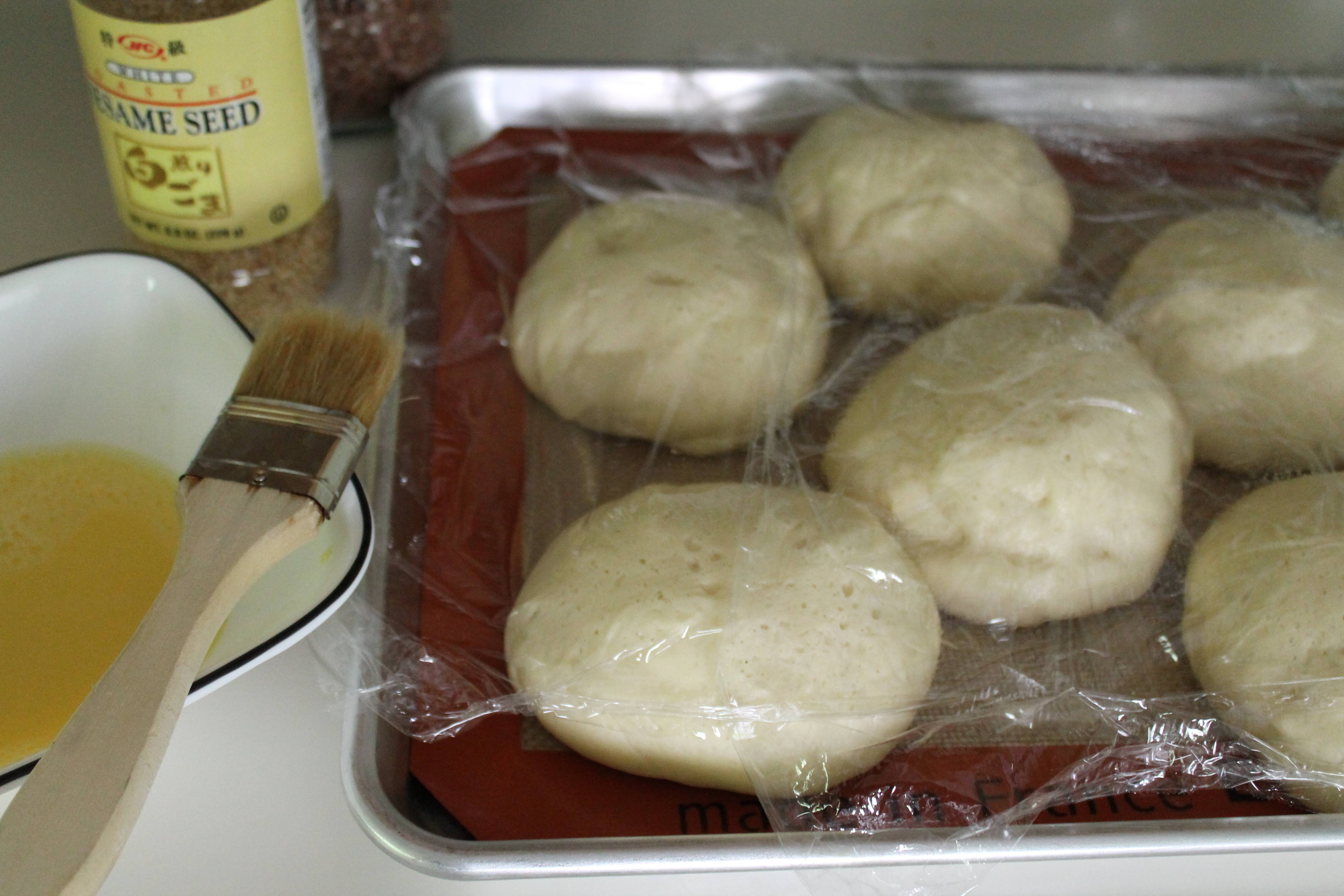 As I mentioned, my buns always rise and run into each other during this second rise. I've tried leaving them alone and ripping them apart after baking as well as re-rolling the balls, and I have found that I prefer re-shaping the buns at this point. It is an extra few minutes of work, but I think rolling the buns into smaller balls after the second rise produces more shapely hamburger buns in the end: nicely domed on top, about the right width so that your hamburger/veggie burger isn't dwarfed when you are ready to eat.
If you choose to re-roll the buns, don't stress about how small the balls are once you start working with them. They will rise again in the oven!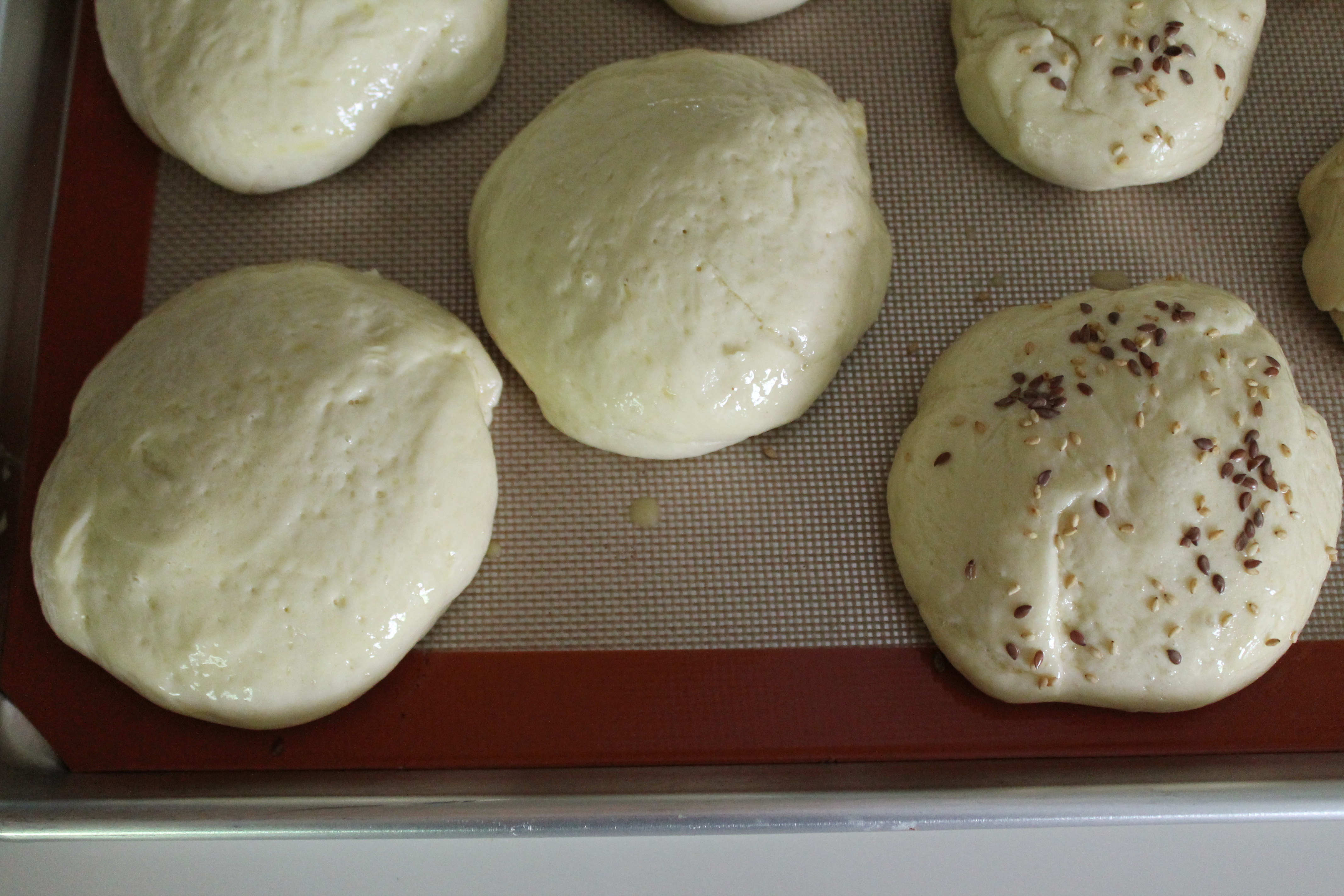 Gently brush the tops of the buns with an egg wash. Sprinkle, if desired, with the seeds of your choice. Sesame is classic, but I also added a few flax seeds into the mix, just for kicks and giggles. Plain is also a lovely choice!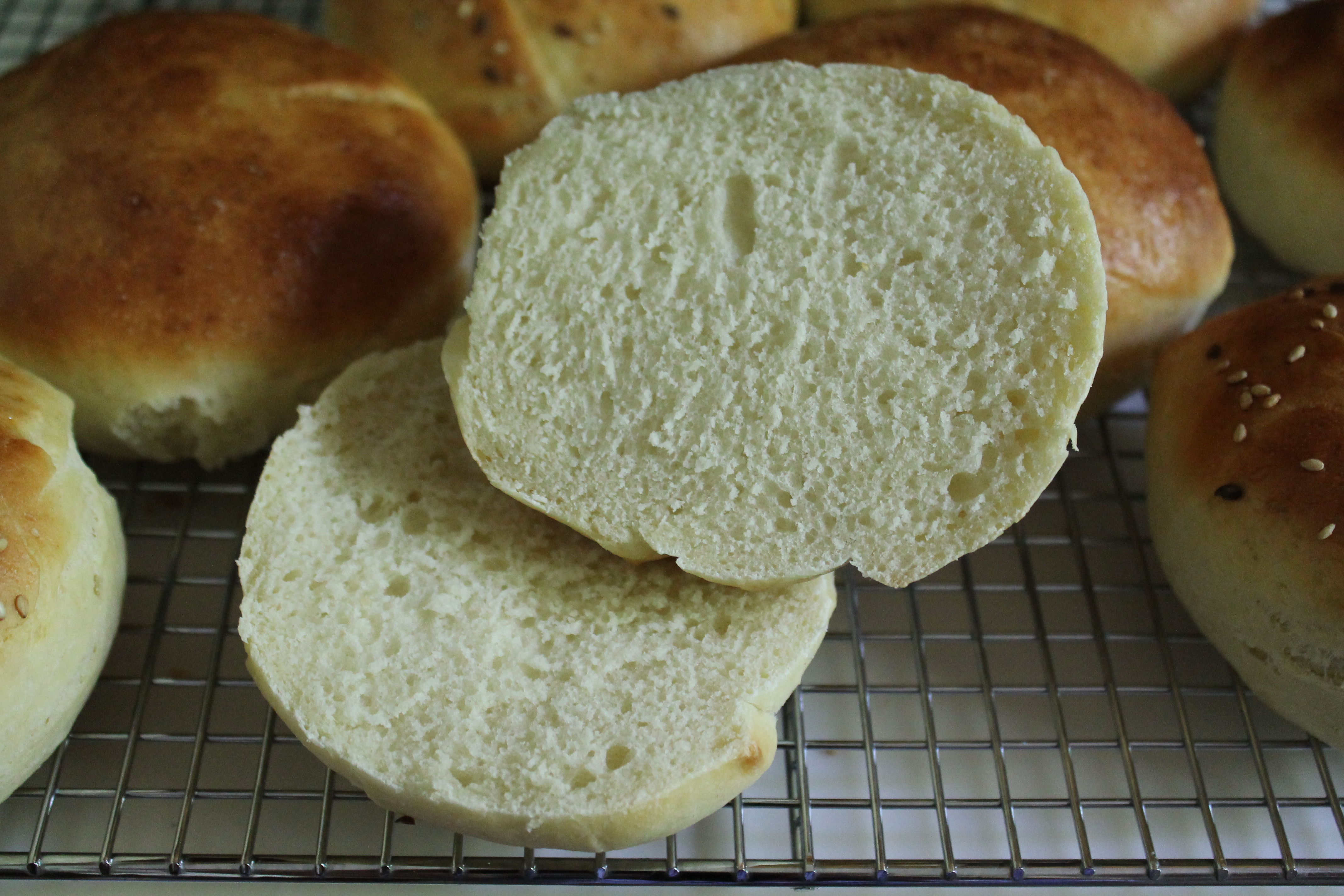 Bake the buns for 15 minutes at 400°, rotating the pan halfway through. The tops should be a little shiny and deeply golden, but you can bake another minute or two if the color is too pale. Cool on a rack for at least 20 minutes before cutting.
Dave liked to grill the buns as well as the burgers to add a tiny bit of toastiness and smokiness from the charcoal. I must admit it was a nice touch!
Light Brioche Burger Buns
lightly adapted from Annie's Eats
makes 8–10
Ingredients:
1 cup plus 3 tbsp. warm whey (or 1 cup water and 3 tbsp. milk)
2 tsp. active dry yeast
2½ tbsp. sugar
1½ tsp. salt
1 egg
3 cups bread flour
⅓ cup all-purpose flour
2½ tbsp. unsalted butter, softened
egg wash (1 large egg beaten with 1 tbsp. water)
sesame seeds (optional)
Directions:
In a mixer bowl, combine the warm whey (or water and milk), yeast, sugar, salt, and egg. Mix to combine.
Add the flours to the bowl and mix until incorporated. Mix in the butter.
Using the dough hook, knead the dough on low speed for 6–8 minutes. The dough will be somewhat tacky, but do not add extra flour to smooth it out.
Transfer the dough to a lightly oiled bowl. Cover with plastic wrap and let rise in a warm place until doubled, 1–2 hours.
Line a baking sheet with parchment paper or a Silpat. Divide the dough into 8–10 equal parts (it may be prudent to weigh each piece to ensure they are all approximately the same size). Gently roll each portion of dough into a ball and place on the baking sheet 3″ apart. Cover loosely with lightly oiled plastic wrap and let rise again for about 1 hour, until puffed up and nearly doubled.
Optionally re-shape the dough balls if they have collided with each other.
Set a large metal pan of water on the lowest rack of the oven. Preheat the oven to 400° with a rack in the center.
Brush the tops of the buns lightly with the egg wash and sprinkle with sesame seeds if desired.
Bake the buns about 15 minutes, rotating the pan halfway through, until the tops are golden brown.
Transfer to a rack to cool completely before cutting.
Enjoy!
One year ago: Blueberry-Cornmeal Buckle
Two years ago: Green, Egg, and Cheese Bagel Sandwich
Three years ago: Leek Tart