I have never been a particularly "good" Southerner. Sure, technically I grew up in the South, but sweet tea and grits are lost on me. I used to literally wrinkle my nose when country music was playing. And I must admit that I hate biscuits. (Yikes…don't look at me like that!)
Porching, now there is an activity I could get behind…if only I had a porch. Someday.
I went through a phase in high school in which I tried really hard to increase my Southern instincts and appreciation. The best thing that came out of that, besides finding out that customer service people really are nicer to girls who have a slight Southern drawl, was a small obsession with the restaurant Comfort.
Comfort is where I tried fried green tomatoes for the very first time. And despite not actually liking fried foods (again…bad Southerner), I loved them!
Since then, every time I see green tomatoes at a farmer's market, I cannot resist the urge to buy them. But, inevitably, they end up ripening into normal, red tomatoes on the counter, because I can't bring myself to fry them.
Well. No more!
I've always been intimidated by frying things. Getting the oil to just the right temperature and managing not to burn yourself severely just seem like a tall order. And since I don't typically prefer fried foods, it hasn't much of a concern to me. But…this recipe was a success, so perhaps I was worrying for nothing!
Start by heating a shallow layer of oil in a cast iron skillet. You could use a thermometer—the goal is 375°. I aim for hot enough to sizzle but cool enough that it's not smoking. The real challenge for me is that my stove is suffering from dementia and therefore no matter what temperature I set the burners to, eventually everything boils and smokes. It just can't contain the heat! So I had to spend time fiddling with the settings and playing musical stove burners in order to maintain the delicate temperature balance needed to fry something properly.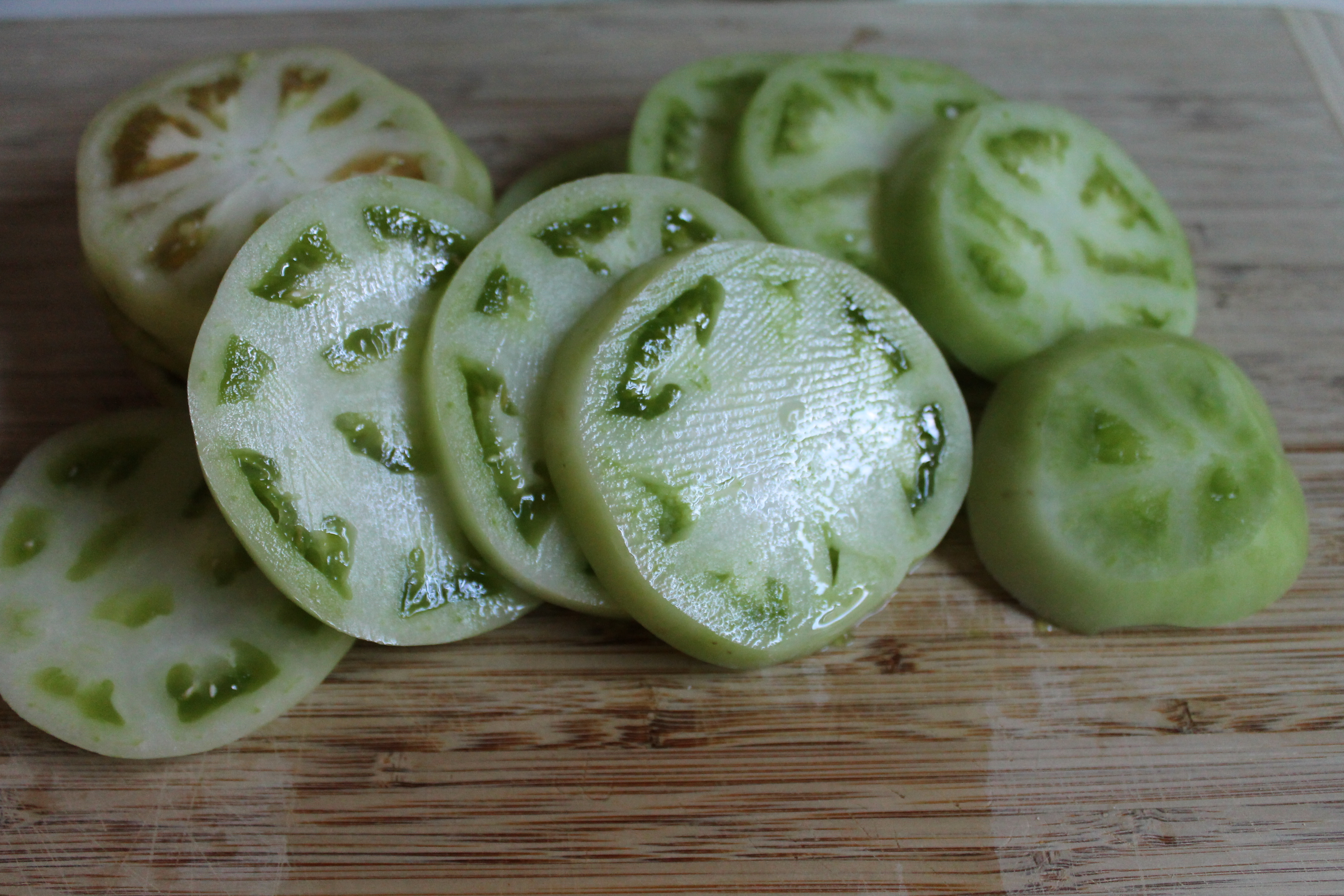 While the oil heats, slice the green tomatoes. Yes, they are super firm! Exciting times.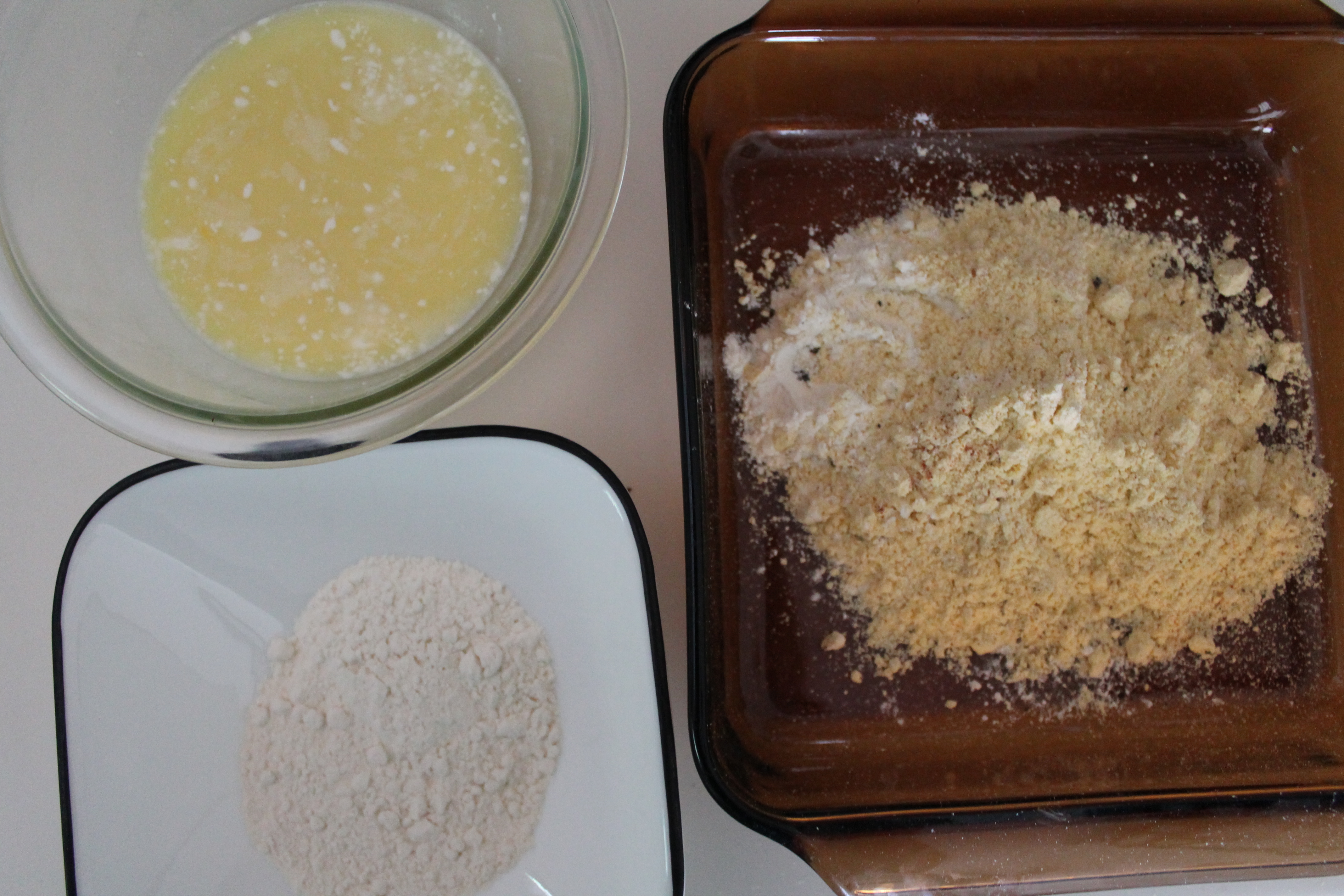 Get out three shallow containers and fill one with beaten egg and buttermilk (but I used whey! Whaaaaat!), one with flour, and the last with a cornmeal-flour-spice mixture. Cornmeal is definitely the kicker in this recipe, because it ensures that the coating will stay crisp and crunchy!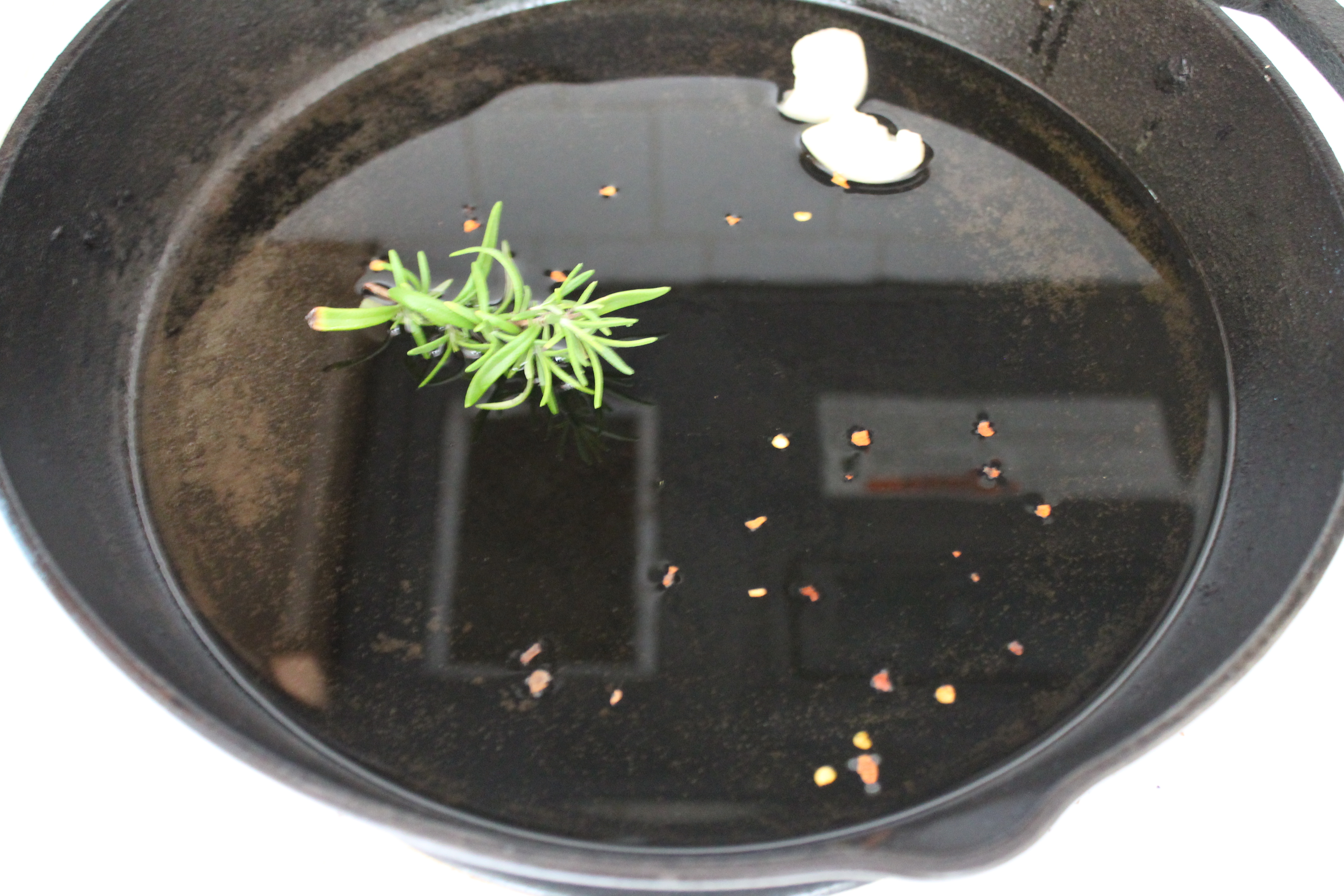 I threw a few things into my heating oil at this point (I don't know if that's a very normal thing to do, but since I don't usually like the oily flavor of fried foods, I figured I would give the oil a tiny bit of oomph): a sprig of fresh rosemary, a large clove of garlic, halved, and a large pinch of crushed red pepper. My hope was to flavor the oil a little and thus to add a subtle flavor to the fried green tomatoes.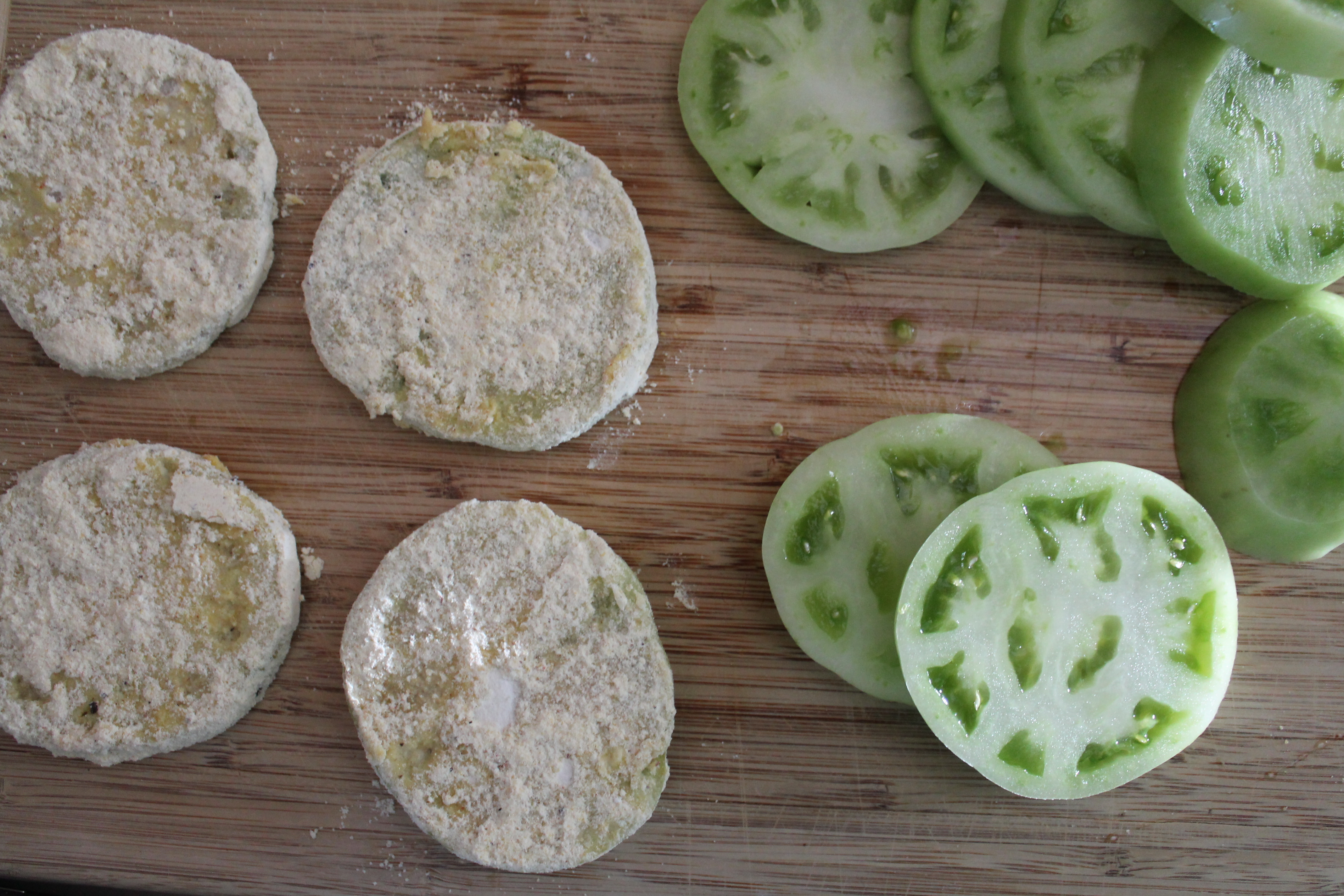 Now press the tomato slices into the flour, then dip in the egg, and finally dredge in the cornmeal mixture.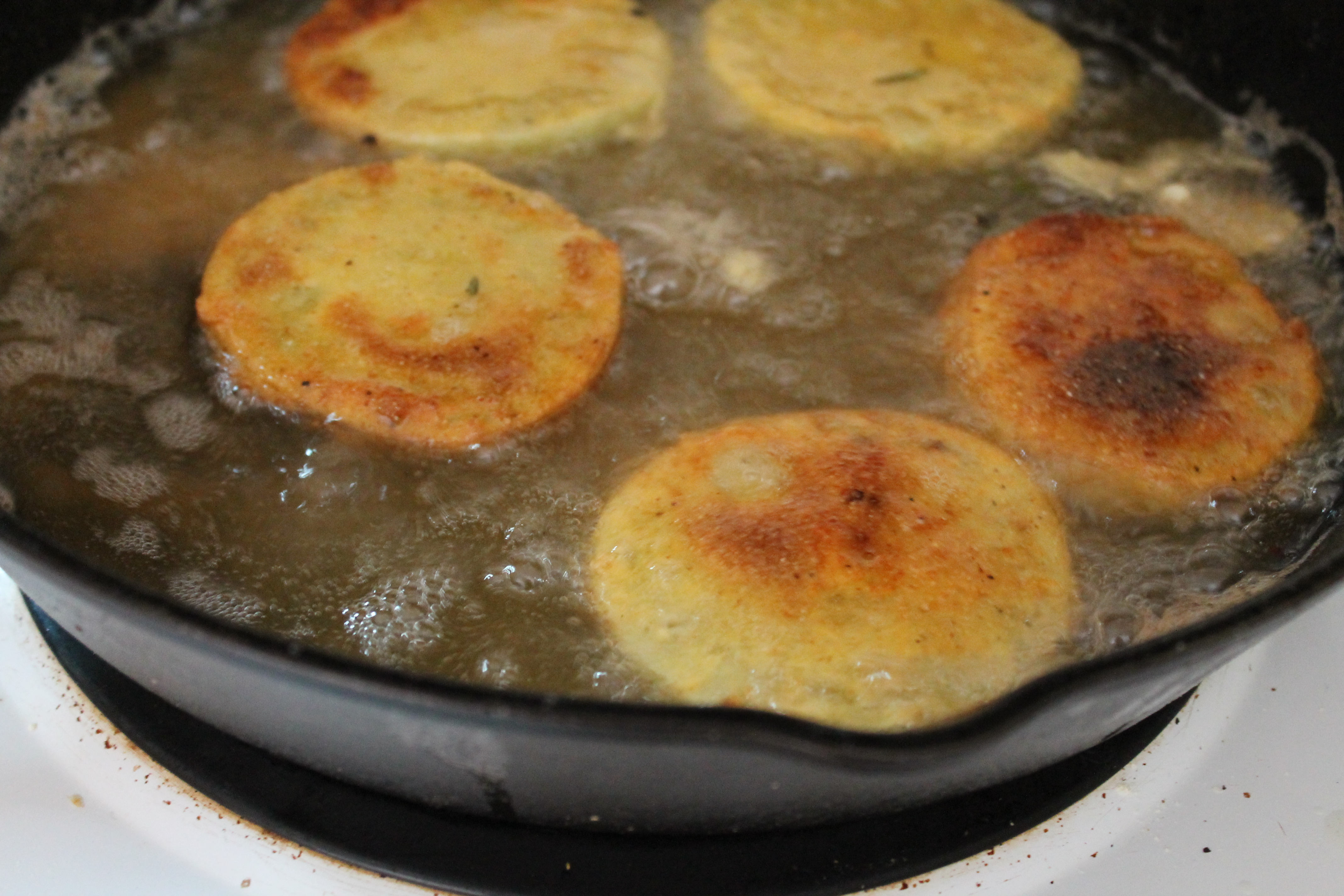 Fry them in batches, sliding them into the hot oil very carefully to prevent splatters. I cooked mine about 3 minutes per side, but I think my oil was closer to 350° than 375°. Ideally, cook 2 minutes per side…and try to aim for an even browning rather than splotchy browning. Again…my stove burners are not themselves. The net effect of frying something longer in order to achieve that beautiful, browned crust is that more oil is absorbed…thus even less healthy and potentially more greasy.
When the tomatoes are crispy and golden, transfer to a paper towel to drain. Pat the tops dry as well.
Serve with a spicy remoulade for dipping! Fried green tomatoes are nothing without remoulade. I simply purchased remoulade at the store this time, but you could certainly make your own!
Fried Green Tomatoes
adapted from Southern Living
serves 4–6
Ingredients:
1 egg, lightly beaten
½ cup buttermilk (or whey)
½ cup flour, divided
½ cup cornmeal
1 tsp. salt
½ tsp. black pepper
large pinch of cayenne
3 large green tomatoes, sliced ⅓″ thick
canola oil or other neutral oil, for frying
rosemary, crushed garlic, and crushed red pepper (optional)
remoulade, for dipping
Directions:
Combine egg and buttermilk in a bowl; set aside. Drop ¼ cup flour on a small plate.
Combine remaining ¼ cup flour, cornmeal, salt, pepper and cayenne in a shallow pan for dredging.
Dredge tomato slices in the flour, then dip in the egg mixture and dredge in the cornmeal mixture.
Pour ¼″–½″ oil in a large cast iron skillet. Add the rosemary, garlic, and crushed red pepper to the oil, if desired. Heat to 375°.
Carefully slide batches of tomatoes into the hot oil. Cook 2 minutes per side, or until deeply golden. Drain on paper towels and gently pat the tops dry. Repeat with remaining tomatoes.
Serve with remoulade for dipping.
Enjoy!
One year ago: Green Beans Almondine
Two years ago: Chocolate Truffle Ice Cream
Three years ago: Sesame Sprout Green Salad