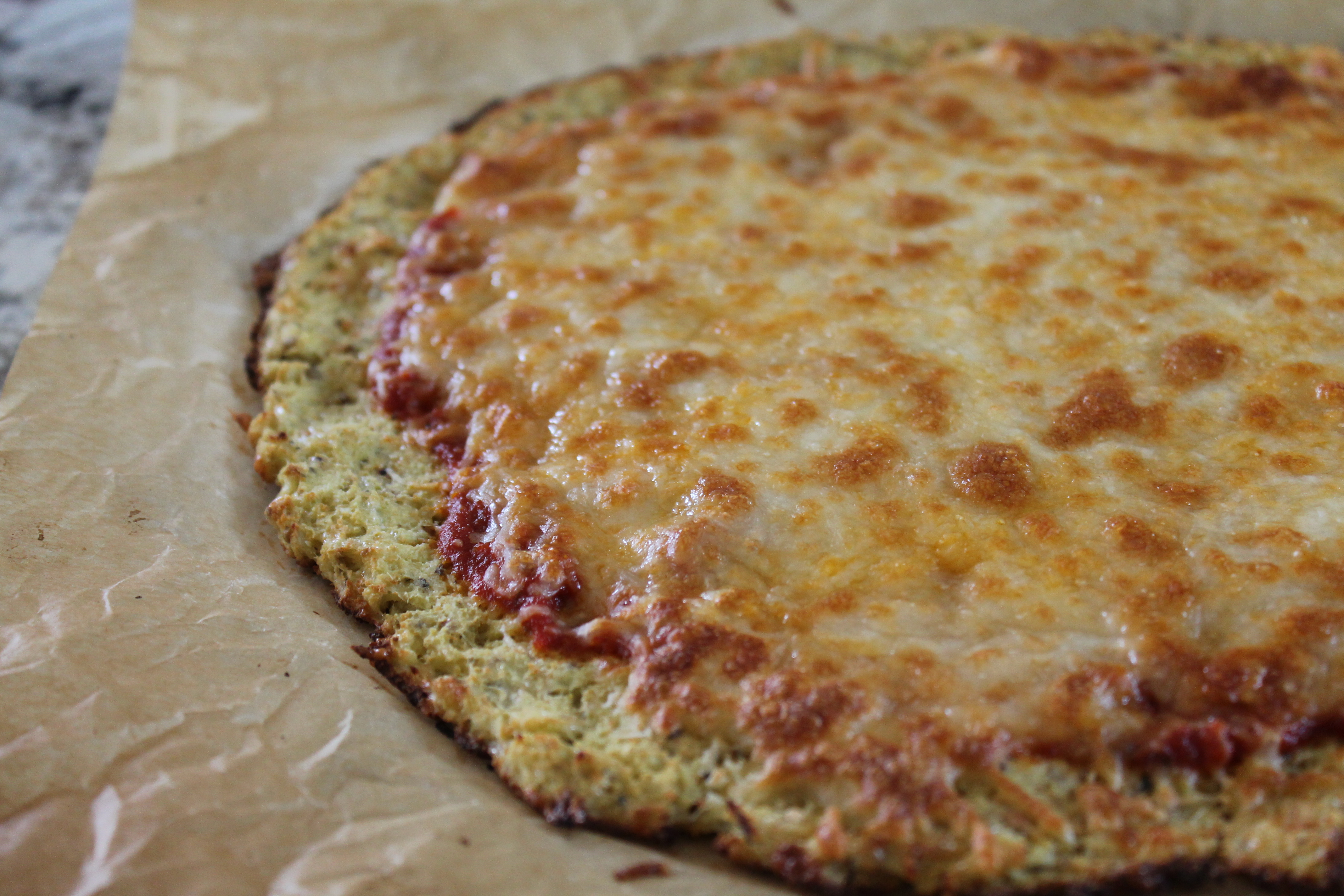 I am so late in jumping on the cauliflower-pizza bandwagon, but boy am I glad I tried it!
Seriously…what could be better than a 2-year-old squealing with delight when you announce there is cauliflower for dinner? This crust is the quickest and easiest from-scratch pizza crust you will ever make. It will please your gluten-free and carb-conscious friends, plus cauliflower has a ton of benefits you can't get from bread! Cauliflower is low in calories, high in fiber, high in vitamin C and B-complex vitamins, and it could even help fight some cancers. Crazy good.
While this crust does not really mimic the mouthfeel of bread, the flavor is mild and tasty, and the crust is chewy and structured enough for you to pick up the pizza and eat it just the way you would eat a wheat crust!
Cauliflower crust really is easy to make. Sarah and I are convinced this is the best way to make a healthy pizza in a hurry!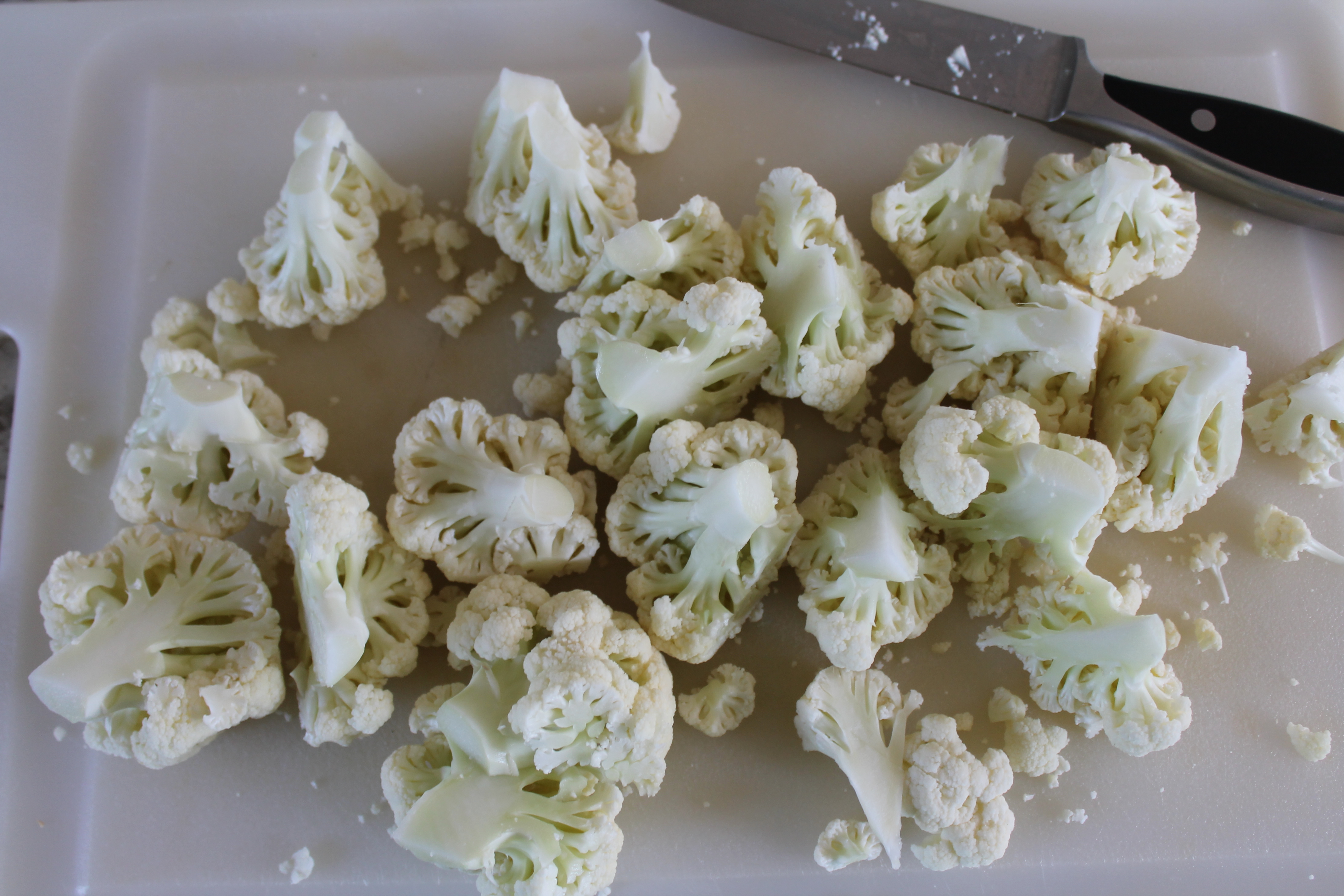 First, trim the leaves off the base of one small head of cauliflower, then chop it up into florets.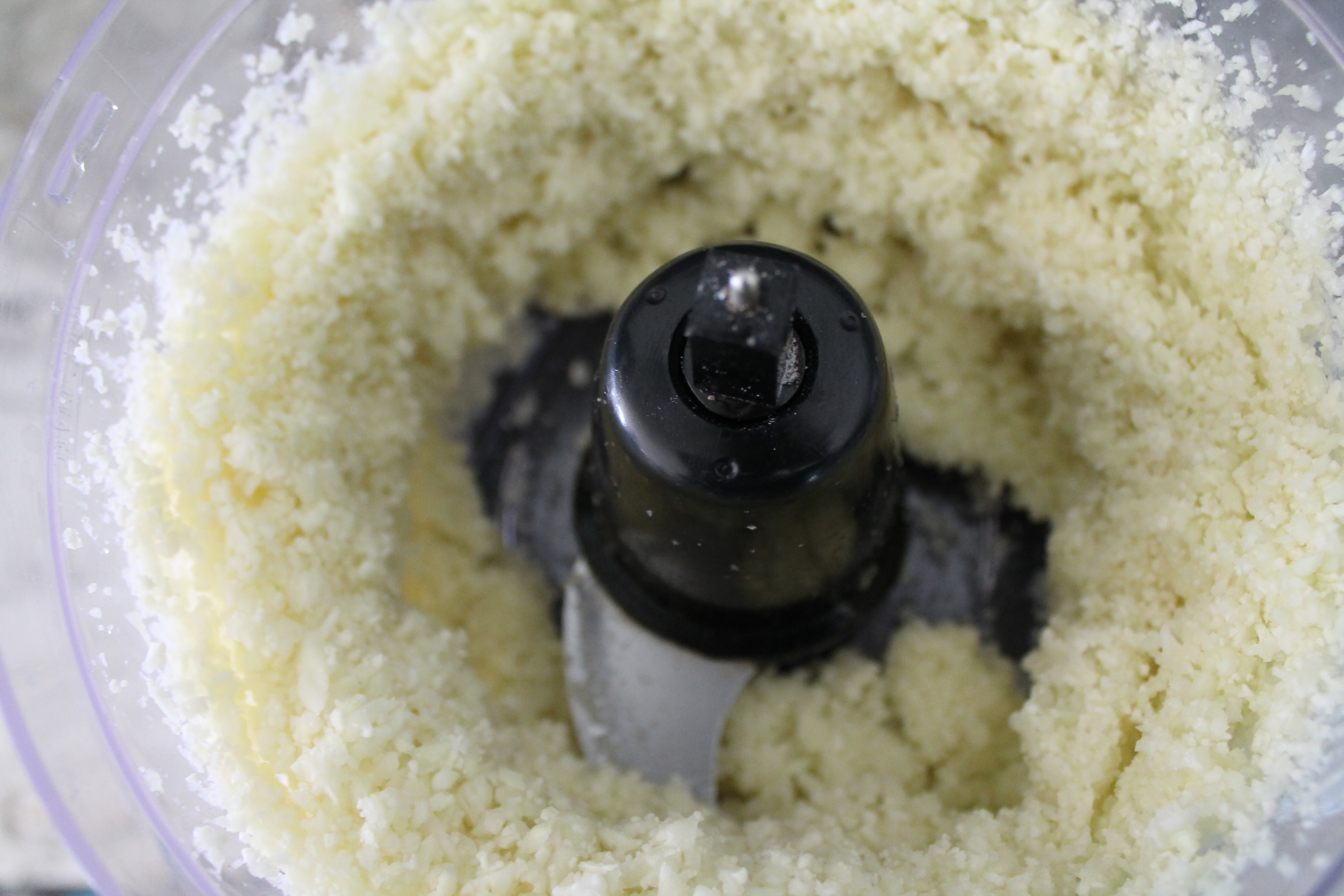 Process the florets until they turn into little snowy granules.
Dump the pureed cauliflower into a microwave-save bowl and cover tightly with plastic wrap. Microwave on high for 4 minutes. This will steam the cauliflower. And it will be incredibly hot. Like, burn your hands hot.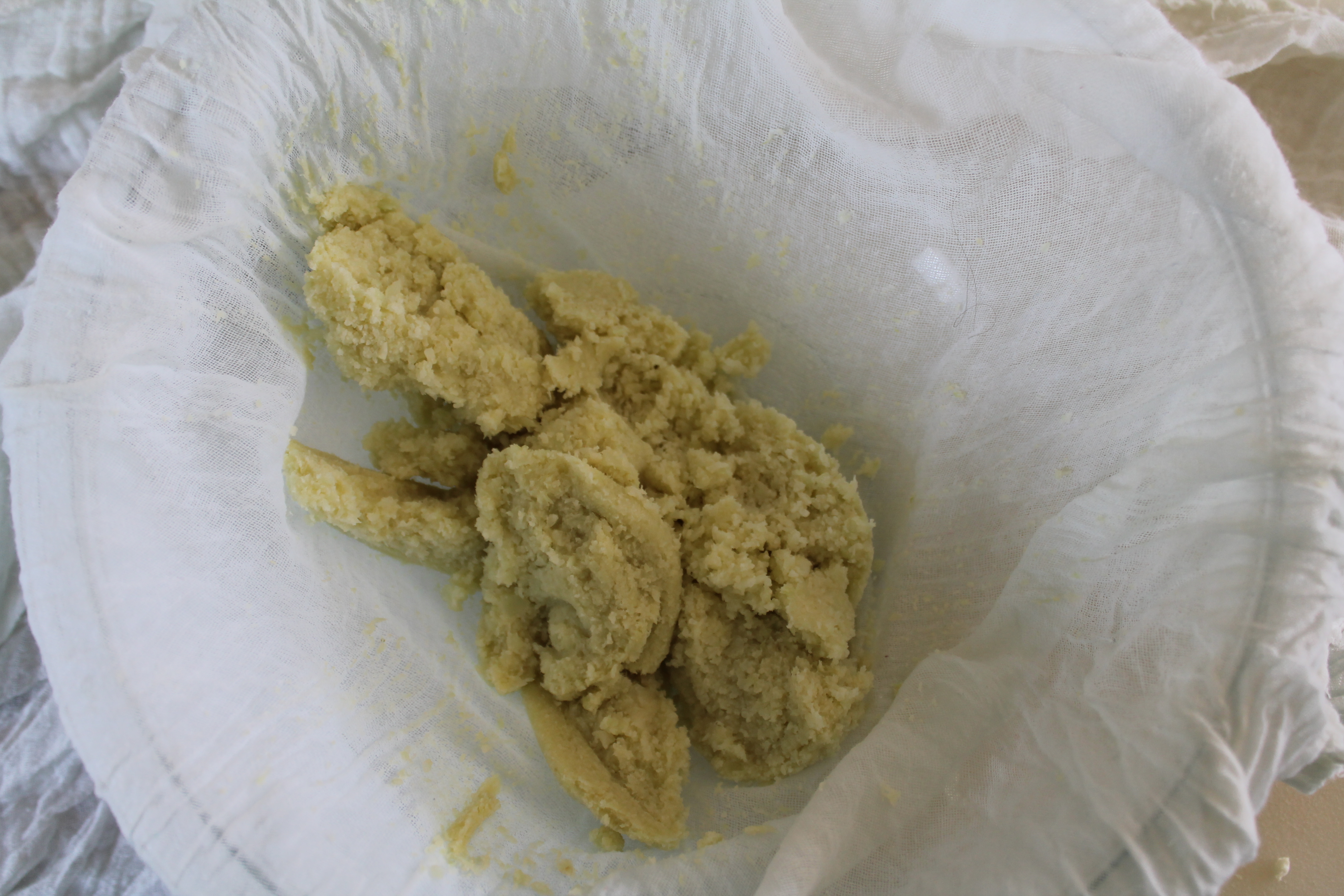 Be careful! The next step is to wring the steamed cauliflower in a cheesecloth. You want to squeeze out as much of the liquid as humanly possible But, as I said, it is incredibly hot. I did, in fact, burn my hands, because I wasn't patient enough to wait for the cauliflower to cool down.
I advise you wait. Put the cauliflower bowl in the fridge or freezer for a little while to encourage it to cool down enough to handle. Then squeeze all the water out. Keep squeezing past when you think you could be done. The crust will hold together and bake better if it is drier!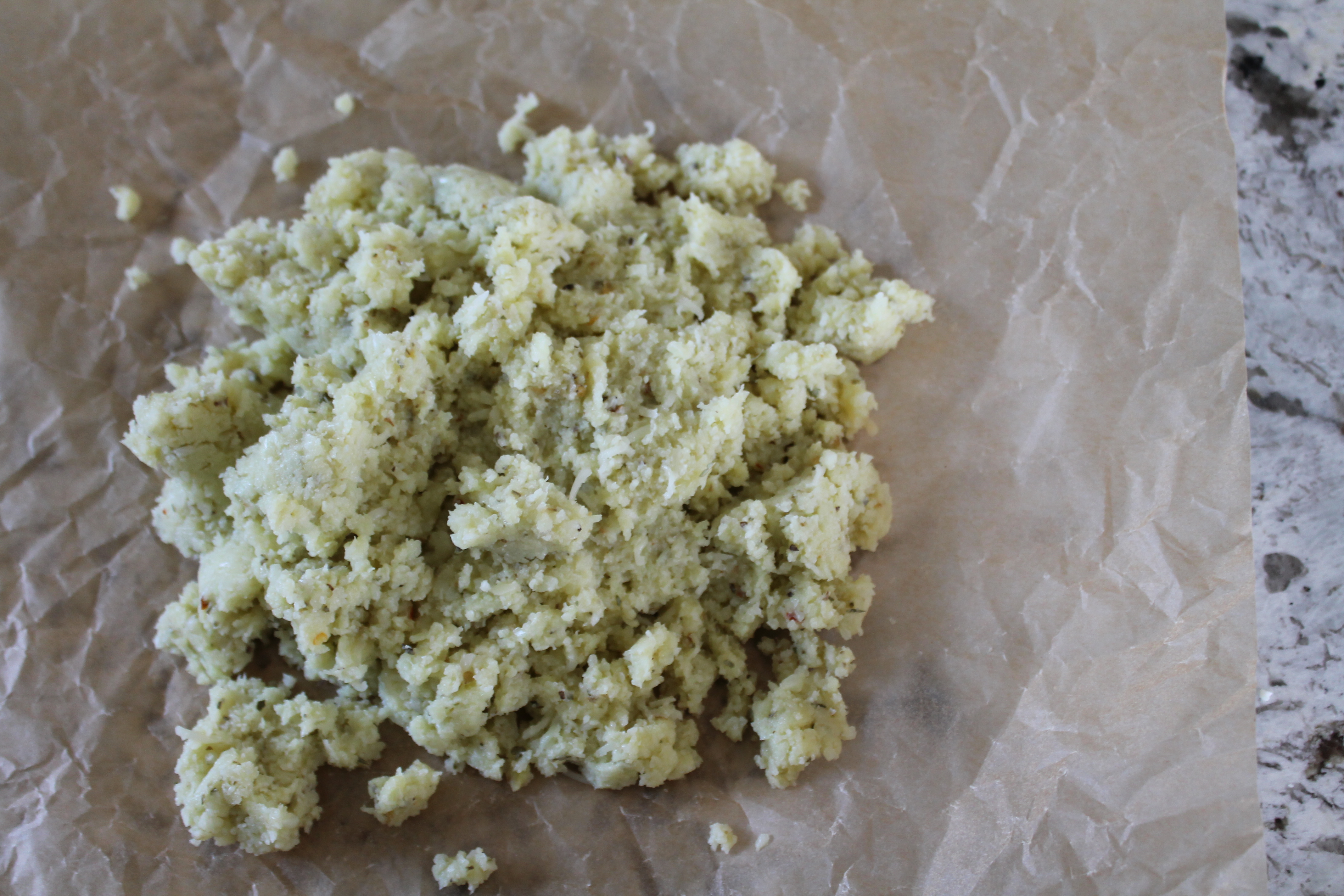 When you are done, combine the dried-out cauliflower in a bowl with garlic, oregano, salt, and crushed red pepper—the quintessential pizza spices—as well as mozzarella, parmesan, and an egg, to help the cauliflower hold together and turn into a delightful, sturdy crust. I, personally, enjoy doing this with my hands, but a spatula would also do the trick.
Spread the cauliflower mixture out on a sheet of parchment, pressing into a 12″ circle.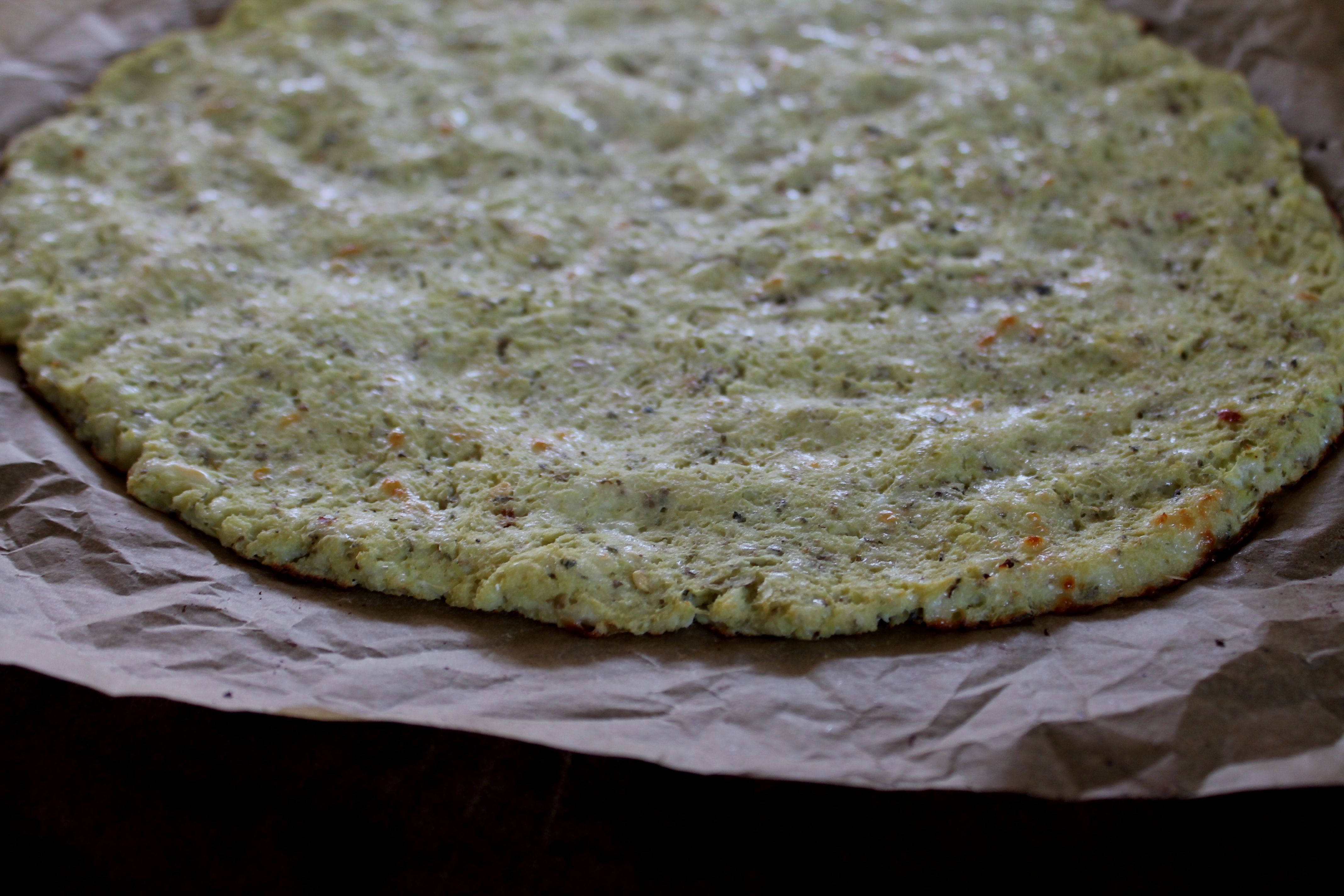 Bake for 10 minutes at 450°. The crust will be barely browned at this point, but it will continue to cook after you add your pizza toppings!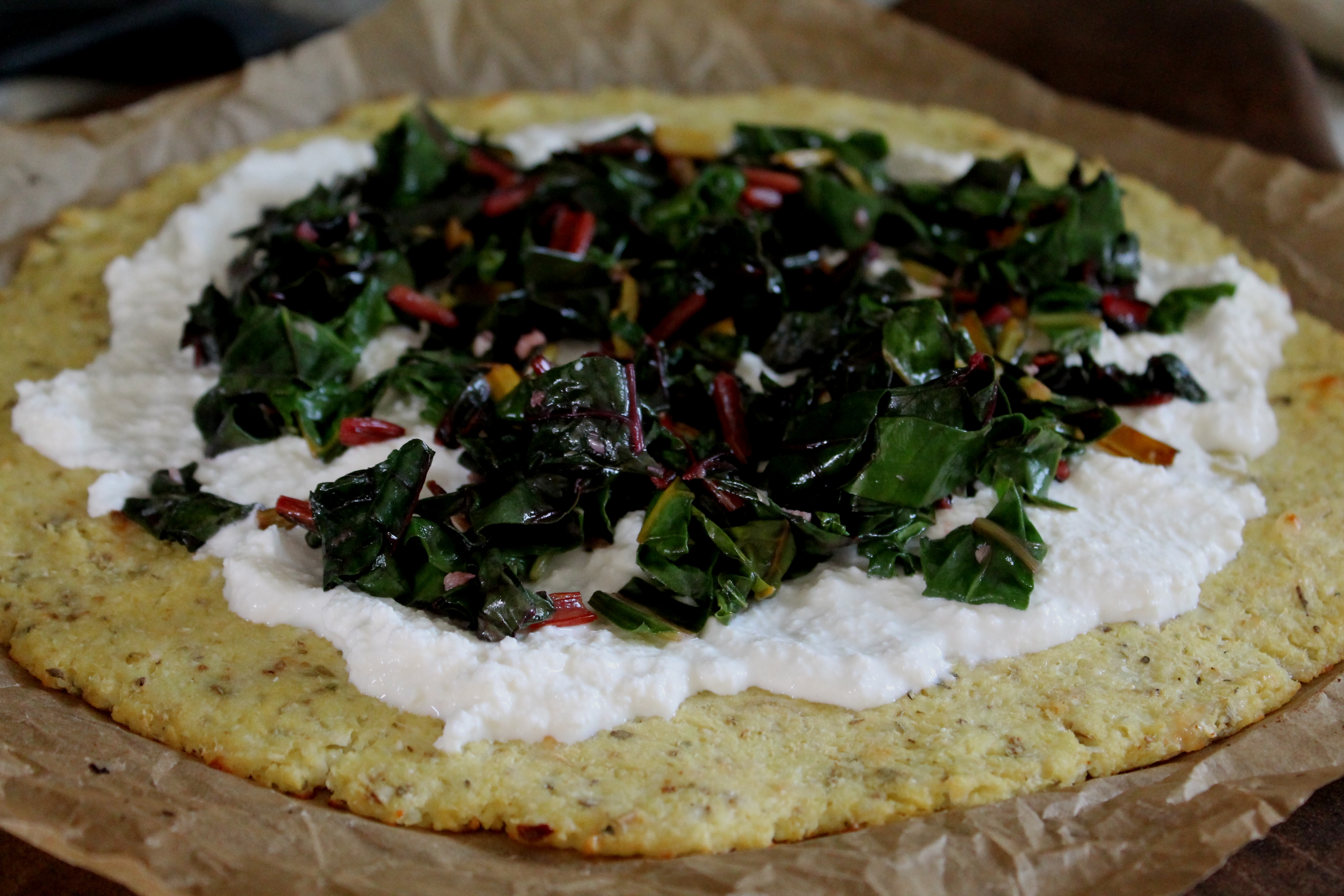 (Side note: if you are making a raw-topping pizza, something that does not need additional baking, like the garlicky swiss chard and creamy ricotta pizza Sarah and I made—delicious!!—then you will want to cook the crust a minute or two longer, so it will become a little firmer and will be easier to eat.)
(P.S., I grew that chard!)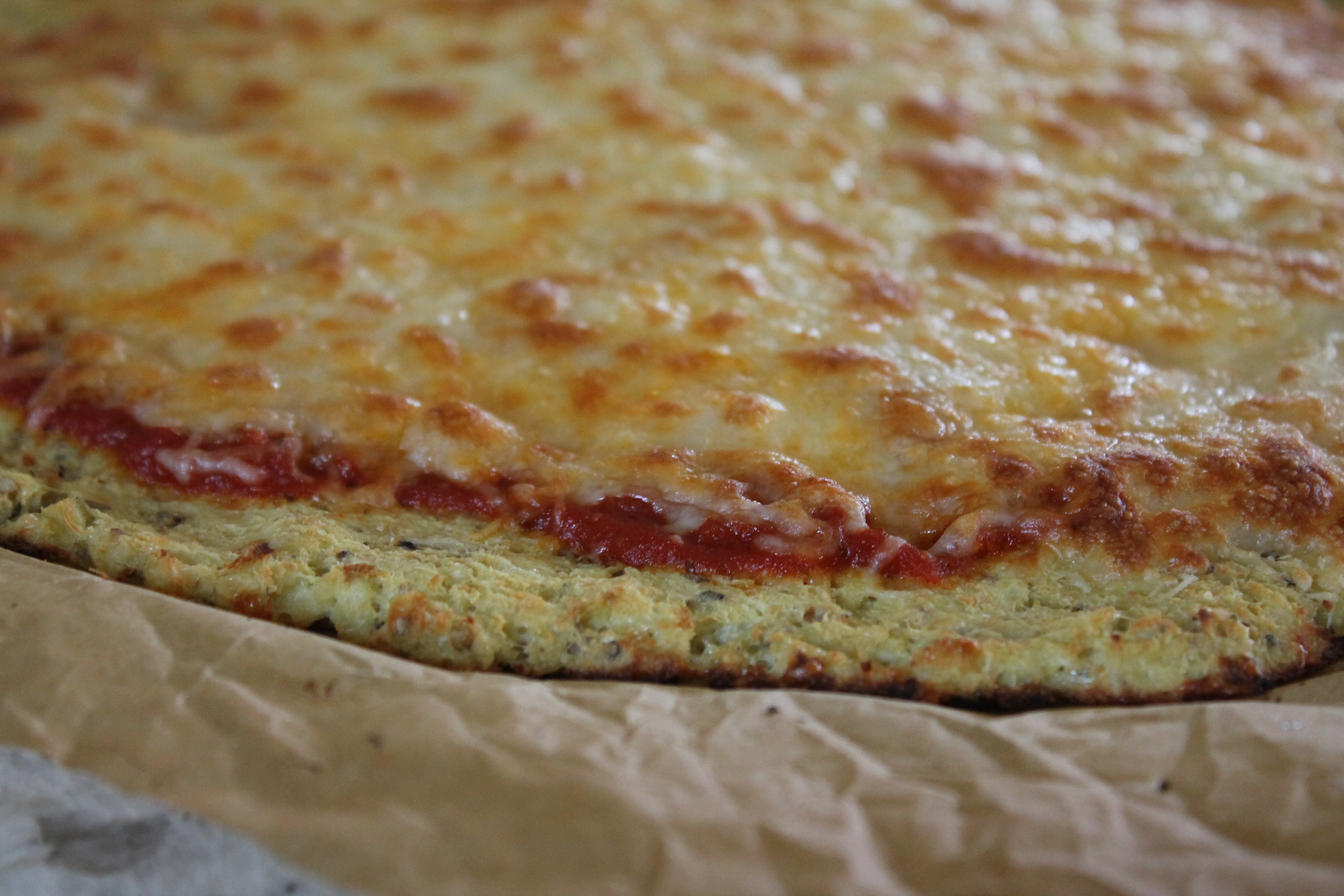 Top your pizza as desired (my favorite quick pizza is a rustic, no-sauce white pizza, topped with mozzarella and a bunch of fresh, seasonal sliced veggies), then return it to the oven to bake. Most pizzas just need 5–10 minutes to melt and brown the cheese. I like to turn the broiler on at the very end to help the browning process!
Slice and enjoy!
Cauliflower Crust Pizza
barely adapted from The Lucky Penny
makes 1 12″ pizza crust/serves 2–3
Ingredients:
1 small head cauliflower
1 tsp. oregano
½ tsp. garlic powder
¼ tsp. kosher salt
dash of crushed red pepper
¼ cup shredded mozzarella
¼ cup shredded parmesan
1 egg
Directions:
Trim the cauliflower and cut into florets, discarding the center stem.
Puree the cauliflower in a food processor until fine and snowy. Transfer to a microwave-safe bowl. Cover the bowl tightly with plastic wrap and microwave on high for 4 minutes. Immediately remove the plastic wrap from the bowl to release the steam, and let the cauliflower cool for 10–15 minutes, or until cool enough to handle.
Heat the oven to 450°. Place a baking stone or cookie sheet in the oven to heat.
Place the cauliflower in a cheesecloth. Wring until the cauliflower stops releasing water (there should be at least ¼ cup liquid, and up to ½ cup).
Combine the wrung cauliflower with the spices, cheeses, and egg, mixing thoroughly with clean hands.
Press the cauliflower mixture into a 12″ circle on a sheet of parchment paper. Using a pizza peel or cutting board, slide the crust (on the parchment) into the oven onto the hot baking stone.
Bake for 10–11 minutes, until golden and set.
Remove from the oven, top as desired, then continue baking another 5–10 minutes to cook the toppings.
Enjoy!