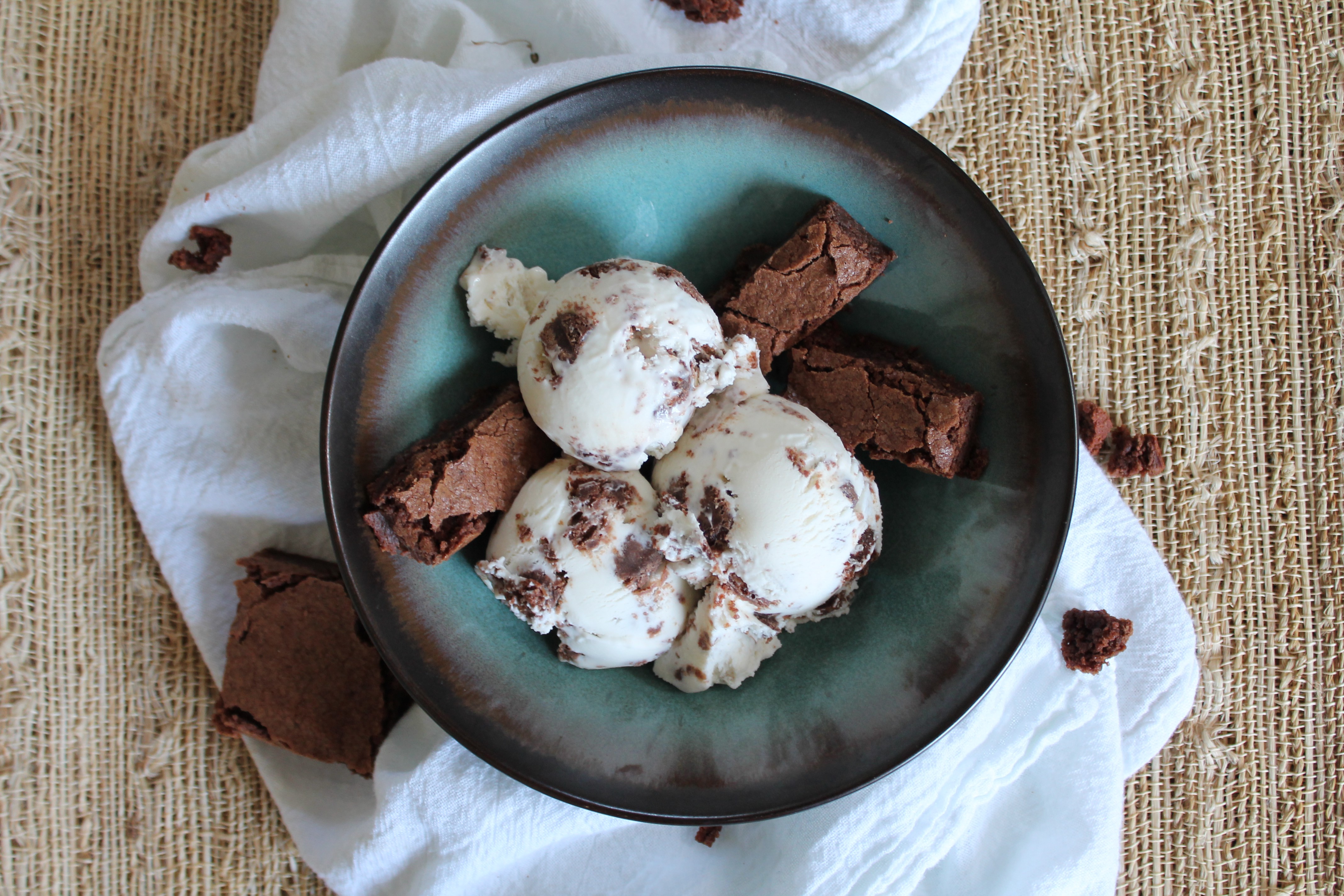 As you may know, it's National Ice Cream Month. A month I intend to celebrate enthusiastically! (Okay…I may have jumped the gun a little and started celebrating early. And I will probably still be celebrating in August.)
Initially I really struggled to figure out what ice cream recipes to share with you this month. What could be better than Nutella ice cream or cookies and cream ice cream or cake batter ice cream? I am quite predictable in my ice cream selections…and I just didn't see how I could come up with something new to try when I had already turned all my favorite things into ice cream!
But then it hit me: brownie cheesecake. Awesome!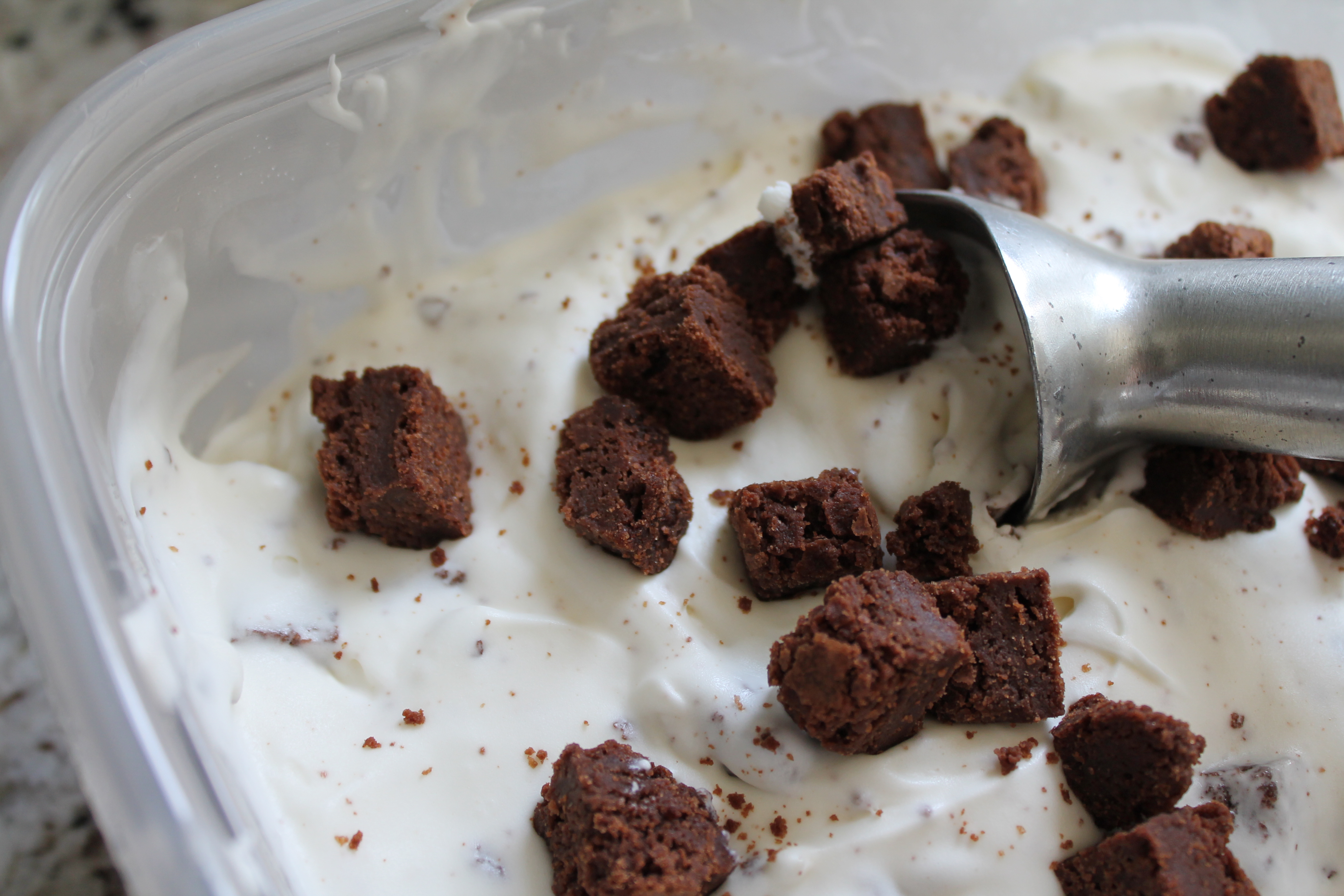 This ice cream was inspired by a brownie cheesecake I made for my birthday several years ago. I was excited but actually a little nervous about making cheesecake-flavored ice cream, because I have never met a cheesecake ice cream that totally wowed me. (But this one is stupendous!) And then as I started to dig around for cheesecake ice cream recipes, I discovered that nearly every recipe, from David Lebovitz to Southern Living to the who's-who of foodie magazines and cooking shows, use lemon in their cheesecake ice cream.
I ask you…what is it about the term cheesecake that implies lemon? I certainly don't want my cheesecakes to be universally lemon-flavored (nor have I met many "plain" cheesecakes that include lemon)!
To add insult to injury, most of these famous chefs swirl in or pile on the summer's brightest berries…which I admit most people would like, but not me.
Seriously, who says that cheesecake must be fruity?
Bring on the brownies, people. In my mind, the only thing that makes New York-style cheesecake better is chocolate. So let's get down and do it.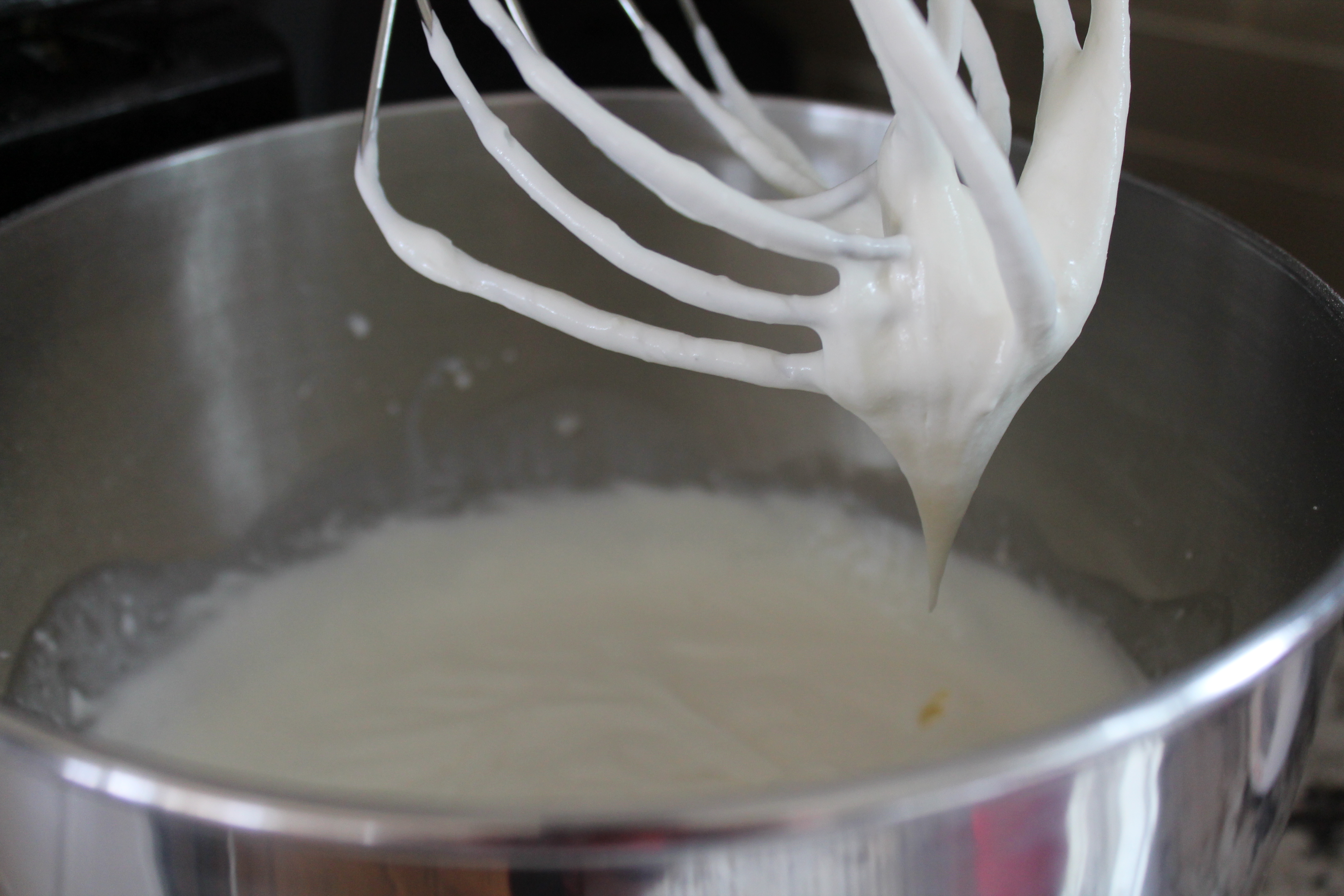 This ice cream is truly simple to make. In fact, you could make it in a food processor or blender if you are feeling so inclined. There are no eggs (yay!) and therefore no tempering. This ice cream is about as temperamental as a brick.
I like to use my mixer for this because it gives me slightly more control. Beat room-temperature cream cheese and sugar together. Make sure to scrape the sides of the bowl.
Stir together sour cream, whipping cream, and vanilla. Pour half into the mixer bowl and beat until smooth. Scrape the sides of the bowl again. The only thing that can go wrong with this ice cream is improperly mixing the batter: if there are any bits of cream cheese clinging to the sides of the bowl that don't get blended with the cream mixture, then there will be some firm chunks of cream cheese in your ice cream. But, in all honesty, that really isn't a huge problem, either!
Pour the rest of the cream mixture into the bowl and beat until thick and smooth. We basically just made a thin cheesecake. The batter is delicious.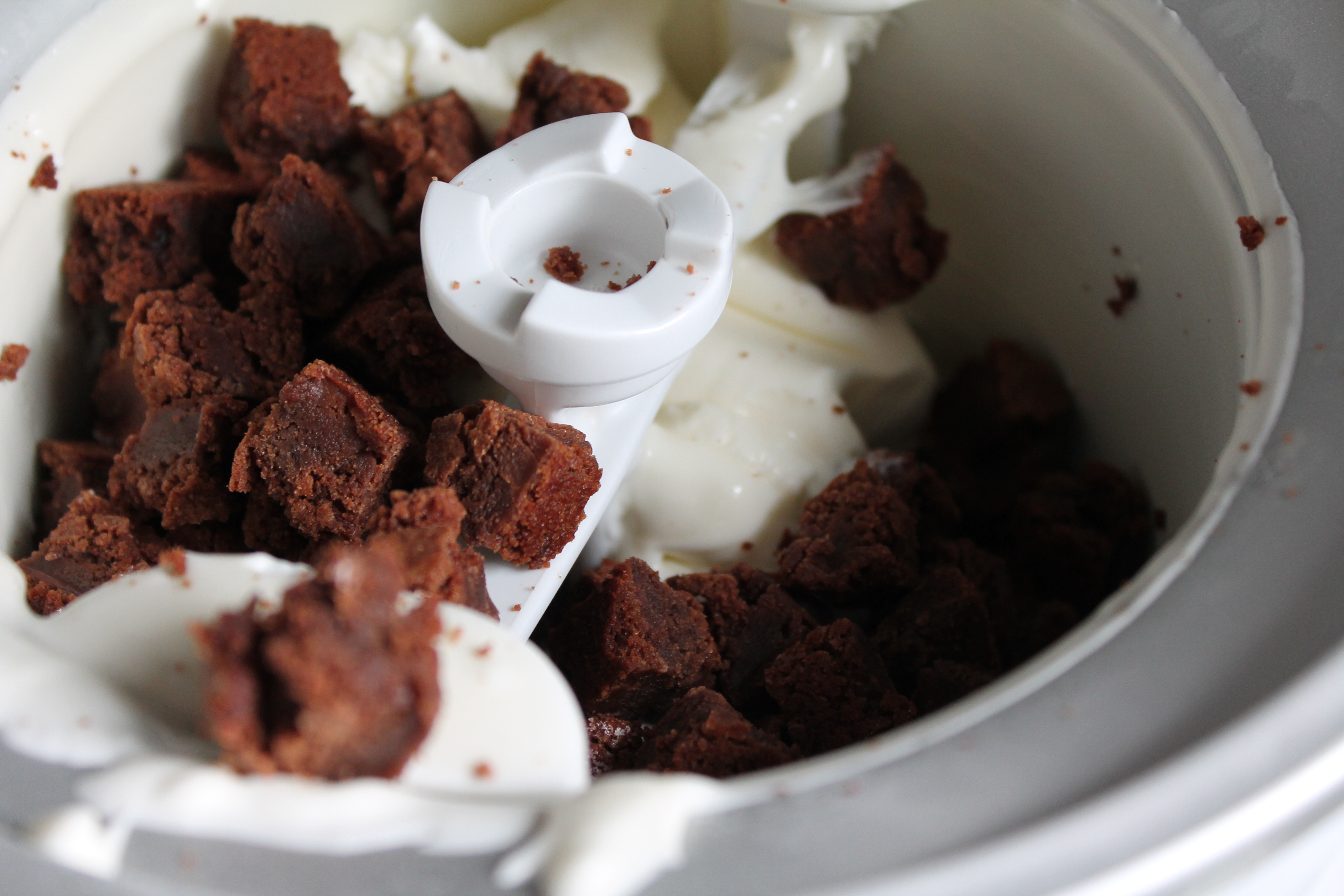 I generally chill this for a few hours, since we started with room temperature cream cheese. Colder batter churns more easily. But you can also just go ahead and churn the ice cream now!
While the ice cream churns, cut up your brownies into very small chunks, no larger than ½″ and probably closer to ¼″. I highly highly recommend using about one-third of a batch of Baker's One-Bowl Brownies for this ice cream. These brownies are not too tall/thick, and they are always soft and moist, which means they will mix well into the ice cream. They are beautifully chocolatey and dense so the flavor will be perfect!
But you are certainly welcome to use a different brownie recipe, even a box mix, as long as you love the flavor and bake them only until they are set, but not too chewy. In fact, I cut off the edges of the brownies (and ate them) and used only the soft centers for the ice cream! Crunchy or overly chewy brownie pieces will disrupt the texture of the ice cream, making it hard to scoop and, in my opinion, less delightful to eat.
Stir the brownie pieces into the churned ice cream. I dumped mine into the ice cream maker and let it churn them in just for 5 seconds or so, which broke up some of the brownie pieces a little, then I did the rest of the stirring by hand.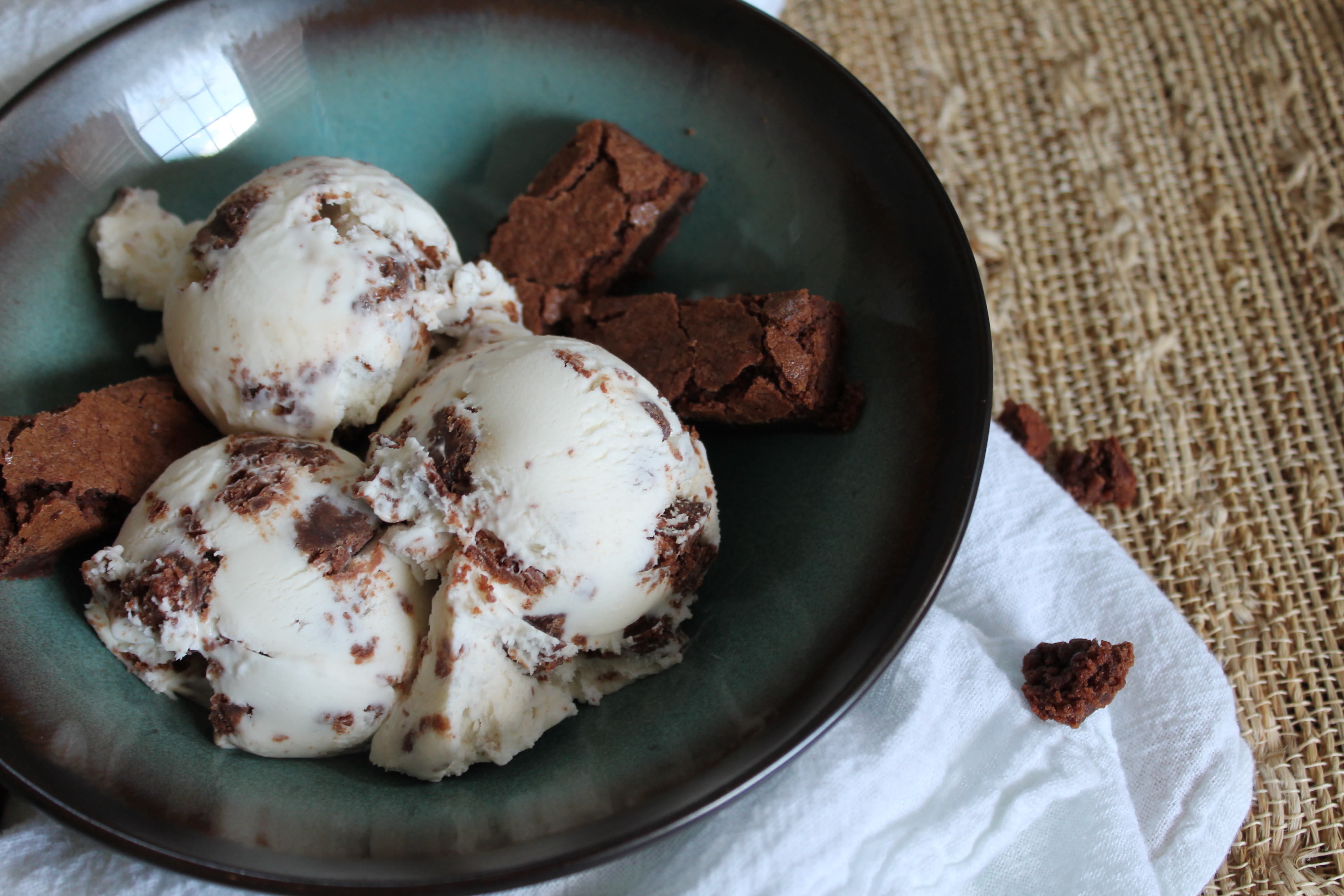 Freeze for at least 3 hours in a wide, shallow container before serving. (And, hey, I won't judge you if you warm up an extra brownie or two to go with this bowl!)
Brownie Cheesecake Ice Cream
adapted from Emeril Lagasse
makes about 3½ cups
Ingredients:
8 oz. cream cheese, room temperature
1 cup sugar
1 cup sour cream
1 cup heavy cream
1 tsp. vanilla extract
2 cups brownie cubes (½″), from about ⅓–½ batch of Baker's One-Bowl Brownies
Directions:
Beat the cream cheese and sugar together in a large bowl until soft and smooth.
In a measuring cup, stir together the sour cream, heavy cream, and vanilla. Add to the cream cheese in two batches, beating well in between, until combined. Scrape the edges of the bowl and beat for 1 minute more. The batter should be thick and smooth.
Chill the cheesecake batter for 1 hour in the refrigerator.
When ready, churn the ice cream according to the manufacturer's directions, about 30 minutes.
Stir in the brownie cubes with a spatula.
Transfer the ice cream to a wide, shallow container with an airtight lid. Freeze at least 3 hours before scooping.
Enjoy!