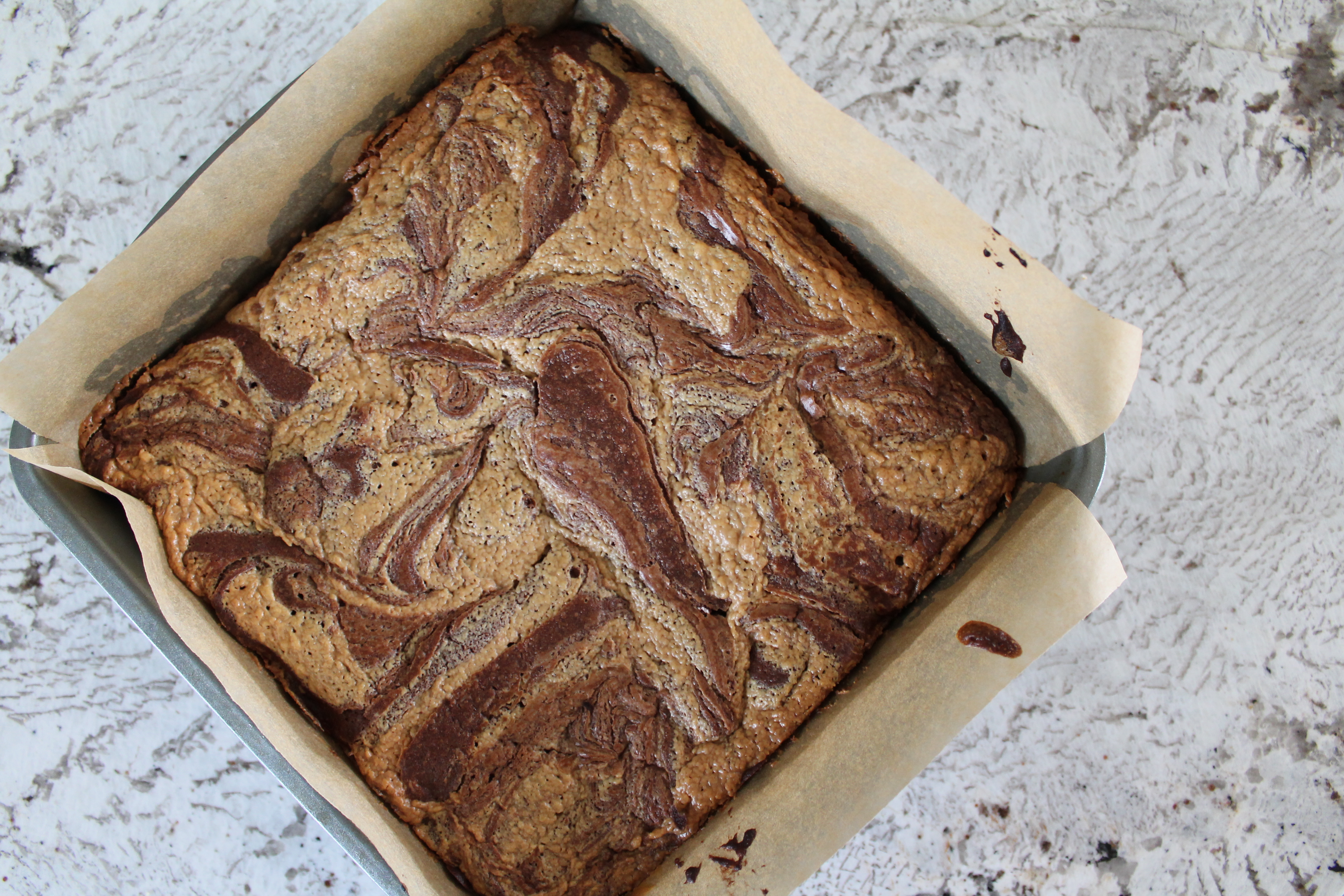 I am just going to warn you right now that the baking monster has been on a bit of a crazy rampage lately. And I am going to unabashedly point my finger right at Sarah of Well Dined. It's totally her fault.
Several weeks ago, she confessed that she was afraid of baking cookies from scratch…and something inside my brain popped. Instead of cooking (somewhat) healthy lunches together each week, we started baking decadent desserts like it was no big deal.
But, friends…it was a big deal. I can't stop baking.
So just get ready for an onslaught of brownie and cookie recipes, because it's happening.
Starting here. With the very brownies that broke my willpower to not eat desserts. (Let's be honest, that willpower wasn't back to full strength after its pregnancy vacation, so it didn't really stand a chance.) These brownies are thick and cakey and sweet and salty and all the things that are good about peanut butter and chocolate together. Make them. Who needs willpower?
Sarah and I adapted this recipe from Martha Stewart. It was good.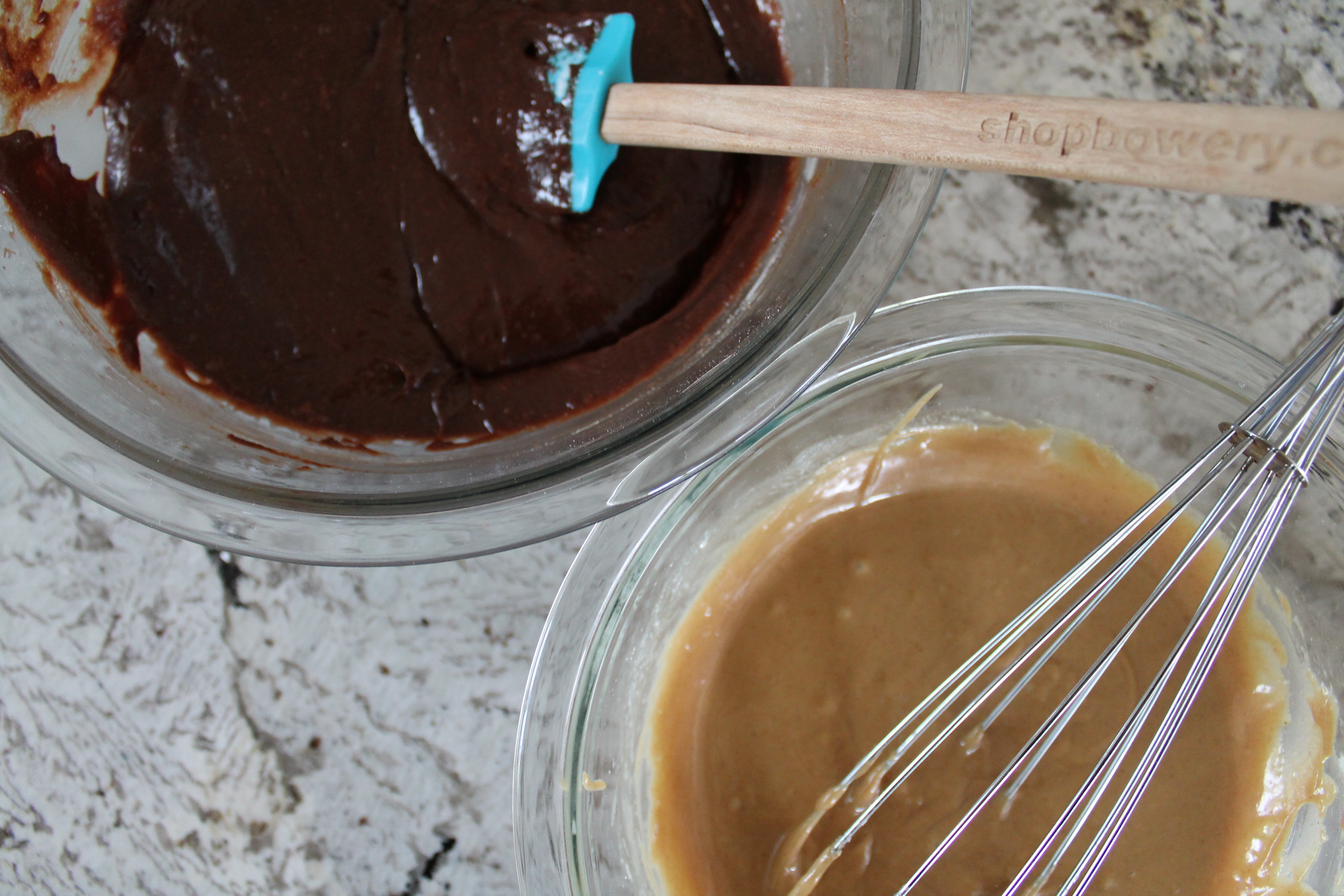 The tricky part about these brownies is that the two batters are different consistencies. I suspect we may have just worked too slowly (preschoolers have that effect on baking sometimes) as we were mixing everything together, thus allowing the chocolate to set, but the chocolate batter was quite thick and the peanut butter was quite thin. Ideally the two would be about the same consistency, but in the event that that's impossible, I think a thicker peanut butter would also be easier to work with than a thicker chocolate. So I am going to recommend that you work in the opposite order of what we did and start with the peanut butter!
We really love salty peanut butter together with dark, sweet chocolate, so we recommend you go for it with the salt here! Simply melt salted butter, then whisk in peanut butter (we are baking, so go for something like Jif or Peter Pan creamy peanut butter, full of added sugars and fats, rather than the more wholesome all-natural stuff), confectioner's sugar, salt (yes, more!), and vanilla extract.
Set the PB aside and make the brownie batter.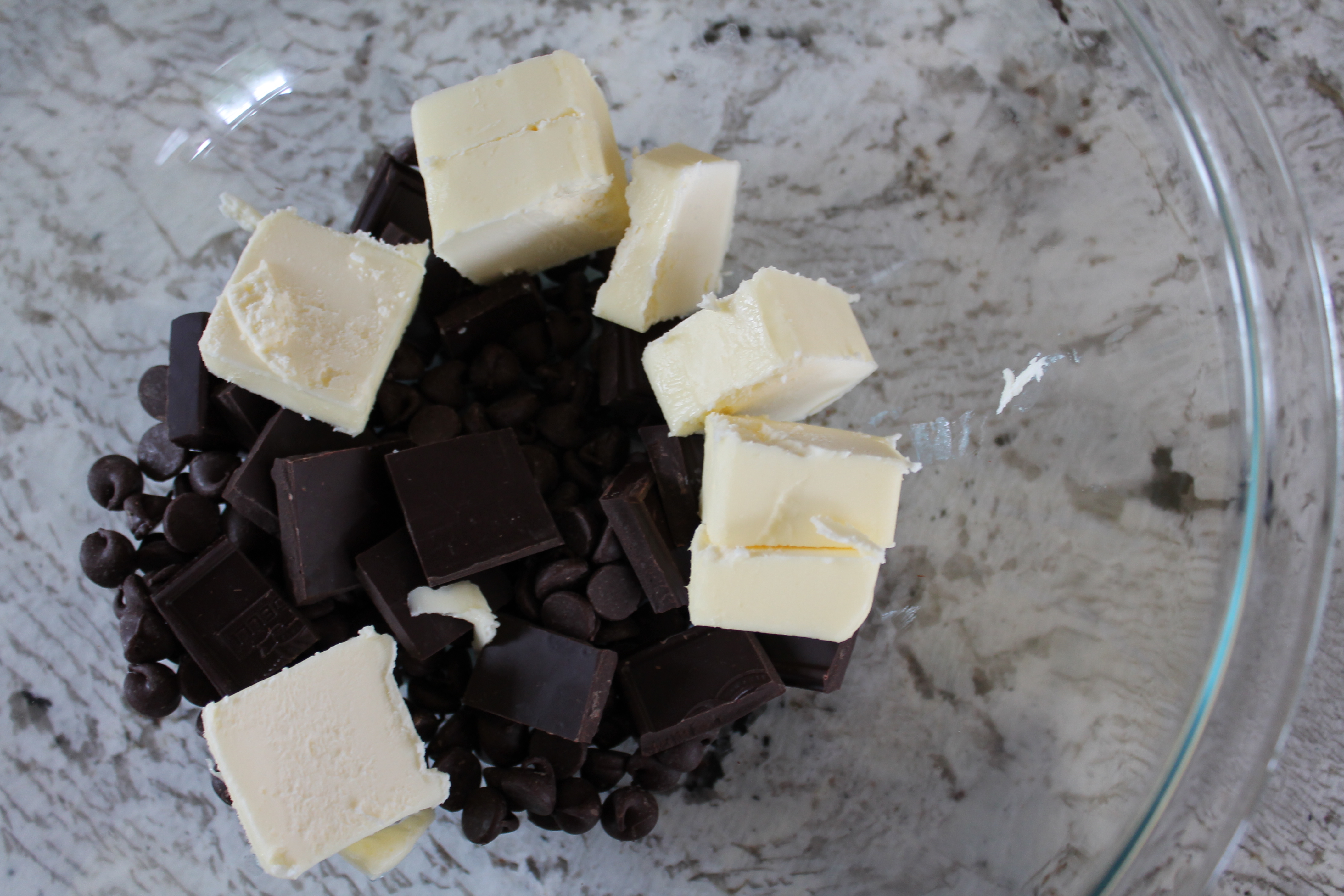 Melt the unsweetened chocolate, semisweet chocolate, and butter together in the microwave using short bursts and whisking thoroughly in between. It should take no more than two 30-second bursts in the microwave to get the chocolate smooth and glossy. Be careful not to overdo it in the microwave! If the chocolate and butter are combined but starting to look grainy or get firm, then the chocolate has been scorched and you may need to start over.
Whisk sugar into the chocolate, followed by eggs and vanilla. Whisk until the chocolate is smooth and thick.
Add the flour, salt, and baking powder to the mixture. The baking powder is going to make the brownies more cakey than fudgy, which works perfectly against the peanut butter swirls. But…we are making brownies, which typically omit leavening. Thus, I think we can skip whisking the baking powder and salt into the flour, because it's not absolutely necessary to leaven perfectly when making brownies.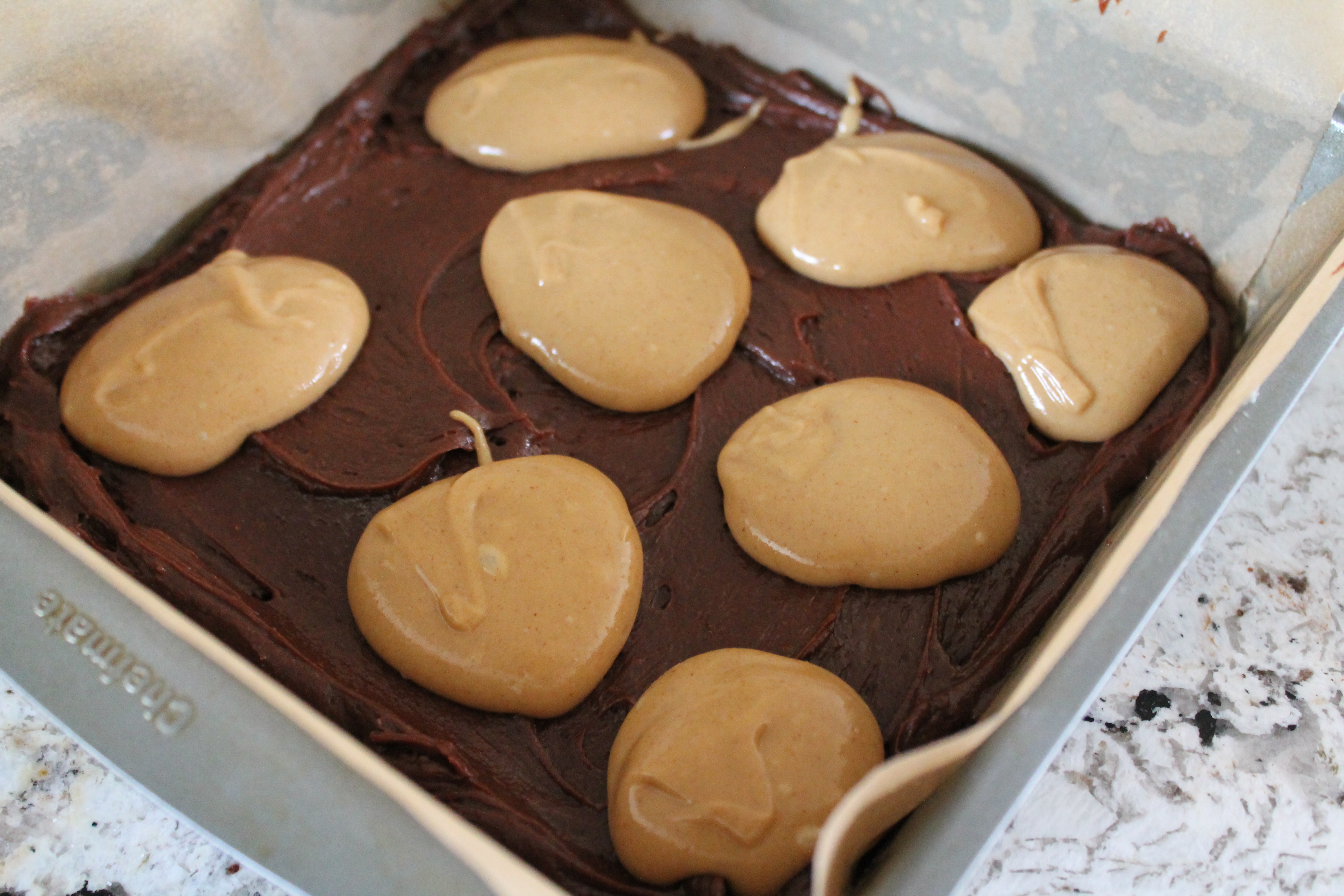 Now comes the tricky part: swirling. I kind of hate swirled brownies, because I have a tendency to over-swirl and ultimately make the brownies look muddy rather than elegant. This recipe increased that challenge, because the two batters were totally different consistencies. In the end, they were super delicious, but not quite as beautiful as I would have hoped.
Here's what Sarah and I concluded: you can do Martha's 4-layer technique (which we did), layering brownie batter and peanut butter twice and then swirling by drawing a big M in the pan with a small spatula, but this really works best if the two batters are exactly the same thickness. Also, it will make the brownies a bit more crumbly, because the internal peanut butter swirls don't stick together as well as the chocolate. Or, if the two batters are not the same consistency, as ours weren't it would be much easier to spread the entire brownie batter in the pan, followed by the peanut butter in large dollops, then use a spoon or spatula in a vertical zig-zag or scooping motion to bring the chocolate batter up to the top in large swirls.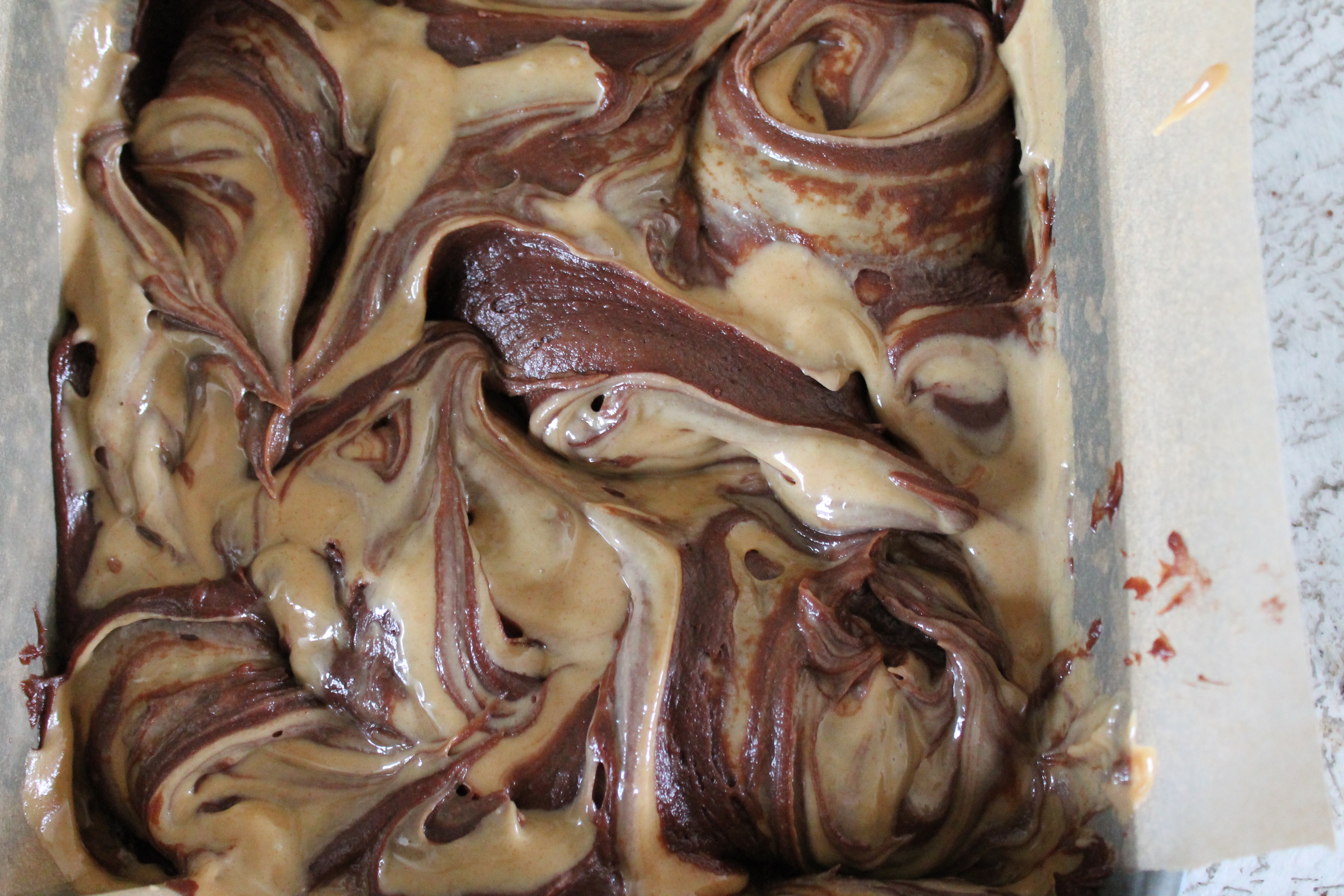 Either way, these brownies will be delicious!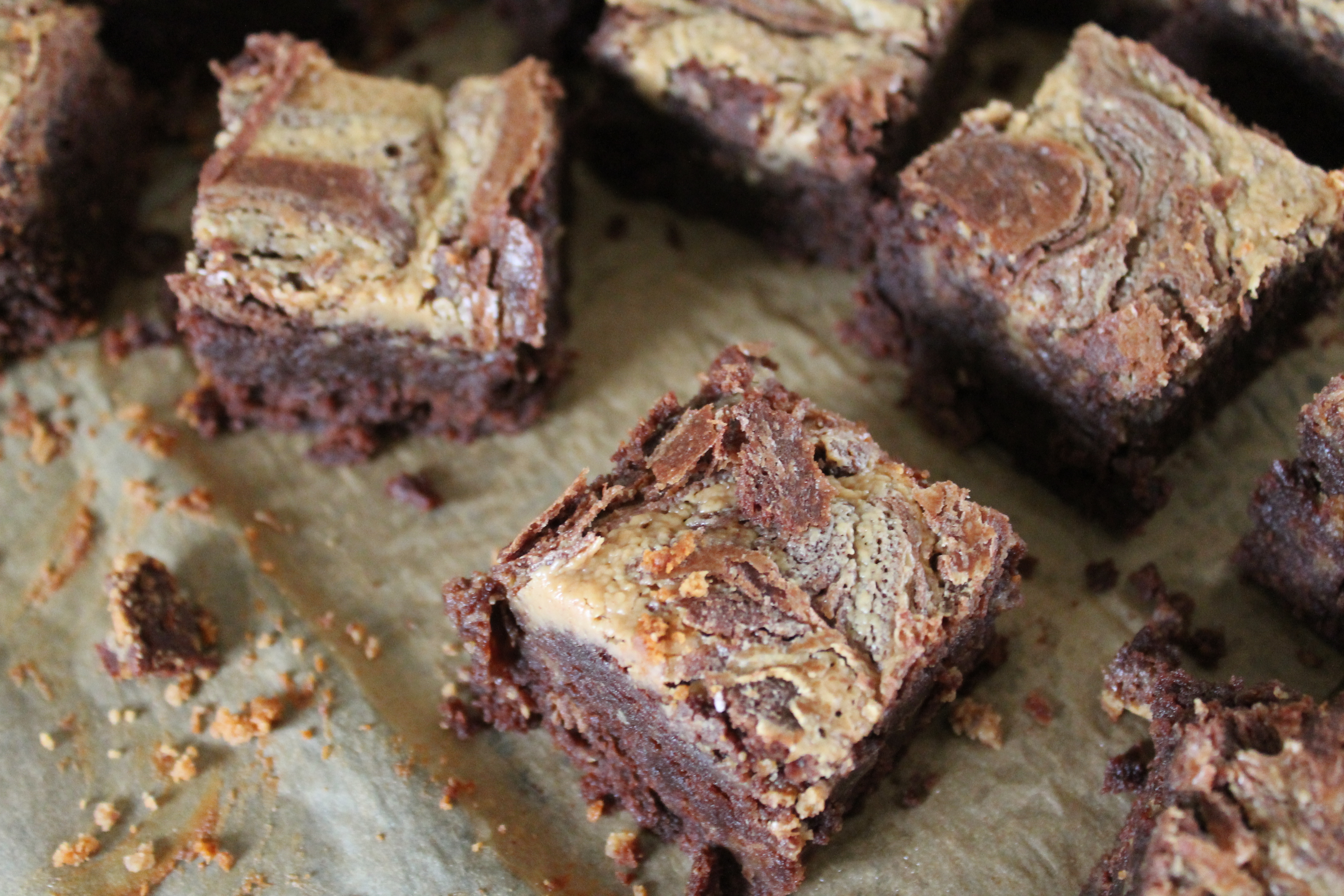 Bake  until just set in the center, about 40 minutes. Let the brownies cool at least 15 minutes in the pan before attempting to lift them out and cut them.
I recommend a plastic knife for cutting.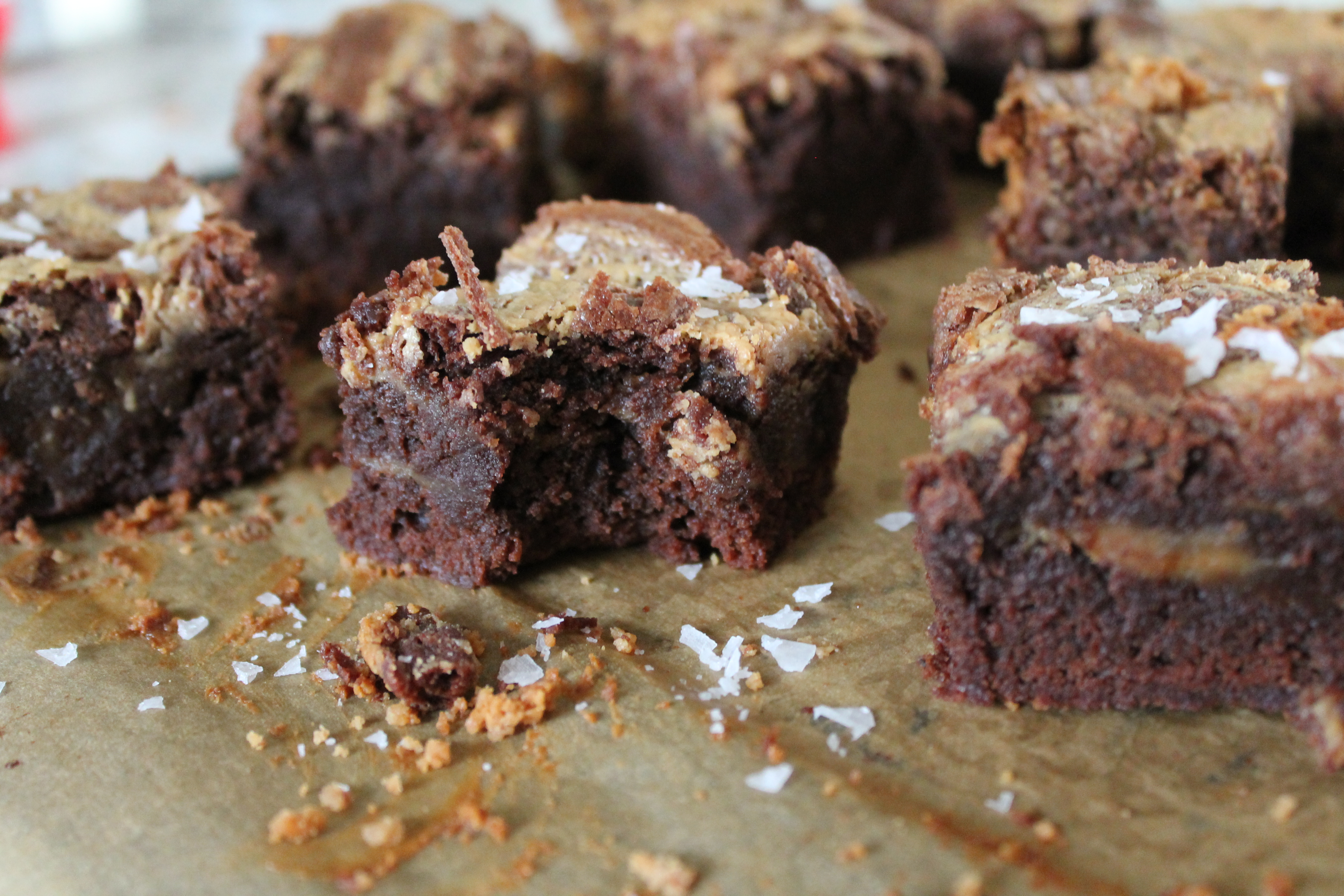 For a little extra wow factor, generously sprinkle the brownies with flaky sea salt! It seriously takes them to the next level.
Salty Peanut Butter Swirl Brownies
lightly adapted from Martha Stewart
makes 16
Swirl Ingredients:
4 tbsp. salted butter, melted and cooled
½ cup confectioner's sugar
¾ cup smooth peanut butter (Jif, not natural style)
½ tsp. salt
½ tsp. vanilla extract
flaky sea salt (optional)
Brownie Ingredients:
½ cup unsalted butter, cut into small pieces
2 oz. unsweetened Baker's chocolate, coarsely chopped
4 oz. semisweet chocolate chips (⅔ cup)
¾ cup sugar
3 eggs
2 tsp. vanilla extract
⅔ cup flour
½ tsp. baking powder
¼ tsp. salt
Directions:
Preheat oven to 325°. Butter an 8ʺ square baking dish and line with to sheets of parchment.
Make the peanut butter swirl. Stir together melted butter, confectioner's sugar, peanut butter, salt, and vanilla in a bowl until smooth.
Working quickly so that the peanut butter swirl does not set, make the brownie batter. Put butter and chocolates in a heatproof medium bowl set over a pan of simmering water; stir until melted. Let cool slightly.
Whisk sugar into the chocolate mixture. Add eggs and whisk until the batter is smooth. Stir in vanilla.
Add flour, baking powder, and salt to the batter and stir until just incorporated.
Pour half of the brownie batter into the prepared pan and spread evenly with a rubber spatula.* Drop dollops of the peanut butter mixture (about 1 tbsp. each) over the batter, using about half of the peanut butter, spacing about 1ʺ apart.
Spoon remaining batter on top and gently spread over the peanut butter. Drop dollops of the remaining peanut butter on top.
Gently swirl the chocolate and peanut butter together with a spatula, using a scooping motion to bring some of the brownie batter to the top of the pan. (Or, if the chocolate and peanut butter were the same consistency and have sunk into each other a little, the swirling will be easier: simply drag a knife in a wide cross-hatch pattern through the pan until the top looks swirled.)
Bake until a toothpick inserted near the middle of the pan comes out with a few crumbs but is not wet, about 40–45 minutes.
Let cool slightly in pan, about 15 minutes, or until set in the center. Lift out; let cool completely on a wire rack before cutting into squares.
If desired, sprinkle the brownies with flaky sea salt before serving.
Brownies can be stored in an airtight container at room temperature up to 3 days.
*Note: If the brownie batter seems significantly stiffer than the peanut butter, these brownies will be easier to put together in two rather than four layers, and will be just as tasty. Simply spread all the brownie batter in the pan and then pour the peanut butter over top. Swirl as instructed with a small spatula or spoon, making sure to drag some of the brownie batter to the top of the pan.
Enjoy!