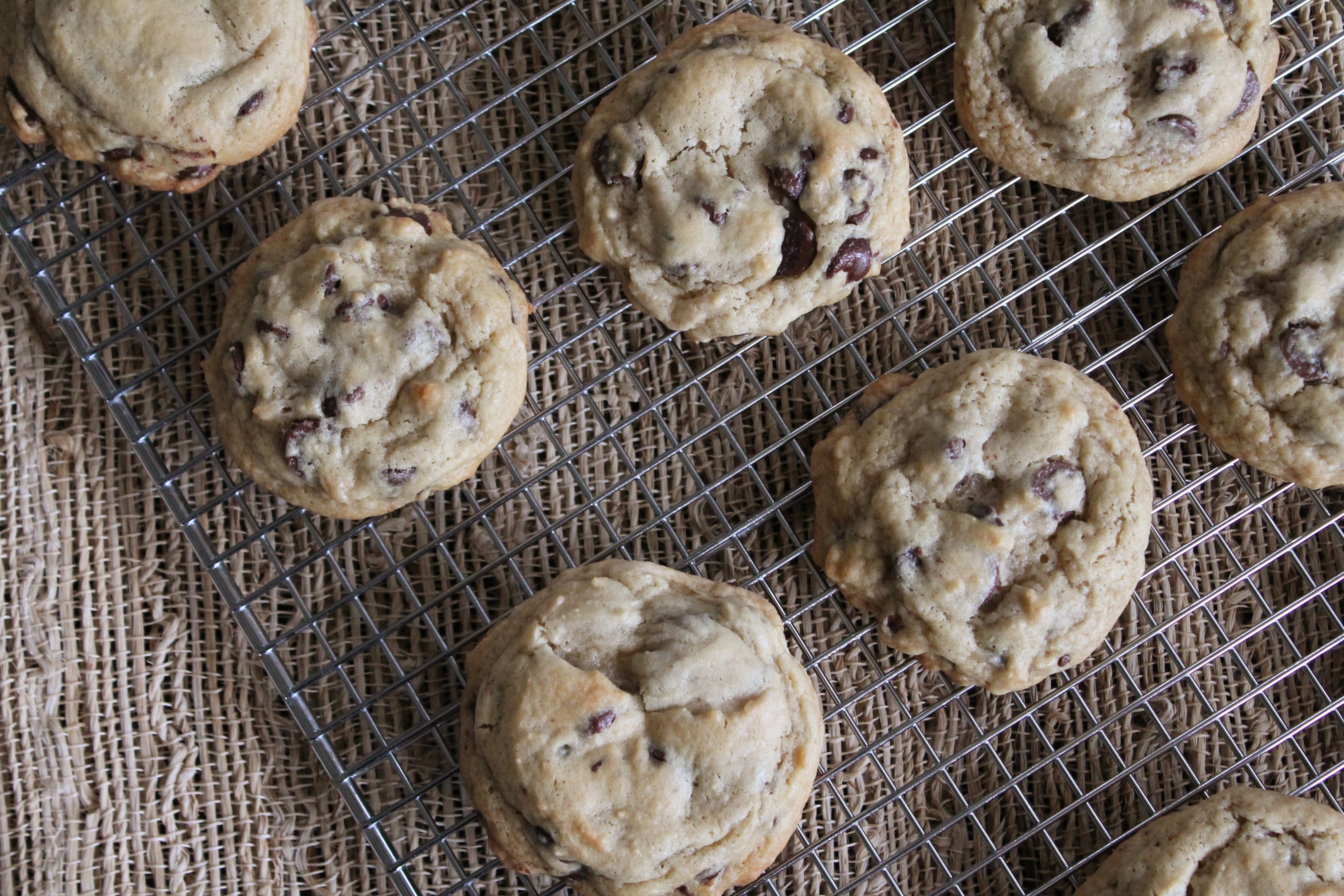 There is just something special about these chocolate chip cookies.
They are dense and moist and a little tangy…they remind me quite a bit of Mrs. Fields cookies, rich and chocolatey and immensely soft, even after days.
And here's the fun secret: they are made with cream cheese!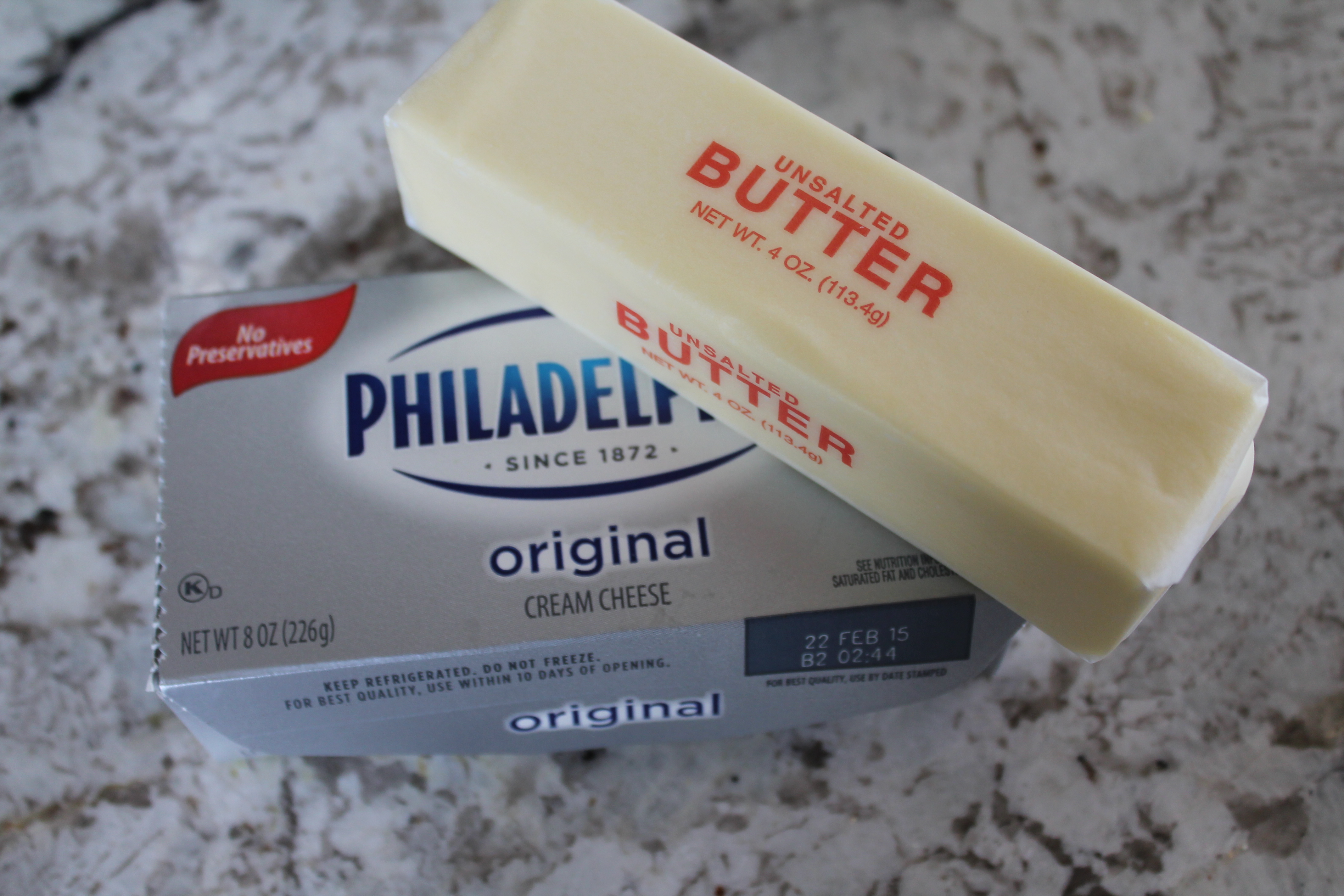 It's best to start with room temperature butter and cream cheese. If you absolutely must make cookies right away (!), then you can cheat and warm them slightly in the microwave, turning them over every few seconds, until they are soft.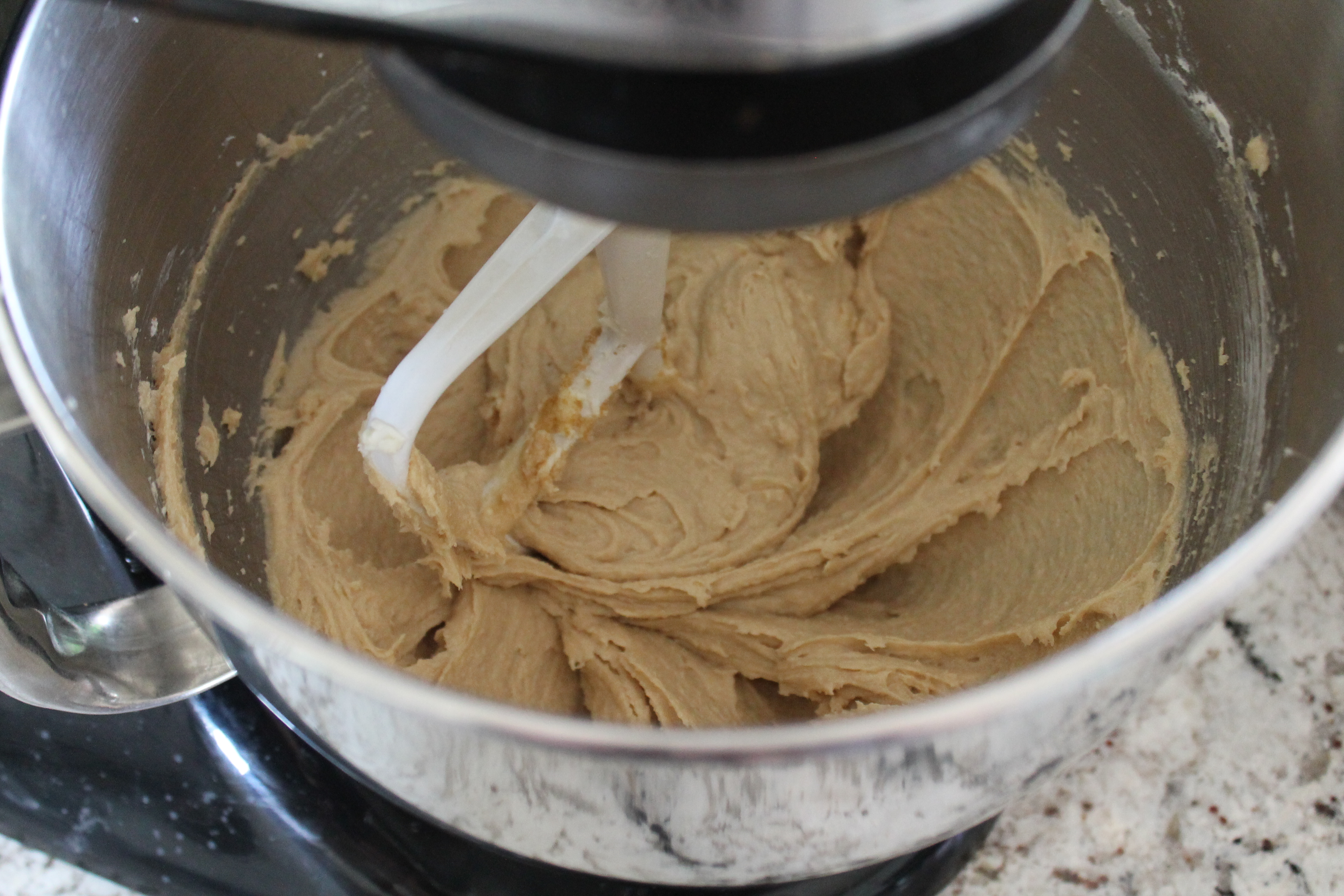 Cream the cream cheese and butter in a large mixer bowl.
When they are blended together well, add the sugars and vanilla extract. Continue beating until the mixture becomes thick and fluffy, about 2 minutes.
Beat in the eggs one at a time, scraping the sides of the bowl between each addition.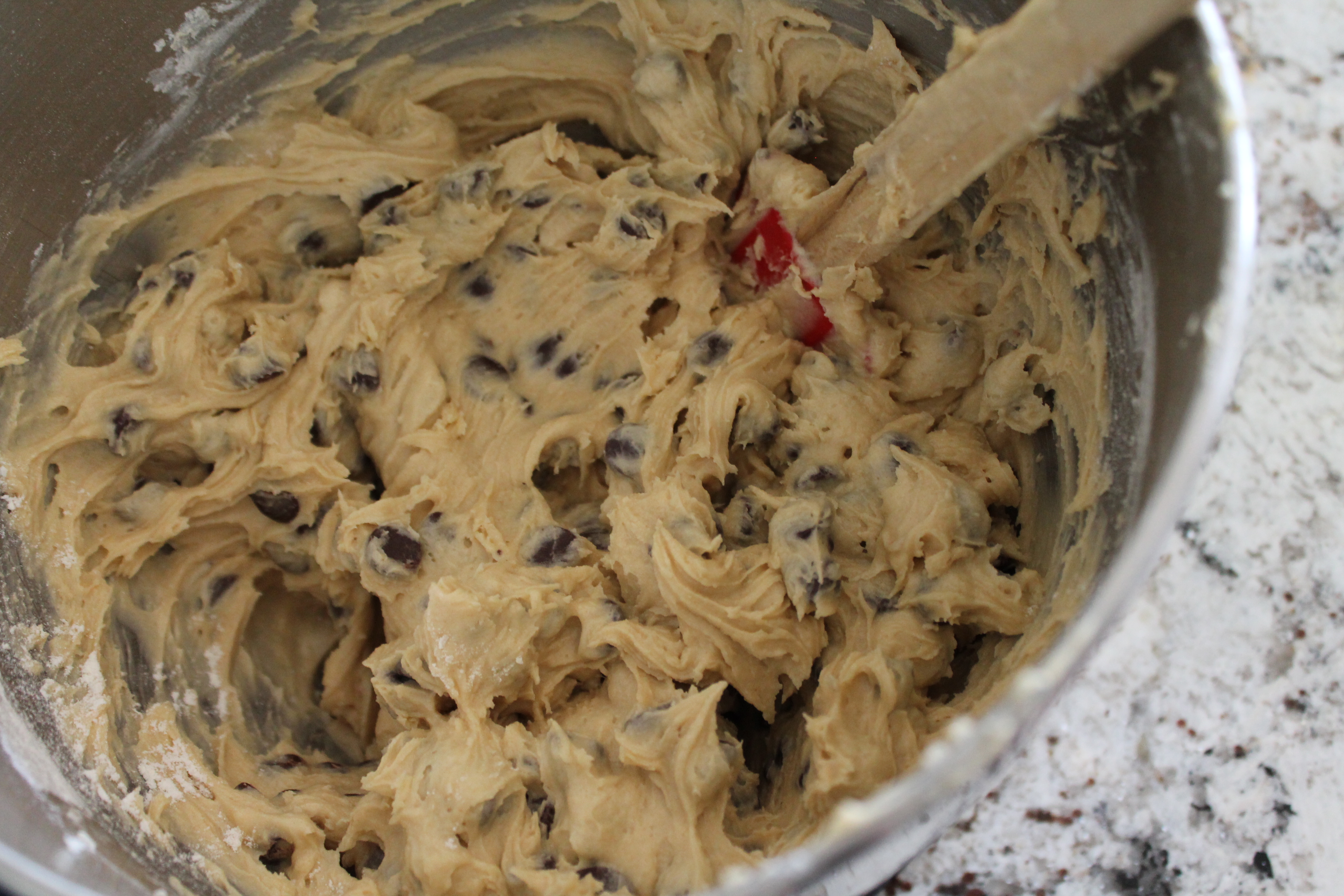 Add in the flour, baking soda, and salt. I don't generally mix these together ahead of time in a separate bowl, because I like to keep it simple when I am making cookies! But do make sure you stir slowly, scrape the sides of the bowl, and continue stirring until all the flour is worked into the dough.
Stir in the chocolate chips. Drool a little. So much chocolate.
Now gather your self-control, cover the bowl with plastic wrap, and chill in the fridge for 2 hours. Because of the cream cheese, this dough will be a little thicker and a lot stickier than the average cookie dough. Help it out by chilling it! This will also let the flavors meld a little more, and it will help the cookies to bake beautifully, puffing and browning just the way cookies should.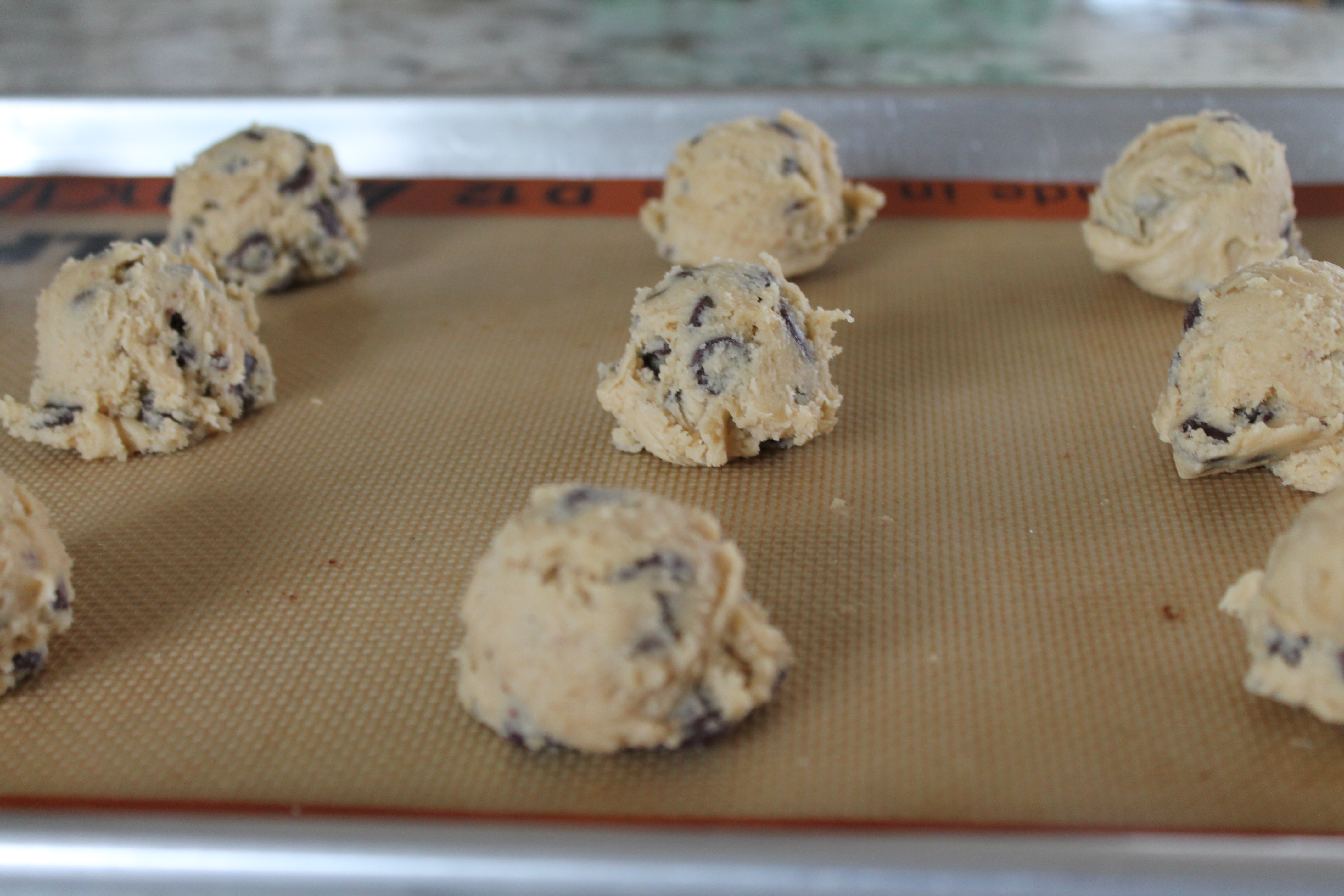 When you are ready to bake, grab a large cookie scoop. Mine is labeled 1½ tbsp. Scoop heaping balls of dough (about 2 tbsp. each) onto lined cookie sheets.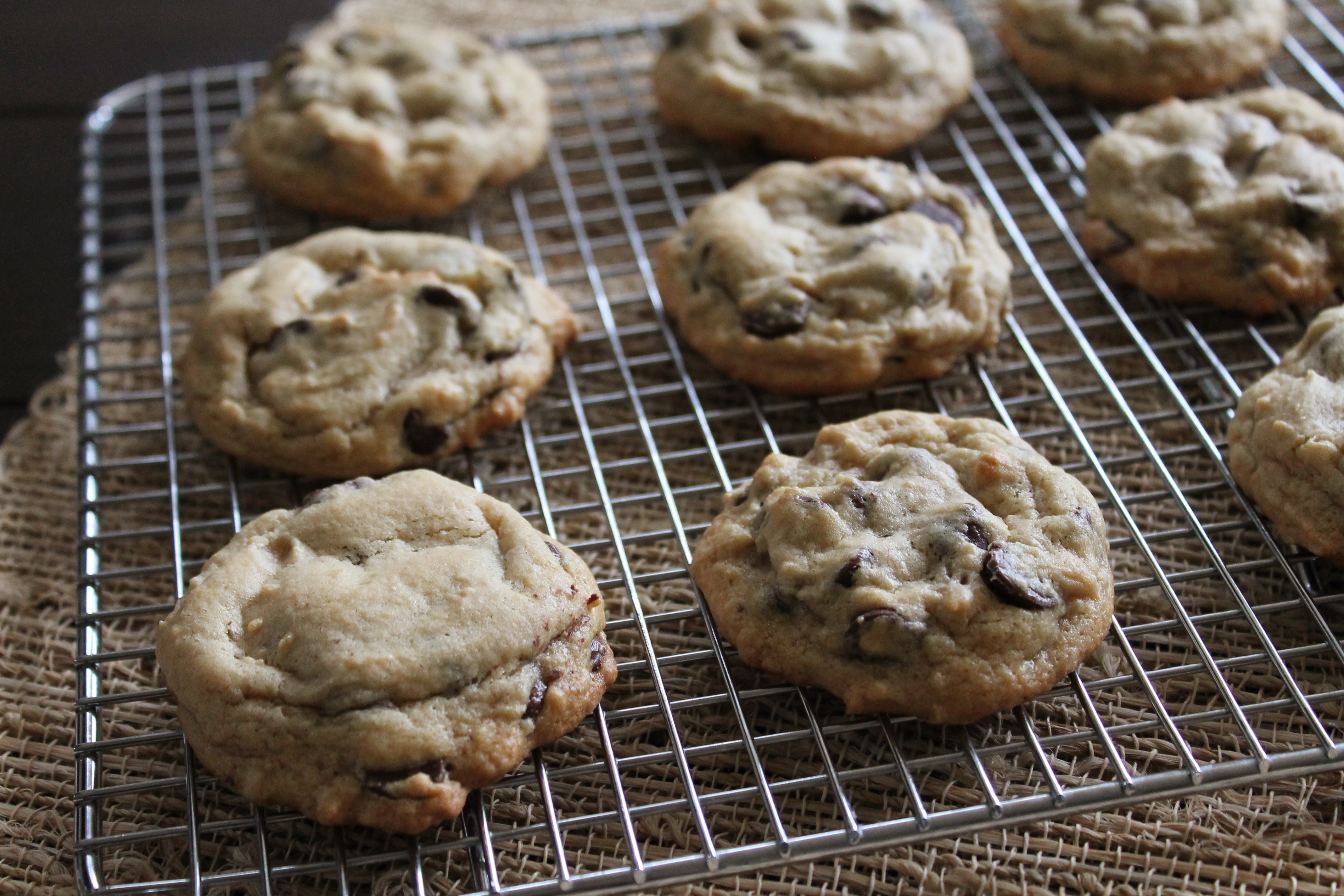 Bake the cookies for 10–11 minutes. The edges should be browned and the centers just barely cooked. These cookies will not be crisp at the edges, but rather chewy and soft through and through, just like a Mrs. Fields.
Delicious!
Secret Ingredient Chocolate Chip Cookies
adapted from Just a Taste
makes about 3 dozen
Ingredients:
½ cup (4 oz.) cream cheese, room temperature
½ cup unsalted butter, room temperature
1 cup light brown sugar
½ cup sugar
1 tsp. vanilla extract
2 eggs
2¼ cups flour
1 tsp. baking soda
1 tsp. salt
2 cups semisweet chocolate chips
Directions:
In a mixer bowl, cream the cream cheese and butter until evenly combined, then add the brown sugar, sugar, and vanilla extract. Beat on high speed for 2 minutes, or until the mixture is light and fluffy.
Add the eggs one at a time, beating well after each addition. Scrape the bowl well.
Stir in the flour, baking soda, and salt. Stir in the chocolate chips.
Cover the dough and chill at least 2 hours, or up to 2 days, in the refrigerator.
When ready to bake, heat the oven to 375°. Line two large baking sheets with Silpats or parchment paper.
Scoop the dough out in large balls, about 2 tbsp. each, and set them on the cookie sheet at least 2″ apart.
Bake for 10–11 minutes, until the edges are lightly golden.
Cool the cookies 5 minutes on the sheet, then transfer to a wire rack to finish cooling.
Enjoy!