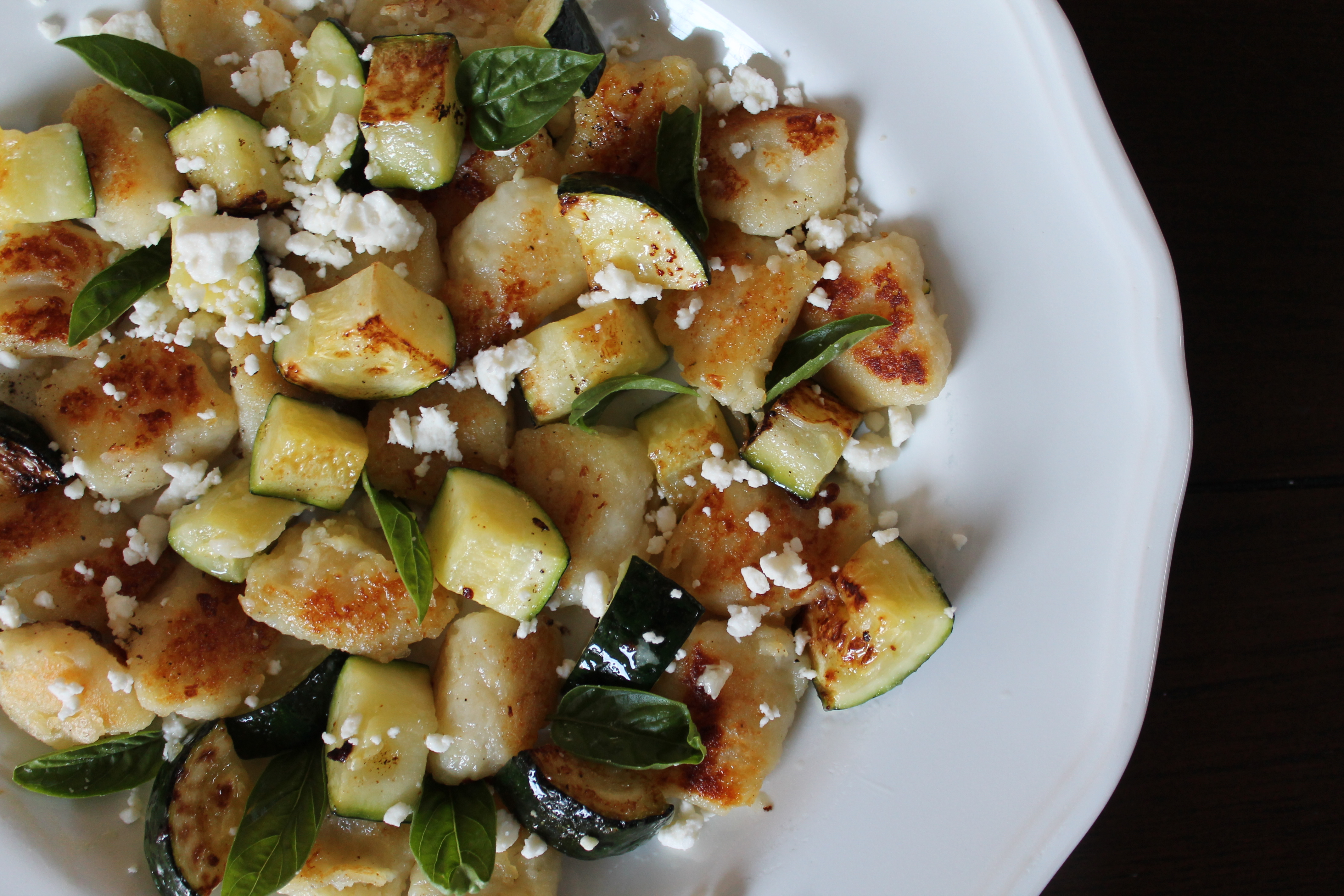 I'm having a problem. Maybe I can blame this on motherhood (is mommy-brain a real thing?), or maybe old age (eek! turning 30 in 3 weeks!), maybe on the plethora of technologies ever at my fingertips…
I can't ever remember where anything is anymore. That used to be my superpower. I always knew where everything was! I could always remember where I saw something first, where I left it, where Dave left it, how to find it again.
But now? I keep finding recipes in magazines and cookbooks and dog-earing them to make later, and then never seeing them again.
To be honest, I am really not sure how this recipe escaped that fate. It's such an odd choice for my family, as Dave hates both gnocchi and cooked squash. Gnocchi is the opposite of a quick and easy meal, so it's really not what I need in my life right now. And yet, from the instant I saw it, I was smitten.
Dave walked in the door exclaiming how good dinner smelled (good start), enthused about eating it (even better), and ended the meal with a clean plate, saying the flavors and textures were perfect and we should eat this again soon.
Guess it was fate that I remembered this recipe!
I am definitely keeping this recipe on the "special occasion" list. It's time-consuming and effortful: the best way to cook it is actually one plate at a time, to ensure a good sear on the squash and the gnocchi. Also, it requires almost a whole stick of butter. Not exactly everyday fare!
But seriously, you should try it anyway. Nutty brown butter; a crisp crust on the outsides of the potato dumplings; seared zucchini; briny, crumbly feta; and fresh basil…yum. Summer's delight!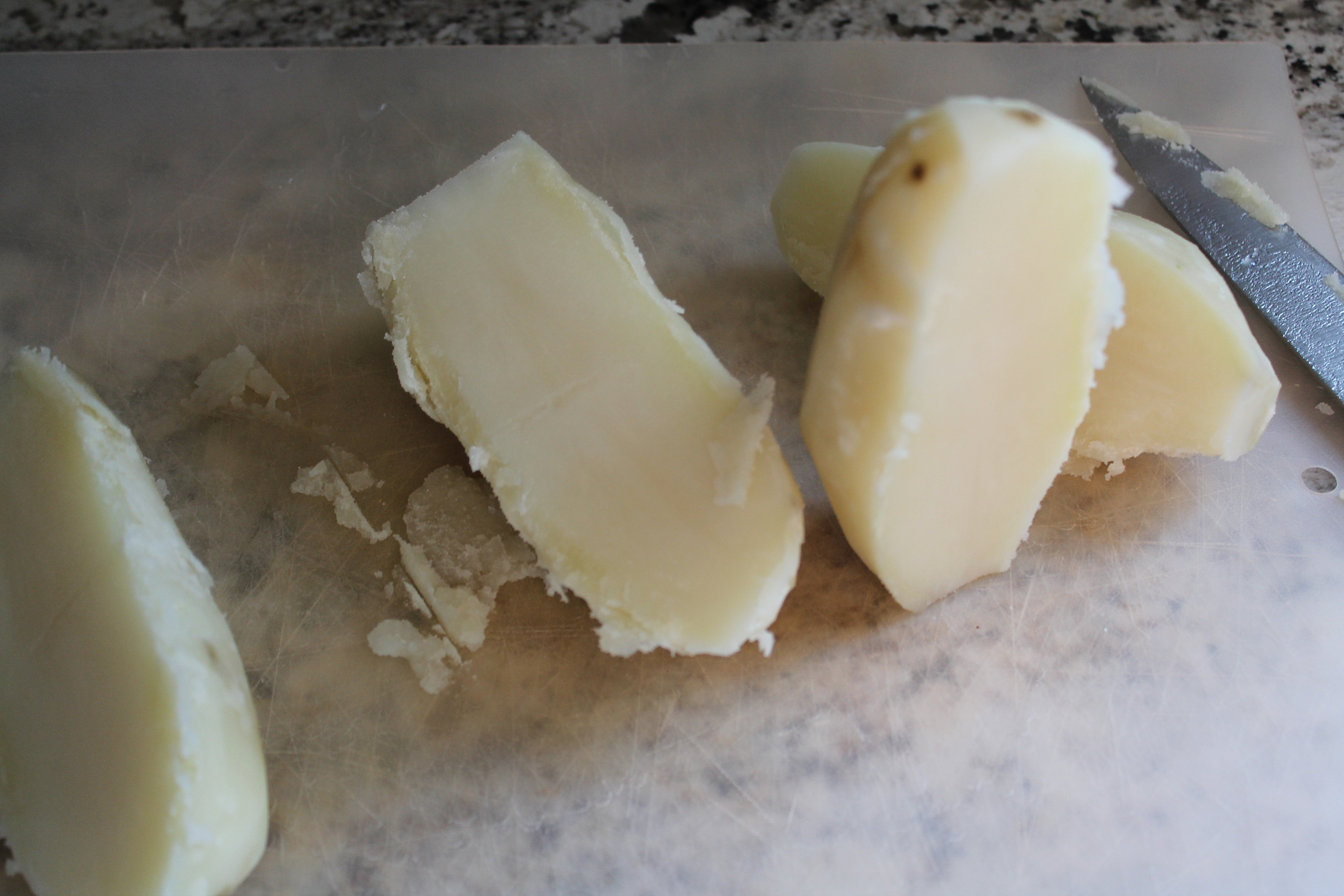 I made my own gnocchi. This was a sort of awkward task, as I don't own a potato ricer. I've made gnocchi before with a box grater, and this time I used the fine shredder on my food processor. Incidentally, don't do that. If you run a hot potato through a food processor, half of the potato will turn gummy and sticky, which is not exactly the goal: we want tiny, crumbly pieces, not thick paste. Luckily I had boiled way more potato than I needed…but it wasn't really the best start.
You can, of course, use pre-made gnocchi (you'd need about 1 pound for a filling meal), which will save you a lot of time and effort, but I generally find the pre-made dumplings to be quite dense, like little chewy rocks, rather than light and tender.
So. Peel your potatoes and boil them until tender. (I made enough dumplings to serve 4 (two meals at our house), but I only fired 2 servings for our dinner. The rest went into the freezer for a later meal.)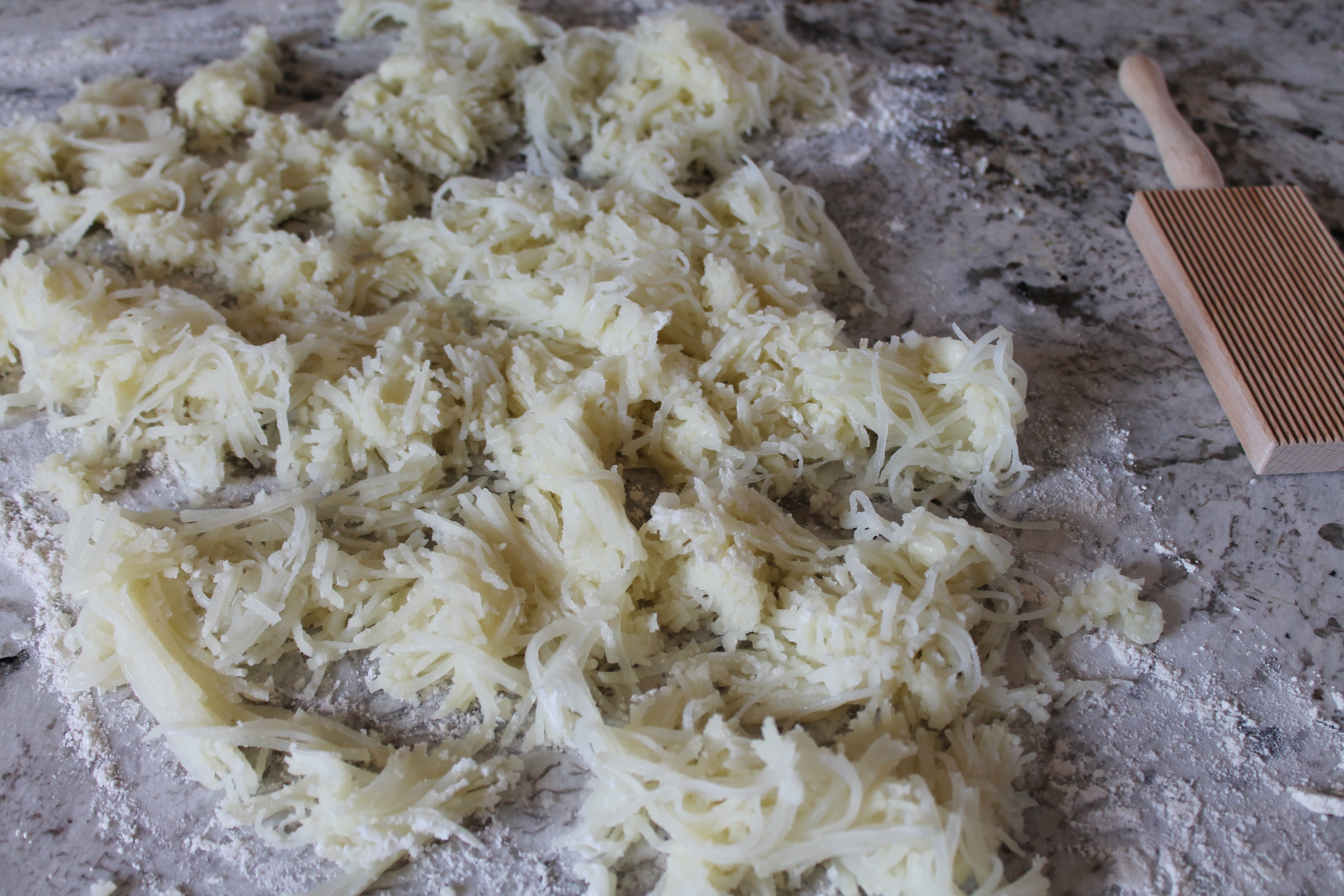 Either grate them on the small holes of a box grater (use gloves if they are too hot to handle barehanded) or cut them up and press them through a potato ricer. Spread the potato shreds out on a lightly floured work surface and let them sit for 5 minutes, to release some steam and cool down.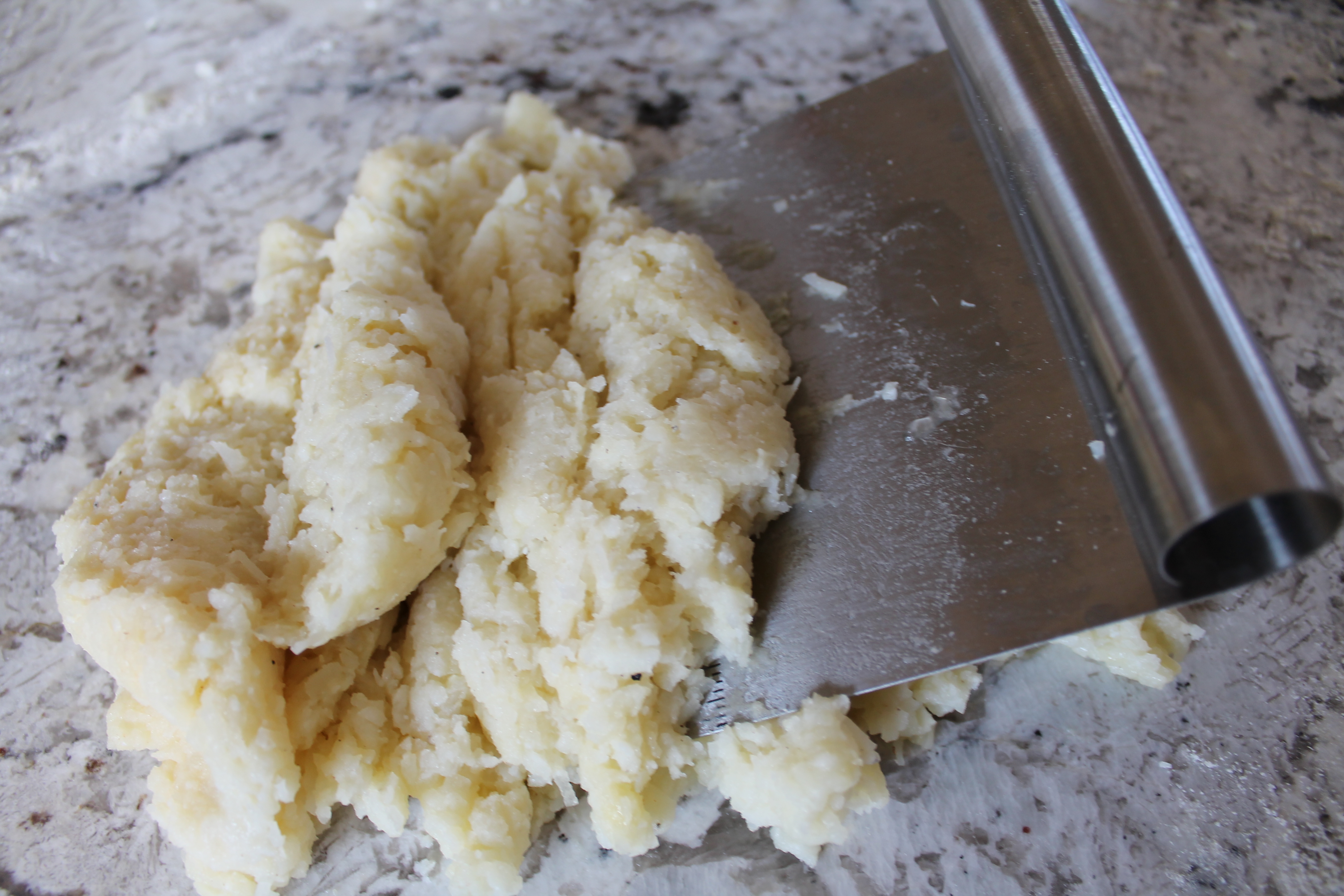 Grate parmesan cheese over the whole pile of potatoes, followed by fresh nutmeg, and a lot of salt and black pepper. Use a bench scraper to cut all the cheese and seasonings into the potatoes. I found this to be an awkward task, lots of flopping and slicing, but keep at it! Don't squish with your hands, because it will condense the potato too much and will cause them to release too much starch.
In a separate bowl, whisk an egg and then pour half of the egg down the drain. Pour the rest of the egg over the potato mixture and cut it in with the bench scraper.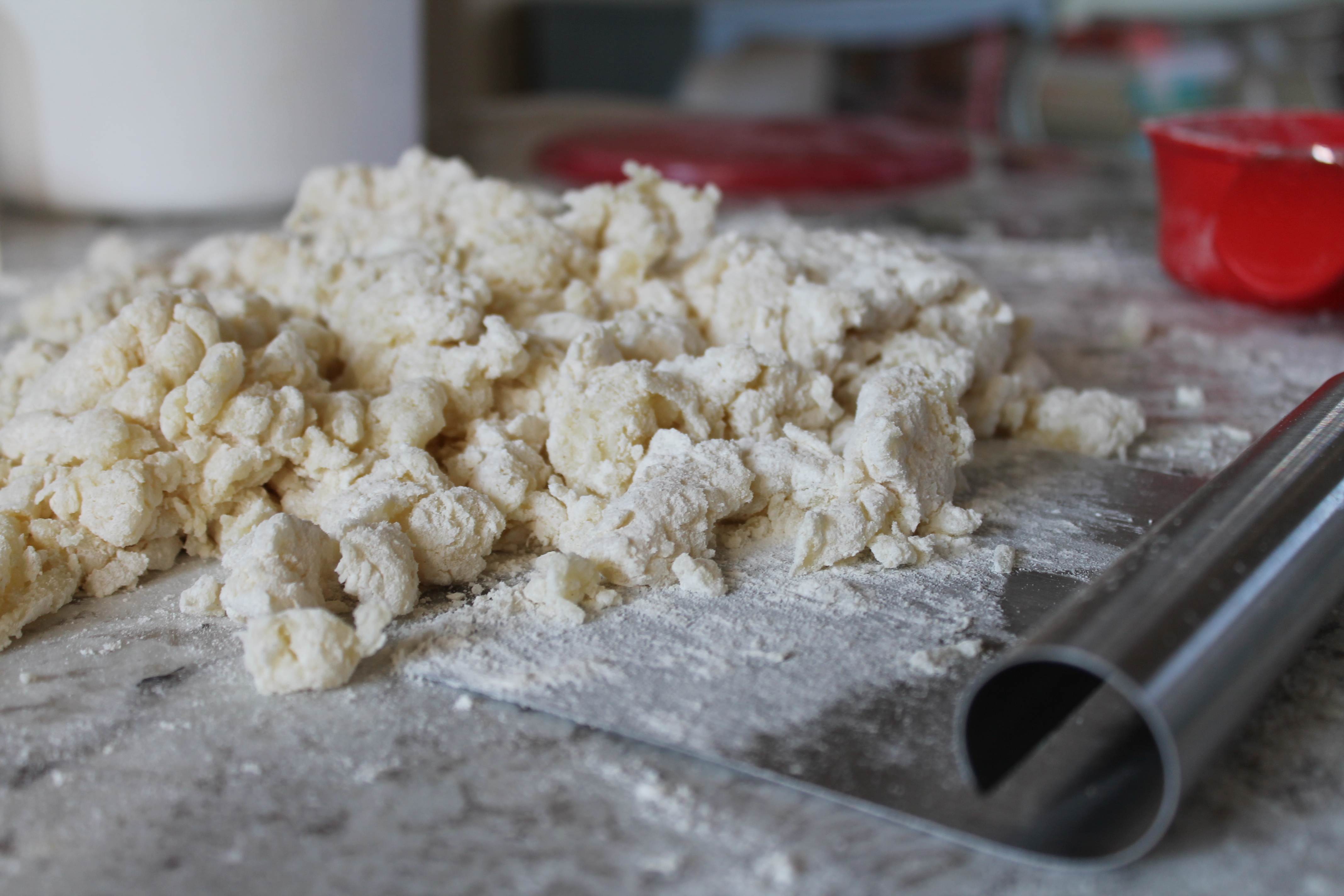 Finally, cut in the flour. I kept cutting until all the flour was more or less absorbed into the dough, but it did not come together into a big ball of potatoey dough with just the bench scraper.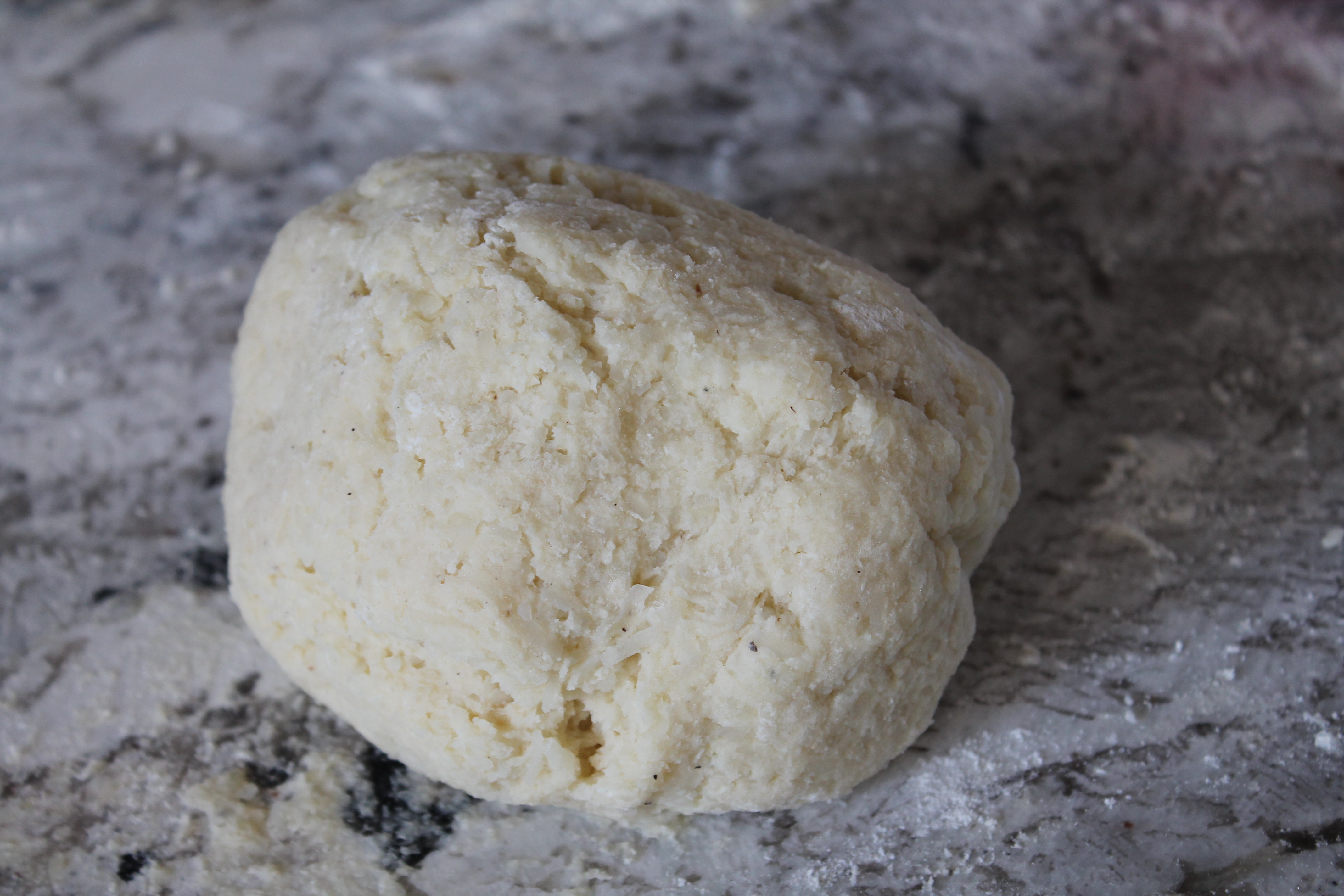 Knead carefully, gently, just until the dough comes together into a ball.
Use the bench scraper to divide the dough into 4 equal chunks. We are only going to need 2 of these chunks, or half of the dough, for our dinner!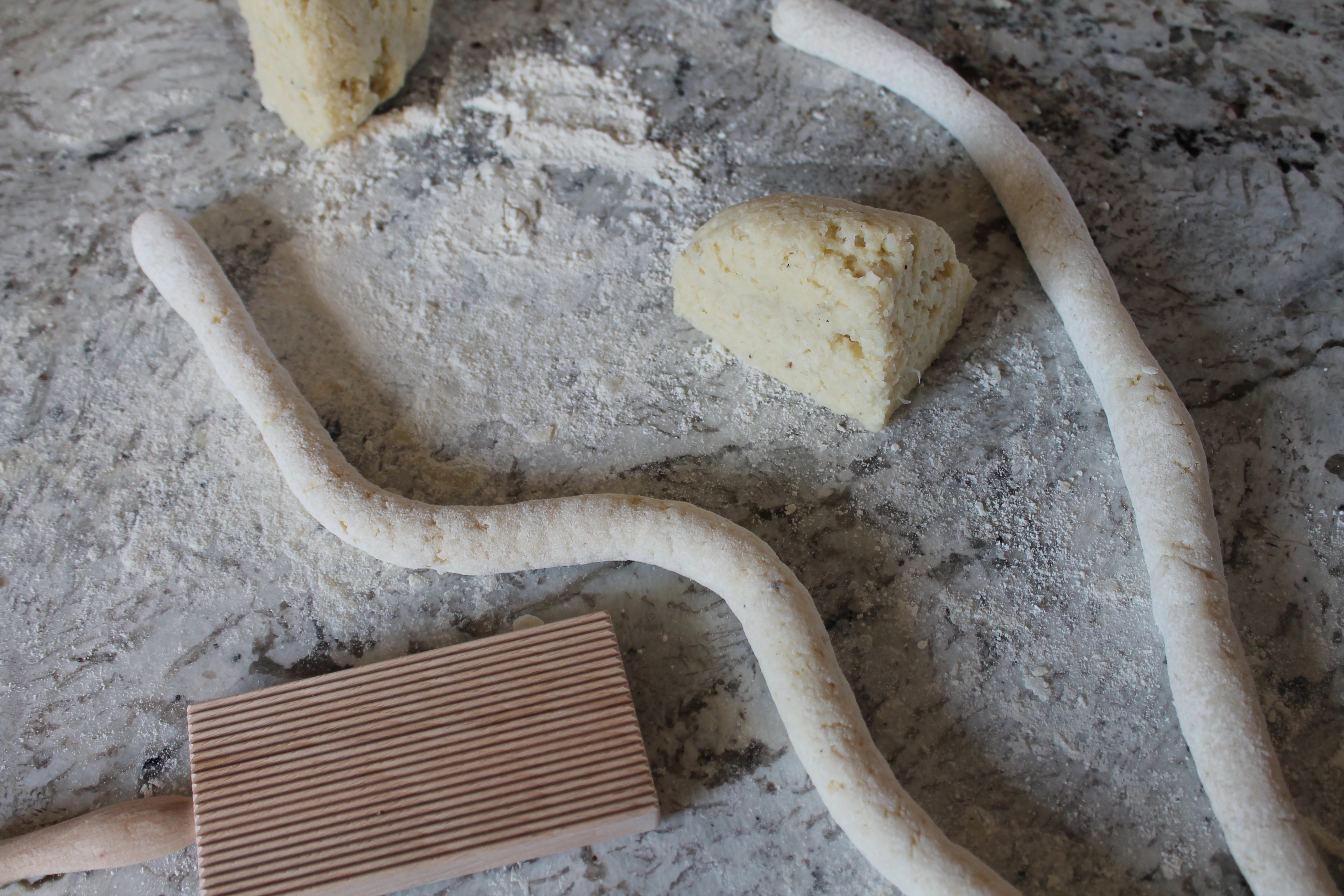 Lightly coat each piece of dough in flour and roll out into a long rope about ¾″ thick and 18″–24″ long.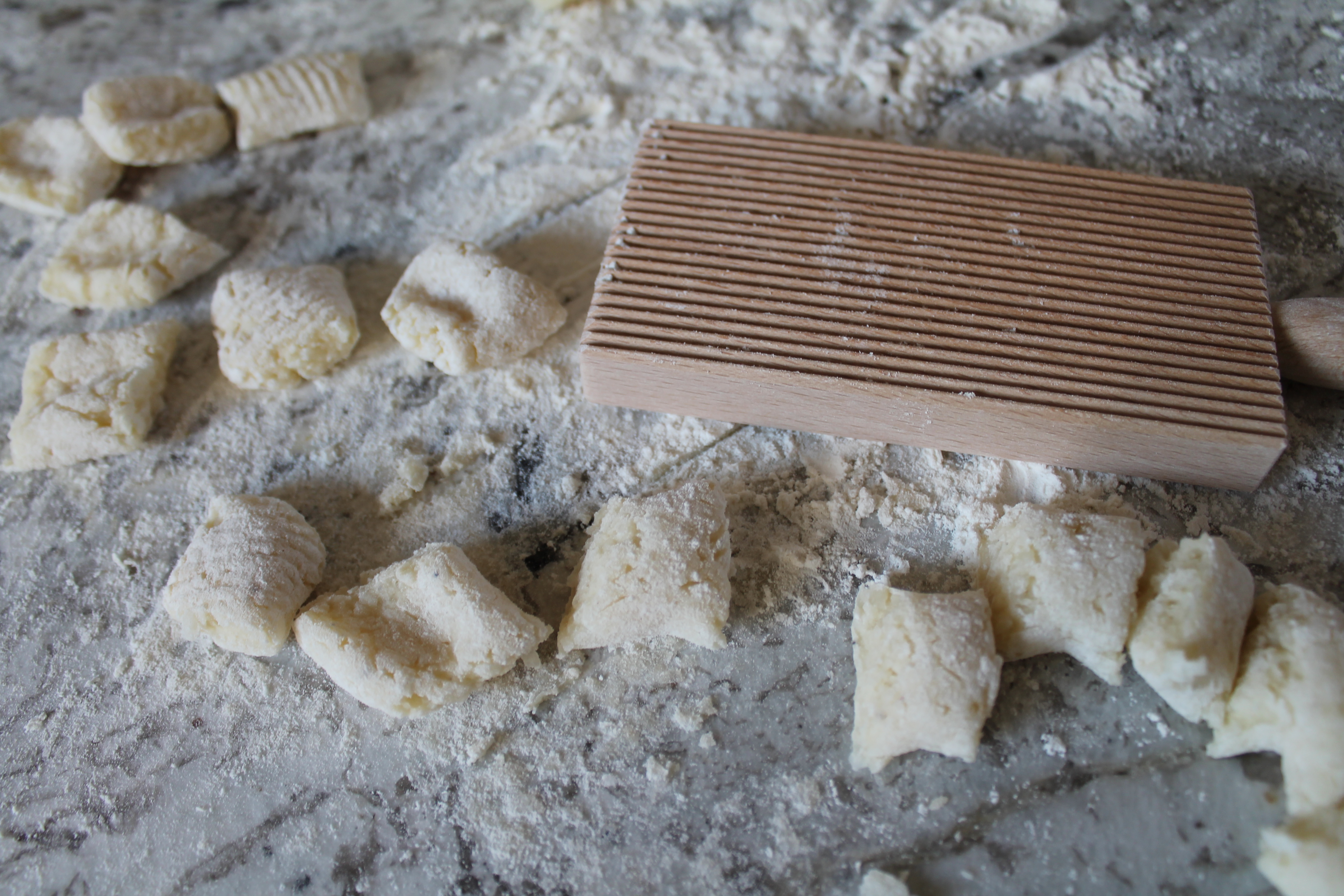 Use the bench scraper to cut the rope into bite-size pieces. You can also dimple the gnocchi with your thumb, and even roll them over the tines of a fork or over a gnocchi board for some pretty ripples on the back! Go ahead and shape all of the dumplings, but then freeze half of them.
So. Cooking gnocchi. They are pretty tender (at least, if you make them at home), and also pretty sticky. This means we need to cook one portion at a time to avoid getting big gnocchi lumps of stuck-together dumplings. Start your water boiling.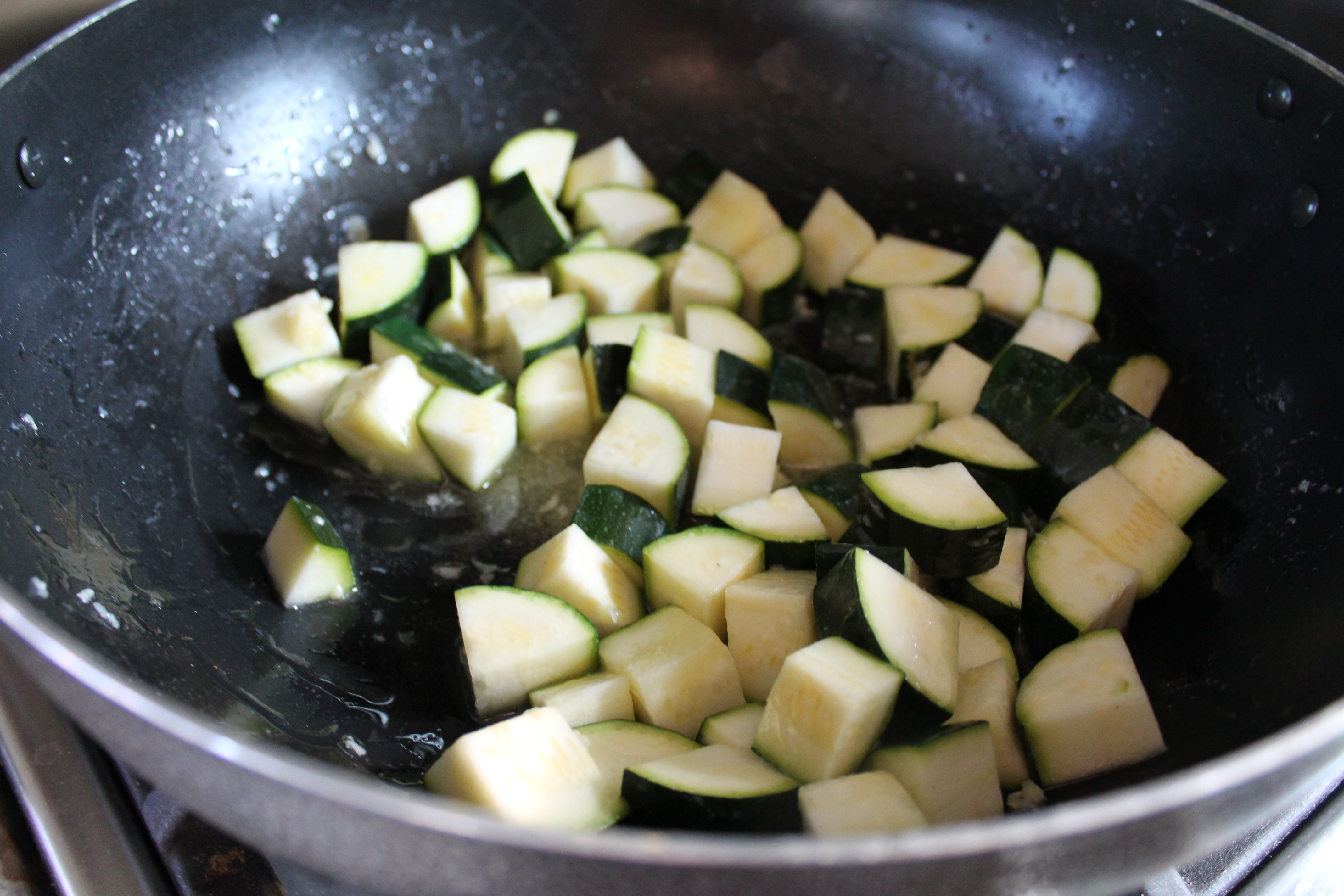 Meanwhile, melt unsalted butter with a smidge of olive oil in a large skillet. Time to sear the zucchini! When the butter is good and hot and starting to brown, add large-diced zucchini to the pan. Add minced garlic to the pan and season lightly with salt and pepper. Give a quick stir, just to incorporate the garlic, but then leave the zucchini alone! Don't continue stirring, just let them sit and get nice and brown on one side. (You could turn them over and sear another side, but honestly, that would turn them into mush. Yuck.) When they are crisp on the bottom and tender throughout, divide among two serving plates.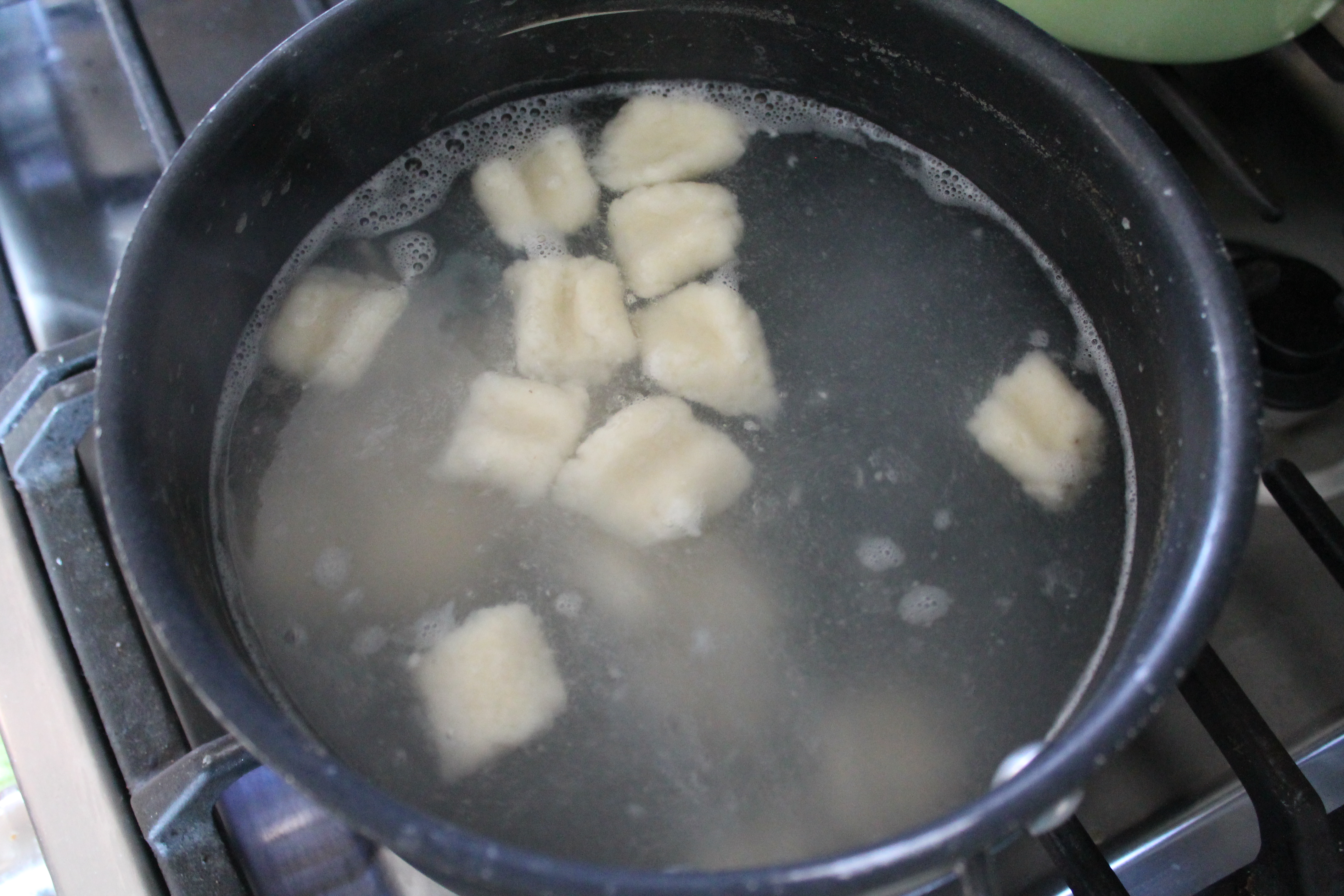 Meanwhile, the water should be boiling for the gnocchi. Take about one serving of gnocchi dumplings and carefully slide them into the water. Blanch them: they should need less than 1 minute in the water to cook sufficiently. They will be done when they float to the surface. Use a spider or slotted spoon to scoop them out of the water and transfer to a paper towel to pat dry. They will stick to each other at this point, so try not to leave them too close together.
Melt another 2 tbsp. unsalted butter in the same skillet. When it is nice and hot but not smoking, add in the blanched gnocchi. Again, try not to let them touch each other, or they will stick together. Let them sit at least 1 minute before stirring or checking them, as they are still prone to falling apart, and gnocchi mush isn't very beautiful. It will likely take about 2 minutes per side for the gnocchi to get a beautiful, golden, crisp sear. This sear is crucial, because it gives the whole dish its texture and imparts and awful lot of delicious flavor! Don't skip the sear. A little over would be better than a little under.
Turn them carefully over so they can brown on the top sides.
It's time to blanch the second batch of gnocchi dumplings! Just repeat what you did before, cooking quickly and transferring to a paper towel to drain slightly. Pat the tops dry; water is the enemy of searing.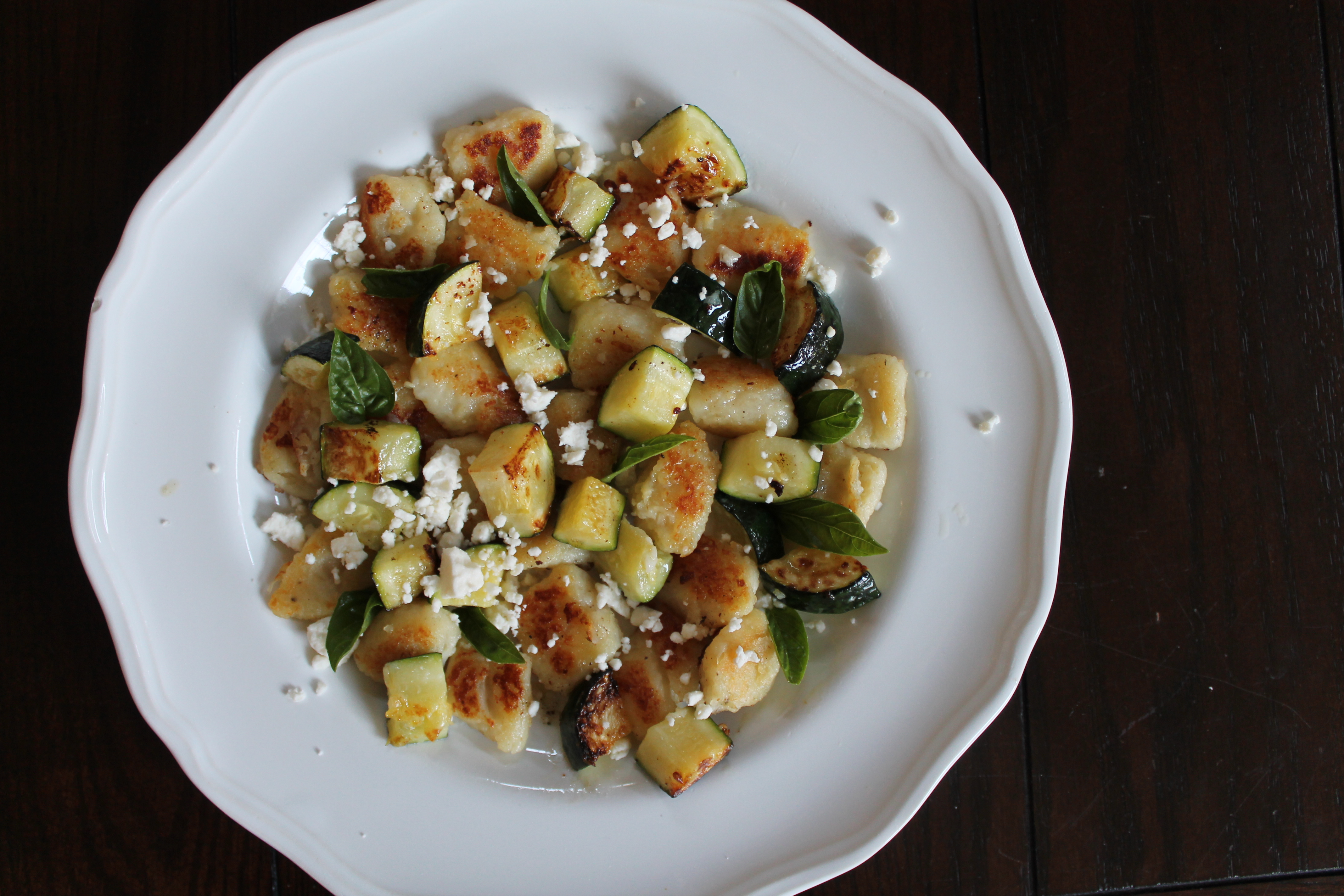 When the first batch of gnocchi are warm and seared top and bottom, transfer to one of the plates with the zucchini, leaving the browned butter behind. Drizzle with some of the browned butter from the pan, then generously sprinkle with feta.
Add more butter to the pan as needed. Sear the second batch of gnocchi, about 3–4 minutes total. Toss with the remaining zucchini, and drizzle with brown butter and feta.
Sprinkle slivered fresh basil over both plates and serve immediately.
Homemade Gnocchi with Summer Squash and Basil
dumplings from Mastering Pasta
meal adapted from Real Simple
serves 2
Dumpling Ingredients:
1½ lbs. russet potatoes, peeled (about 2 small)
1 oz. parmesan, finely shredded
⅛ tsp. fresh grated nutmeg
salt and black pepper
1 egg
¾ cup flour, plus extra
Serving Ingredients:
½ cup unsalted butter, as needed, divided
3 tsp. olive oil, divided
2 small zucchini, diced large
3 cloves garlic, minced
salt and black pepper
2 oz. feta, crumbled (about ½ cup)
fresh basil, slivered
crushed red pepper flakes (optional)
Directions:
In a large pot, cover the peeled potatoes with water. Salt lightly and cover the pot. Bring to a boil over high heat, and boil about 25 minutes, or until a butter knife easily slides in and out of the potatoes.
Remove from the pot and immediately chop and press the potatoes through a potato ricer or fine food mill, spreading the shreds over a lightly floured surface. Let the potatoes stand for 5 minutes so the extra moisture can evaporate.
Sprinkle the parmesan, nutmeg, salt, and pepper over the potatoes. Using a bench scraper, cut all the seasonings into the potatoes, repeatedly scraping and mixing the ingredients until well blended. Taste and add more salt and pepper as needed.
In a small bowl, whisk the egg until uniform. Pour half the egg mixture over the potatoes and discard the rest. Cut the egg into the potato mixture.
Finally, gently stir in the flour until the dough begins to come together. Knead carefully, just until the dough has a uniform consistency, about 1 minute. Be careful not to overwork the dough or it will develop excess gluten, making the gnocchi tough.
Shape the dough into a ball and use the bench scraper to cut the ball into 4 equal segments. Roll each piece into a long rope, about ¾″ thick, on a floured surface. Using the bench scraper again, cut the ropes into ¾″ pieces.
Press the dumplings lightly against a gnocchi board or the tines of a fork, leaving a dimple on one side with your thumb and ridges on the back side.
Place half of the gnocchi in a single layer on a cookie sheet and freeze for another use.
Blanch the remaining gnocchi in boiling water, cooking just 2–3 minutes, until they float to the surface. Carefully remove the gnocchi from the water with a spider strainer or slotted spoon, and place them on a paper towel to drain slightly. Gently pat dry on top.
In a large sauté pan, heat 2 tbsp. butter with 1 tsp. olive oil. When the butter is hot, add the diced zucchini and minced garlic to the pan. Stir once to mix, then leave the zucchini to sear on the bottom sides, about 3 minutes. Sprinkle lightly with salt and black pepper. When the zucchini is golden on the bottom and tender throughout, remove from the heat and divide the seared zucchini across 2 serving plates. Set aside.
In the same sauté pan, heat another 3 tbsp. butter with 1 tsp. olive oil. When the butter is hot, carefully add half of the blanched gnocchi to the pan, keeping space between each dumpling so they don't get stuck together. Cook 2 minutes, or until caramelized on the bottoms, then carefully turn the dumplings over to sear on the second side. Cook another 2 minutes.
Transfer the seared gnocchi to one of the plates with the zucchini. Drizzle the browned butter over the plate.
Repeat for the second batch of gnocchi.
Just before serving, sprinkle the two plates with feta and slivered basil. Add a pinch of crushed red pepper, if desired.
Enjoy warm!