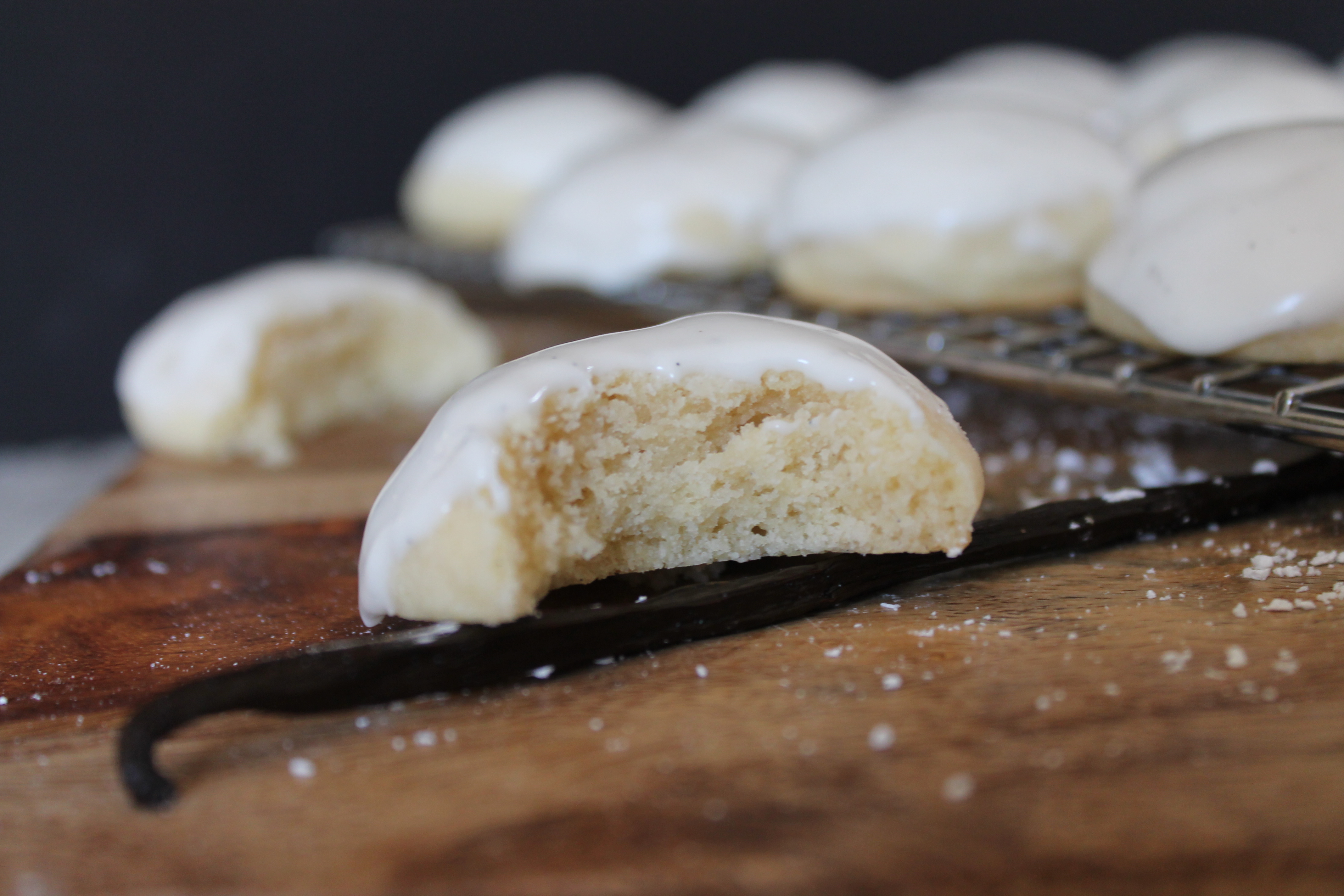 I don't know about you, but I love a good gooey dessert. Especially a good gooey cookie or a good gooey butter cake.
And these tea cakes are the best of both of those!
Soft and slightly underbaked, richly vanilla, with a sweet tangy glaze.
Yum.
These tea cakes are a breeze to put together.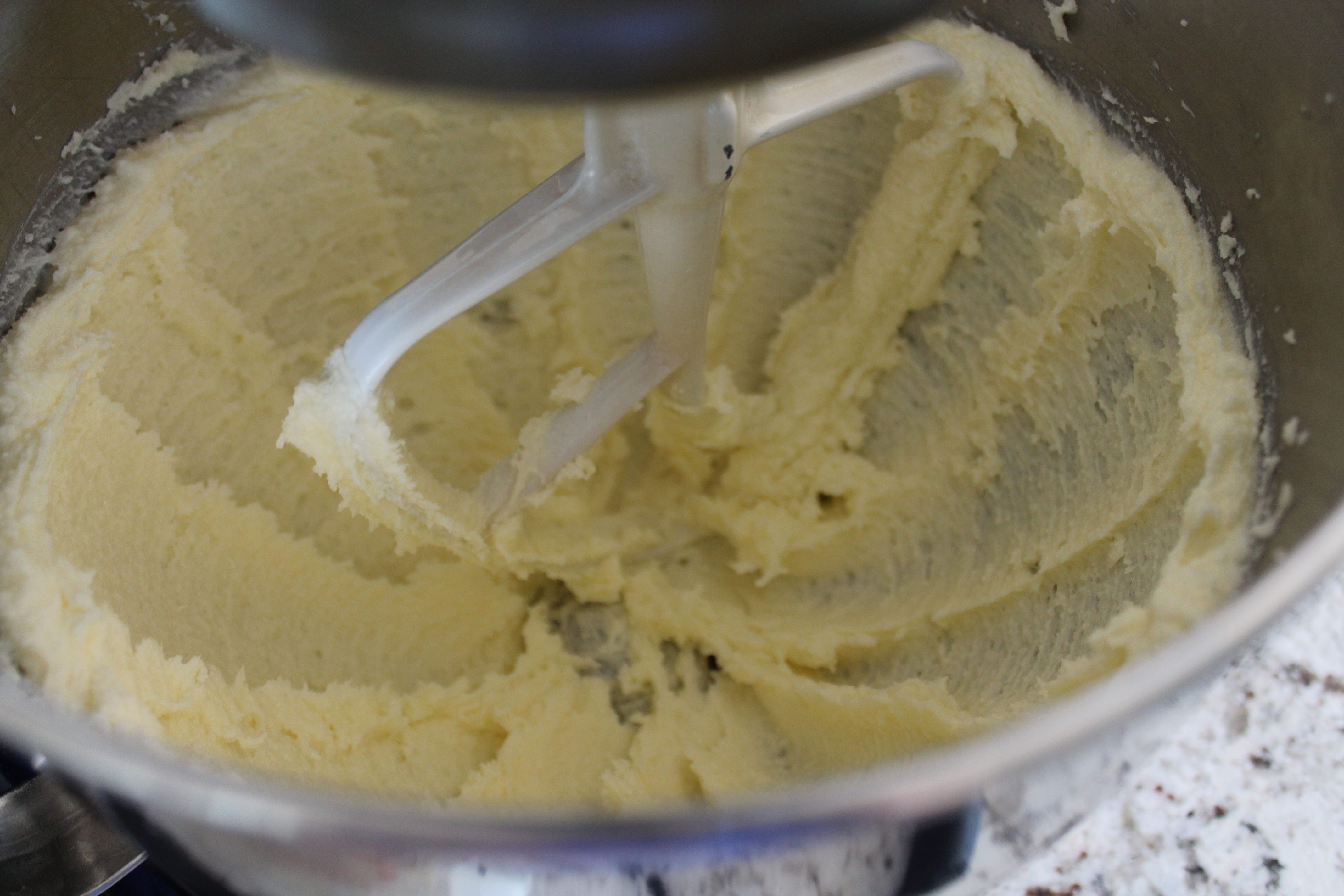 Start by creaming room temperature butter with white sugar.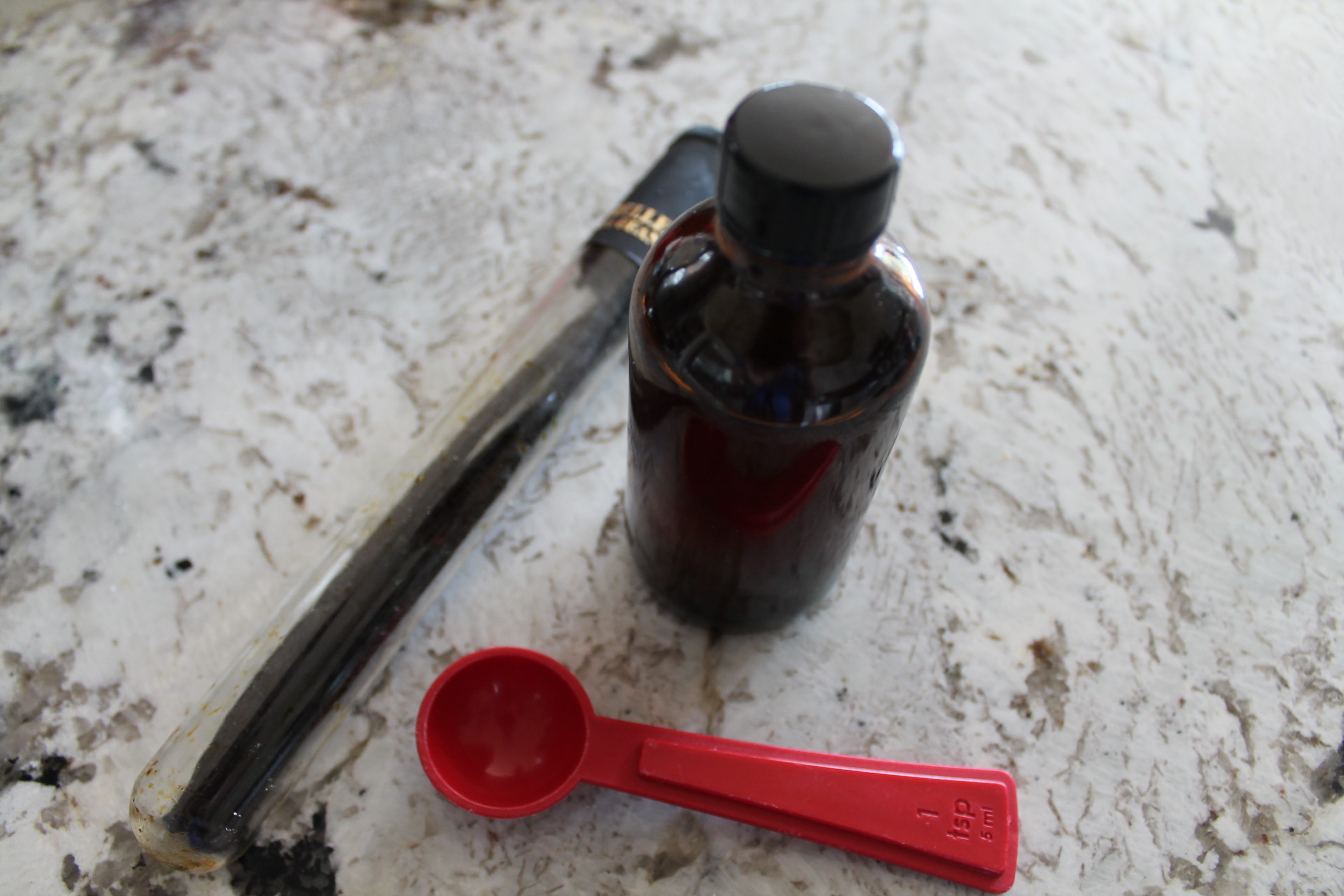 Add eggs, vanilla, and the seeds from one vanilla bean. If you want to go simple or don't have easy access to vanilla beans, you can substitute 1 tsp. vanilla bean paste or just add an extra 1 tsp. vanilla extract. I do love a good vanilla-flecked dessert, though, if you can manage it!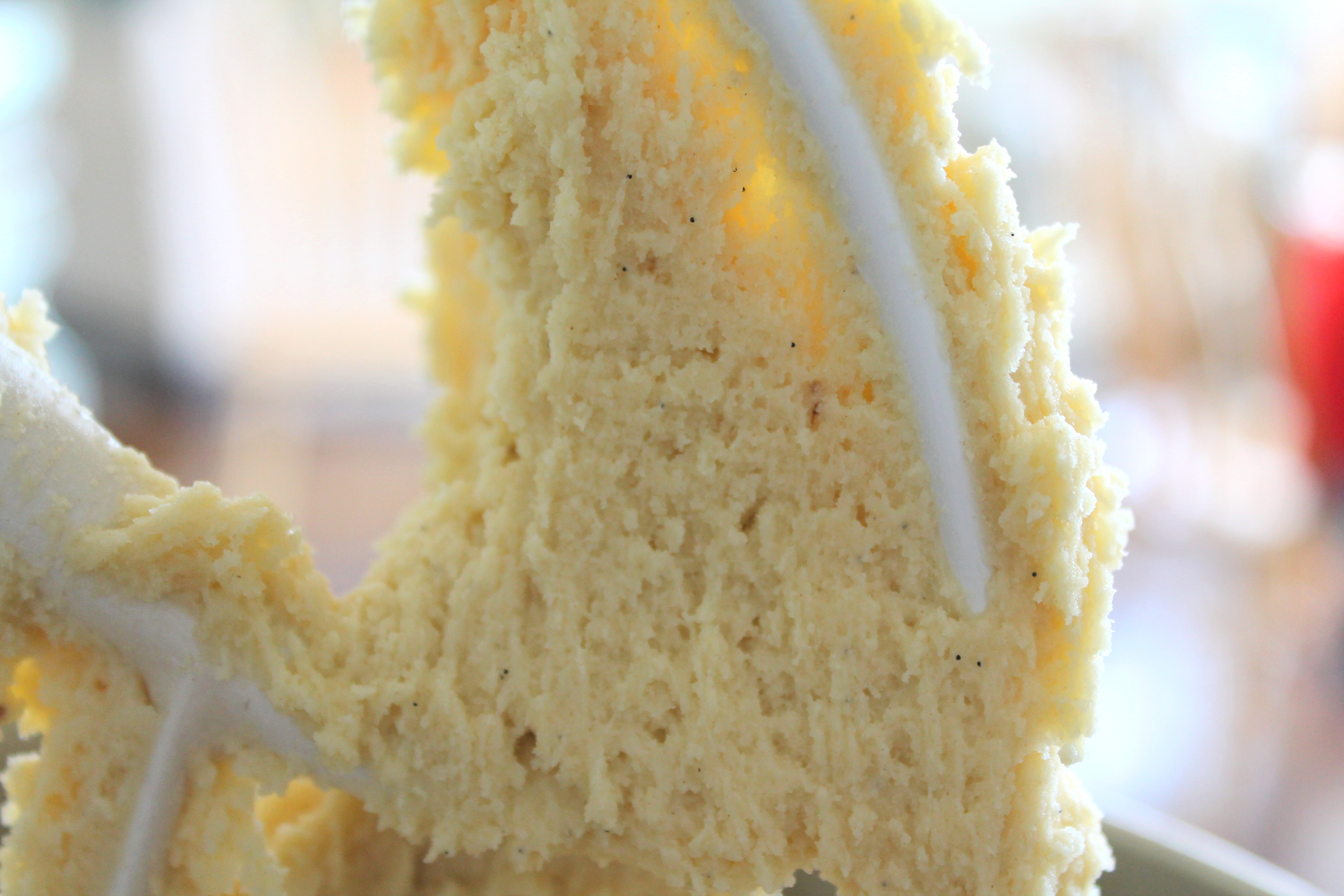 When the butter mixture is light and fluffy, add the flour, baking powder, and salt. Mix until just combined.
Look at those beautiful vanilla seeds peeking through the dough! So excited.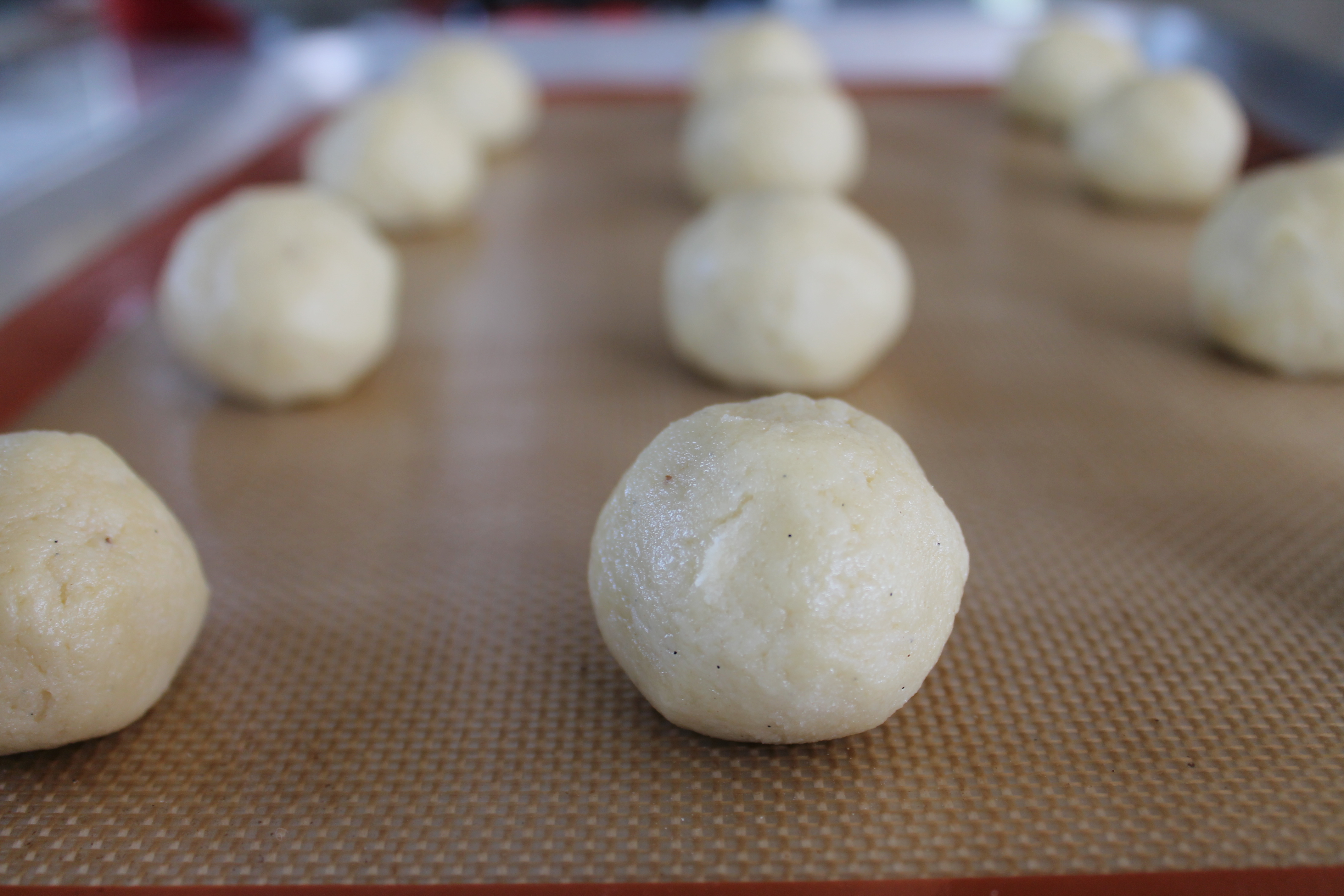 Scoop the cookie dough out in large balls, about 1½ tbsp. each (nearly 2″ mounds). Roll into balls and place at least 2″ apart on a lined cookie sheet. These cookies don't spread much, but they do need space to cook evenly!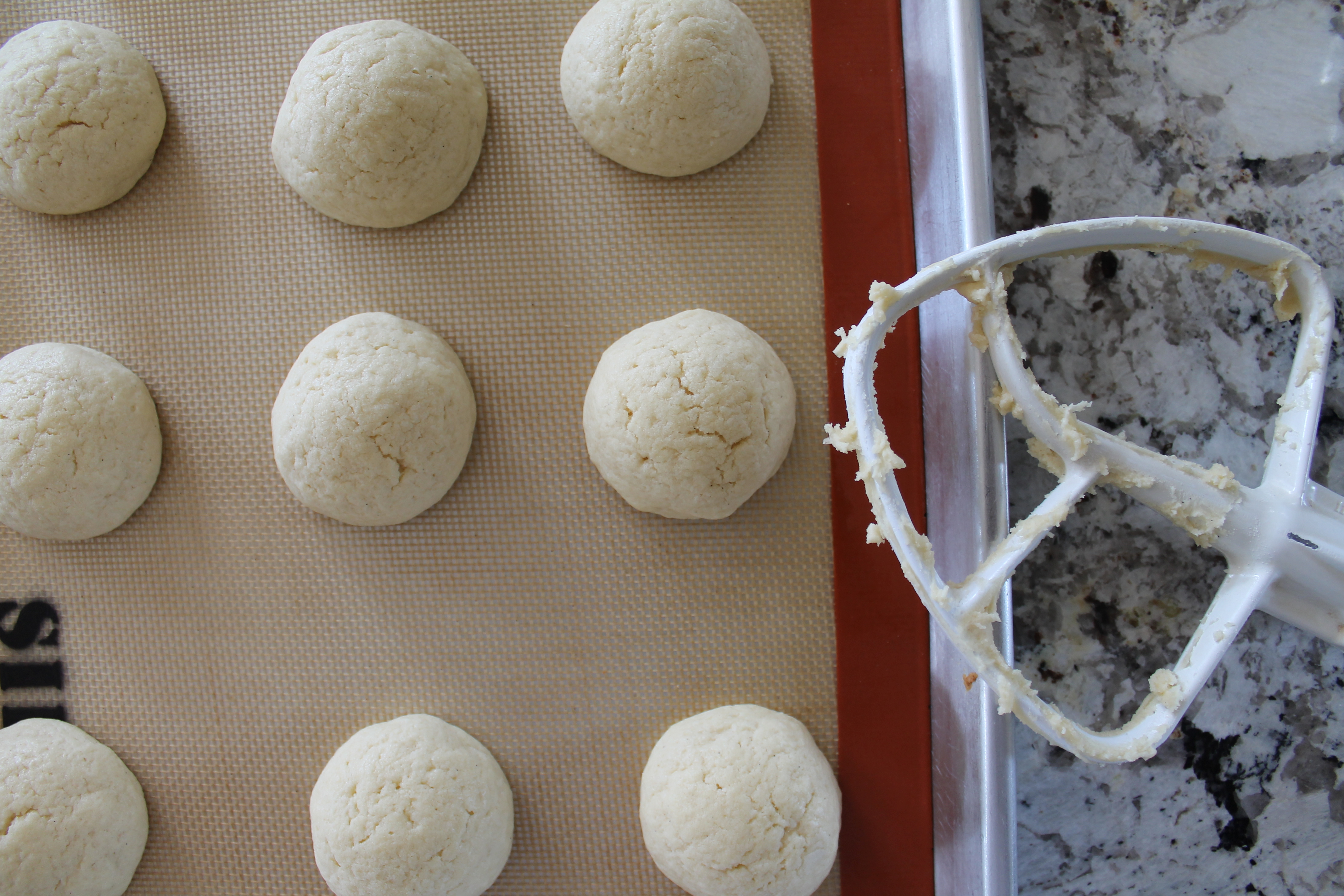 Bake the cookies until barely cooked through, 9–10 minutes. They will be puffed straight out of the oven (don't they look a little like rows of candy buttons?), but should not be cracked on top. They will also sink a little as they cool. But this is good, because we are going for gooey!
(Okay, I must note that I always cook one tray of these more thoroughly for Dave, who prefers his baked goods to be on the crunchy/crispy side and is never pleased when I announce something is gooey. If you want to go for a drier tea cake, plan to pull yours out of the oven around the 12–13 minute mark. I won't judge you.)
Let the cookies cool on the sheet for 1 minute, then transfer to a wire rack to cool.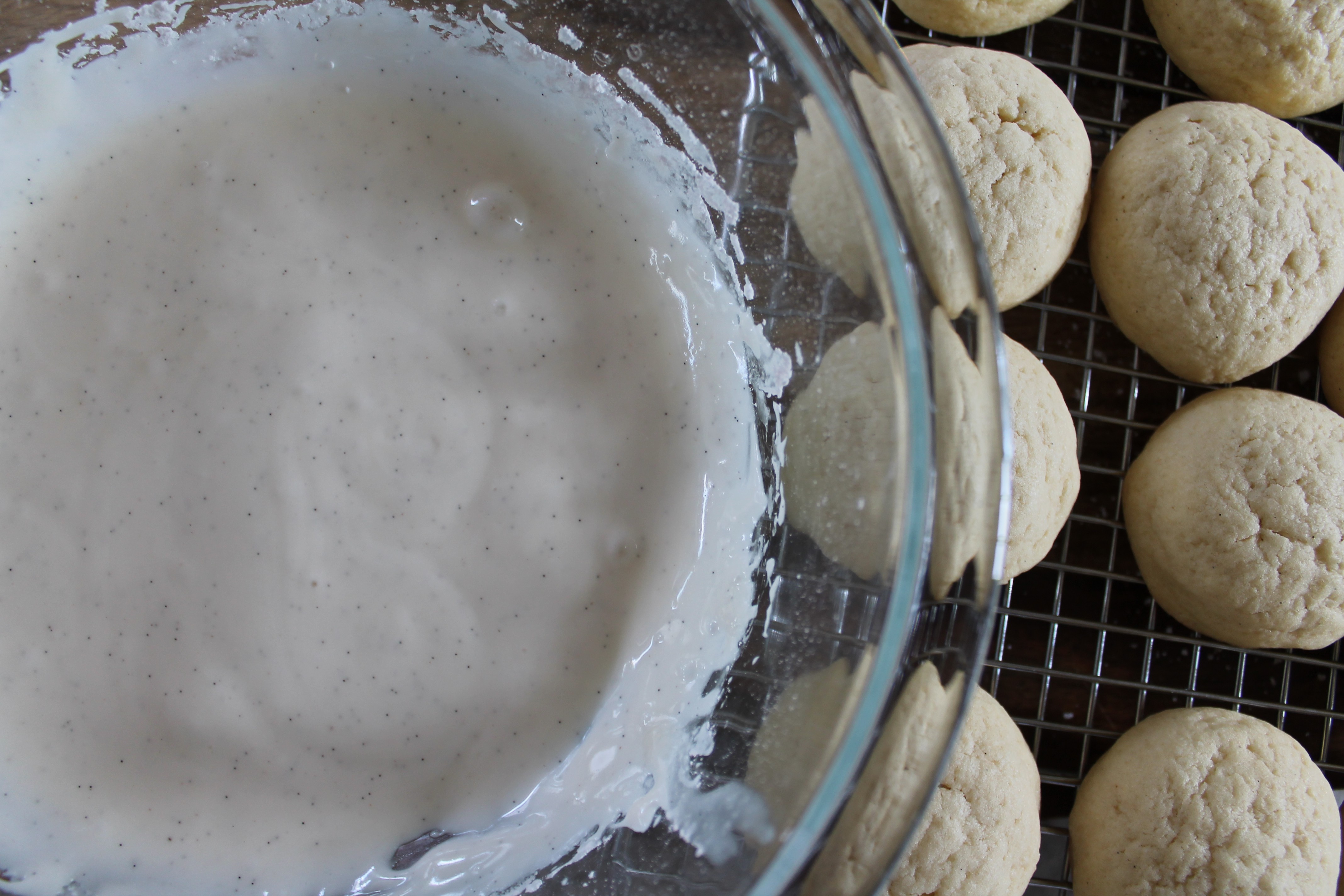 Meanwhile, whip up a sweet and tangy glaze with sour cream, confectioner's sugar, and more vanilla bean seeds! The sour cream is really what takes this glaze up a notch and gives the cookie a deeper flavor.
I like to beat the sour cream a little on its own to loosen it up, then add half the sugar at a time. Use an electric mixer! Your triceps will thank you, and this will also allow you to skip the sifting step! This glaze will be thick but smooth, and so tasty! Just the right companion to a mild and sweet tea cake.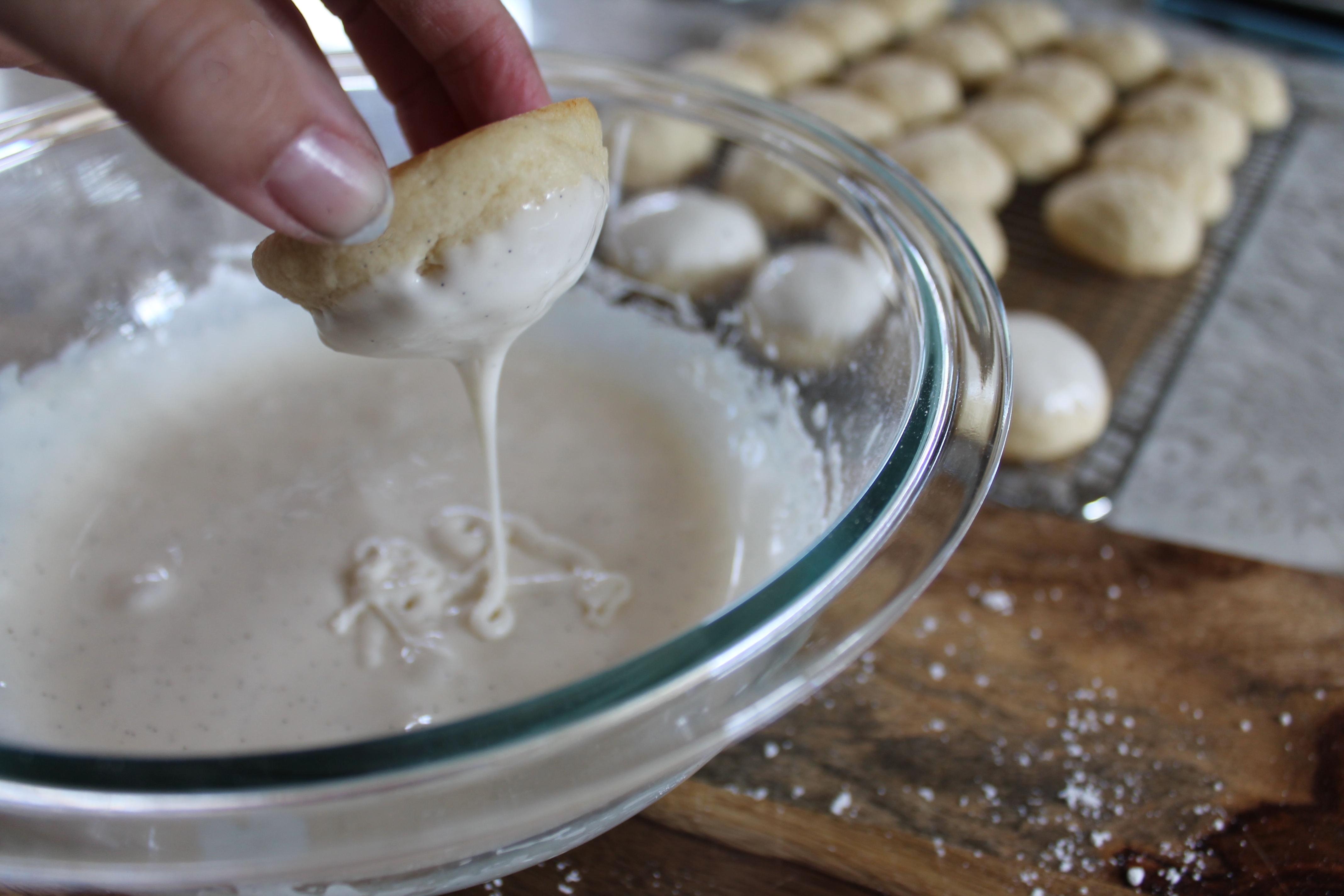 Dip the tops of the cookies in the glaze, allowing the excess to drip back into the bowl. Turn the cookies upright so that the glaze smooths on top and drips down the sides of the cookies.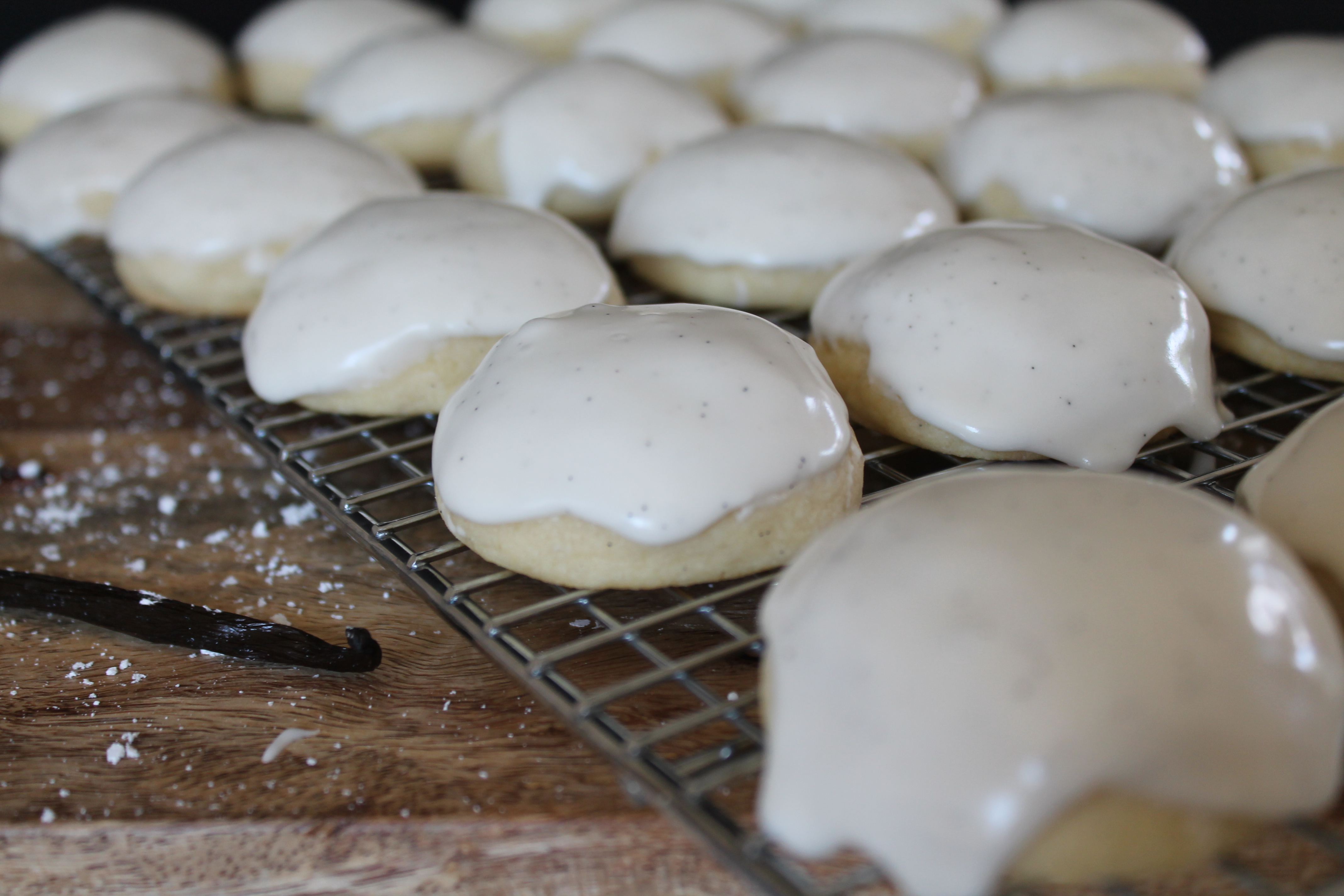 Here's the hard part: it takes at least 2 hours for the glaze to set. Torture! You can totally eat one before the glaze sets, just prepare for sticky fingers.
Gooey Vanilla Bean Tea Cakes
lightly adapted from Cookies & Cups
makes about 33
Ingredients:
1 cup unsalted butter, room temperature
1 cup sugar
2 eggs
1 tsp. vanilla extract
2 vanilla beans*, divided
3 cups flour
2 tsp. baking powder
½ tsp. salt
¼ cup sour cream
2 cups confectioner's sugar
Directions:
Preheat oven to 350°. Line two cookie sheets with Silpats or parchment paper
In a mixer bowl, cream the butter and sugar together for 1 minute. Add the eggs, vanilla, and seeds from 1 vanilla bean. Beat on high speed until completely mixed, scraping the sides of the bowl as needed to incorporate all of the butter.
Add the flour, baking powder, and salt to the bowl, stirring until just combined.
Form the dough into 1½ tbsp. balls and place on the prepared cookie sheets about 2″ apart.
Bake for 9–10 minutes, until puffed and barely golden (the tea cakes should not appear doughy on the outside, but neither should they be set in the centers or brown at the edges). Let cool completely on a wire rack
Meanwhile, beat together the sour cream, confectioner's sugar, and remaining vanilla bean seeds.
Dip the tops of the cooled tea cakes in the sour cream glaze, allowing the excess to drizzle back into the bowl.
Let the glaze set at least 2 hours before transferring to an air-tight container. Tea cakes will keep up to 1 week.
*Note: 1 tsp. vanilla bean paste or vanilla extract may be used in place of each vanilla bean, if necessary.
Enjoy!