The summer after I graduated from high school, my best friend and I started a weekly ritual we called "wife practice."
We decided to learn how to cook, something our mothers had been trying to teach us for years. We spent hours making peanut pork with cellophane noodles and potato crust quiche and French silk pie. (Only the most practical dishes for our future husbands, let me tell you.)
I thought Debby walked on air because she had this brash disrespect for the recipes we were preparing. Unlike me, she had already mastered putting her own spin on a dish as she cooked. She knew when a coarse chop would do the trick, she didn't measure her salt, she irreverently used ingredients that were less expensive, she had favorite chefs and favorite cheeses, she knew what a tomatillo was…
When I first ventured out on my own and began putting together a collection of meals I could make, 50% of them were Debby's. Debby's spindiforous chicken bundles, Debby's verde burritos, Debby's Mediterranean orzo, Debby's focaccia bread. All these years later, I still leave her house thinking, "I have to go home and make that right away!" every time I eat with her.
I have spent many years and eaten hundreds of dollars worth of fancy cheese on a quest for the best mac and cheese recipe ever.
Sure, there have been some greats: French onion and butternut squash are very delicious! But I yearned for a super cheesy, classic version. A no-frills mac and cheese. No truffle oil. No lobster. No cheeses that cost $10 per ounce.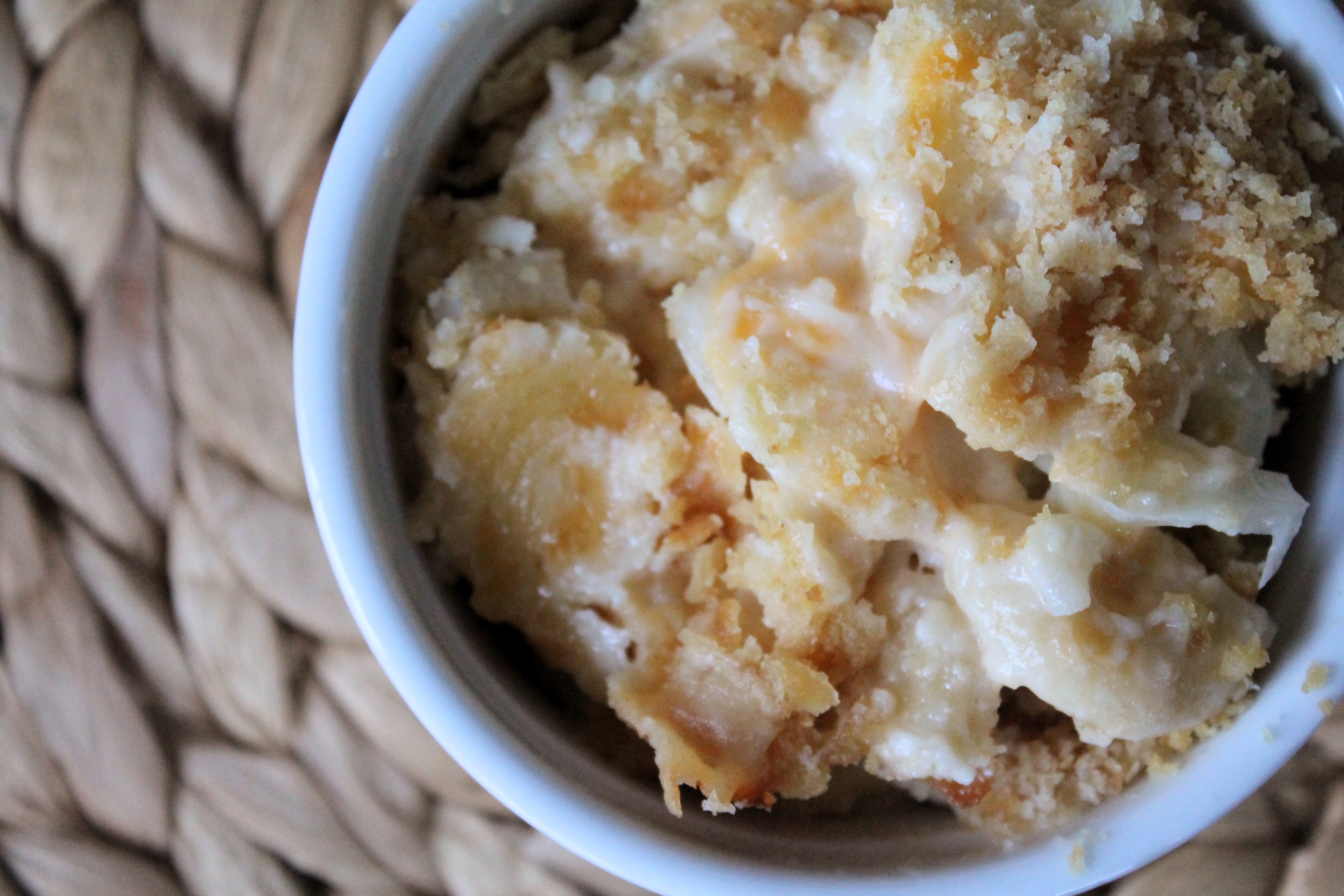 My friends, this is it. The mac and cheese I've been waiting for. Debby made it for me a few months ago, and I have peppered her with questions about it regularly ever since. I daydreamed about it constantly during my no-dairy months, and you better believe it was one of the first things I made when Caitlin's pediatrician said I could have cheese again.
True, it does contain cauliflower. But you won't even notice. Better yet, your kids and your husband won't notice, and then you will be sneaking a vegetable into them while they think they are just eating cheesy pasta. Victory!
Also, just in case you were wondering, Debby contends that the cauliflower makes this a health food. So you don't even have to feel guilty when you dig into your third helping.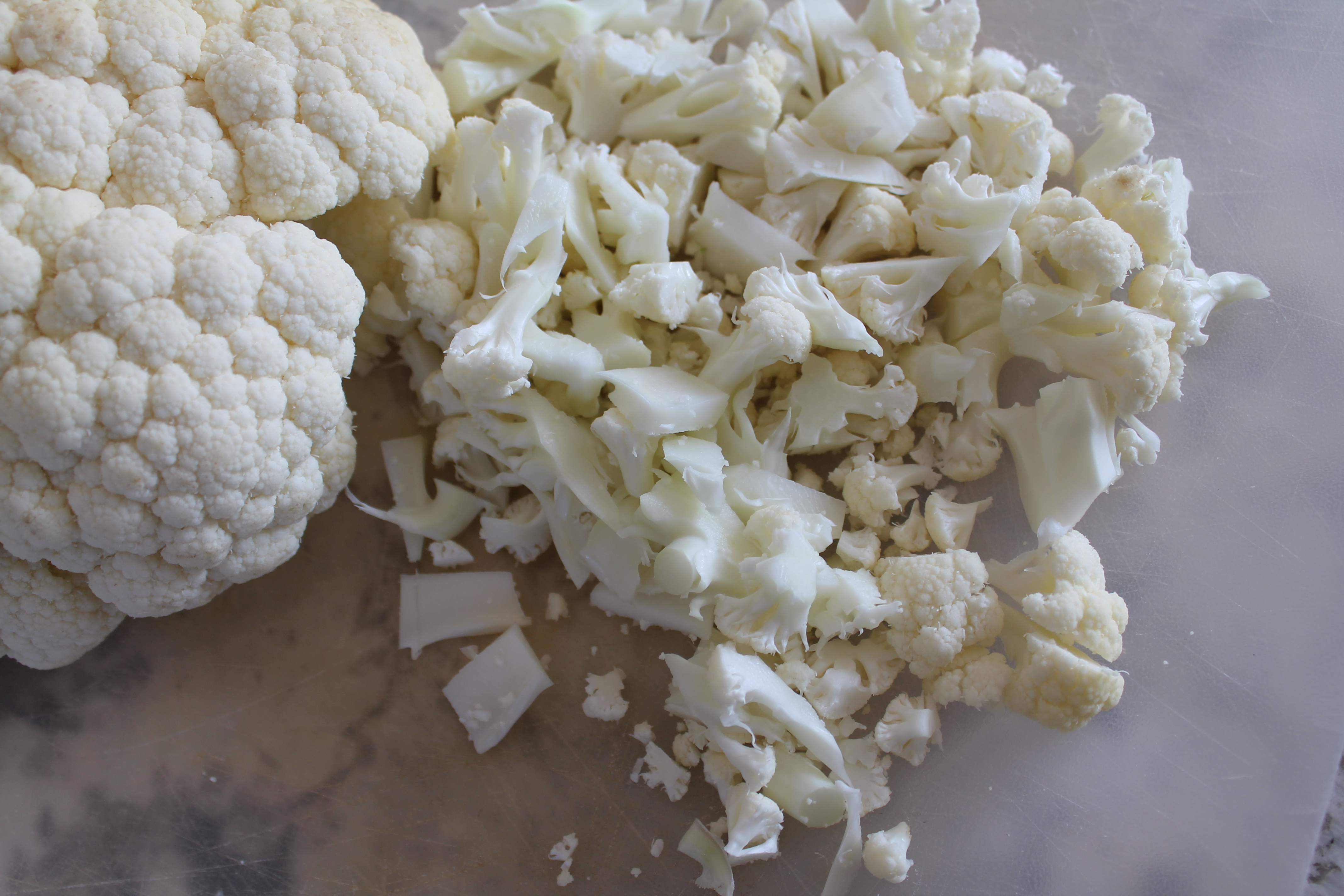 The time consuming steps here are chopping the cauliflower and shredding the cheese. I generally do those steps ahead of time so that I can just dump the ingredients in when I am ready for them later. About half a head of cauliflower will do the trick: chop it into small pieces so it will blend in with the pasta.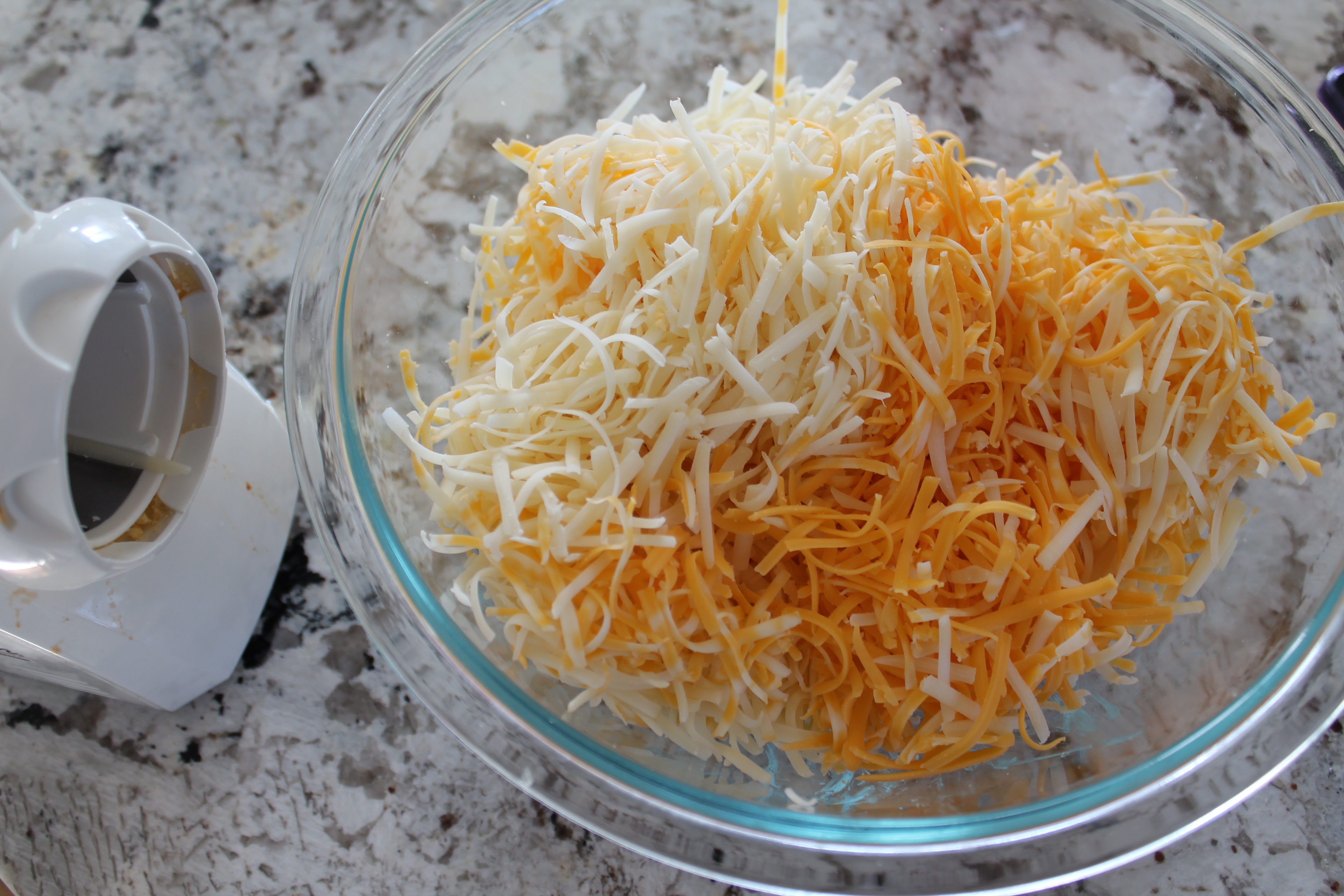 Debby always shreds her own cheese. She rightly points out that pre-shredded cheese often has additives to help keep it from clumping, and shredding cheese is not that challenging. Especially if you have an electric shredder! You can use a food processor or a salad shooter and save a bundle of time.
We are going to make a four-cheese blend: cheddar (yellow or white), colby jack, Swiss (yep, like the big block of Kraft Swiss, nothing fancy here), and parmesan. The only thing I must really insist is that you not use the green can of parmesan for this. Buy a block. Shred it yourself. At the very least, buy the large shreds that your grocery store prepares for you. Never, ever buy the can of green powder.
When you are ready to make dinner, start a large pot of water boiling.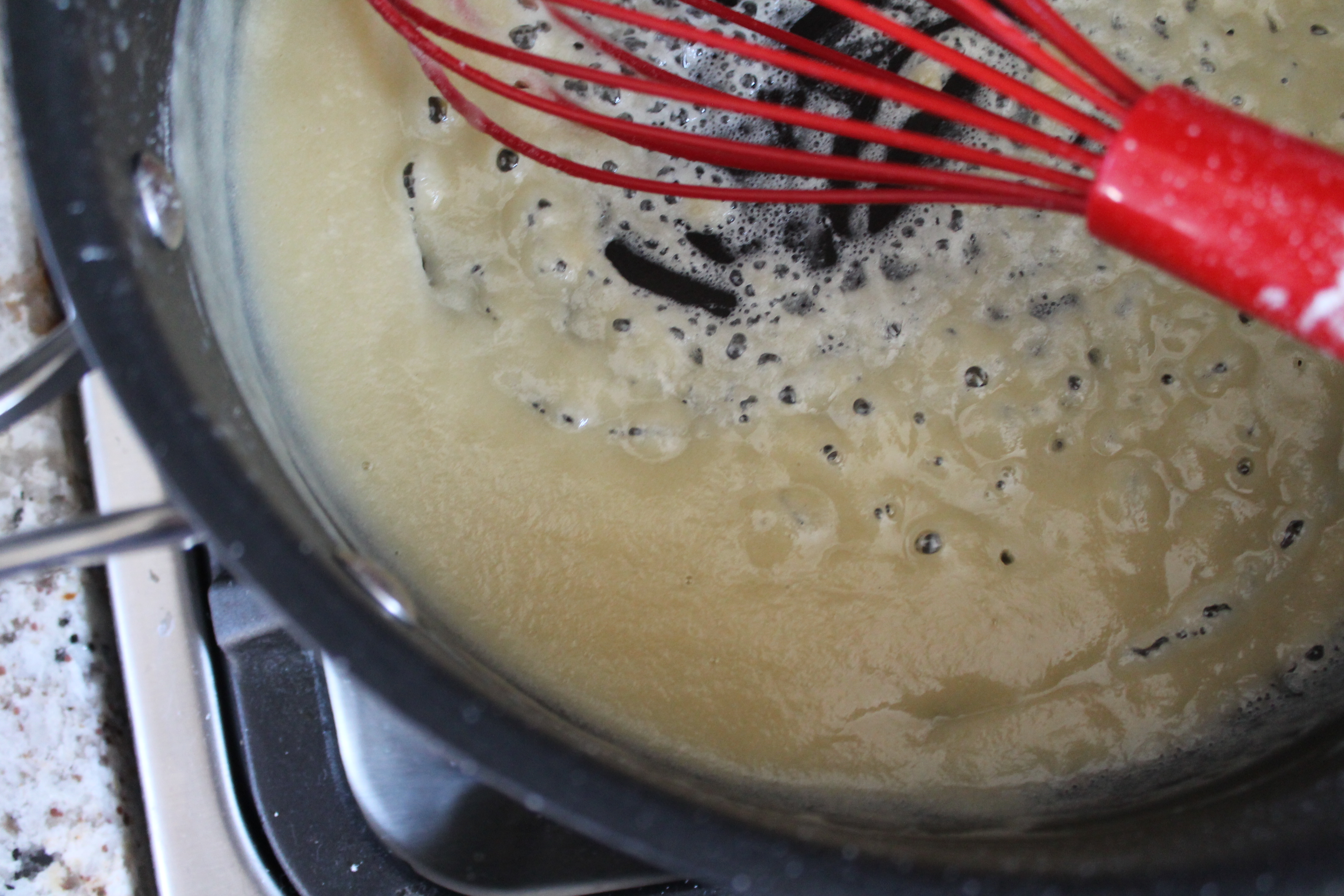 In a separate pot, make a roux out of butter and flour. (Combine them over medium heat and whisk constantly for 1 minute, so that the flour cooks.)
Add milk, a few splashes at a time, always working all of the liquid in to the roux before you add any more. It will initially look like a yellow paste, then it will start to look like mashed potatoes, and finally it will turn into a loose liquid. At that point, you can add in all the remaining liquid. Stir or whisk over medium heat until the mixture thickens enough to coat the back of a spoon, 5-10 minutes.
Add in hot sauce (I used Texas Pete) and garlic powder. Add salt and white pepper. Finally, add half of the freshly shredded parmesan. Stir until the béchamel becomes smooth and a little stretchy, then set it aside.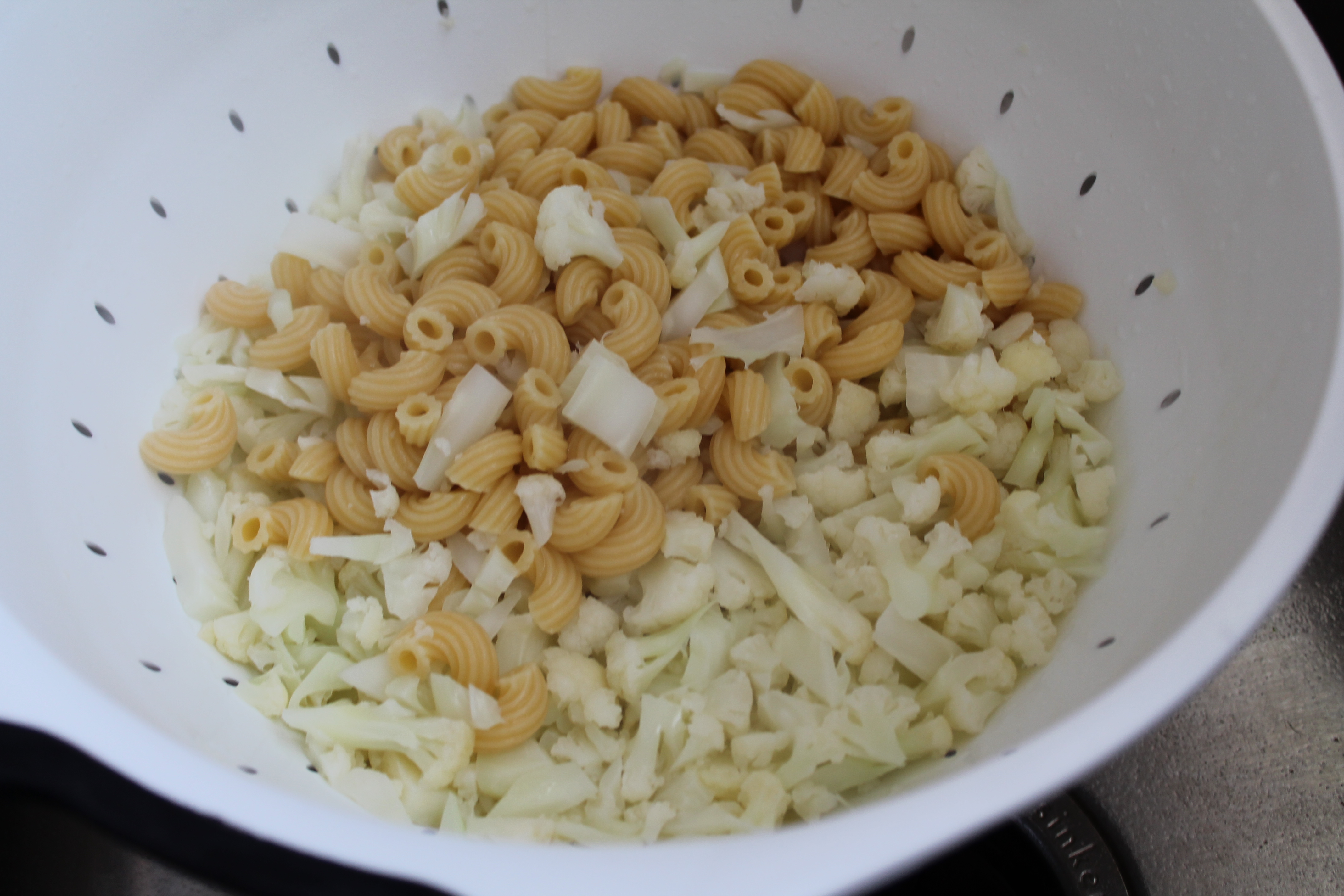 By this point, the water for the pasta should be boiling. We are going to use half pasta and half cauliflower to make up this dish, so pour in half a box of short macaroni noodles. Interesting shapes can help to further disguise the presence of cauliflower, but I tend to go for the classics: elbows.
Here's a little word about tricking your family into eating vegetables: in theory, I'm against this. In theory, I want to be able to boldly show my family that there are vegetables in their food and not have them bat an eye. In theory I want them to know that vegetables are good and to like and embrace eating them. But we just aren't there at the moment. I used to think that covering veggies in Ranch dressing or cheese was almost worse than not eating them at all…but then I found myself living with a toddler and all my lofty plans went out the window. Now I am filled with a beautiful glee when my kid eats veggies without complaining or even knowing they are there.
Hah! Take that!
And cauliflower, despite being white, is actually quite good for you. Maybe Debby's health food theory is not so silly after all…
Anyway. After the pasta has boiled for about 5 minutes, and it is nearing al dente, add in the cauliflower to blanche it. The cauliflower should only be in the pot about 1-2 minutes.
Drain the whole shebang.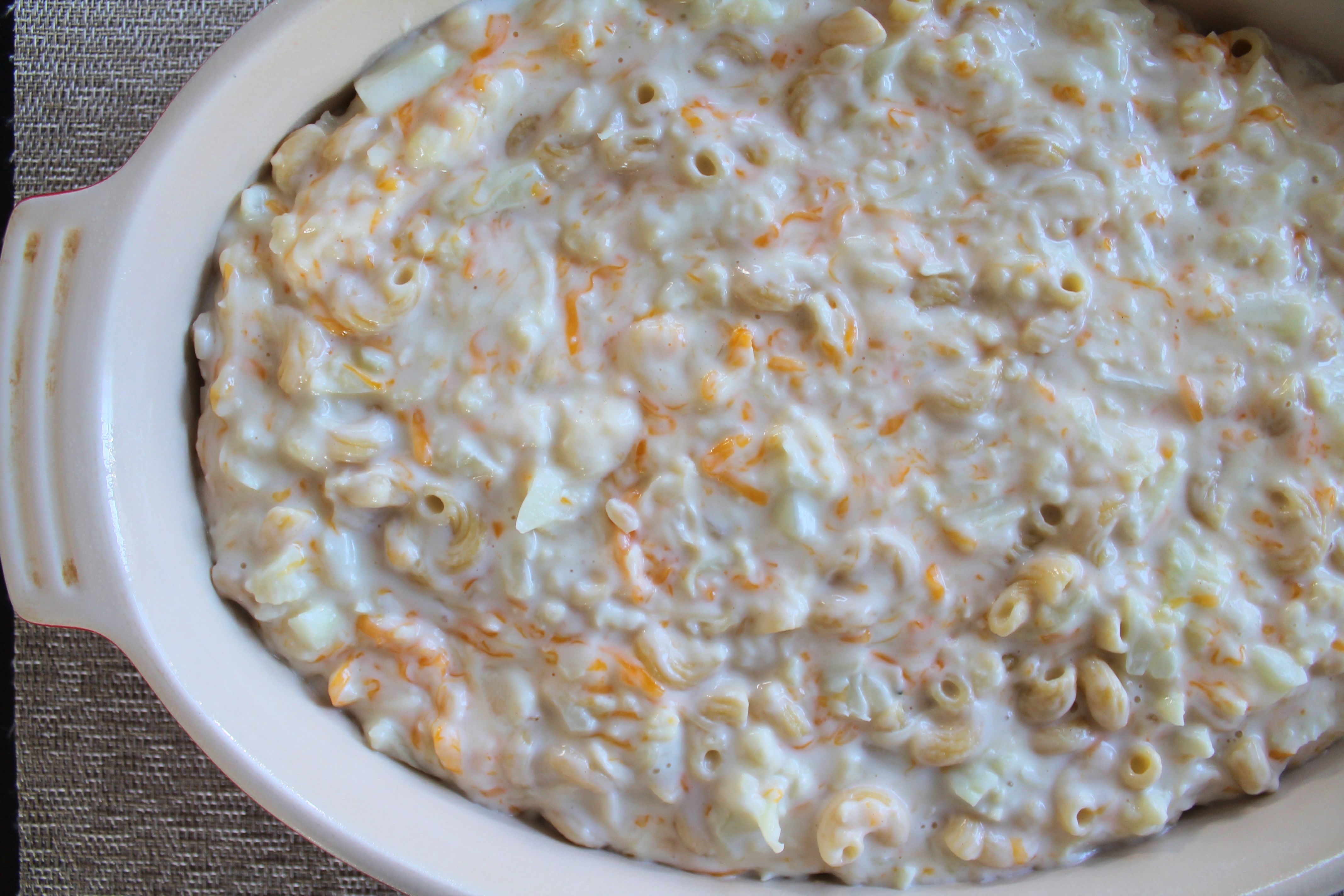 Now toss the hot pasta/cauliflower mixture with the cheesy béchamel and all the rest of the cheese you shredded!
This might seem like a mixed-up step. Most of the time when I have made mac and cheese from scratch, the recipe has directed me to mix all of the cheese directly into the hot béchamel, rather than letting the béchamel cool slightly and adding the cheese together with the pasta.
But here, you add in most of the shredded cheese almost after the fact, instead allowing it to melt into the béchamel. The result is little pockets of amazing cheesiness throughout. Also, since the béchamel is cheesy but not saturated with cheese, it is able to coat the macaroni and the cauliflower well, so the mac and cheese feels very saucy. Trust me. It's delicious.
Dump the mac and cauliflower into a large, greased baking dish.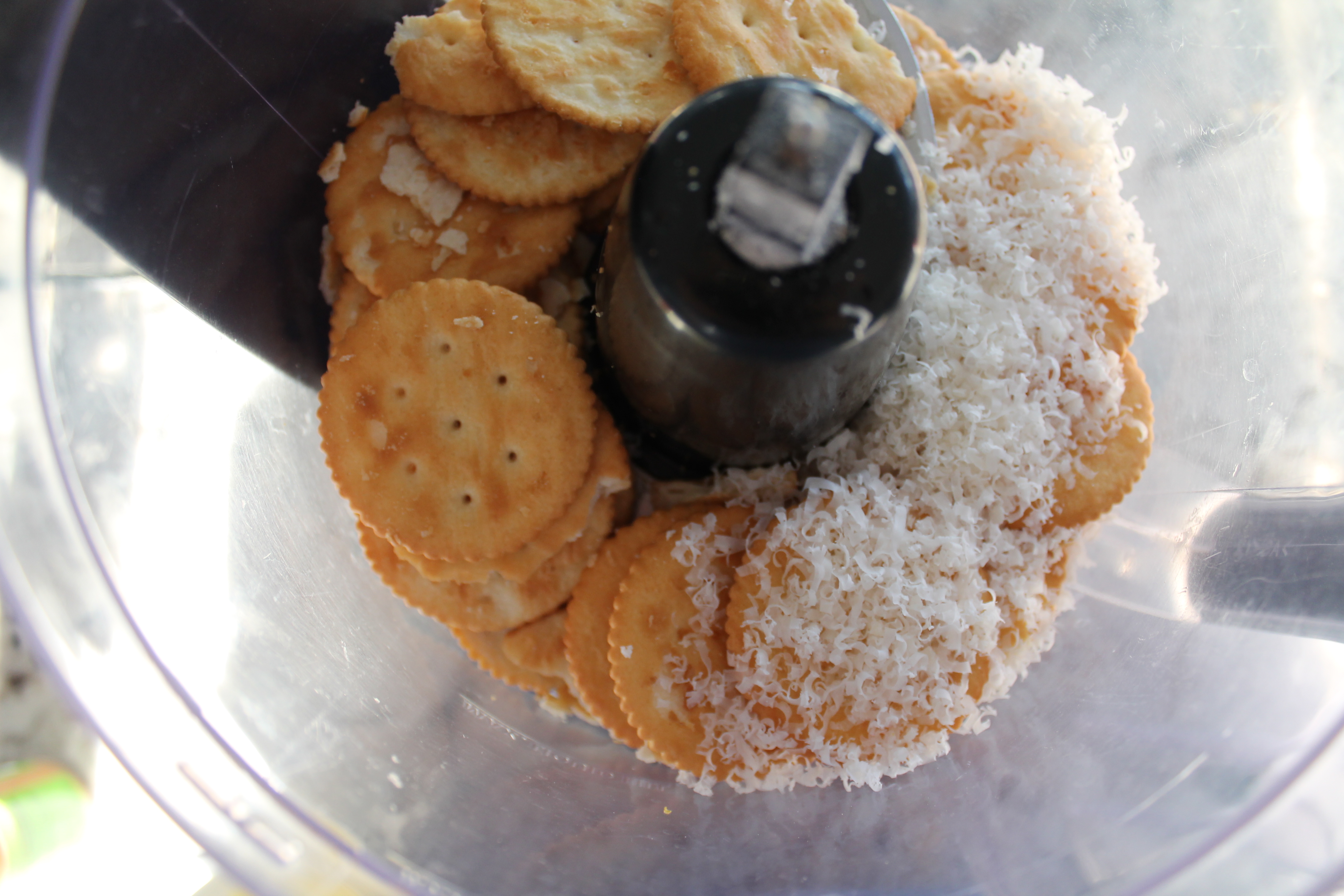 Now we come to Debby's real coup: Ritz cracker crust. I mean seriously. Could anything be better?
Grind up a whole sleeve of Ritz crackers. I recommend them in all their original, white flour, salty glory. Add a splash of melted butter and a few dashes of Cajun or Creole seasoning, whichever you have on hand (I use Mrs. Dash's Perfect Pinch Cajun). Add another small amount of fresh grated Parmesan. You can never have too much cheese.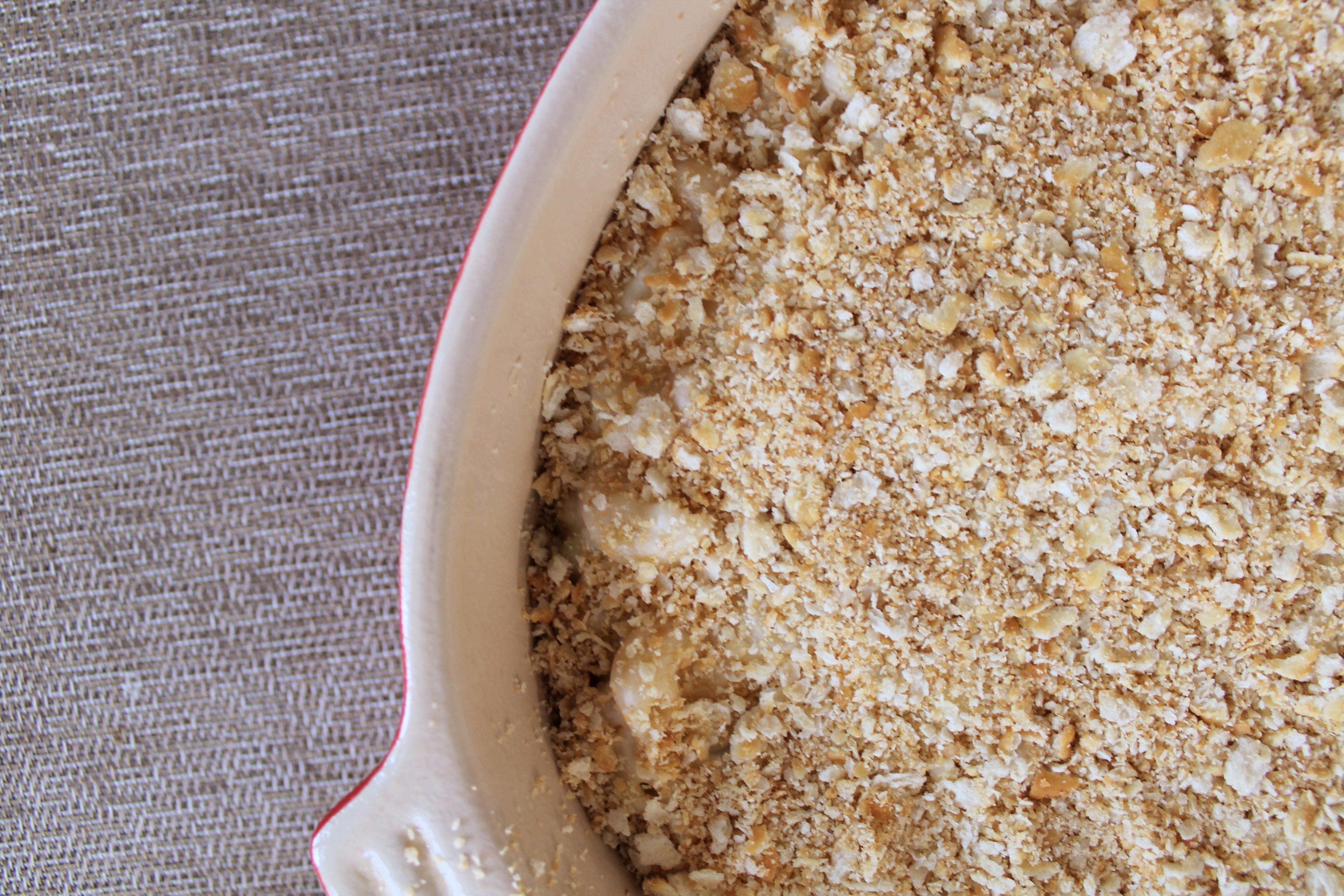 Spread this cracker mixture over the the mac and cauliflower in the dish.
Debby's Four-Cheese Mac and Cauliflower with Ritz Cracker Crust
Ingredients
6-8

oz.

short pasta,

any shape

½

medium

cauliflower,

finely chopped

6

tbsp.

salted butter,

plus 1 tbsp.

6

tbsp.

flour

3

cups

whole milk

¼

tsp.

salt

(optional)

¼

tsp.

white or black pepper

¼

tsp.

garlic powder

several

dashes

hot sauce

(Texas Pete)

9

oz.

parmesan,

freshly shredded, divided

4

oz.

4 oz. sharp cheddar,

shredded

4

oz.

4 oz. mozarella or Kraft Swiss,

shredded

4

oz.

colby jack,

shredded

1

sleeve

original Ritz crackers

broken into shards (about ½ cup rough crumbs)

¼

tsp.

Cajun or Creole seasoning,

such as Mrs. Dash's
Instructions
Preheat oven to 350°. Grease a 9″x13″ baking dish and set aside.

Bring a large pot of water to a boil. Add the pasta and cook for 5-7 minutes, until not quite al dente. Add the chopped cauliflower and cook another 2 minutes. Drain and set aside.

Meanwhile, melt 6 tbsp. butter over medium-high heat in a large saucepan. Add the flour, 1 tbsp. at a time, whisking constantly to incorporate. When the resulting roux is smooth and not lumpy, start adding the milk. Drizzle the milk into the pan in small splashes, whisking constantly, not adding more liquid until the previous splash has been incorporated. The roux will gradually loosen and begin to absorb more liquid at a time. When it is completely loose and soupy, add all the remaining milk at once.

Reduce the heat to medium and cook the sauce until it thickens, whisking regularly, about 5-8 minutes. Stir in the salt, white pepper, garlic powder, and hot sauce. Stir in 4 oz. of freshly shredded parmesan. Set the béchamel aside to cool slightly.

When the bechamel has cool about 5 minutes, stir in the pasta, caluliflower, cheddar, Swiss, colby jack, and 4 oz. parmesan. Transfer the mac and cauliflower to the prepared baking dish.

In a food processor, combine the Ritz crackers, remaining 1 tbsp. butter, melted, remaining 1 oz. shredded parmesan, and the Cajun seasoning. Pulse until the crackers are reduced to coarse crumbs.

Distribute the cracker crumbs over the mac and cauliflower.

Bake for 25–35 minutes, until the cheese is bubbly and the cracker topping is lightly browned.
♥ Melissa