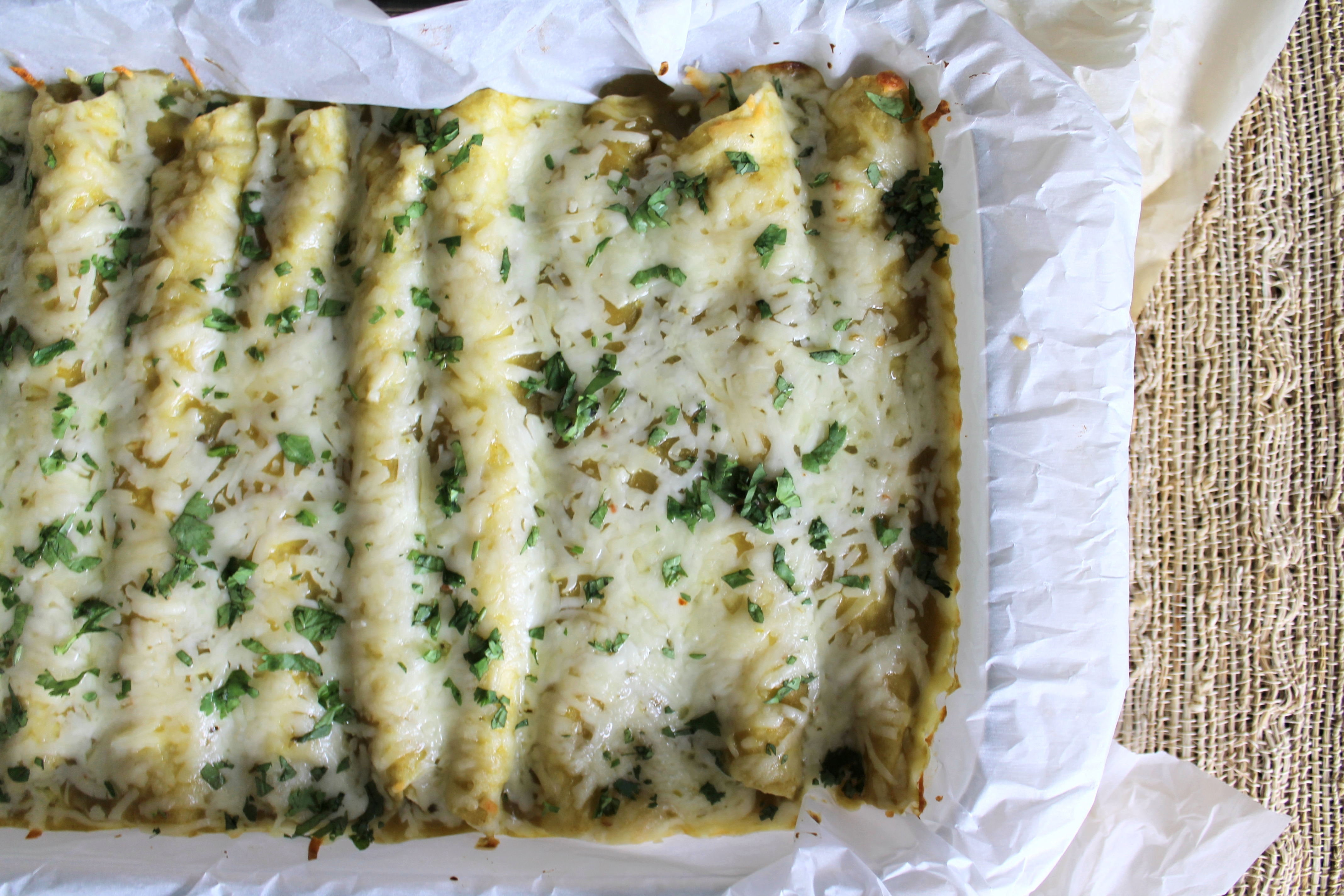 Remember how I hatched a plot to eat greens at every meal?
Yeah…desserts kind of got in the way of that healthy plan. But you know, Rome wasn't built in a day, and I am still trying to focus on the greenery as much as possible!
So this month for the Secret Recipe Club challenge, I decided to take a recipe for green chile enchiladas—which sounded heavenly—and green them up!
Micha of Cookin' Mimi has been cooking almost as long as she can remember. She loves good Southern cooking, and she also cooks up a ton of Mexican dishes. She tries to be budget conscious and to cook simply, two areas where I definitely need to grow!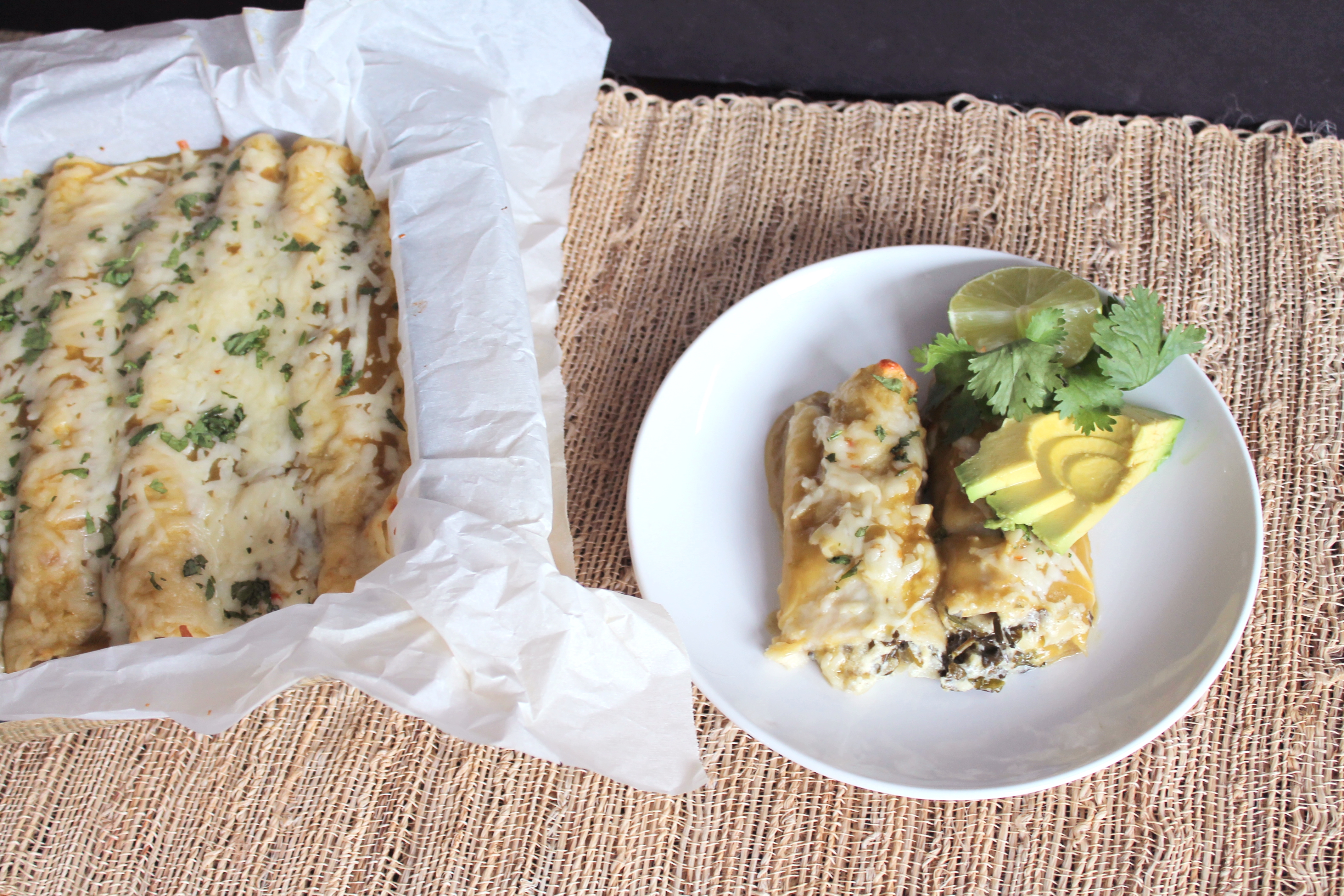 These enchiladas are amazingly delicious. Even Dave agreed—and he generally eschews anything with spinach!
Honestly, I would like to take some credit, but in the spirit of keeping things simple, I actually bought canned enchilada sauce instead of making my own. *gasp!* I generally don't like to buy canned or premade foods for health reasons, but lately I have just been feeling like something has to give. (And, let's get real, when my snobbish refusal to buy a jar of sauce means that I avoid cooking to avoid the dishes and extra hour in front of the stove, then it's not really doing me any favors, right? This season of motherhood is hard, folks!)
I am really trying to embrace a more semi-homemade philosophy for weeknight dinners. For my sanity. So thanks to Micha for encouraging that with this recipe!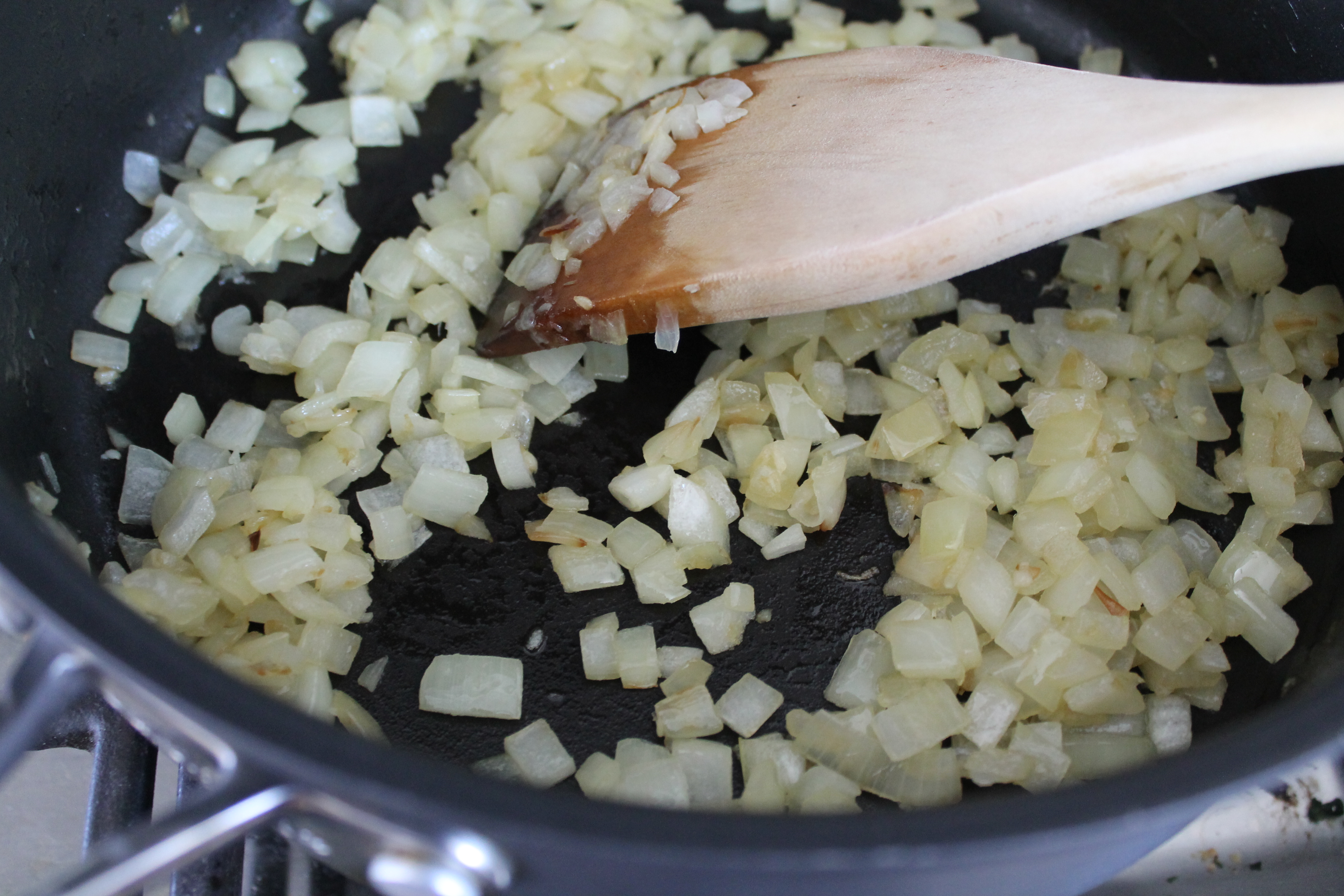 But we are still going to make an awesome enchilada filling from scratch!
Start by dicing an onion and sautéing it in oil with some pressed garlic. Already smelling great.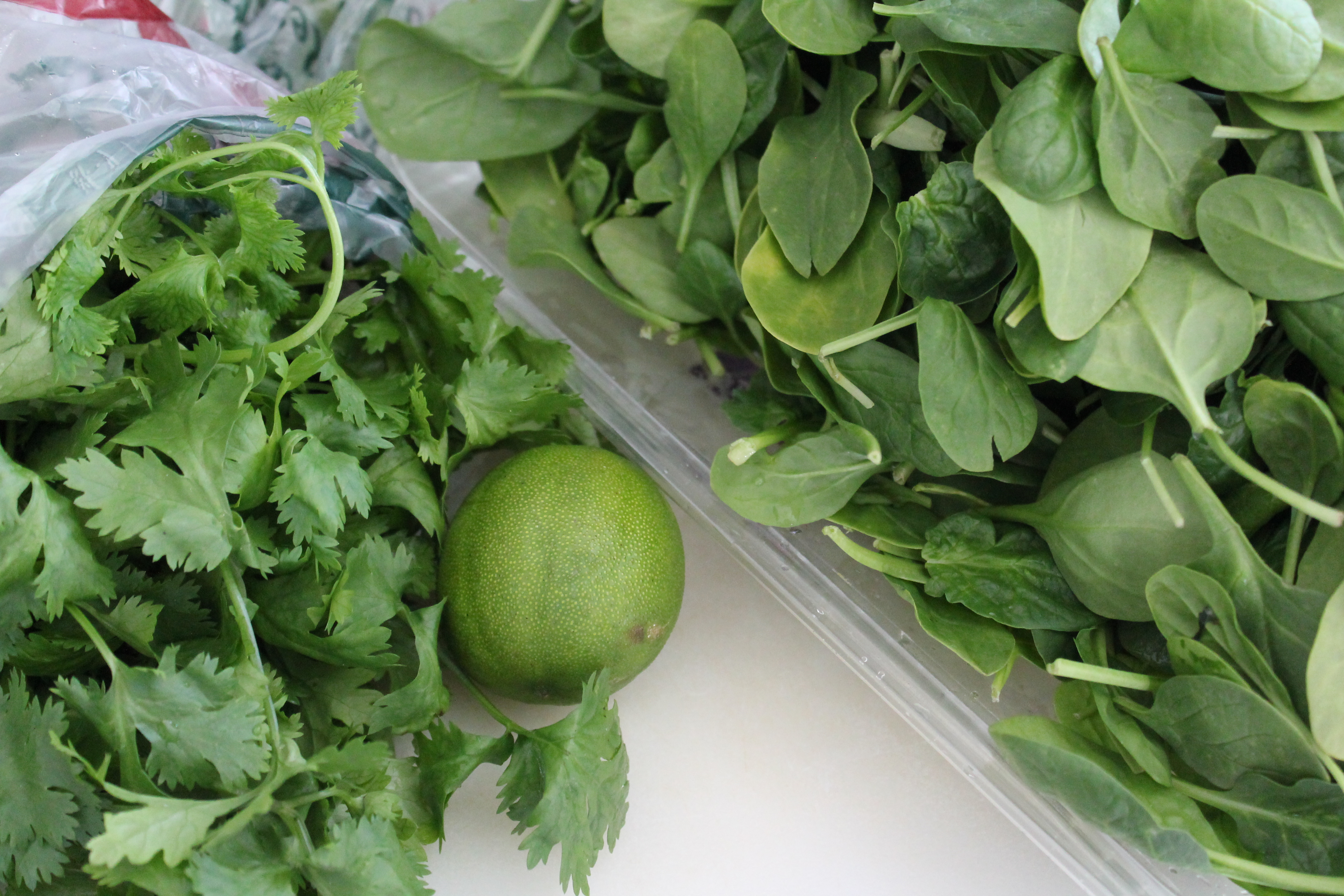 We are adding spinach to our filling! My biggest peeve with spinach enchiladas is when the filling is a mess of long, stringy pieces of spinach, and nothing else. We can solve the first problem by chopping the baby spinach! I actually chopped mine after wilting, but chopping beforehand will work just as well.
We solve the second problem—overly spinachy—by adding a little Greek yogurt or sour cream to the filling along with seasonings and delicious Hatch green chiles.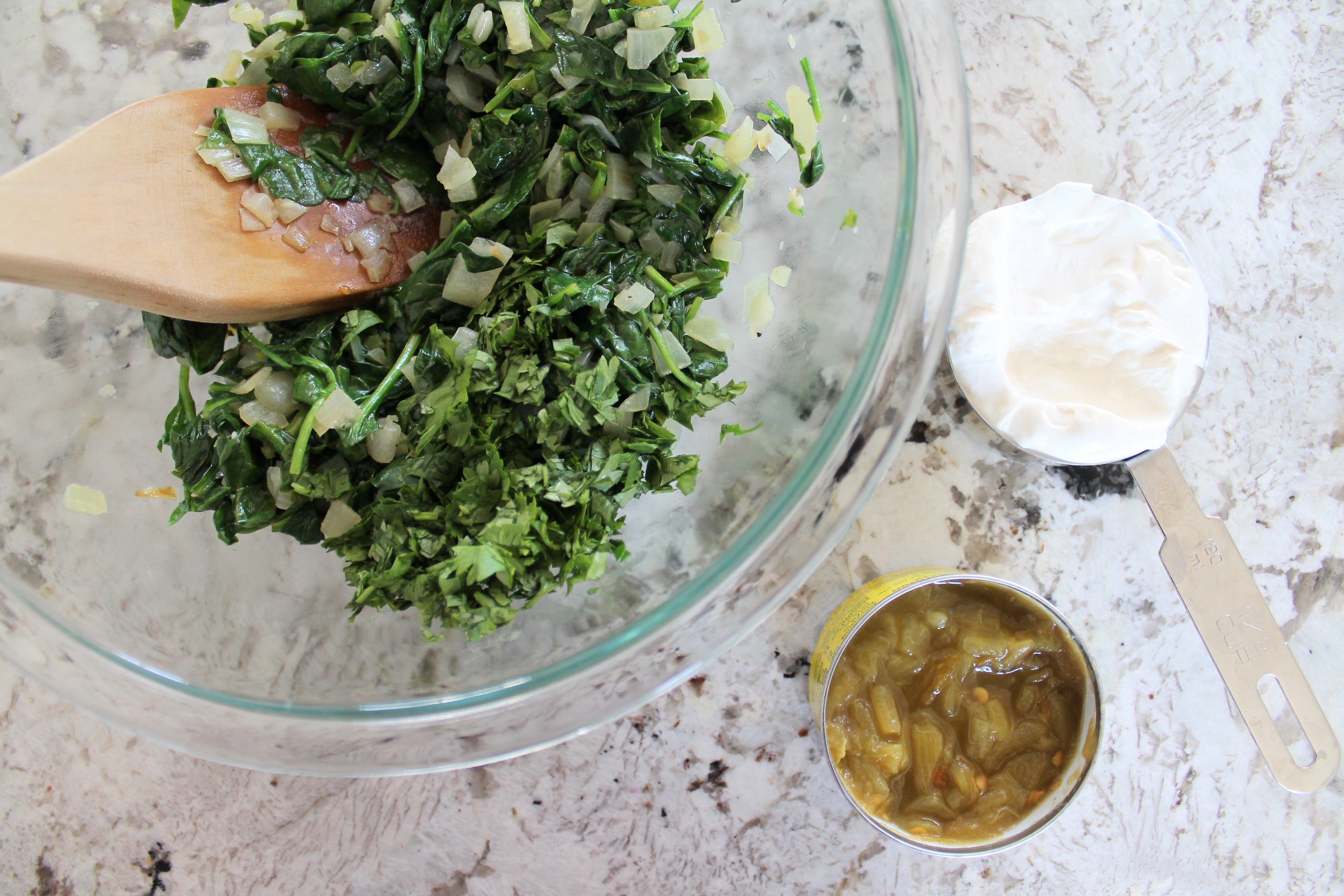 Micha essentially made cheese-stuffed peppers and rolled them up inside her tortillas, which was an interesting method, but I knew that wouldn't go over well with my family. Instead, I went for a more textured filling with chopped chiles.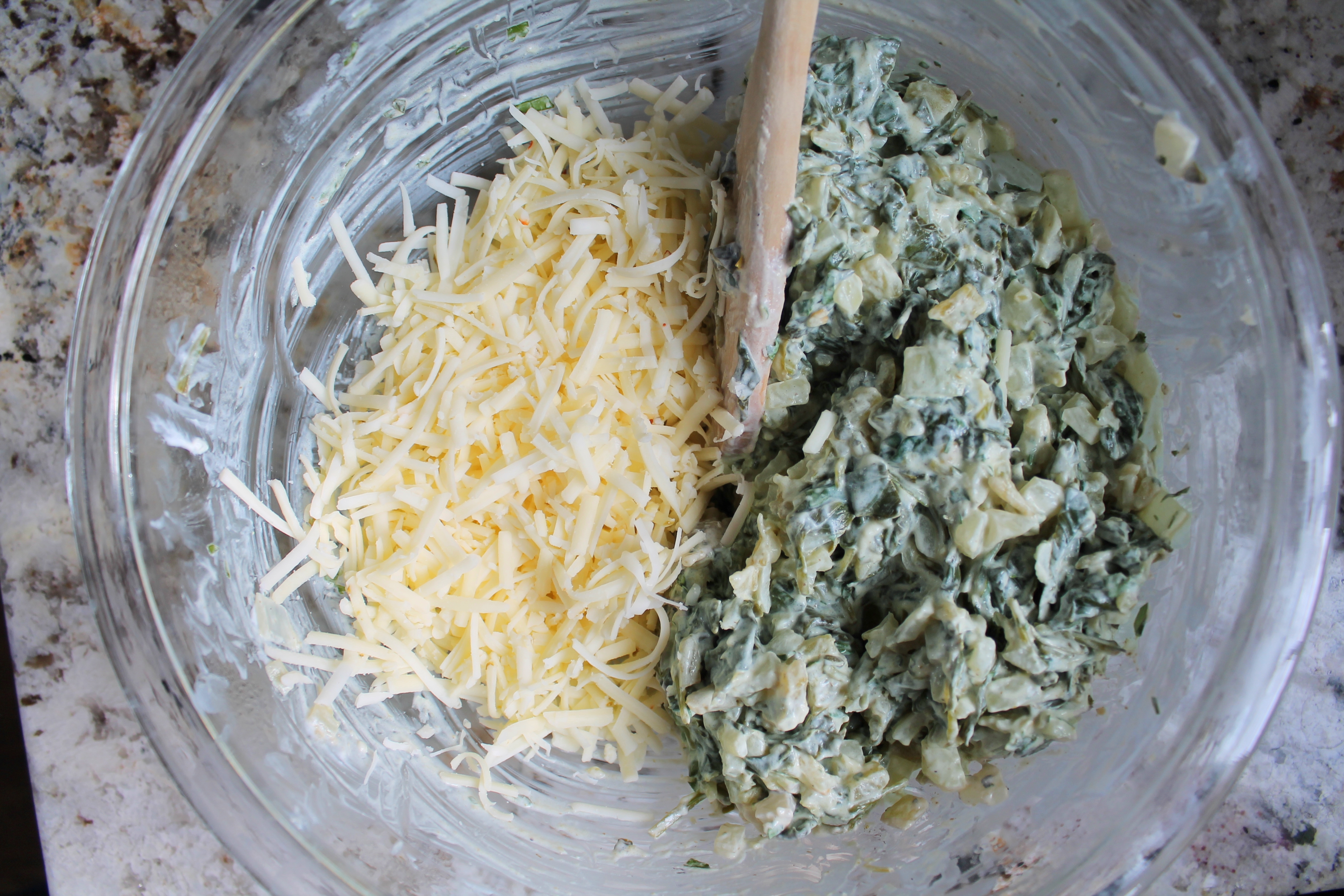 Next, shred a bunch of cheeses, in whatever proportion you prefer, and mix them together. I used about 9 oz. cheese, a mixture of monterey, white cheddar, and pepper jack. I went rather light on the pepper jack in the hopes that my preschooler wouldn't refuse to eat dinner because it was too spicy. If you don't have spice-wary preschoolers, then load up on the pepper jack! Stir half of the cheese mixture into the enchilada filling.
This filling can keep for 24 hours in the refrigerator prior to assembly! Make-ahead always makes dinner time easier.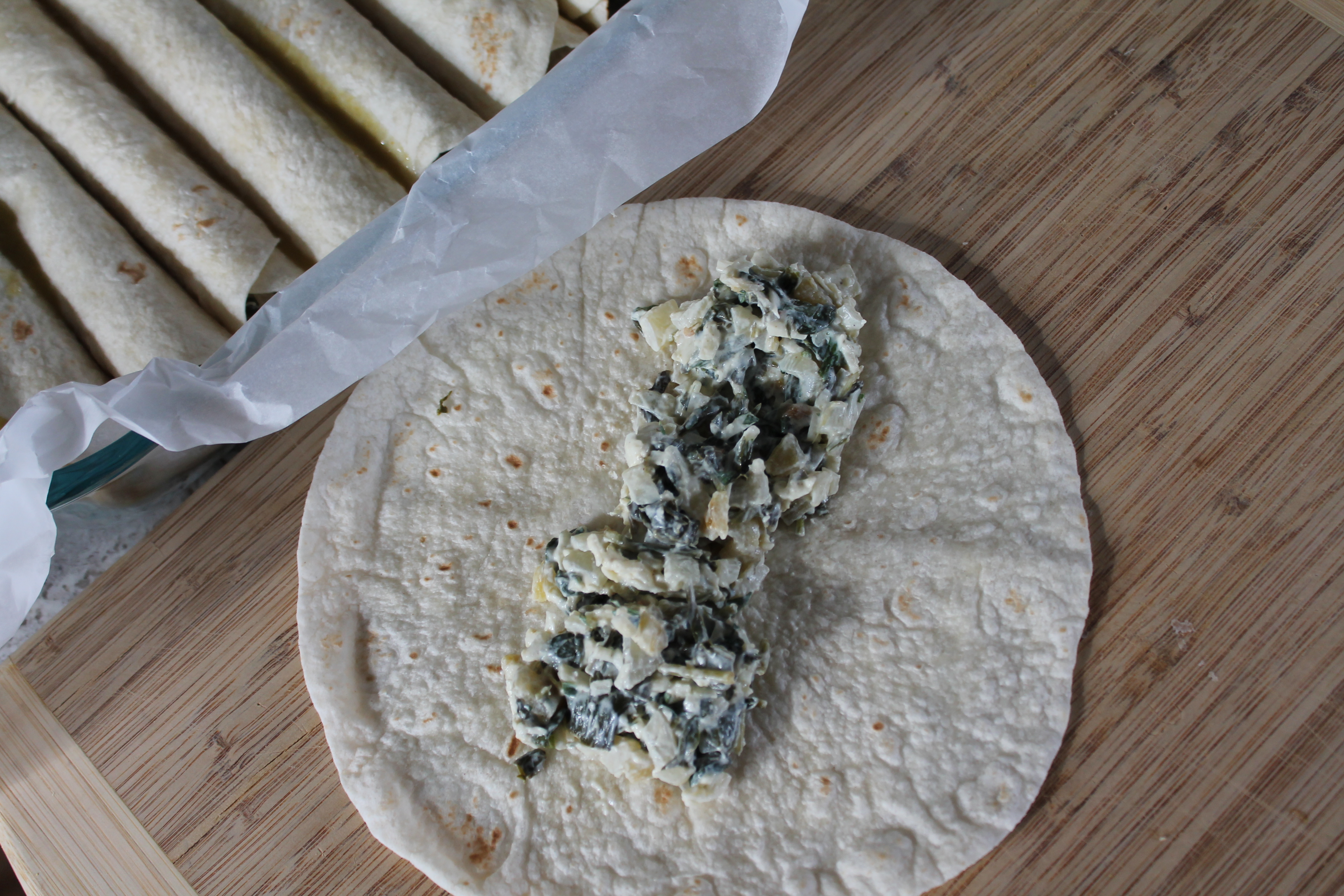 When you are ready to assemble the enchiladas, start by spreading half of the green enchilada sauce at the bottom of a 9″x13″ glass baking dish. I really cannot recommend Hatch green chile enchilada sauce highly enough!
Divide the enchilada filling into 8–10 portions. I made 10 enchiladas, but I had to really cram them into my pan. Eight would work just as well, and you'd get more plump enchiladas!
Spread one portion of filling in the center of an 8″ tortilla, then tightly roll it up, leaving the ends open. I used flour tortillas, because I prefer their taste and texture, but you could go the more traditional (and gluten-free!) route with corn tortillas.
Nestle the wrap in the enchilada sauce and repeat with the remaining tortillas and filling.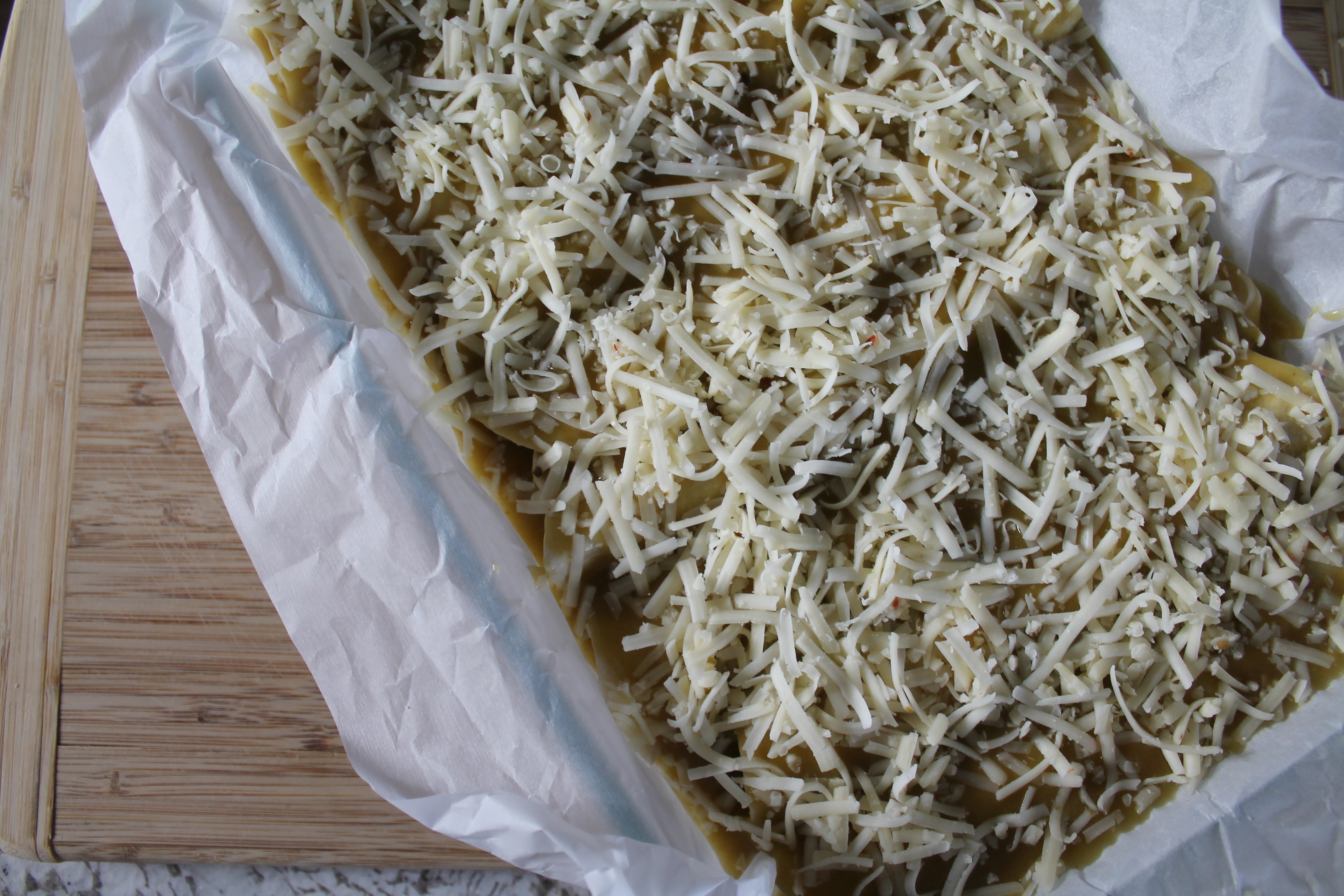 Spread the remaining enchilada sauce over top of the enchiladas. Sprinkle the top with all of the remaining cheese.
Bake for 30 minutes at 350°, or until the cheese is melted and the edges of the pan are bubbling.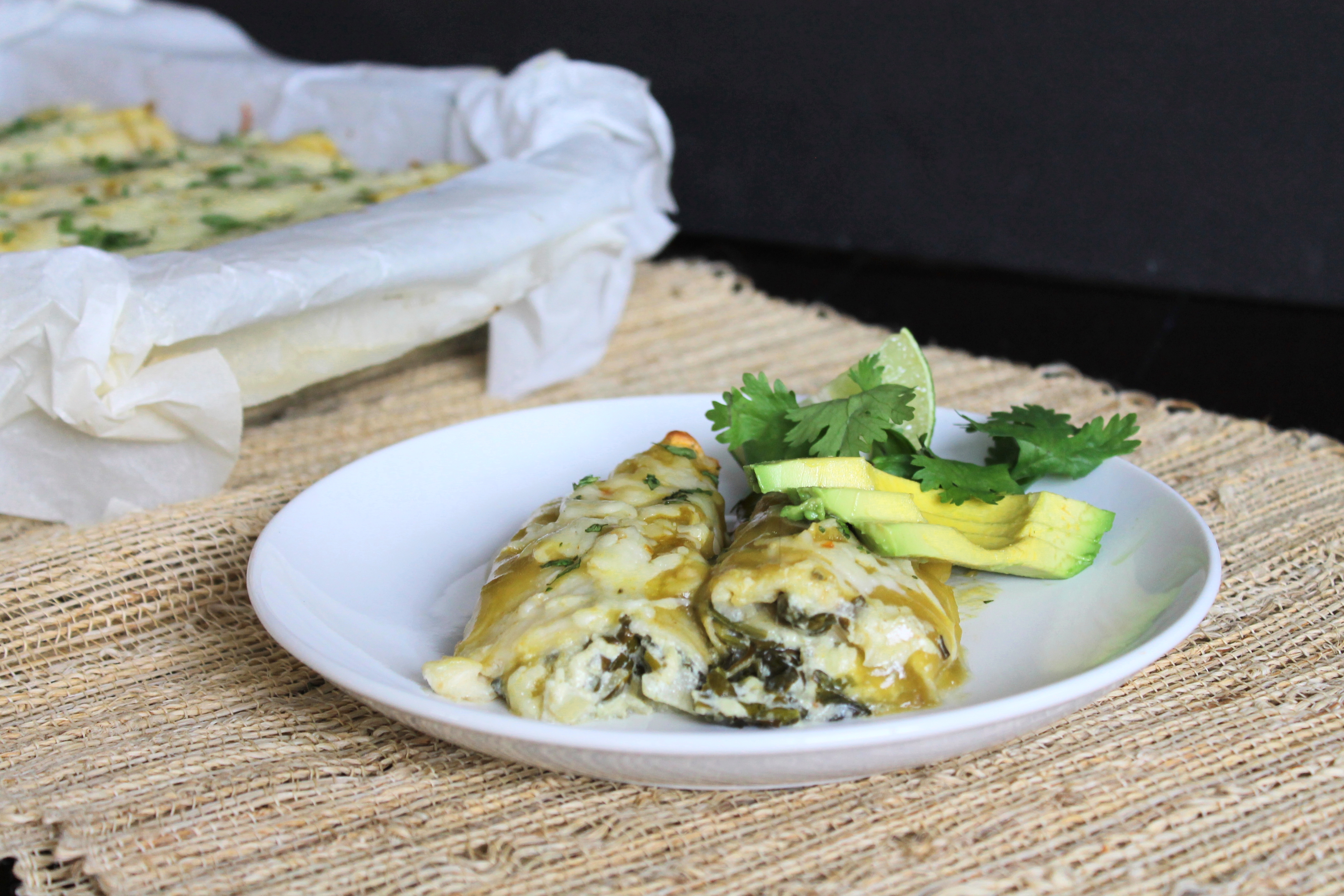 I like cilantro. A lot. I sprinkled extra chopped cilantro over my enchiladas and served alongside sliced avocado.
Seriously, such a delicious meal!
Cheesy Spinach and Green Chile Enchiladas
adapted from Cookin' Mimi
serves 4
Ingredients:
1–2 tbsp. olive oil
1 large yellow onion, diced
2 cloves garlic, minced
10 oz. fresh baby spinach, roughly chopped
salt and black pepper
½ cup Cabot 10% plain Greek yogurt (or sour cream)
1 4oz. can mild chopped Hatch green chiles
2 tbsp. chopped fresh cilantro, plus extra
½ tsp. cumin
1 tbsp. fresh squeezed lime juice
3 oz. white cheddar, shredded
4 oz. monterey jack, shredded
2 oz. pepper jack, shredded
2 15oz. cans medium Hatch green chile enchilada sauce with roasted garlic
8–10 8″ flour or corn tortillas
1–2 large, ripe avocados, sliced
Directions:
Heat the oil in a large skillet over medium heat. Add the onion and garlic. Sauté, stirring regularly, until the onion is translucent and the garlic is fragrant. Add the chopped spinach and stir until wilted. Season lightly with salt and black pepper.
Remove from the heat and transfer to a separate bowl. Stir in the Greek yogurt, green chiles, cilantro, cumin, and lime juice.
Shred the cheeses into a separate bowl and toss together to combine. Transfer about half of the cheese mixture to the bowl with the spinach and stir to combine.
Heat the oven to 350°.
Spread one can of enchilada sauce in the bottom of a 9″x13″ baking dish.
Divide the enchilada filling into 8–10 equal portions. Fill the tortillas and roll tightly into open tubes. Sit the tortilla rolls in the sauce in the baking dish.
When all of the enchiladas are arranged in the pan, spread the remaining can of enchilada sauce over the tops of the enchiladas. Distribute the remaining cheese over the top.
Bake for 30 minutes, until the cheese is melted and bubbly.
Let the enchiladas cool for 5–10 minutes before serving, garnished with extra chopped cilantro and serve with avocado.
Enjoy!