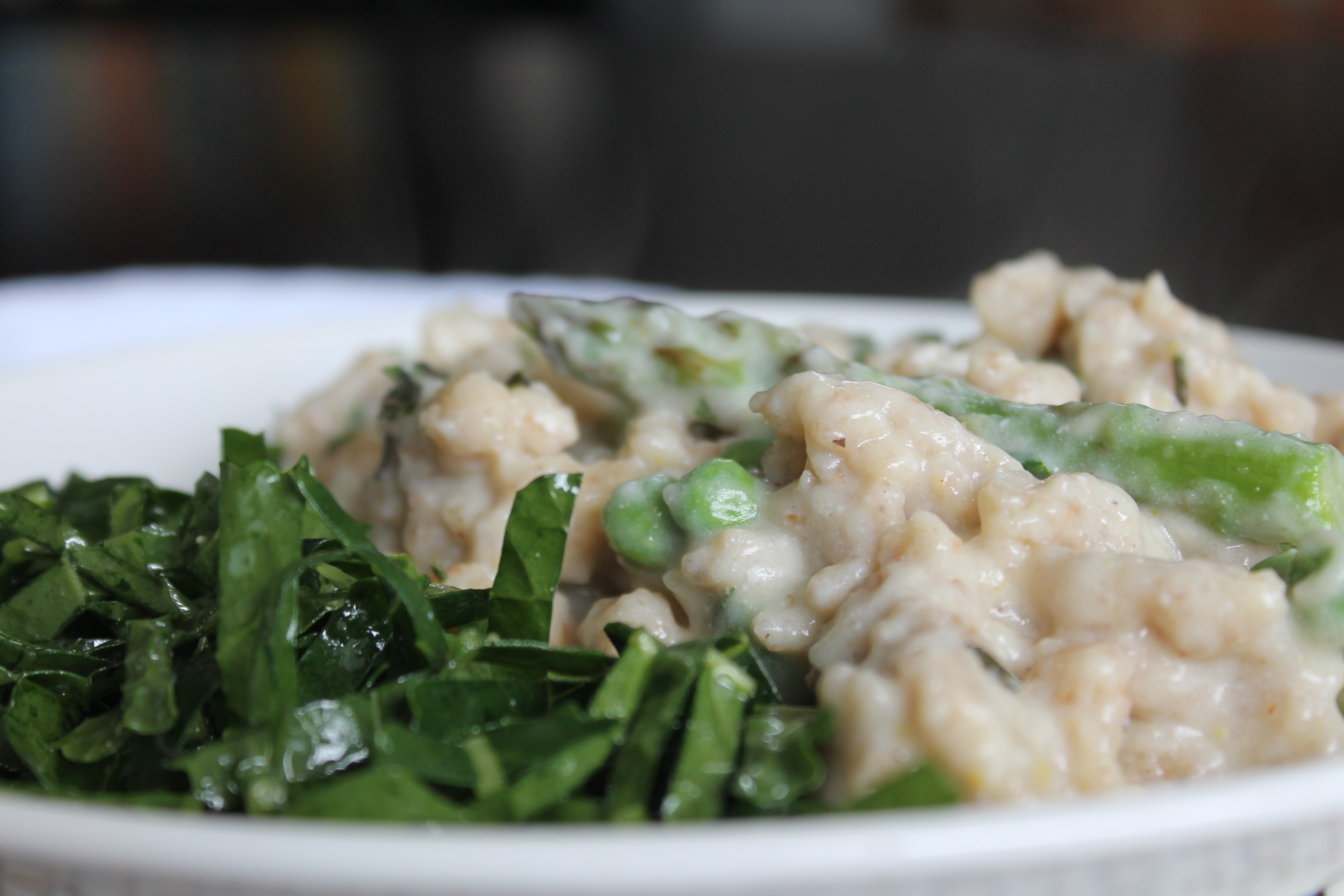 I was a ripe 13-year-old when I first took a formal German class. Middle schoolers are delighted by the idea of pretending to be someone they are not, so it probably comes as no surprise that I thoroughly enjoyed picking out a German name to go by. (I'm still a little sad that this tradition is falling by the wayside. P.S., my "German" name was Andrea.)
Before I share the next tidbit from my early German career, let me first apologize to everyone named Günter, and all German women and German people in general. Because, you see, as my equally pimpled friends and I perused the list of German names in our textbooks, we were struck by how funny they sounded. For some reason, our mirth centered on the name Günter, as we pictured a ruddy and rotund, aproned German mother calling for her son out the front door while stirring a very large bowl of dough.
We, unfortunately, spent the rest of the year pretending to stir invisible bowls of dough and giggling.
This image popped back into my head as Sarah and I were wrestling with the bowl of spaetzle dough.
And, by the way: it's pronounced "sh-paytes-luh." Don't let me hear you calling it "spatsl."
I was a little concerned when Sarah suggested making spaetzle. These wiggly, lumpy looking noodles typically require a special press. I just assumed they would be hard to make.
Turns out, they are not! (And if you use an electric mixer instead of stirring by hand, you can totally avoid the Günter moment.)
We made a rather specialized version of this pasta, accented by rye flour and spring veggies. The most classic version, Kaesespaetzle, is quite simple, a bit like mac and cheese with onions and sometimes fresh herbs. In my memory, Kaesespatzle is lightly chewy and buttery and not terribly saucy. This version succeeds in being chewy, and it's full of the appropriately delicious cheeses, but the addition of Greek yogurt makes it creamy and soft.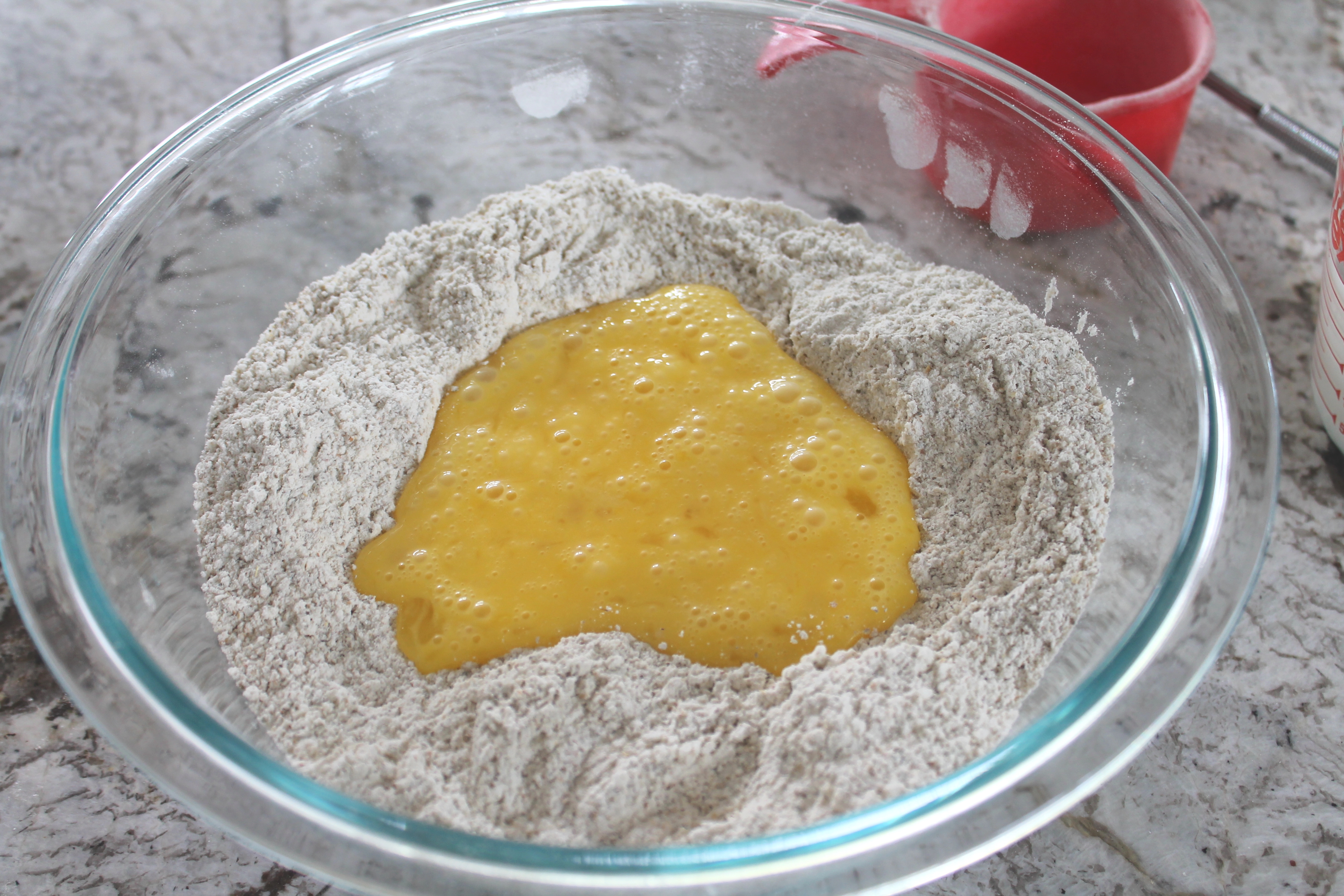 Spaetzle dough (batter?) is very soft and almost gummy. It's simply a combination of eggs whisked into flour (this will test your arm strength, and resembles Italian pasta dough pretty strongly), subsequently diluted by milk.
Cover the spaetzle dough with plastic wrap and let it sit for half an hour.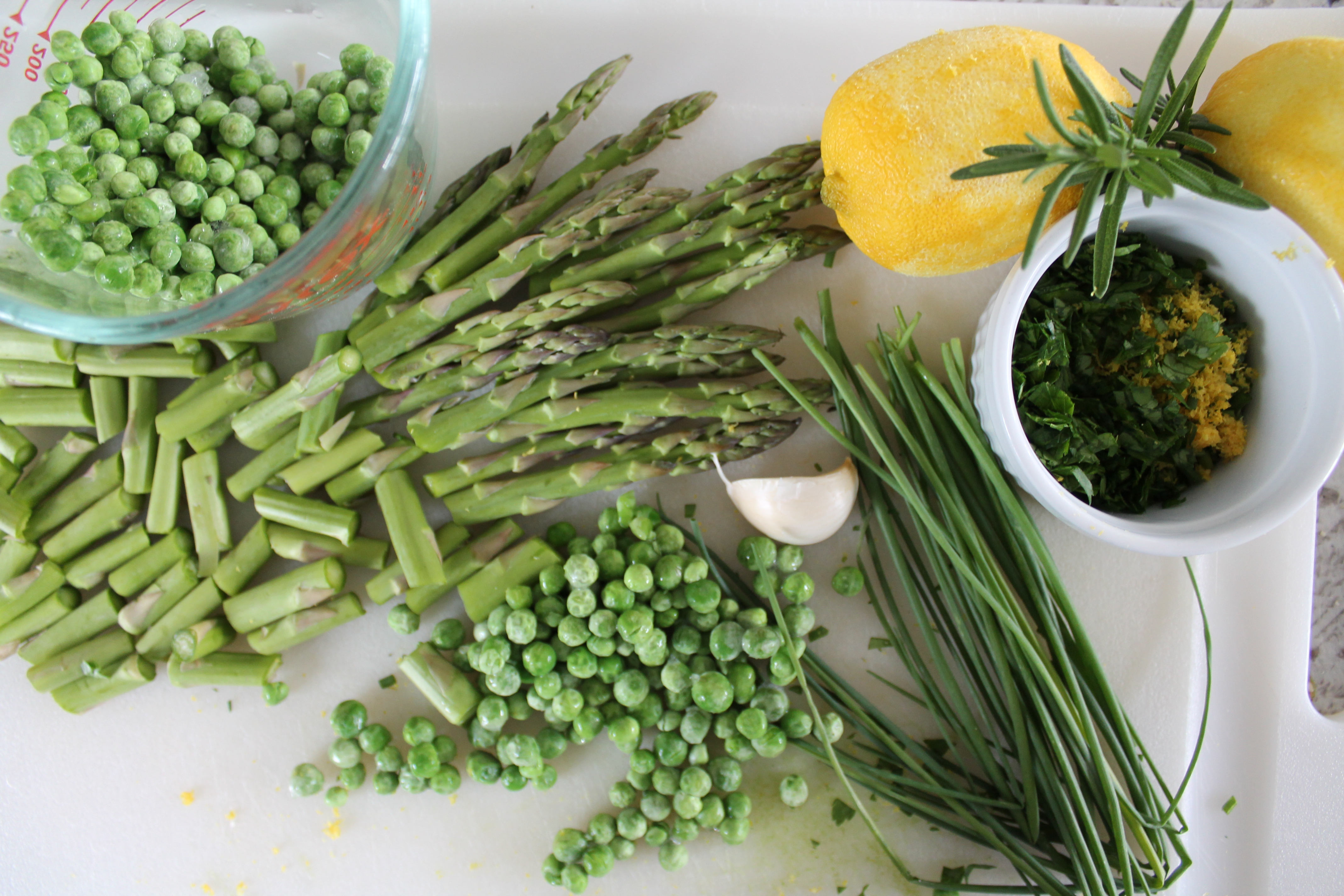 Meanwhile, trim your asparagus into small segments. We used about half a pound of asparagus, and agreed later that we would have liked more! It's Spring. Eat all the asparagus. (But, for this recipe, do make sure you select skinny spears, about the thickness of a pencil.)
It's also a good time to thaw some peas.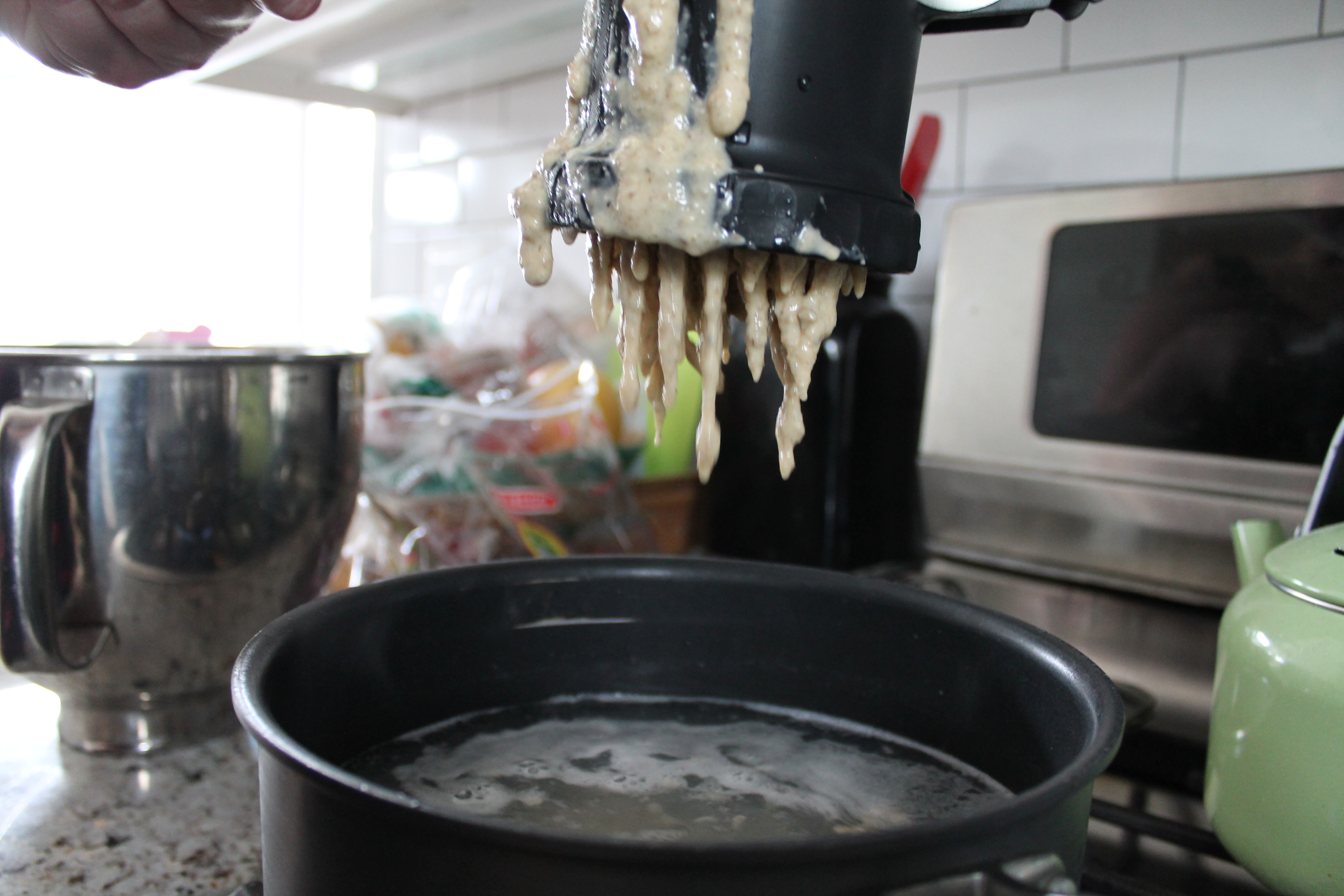 When the spaetzle dough is almost done resting, bring a large pot of very lightly salted water to a boil. We cooked our pasta in batches so we wouldn't have as many problems with it sticking together in the pot.
I am blessed to own a potato ricer, which basically looks like an enormous garlic press, and can be used to press spaetzle! An actual spaetzle maker is good, too, but if you have neither of these very specialized tools, you can actually just use a large colander!
The dough is so soft and runny, all you need to do is spoon it into the potato ricer/spaetzle maker/colander, and it will drip out  into squiggly looking little noodles all on its own. It's a fairly gloopy and messy operation.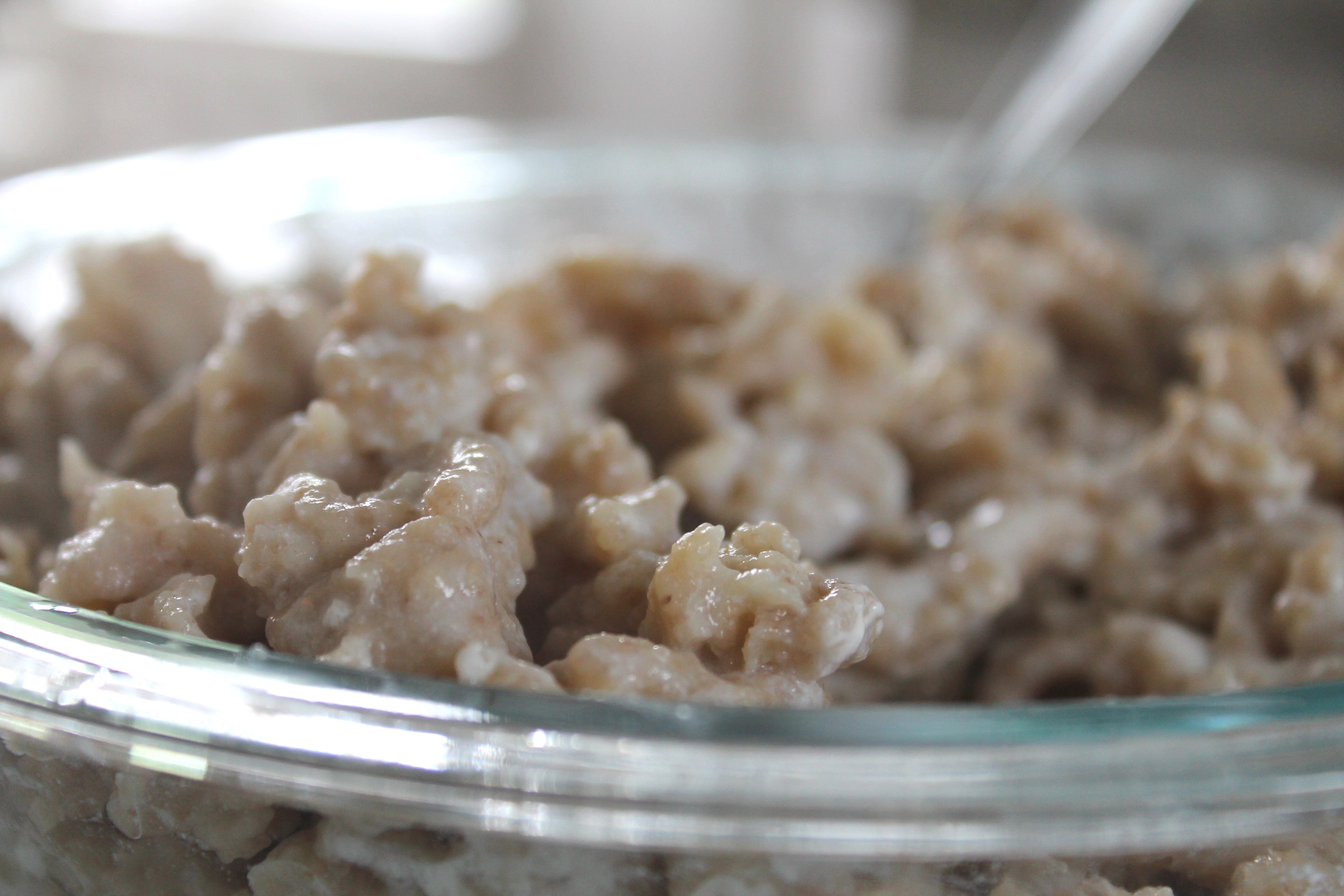 Boil the pasta for 2 minutes, or until the noodles float. With a slotted spoon, scoop out the floating noodles and transfer them to a bowl while you boil the rest of the pasta dough. Immediately toss the noodles with your choice of crème fraîche, full-far sour cream, or Cabot 10% fat plain Greek yogurt. I always have the yogurt on hand in large quantities, and it tastes almost exactly like crème fraîche because of the high fat content, so we used that here.
Importantly: do not dump out the pasta water. You need some of that starchy water to make a nice cheesy sauce for the pasta!
While the spaetzle noodles cook, sauté the asparagus with butter and garlic in a very large pan. (This pan needs to be large enough to accommodate all of the pasta after it's cooked, so don't skimp on pan size.) More butter, more better, my friends. The asparagus shouldn't cook for long! Don't overdo it. Stringy asparagus is unpleasant to eat.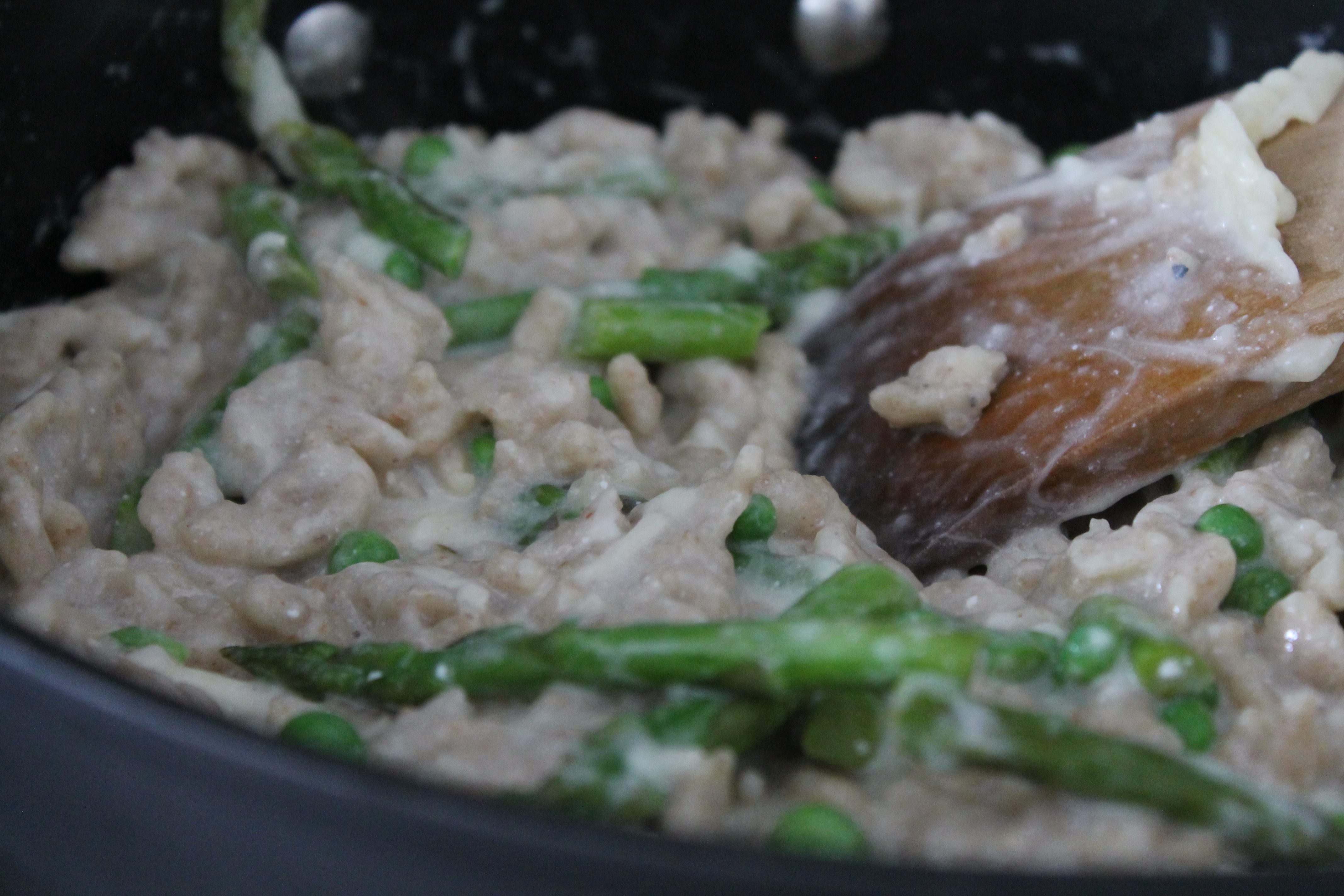 When the asparagus is barely tender, add the cooked spaetzle, shredded gruyere (ooh, can you sense a theme with my Spring cooking this year?) and a mound of thawed peas. Splash in some of that nice, starchy pasta water and stir until the cheese sauce is even and thickly coating the noodles.
Don't forget to season! We used a generous amount of fresh nutmeg, salt, and pepper, plus a bunch of fresh stuff: minced parsley, chives, rosemary, and lemon zest. (We actually tossed our rosemary on top, but mixing it in is good, too!) It tastes exactly like Spring, people!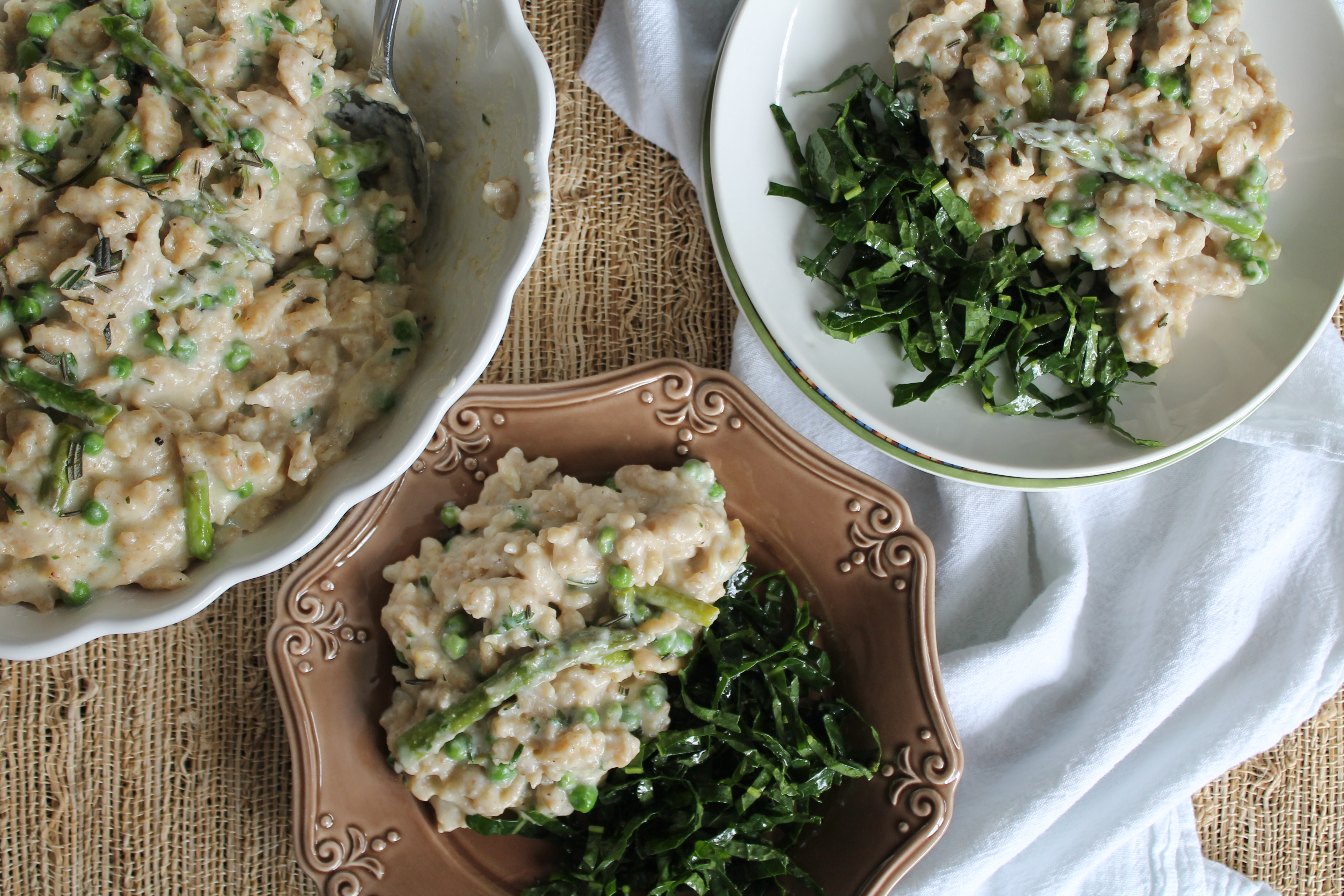 Scoop the spaetzle into a large serving dish and top it with some lightly dressed greens of your choice. We used ribboned lacinato kale from my garden!
Rye Spaetzle with Spring Veggies
lightly adapted from Tasting Table
serves 4–6
Ingredients:
2 cups flour
1 cup rye flour
1 tsp. kosher salt
4 eggs
1 cup plus 2 tbsp whole milk
2 cups chiffonaded/ribboned lacinato kale or other leafy greens
1 tbsp. lemon juice
1 tbsp. olive oil
2 tbsp. crème fraîche, sour cream, or Cabot 10% plain Greek yogurt
2 tbsp. butter
½–1 lb. slender asparagus, trimmed and cut into 2″ segments
1 large clove garlic, minced
1 cup frozen peas, thawed
1 cup gruyère, shredded
2 tbsp. minced fresh chives
1 tbsp. minced fresh parsley
1 tsp. minced fresh rosemary
2 tsp. lemon zest (from 1 large lemon)
¼ tsp. fresh grated nutmeg
salt and black pepper
Directions:
Whisk together the flour, rye flour, and kosher salt in a large mixer bowl. Using the paddle attachment, stir in the eggs. The dough will be very stiff. With the mixer on very low speed, gradually pour in the milk until completely mixed.
Cover the bowl tightly with plastic wrap and let the batter rest for 30 minutes on the counter.
While the batter rests, toss the kale with the lemon juice and olive oil. (If using a different or less hearty leafy green, you may need to wait to do this to prevent wilting.)
When the spaetzle batter has rested sufficiently, bring a large pot of lightly salted water to a boil. Spoon the spaetzle batter into a spaetzle maker, potato ricer, or large colander (it helps to hold the spaetzle maker over top of the boiling water while doing this, as some dough may start to drip out on its own). Gently press the dough through the holes. It will naturally break into small noodles about 2″ long.
Boil the pasta until it floats, about 2–3 minutes. Scoop out the floating spaetzle with a slotted spoon (reserving the pasta water) and transfer the cooked noodles to a large bowl. Immediately toss with the crème fraîche.
Meanwhile, in a very large skillet, melt the butter. Add the asparagus and cook for 2 minutes, stirring occasionally. Add the minced garlic and stir until warm and fragrant.
Toss the cooked pasta, thawed peas, and shredded gruyère into the skillet with the asparagus. Add 1 cup of the reserved pasta water. Stir this mixture until a thick, cheesy sauce coats the noodles.
Stir in all the chopped fresh herbs and lemon zest. Add nutmeg, salt, and pepper. Taste and adjust seasonings as needed.
Serve topped with (or alongside) the dressed kale.
Enjoy!