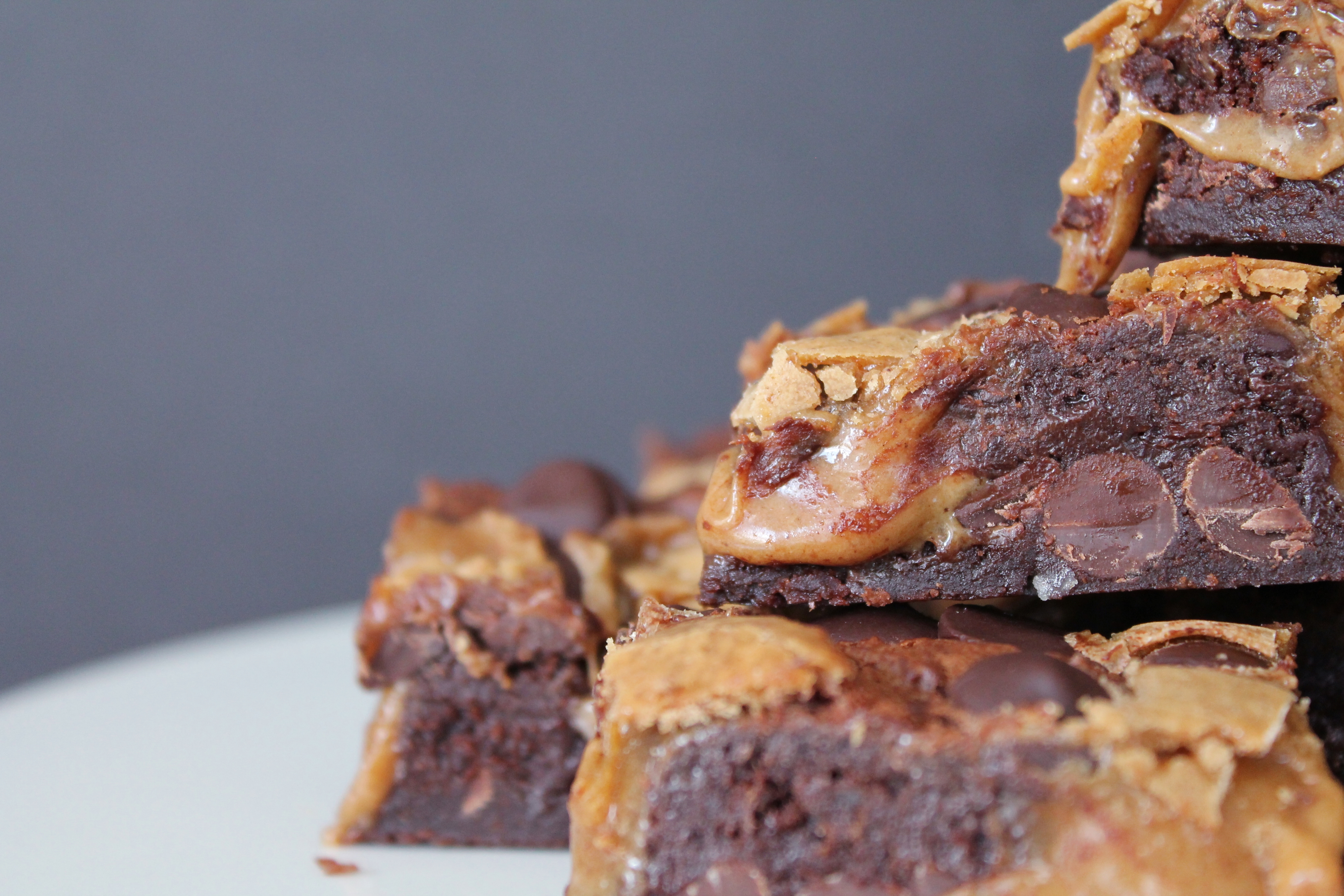 Oh my word.
I have no words. Words have left the building and they have been replaced by drooling.
Cookie butter. Truffle. Brownies.
You see, my friends, this is exactly what is so great about the Secret Recipe Club! When I fall into a dessert rut, I love exploring the creativity of other bakers, like Tracy of Pale Yellow.
I started out this month planning to make a healthy dinner. I had even geared myself up to make a vegetarian version of Tracy's taco salad. But my mind just kept drifting back to her desserts, amazing treats like Chocolate Hazelnut Cake and Fancy Pants Brownies and Tiramisu Cheesecakes. And, oh glory, cookie butter truffle brownies. A match made in heaven.
Now let me warn you. These brownies are all kinds of sticky. I don't know how Tracy managed  to get her truffles to behave so well, to pose so calmly for their photos, but mine were simply oozing after their time in the oven. Which isn't all bad, you know! (I suspect my homemade cookie butter is likely the culprit: it is probably a little softer than storebought versions.)
The sticky and gooey pockets of cookie butter pair so well with these rich, fudgy brownies! I promise you'll love them.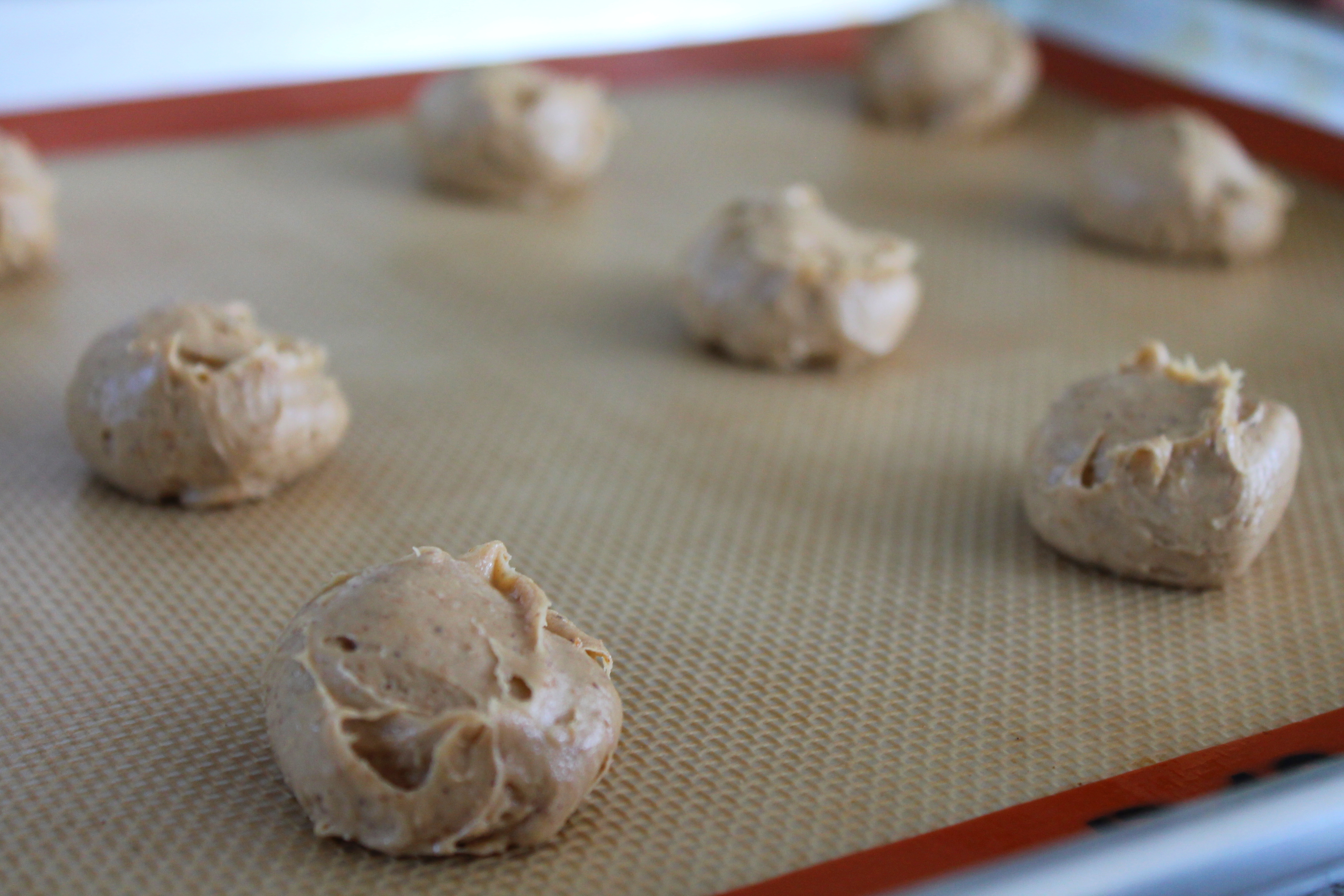 First, quickly whip up some cookie butter truffles. This is as easy as mixing confectioner's sugar and salt with cookie butter. (In retrospect, my truffles probably would have been firmer if I had skipped the extra sugar and beaten the cookie butter with cream cheese instead!) I used my homemade version of traditional, spiced cookie butter for some delicious results! But you could go for a flavored or store version as well; I know there are a few varieties out there, such as cookies and cream, or cocoa swirl. Pick your fave, and roll it up into little balls of cookie goodness. Don't forget the salt, which you desperately need to balance the sweet upon sweet of cookie butter and even more sugar.
I made this recipe twice, and my personal preference was to make ten cookie butter balls, eat one, and plant nine into the brownie batter later. I'm just saying. (If you make nine from the get-go, that will work, but the cookie butter pockets will be slightly bigger.) As you may notice from the photos in this post, I also tried making 12 cookie butter truffles. The OCD/type-A person inside me didn't really like this, because it meant that in order to cut through the truffles after baking and cooling, I would end up with oblong and, honestly, unevenly sized brownies, rather than a nice group of brownie squares. Don't judge me. I like order.
Freeze the truffles for 15 minutes before rolling the scoops into neat balls. Then freeze for at least an hour before making the brownie batter. Trust me, it is required to freeze them: if you don't, your truffles will end up smushing into the brownie batter instead of pressing nicely down to the bottom. You'll thank me later.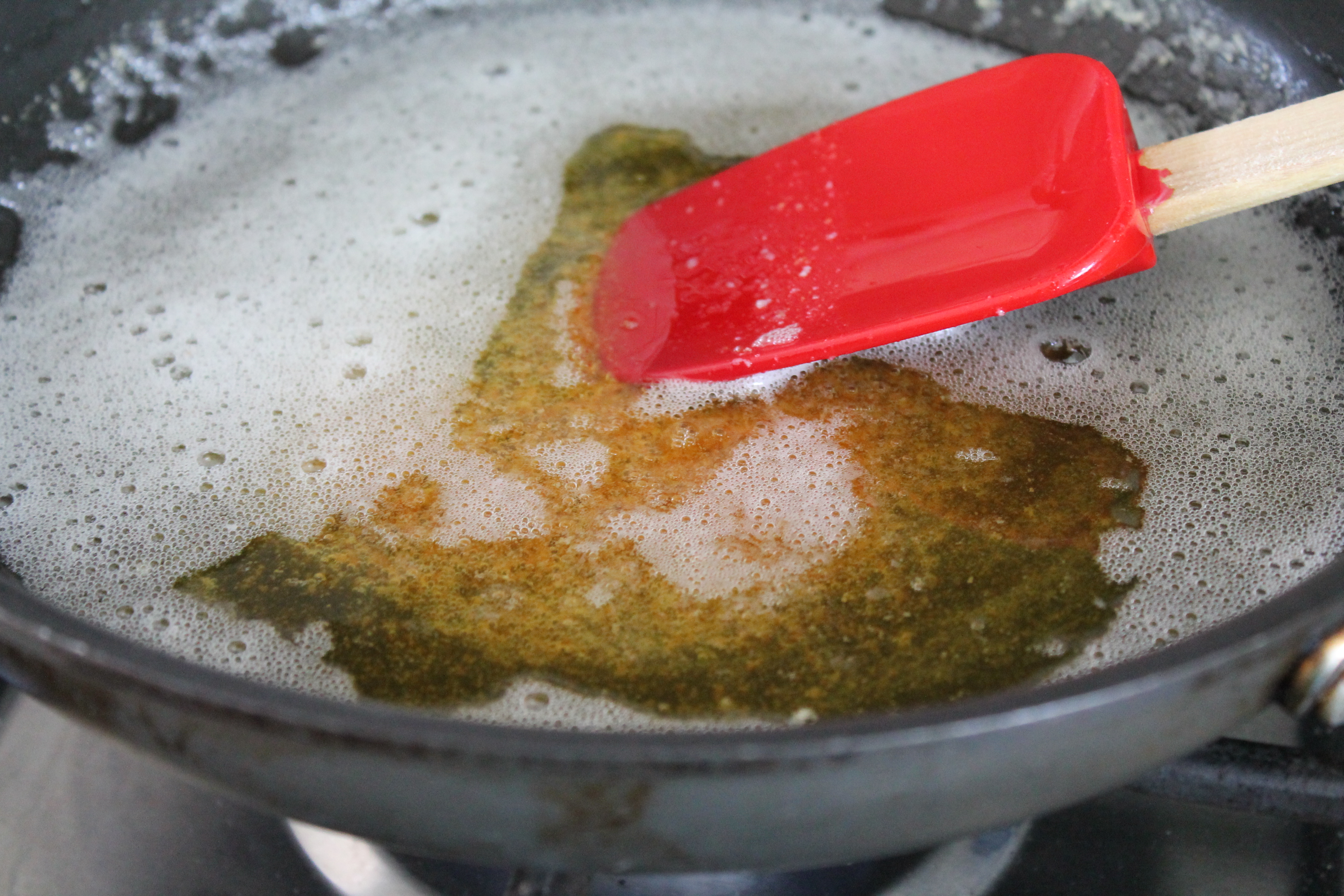 When you are ready for brownies, start by browning the butter. This extra step is so worth it for the deep, rich flavor it adds to the chocolate brownie. The dark butter really helps the sweet chocolate stand up to the sweet-and-spice of the cookie butter truffles!
It's very easy to brown butter. Simply add your cold butter to a saucepan over medium-low heat and swirl or stir it occasionally. When it begins to foam, regularly scrape a spatula over the bottom of the pan to prevent the milk solids from sticking or burning. The milk solids in the butter will caramelize, or turn brown, rather quickly. They will smell nutty and gorgeous. When the butter appears to be a medium-brown, and smells great, pour it into a separate bowl, scraping out those nutty milk solids with the rest of the butter (which will be paler than the milk solids, like ghee).
Let the brown butter cool slightly, so that it's not hot enough to start cooking an egg on contact.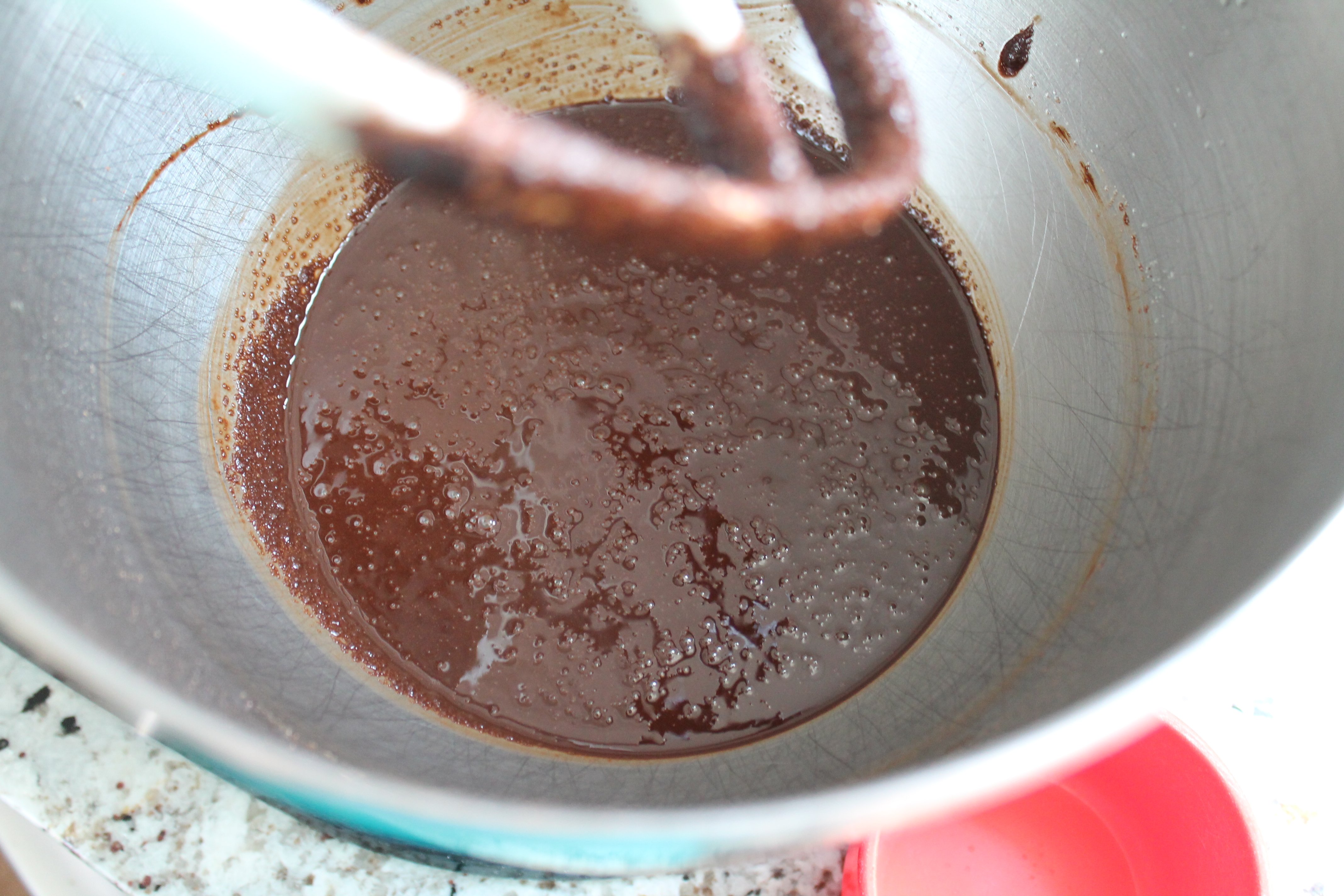 Then, mix away! Add the sugar and cocoa powder to the brown butter and beat until even. Stir in some vanilla, salt, and water (yes, water: some of the liquid in the butter evaporated while you were browning it).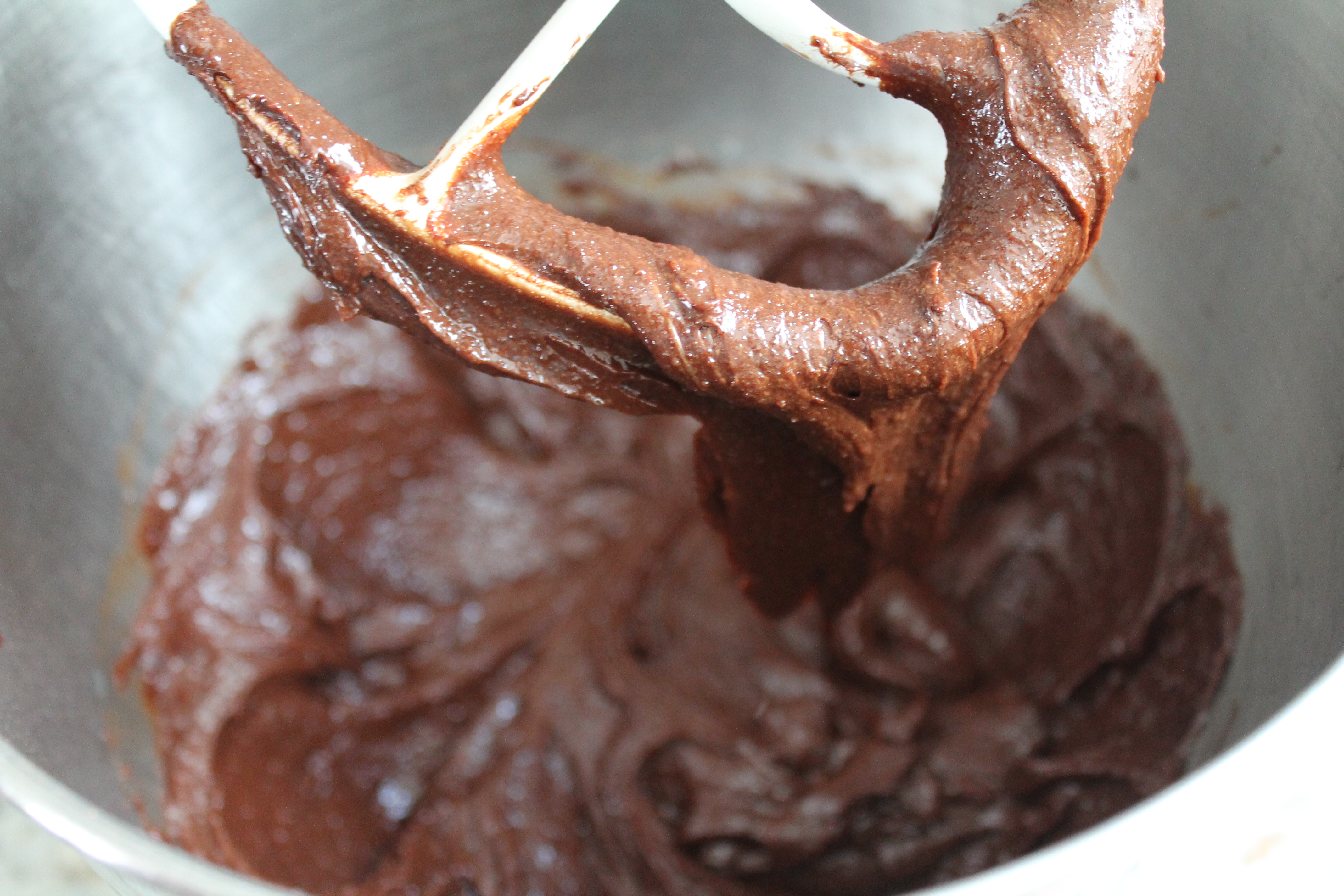 Beat in the eggs, one at a time, scraping the sides of the bowl between each addition. It's okay if the batter still looks a little gritty at this point.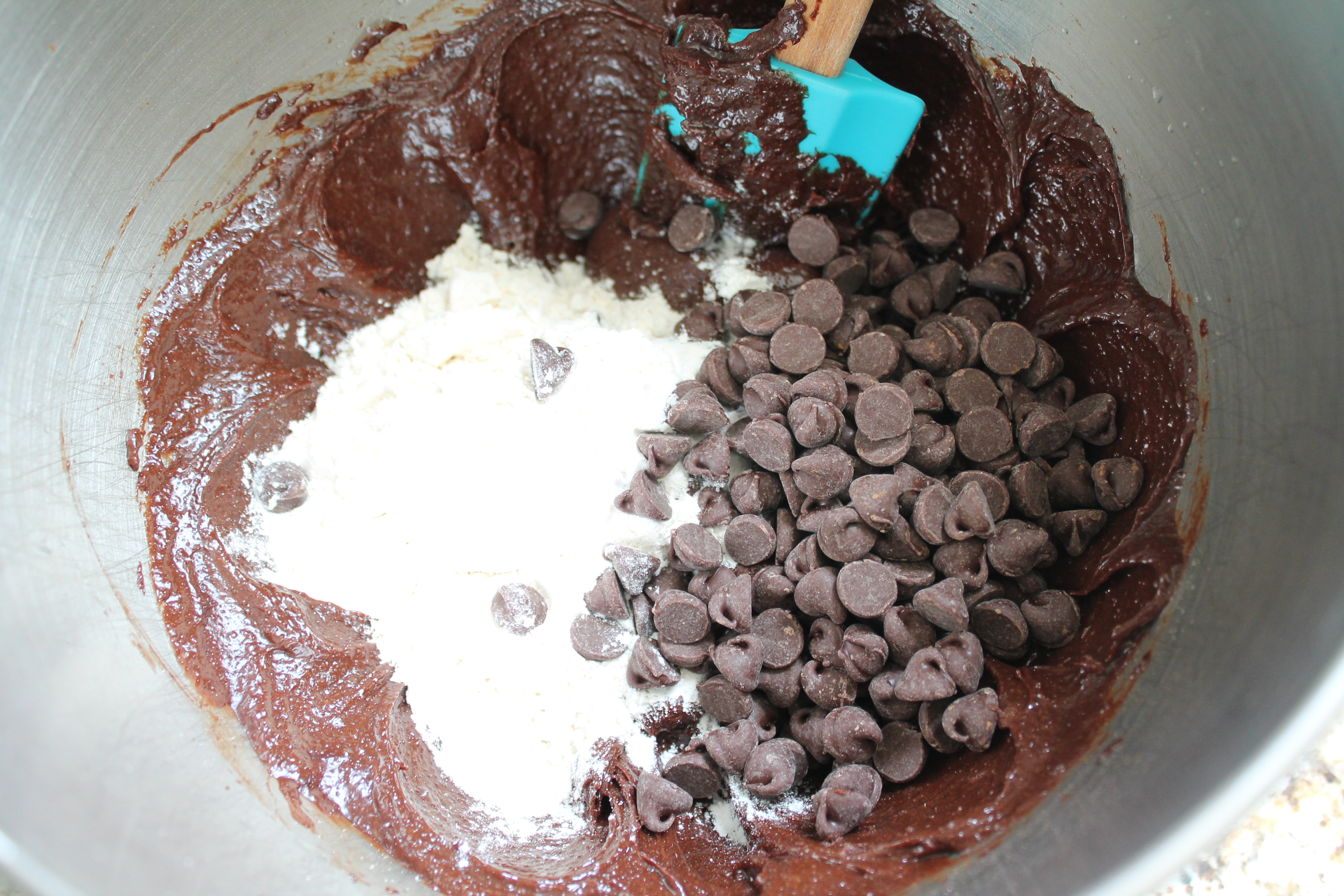 Add flour and semisweet chocolate chips. My, this is rich! Stir until the batter is completely even. It is a very thick batter, so work quickly at this point, before it starts to set even further!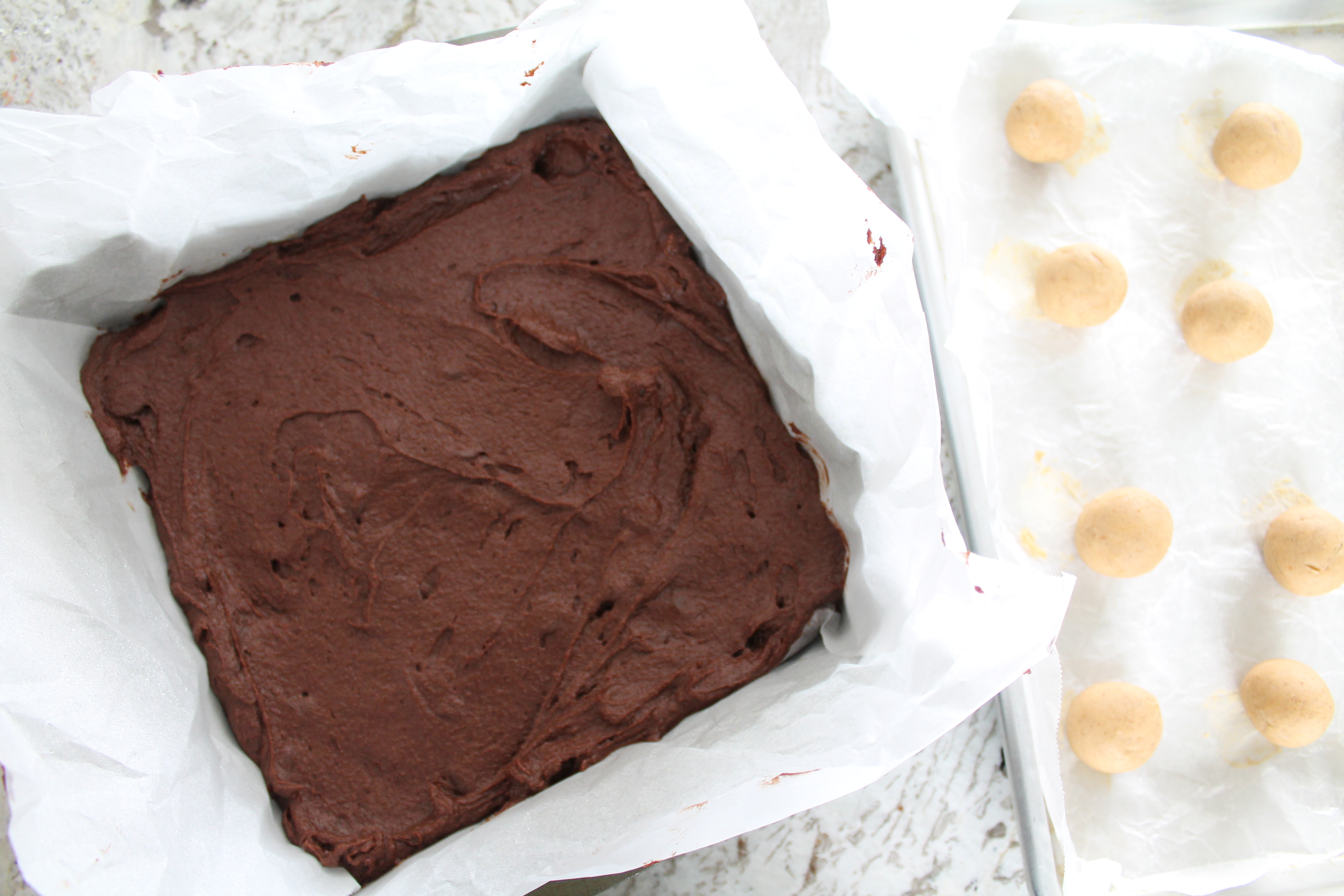 Scrape the brownie batter into a lined and greased 8″ square baking dish. Press the cookie butter truffles into the batter in a grid. (As I said earlier, my preference is 9 truffles for a 3×3 grid, which easily cuts into 16 lovely square brownies!) Or, I guess, you could be haphazard about it and just throw them into the pan and squish them in. If you must.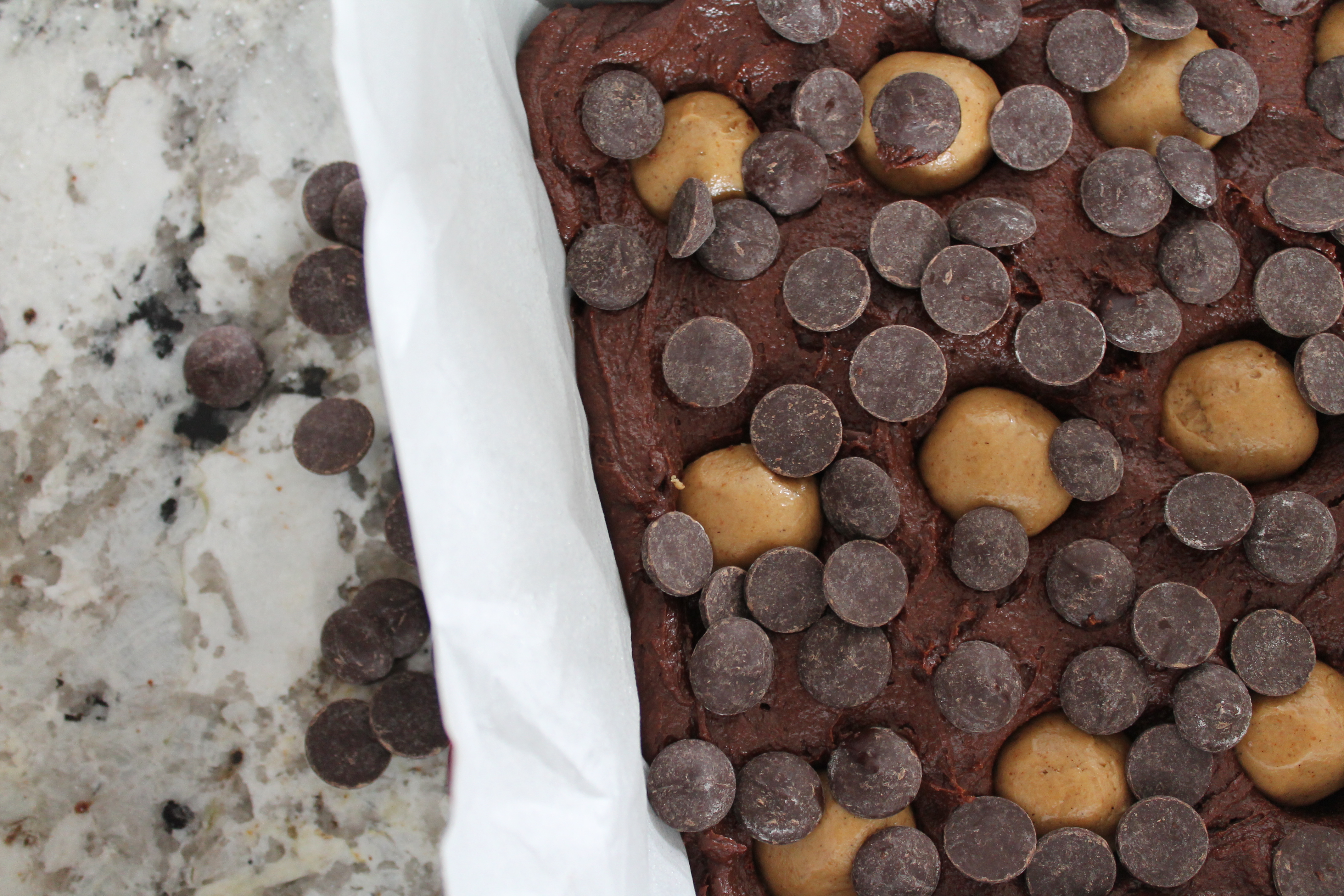 Distribute more chocolate over the top. I loved using bittersweet chocolate on the top instead of semisweet! These brownies are so sweet that the extra dark chocolate really complements them well.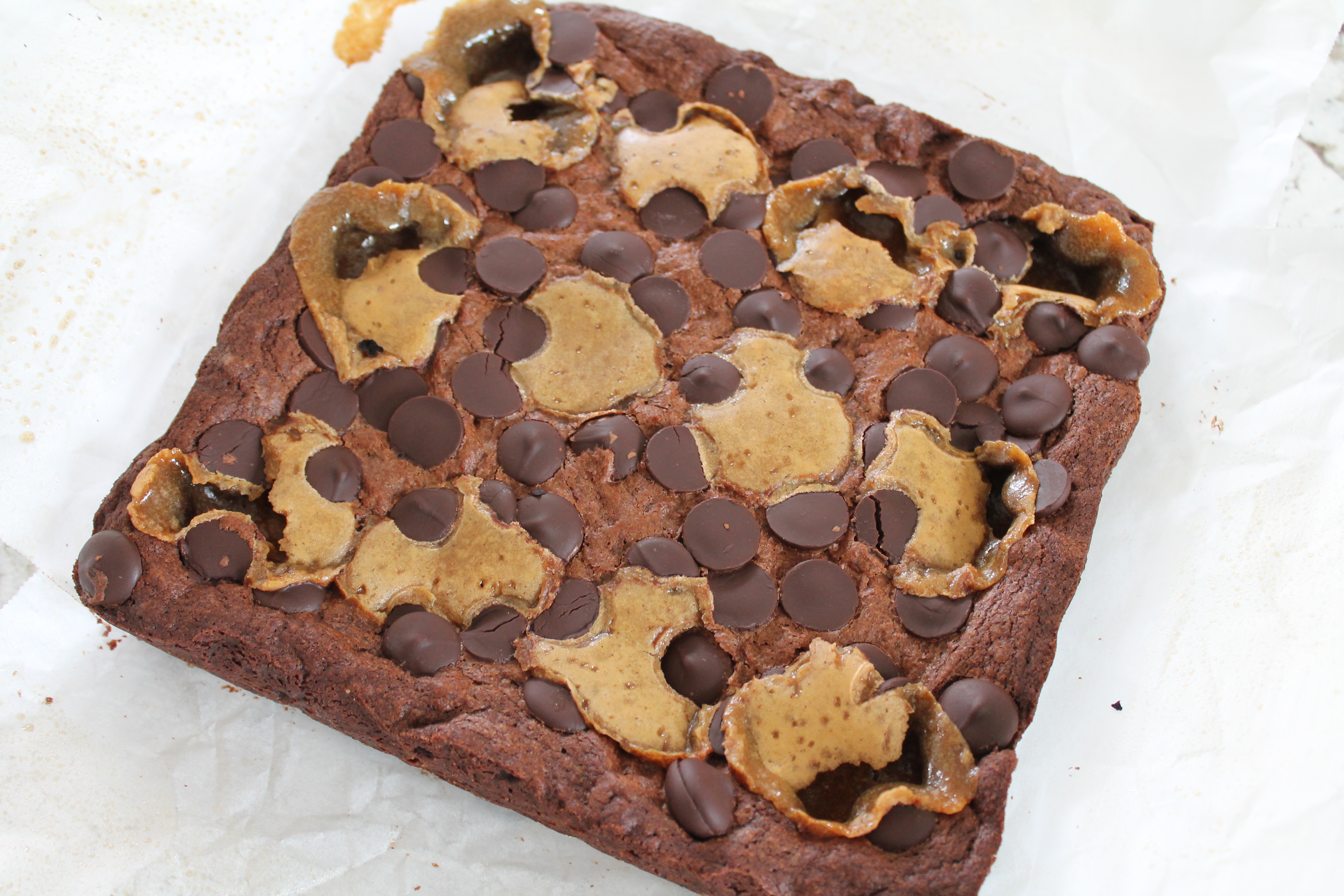 And bake for 25–30 minutes. I found that the cookie butter truffles puffed considerably, and a few even exploded to reveal their gooey centers. As long as the brownie is set and not jiggly, you are good to go.
Let the brownies cool absolutely completely before trying to cut them. I chilled mine, which resulted in even more stickiness (but less cookie butter dribbled out onto my cutting board that way).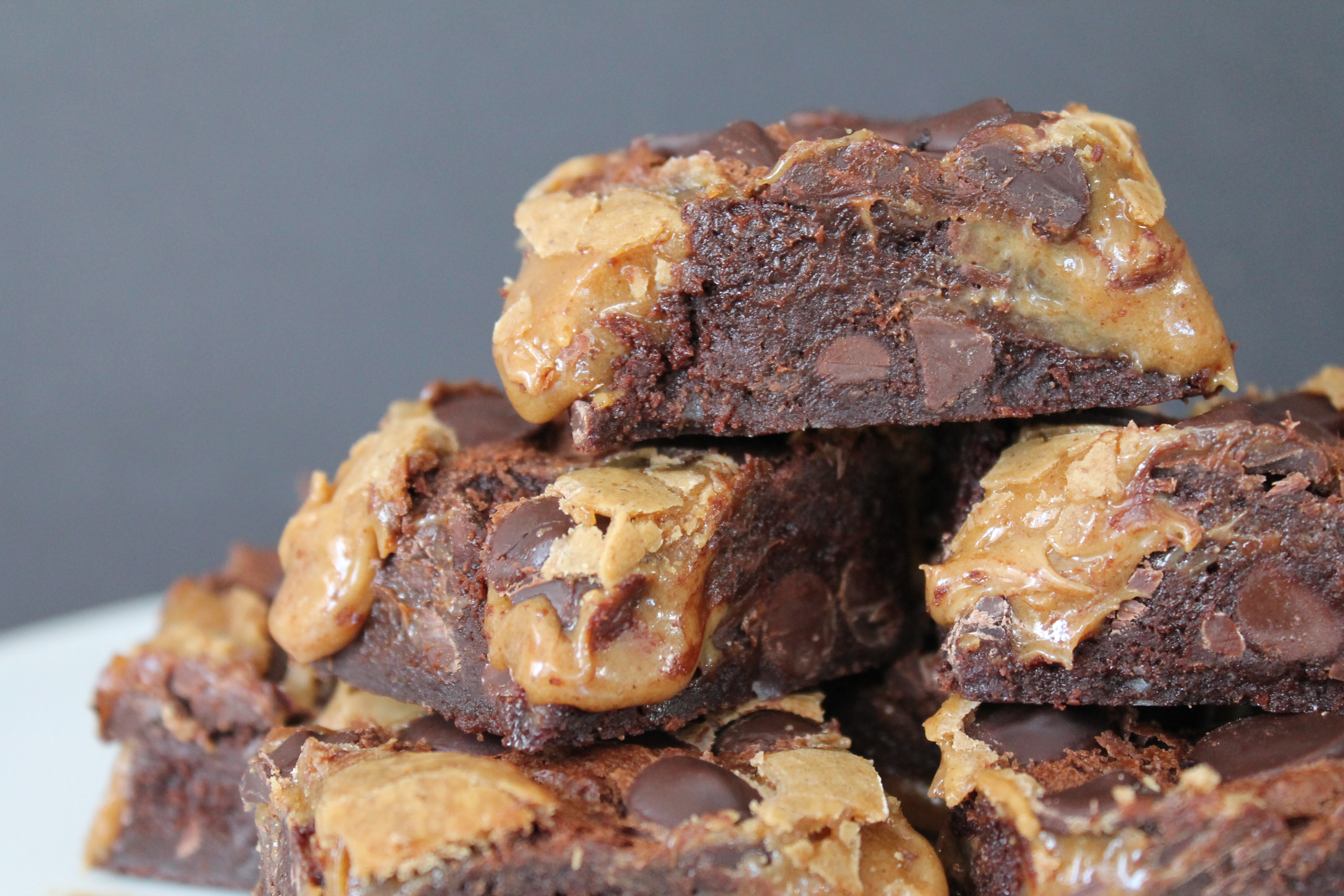 Serve with a glass of cold milk.
(Sticky) Cookie Butter Truffle Brownies
lightly adapted from Pale Yellow
makes 16
Ingredients:
½ cup cookie butter, storebought or homemade
½ cup confectioner's sugar
½ tsp. salt, divided
12 tbsp. unsalted butter
1¼ cups sugar
¾ cup cocoa powder
1 tsp. vanilla extract
1½ tsp. cold water
2 eggs
½ cup flour
¾ cup semisweet chocolate chips
½ cup bittersweet chocolate chunks
Directions:
Combine the cookie butter, confectioner's sugar, and ¼ tsp. salt in a large bowl. Beat together until completely smooth. Scoop into 9 balls. Freeze at least 1 hour.
Preheat oven to 350°. Line an 8″ square baking dish with parchment paper, and spray the parchment lightly with cooking spray.
In a medium saucepan, brown the butter over medium-low heat, stirring with a spatula to prevent the milk solids from burning. When the butter is fragrant and nicely browned, immediately transfer to a separate bowl. Allow to cool about 10 minutes.
Beat the brown butter, sugar, and cocoa powder together. Add the vanilla, water, and remaining ¼ tsp. salt, and stir to combine.
Beat in the eggs, one at a time, scraping the sides of the bowl between each addition.
Stir in the flour and semisweet chocolate chips.
Scrape the batter into the prepared baking dish, spreading to the corners with a spatula. Arrange the chilled cookie butter truffles in a grid and press into the batter. Top with the bittersweet chocolate chunks.
Bake for 25–30 minutes, until the center of the brownies is set and the tops of the cookie butter truffles are lightly golden.
Cool completely before cutting with a very sharp knife.
Enjoy!