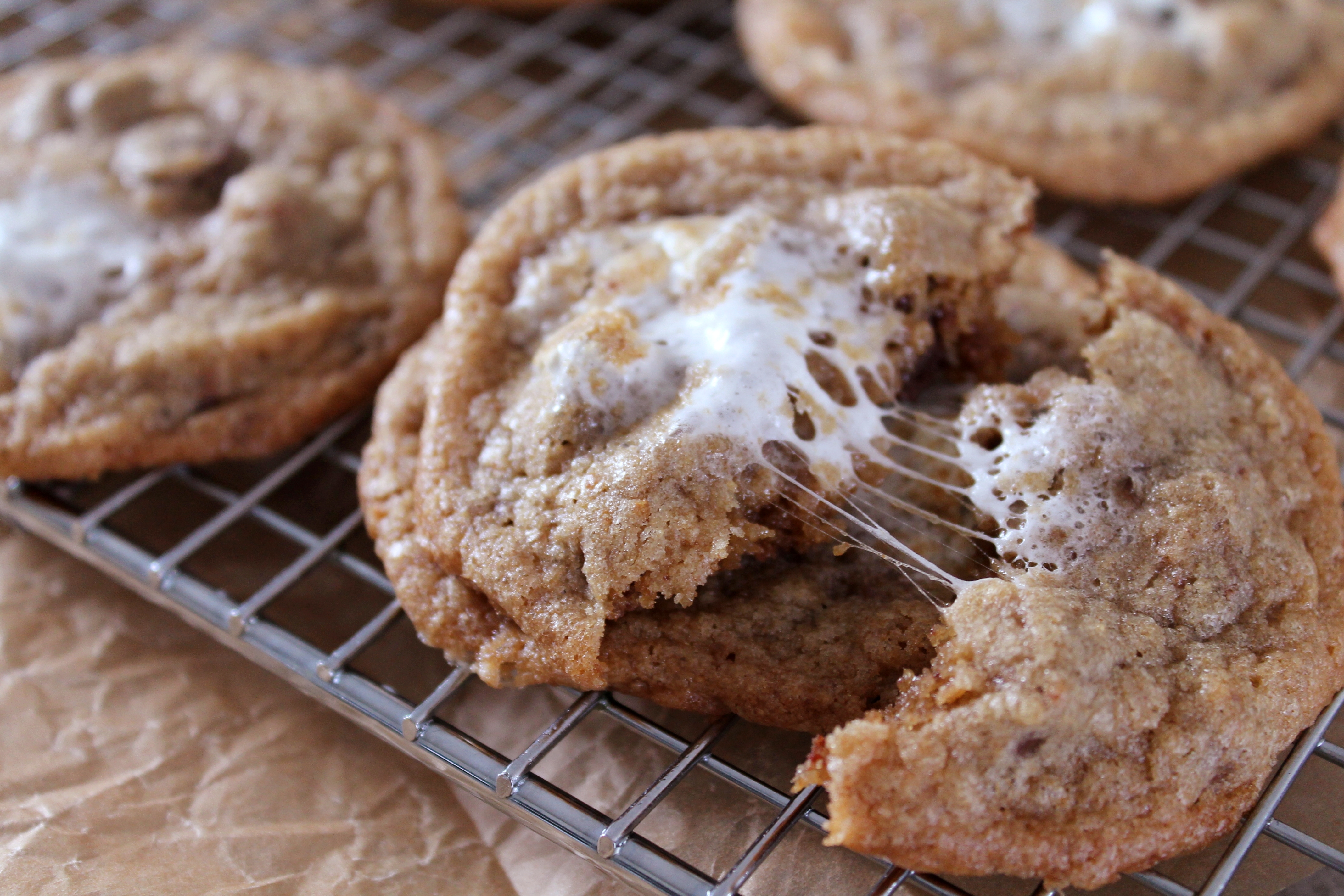 My son loves to make up creative desserts.
A few weeks ago, I told him I like cookie dough ice cream, and he responded that he was making me a "super delicious" cookie dough out of salt, pepper, baking soda, and sugar.
He may need to grow a little in his understanding of baking chemistry.
But he still has some seriously good ideas! Like s'mores cookies. Which were totally scrumptious, and totally his idea.
These cookies are so great. Stretchy, sweet marshmallows, mild graham flavor, and milk chocolate. Summer will thank you.When Jake demanded that we make s'mores cookies, I quickly decided to adapt the simplest cookie recipe I know to meet his craving.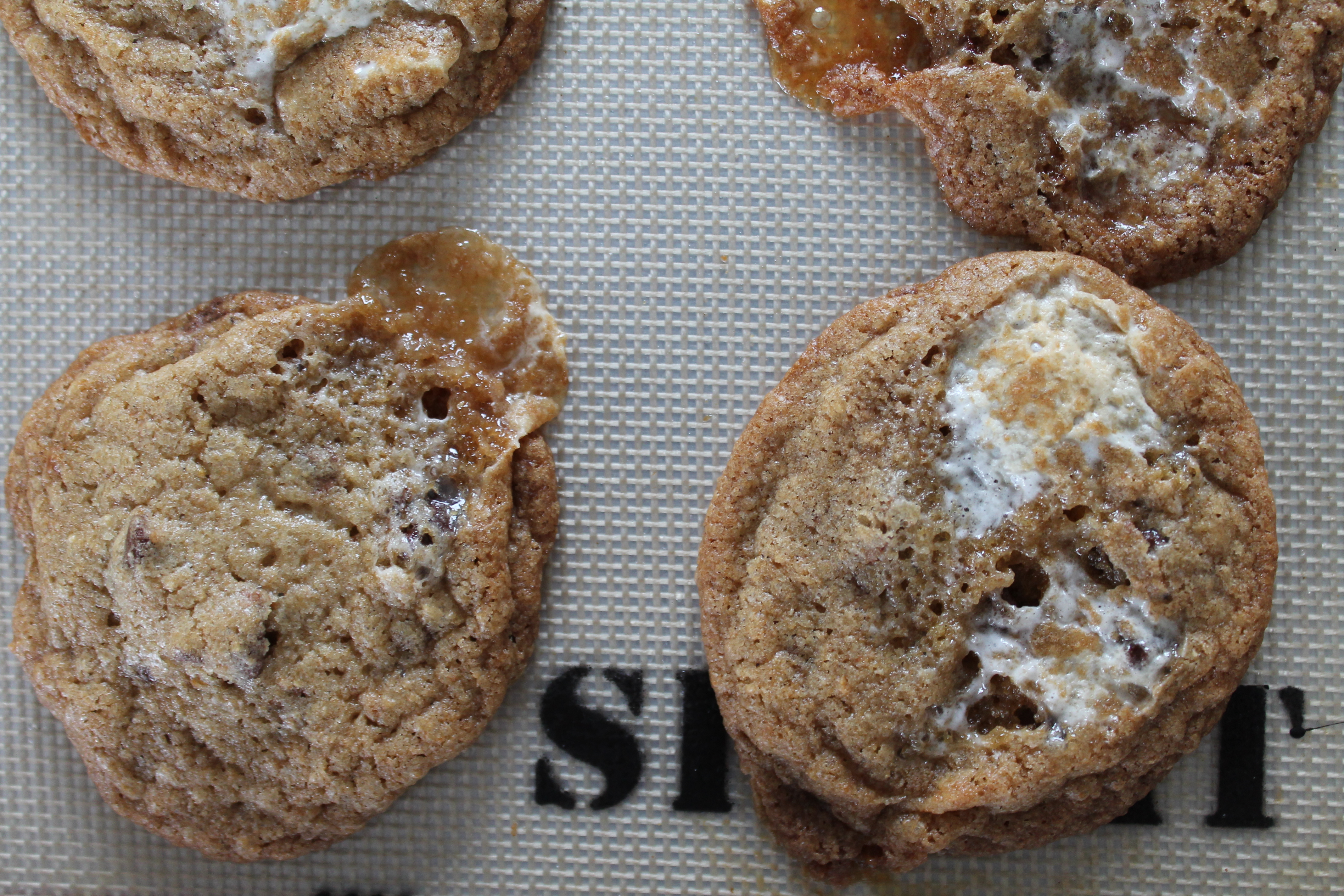 Start with soft, unsalted butter. Beat it together with brown sugar, white sugar, and two eggs. Beat until everything is well combined and fluffy. Scrape the sides of the bowl.
Next, stir in vanilla extract, baking soda, and salt.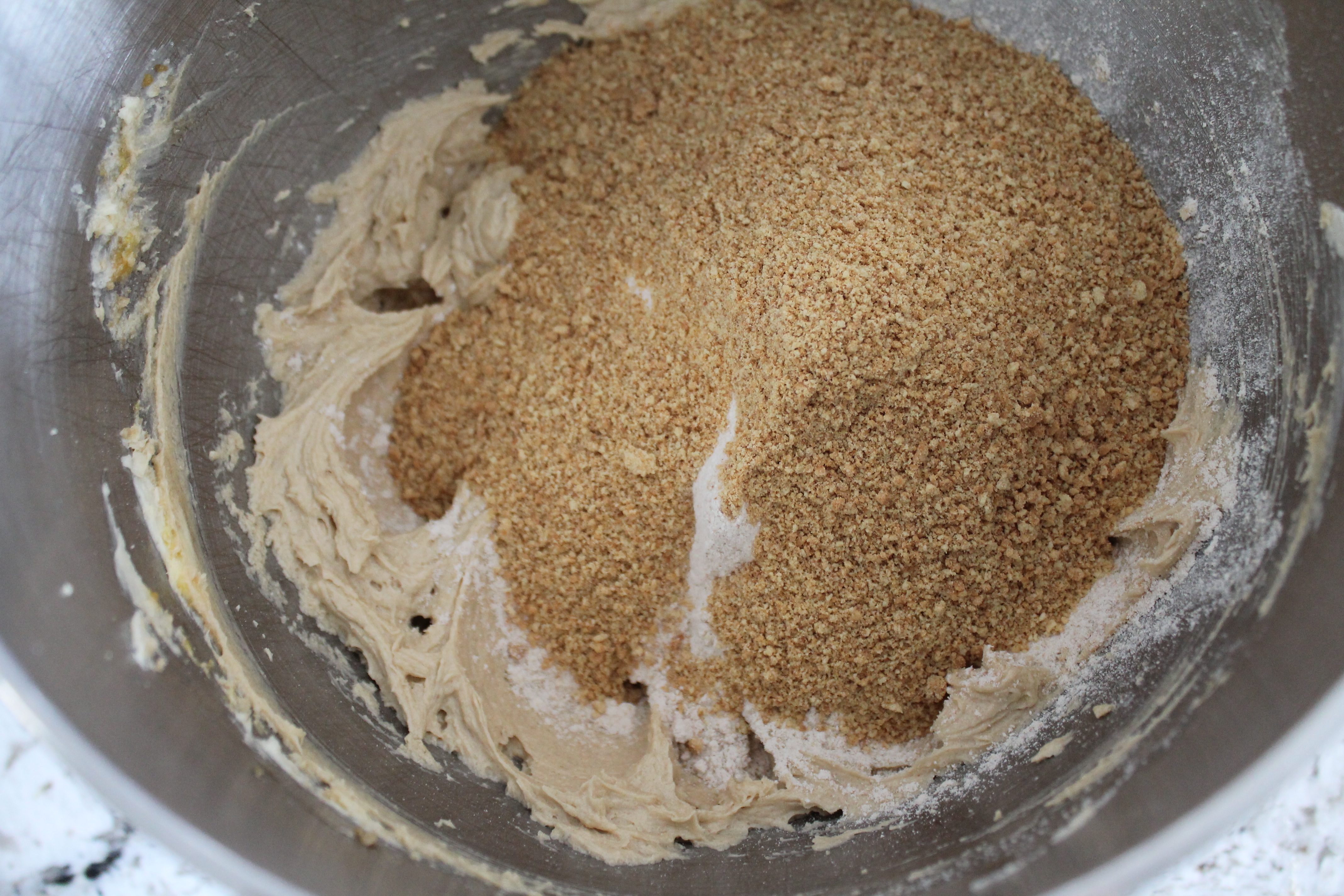 Now we need to add some graham goodness. I really thought about buying special graham flour (which is a kind of whole wheat flour used especially in graham crackers), but then I figured that going for a simple, common ingredient would be way easier. So! Graham cracker crumbs.
You can buy ready-made graham cracker crumbs in any grocery store, or you can pulverize your own graham crackers. Up to you. We are looking for 1 cup crumbs.
Add the graham crumbs and some plain, all-purpose flour to the cookie dough and stir. I added cornstarch to help the cookies puff while baking. You could also use whole wheat or white whole wheat flour, which may make the dough taste a bit more wheaty and a bit more graham-y, but I wanted my cookies to feel a little more delicate, so I went with all-purpose white flour.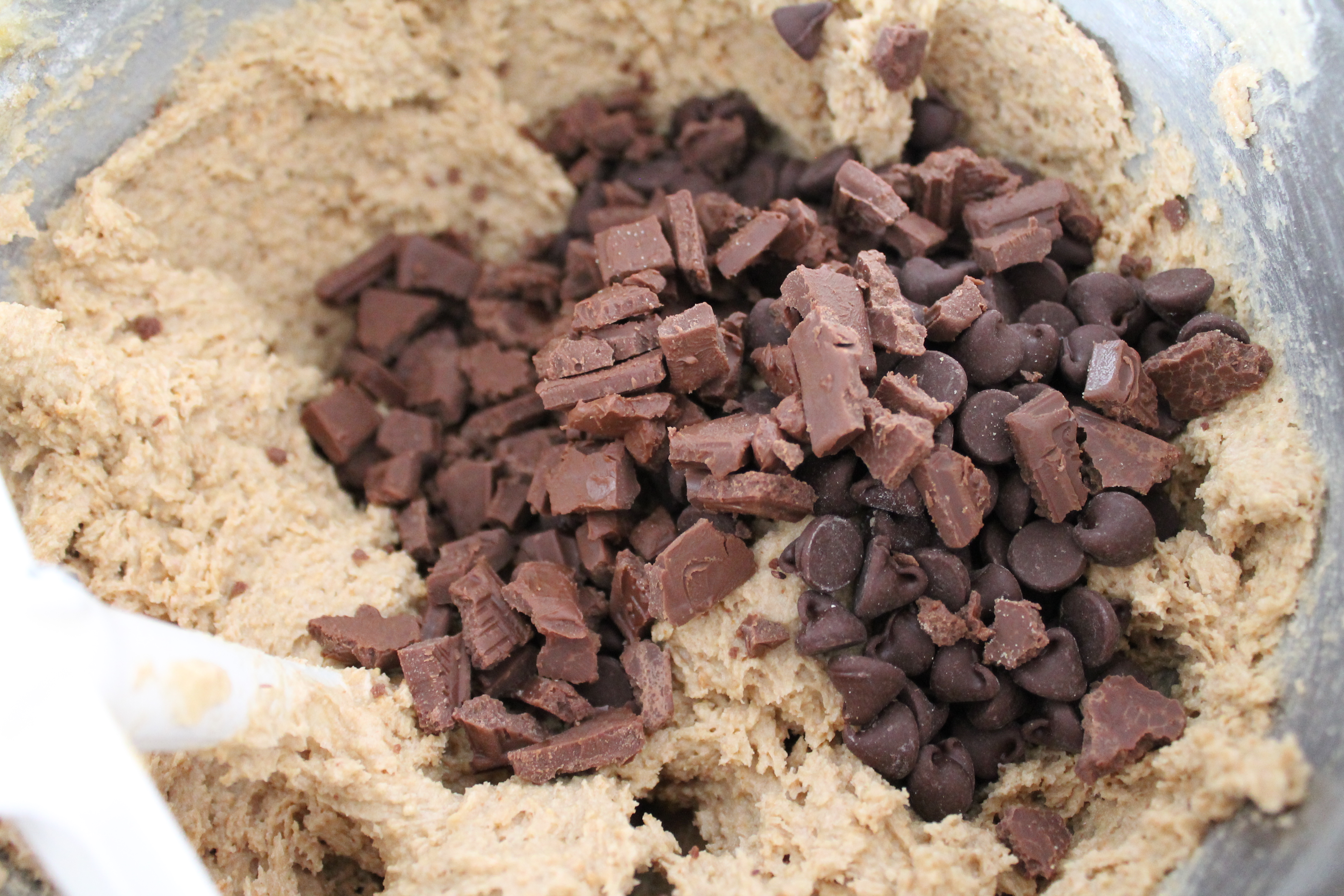 Now break up some milk chocolate and stir it in, along with semisweet chips (because, really, a chocolate chip cookie is no good without some rich, dark chocolate to complement all that sweet).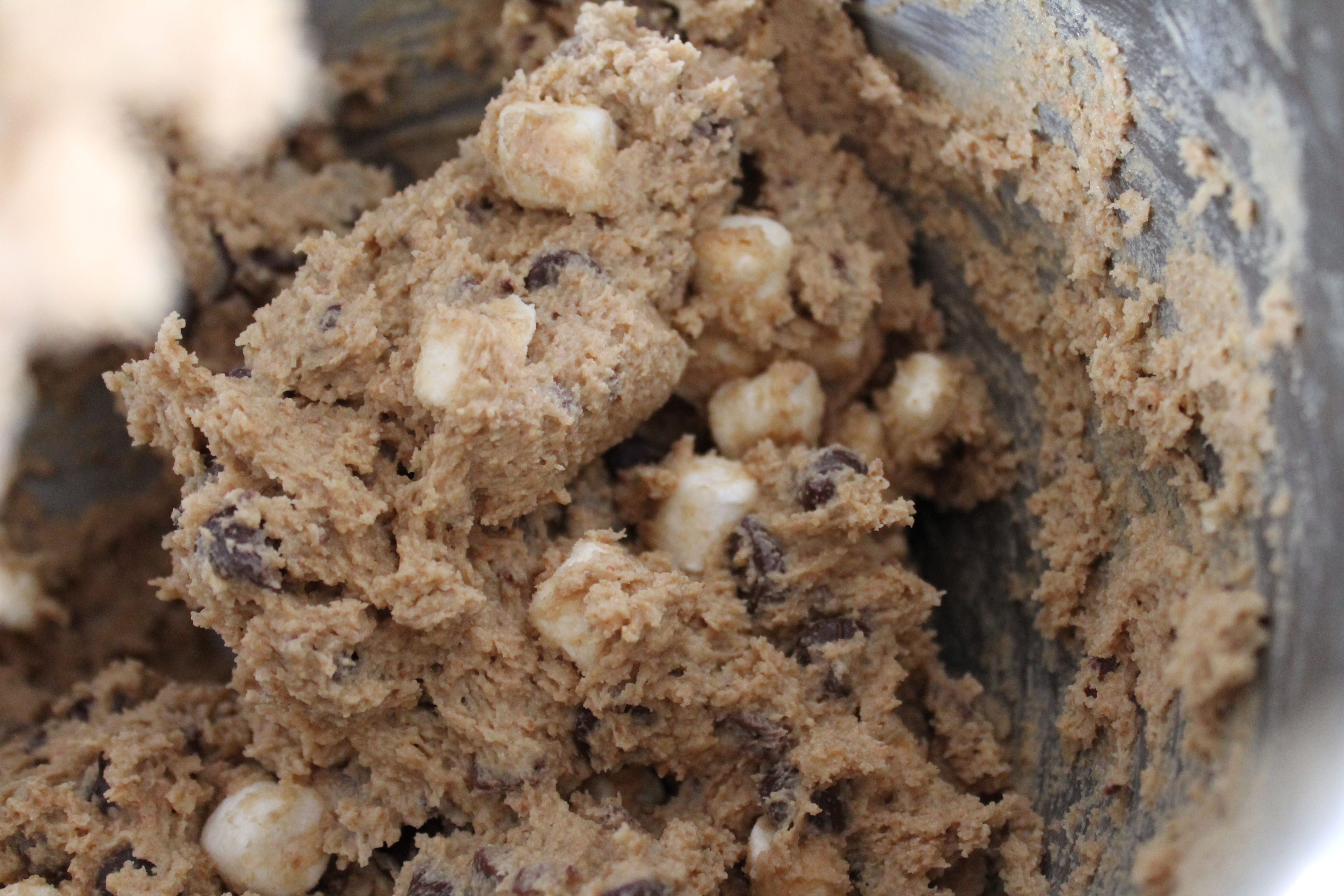 Fold in a pile of mini marshmallows. I used 1 cup, because the cookies are already very sweet, and I didn't want the cookies to get too melty in the oven. Even if you are a marshmallow fiend, I don't recommend going over 1 cup of marshmallows, or else your cookies will become a sticky mess.
Chill the dough. This is important because the butter will cause the cookies to spread into a flat mess otherwise. Aim for about 2 hours, and don't forget to put the bowl back in the fridge in between scooping cookies!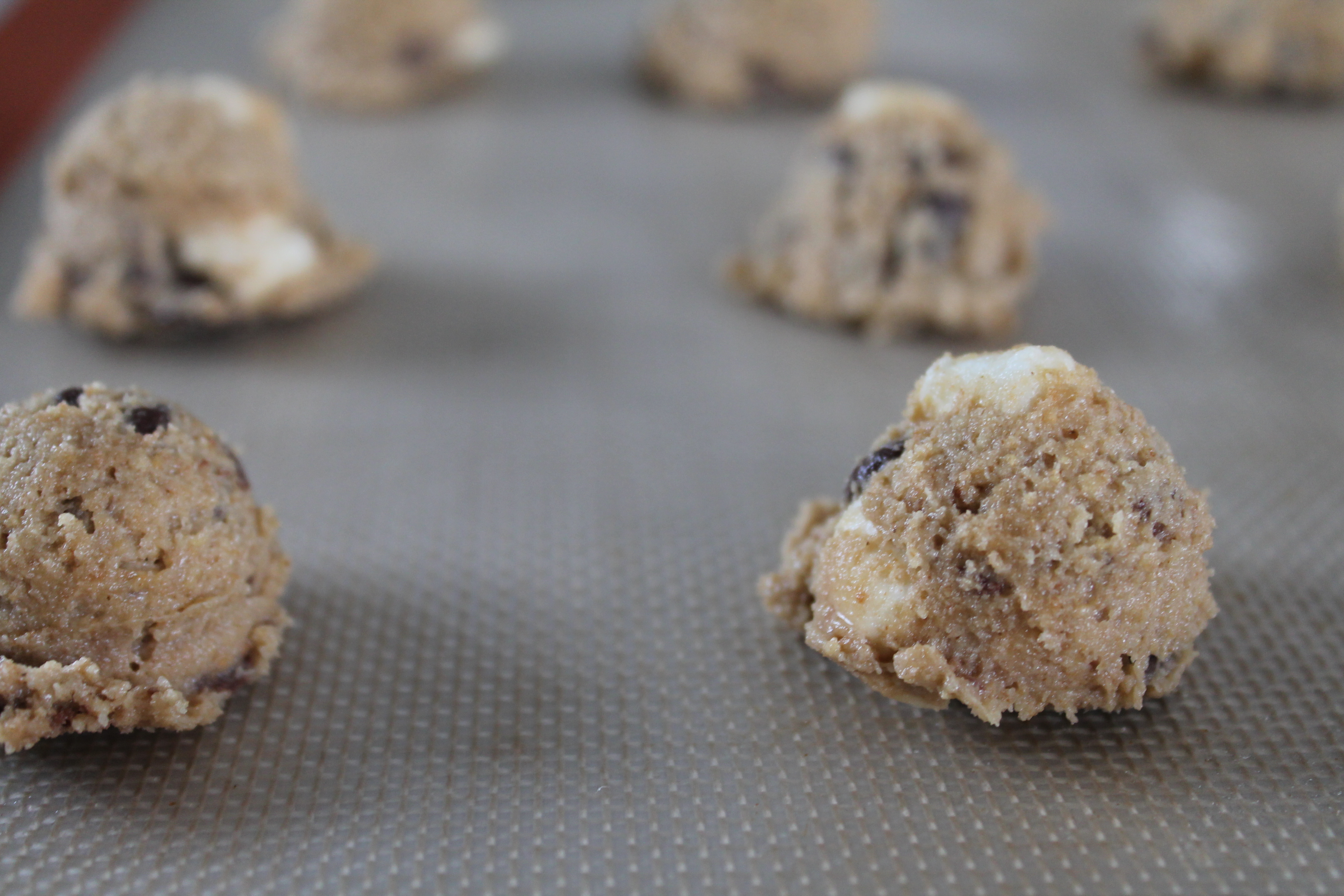 Scoop the dough by teaspoons onto a lined cookie sheet. (This recipe makes small cookies. You know, the size you grew up with. Not the face-size monsters of today.)
Pro tip: try to position most of the marshmallows on the top of the cookie dough balls. Marshmallows are sticky, and things will go better if these cookies don't get glued to the baking sheet as the marshmallows melt.
Bake for 9 minutes at 375°. Don't overbake these, or the marshmallows will be toast. (Ha. ha. ha.)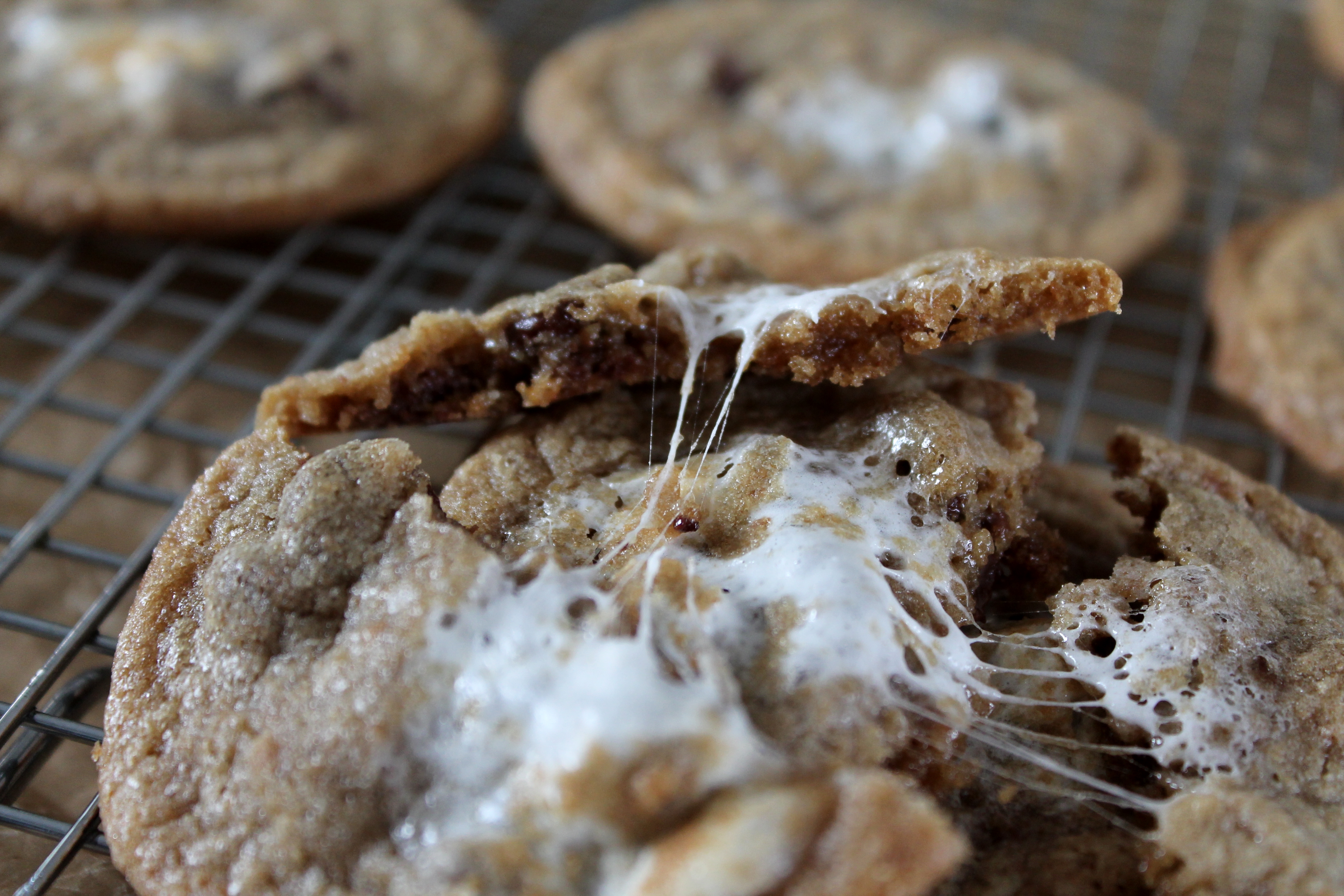 You will notice that half of the marshmallows dissolve into a gooey, stretchy clump of caramel. Yum. The sugary sweetness of the marshmallow is still there, but the oven made it magical.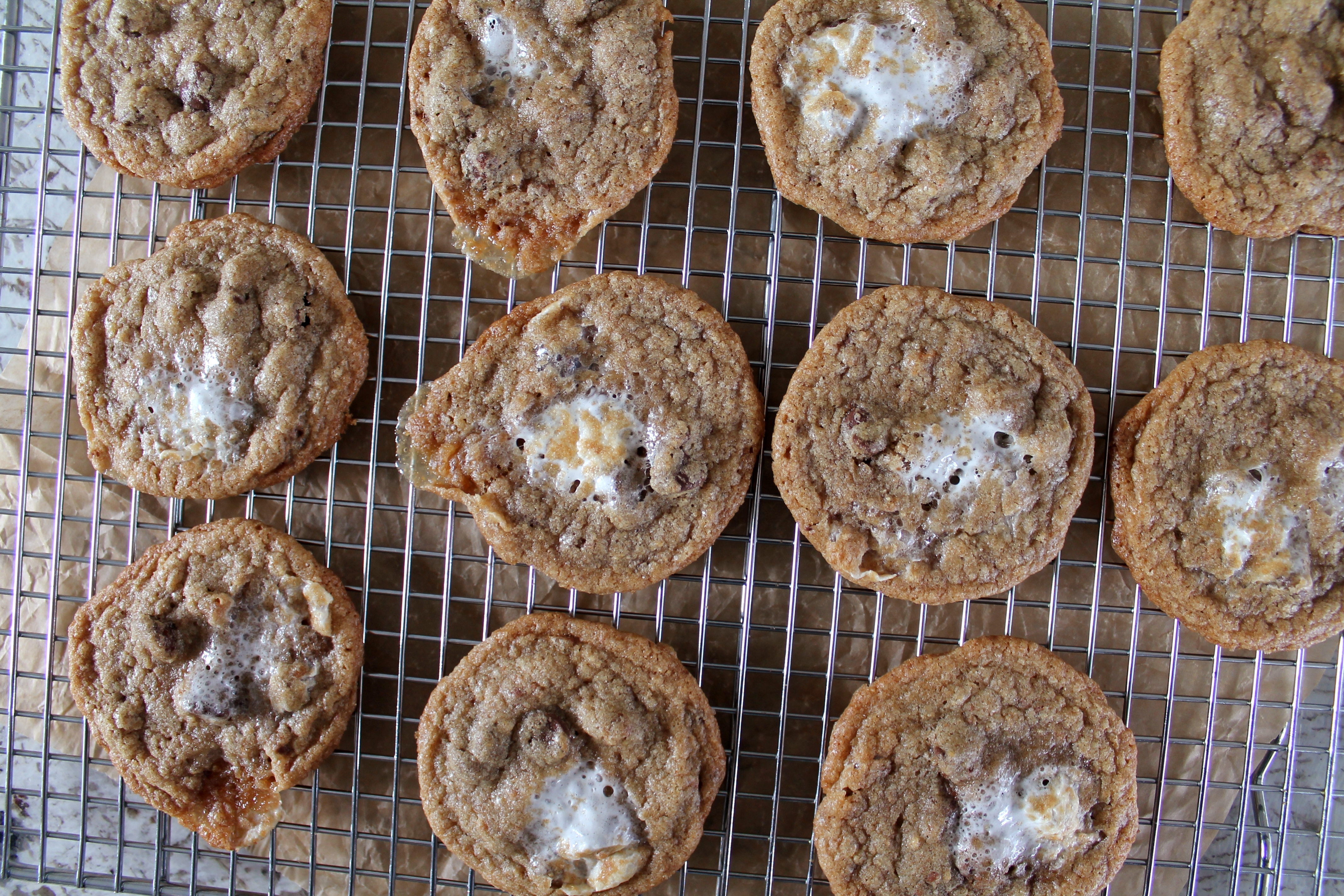 I recommend eating several of these warm. The way a s'more is meant to be eaten.
S'Mores Chocolate Chip Cookies
heavily adapted from the Nestlé Tollhouse recipe I memorized when I was 11
makes about 4 dozen
Ingredients:
1 cup unsalted butter, room temperature
1 cup brown sugar
½ cup sugar
2 eggs
1 tsp. salt
1 tsp. baking soda
1 tsp. vanilla extract
1 cup graham crumbs
1½ cups flour
½ tsp. cornstarch
8 oz. Hershey's milk chocolate, broken into chunks
½ cup semisweet chocolate chips
1 cup mini marshmallows
Directions:
Beat the butter, sugars, and eggs together until soft and creamy. Stir in the salt, baking soda, and vanilla.
Stir in the graham crumbs, flour, and cornstarch, followed by the milk chocolate and semisweet chips.
Gently fold in the marshmallows.
Chill the dough, covered, for 2 hours.
Heat the oven to 375°.
Scoop the dough by teaspoons onto a parchment or Silpat-lined cookie sheet, leaving about 2″ space between each dough ball.
Bake for 8–9 minutes, until puffed and slightly golden, removing from the oven before all of the marshmallows disintegrate completely.
Cool for 5 minutes on the cookie sheet before transferring to a wire rack.
Enjoy warm or at room temperature.