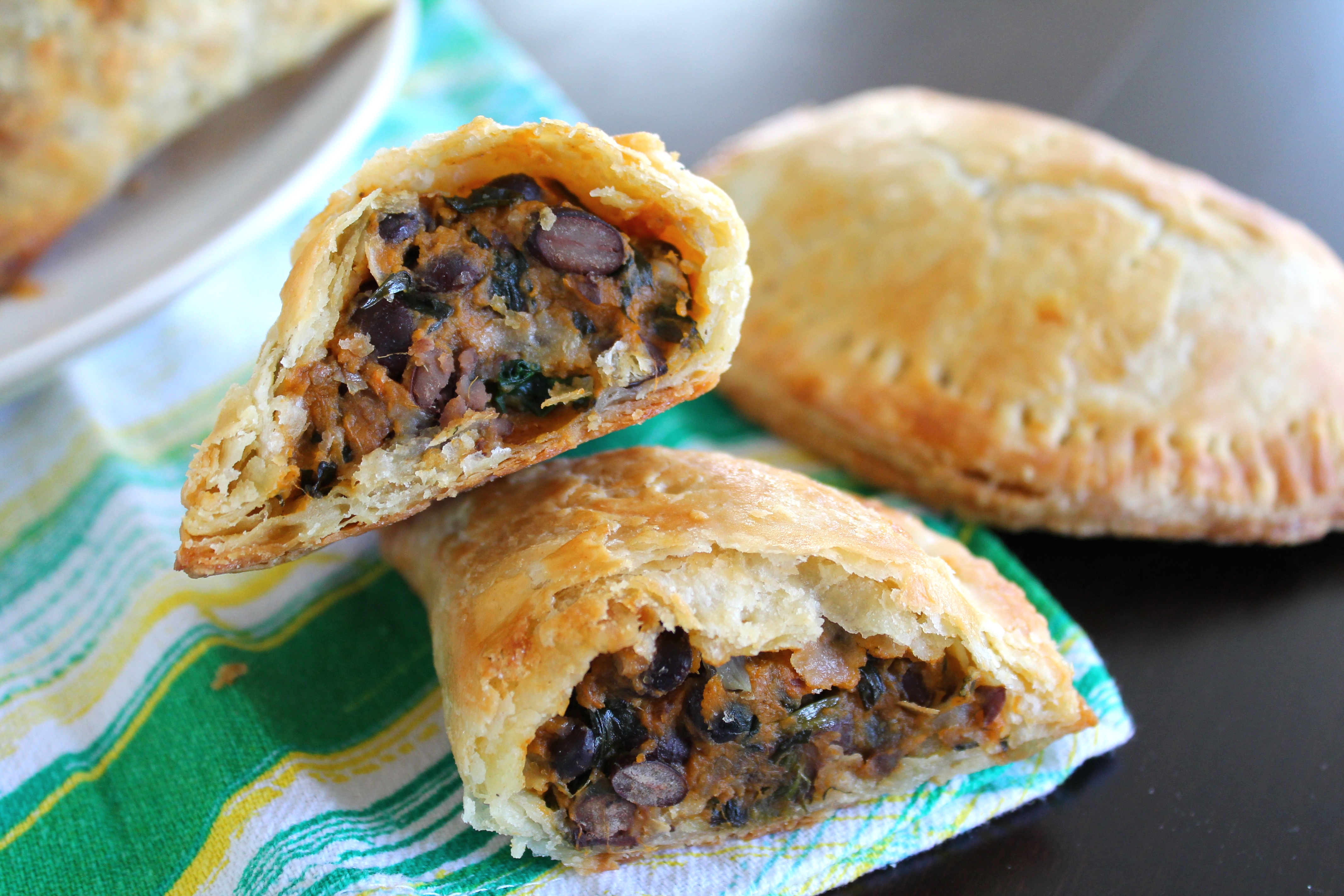 A few weeks ago, I told Sarah of Well Dined that all I wanted to do this Fall is bake, bake, bake, and I wondered whether she would mind eating nothing but cookies for lunch when we got together. She thoughtfully responded that we should make empanadas.
And after we made these, we congratulated ourselves over and over again because the filling is so delicious. I mean seriously, we were both sneaking spoonfuls of filling as we assembled the empanadas, and licking our fingers when we were done. It's amazing.
You should make yourself a batch of empanadas right away, so you will know what I'm talking about!
Empanadas are made with pie dough because they are hand pies. Normally, I like to make an all-butter pie crust, but here I used a butter-and-egg recipe for more pliability.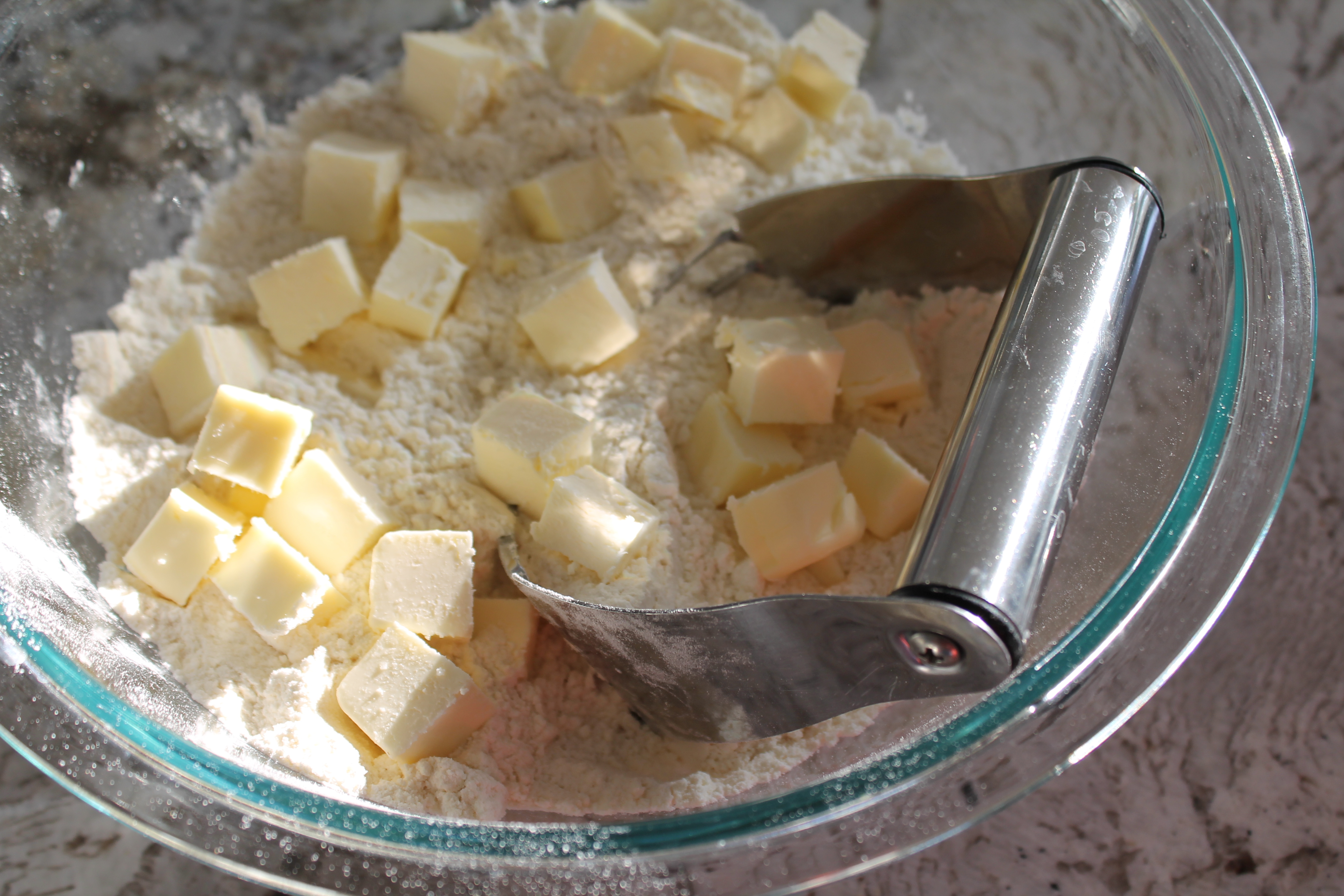 Whisk together flour and salt. Cut in cold, unsalted butter until there are no pieces larger than a pea.
In a glass measuring cup, whisk together ice water, an egg, and white vinegar.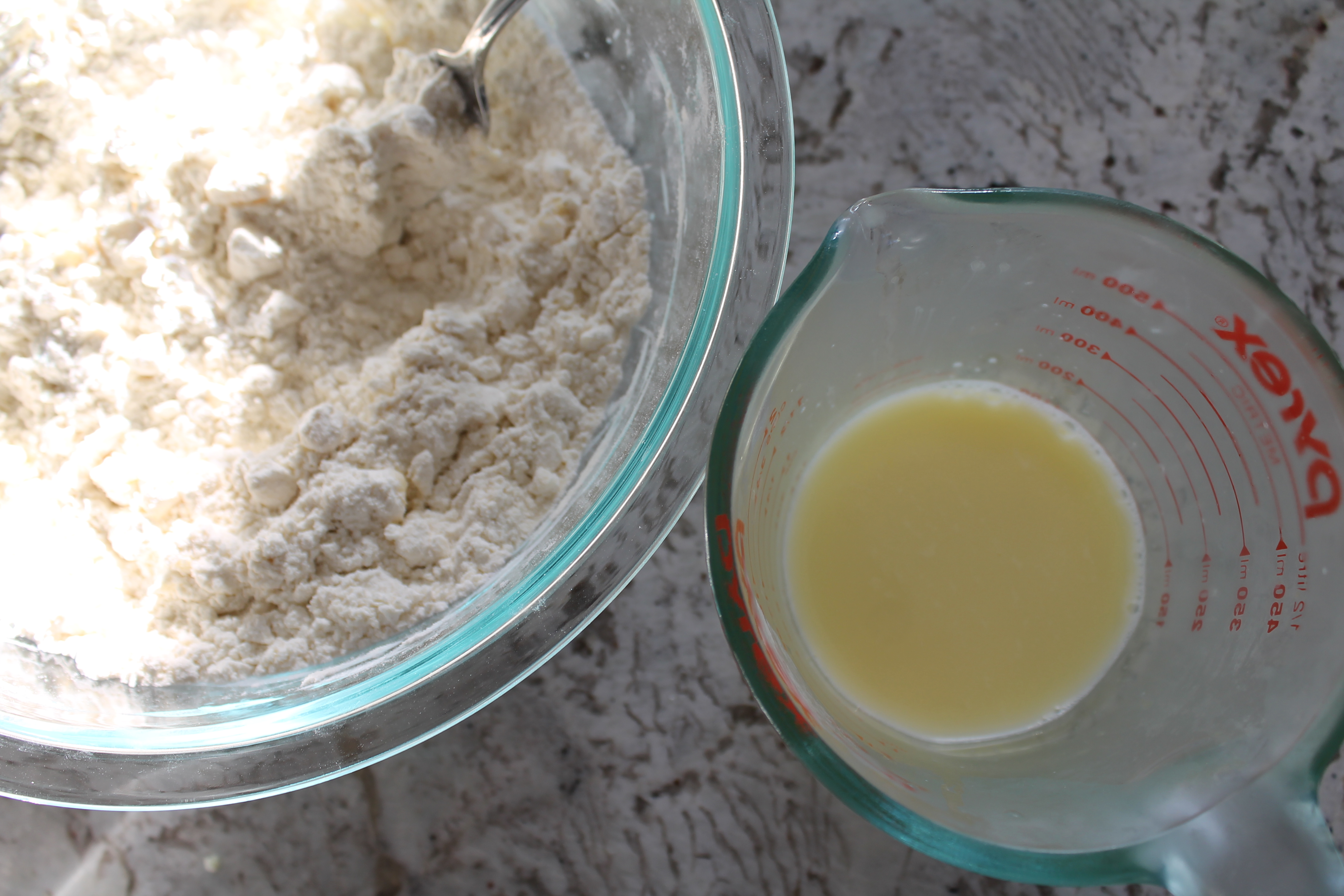 Slowly combine the liquid with the flour-butter mixture, using a fork and a scooping motion. This will help the crust stay light and flaky.
When all of the liquid has been mixed in as much as possible, dump the resulting large clumps and shaggy bits of flour onto a clean work surface and knead them together gently. Try not to over-knead: only work the dough until it comes together in a fairly uniform clump.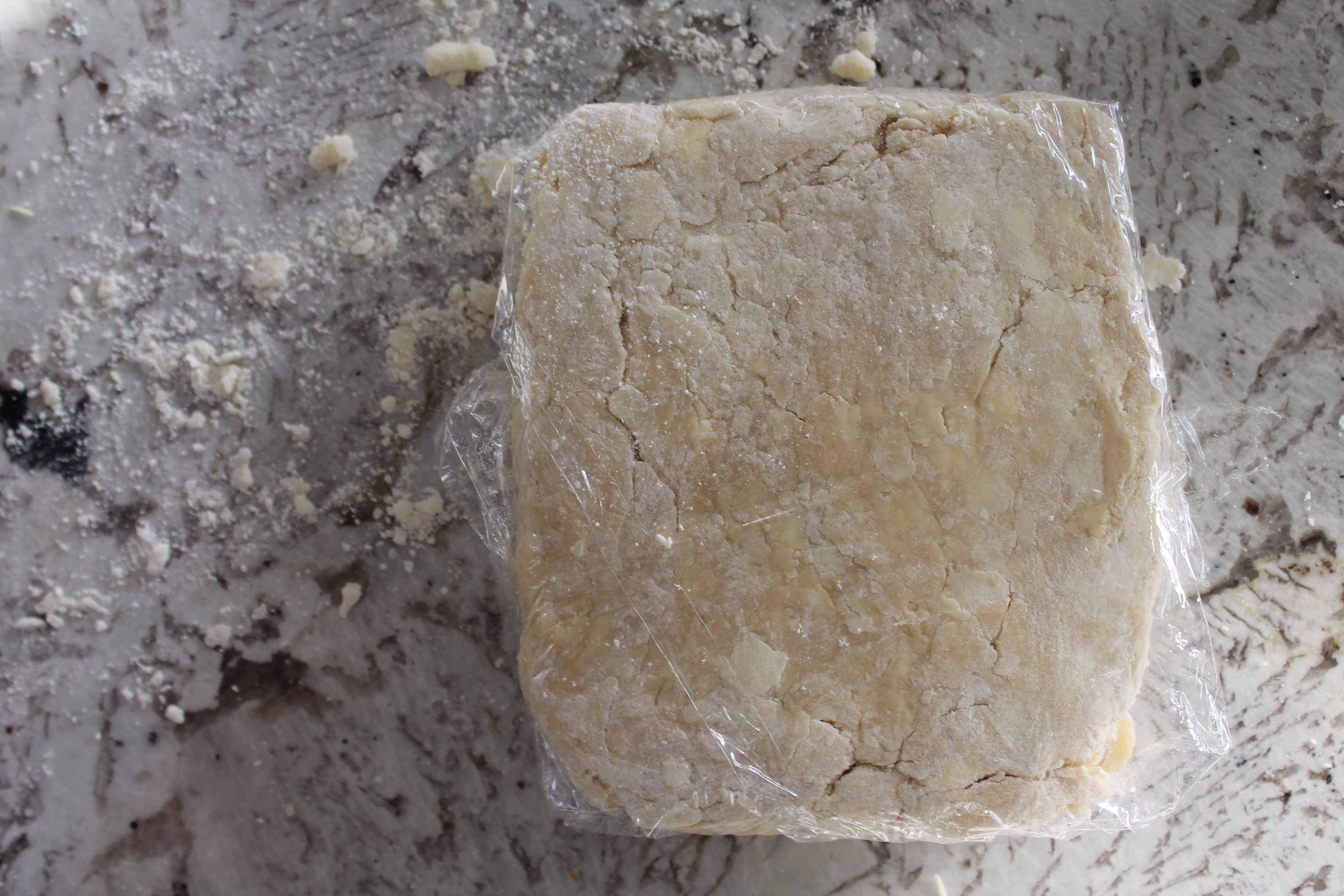 Flatten the dough into a disc or a rectangle, wrap in plastic, and chill at least 1 hour. I usually make my crust dough several hours or even a day ahead of time.
About an hour before you want to eat, make the filling!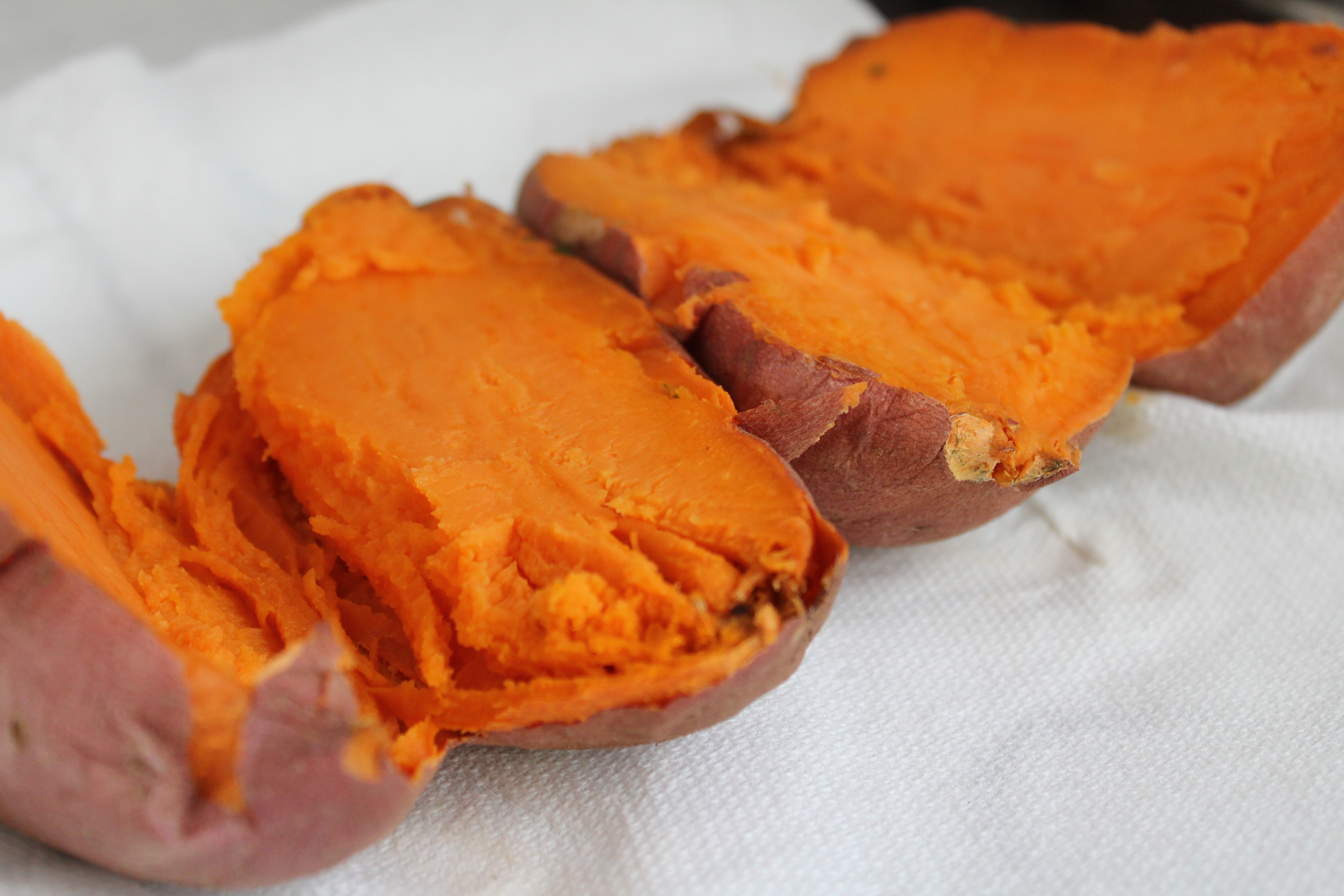 "Bake" a sweet potato in the microwave. (Poke holes all over with a fork, then microwave for 10 minutes, turning over halfway through.) Scrape the soft flesh out of the potato skins and mash with a fork. Sarah and I actually baked 2 small potatoes, but we only needed 1½ for the filling.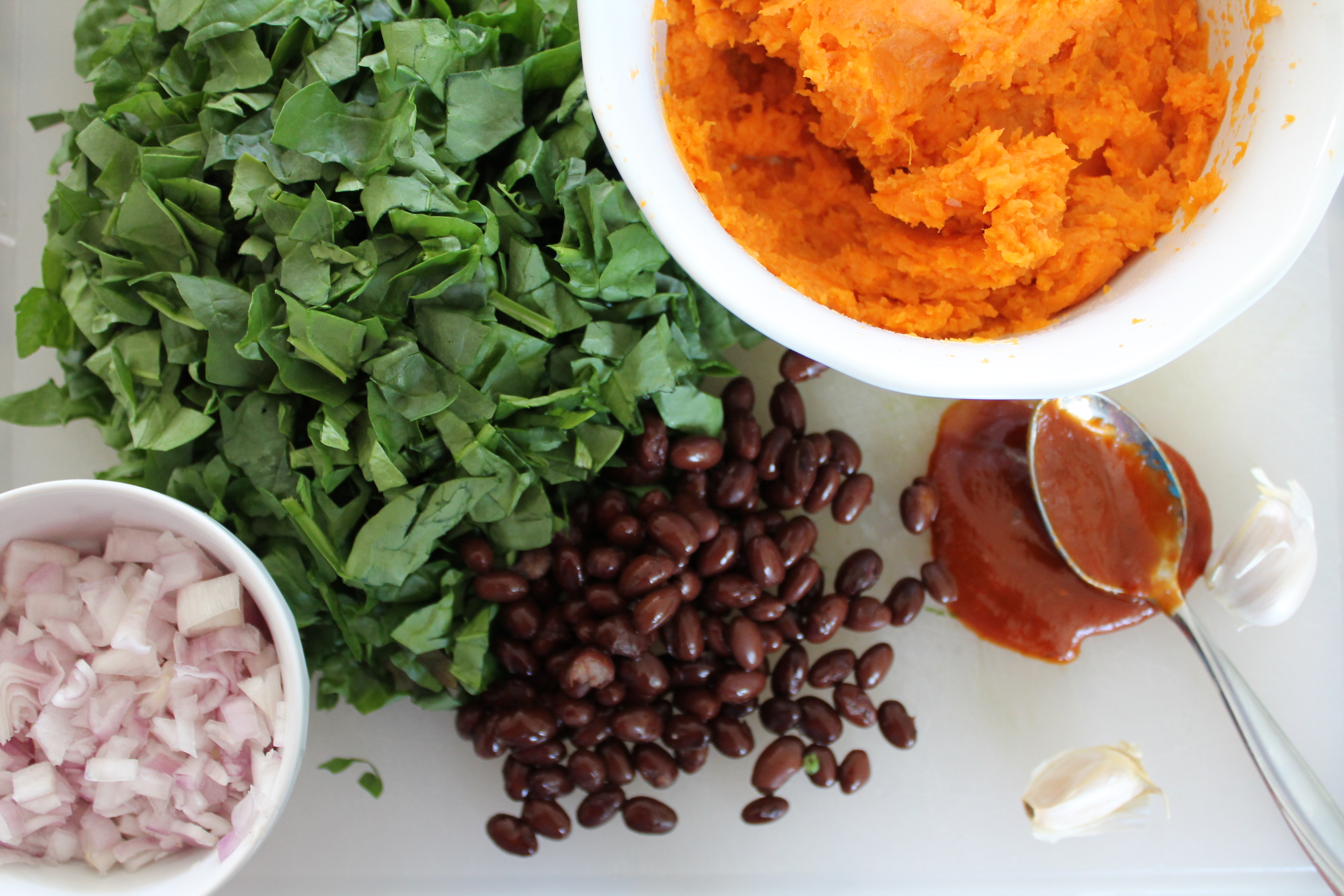 Also, chop up a shallot and several handfuls of baby spinach. Don't forget to drain and rinse a can of black beans!
Sauté the shallot and minced garlic in a splash of oil until soft and fragrant. Add cumin, coriander, and adobo sauce (just the sauce, from a can of chipotles in adobo). Don't forget salt!
Stir in the spinach, allowing it to wilt slightly, then add the beans and mashed sweet potato.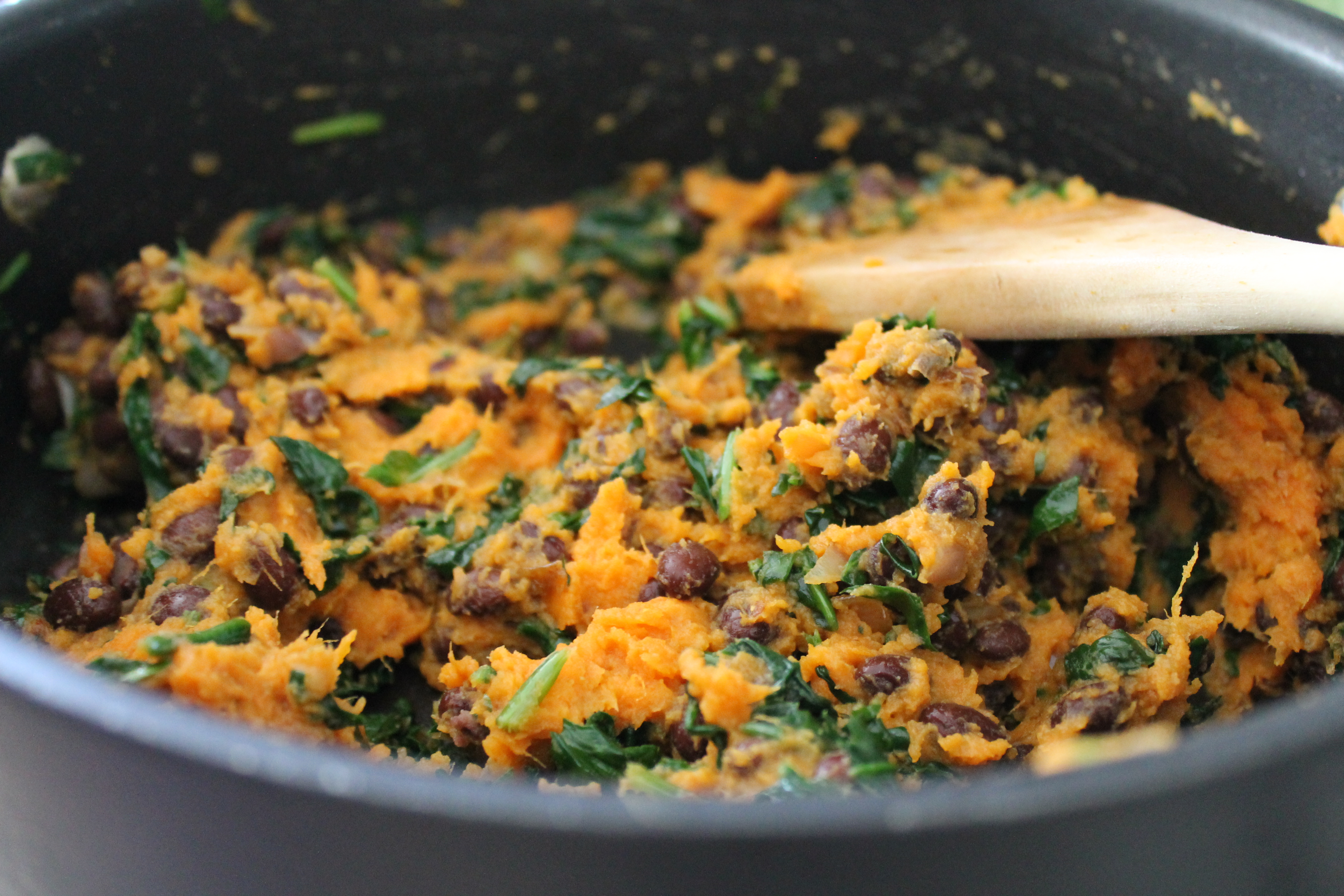 When the whole mixture is combined and heated through, remove it from the heat.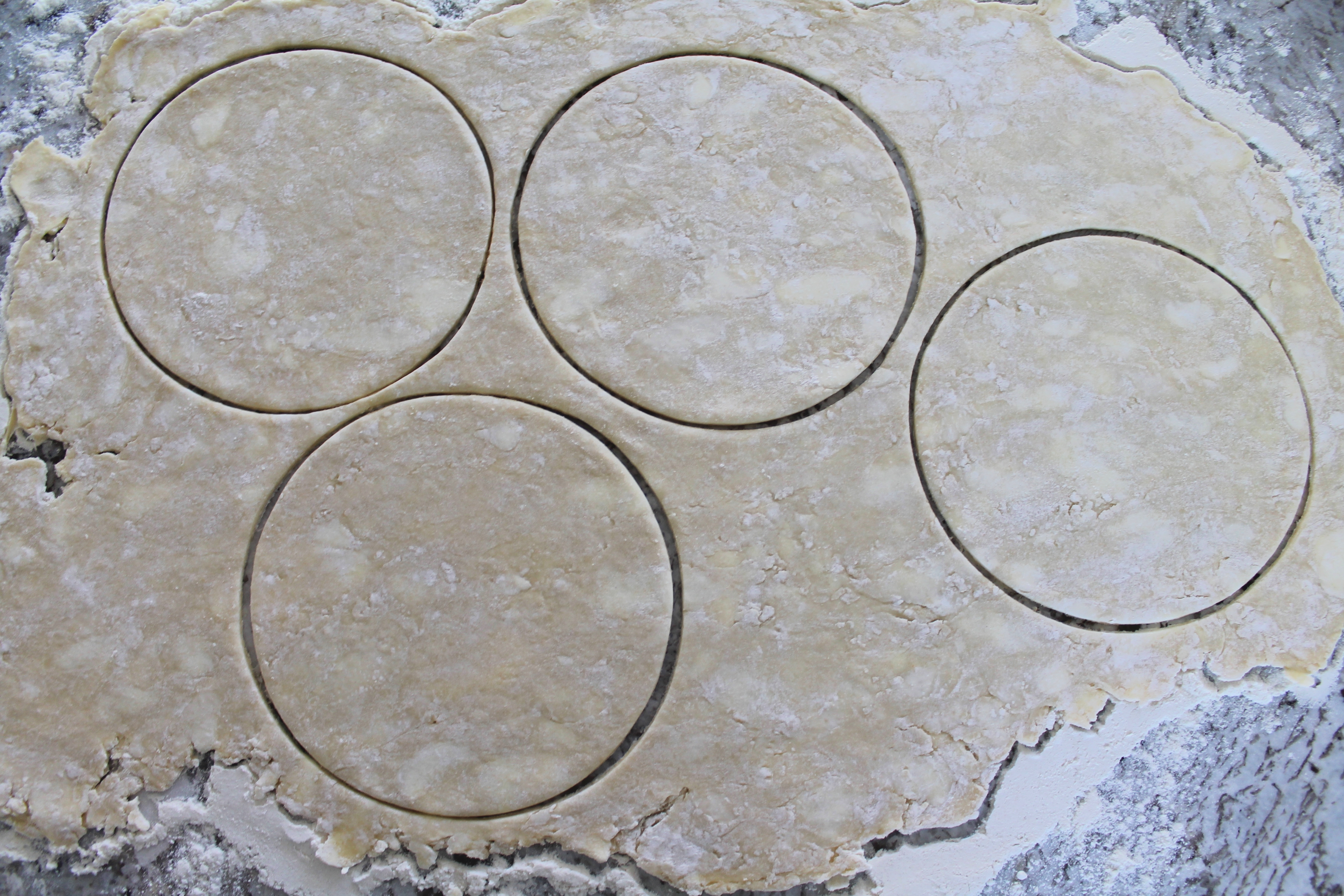 Roll the crust out to about ¼″ thick on a well-floured surface. Cut 6″ circles using a bowl as a guide, or using a 6″ cake ring. Transfer the rounds to a lined baking sheet (and let me make a suggestion: make sure you put the smoothest side facing the bottom of the baking sheet, that way it will end up on the outside of your empanadas).
Crush the extra crust dough back together and roll and cut again. You should be able to get about 7-8 rounds of dough, depending on how thinly you rolled.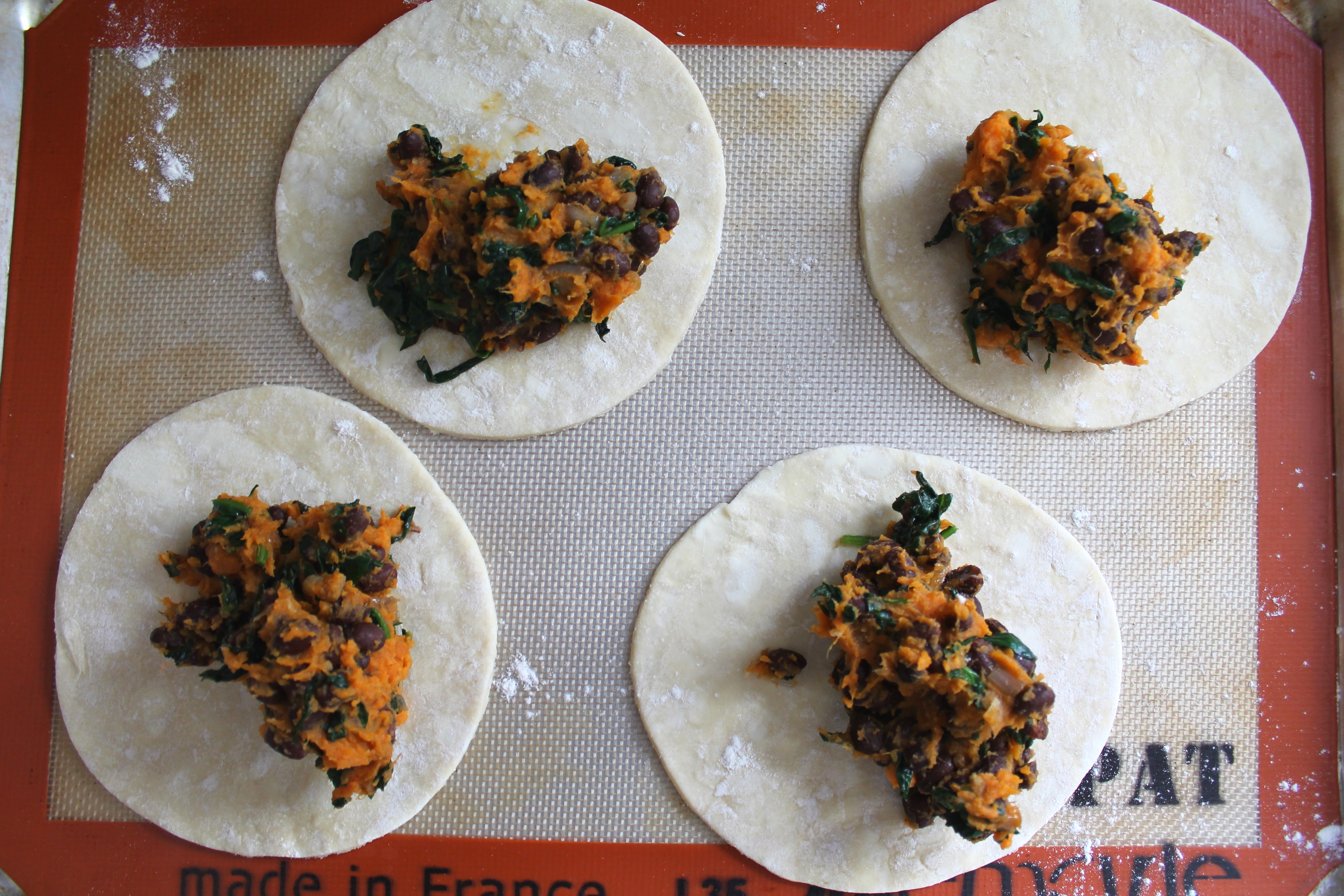 Drop about ⅓ cup filling in the center of each dough round.
Make a simple egg wash by whisking 1 egg with 1 tbsp. water.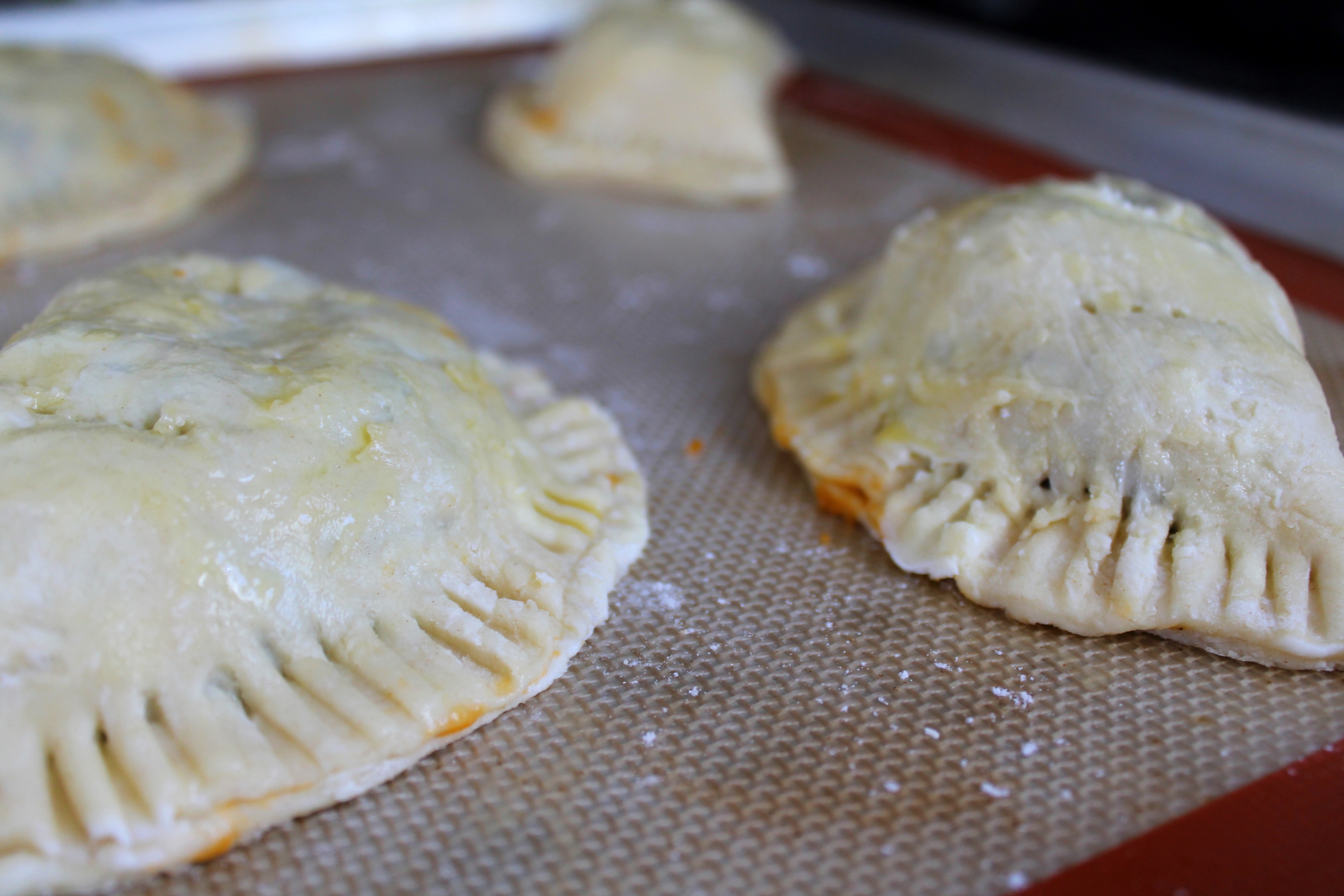 Brush the egg wash around the edges of the dough rounds, fold them in half, and seal. Crimp the edges with a fork, if you like that sort of thing!
Brush the tops of the folded empanadas with the egg wash. Prick a few holes in each empanada with a fork, so steam will be able to escape.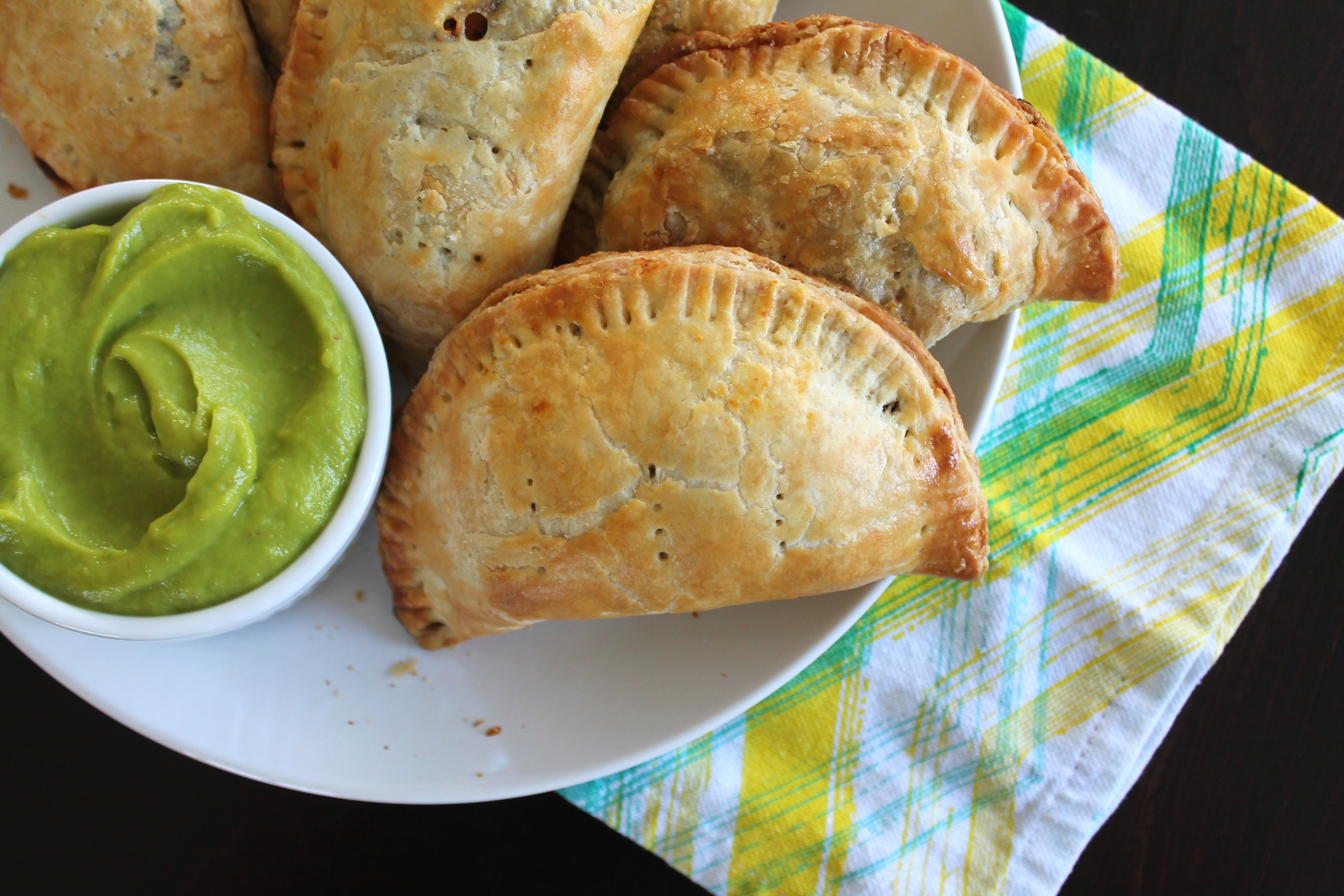 Bake for 25–30 minutes at 400°. The crust should be golden brown when the empanadas are done.
Sarah and I served these empanadas with guacamole, but you could also use sour cream or garlicky salsa for dipping.
Smoky Sweet Potato, Black Bean, and Spinach Empanadas
a Smells Like Brownies/Well Dined collaboration
crust from Epicurious
makes 7-8
Crust Ingredients:
2¼ cups flour
1½ tsp. salt
½ cup unsalted butter, cubed
1 egg
⅓ cup ice water
1 tbsp. white vinegar
Filling Ingredients:
1 tbsp. olive oil
½ cup finely diced shallot (from 1 small)
2 large cloves garlic
1 tsp. cumin
1 tsp. coriander
2 tsp. adobo sauce
½ tsp. salt
2 packed cups chopped baby spinach
1 15oz. can black beans, drained and rinsed
1½ cups sweet potato mash (from about 1 large baked sweet potato)
egg wash
guacamole, sour cream, and/or salsa, for serving
Directions:
Whisk together the flour and salt for the crust. Cut in the cold butter using a pastry cutter, working until the butter is about the size of peas and well mixed with the flour.
In a separate bowl, whisk the egg. Stir in the ice water and vinegar.
Gently mix the liquid with the flour, using a fork in a fluffing motion. When all of the liquid has been mixed in and the dough is in large clumps, turn it out of the bowl onto a clean work surface. Knead 5–6 times, or until all of the shaggy bits of flour have been absorbed into the dough.
Shape the dough into a 1″ thick rectangle and wrap tightly with plastic wrap. Chill at least 1 hour.
In a large skillet over medium heat, warm the oil. When the oil is hot, add the shallot and cook for 2 minutes, stirring regularly. Add the garlic and continue to cook until the shallot is translucent and barely beginning to brown. Stir in the cumin, coriander, adobo, and salt.
Stir in the spinach and let it wilt for 1 minute. Add the black beans and sweet potato mash and stir until all of the ingredients are thoroughly mixed together.
Remove the filling from the heat and let it cool while rolling out the crust dough.
Heat the oven to 400°.
Remove the dough from the fridge and place it on a well-floured work surface. Roll it out to about ¼″ thickness. Use a 6″ round cutter (such as a cake ring) to cut 6″ circles. Alternatively, trace the rim of a bowl to make 6″ dough circles. Re-roll the dough as needed to incorporate the scraps. Aim for 7–8 dough circles.
Transfer the crust rounds to a lined baking sheet. Brush the edges with egg wash.
Drop about ⅓ cup of the filling in the center of each circle. There may be a little filling left over, but do not give in to the temptation to over-fill the empanadas, or they will be unable to close.
Fold the dough circle in half over the filling to form a filled semicircle. Press the edges together with a fork and prick the top of each empanada 3 times to create vents.
Brush the tops of the empanadas thoroughly with egg wash.
Bake for 25–30 minutes, or until the crust is golden brown and baked through. Allow to cool 5 minutes before serving.
Serve with guacamole, sour cream, or garlicky salsa for dipping.
Enjoy!