I bet you have a favorite vegetable.
Mine is asparagus. Or maybe spinach. I like green things.
Which is why I'm so happy that it's Spring! I eat a lot of asparagus in the Spring. But I recently learned (or maybe re-learned?) that my husband hates asparagus. So I'm trying to convince him by sticking asparagus into veggie medleys full of other things he does like, such as turnips.
I don't think it's working. But that is totally not the fault of this delicious pan full of Springtime goodness!
I've been intending to cook something out of my Chez Panisse Vegetables cookbook for ages, and when the sun finally started to shine around these parts, I made it my mission. I found this recipe in the Peas section of the book, which I turned to because I wanted to get out of my asparagus rut. Ha!
Alice Waters is wonderful. She originally made this as more of a sauce, like for pasta, but I wanted a chunkier side dish, so I cut my veggies into long fingers instead of small slices. Bonus: less chopping. Never a bad thing when you are making a multi-veggie recipe, as the prep is almost always the most laborious part!
This dish reminds me so much of pasta primavera, minus the pasta. It's full of bright veggies, topped with a light sauce. Primavera just means spring, and this bunch sings of Spring harvest! In fact, one of these veggies actually came from my garden a few days before I got to cooking.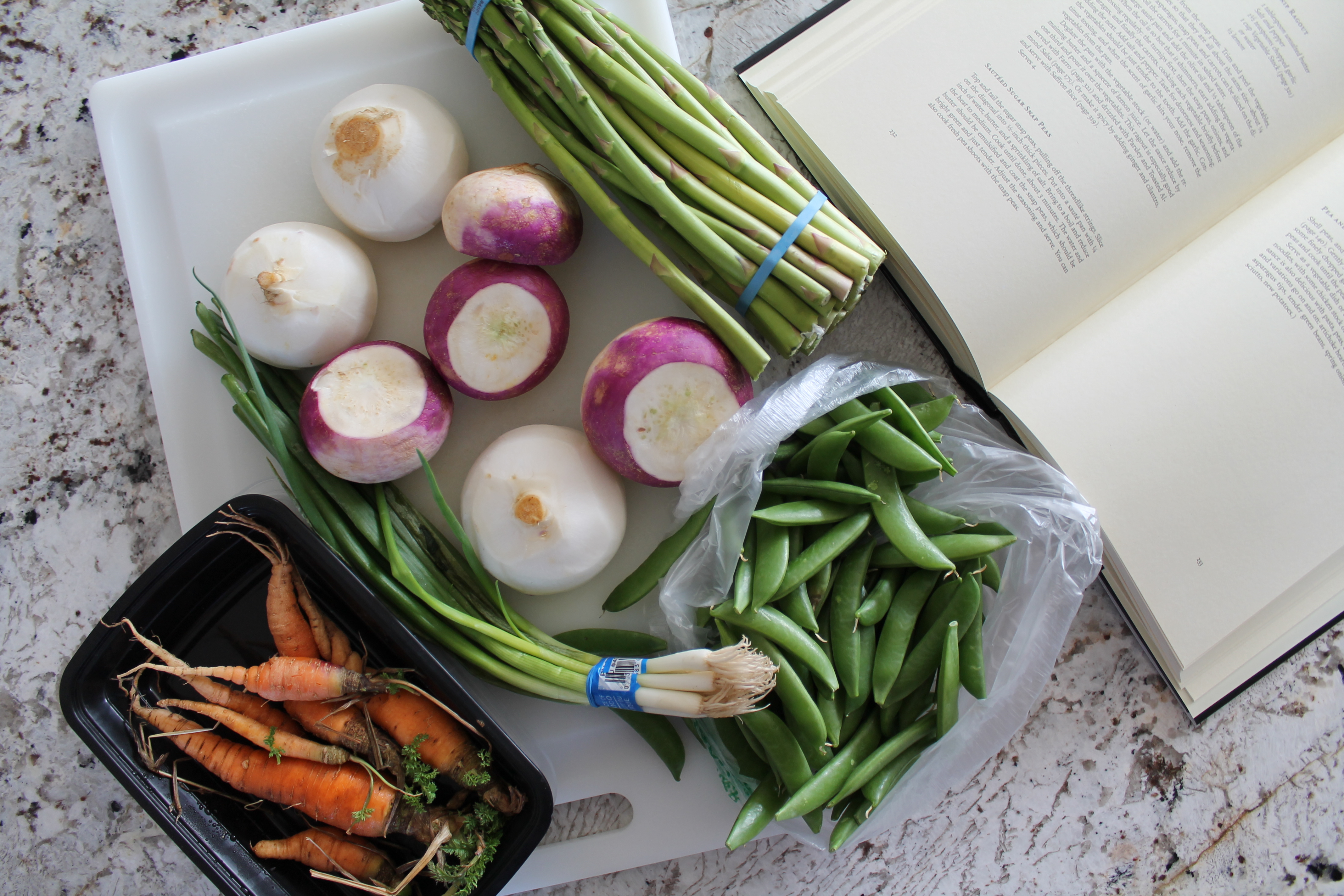 So. Start with veggie prep. Pull the strings off your sugar snap peas. If you have never done this, it's easy. Just pinch the end of the pea pod and twist upward, toward the opposite end, until the tip of the pea pod snaps off and pulls the string that runs along the length of the pea pod with it. If the string doesn't come away, which happens to me a lot, take a look at the broken tip: if you don't see a little tan/brown string sticking out, then the pea pod is still young enough that that string hasn't gotten tough yet, and you can forget about it (but if you do see a little tip of a brown thing sticking out, grasp it and keep pulling because that part won't be pleasant to eat). Don't forget to turn the pea pod over and repeat from the other side, because there are two strings.
Peel your carrots and turnips. (Look at the funny little carrots I grew! They could be an advertisement for Imperfect Produce.) Cut the woody ends off of the whole bunch of asparagus before you un-bundle it.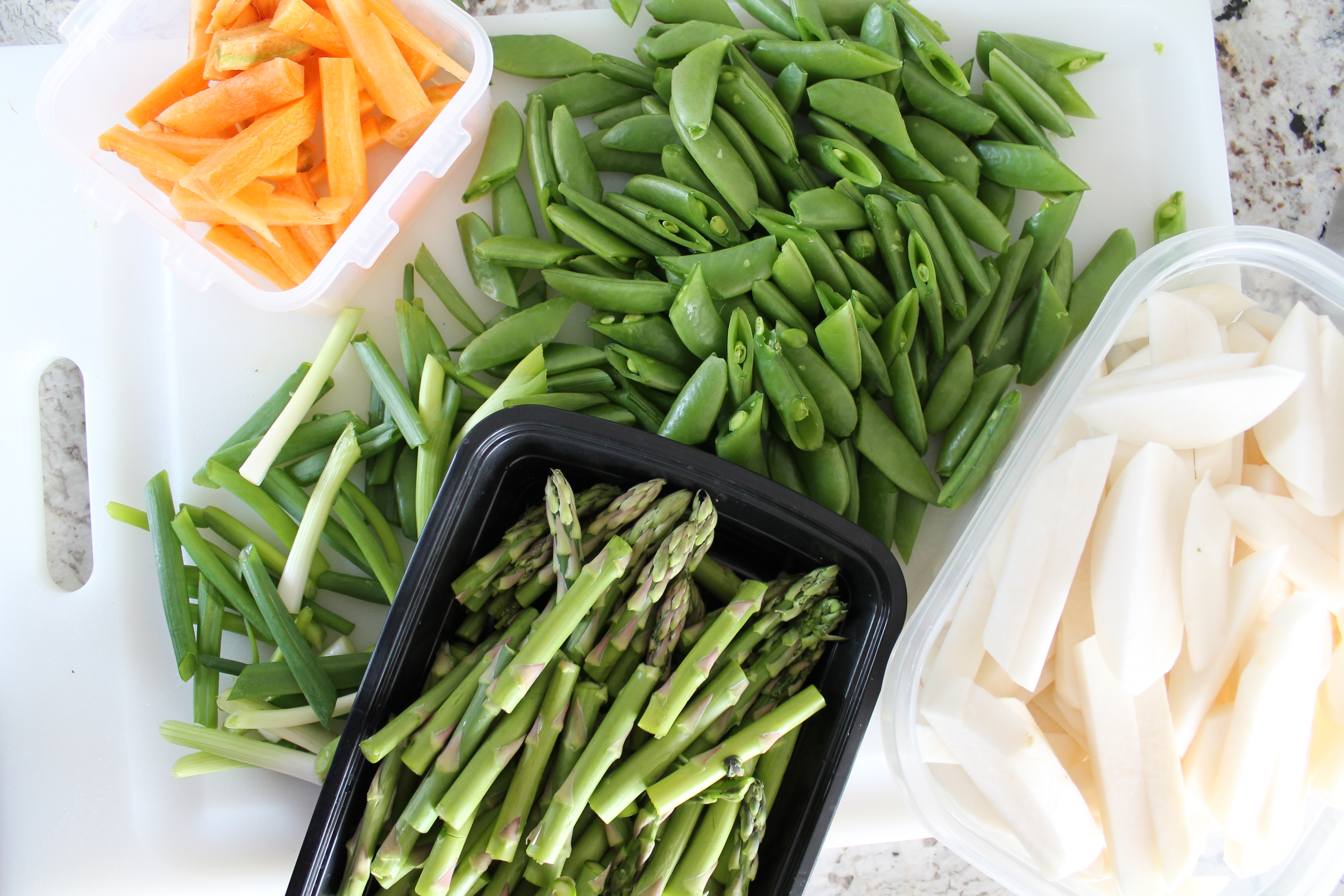 Now cut everything into thin fingers, between 2″ and 3″ long.
Alice recommends par-boiling the carrots in salted water for 1 minute. I skipped this step because I wasn't interested in making another pan dirty, but I think she was right! My carrots were much more toothsome than the rest of the veggies. I will leave it up to you: they won't be raw, but even if you start them in the sauté pan first, they may end up a bit more crunchy than the rest of the veg.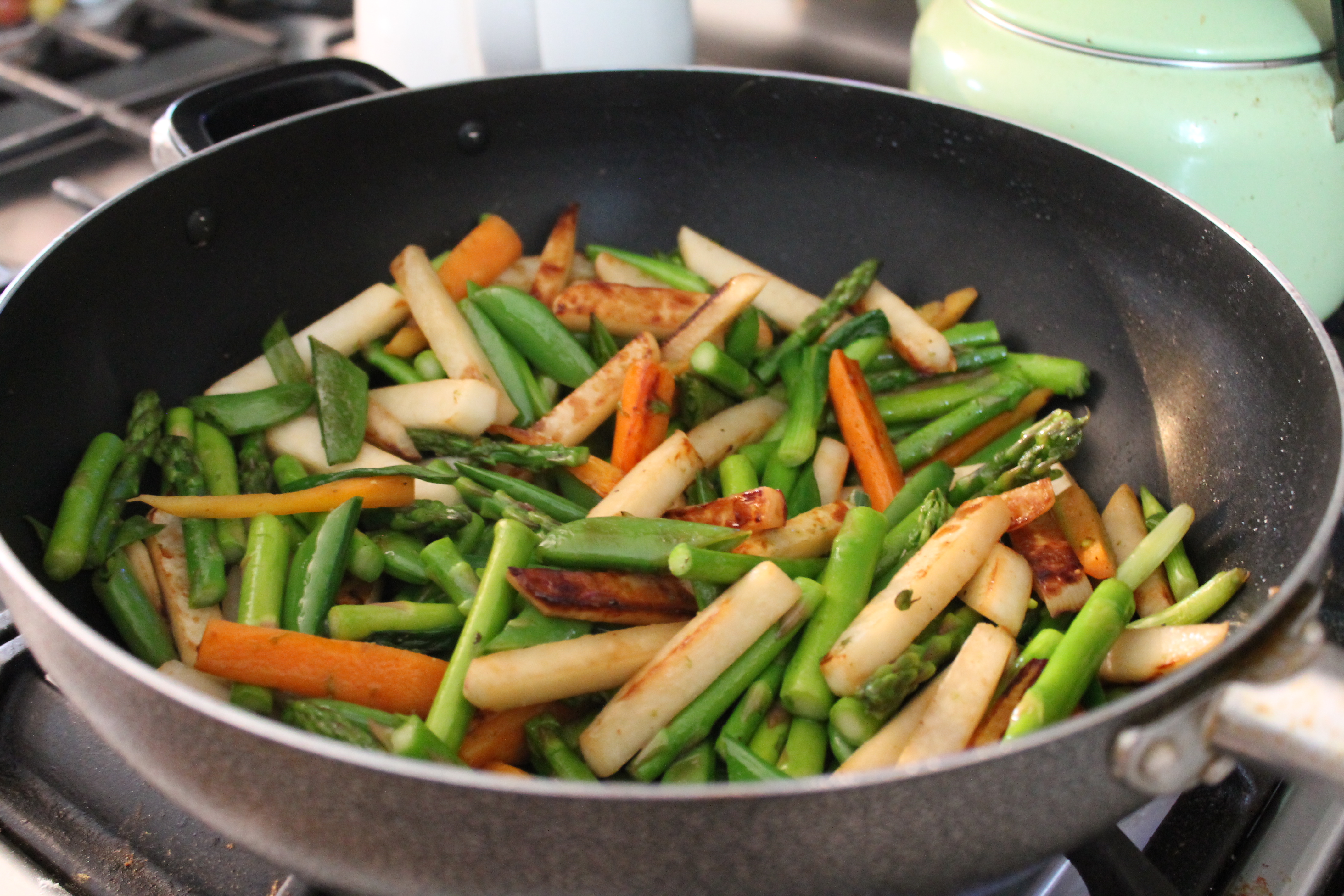 Either way, drop a half tablespoon of butter into a very large pan with 2 tablespoons of olive oil. When the butter is melted and the oil is barely shimmering, start adding the veggies in order from most firm to least: carrots (unless par-boiled, in which case add them last), turnips, asparagus+peas, scallions. Cook each vegetable for 1 minute before adding the next one.
Season with salt and pepper. Toss in some freshly pressed garlic, the more the merrier (about 3 cloves). When you can smell the garlic, turn the veggies out of the pan into a separate bowl.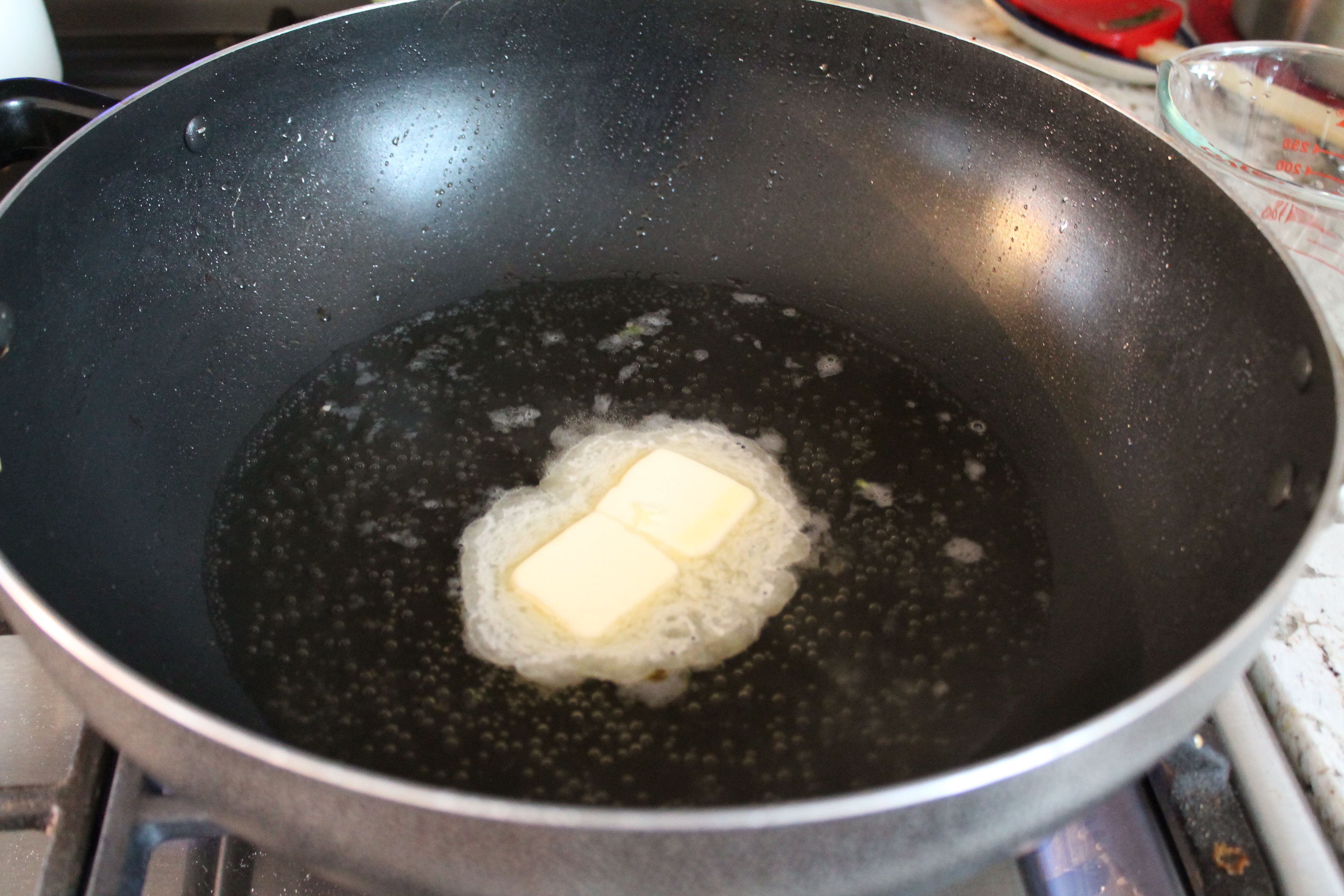 Use the same pan to make a light glaze of white wine, lemon juice, and butter. Combine all three in the pan and simmer over medium heat until reduced by half.
Toss the veggies back in the pan and coat with the glaze.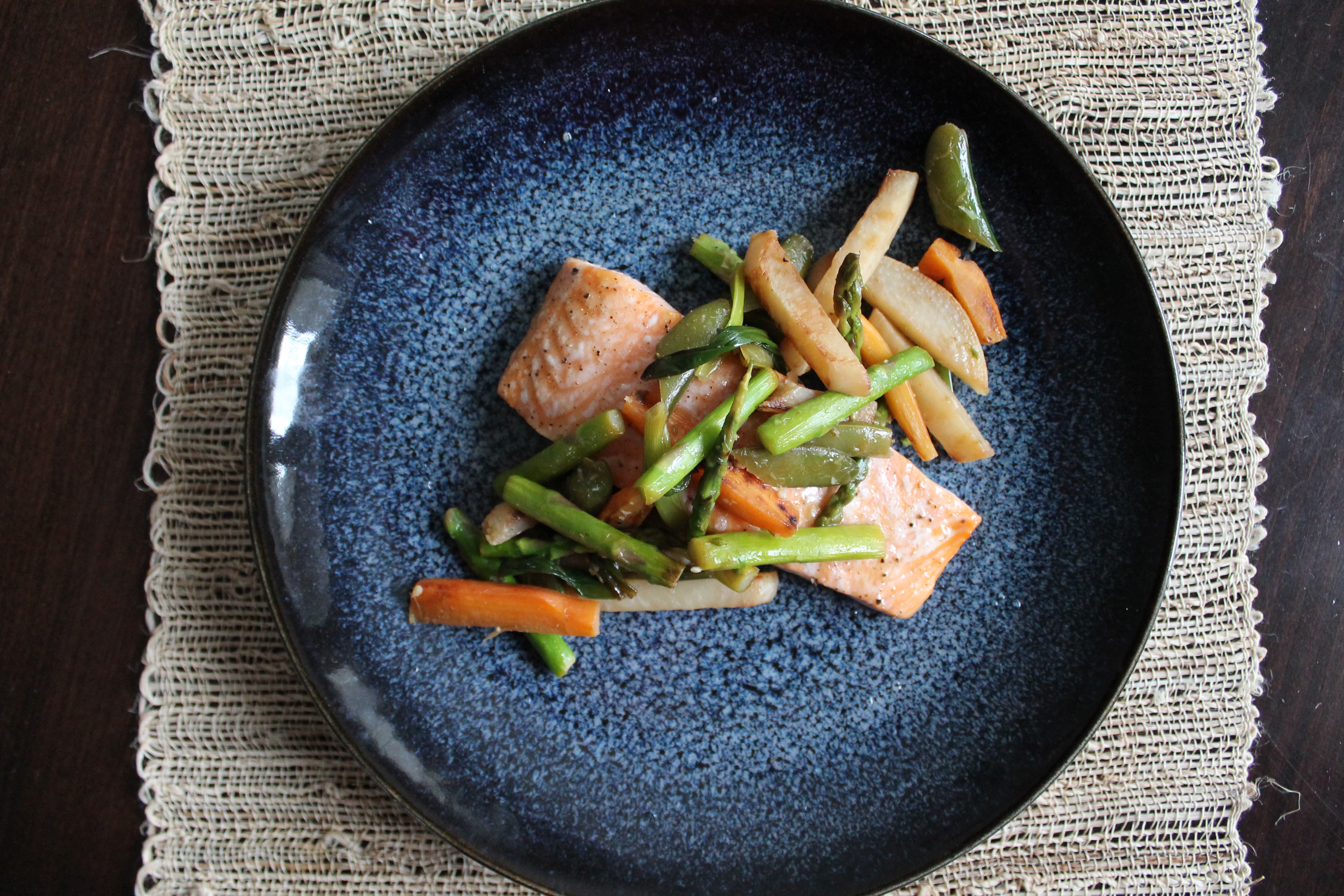 Serve warm over salmon (my fave) or your favorite grain.
Snap Pea, Asparagus, and Turnip Primavera
Ingredients
2

cups

snap peas

1

lb.

asparagus spears

5

small

turnips

2

small

carrots

3

scallions

2

tbsp.

unsalted butter,

divided

2

tbsp.

olive oil

3-4

large cloves

garlic

pressed or minced

salt and black pepper

1

cup

white wine

(Sauvignon Blanc)

juice of

½

lemon
Instructions
Remove the strings from the snap peas. Trim the woody ends off the asparagus. Peel the turnips and carrots.

Cut all of the vegetables into 2″-3″ long and approx. ½″ wide fingers.

Heat the oil and ½ tbsp. butter in a very large sauté pan over medium-high heat. When the oil begins to shimmer, add the carrots. Cook for 2 minutes, tossing them in the pan occasionally.

Add the remaining vegetables, starting with turnips, followed by asparagus and snap peas, and finally scallions. Cook for 1 minute between each addition. The vegetables should be crisp-tender.

Add garlic and salt and pepper to taste and toss to combine. When the garlic is fragrant (30 seconds), remove the veggies from the pan.

Using the same hot pan, combine the remaining 1½ tbsp. butter with white wine and lemon. Stir regularly over medium heat, until the wine reduces by half.

Pour the sauce over the veggies and turn to coat.