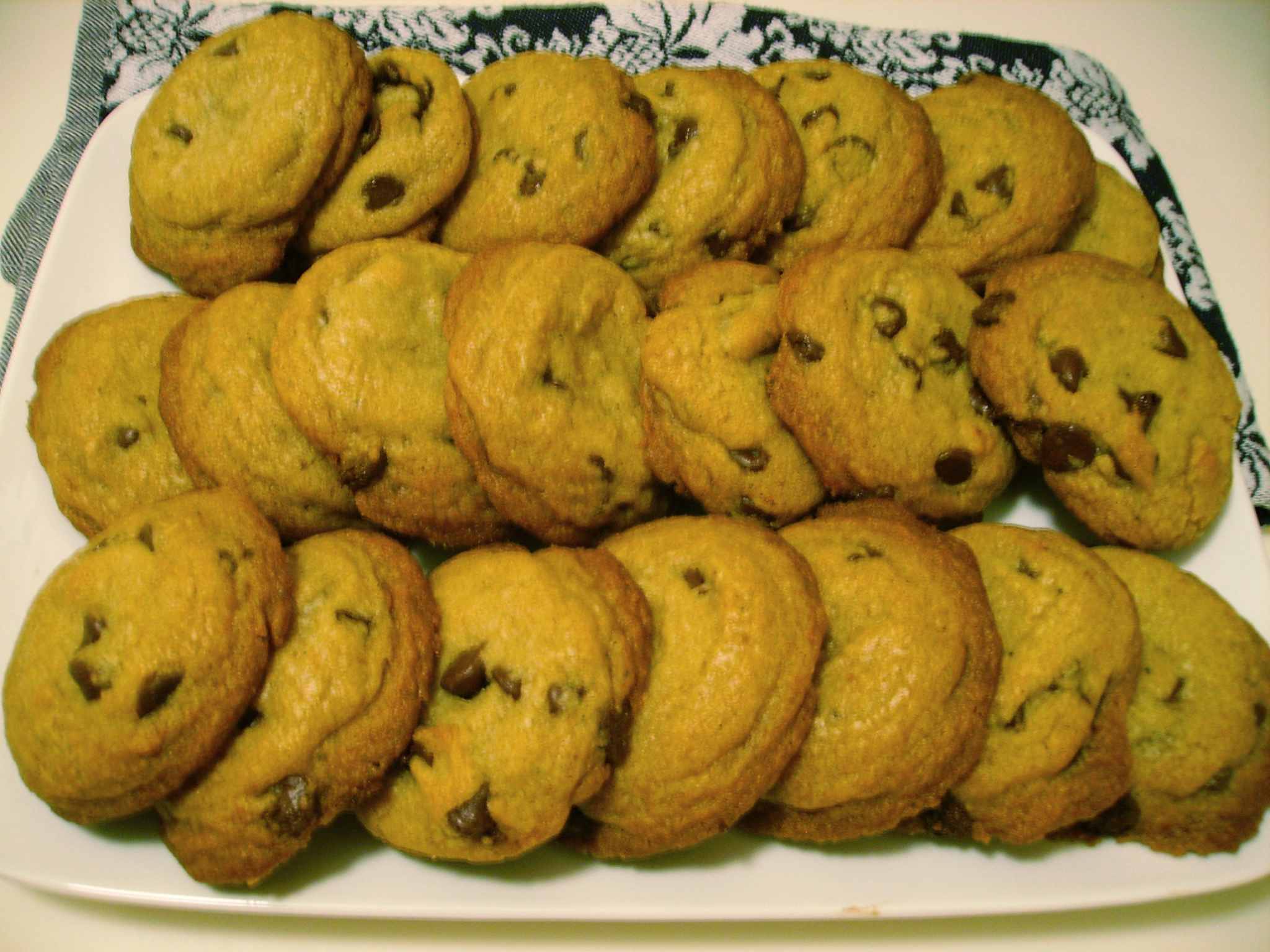 I've always thought the quest for the perfect chocolate chip cookie was a bit silly. I mean, most people just love the one they're with, right?
For years, I've ignored new recipes for chocolate chip cookies, because the cookies I grew up with, the recipe I've had memorized since I was 11, had no need for improvement. The cookies were soft, the chips were melty, and the flavor was rich and rounded. What more could a girl ask for?
I'll tell you: butter. My beloved chocolate chip cookies have a Crisco base…and as I've become more invested in baking, I've also grown to realize that baking with shortening is not a virtue unless you are lactose intolerant or vegan. And I quickly discovered that replacing the Crisco with butter 1:1 resulted in a flat, sticky mess.
So what's a girl to do?
Well, while I would never abandon my trusty chocolate chip cookies, I began to make room in my heart for a new recipe. And have I got a doozy for you. Brown butter. Need I say more?
(Just in case you need extra encouragement…) These cookies will make your house smell like caramel. No joke. First you brown some butter…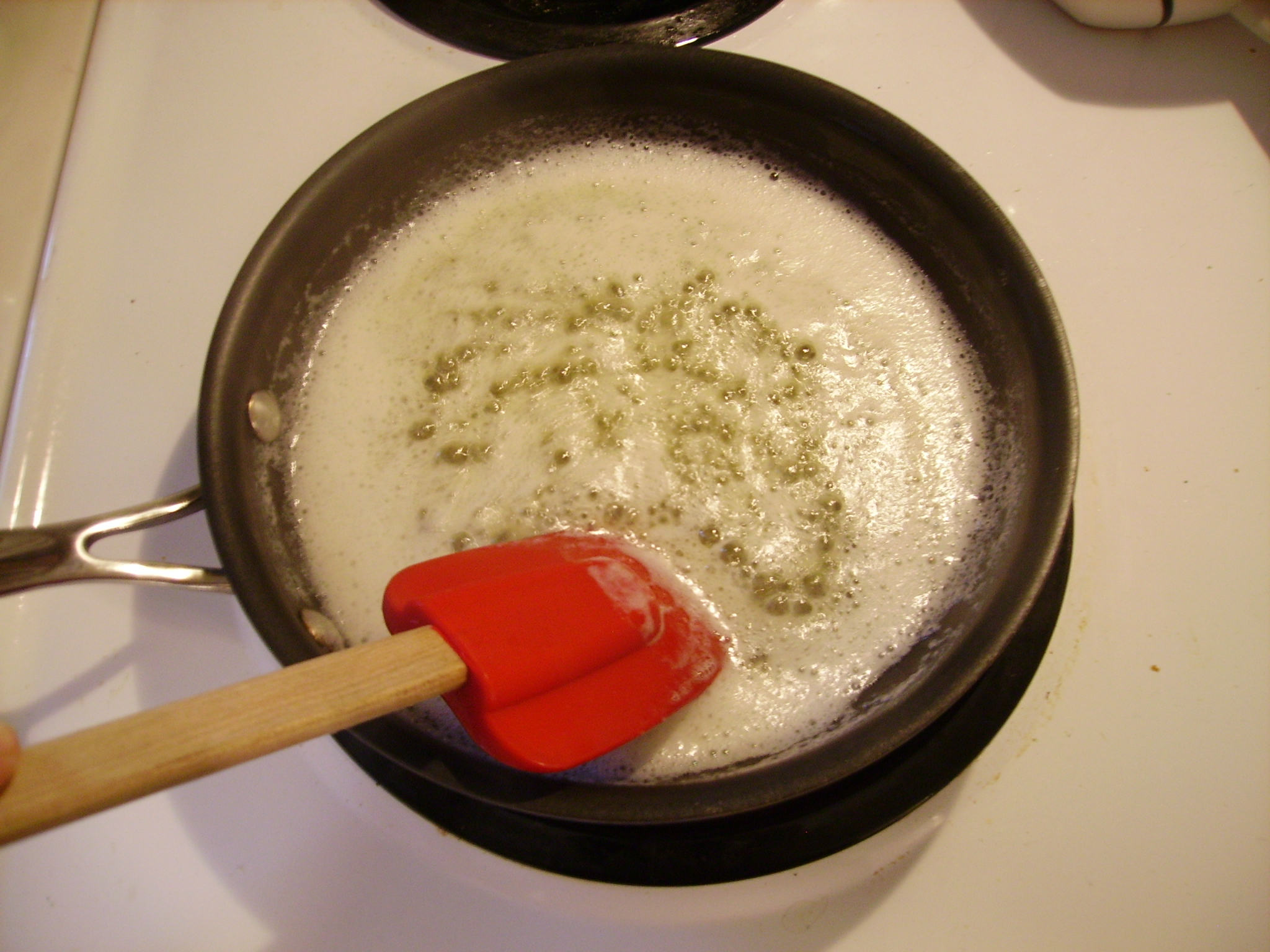 And then when you mix the last few tablespoons of butter in with the browned butter, it fizzes up and smells like caramel and nuttiness…and if it weren't straight butter, you might drink it.
Then as you whisk in the sugars and then the egg and yolk, it becomes thick and creamy…

And, assuming you hang on to your restraint, after you stir in the flour, you might want to take just a little pinch of dough (who am I kidding? take a whole spoonful…take two)…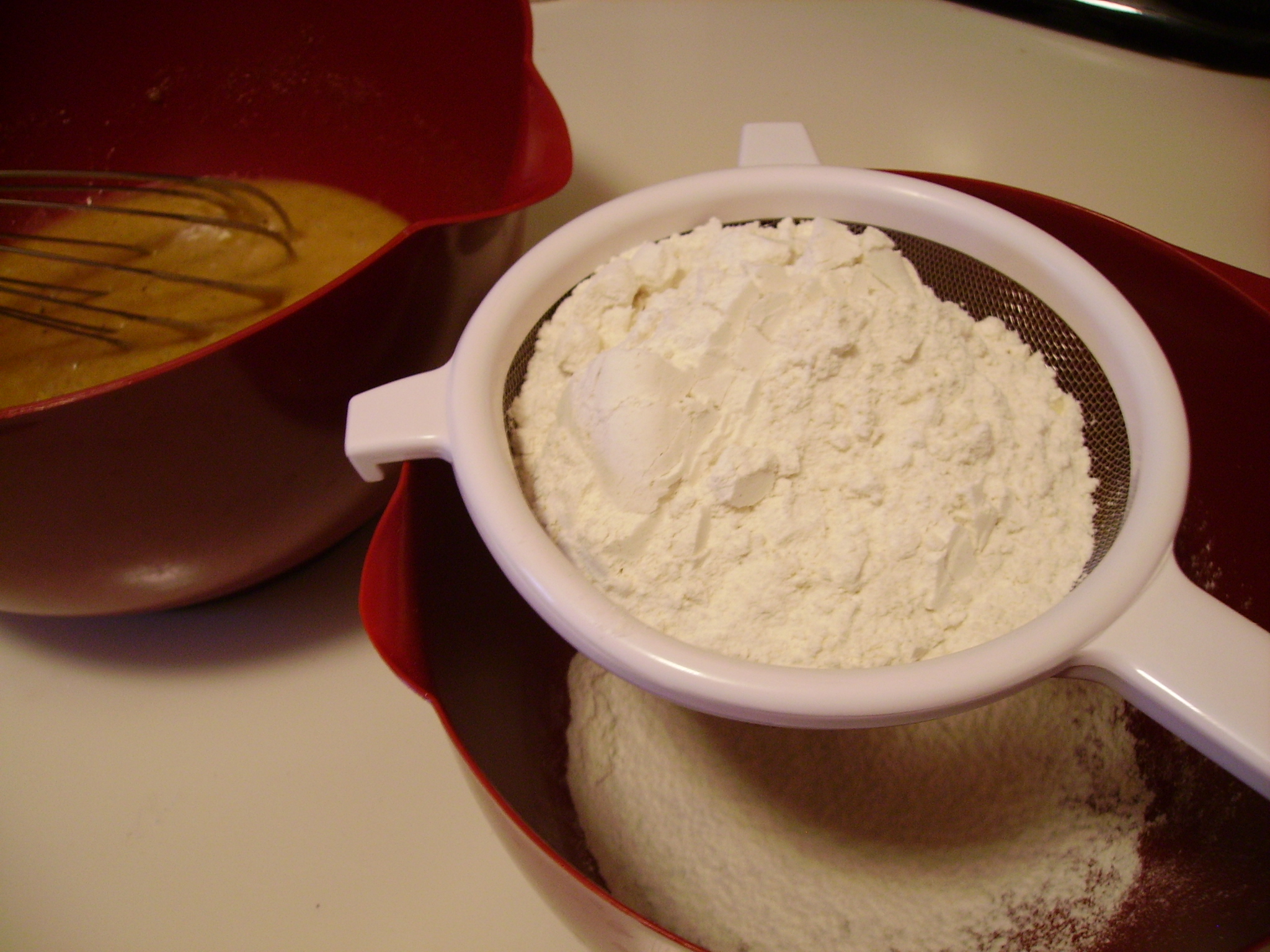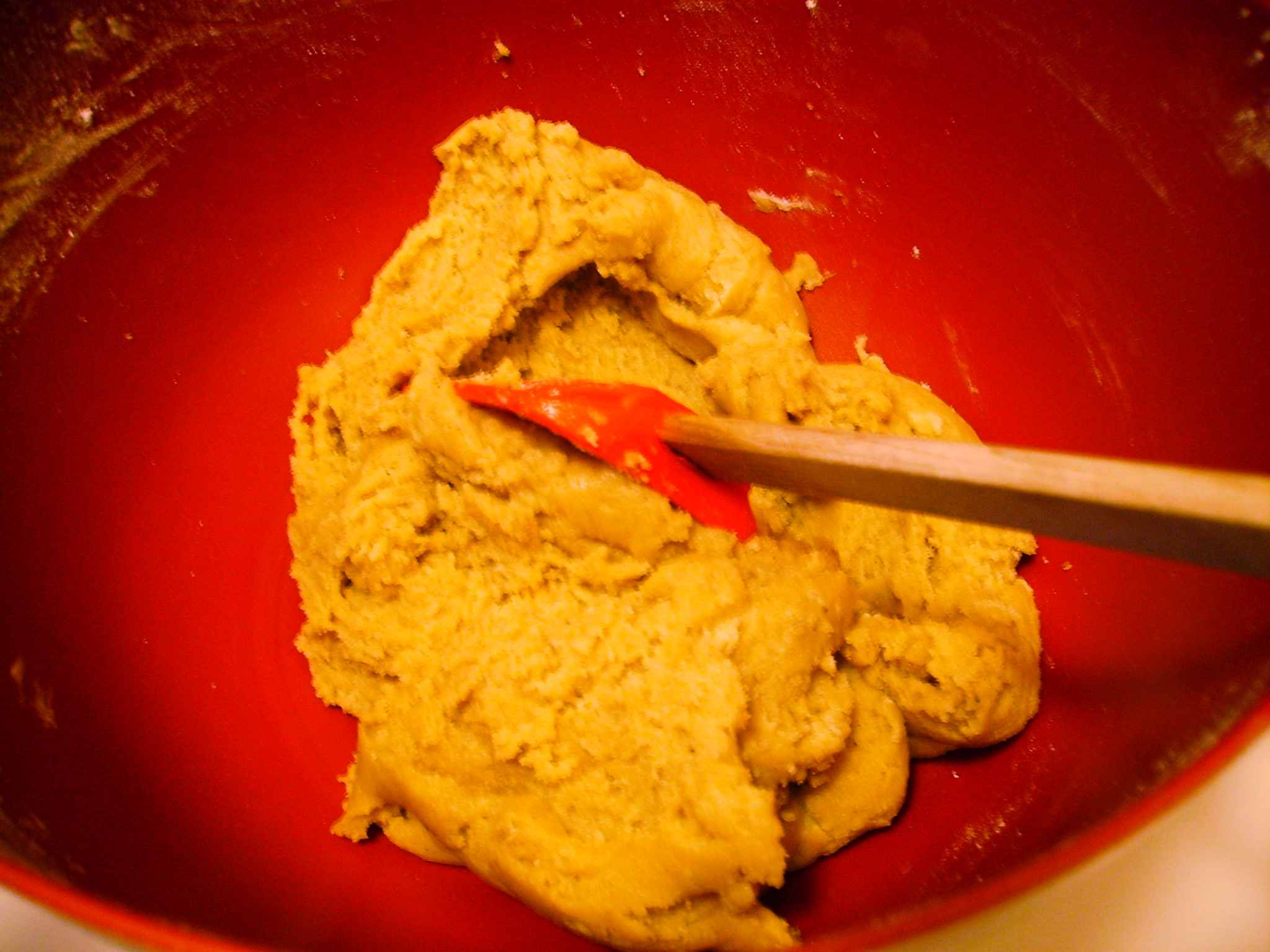 But don't take too much, because you will really regret it in the end of you bake up less of these than you could have…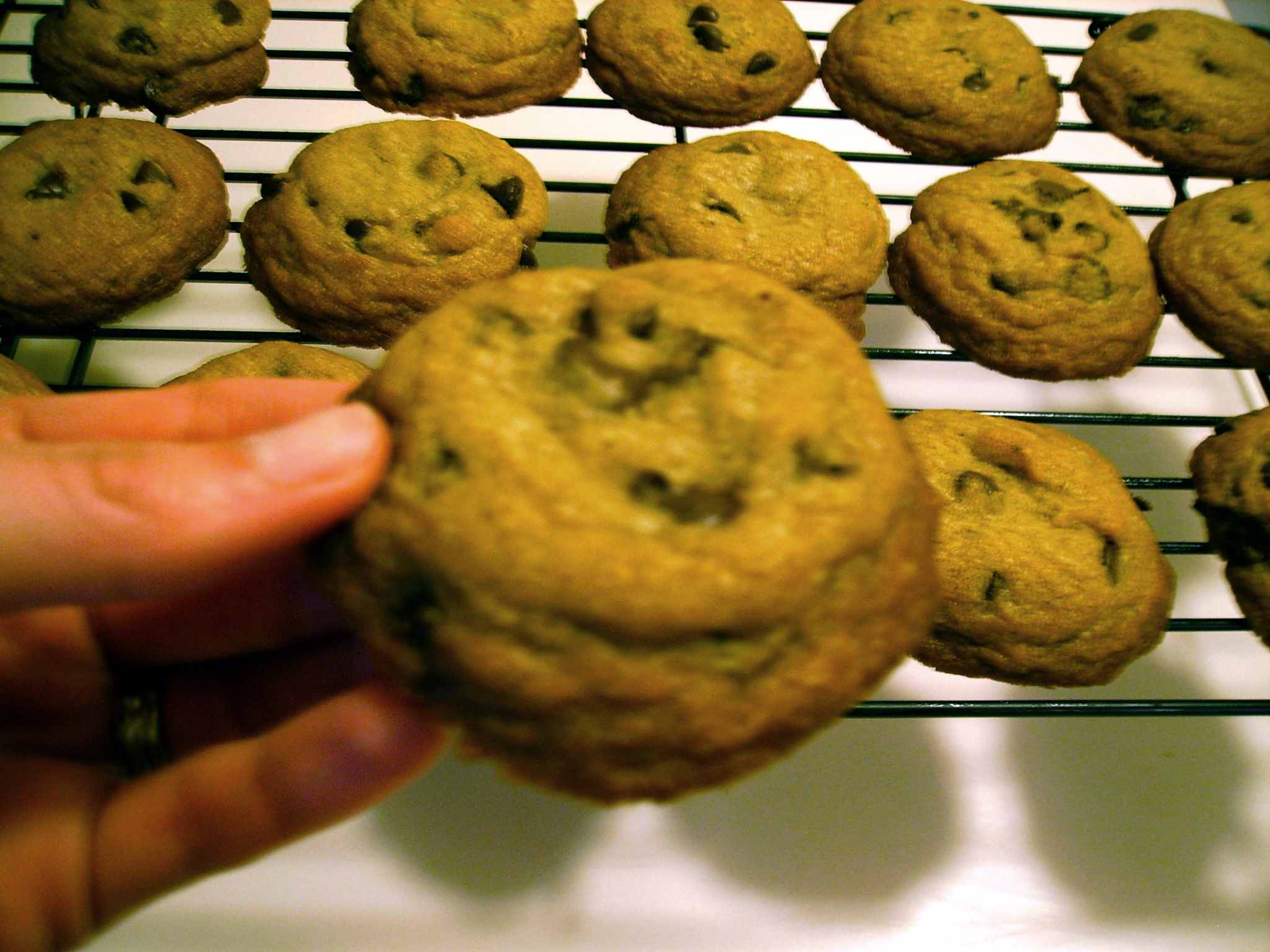 Brown Butter Chocolate Chip Cookies
very lightly adapted from Eat Live Run
makes 24
Ingredients:
14 tbsp. unsalted butter, divided
½ cup sugar
¾ cup brown sugar
1 tsp. salt
2 tsp. vanilla extract
1 egg
1 egg yolk
1¾ cup flour
½ tsp. baking soda
1¼ cup chocolate chips
Directions:
Preheat oven to 375°.
Brown 10 tbsp. butter over medium heat, stirring constantly. When butter is dark and nutty, transfer to a heat-safe bowl. Add remaining butter and stir until completely melted.
To the melted butter, add sugars, salt, and vanilla. Whisk for 30 seconds, or until combined. Add the egg and yolk. Whisk another 30 seconds, then let rest for 3 minutes.
Meanwhile, sift together the flour and baking soda.
After the butter mixture has rested, whisk again quickly and then stir in the flour. Add the chocolate chips. Batter should be soft.
Line 3 cookie sheets with parchment paper. Using a 1½″ cookie scoop, scoop 8 cookies onto each sheet.
Bake (separately) for 10–12 minutes, rotating halfway through. Allow to cool on the cookie sheets for 2 minutes before removing to a cooling rack.
Enjoy!