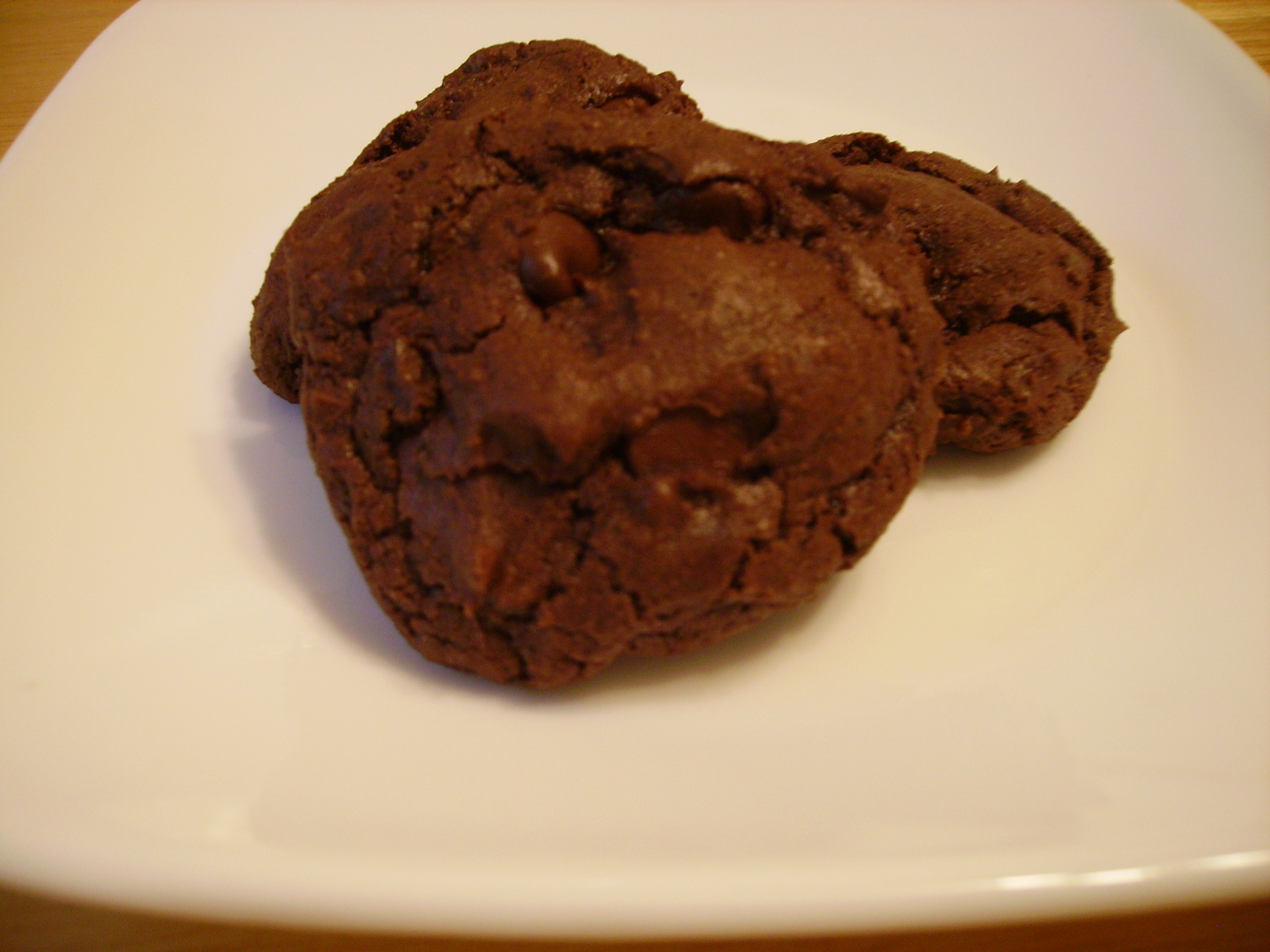 It's Spring. The blogosphere is running wild with fresh fruits and fruit bars and fruit tarts. Not being a fruit-lover, I feel puzzled and occasionally jealous when I start seeing all of the colorful desserts splashed across magazine covers and blog entries. I have never once walked into a grocery store and gotten excited about raspberries. Thus, my kitchen knows no Spring, and honestly, I don't think it knows the difference. Chocolate is timeless.
Today was the perfect day to curl up on the couch with some chocolate cookies and a book. Outside, the sky struggled to make up its mind…is it sunny? is it about to break into a thunderstorm? I erred on the side of thunderstorm and whipped up a batch of double chocolate chip cookies.
These cookies live up to their "double chocolate" headline. Filled with chocolate chips and Dutch-process cocoa powder, they are so rich they are almost black. They bake up crispy on the outside and soft, almost gooey, on the inside. One cookie is definitely not enough (though you should probably stop after two).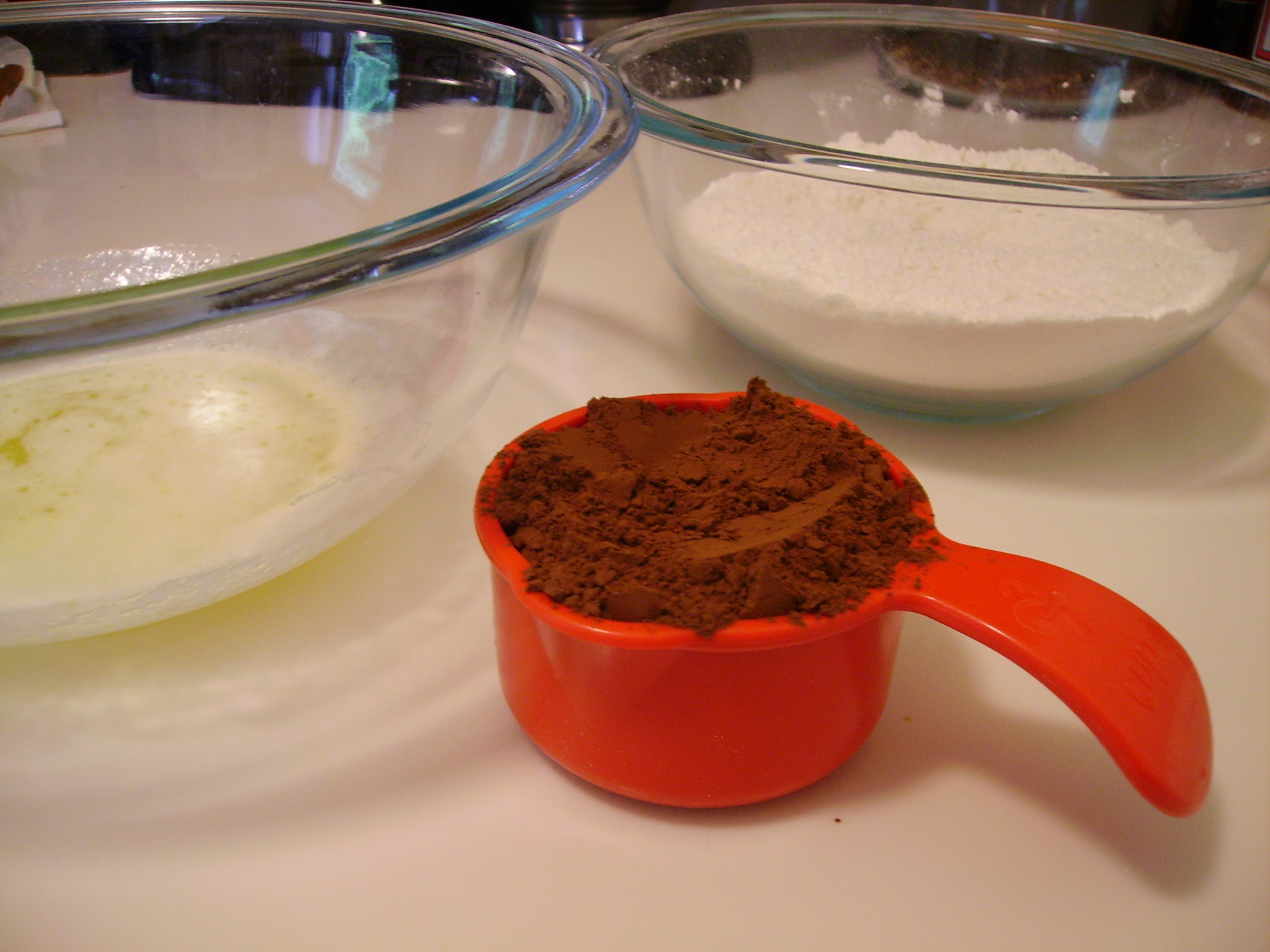 To start, melt the butter. Whisk together the flour, salt, and baking soda in a separate bowl.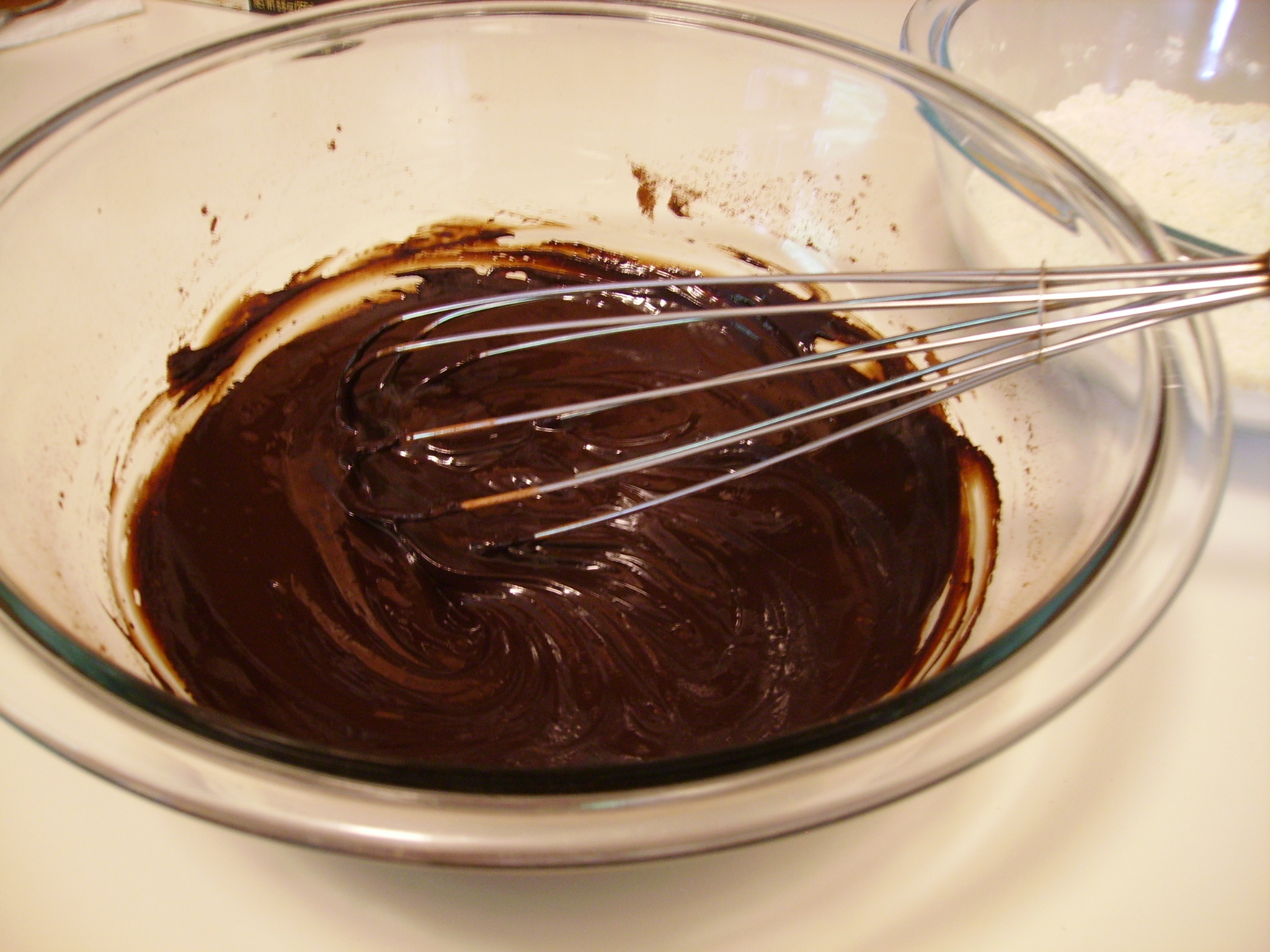 Whisk the cocoa powder into the butter. This will immediately fill your kitchen with a deep, brownie-like smell.
Add the sugar, vanilla and buttermilk. When the mixture becomes smooth and silky, slowly add in the flour, about a third at a time. You may want to switch to a wooden spoon partway through, for ease of stirring.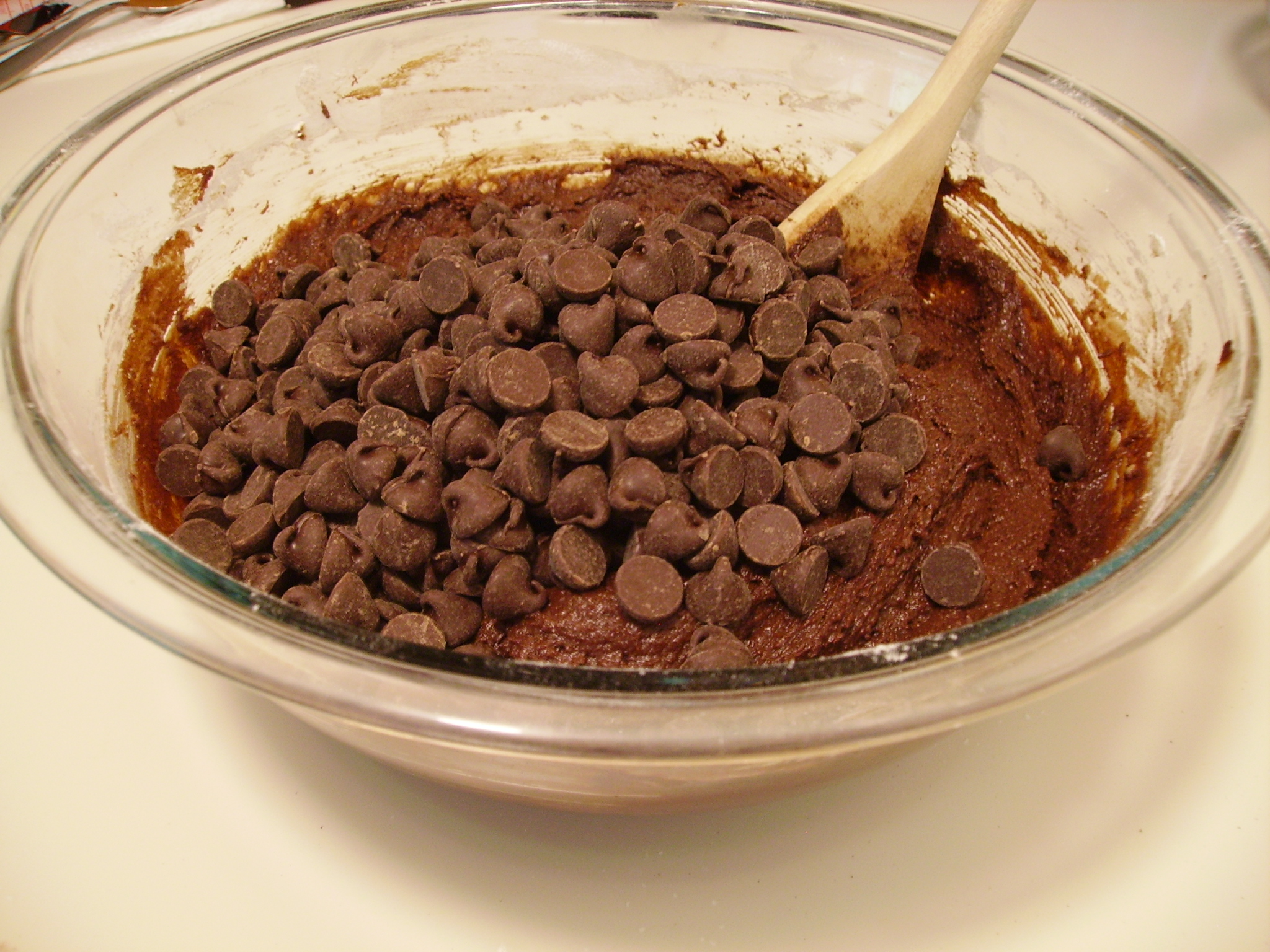 Add the chocolate chips and stir until they become evenly distributed.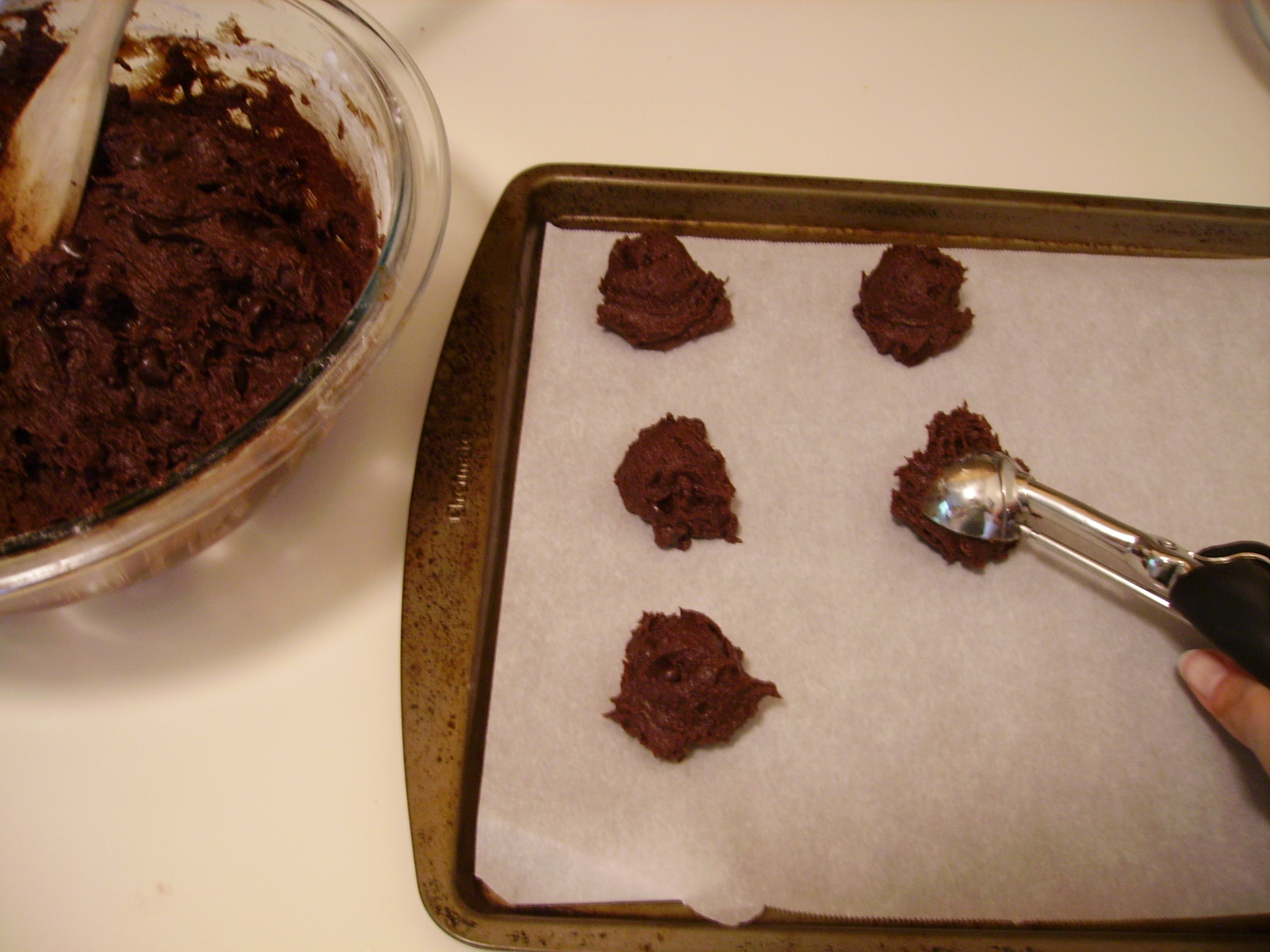 Bake the cookies for about 10 minutes on a Silpat or parchment paper-covered cookie sheet. Let them sit for about 3 minutes on the cookie sheet after baking, to help the bottoms become nice and crisp. Finish cooling on a wire rack.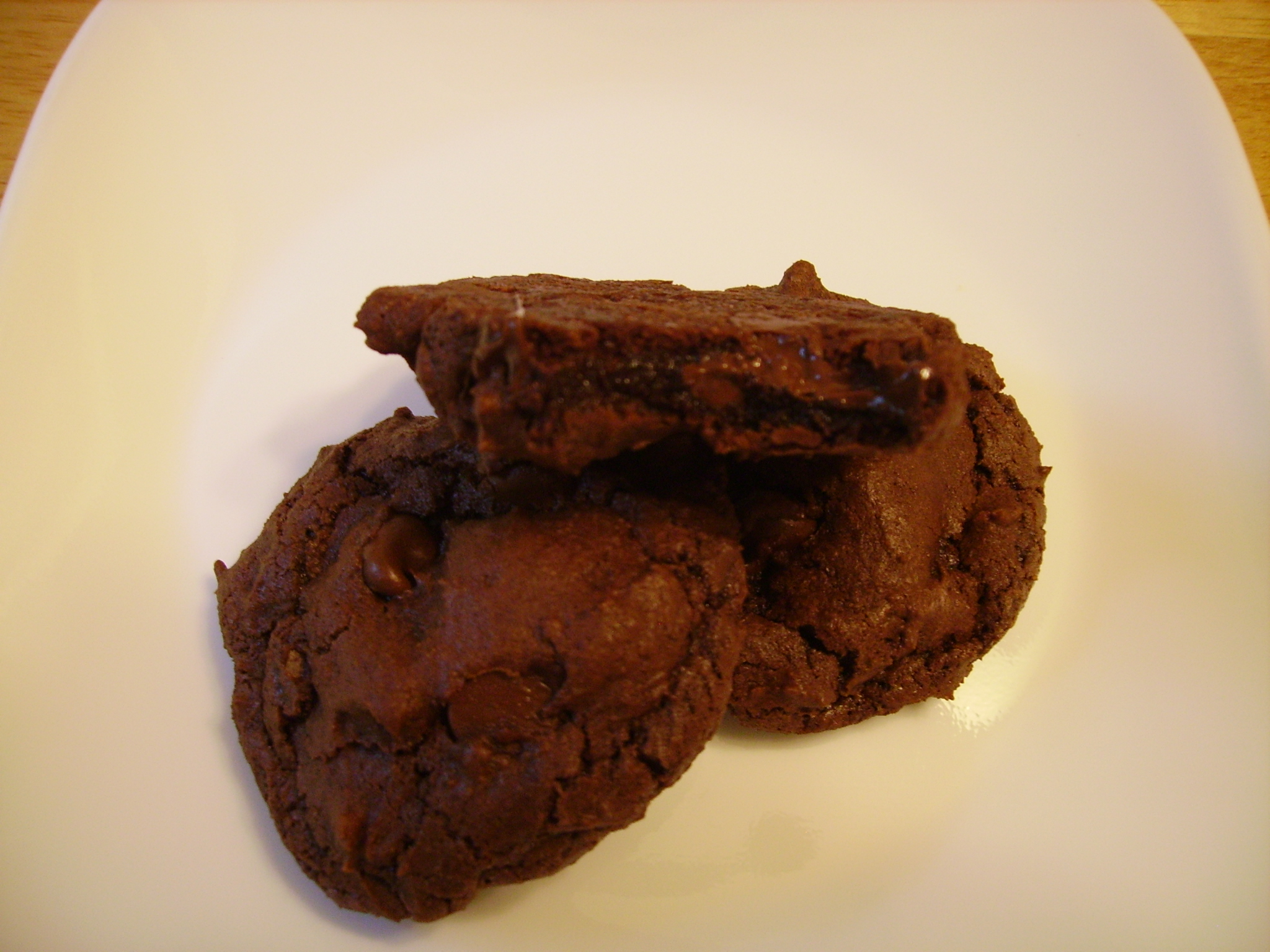 Enjoy a cookie warm! You know you want to.
Double Chocolate Buttermilk Cookies
from Baking Bites
makes about 4½ dozen
Ingredients:
2 cups flour
½ tsp. baking soda
½ tsp. salt
½ cup unsalted butter, melted
¾ cup Dutch-process cocoa powder
2 cups sugar
1 tsp. vanilla extract
⅔ cup low-fat buttermilk
2 cups chocolate chips
Directions:
Preheat the oven to 350°. Line a baking sheet with parchment paper or a Silpat.
In a medium bowl, whisk together flour, baking soda, and salt.
In a large bowl, combine the melted butter (still warm) with cocoa powder and whisk until very smooth. Whisk in sugar, vanilla extract, and buttermilk. Gradually stir in the flour mixture until no streaks of flour remain. Stir in the chocolate chips.
Drop dough in 1″ balls onto prepared baking sheet, leaving about 2″ between cookies to allow for spread.
Bake for 10–12 minutes, until cookies are set around the edges.
Cool for 2–3 minutes on a baking sheet, then transfer to a wire rack to cool completely.
Enjoy!