One word: Ladurée. If you have never been to this Paris pâtissier and sampled their famed macarons, then you don't know what you are missing. I went in thinking, "I am going to try a real macaron!" and left with a box of 8…oops. My favorite was the vanilla, which is weird considering that I am normally a chocolate person, but the flavor was so rich and smooth, it was like heaven. Ladurée offers about 20 different flavors…and I managed to snap a (grainy) picture before they got my attention and told me photos weren't allowed (which, honestly, was a common refrain and the only thing that could be construed as "rude" that I experienced from the Parisiens).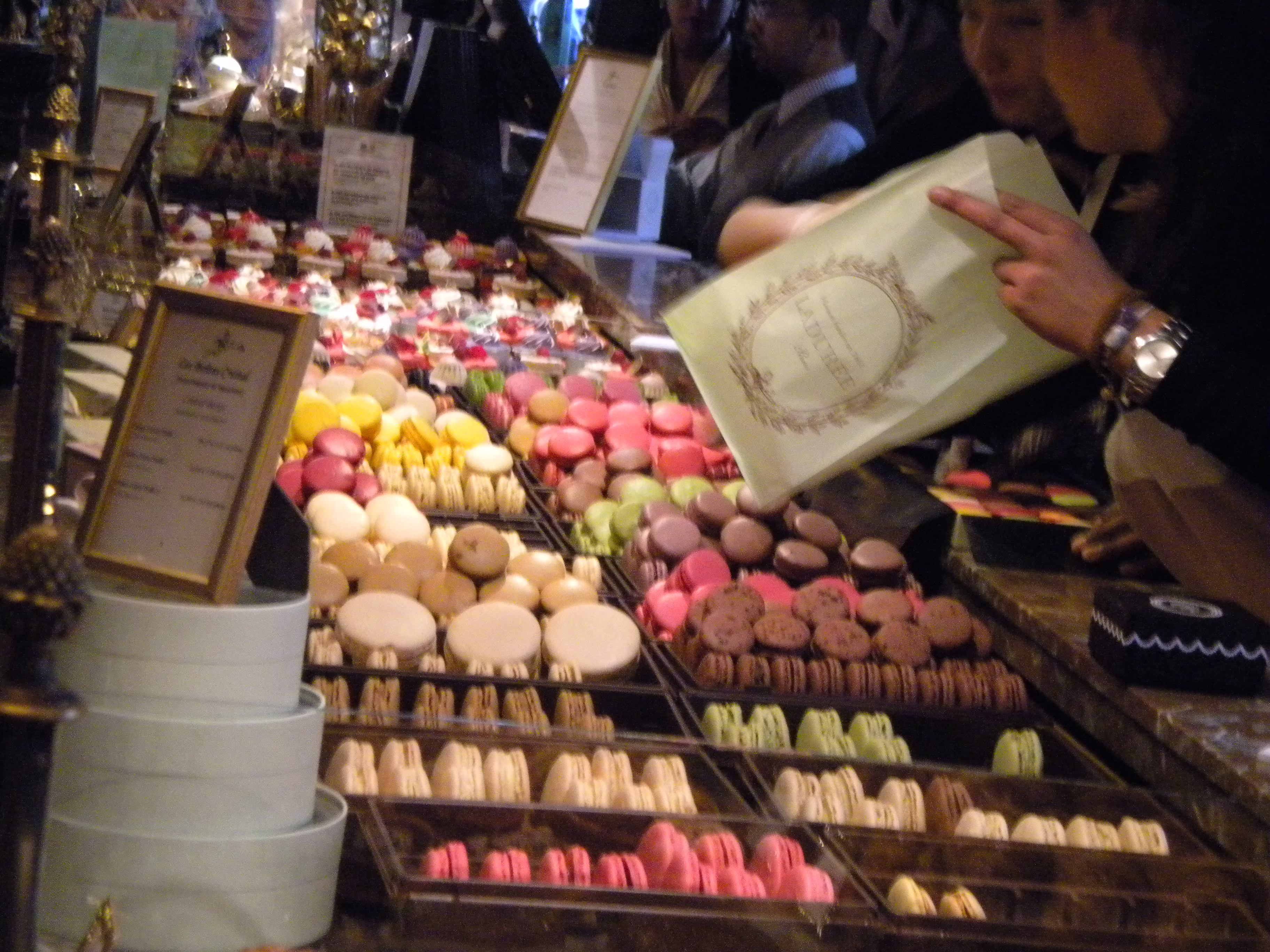 The macarons I can make don't even come close to being as awesome as the ones I ate in Paris. Don't get me wrong, they are super tasty, but I am still working on the consistency. I don't know why, but something I do must be a liiittle bit off (or maybe the world is too humid here?), since my macarons never look quite like the pictures in the blogs I consult. The feet on my macarons are wider than the shells, and the cookies themselves end up being a little chewier than they should. I don't claim to be a macaron guru.
But, practice makes perfect, right? And what yummy practice it is!
As I said, my macarons aren't the prettiest…Ladurée would never sell a macaron whose colors clashed the way mine do. But the espresso shell and the soft chocolate of the frosting are delicious together. I highly encourage you to give French macarons a try, even if it takes a few attempts to get it right!
The key to macarons (even slightly flat ones) is proper measuring. You really need a food scale to make these, which is probably why most people don't try. Go ahead. Invest $20 in a proper digital scale! You won't regret it.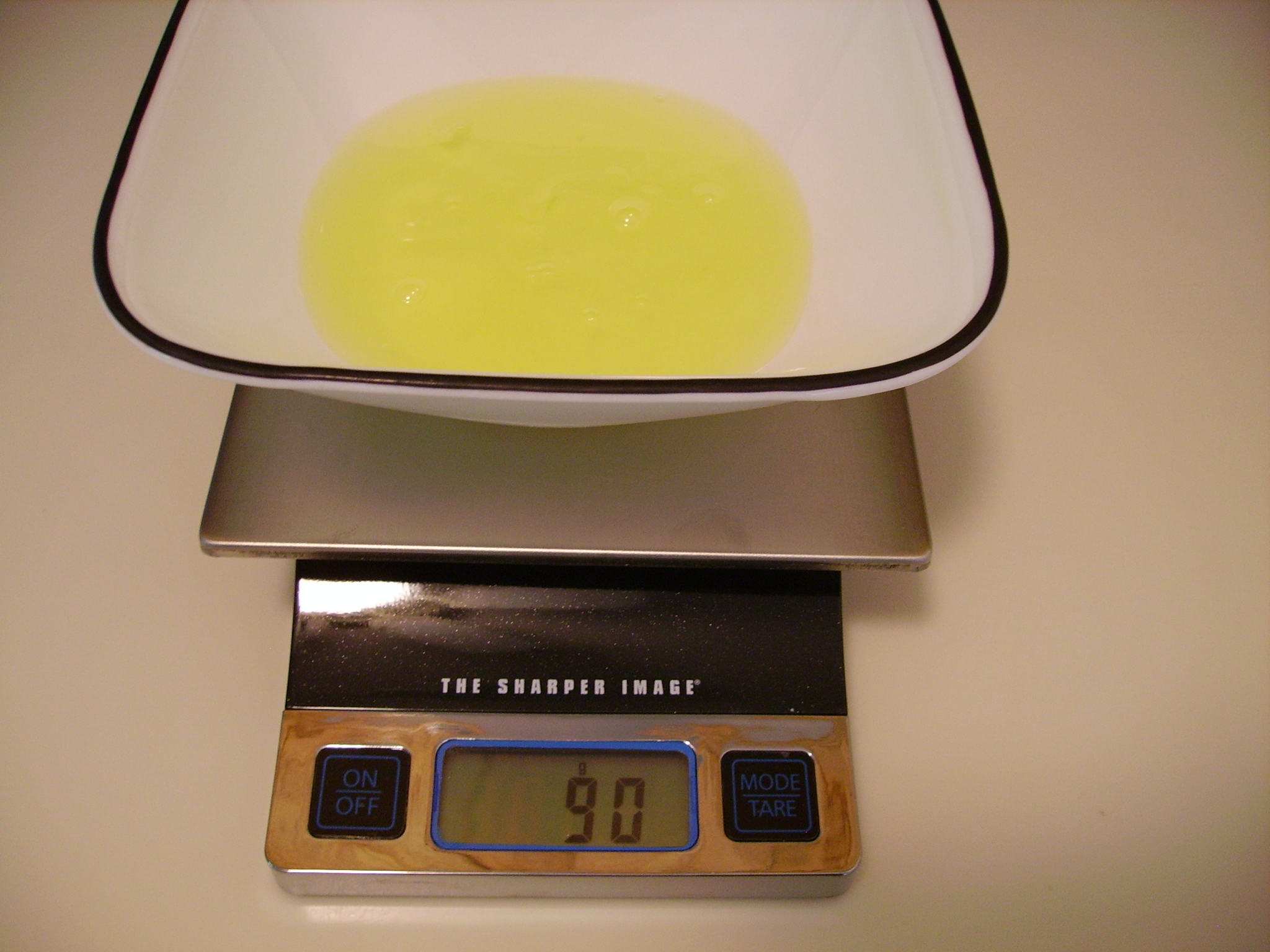 Start by aging your egg whites a few days. Older egg whites will make better macarons, according to Tartelette. Then it's all weigh, weigh, weigh.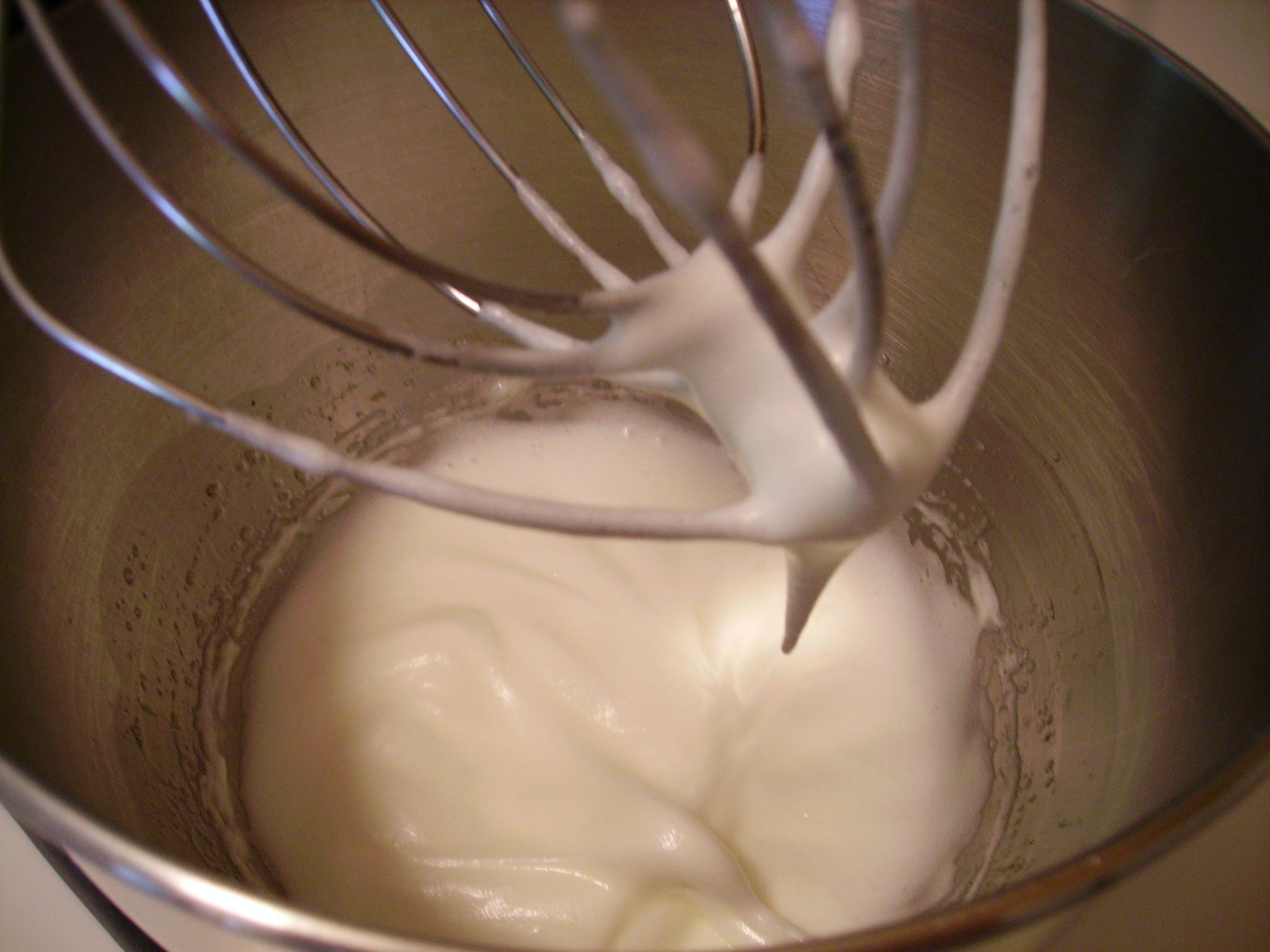 Beat your egg whites into a foam. Then add granulated sugar and continue beating until they become glossy. Don't overbeat.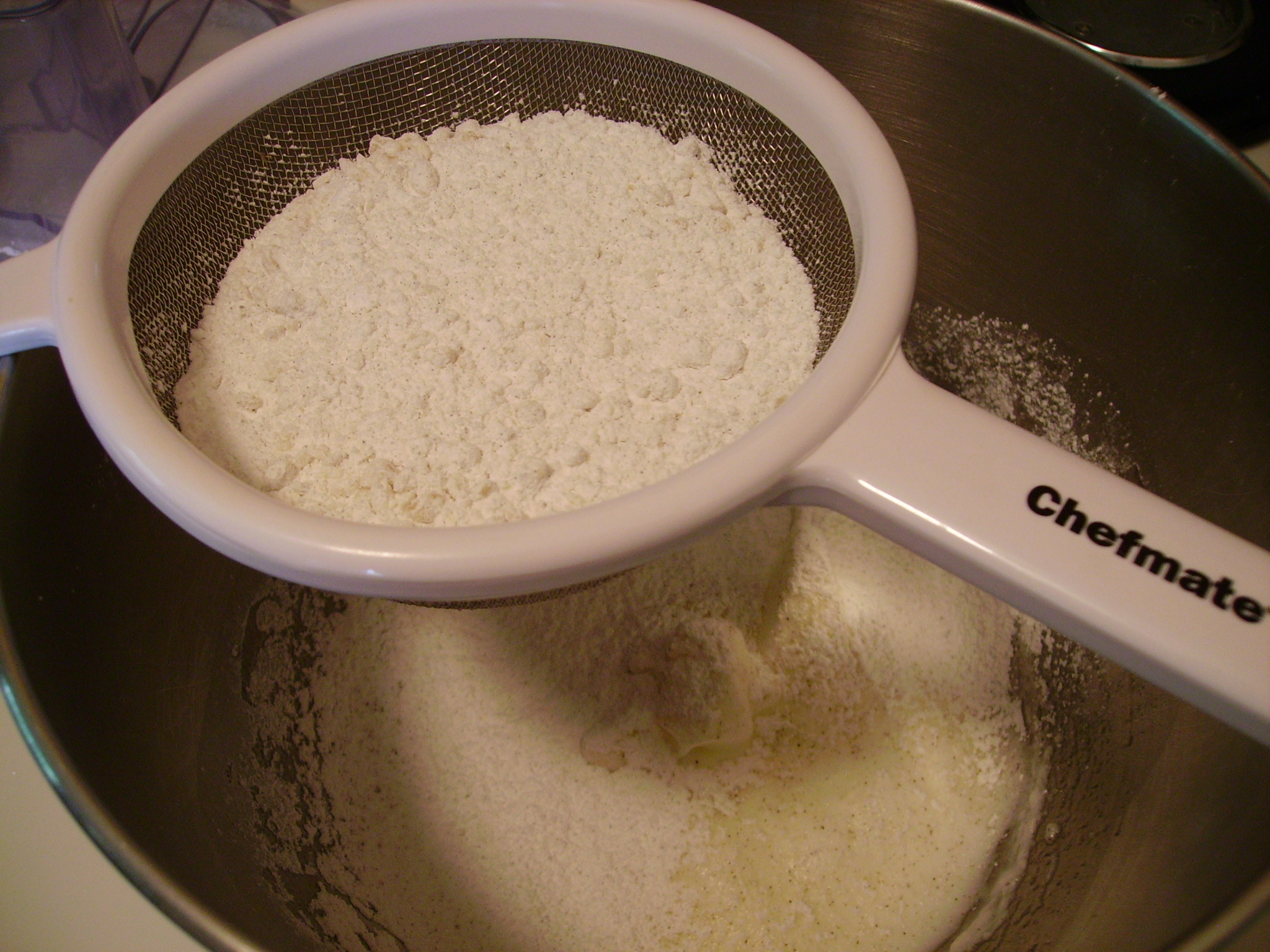 Meanwhile, weigh the confectioner's sugar and almonds. Combine them with some espresso powder in a food processor and grind until the nuts are fine. I think this is where I go wrong, because it is can be hard to get all of the nuts down to a powder…I think I focus too hard on it, and ultimately all the extra grinding releases too much oil from the almonds. Learn from my mistakes 🙂 Still, it is probably worthwhile to sift the mixture into the meringue, to catch any particularly large chunks of almond. If you find a lot of unground almonds, you may want to run them through the food processor again.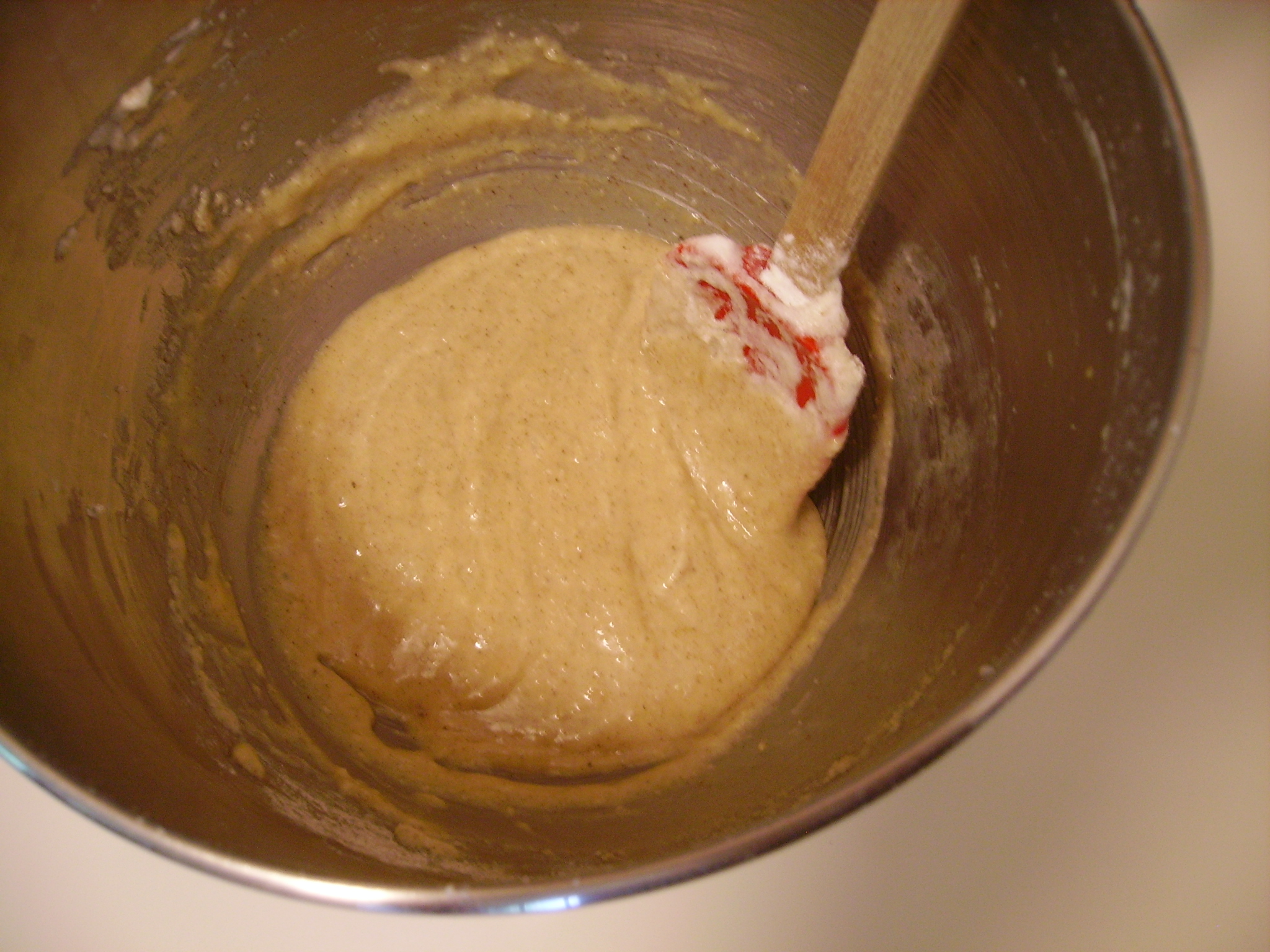 Fold the almond/sugar mixture into the whipped egg whites. Fold quickly for about 10 strokes, to beat some of the air out of the meringue. Then fold gently until fully combined, no more than 40 more strokes.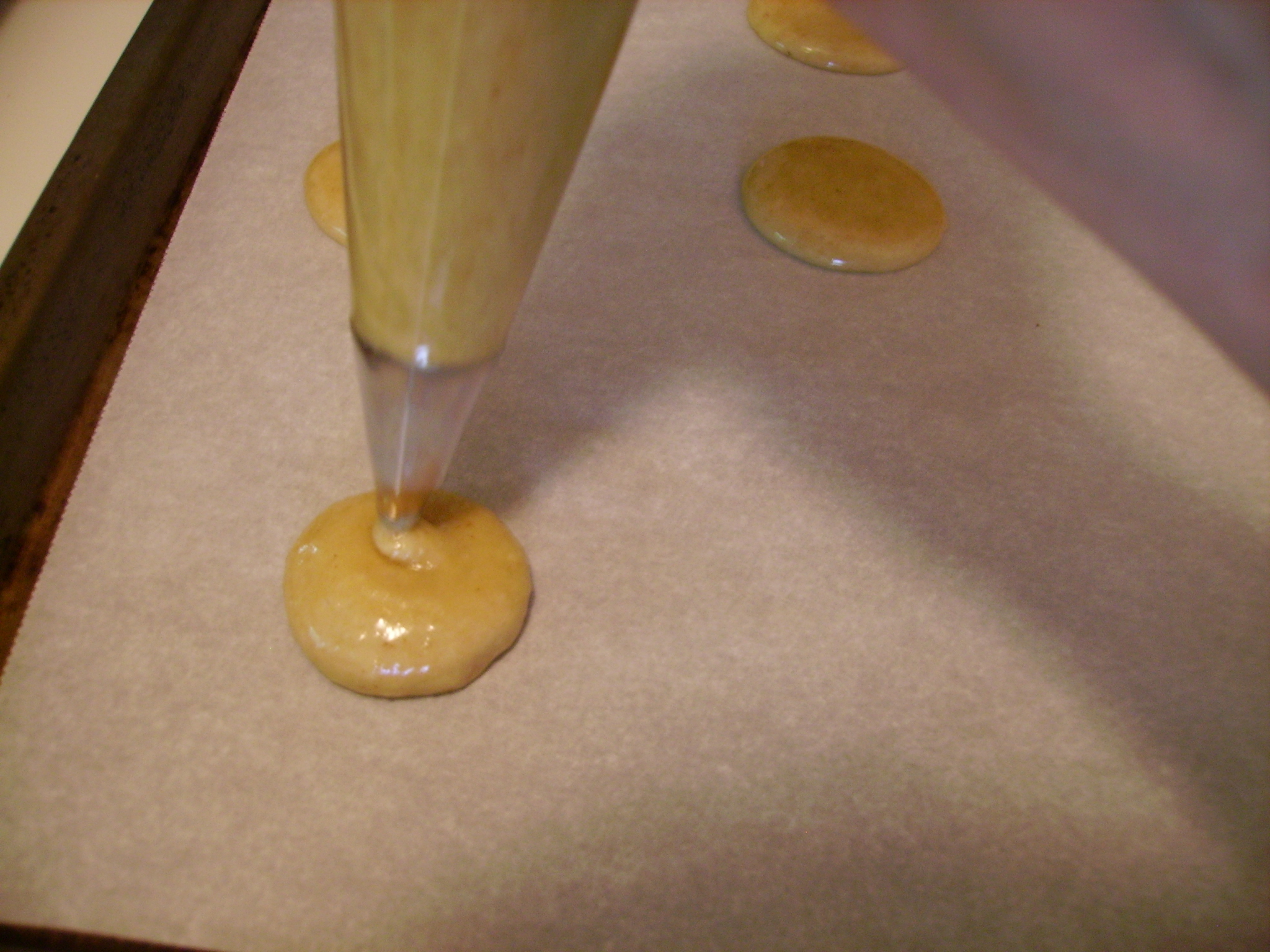 Line several cookie sheets with parchment paper or Silpats. If you are using parchment paper, make sure it is laying completely flat, otherwise the macarons will end up weirdly shaped when they settle.
Fit a pastry bag with a small round tip and fill with the macaron batter. Be careful, as it will be somewhat loose and may flow out if you aren't paying attention. Gently squeeze out the batter into 1½″ diameter circles. Leave plenty of space between, as the macarons will spread out and flatten on top.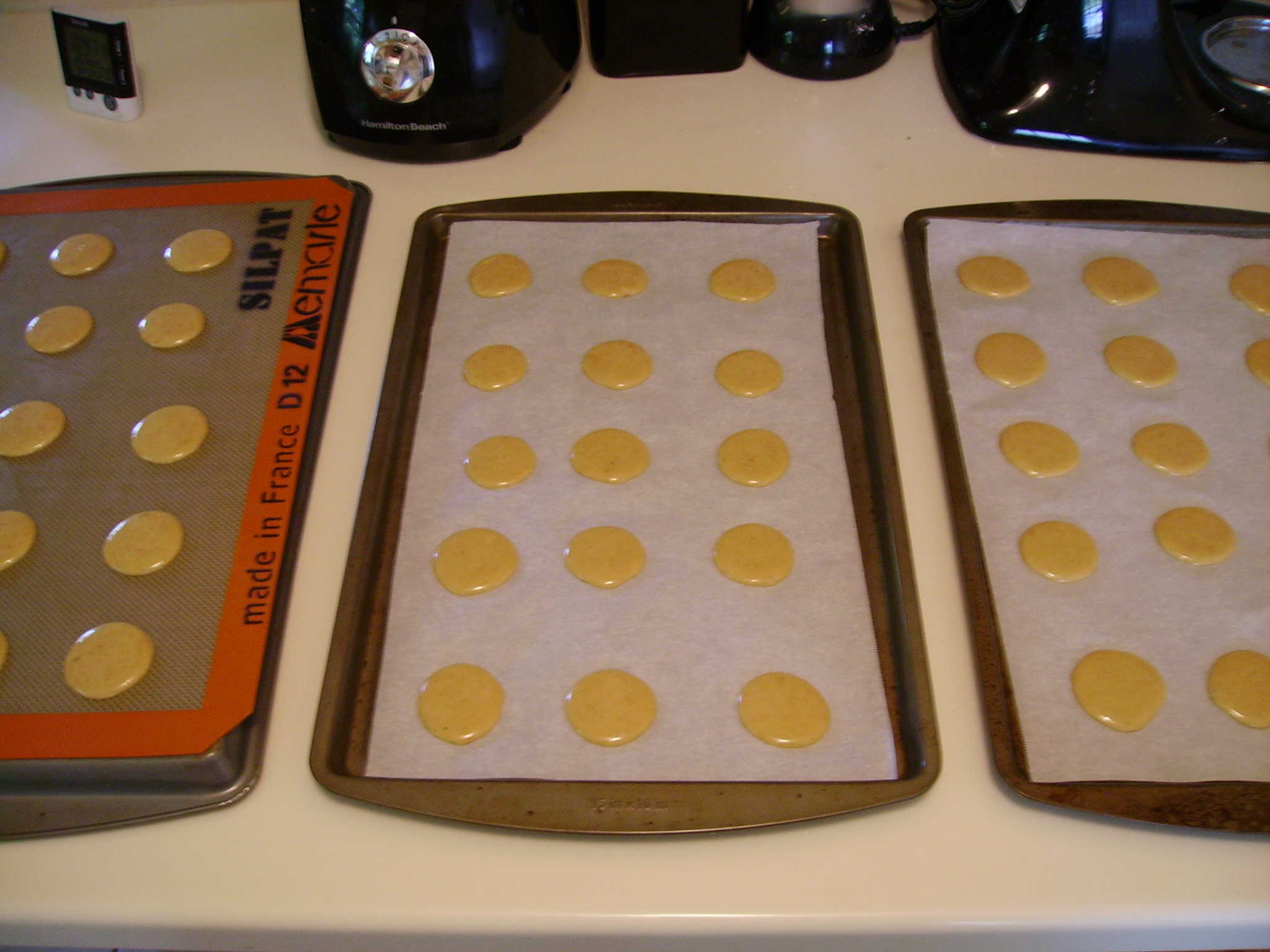 Let the macarons set for at least 45 minutes-1 hour. This allows the tops to set, so that when the macarons bake, the hardened upper shell rises up and the egg white mixture underneath forms little feet.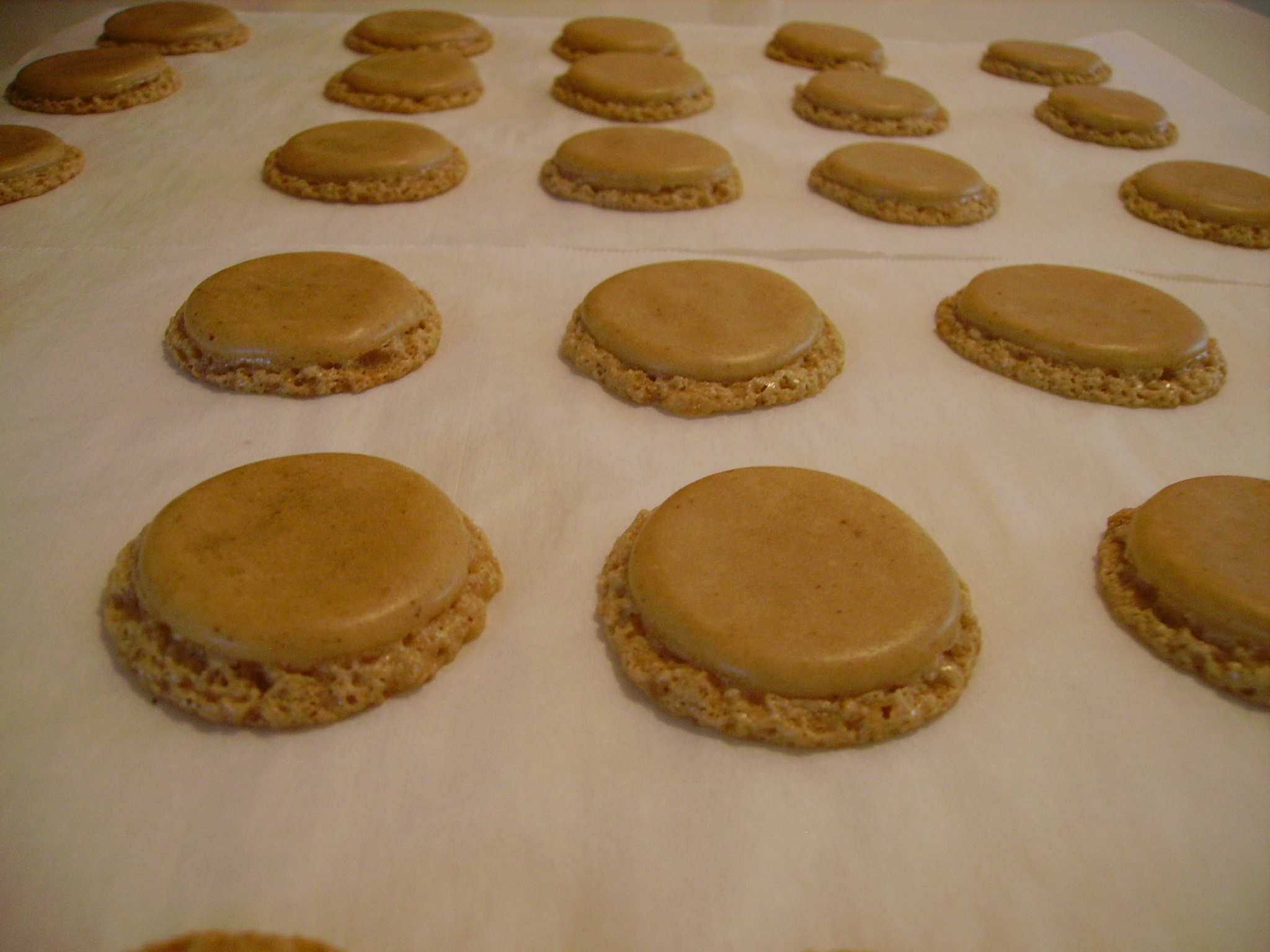 In a 280° oven, bake the macarons for 13-18 minutes, depending on how large they are. Remove from the oven and cool at least 5 minutes on the parchment paper or Silpat. If they are difficult to remove, they may need a longer cooling time. Alternatively, Tartelette suggests pouring a little water underneath the paper, saying that the moisture will help the cookies to release.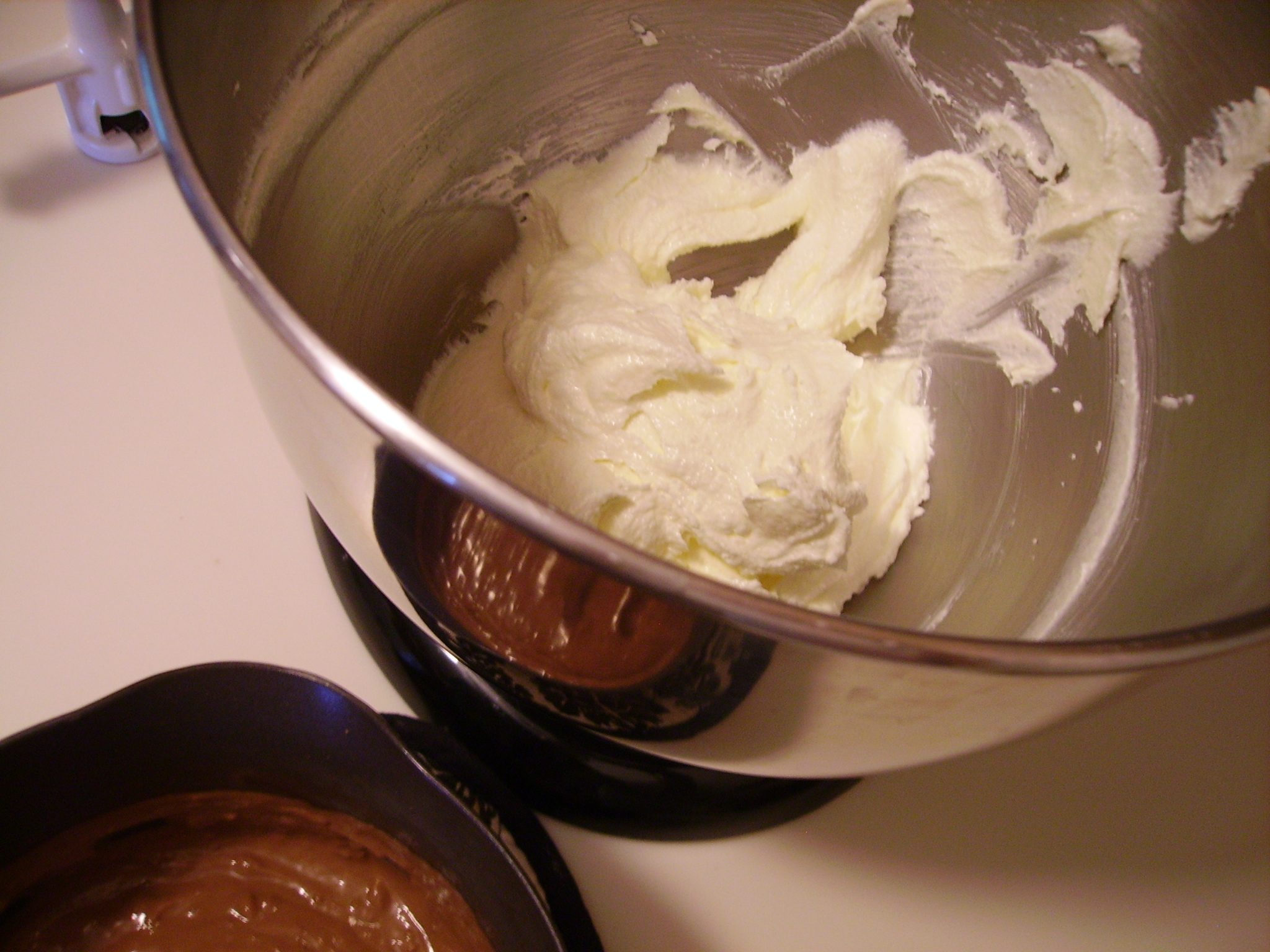 While the cookies are cooling, make your filling. I chose to make a chocolate butter roux, which I've also heard called a boiled flour frosting. Butter roux has a really mild and creamy flavor, which I think works really well with the macarons,because it is not quite as sweet as the confectioner-sugar-filled cookie shell. But really, any buttercream or ganache (or even jam…if you like that sort of thing) will work. The flavors I chose worked great together, but half the fun of macarons is in the cute package, so if you want a pretty cookie, consider making a ganache to go with the espresso shells.
Boil whole milk with a little flour and cocoa powder, whisking regularly. It will become really thick, like pudding. Remove from the heat and allow to cool to just above room temperature.
Meanwhile, cream the butter and sugar until it becomes light and fluffy.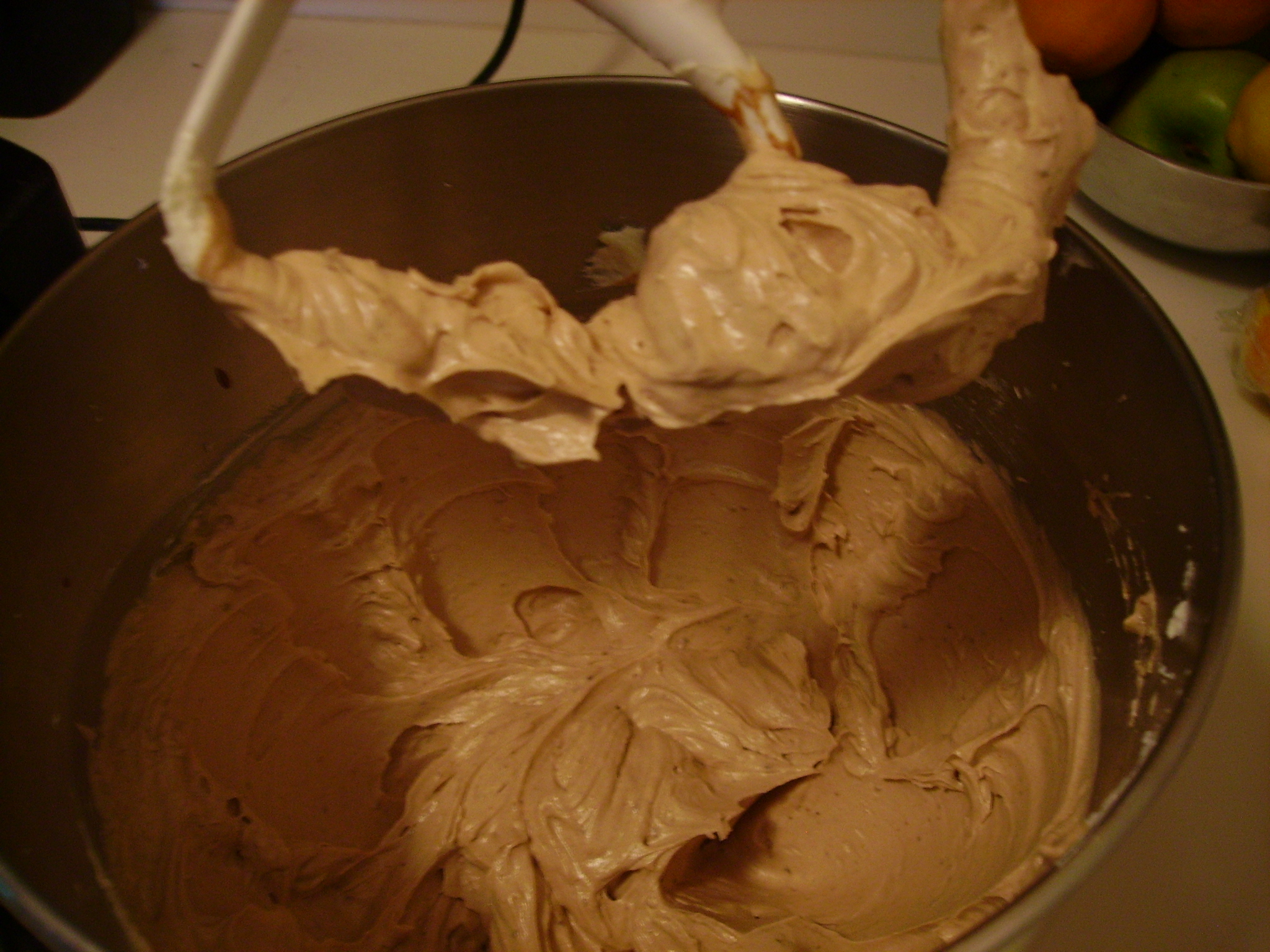 When the roux has cooled enough, force it through a mesh strainer and into the creamed mixture. You should be able to catch any flour lumps that formed while the roux was thickening.
Whip the frosting to within an inch of its life. Two things will happen: 1) it will thicken and come to a consistency slightly softer than an American buttercream, and 2) the sugar granules will dissolve, leaving a very creamy frosting. When you think the frosting is ready, be sure to taste it and check that the consistency is not grainy at all.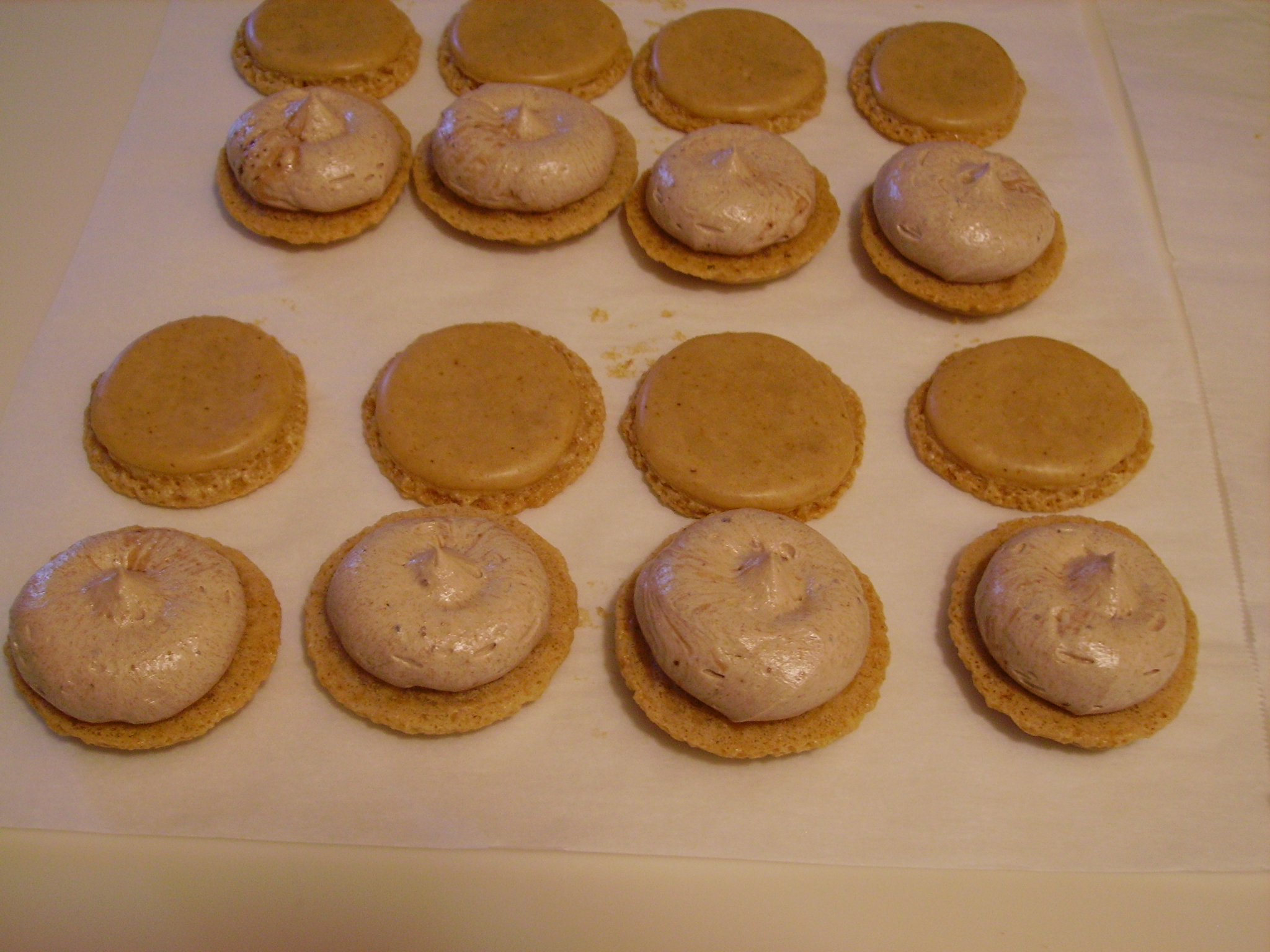 Return to the macarons and match together cookies of similar size and shape.
Fill a pastry bag with the frosting and pipe as much as you'd like onto one of the cookies in each set. Sandwich the frosting with the second cookie.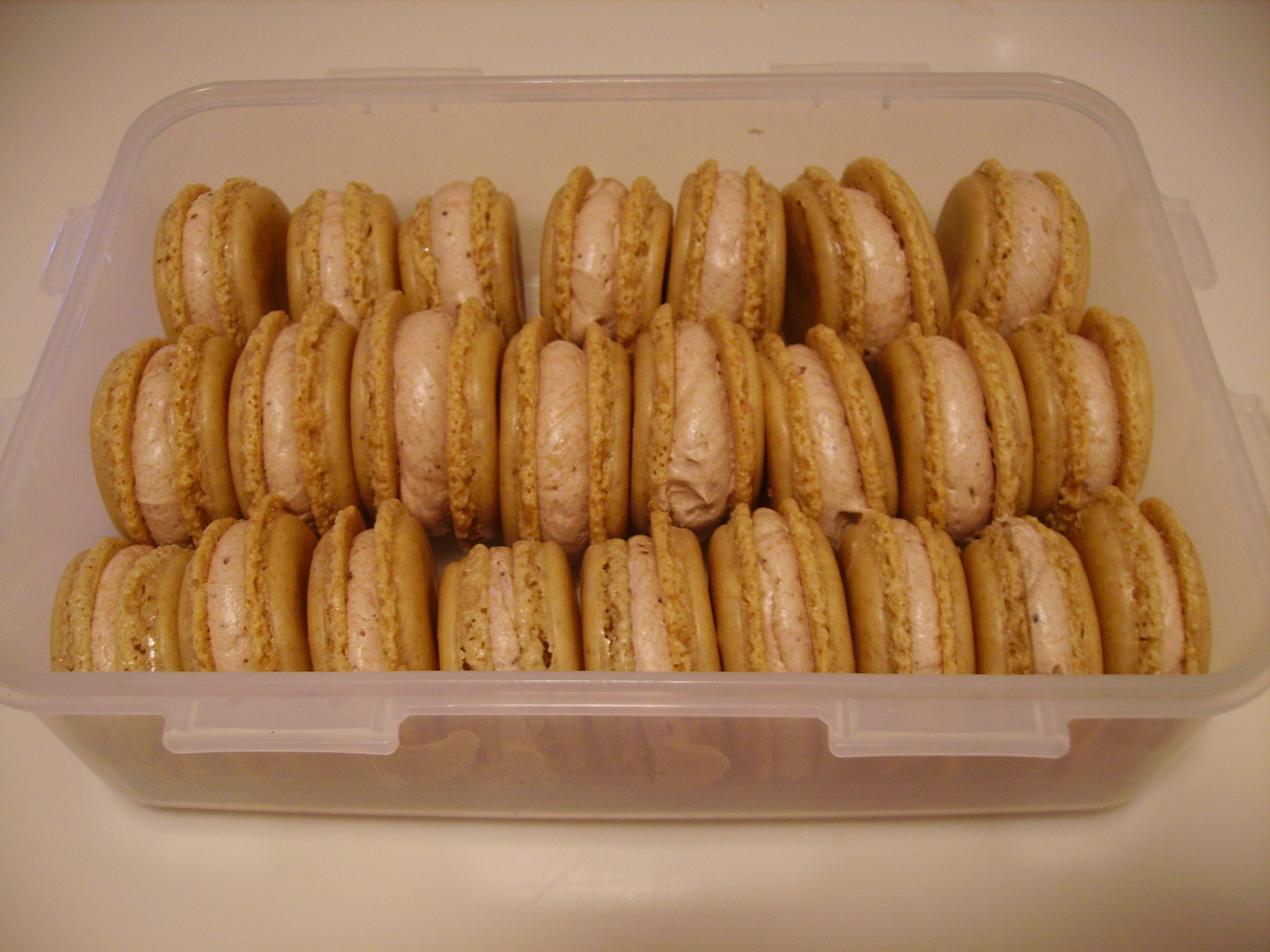 If the frosting is very soft, you may want to refrigerate briefly before serving, so that the frosting doesn't squirt out the back end of the cookie with the first bite.
Mocha Macarons
cookies from Tartelette
frosting by me
makes approx. 30 sandwiches
Cookie Ingredients:
90 grams aged egg white (a bit less than 3 large)
30 grams granulated sugar
110 grams blanched almonds or almond meal
200 grams confectioner's sugar
1 tsp. espresso powder
Chocolate Butter Roux Ingredients:
1 cup whole milk
2 tbsp. flour
1 tbsp. cocoa powder
1 cup (2 sticks) unsalted butter
1 cup granulated sugar
Directions:
In a stand mixer fitted with a whisk attachment, beat the egg whites into a foam. Add the granulated sugar and continue beating until glossy and stiff. Do not overbeat or the macarons will be dry.
Meanwhile, combine the almonds, confectioner's sugar, and espresso powder in a food processor and pulse until the nuts are ground into a coarse powder.
Fold the almond mixture into the meringue. Use quick strokes at first to break the air, then fold gently until combined. Test the consistency on a plate: if a small amount of batter flattens out within a few seconds, then the consistency is right; if it retains a small point on top, then give the batter another few strokes.
Line several cookie sheets with parchment paper. Fit a pastry bag with a medium round tip. Carefully pipe small mounds of macaron batter, about 1½″ in diameter, about 2-3″ apart from each other. They should flatten out within a few seconds.
Let the macarons rest for 45 minutes-1 hour, so that the tops will set.
Heat the oven to 280°. Bake the macarons for 13-18 minutes, until puffed and lightly golden. Allow to cool at least 5 minutes on the paper before carefully peeling off. Match the macarons in equal-sized sets, to sandwich together with frosting later.
Meanwhile, make the chocolate butter roux. Boil milk with flour and cocoa until thick and pudding-like. Cool for 10 minutes, or until slightly warm, but not hot, to the touch.
While the roux is cooling, cream the butter and sugar until light and fluffy. When the roux is ready, force through a fine mesh strainer to catch any lumps of flour. Whip the chocolate roux and the butter together until the frosting begins to lighten and thicken. Taste and make sure all of the grains of sugar have dissolved.
Fill a second pastry bag with the frosting and cut a hole at the bottom of the bag. Pipe frosting onto one macaron in each set, up to a tablespoon each. Sandwich the second cookie on top of the frosting.
If the icing is very soft, refrigerate the cookies for 30 minutes or so before serving to let it set. Store macarons in the refrigerator.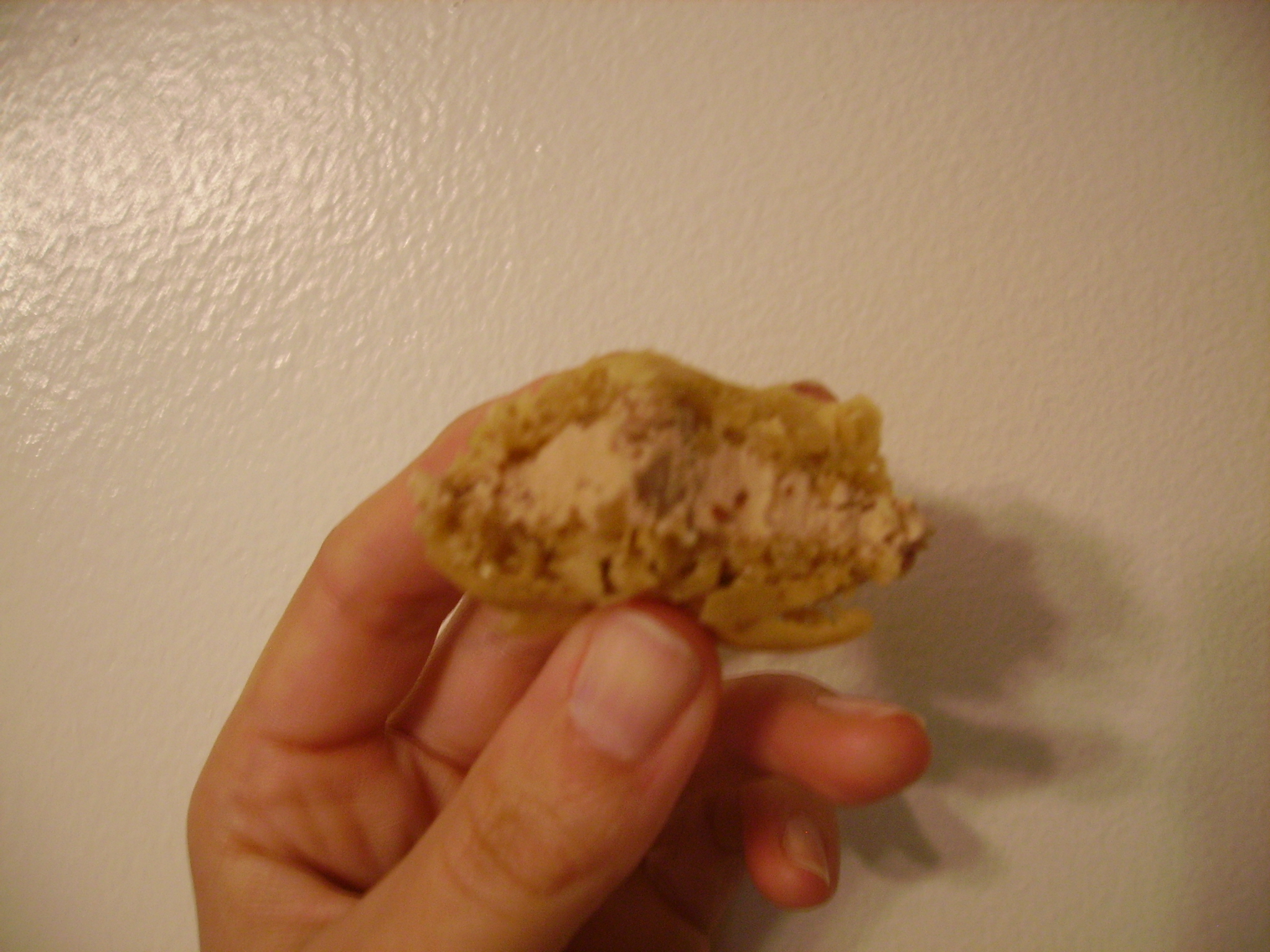 Enjoy!