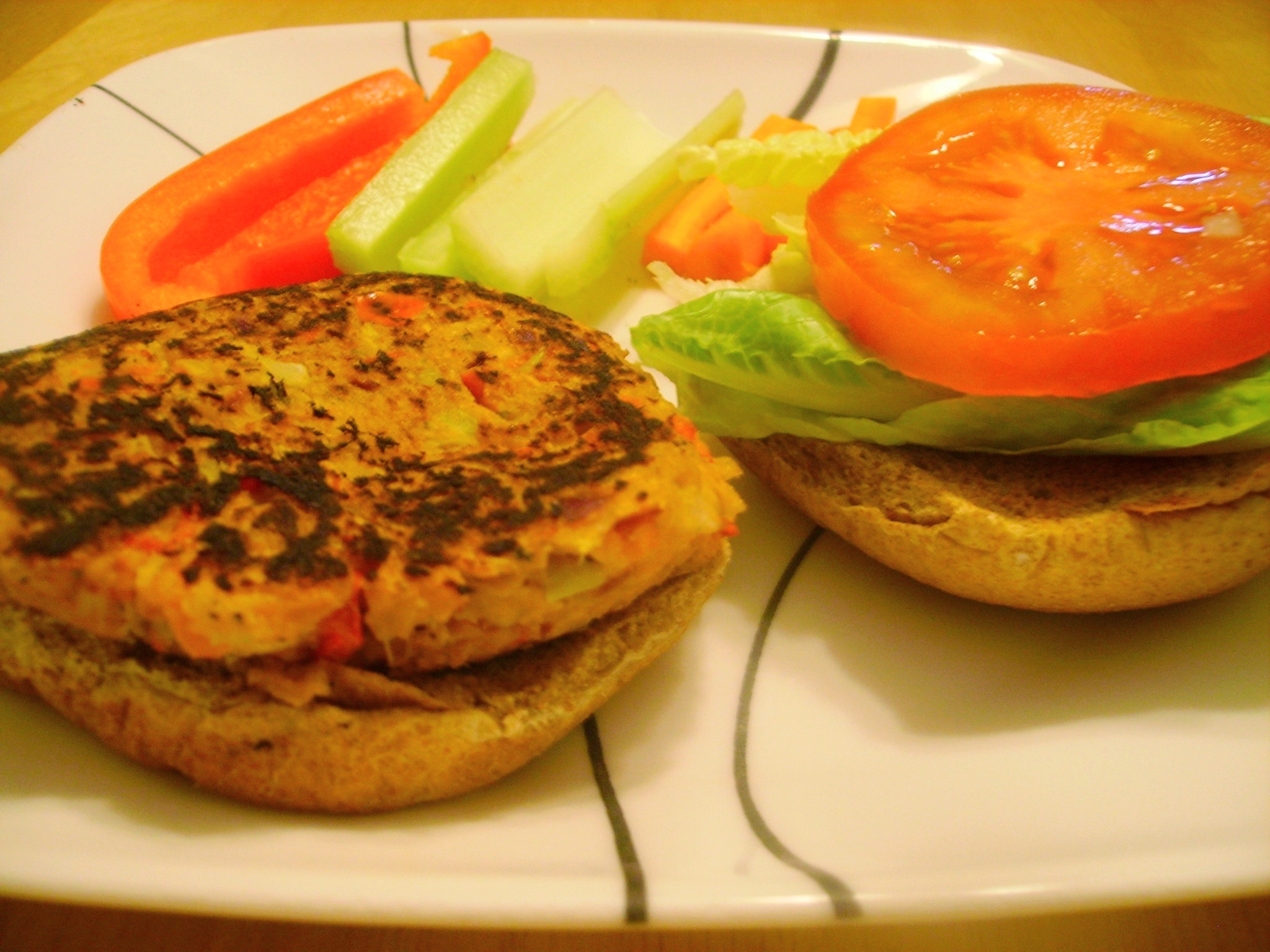 I have never liked canned tuna. It's usually mixed together with mayonnaise and pickles…two of my least favorite things. But I LOVE tuna steak. So every now and then I do recipe searches for tuna, and in this particular case I overcame my distaste for canned tuna and I am really glad I did.
This burger is delicious, filled with veggies and spicy Sriracha. It does use canned tuna, but I buy a nice-quality yellowfin, which is less processed than some other tunas, and thus a bit tastier. The whole combination makes a very loose, soft burger that is excellent alongside the extra fresh veggies. I will say that the Sriracha really does pack a punch, so if you are not big on spicy, you might want to substitute ketchup for half or all of the chili sauce.
If you don't eat red meat, this is a complex, tasty alternative to a hamburger!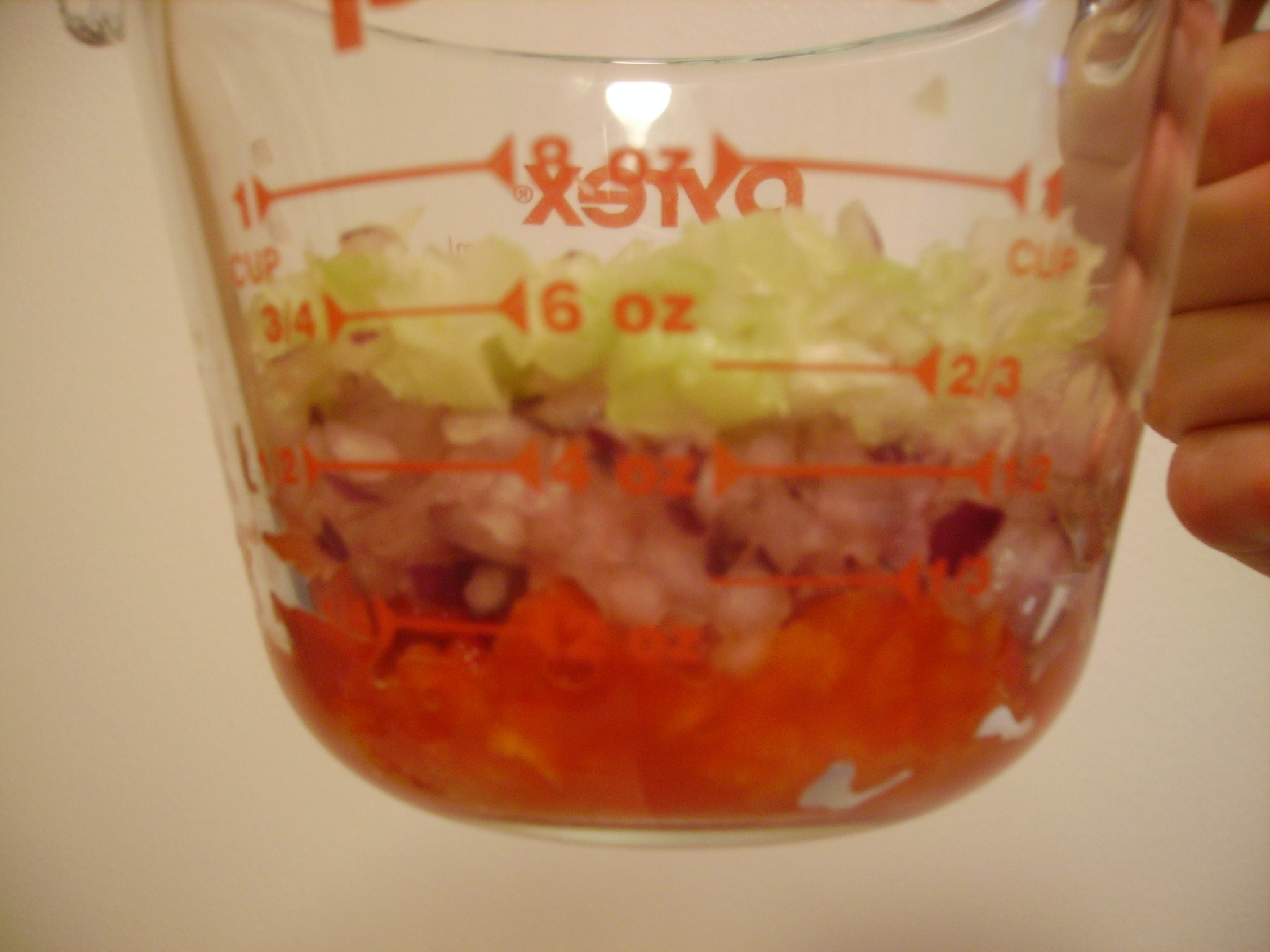 Chop up the red pepper, red onion, and celery. This is made ridiculously easy if you have a food chopper (the kind you can just hit a few times and it chops everything into teeny weeny pieces). When all is said and done, it makes a pretty picture! But sadly…my food chopper met a bitter end as soon as I finished chopping, when I accidentally knocked it on the floor. To all Pampered Chef consultants: I am currently an easy target…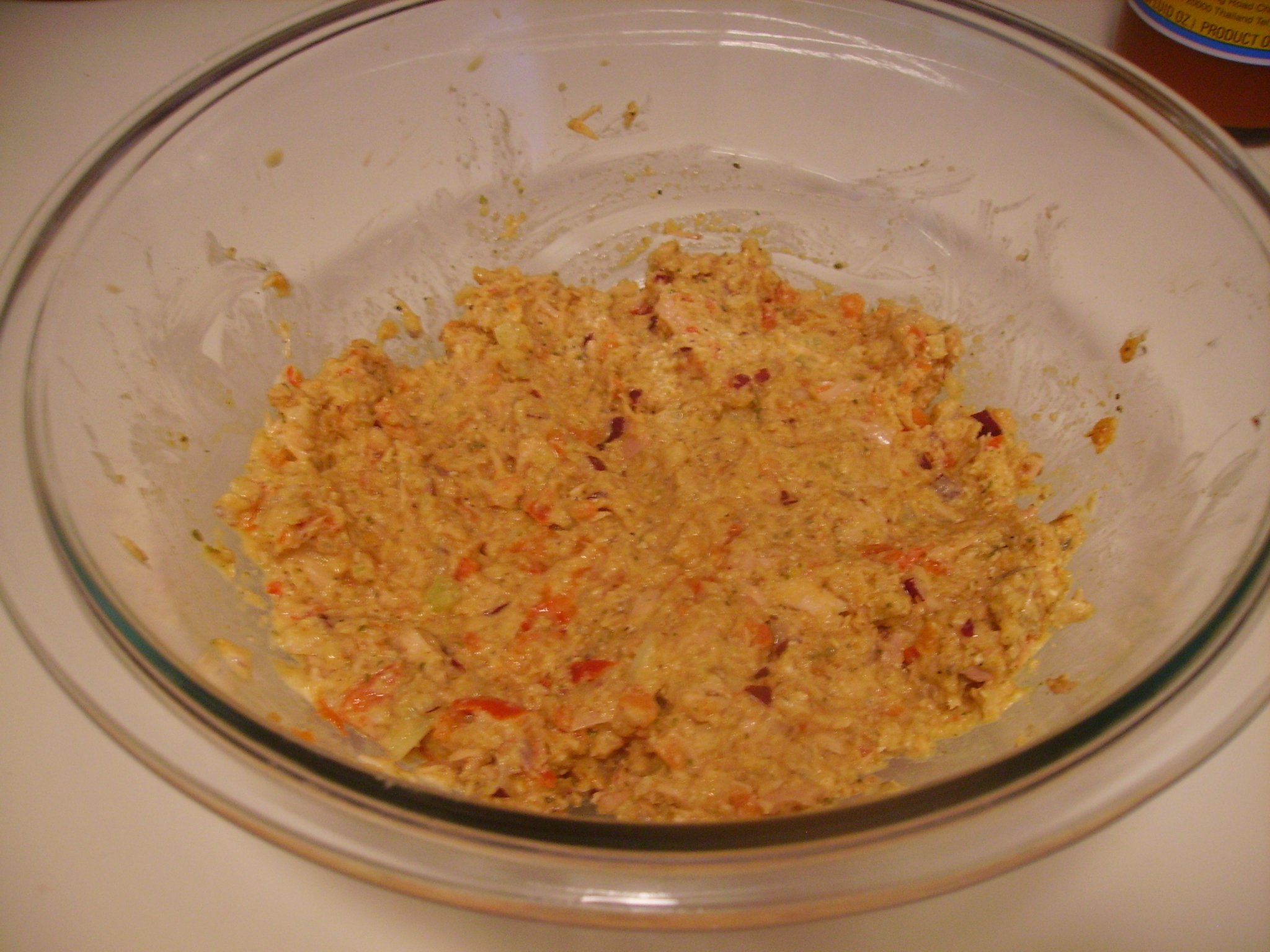 Mix all of the burger ingredients together in a large bowl. I just use my hands and squish everything around until it is well mixed.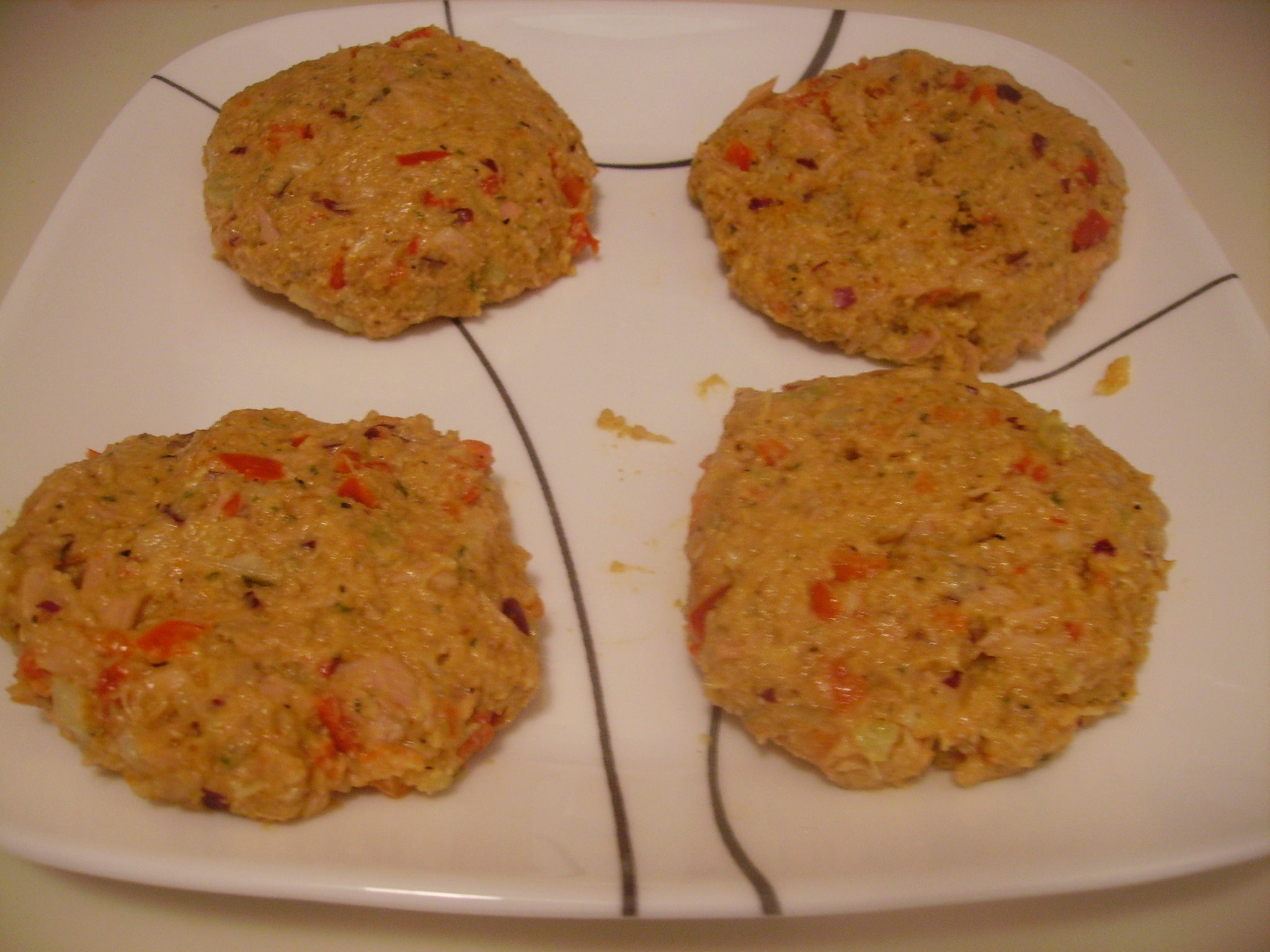 Form into 4 patties. As I said earlier, the burgers are very soft, so you may want to drop them right onto a hot skillet as soon as you shape them.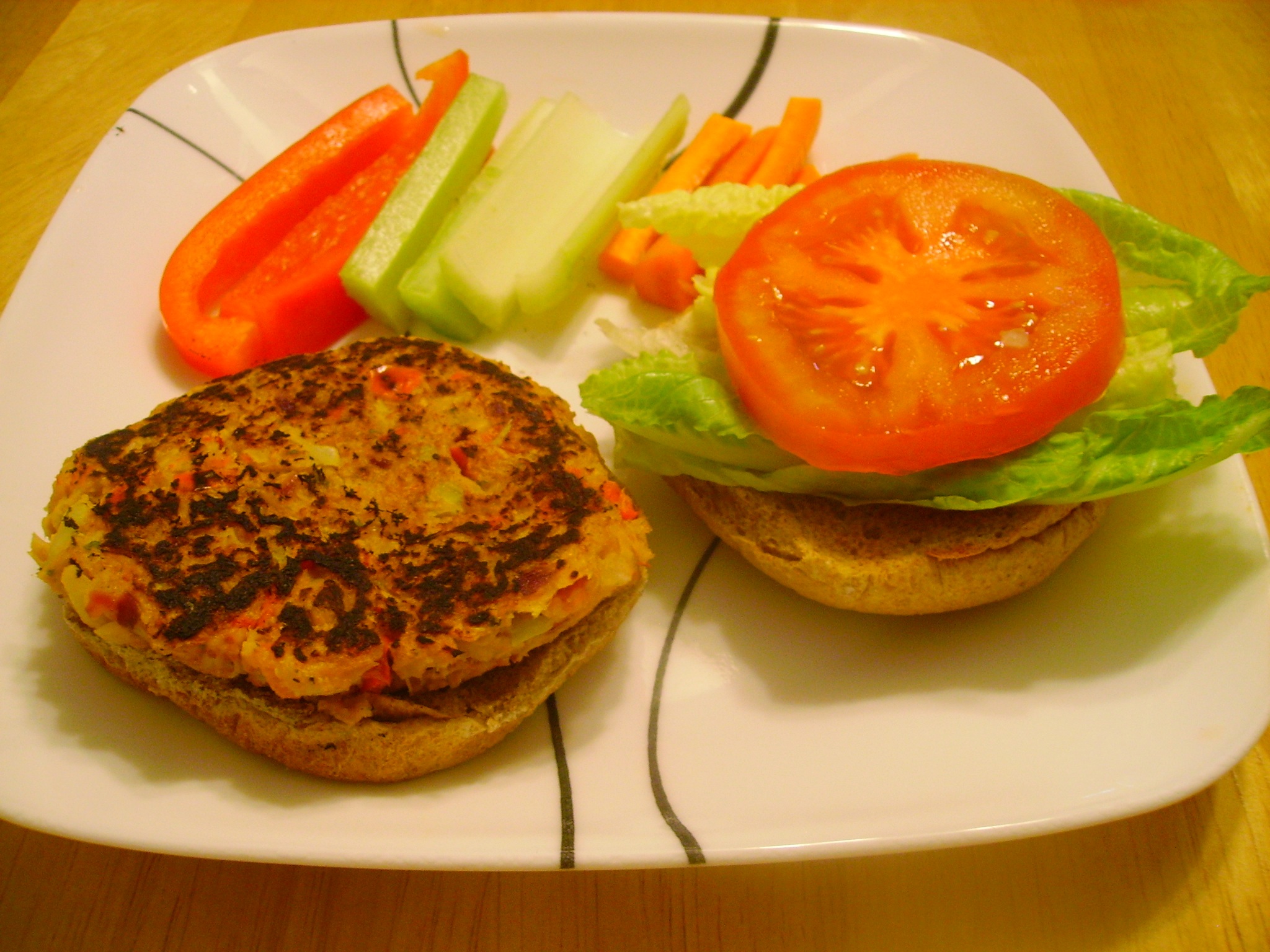 Most of the ingredients in the burgers are already cooked (except the egg) so they don't need to heat very long, just a few minutes on each side in order to give them a nice sear.
Drop the burgers onto lightly toasted whole wheat hamburger buns. Top with sliced tomato and a few crisp leaves of lettuce. I also spread a little light mayo on the top bun, to add some moisture and cut the spice just a little.
Spicy Tuna Burgers
adapted lightly from Allrecipes.com
serves 4
Ingredients:
1 6oz. can tuna, drained
⅓ cup minced onion
¼ cup minced celery
⅓ cup minced red bell pepper
1 egg
½ cup seasoned bread crumbs
¼ cup light Miracle Whip
2 tbsp. chili sauce (Sriracha)
¼ tsp. salt
¼ tsp. fresh ground black pepper
2–4 drops Tabasco sauce
splash of Worcestershire sauce
4 whole wheat hamburger buns
1 large tomato, sliced
romaine lettuce
Directions:
Combine all but the last three ingredients in a bowl and mash together until well blended. Divide equally into four parts. Form into patties; the mixture will be very soft, so handle carefully.
Spray a light layer of cooking oil into a skillet. Heat skillet on medium high heat. Carefully set patties into skillet and allow to cook for 3 minutes.
Meanwhile, begin toasting hamburger buns.
Flip burgers; they should be browned. If the first sides were too dark, be sure to cook the second side a little less.
Set burgers onto hamburger buns and top with tomato and lettuce.
Enjoy!