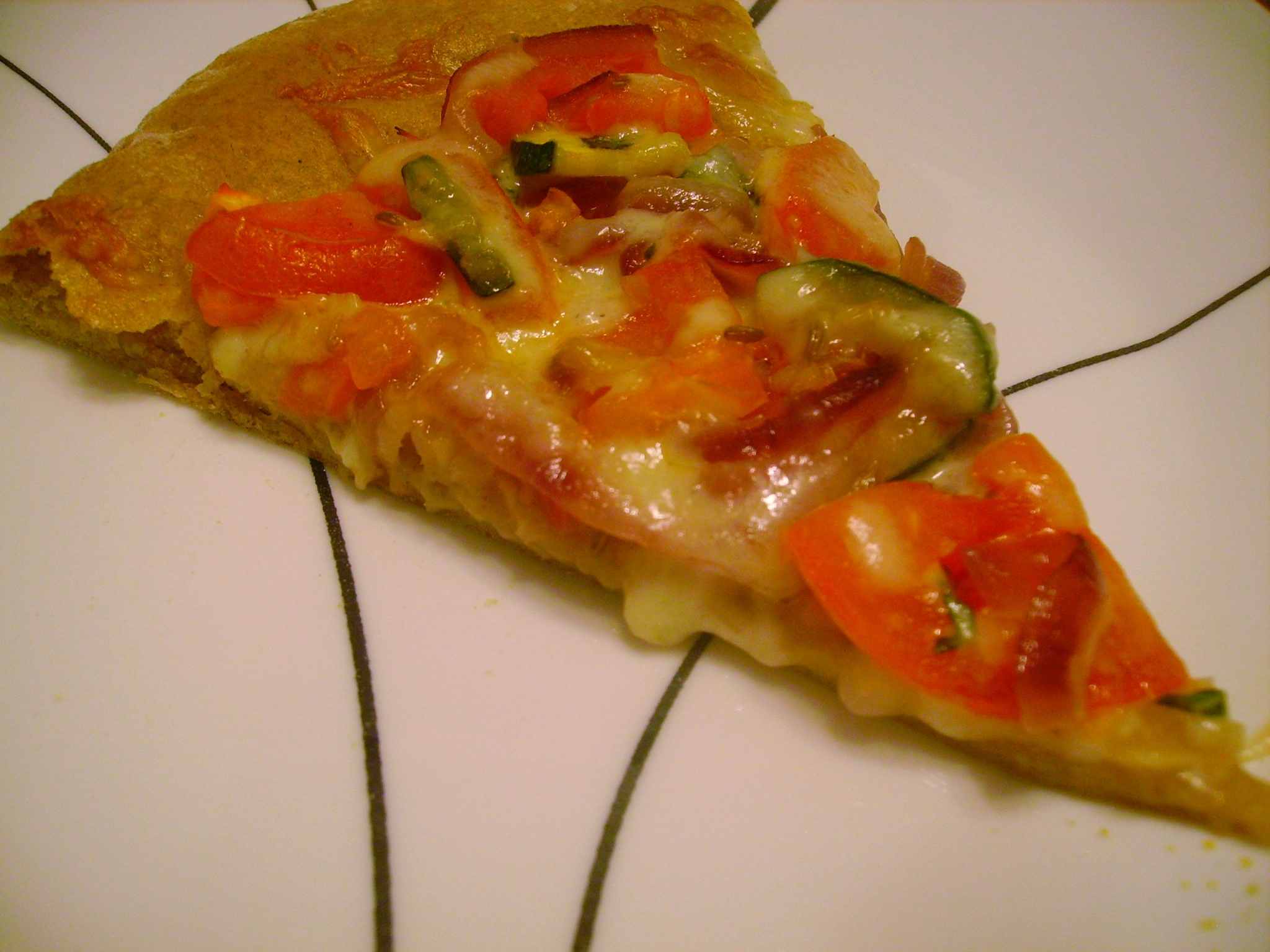 This is probably the best pizza in the world. I know, I know, that is a fairly outrageous claim. After all, everyone looks for different things in their ideal pizza: cheesiness, how sweet or spicy the sauce is, the thickness of the crust, the layers of toppings…
So how can I possibly claim that this pizza is so fantastic? It's simple: both my husband and I love it. I think we could both be happy eating this pizza every night for a week.
In case this still doesn't seem like a very definitive proof, then I will leave you with a gross understatement: Dave and I have very different tastes in almost everything, particularly when it comes to food. Dave would be happiest eating nothing but Asian food for every single meal of his life. If a food is not drowned in some kind of sauce, he thinks it is a bit lacking. I, on the other hand, like the taste of fresh vegetables, and try to serve simple meals that are overflowing with veggies whenever possible. It's not often that our taste buds line up, but when they do, the dish is generally pretty amazing.
Hence, I bring you this pizza, with its sautéed veggies and fontina cheese. The veggies in this pizza act like a deconstructed sauce, and covered in just a light layer of cheese, the pizza is healthy and tasty. This pizza is amazingly delicious—but don't worry, after you try it, there will still be room in your heart for your favorite delivery pizza!
I think this pizza works best if you make your own crust as well. It does require a little extra time and effort, but it's really worth it! However, if you just want to try the toppings or you aren't a fan of making your own bread, you can still use store-bought crust or pre-prepared dough. I think the elements don't come together as well (it ends up more like veggies and cheese on top of bread than like a veggie pizza), but it will still yield a tasty meal.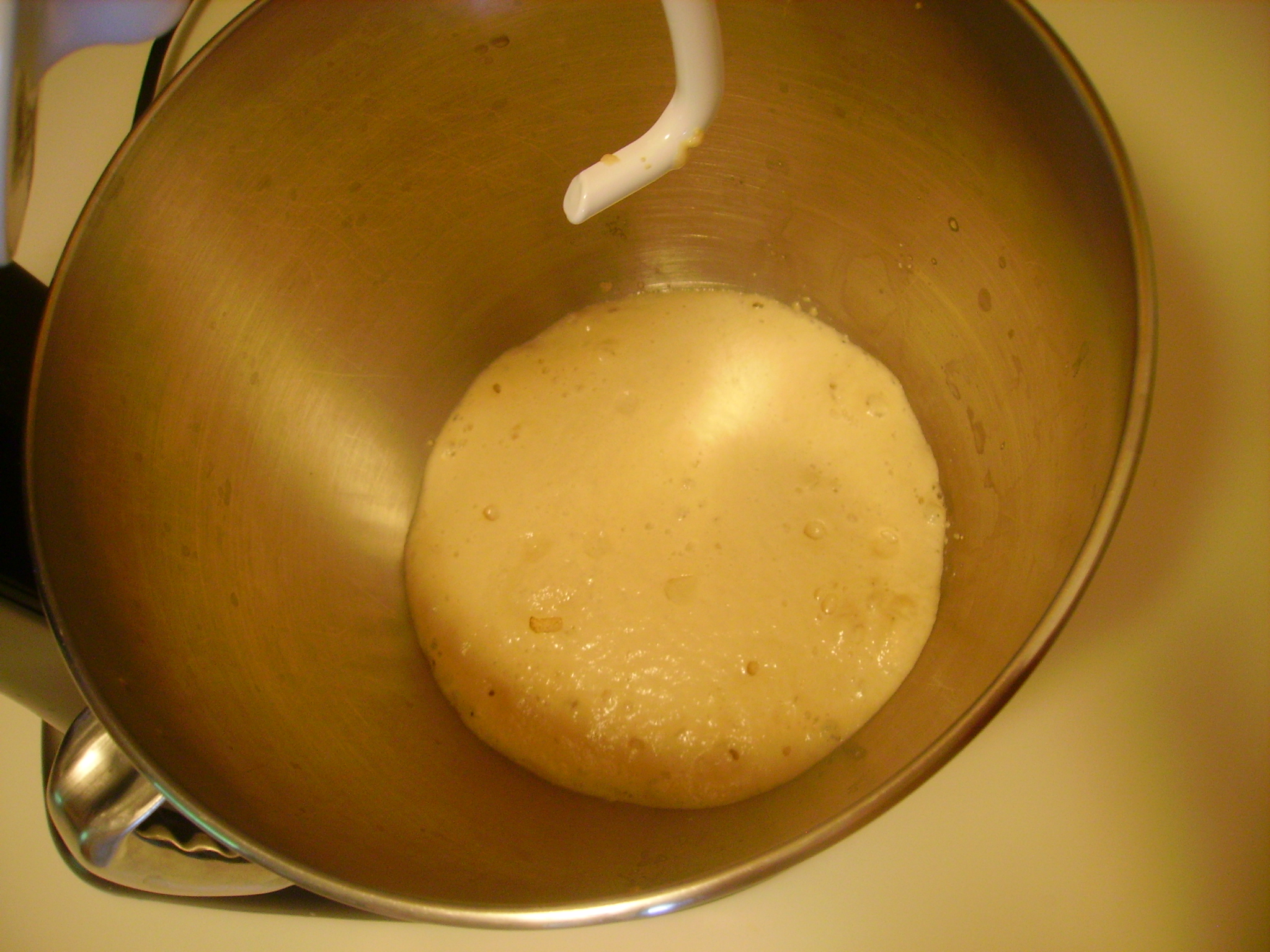 If you're brave enough to make your own dough, it's a fairly standard bread recipe, which means that it takes patience but isn't tricky. Start by dissolving sugar and yeast in warm water and letting it stand until it becomes foamy.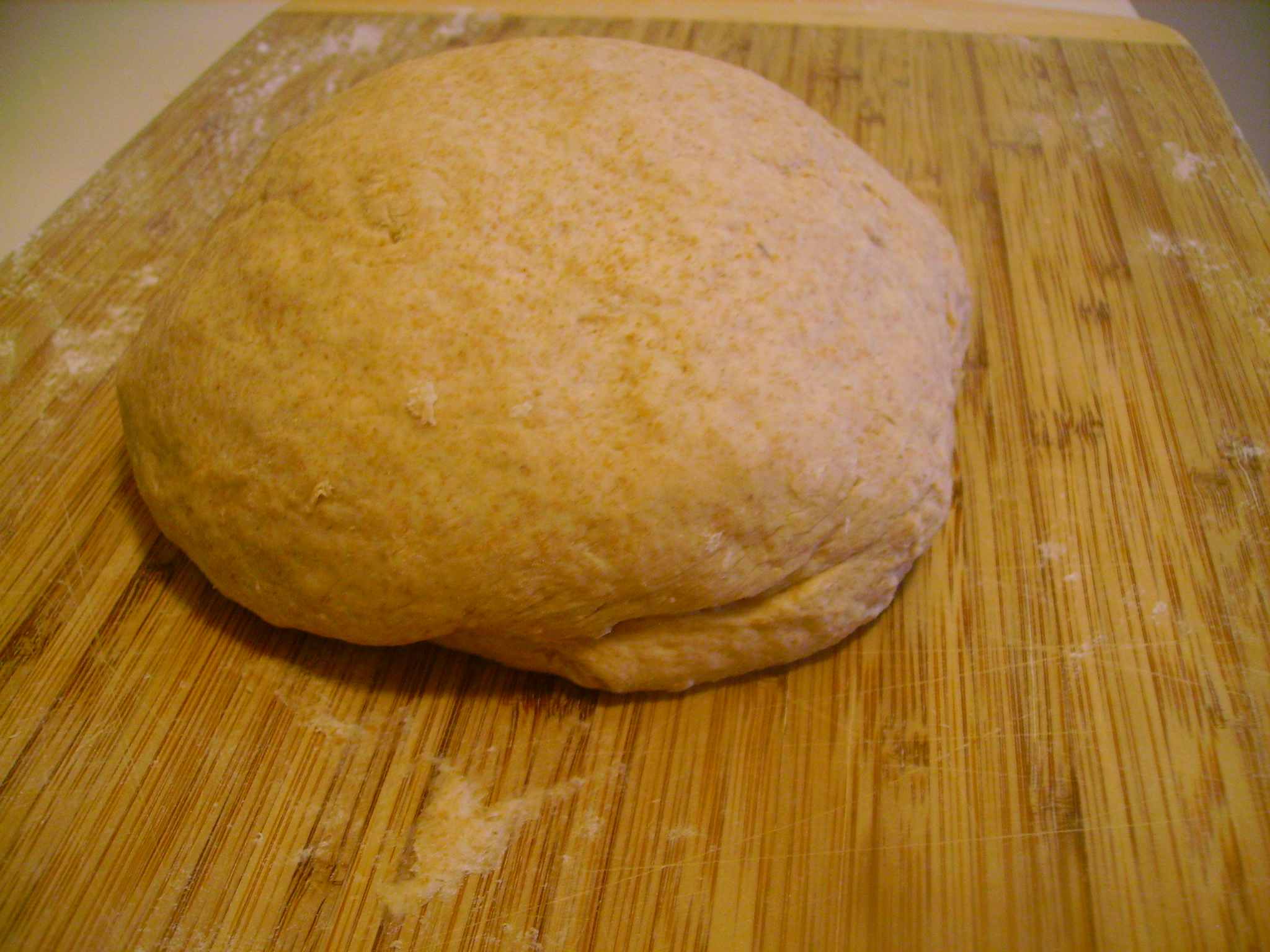 Stir in the olive oil, salt, whole wheat flour, and all but ½ cup of the all purpose flour. If you are not a fan of wheat bread, you could exchange the whole wheat flour for regular flour, but I recommend trying the wheat!
Knead the dough for about 10 minutes, working in the remaining white flour in the process. Once the flour has been absorbed and the dough is smooth, it's done.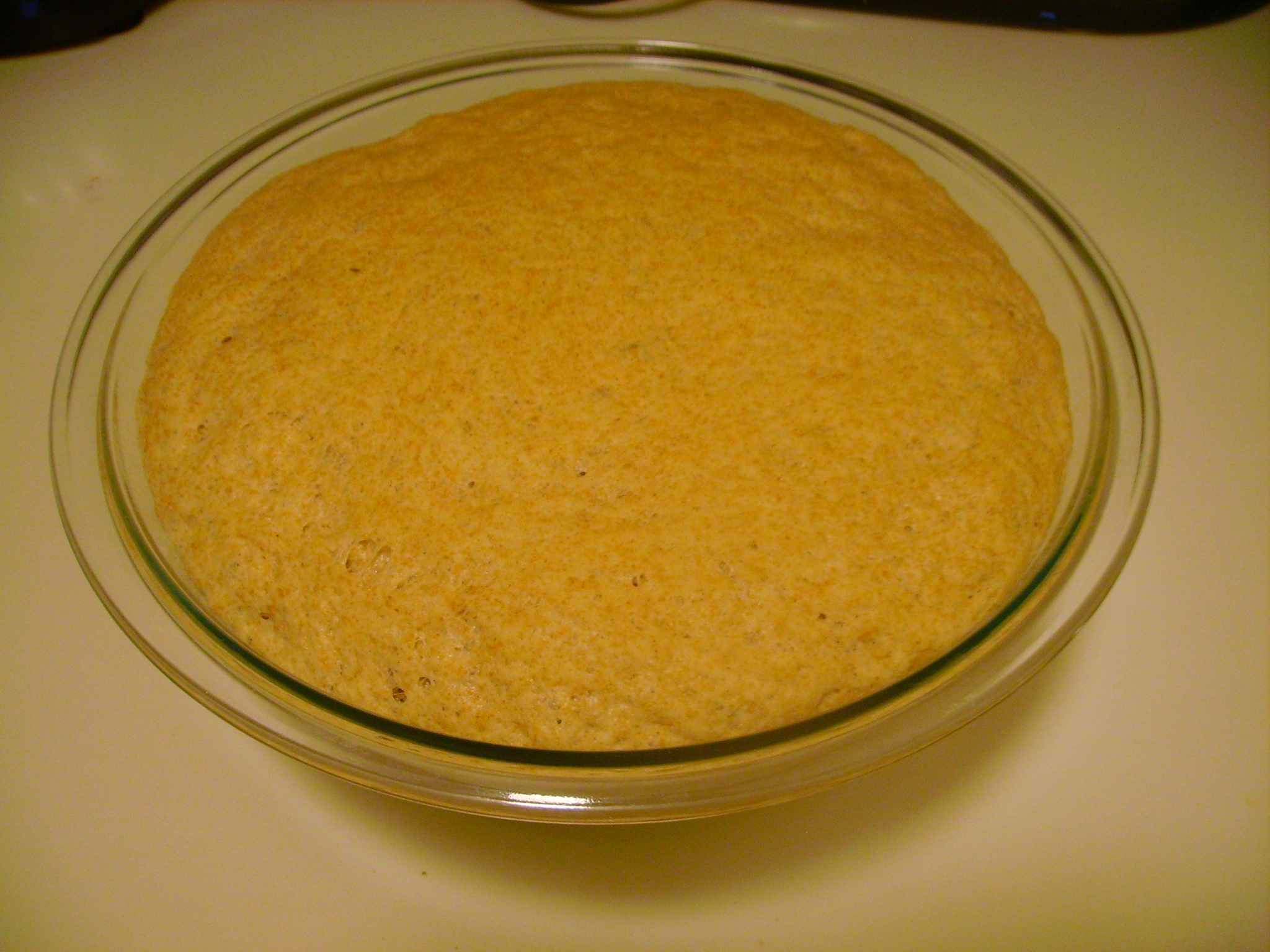 Transfer the dough to a lightly oiled bowl and cover with a towel. Let it rise for 1 hour, until doubled.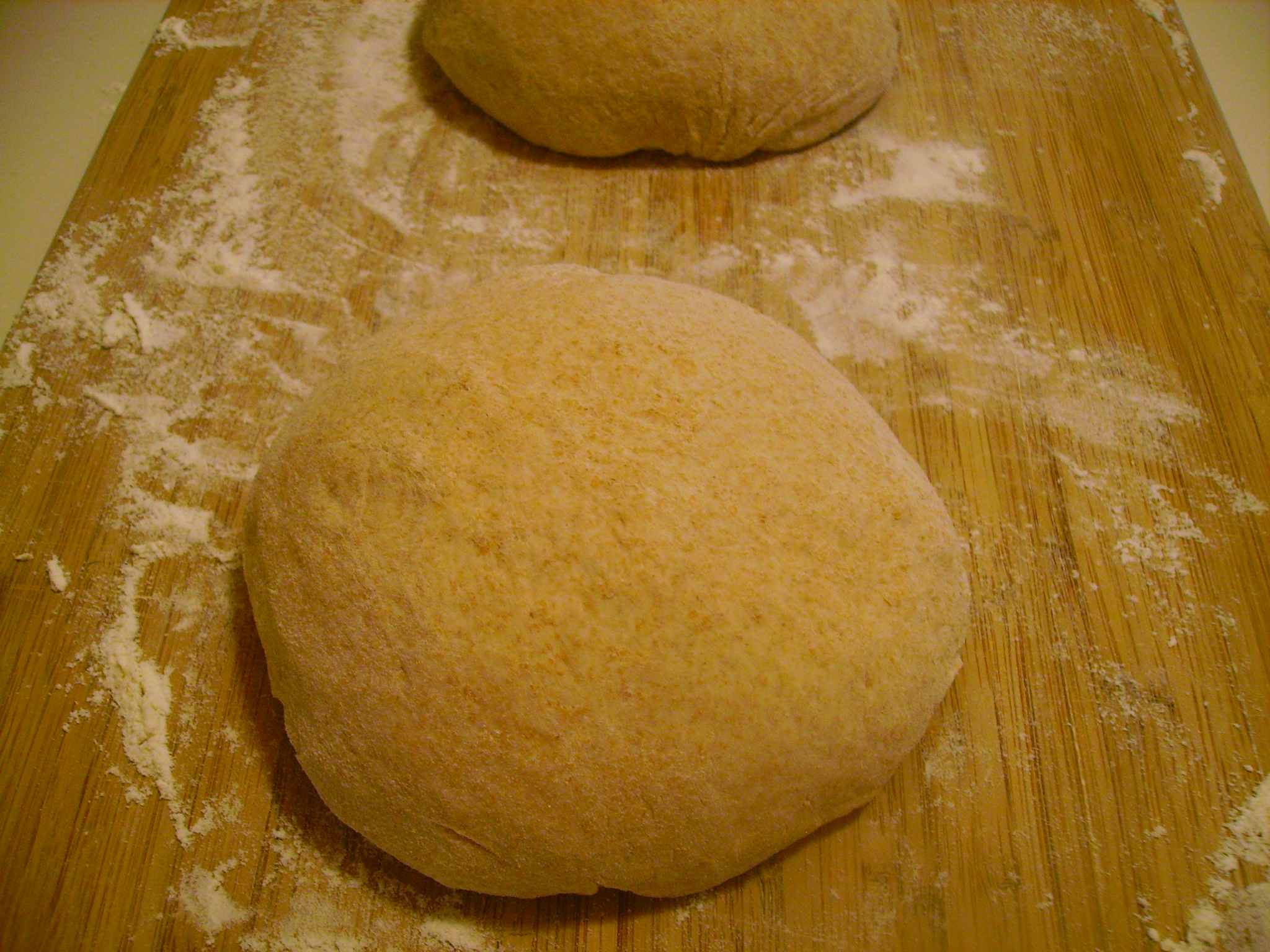 After the first rise, divide the dough in half and shape each half into a tight ball. Let them rise, uncovered, on a lightly floured board for 45 minutes.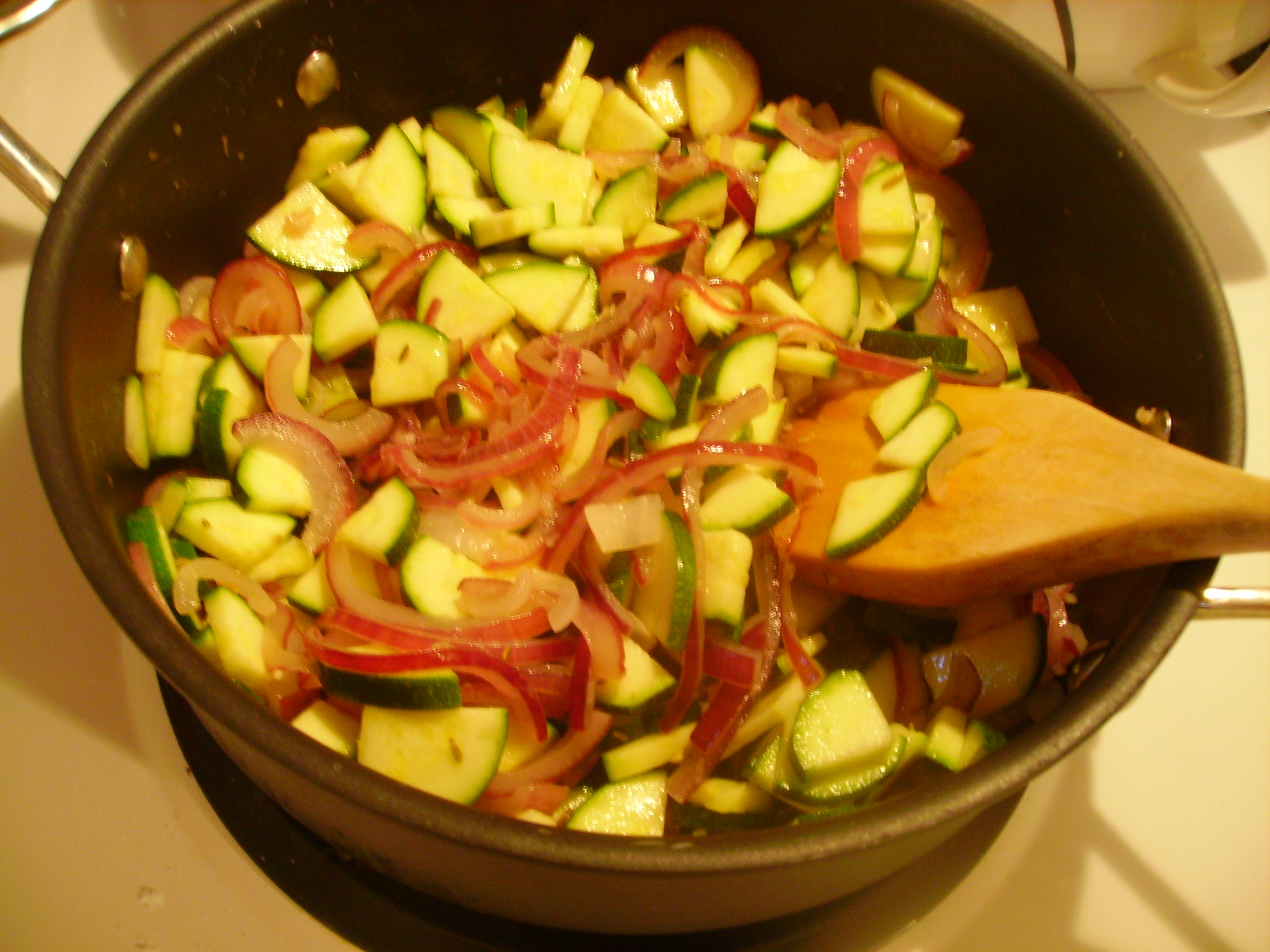 Meanwhile, slice up all of the vegetables. Sauté the onions, garlic, and salt until they become tender and translucent. Stir regularly and don't allow the onions to burn.
Add in the zucchini and fennel seed and continue to cook until the zucchini becomes soft. I am not normally a fan of fennel, but I gave it a try anyway the first time I made this pizza. I couldn't taste it individually, and the overall effect of the vegetable mixture was so delicious that I didn't dare tamper with it!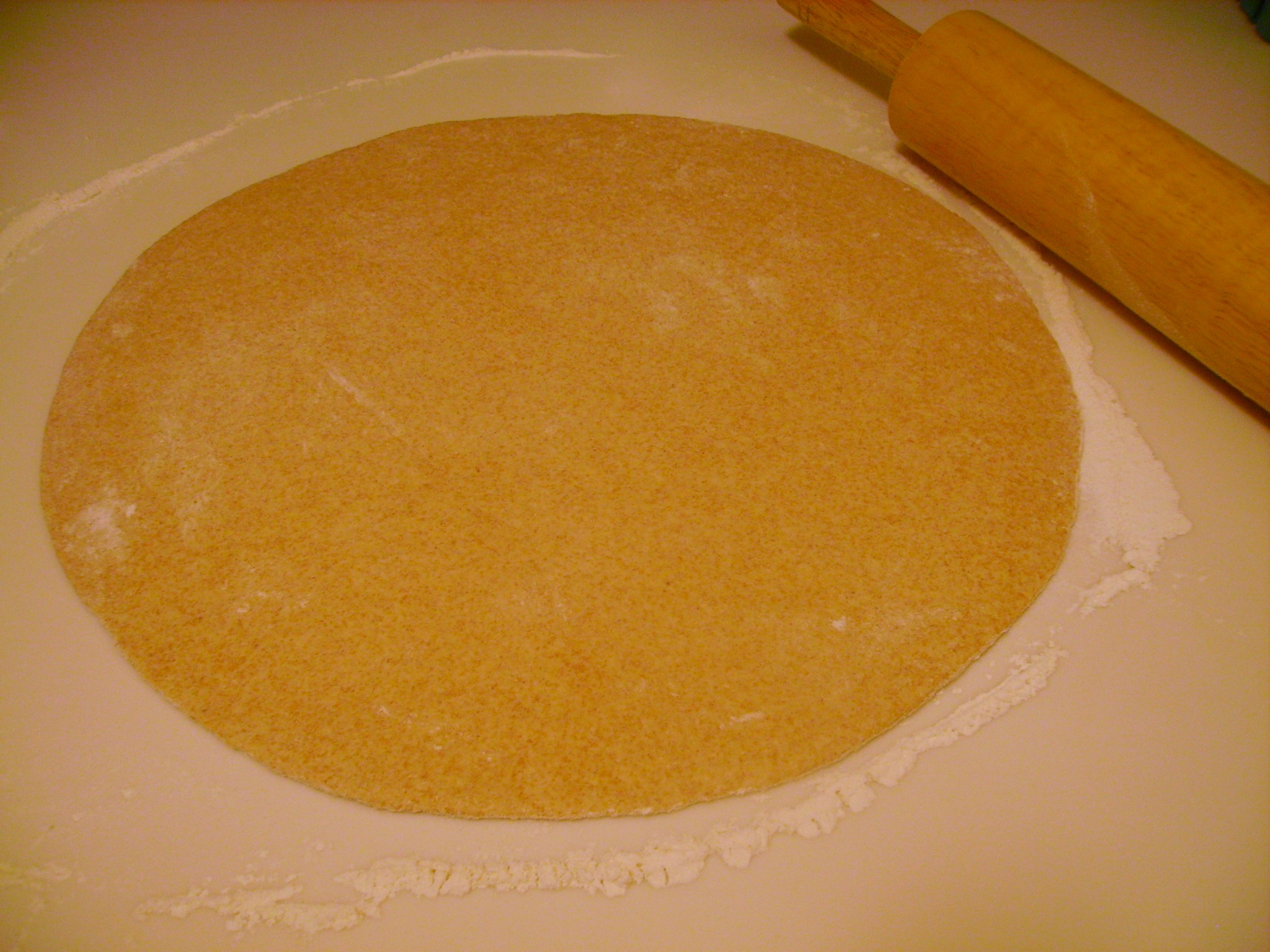 While the zucchini is softening, roll out one of the dough balls as wide as it will go. Toss it lightly in the air to help it become more rounded. Lay the rolled dough onto a cornmeal covered pizza stone. Bake in a 500° oven for 5 minutes.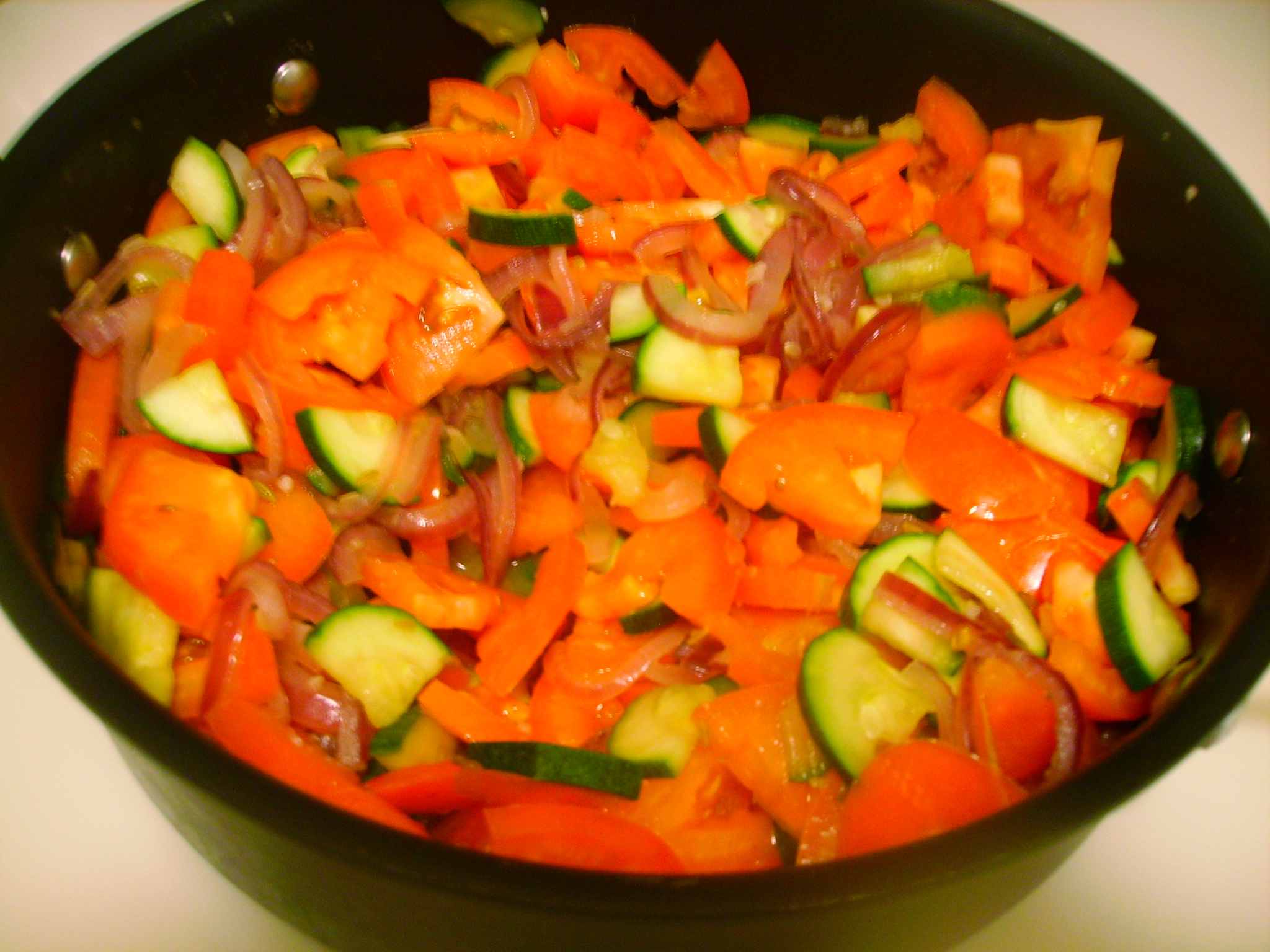 Meanwhile, stir the tomatoes and fresh basil into the veggie mixture and remove it from the heat. Drain any excess liquid.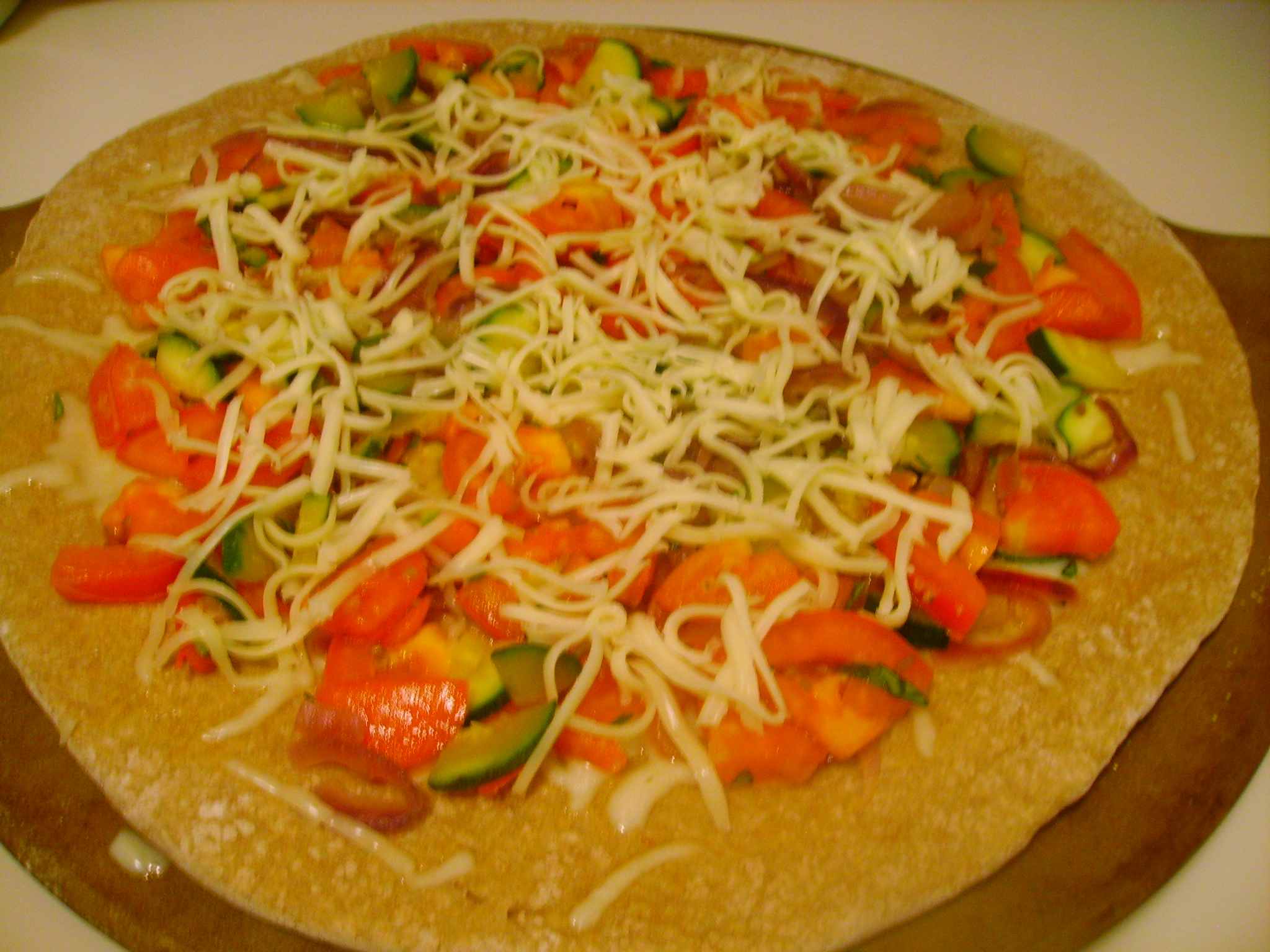 Remove the partially baked crust from the oven. Grate a little bit of fontina (maybe ½ oz.) directly onto the crust—this helps glue the veggies to the crust. Fontina is a very soft, sticky cheese, so don't try to pre-grate it or else you will have a much harder time distributing it evenly on the pizzas.
Top the crust with about half of the veggies. Make sure everything is very well distributed; I usually have some left over after baking the two pizzas…the veg mixture makes a good snack all by itself! Grate about 3 oz. fontina over the veggies.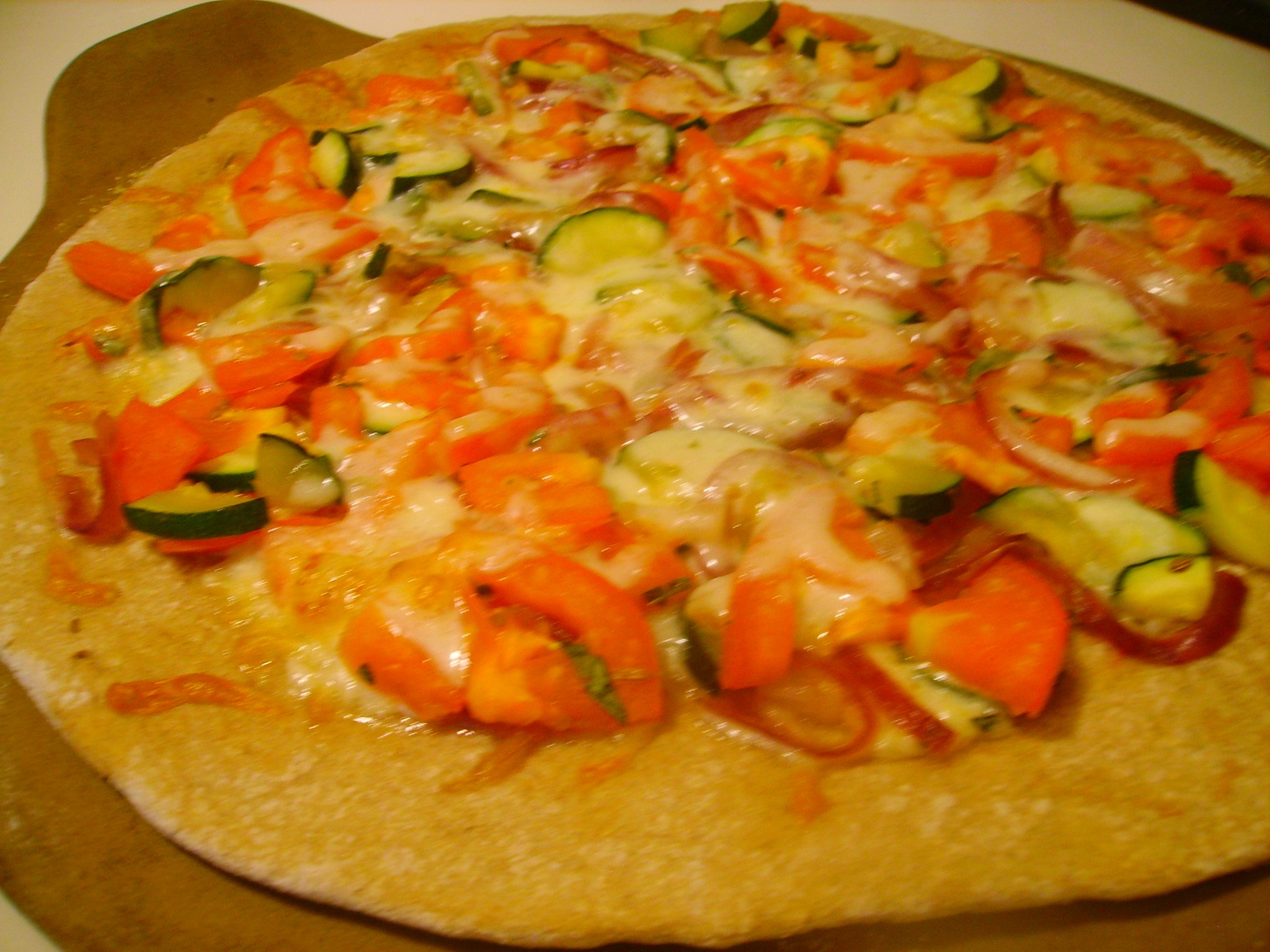 Lower the oven temperature to 425°. Return the pizza to the oven and bake another 12–15 minutes, until the cheese is bubbly. Let cool for at least 5 minutes before cutting.
Repeat with the second ball of dough and remaining toppings.
Veggie and Fontina Pizza on a Light Wheat Crust
pizza lightly adapted from Food.com
crust from Allrecipes.com
serves 6–8
Crust Ingredients:
1 tsp. sugar
1½ cups warm water
1 tbsp. active dry yeast
1 tbsp. olive oil
1 tsp. salt
2 cups whole wheat flour
1½ cups flour, divided
Pizza Ingredients:
2 cups thinly sliced red onion
3 large cloves garlic
1½ tsp. salt
2 tsp. olive oil
1 tsp. fennel seed
4 cups quartered and thinly sliced zucchini
4 cups quartered and thinly sliced tomato
¼ cup chopped fresh basil
7 oz. shredded fontina
Directions:
In a large bowl, dissolve sugar in warm water. Sprinkle yeast over the top and let stand for about 10 minutes, until foamy.
Stir the olive oil and salt into the yeast mixture, then mix in the whole wheat flour and 1 cup of the all-purpose flour until dough starts to come together. Use the remaining flour to flour a kneading surface.
Tip dough out onto the floured board and knead until all of the flour has been absorbed and the dough becomes smooth, about 10 minutes.
Place dough in an oiled bowl, and turn to coat the surface. Cover loosely with a towel and let stand in a warm place until doubled in size, about 1 hour.
When the dough is doubled, tip the dough out onto a lightly floured surface. For thin crust pizza, divide into two pieces. For a thicker or sturdier crust, use the whole batch at once. Form dough into two small balls. Let rise for about 45 minutes, or until doubled.
Meanwhile, prepare the pizza toppings. In a skillet, sauté the onions, garlic, and salt in oil just until onions become translucent. Add fennel seed and zucchini and simmer until zucchini softens.
Preheat the oven to 500°.
Roll out the the first ball of dough on a lightly floured surface using a rolling pin. When it will not stretch any further, drape it over both fists and gently pull the edges outward, while rotating the crust. When the circle has reached the desired size, if you are brave, try tossing and spinning it (this helps it to form a more regular circle). Place dough on a pizza stone dusted with cornmeal.
Bake for 5 minutes.
While the first crust is baking, add tomatoes and basil to the vegetable mixture and remove from heat. Toss the veggies thoroughly and drain any excess liquid.
Remove the partially baked crust from the oven and top with half the veggie mixture. Spread very evenly and do not overburden the center of the crust. Do not feel obligated to use all of the veggies on the two pizzas. Grate the cheese directly over the pizza.
Return the pizza to the oven to bake at 425° for 12–15 minutes, until the cheese is melted and the edges of the crust are crisp.
Repeat for the second crust and remaining toppings.
Allow to cool 5–10 minutes before serving.
*Note: It is possible but not recommended to use a prepared crust; while this saves time, the ingredients will not come together as cohesively.
Enjoy!