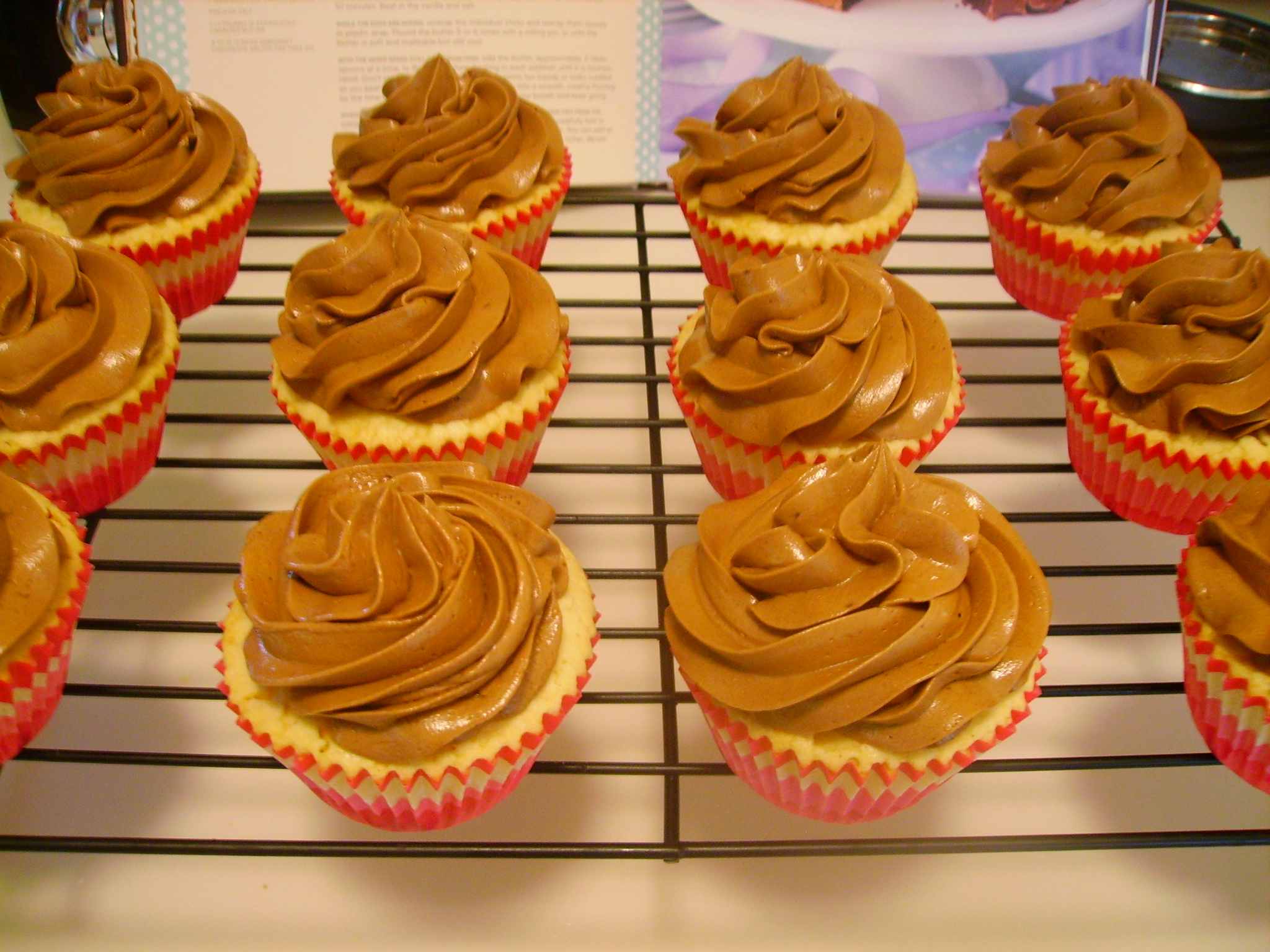 My birthday was last week. It was a little weird, because this was the first year ever that I didn't endlessly tell everyone I spoke to that the big day was coming as I whipped myself into a tizzy of excitement. Instead, it snuck up on me.
But I still made cupcakes! It was my treat to myself: spending an afternoon baking and ending the day with the classic birthday combo of a yellow cake covered in an almost proportionately equal amount of the most delicious chocolate frosting ever ever to be imagined.
I have had a really hard time finding the perfect yellow cake recipe. Most of the ones I have tried have either been rather ordinary-tasting or else they are so light in texture that they also become glued to the pan when they rise above their little cupcake wrappers. Not cool. If you have a great yellow cake recipe that makes scrumptious and not temperamental cupcakes, send it my way! In the meantime, I chose to make pound cupcakes from my sister-in-law Kara's cold-oven pound cake recipe. They were divine. But since she gave me the recipe directly after uttering the words "you are family," I am bound by secrecy not to give it to you. Alas. But I did find you a relatively similar cold-oven pound cake recipe from The Cupcake Project in case you want to make your very own pound cupcakes!
The frosting is another matter, however. It is silky and rich…and it will use up half of the ingredients in your fridge/pantry. Haha. It is a French style buttercream, which means that it is made with a base of whole eggs…which also means that it is more challenging to make than your average butter and confectioner's sugar buttercream. But seriously, try it. Make a half-batch if you are nervous! Just do it. Do it now. You will be hooked. I have several family members who do not like cake (!), and even they extolled the wonders of this frosting.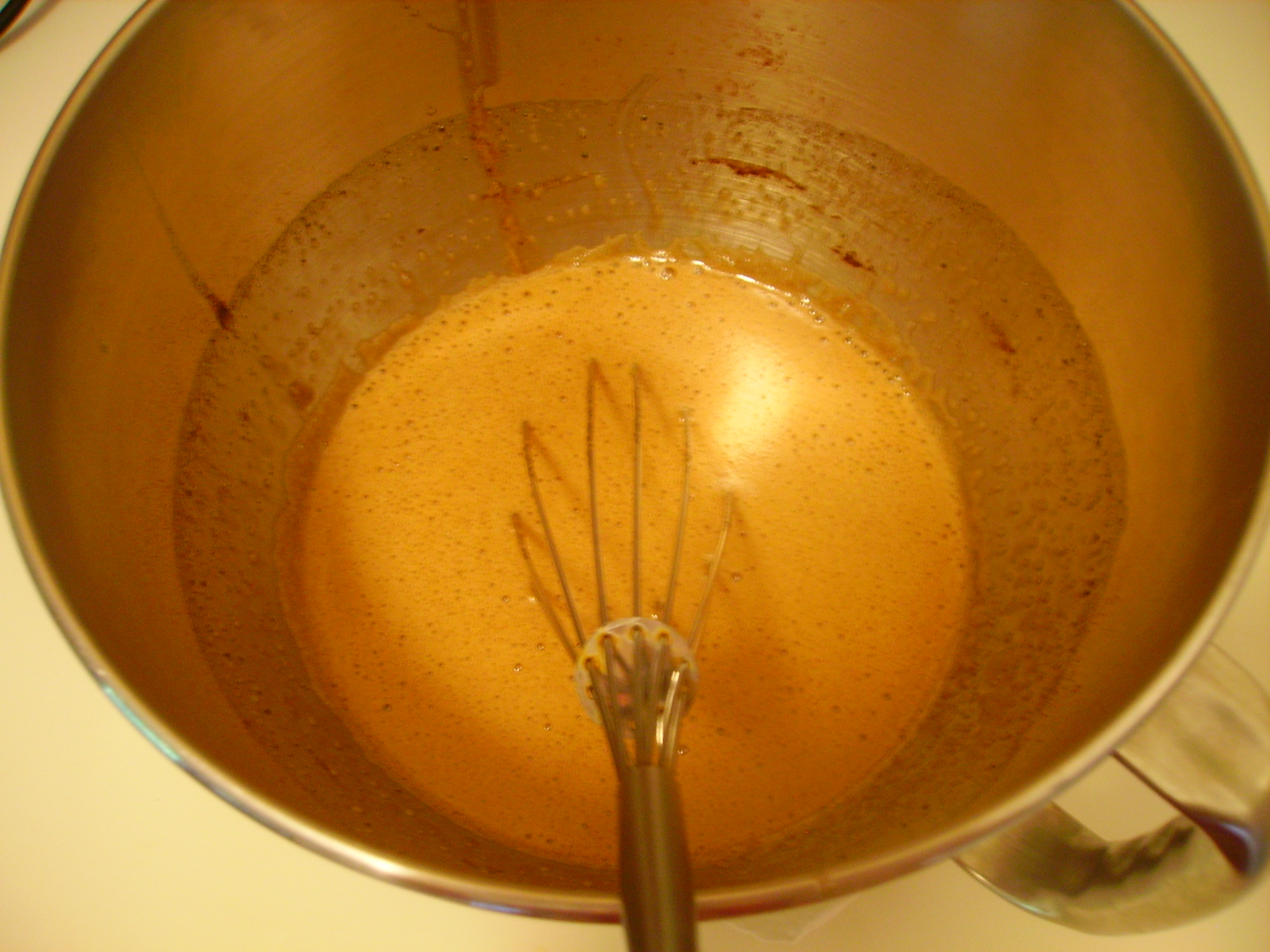 Grab your stand mixer bowl. In it, whisk together your eggs, sugar (ahem…do not use confectioner's sugar in this frosting), and Dutch-process cocoa powder. I have no idea whether this would work with regular cocoa powder, because I've never tried, but I suspect it would be fine here. In fact, the Baked guys say that the only significant dimension of good cocoa powder is how dark it is, the darker the better. I do, however, really really like the flavor that the Dutch-process cocoa produces; I would even use the milder version of this frosting, the one without all the melted chocolate folded in, where the only flavoring is the cocoa powder. It's that good. So…use whatever cocoa you are comfortable with, but I do recommend splurging on Dutch-process cocoa if you don't have any on hand.
Set the mixer bowl over a small pot of simmering water and whisk, whisk, whisk. Whisk until the mixture reaches 120°. For me, this always takes about 6 minutes, which means my arm gets really tired. Be careful, because the temperature really starts shooting up quickly at the end of that time, and it's just as important not to overcook as it is not to undercook!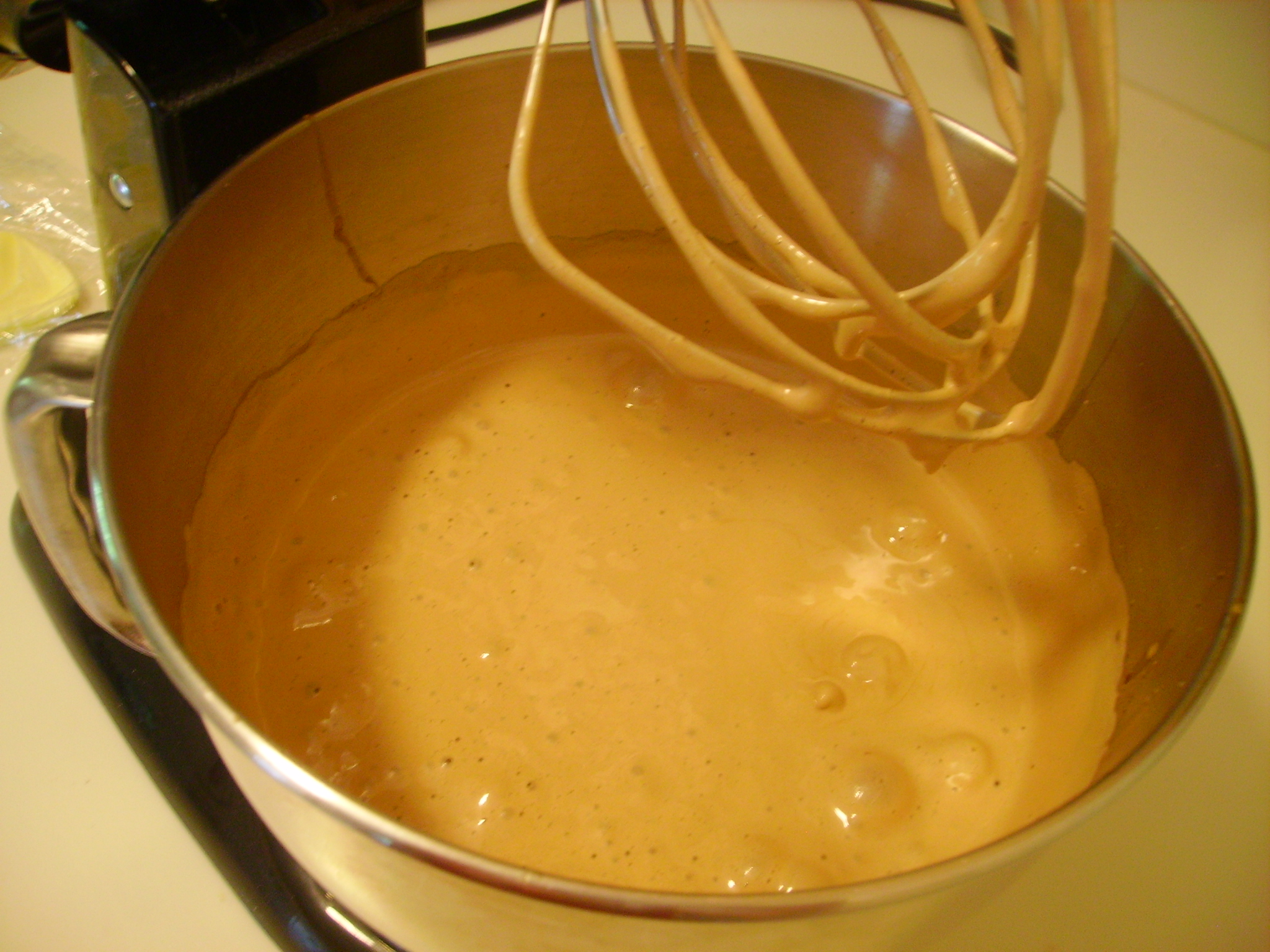 Remove from the heat and fit the bowl back into the mixer. Using the whisk attachment, whisk the egg mixture on a medium-high speed (I set my Kitchenaid to 6) until it triples in size and cools completely, which takes about 10 minutes. Beat in the vanilla and a pinch of salt.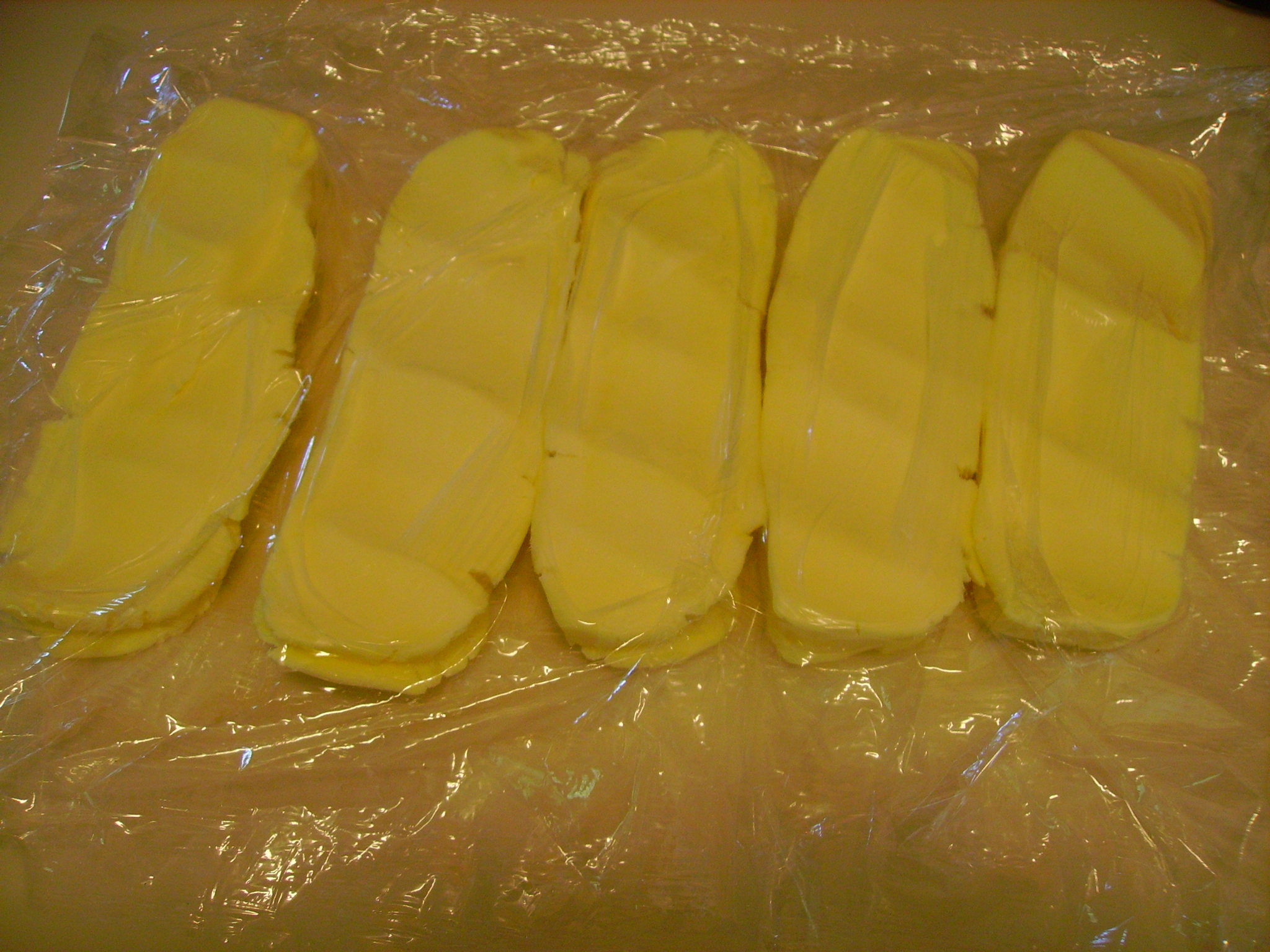 Meanwhile, take 5 sticks of butter out of the fridge and lay them on a large piece of plastic wrap. Cover the top with another sheet of plastic wrap. Grab your rolling pin…or a can of soup if you don't have a rolling pin (shame on you…jk) and beat the butter several times, until flattened slightly. Softening the butter this way, while leaving it cold, will make it easier for the frosting to emulsify as you beat it into the egg mixture.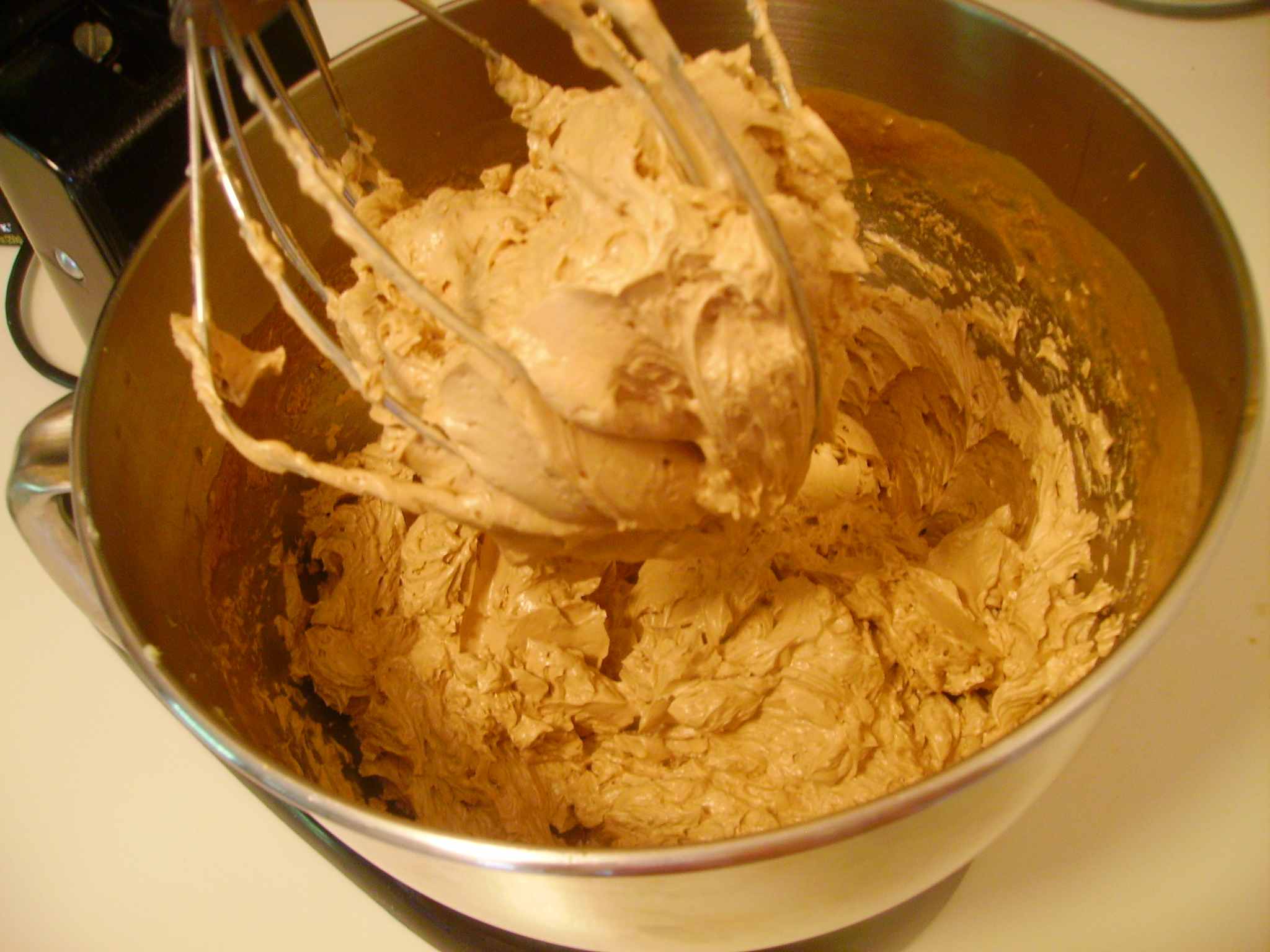 Once the chocolate meringue is cool, begin to beat in the butter, a few tablespoons at a time, on medium high speed. Don't stop the mixture during this process, just keep adding in small chunks about 10 seconds apart. At first, your frosting will look kind of runny and separated…not at all like frosting, really. But don't panic! My mixture always starts to look like frosting about the time I hit the end of the fourth stick of butter. Yes…it is a lot of butter…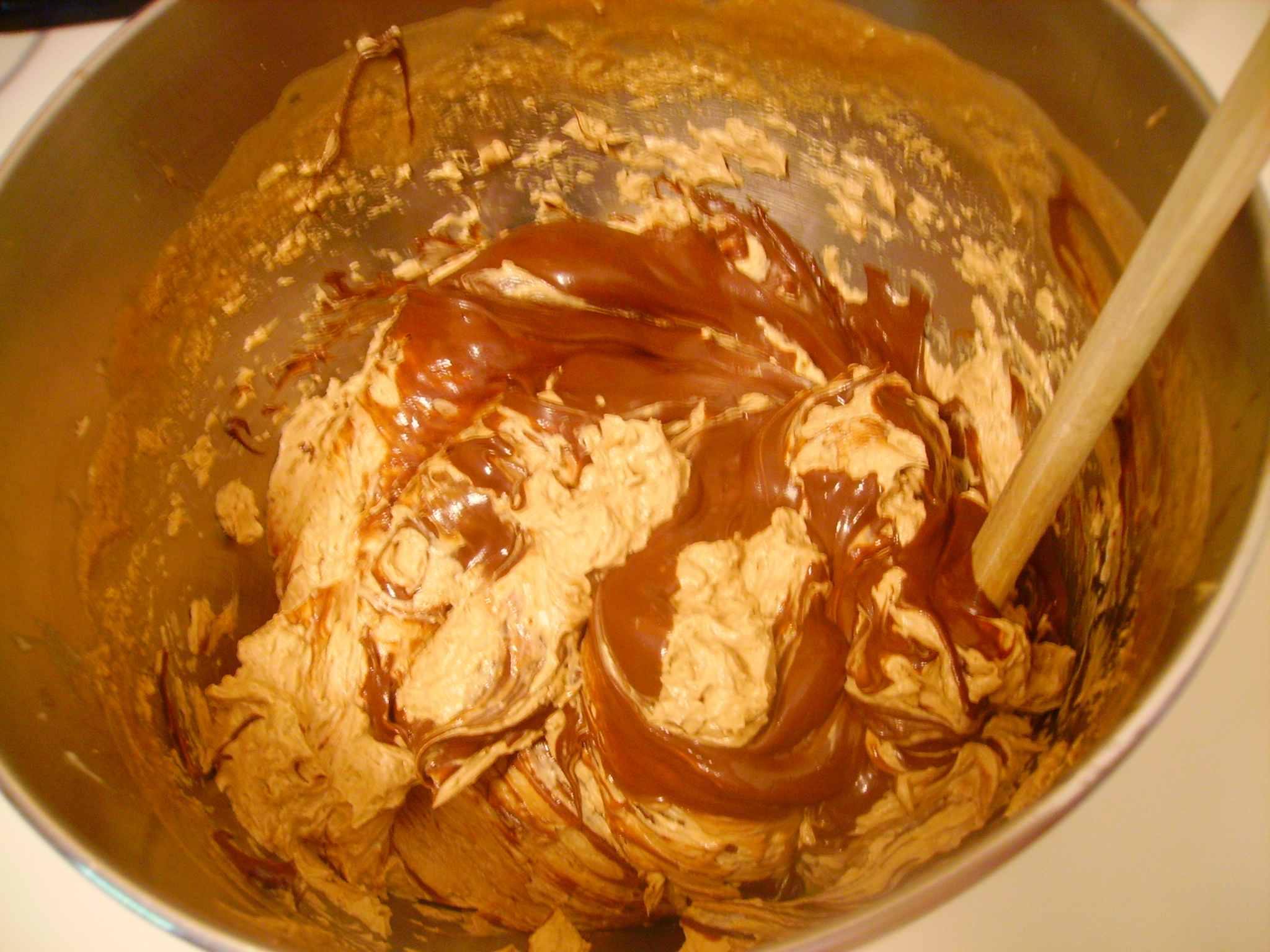 When the butter is all mixed in and the frosting is nice and creamy, it is time to fold in the melted chocolate. This usually takes a few minutes, because there is so much frosting, but you don't want to end up with unevenly mixed chocolate. Don't worry, folding or stirring won't hurt the frosting, so just keep going until you are satisfied with how well it is mixed.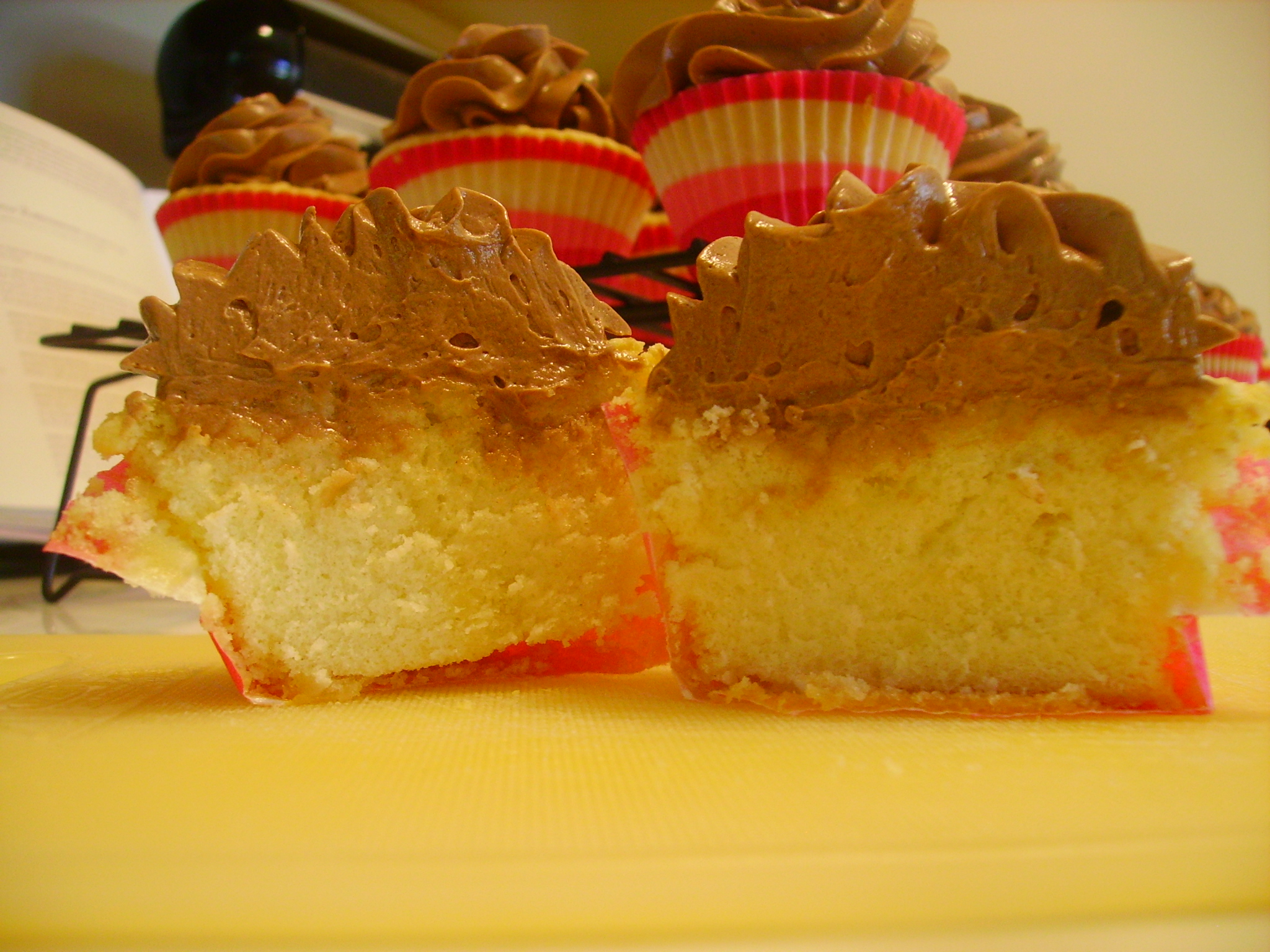 I was able to generously frost 24 cupcakes with about ¾ cup frosting left over. This recipe also makes enough frosting to amply cover a 3-layer cake.
Chocolate Mouse Buttercream
adapted from Sticky, Chewy, Messy, Gooey
makes about 5 cups
Ingredients:
6 eggs
1½ cups sugar
2 tbsp. Dutch-process cocoa powder
1 tsp. vanilla extract
pinch of salt
1¼ lbs. (5 sticks) cold unsalted butter
8 oz. semisweet chocolate, melted and cooled
Directions:
Whisk together the eggs, sugar, and cocoa powder in the metal bowl of a stand mixer.
Fill a small sauté pan with water and bring to a simmer over medium-high heat. Place the mixing bowl in the simmering water and whisk the egg mixture constantly until the sugar is completely dissolved and the mixture is thick and fluffy and very hot, 5–6 minutes. Use an instant-read thermometer to check the temperature of the mixture; it should be anywhere between 120° and 140°.
Remove the bowl from the simmering water and, using the whisk attachment, beat the eggs at medium-high speed until they are tripled in volume and form soft peaks and the bottom of the bowl is completely cool to the touch, about 10 minutes. Beat in the vanilla and salt.
While the eggs are mixing, unwrap the individual sticks of butter and rewrap them loosely in plastic wrap. Pound the butter several times with a rolling pin, until the butter is soft and malleable but still cool.
With the mixer speed still on medium high, add the butter to the egg mixture, approximately 2 tbsp. at a time, beating in each addition until it is incorporated. Don't panic if the buttercream seems too liquidy or looks curdled as you beat in the butter; it will emulsify into a smooth, creamy frosting before you run out of butter.
When the buttercream is smooth and glossy, turn off the mixture and, using a large rubber spatula, carefully fold in the melted chocolate. You are welcome to melt some extra chocolate and add that in for an even deeper taste.
Enjoy!