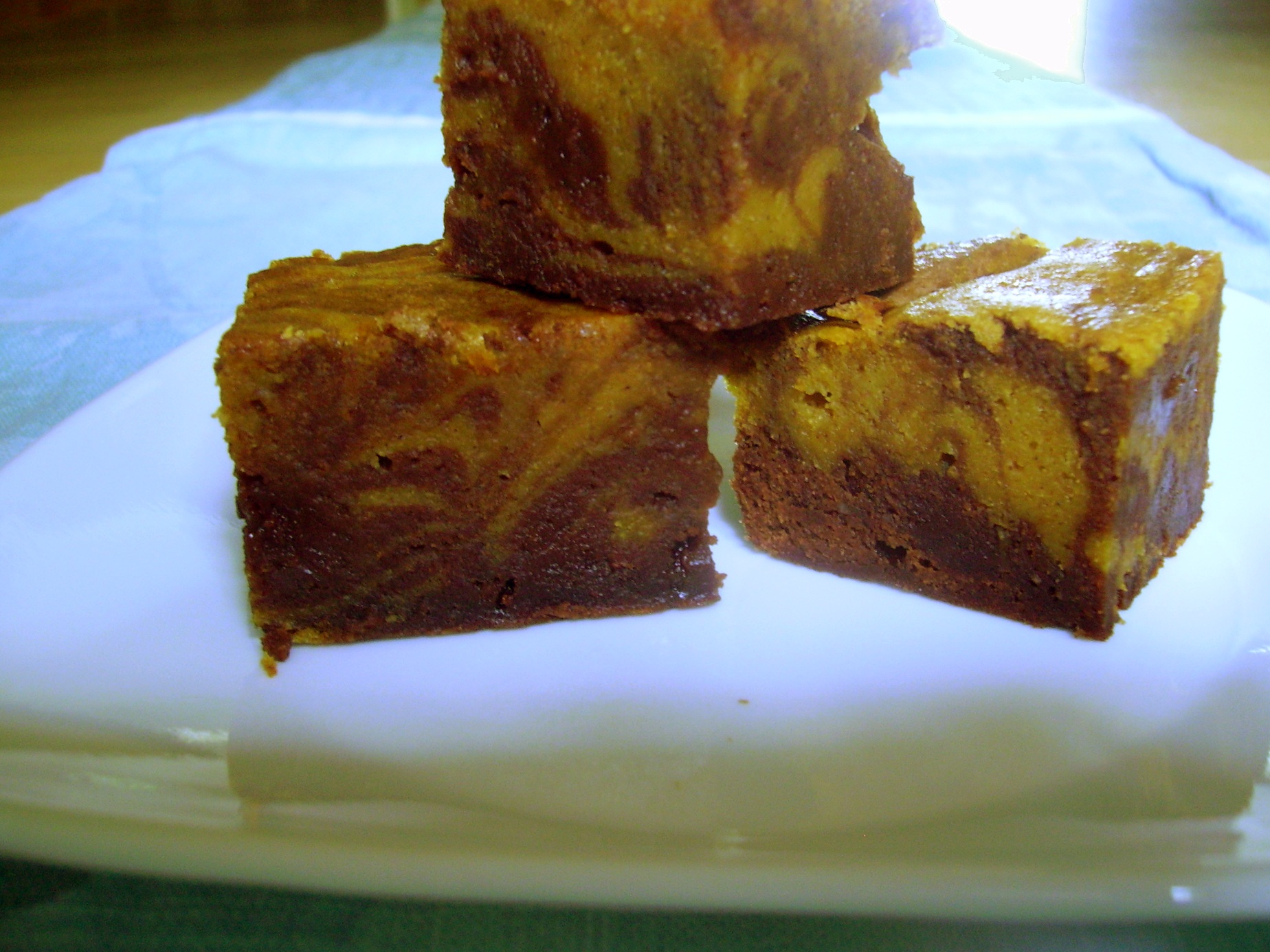 Hooray! It's Fall! Pumpkins are everywhere, including in these brownies!
For those of you that are thinking to yourselves, "Does pumpkin really go with chocolate?" or any other silly, suspicious thoughts…stop being such a Doubting Thomas! These two flavors are delightful together, and will be featured prominently on SLB this Autumn.
I first made these brownies almost 2 years ago, right as I was really starting to get into cooking. Maybe it was something I did…maybe Martha swung and missed (as many reviewers commented)…but the original recipe turned out very dry. Like cake made of sawdust. I put the recipe away and vowed not to think about it again. But honestly, who can resist a brownie with warm swirls of pumpkin running through it? As Fall rolled around this year, I knew I just had to try it again, play with the recipe, and see if I could make these brownies sing. I think you will be really pleased with the results!
I've been told that these brownies are still a little bit more like cake than brownies…but I'll let you be the judge of that. They are dense and moist, but they are not particularly fudgie or chewy the way brownies would be. Let me know what you think!
Alas, you will need about a thousand bowls and spatulas to make these. Sorry.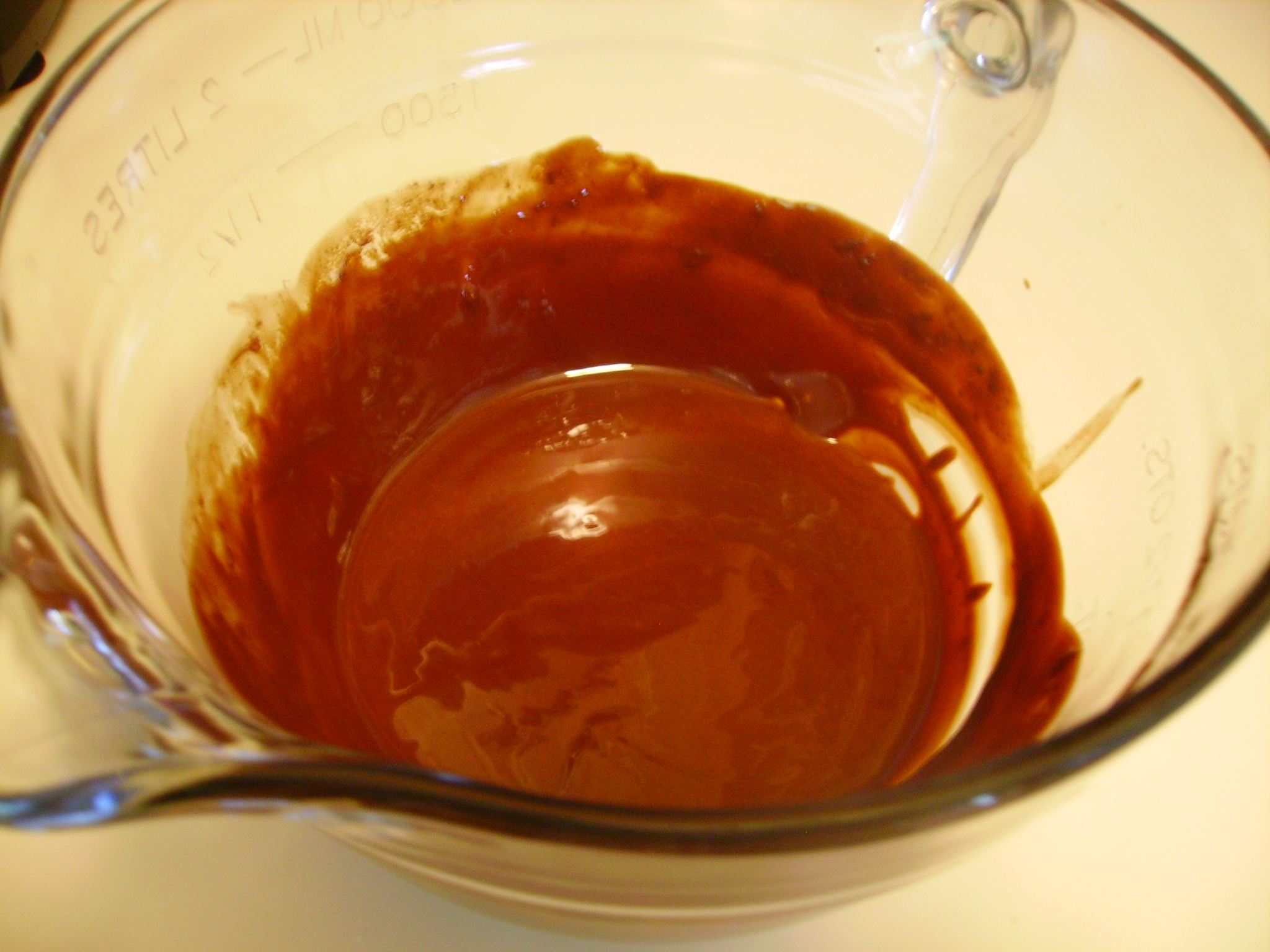 Start by melting chocolate and butter in a large bowl. I did this in the microwave, which turned out fine, but make sure to stir every 30 seconds or so. It should definitely not take more than 2 minutes to get the chocolate completely smooth. Set the chocolate aside.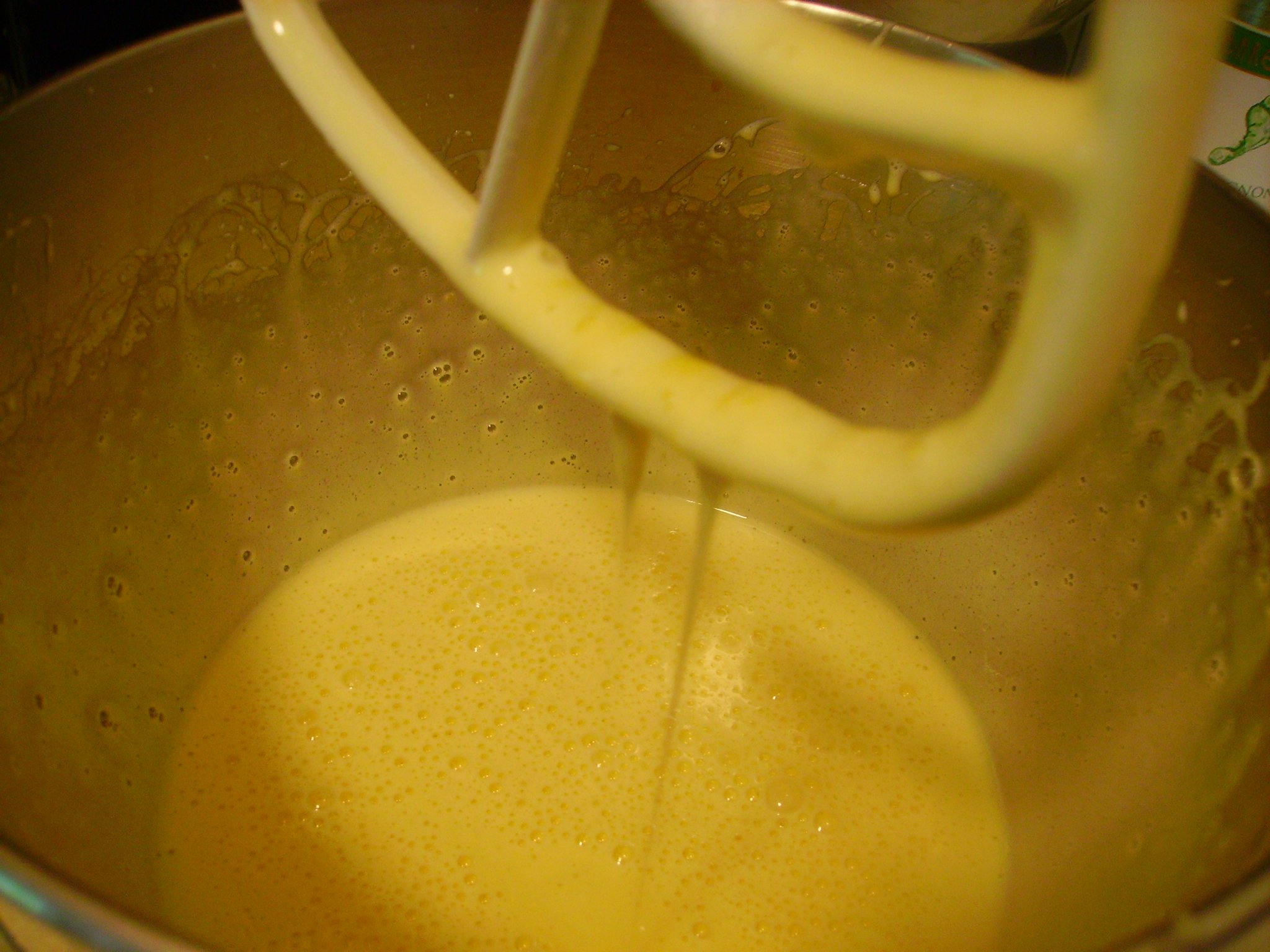 In a mixer bowl, beat together the sugar, eggs, and vanilla until they become smooth and creamy. The original recipe said the combination should become "fluffy" but I never saw anything that looked like it fit that description in my bowl. Just keep mixing until the volume increases somewhat and the eggs become silky.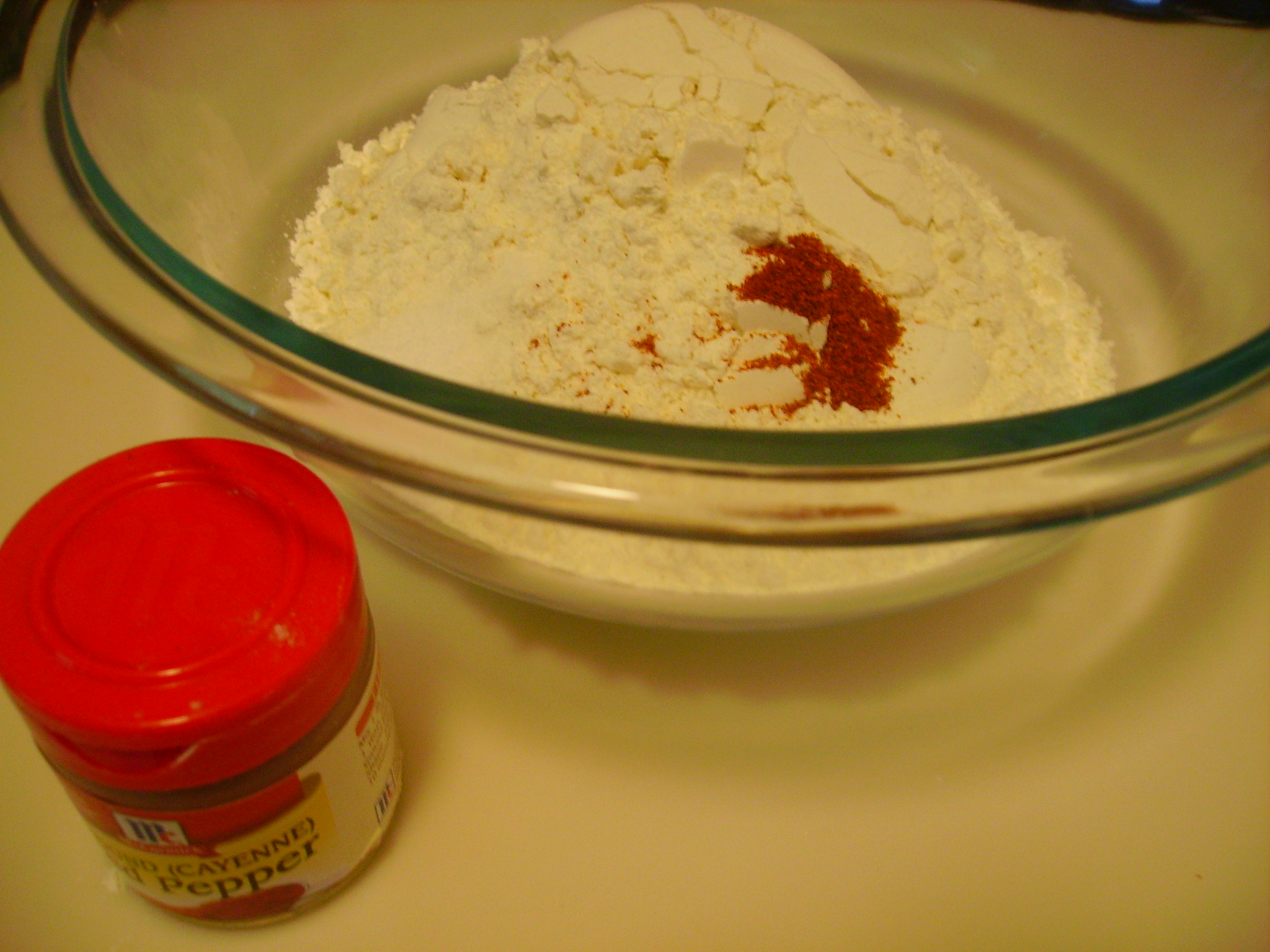 In a medium-size, separate bowl, whisk together the flour, salt, and cayenne. Now, I know what you are thinking: "What is pepper doing in these brownies? That can't be right…" You can leave it out if you want. But I will say, the flavor is barely noticeable; it just adds a tiny, tiny kick that ultimately helps bring the chocolate and pumpkin flavors together. I like it, but feel free to disagree.
Mix the dry ingredients into the egg and sugar mixture.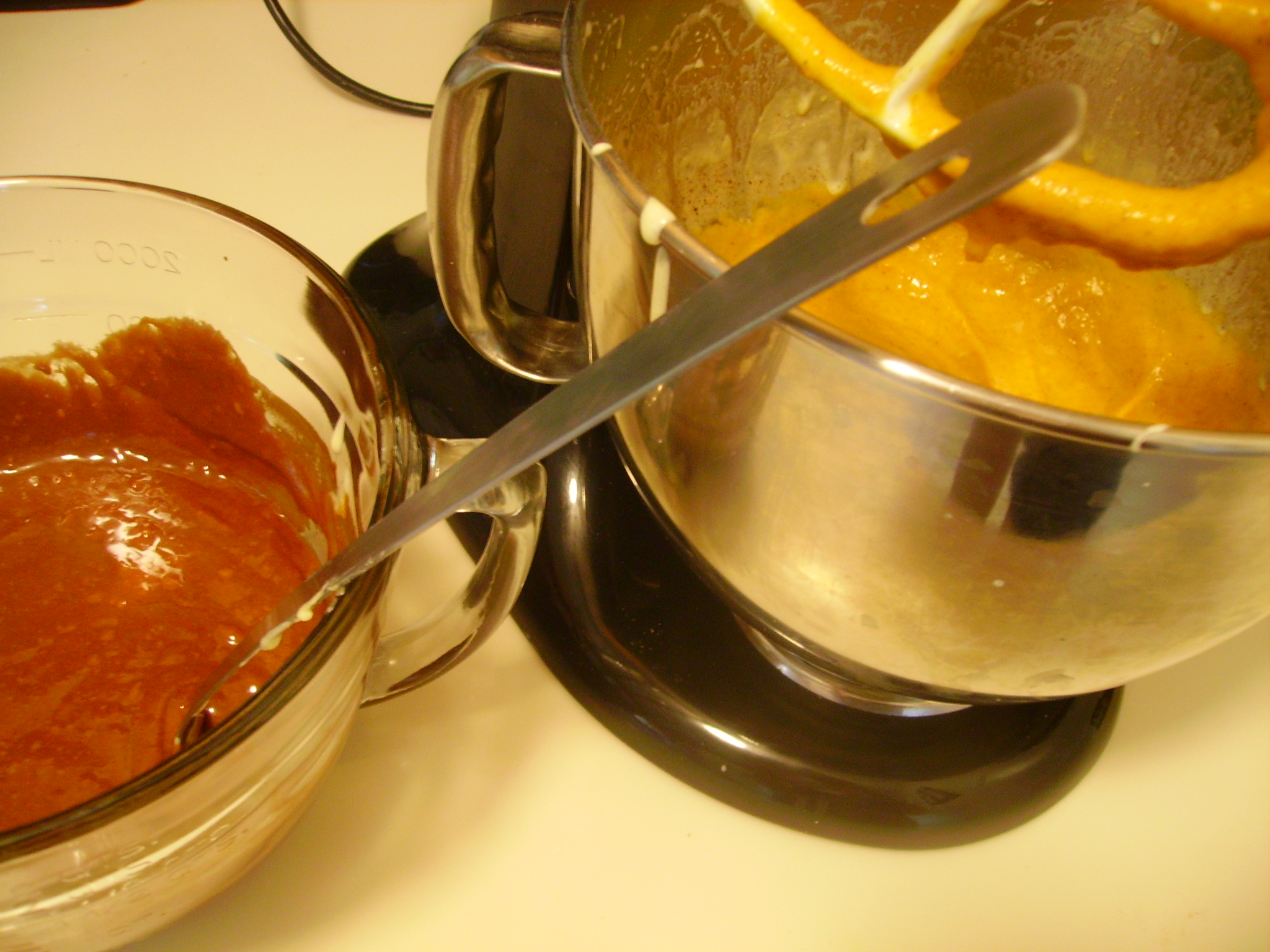 Scoop just over half the vanilla batter into the cooling chocolate mixture. I measured out 2¼ cups, which may have been overly obsessive. Stir, stir, stir until the chocolate is well distributed.
Stir the pumpkin, oil, and spices into the remaining vanilla batter.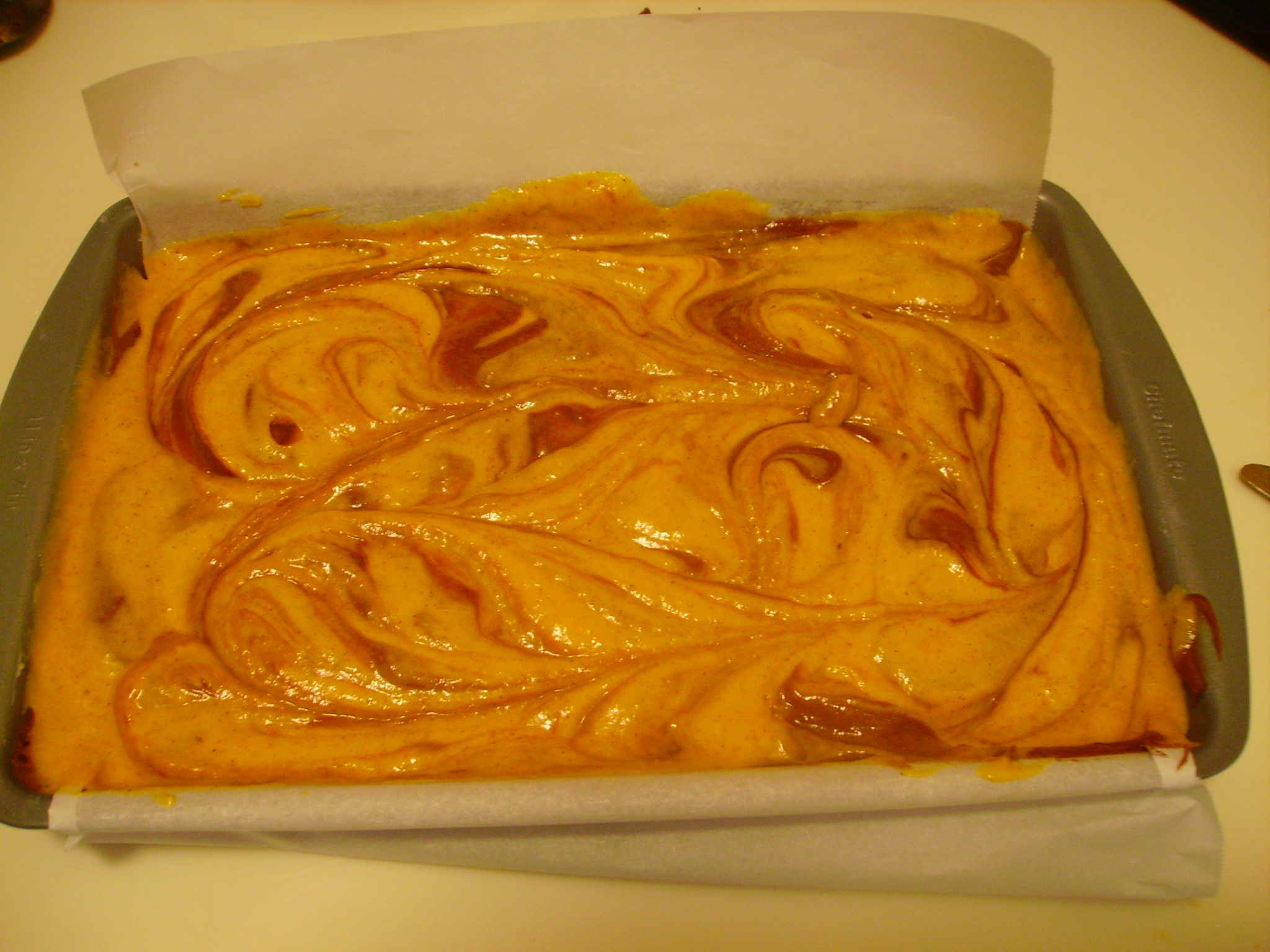 The next part is the trickiest, but don't worry, you can't really go wrong because you will swirl everything together in the end! First, prepare a pan: I really recommend using an 11″x7″ pan (a very small rectangle), though the original recipe called for a 9″ square; but whatever you do DO NOT use an 8″ square pan, because the surface area is so much smaller that the brownies will end up being much thicker, and they will not cook properly. Whatever pan you ultimately choose, grease it thoroughly and then line the bottom with parchment paper. Just to be on the safe side, grease the parchment paper as well. These batters are really sticky.
Pour about half of the chocolate batter into the prepared pan (I poured way more than half to start, and that was fine, but next time I will try to use less than half the chocolate for the base, which will make spreading easier). Spread it evenly at the bottom of the pan. Do the same with the pumpkin. The pumpkin batter will be much thinner than the chocolate batter. Repeat with the remaining batters; don't stress about spreading perfectly.
Take a butter knife and swirl it through the pan, moving up and down slightly to draw the bottom layers up through the top layers. Don't swirl too much or the brownies will turn out looking a bit muddy; they will still taste good that way, but they'll be much more beautiful if the orange pumpkin is clearly visible.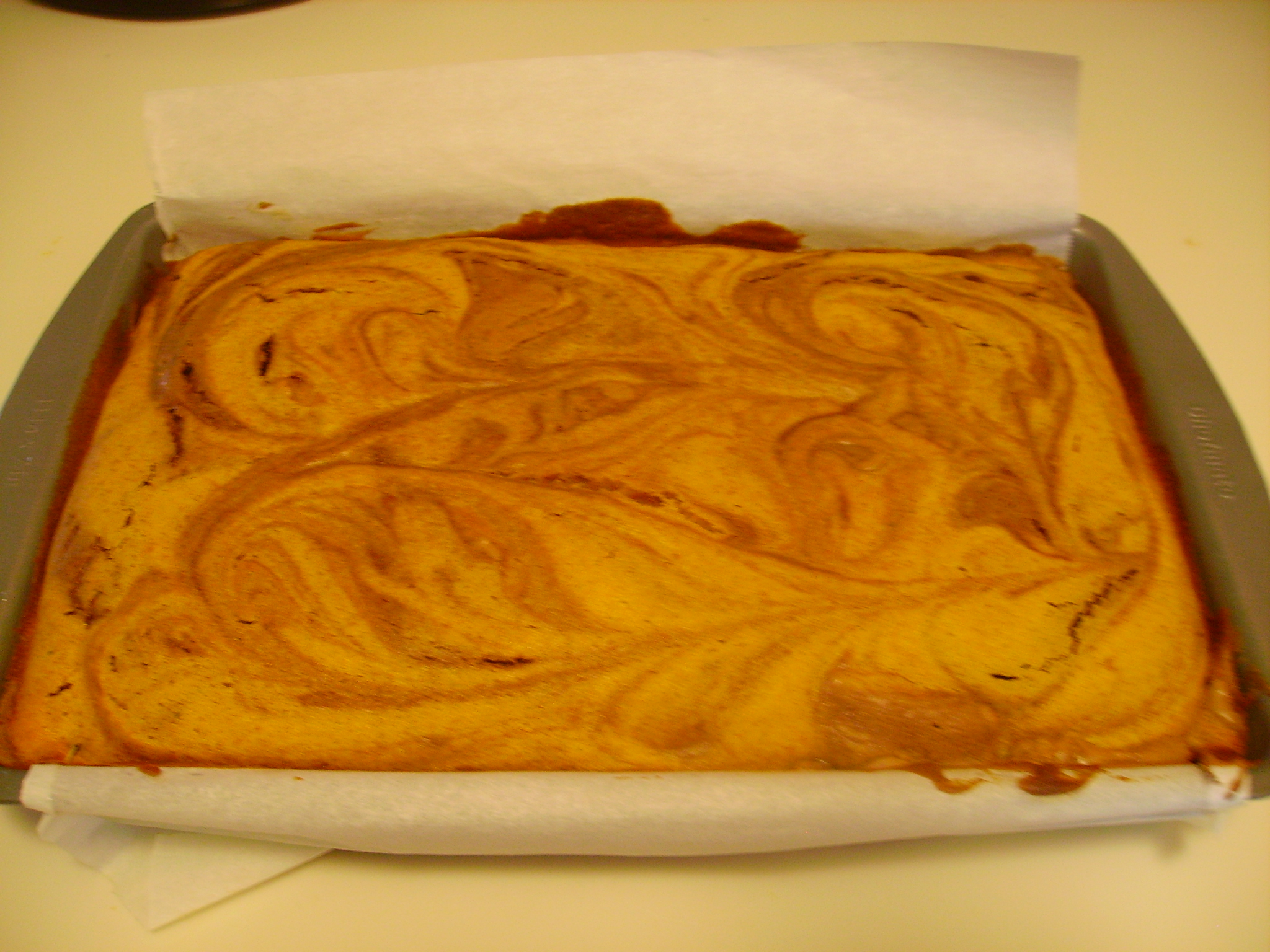 Bake for 40–45 minutes at 350° (mine baked for 45 minutes). They brownies are done once they are set in the center (the center doesn't visibly jiggle if you move the pan around). I have no idea how these do against a toothpick test, but mine were also firm to the touch.
Let the brownies cool completely before cutting.
Pumpkin Swirl Brownies
adapted from Martha Stewart
makes 2 dozen (rectangular pan) or 16 (square pan)
Ingredients:
½ cup (1 stick) unsalted butter
6 oz. semisweet chocolate, chopped
1½ cups sugar
4 eggs
1 tbsp. vanilla extract
1¾ cups flour
⅛ tsp. cayenne pepper
½ tsp. salt
1¼ cups pumpkin puree
¼ cup vegetable oil
1 tsp. cinnamon
¼ tsp. nutmeg
Directions:
Preheat oven to 350°. Grease an 11″x7″ (or a 9″ square) baking dish and line the bottom with parchment paper.
Melt the chocolate and butter in the microwave for 30 seconds, then stir. Repeat as needed until the mixture is completely smooth.
In a mixer bowl, beat together sugar, eggs, and vanilla extract until fluffy and well combined, 3–5 minutes.
Whisk together flour, cayenne, and salt in a large bowl. Add to the egg mixture and beat until completely smooth.
Pour just over half of the batter (about 2½ cups) into a separate bowl and stir chocolate mixture into it.
Stir in the pumpkin, oil, cinnamon, and nutmeg into the remaining batter in the mixer bowl.
Working quickly so the batters don't set, transfer half the chocolate batter to prepared pan. Smooth the top with a rubber spatula. Top with half the pumpkin batter, smoothing again. Repeat to make one more chocolate layer and one more pumpkin layer.
Gently swirl a small spatula or a table knife through the pan to create a marbled effect. Be sure to get the knife all the way to the bottom of the pan to make sure the flavors get evenly swirled, but don't stir so much that the brownies become muddy looking.
Bake 40–45 minutes, or until brownies become set in the center. Let cool in pan on a wire rack. Cut into squares.
Enjoy!