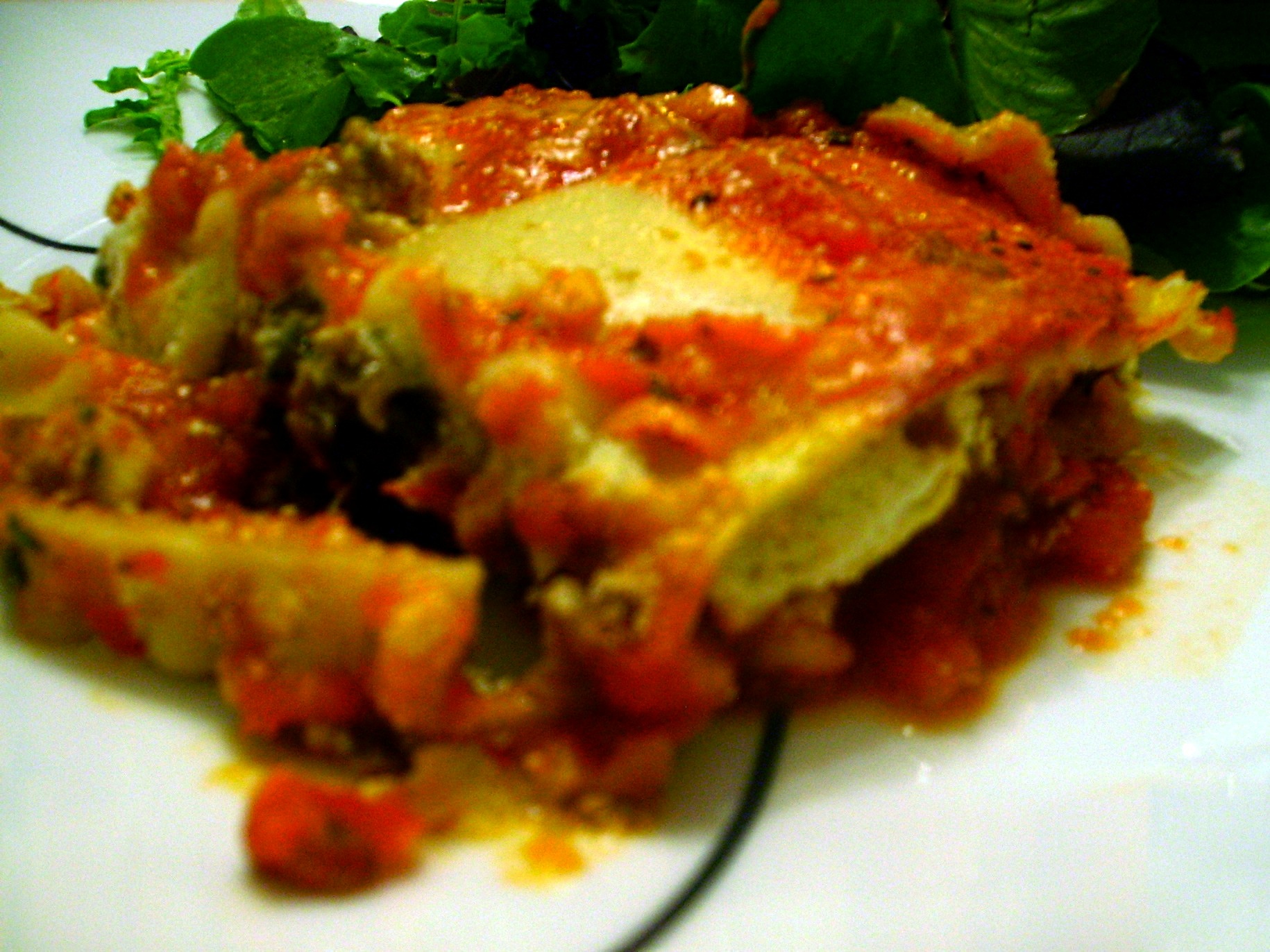 Confession: I have never liked lasagna. There was always just something about the texture and greasiness of ground beef that was off-putting to me…it didn't match with the smooth noodles and the creamy, stretchy cheese. Even before I became a vegetarian, I never felt quite at home with ground meats.
So…imagine my delight when my mom came upon a recipe for a vegetarian lasagna, filled with pureed, roasted vegetables! The first time she made this, I think I ate 3 slices of it. The first time I made it, I realized that this was only going to be an occasional treat, because it takes about 2 hours to make! But if you have a weekend afternoon free, I highly recommend you try this lasagna out! This meal is great if you are expecting company, because it serves 6–8 people, depending on how hungry everyone is.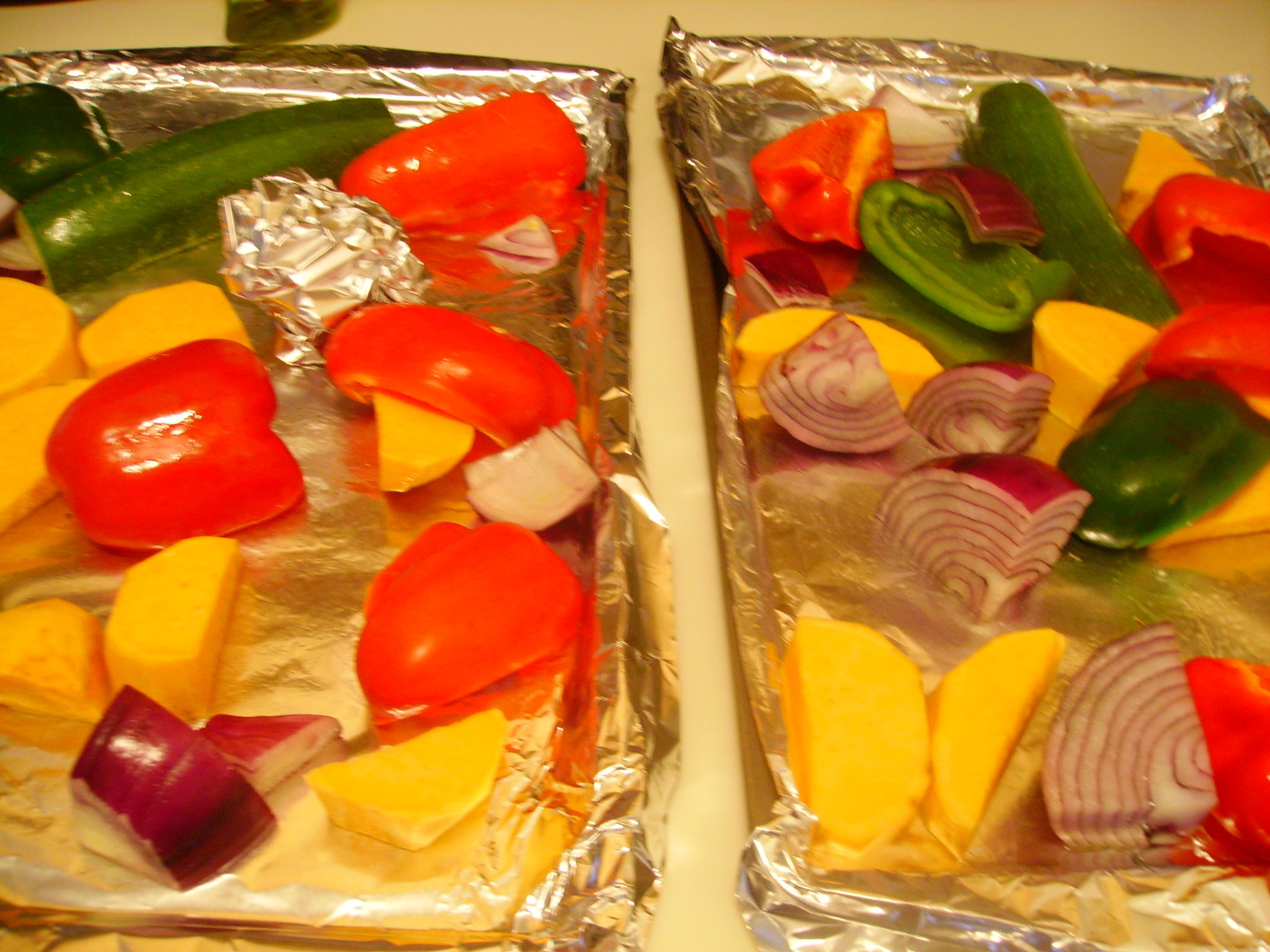 Start by peeling the sweet potato and slicing it and all of the other vegetables. You can really play around with the veggies depending on your preferences and what's in season. I stuck with the original recipe, despite its being more summery produce, because I found some great deals, but I'd imagine that eggplant or fall squash would work well. I do recommend keeping the oni0n, though!
Toss the chopped veggies in a little bit of olive oil and salt, then set them on a foil-covered cookie sheet (I needed 2 in order to get them spread out properly). Cut the top off of a whole head of garlic and wrap the head in foil. Add it to the cookie sheet. Roast in a 425° oven for 45 minutes. If you'd like, turn the veggies over about halfway through to prevent them crisping on one side.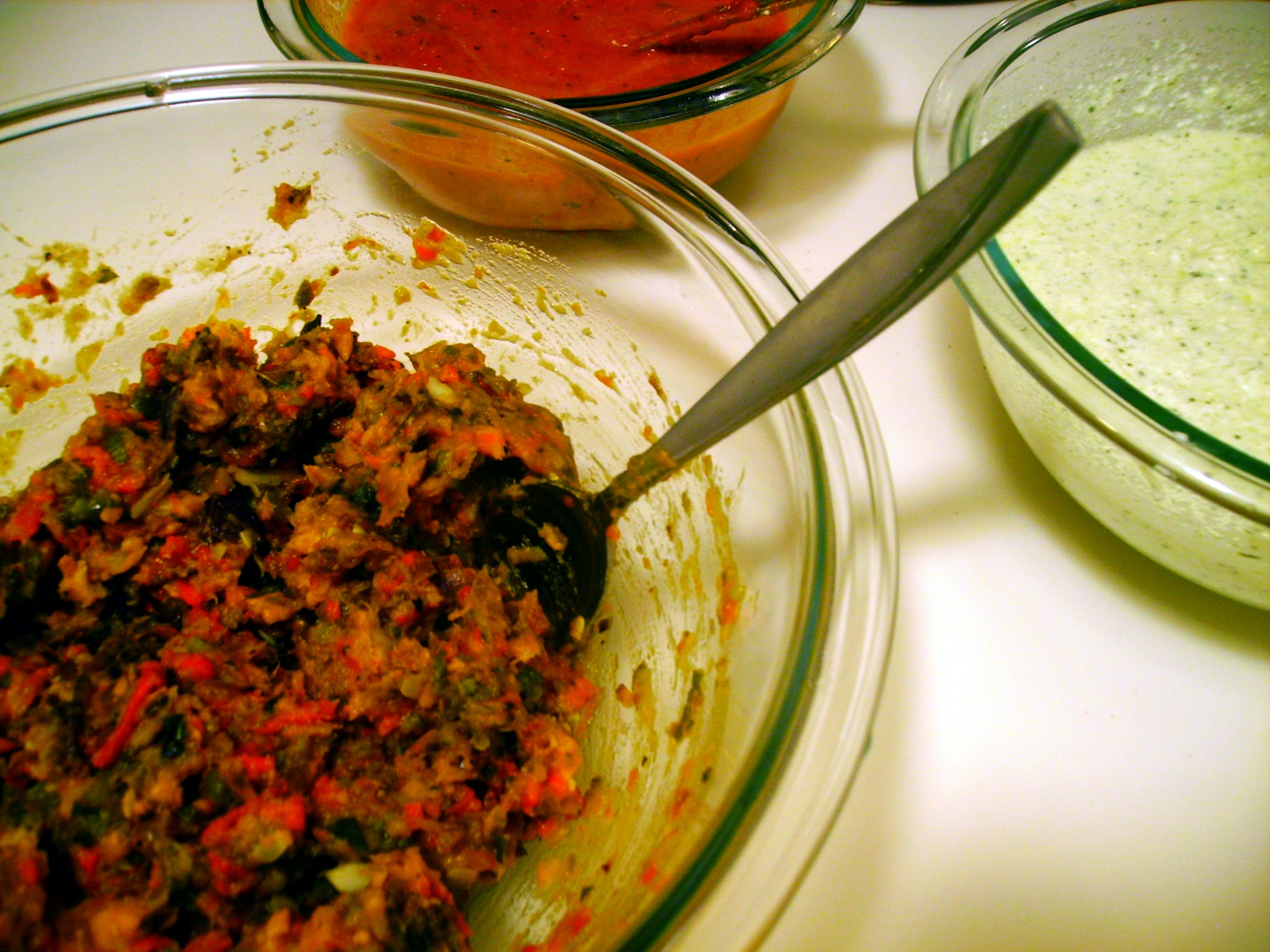 Meanwhile, cook the lasagna noodles and stir together the two sauces. For the tomato sauce, I used Prego's Tomato Basil Garlic sauce, which I really like, and just added the milk to that; if you prefer home-made sauce, more power to you! The second sauce is a combination of pesto (I made a packet of Knorr's pesto mix, which is very liquidy), milk, ricotta, mozzarella, and a little parmesan. Set aside the sauces and noodles for assembly.
When the vegetables are roasted, take them out of the oven and chop them finely. I use a slap chop to get everything down to a much very quickly (and also to work off a little energy…), but you could also puree everything in a food processor. Don't forget to squeeze the garlic cloves out of the roasted head and chop them, too!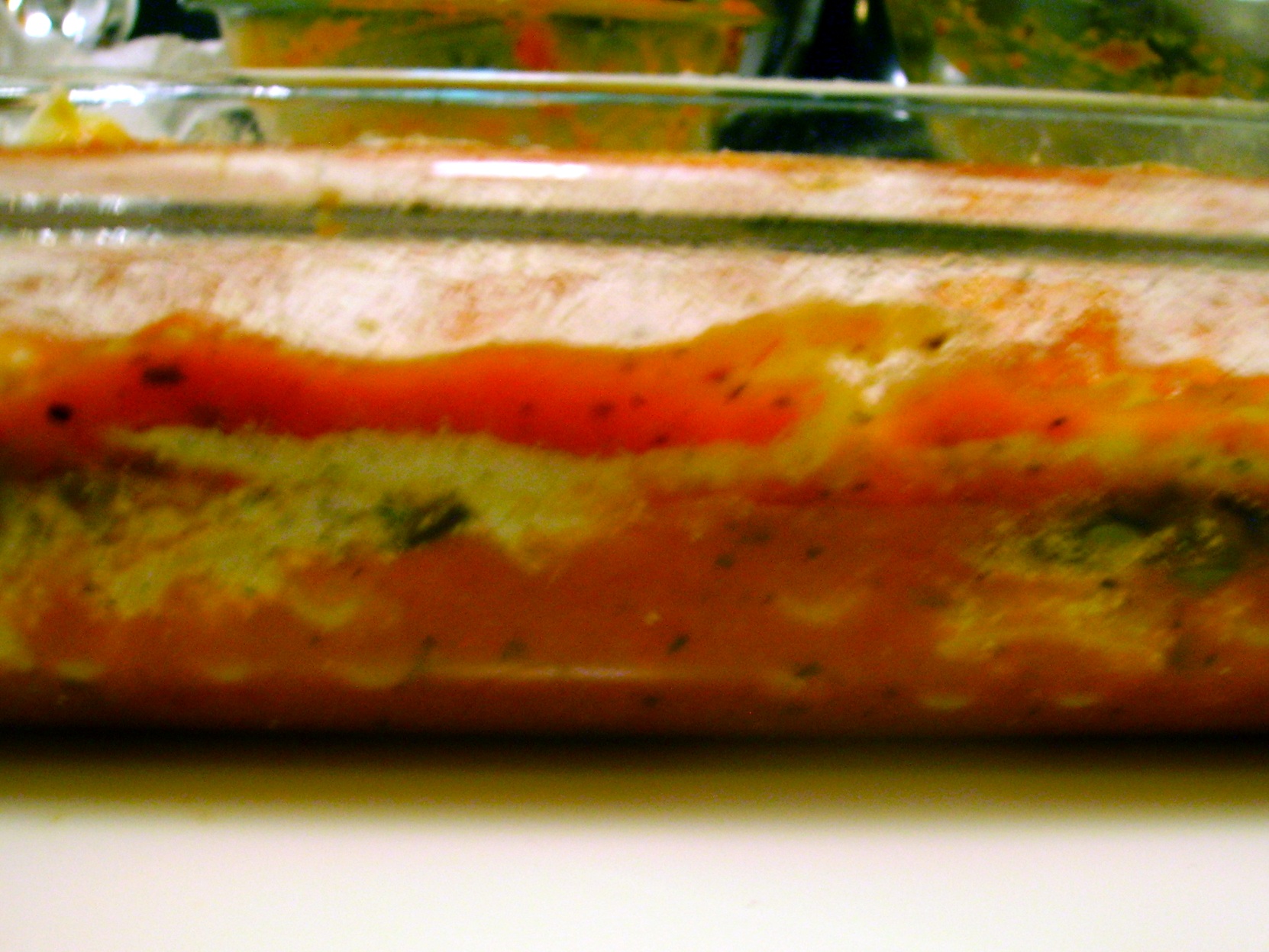 Now we are ready to put the whole shebang together! Coat a 9″x13″ glass dish lightly with cooking spray. Spread about half of the tomato sauce across the bottom of the pan, then layer on 3 lasagna noodles (if you are having a hard time separating them from each other, run them under cold water before handling). If necessary, trim the edges to fit the pan. Spread about half of the veggie puree across the noodles, followed by half of the cheesy sauce. Layer on the next 3 lasagna noodles, the remaining veggie mixture, and the last of the cheese sauce. Add the last 3 noodles and top with the tomato sauce. Sprinkle liberally with parmesan (I only dusted my lasagna with fine coating of parmesan before baking, and my husband and dinner guests determined that they really preferred a thicker cheese topping…so I recommend you really lay it on if you like cheese).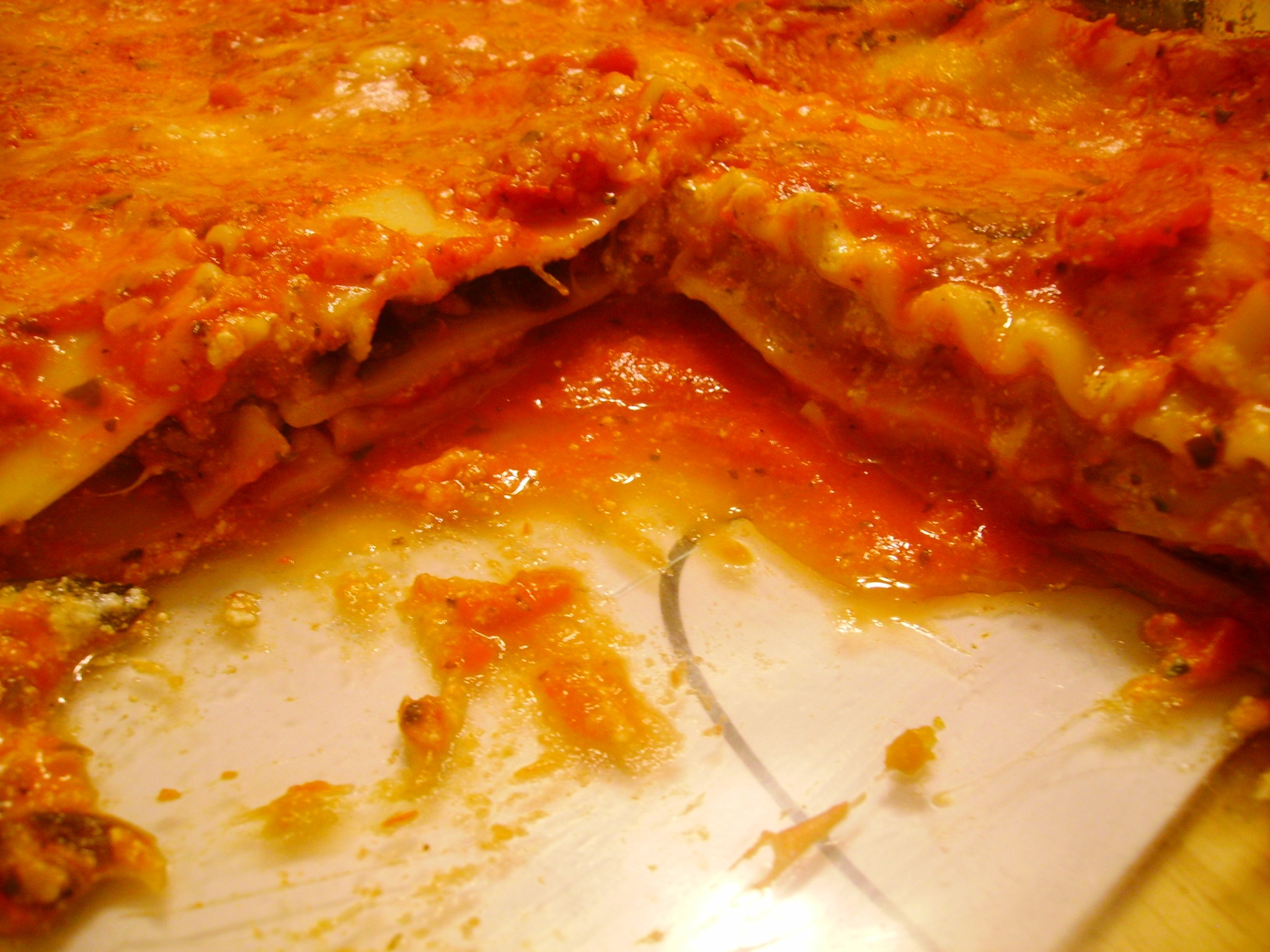 Bake the lasagna for 30 minutes. The cheese should be bubbly and lightly browned. Let cool for at least 10 minutes before serving.
Vegetarian Lasagna
from America's Everyday Diabetes Cookbook
serves 6–8
Ingredients:
1 medium sweet potato, peeled and cut crosswise into ½″ slices
2 medium red bell peppers, quartered
1 medium green bell pepper, quartered
1 medium red onion, cut into wedges
1 medium zucchini, halved lengthwise
1–2 tbsp. olive oil
½ tsp. salt
1 medium head garlic, top ½″ removed, wrapped loosely in foil
9 lasagna noodles
1½ cups part-skim ricotta
¾ cup shredded low-fat mozzarella
⅓ cup milk, plus ¼ cup
⅓ cup prepared pesto
½ cup grated parmesan, divided
1½ cups tomato pasta sauce
Directions:
Preheat oven to 425°. Line a baking sheet with foil.
In a bowl, toss sweet potato, red pepper, yellow/green pepper, red onion, zucchini with olive oil and salt. Spread vegetables onto baking sheet and add the garlic.
Bake for 45 minutes, or until vegetables are tender.
Meanwhile, cook lasagna noodles for 12–14 minutes in a large pot of boiling water; noodles must be tender. Rinse under cold water and drain.
Remove vegetables from oven when done. Squeeze garlic from skins and mash. Finely chop the roasted vegetables and the garlic into a thick puree.
Reduce oven temperature to 350°.
Combine ricotta and mozzarella, ⅓ cup milk, pesto, and 2 tbsp. of the parmesan. In a separate bowl, combine tomato sauce and ¼ cup milk.
Spray a 9″x13″ baking pan with cooking spray. Then spread half the tomato sauce over the bottom of the pan. Top with three lasagna noodles, trimmed to fit the pan. Add half of the vegetable puree and half of the cheese mixture. Repeat layers once more. Layer with the last 3 lasagna noodles, then top with the remaining tomato sauce. Sprinkle the remaining parmesan evenly over the top of the lasagna.
Bake uncovered for 30 minutes, or until the cheese is golden and the dish is heated through.
Enjoy!