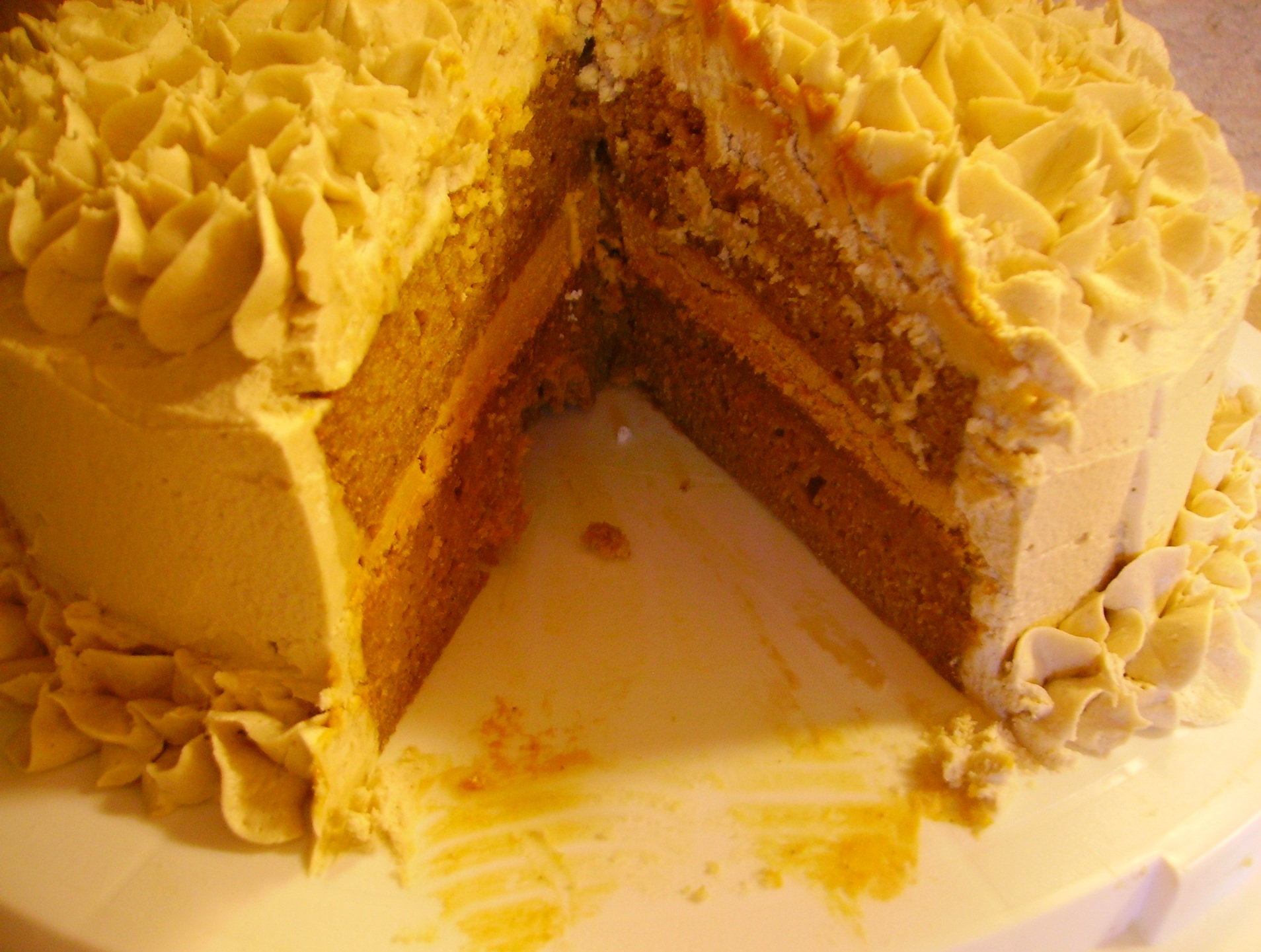 Pumpkin. Cake.
Need I say more? (haha, just kidding…you know I'm going to say much, much more…)
I know the traditional pumpkin dessert is pie, but honestly I have never really gotten behind pumpkin pie. It's just something about the cloves…and the oddly moist, yet gelatinous consistency of the pumpkin filling. So what is a pumpkin lover to do?
Let her eat cake!
I found this recipe a few years ago and have been dying to make it ever since. But, you know how it goes…the list of desserts to try is so long, and before you know it, Fall has come and gone twice and you still haven't served up a slice of pumpkin cake! Fortunately, this past Halloween my in-laws had a pumpkin carving party. Just the thing I had hoped to supplement with some un-pie pumpkin goodness.
Yes, this cake requires about 27 bowls and pans, and contains two different kinds of cooked frosting. But if you are looking ahead to Thanksgiving and thinking that you just can't get excited about pumpkin pie…or you want to impress your in-laws by doing pumpkin two ways (how fashionably haute cuisine of you…), then collect every last wooden spoon in your kitchen and make this cake with me!
Between you and me, I got rave reviews for this cake from a family of folks who aren't particularly interested in dessert…so what are you waiting for!?
The cake part is actually not too complicated.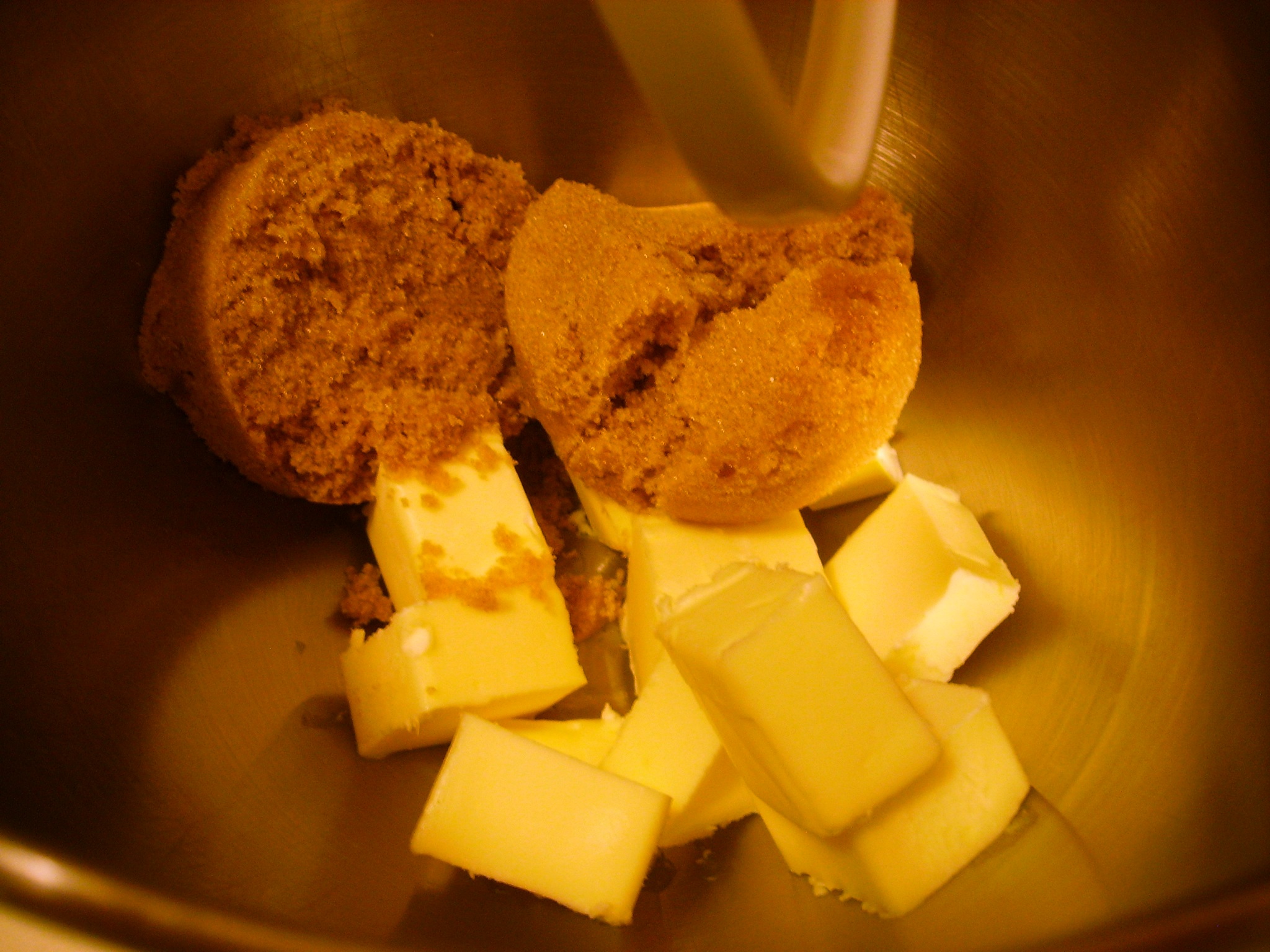 Start with room temperature butter. I am definitely not going to go on about chemistry right now, but let's just say if you start with cold butter, your batter will not  be mixed as evenly, and won't come out as moist and tasty. Aaaanyway, cream the butter and sugar in a mixer bowl for 4 minutes on medium speed, scraping the bowl at least once to make sure all that stubborn butter stuck on the sides of the bowl gets nice and sugary.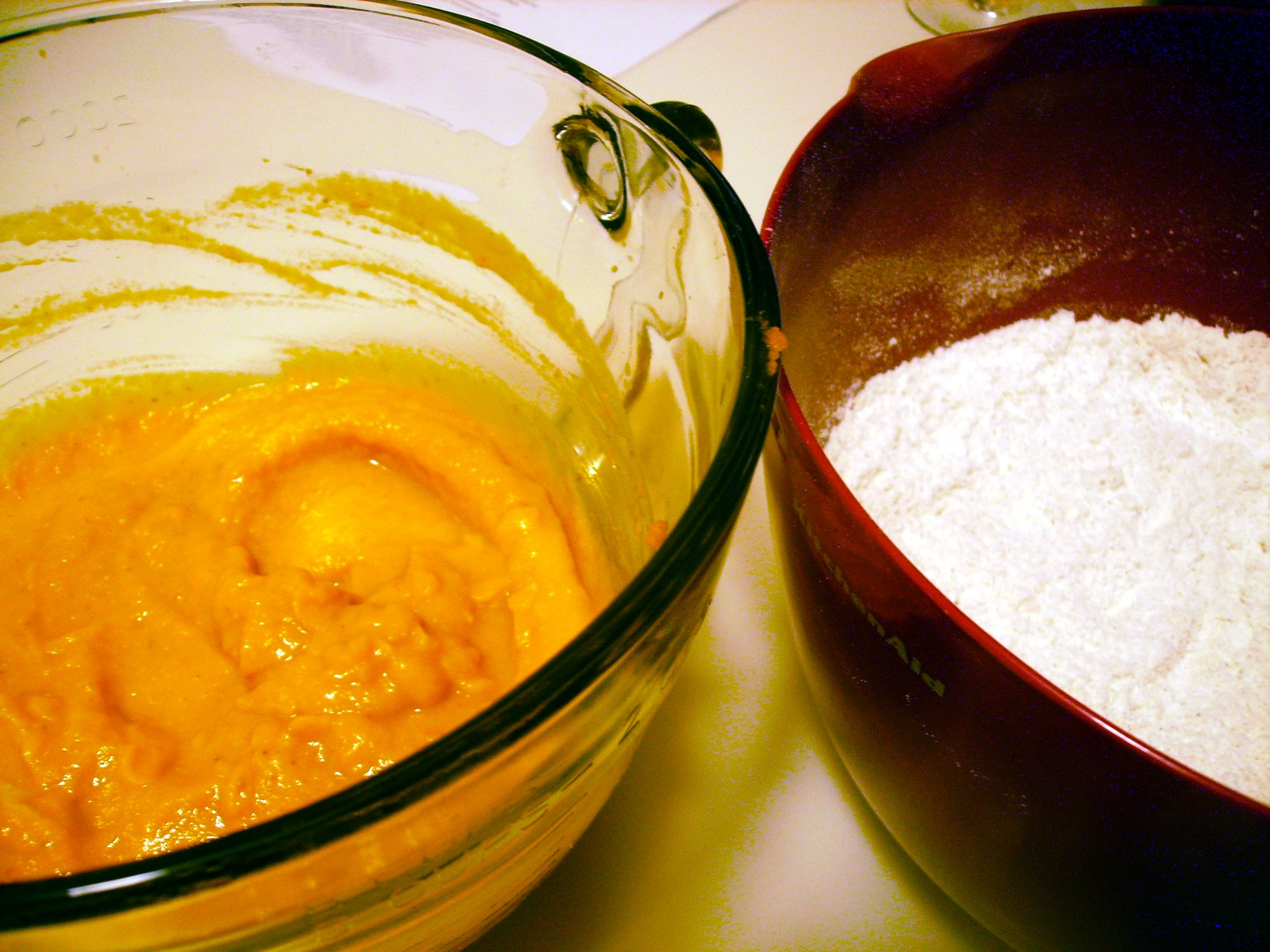 Meanwhile, whisk all the dry ingredients together in one bowl, and the pumpkin and buttermilk in another bowl.
When the butter is creamy, begin to add the eggs in, one at a time. Mix well, and scrape between each addition. Add the vanilla extract and beat for another 30 seconds or so.
Alternate adding the flour and the pumpkin, beginning and ending with flour. Stir well after each addition, and scrape the sides of the bowl as needed.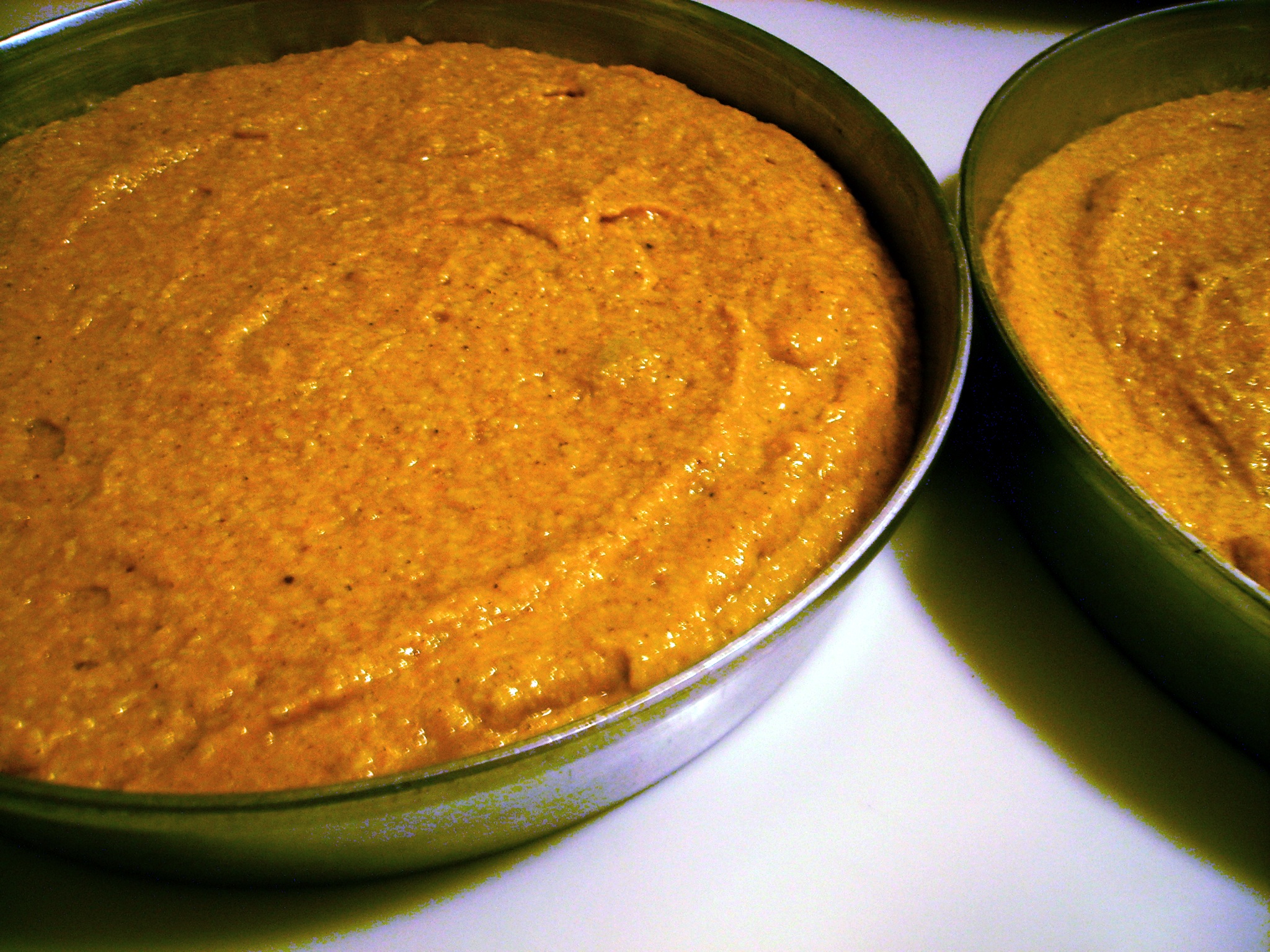 Pour the batter evenly into two 9″ round cake pans, buttered and lined with parchment paper. The cake is sticky, so don't skip the parchment.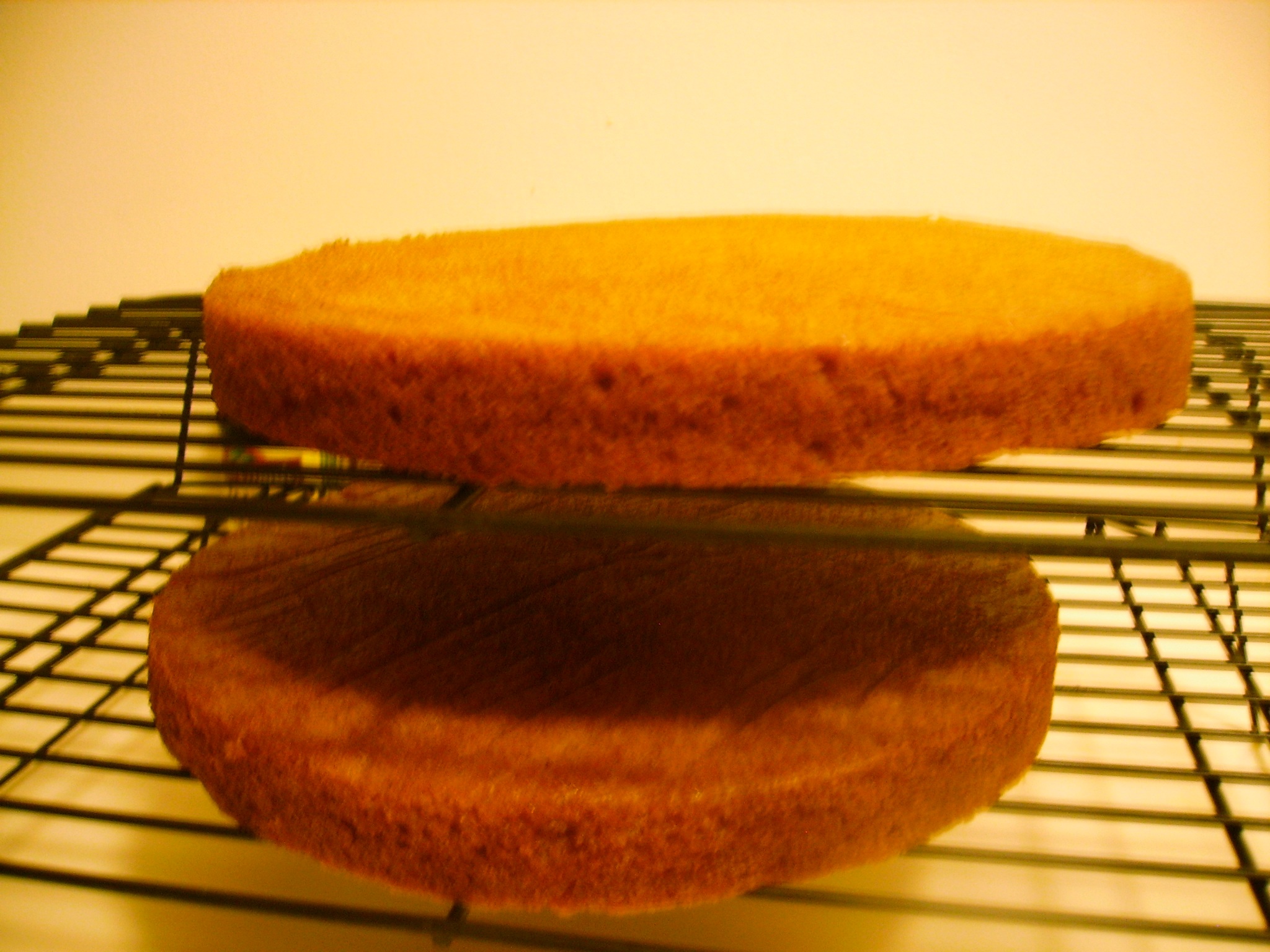 Bake for 45 minutes, or until the cakes passes a toothpick test (i.e., no goop on the toothpick). Let them cool in the pan for at least 10 minutes before turning them carefully onto a wire rack to finish cooling.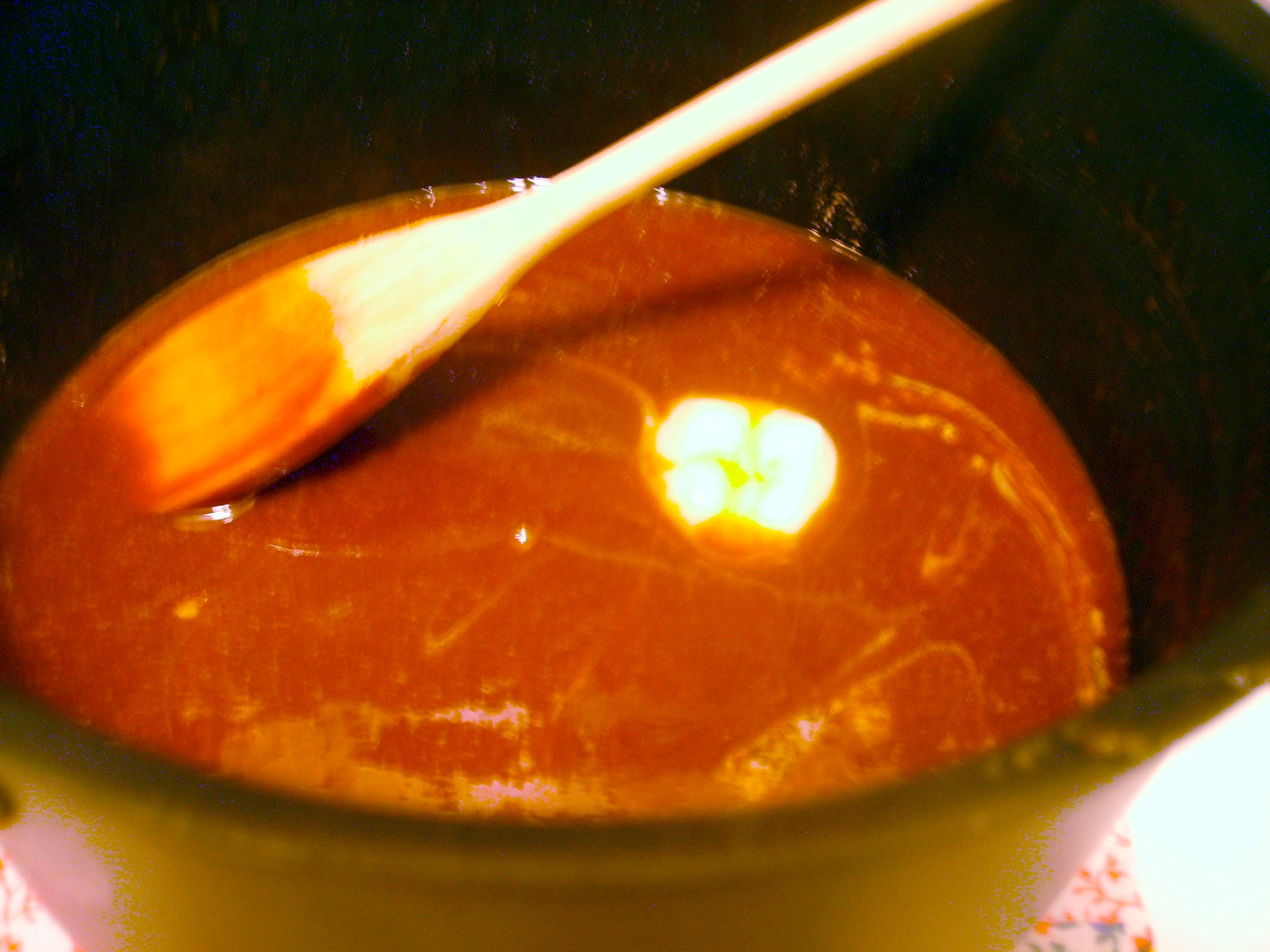 Now comes the harder parts. No hard feelings if you give up on the idea of cooking two different caramels to frost one cake; you can resort to the classic cream cheese frosting and this cake will still be delicious. BUT whatever you do, I want you to promise me that you are not going to go to the store and buy a can of frosting. No, not even the cream cheese kind. I repeat…don't resort to cake blasphemy!
We'll start with the filling. I have to admit that I think I cooked mine a little longer than I should have, and the sugar took on a bit of a burnt taste. But maybe you like that. Or maybe you will be more cautious than I was and remove the pan from the heat sooner. Either way, it still tasted pretty darn good.
Start with two small saucepans. In one, heat up the cream, but don't let it boil. Meanwhile, in the other, heat up the sugar and lemon juice. Stir the caramelizing sugar constantly; eventually it will become a liquid, and very quickly it will turn amber (and then, in my case, dark brown). It will smell divine…but resist tasting! Sugar burns are brutal.
As soon as the caramel turns amber, remove it from the heat. Add the warm cream, half at a time. It will fizz up initially, so don't be surprised by that. Stir in the butter, 1 tbsp. at a time. When the last of the butter is mixed in, set the caramel in the fridge to cool.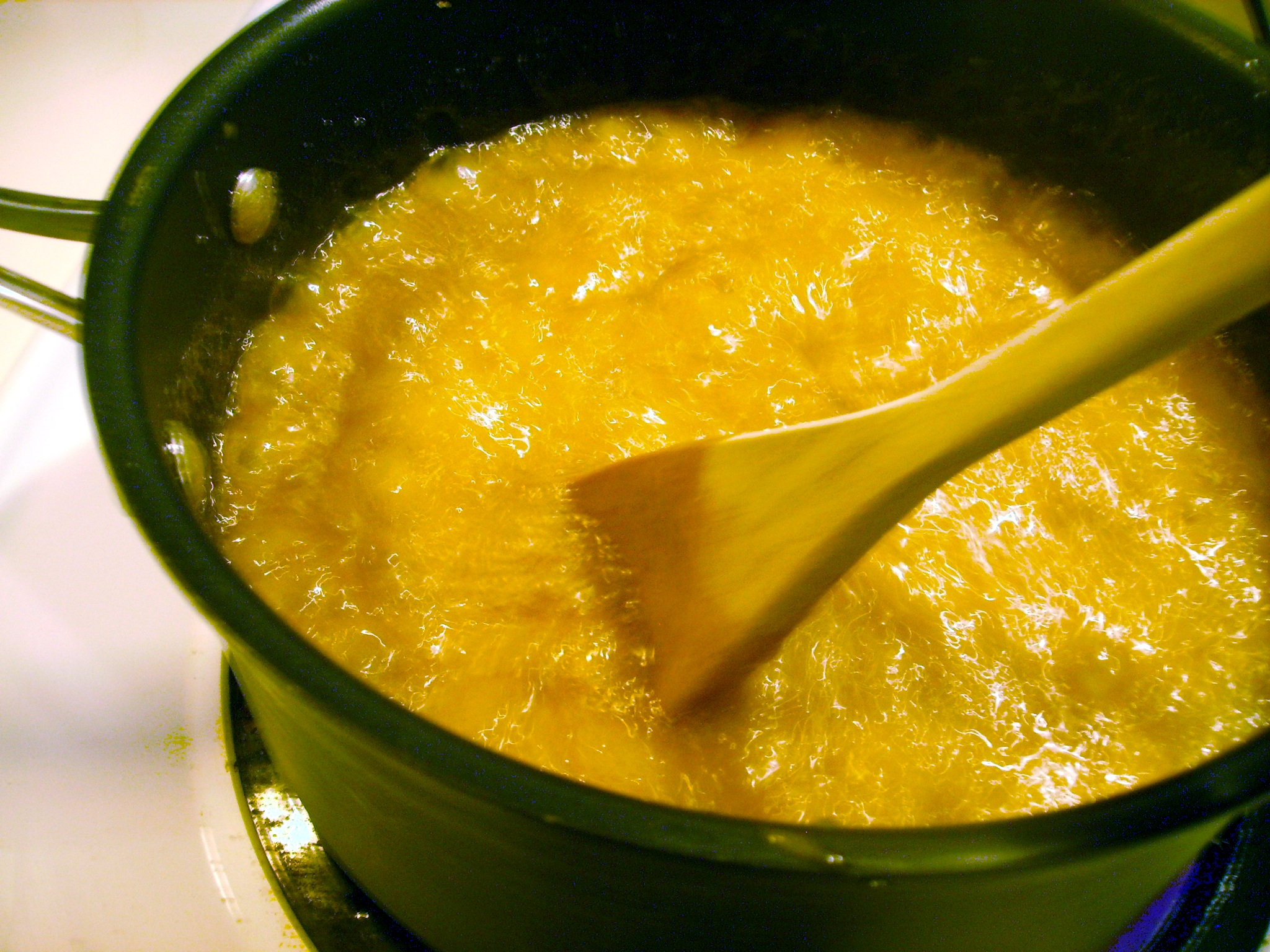 Now for the second cooked sugar frosting. I believe that caramelized brown sugar mixtures are technically butterscotch, but it tasted like caramel to me! In a large saucepan, cook the brown sugar, cream, and 4 tbsp. unsalted butter until it boils. I also recommend adding a healthy pinch of sea salt, as without it the frosting is very, very sweet. But to each her own. Boil the butterscotch/caramel for 2 minutes, then scrape it into a steel bowl (I recommend using your mixer bowl…but here's to hoping you have a hand mixer in addition to a stand mixer, otherwise you will need to wash even more dishes. Don't use the mixer bowl for the butterscotch if you don't have a hand mixer). Let it cool for 1 hour.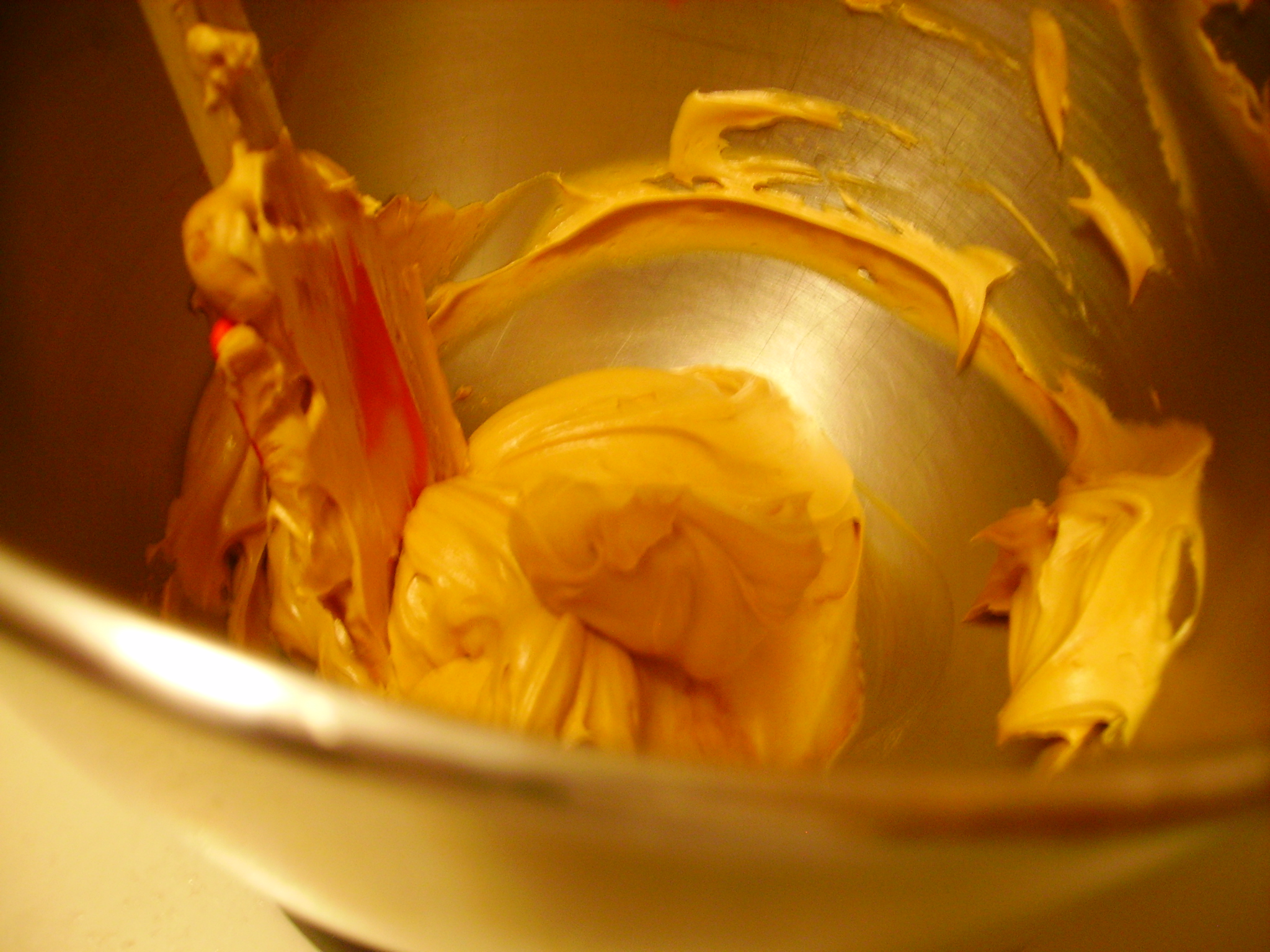 While the butterscotch cools, remove the cooled caramel from the fridge. Transfer it to a glass bowl (…or your mixer bowl…see the lengthy aside above). Whip out your trusty hand mixer and beat the caramel to within an inch of its life. It will become lighter in color, but it won't become airy like a typical frosting. Set the caramel aside.
When the butterscotch mixture is cooled, beat it in the mixer bowl on low speed for 30 seconds with the paddle attachment. Once the mixture is a bit loose, increase the mixer speed and add the remaining ¾ cup unsalted butter, 2 tbsp. at a time. Scrape the bowl after mixing in the last piece of butter.
Continue to beat on high speed for several minutes, scraping as needed.
Now, let me give you the cooked frosting pep talk. It's going to work! It really is! Just you wait. I know it looks slimy or curdled, and it doesn't seem like it will ever be spreadable…you can't imagine putting that mess on a cake. But just wait. Keep beating. Walk away and let your mixer do its job…after all, you can't overbeat frosting. It just gets fluffier.
I promise, you'll know when it's done. I was a ditz and forgot to take a picture of it, but you will do great without one. You should be able to swipe your finger through it for a taste, and it will be smooth and airy and sugary and you'll love it.
Okay. Finally! We are ready to assemble this monster cake. Put one of the cake rounds bottom-up on a cake stand or carry case. Or, if you are cooler than me, on some other fancy round serving dish. If you want the dish to remain neat even after you frost the cake, tuck some strips of wax paper under the edges of the cake, to catch drips.
Grab your caramel filling and spread it over the bottom layer of your cake. Don't fill it in all the way to the edge; leave about ½ centimeter of cake visible, that way the caramel filling won't escape and get mixed all in when you frost the sides of the cake later. Still tasty, but less pretty.
Top the bottom layer with the second cake round, this time topside-up. Now you are ready to frost with the butterscotch frosting. I recommend crumb coating the sides of the cake, and if necessary, the top as well. This basically means putting on a very thin layer of frosting to start, scraping any excess off, to glue the crumbs to the cake. This way you won't have crumbs showing through your frosting. Go ahead and frost the rest of the cake.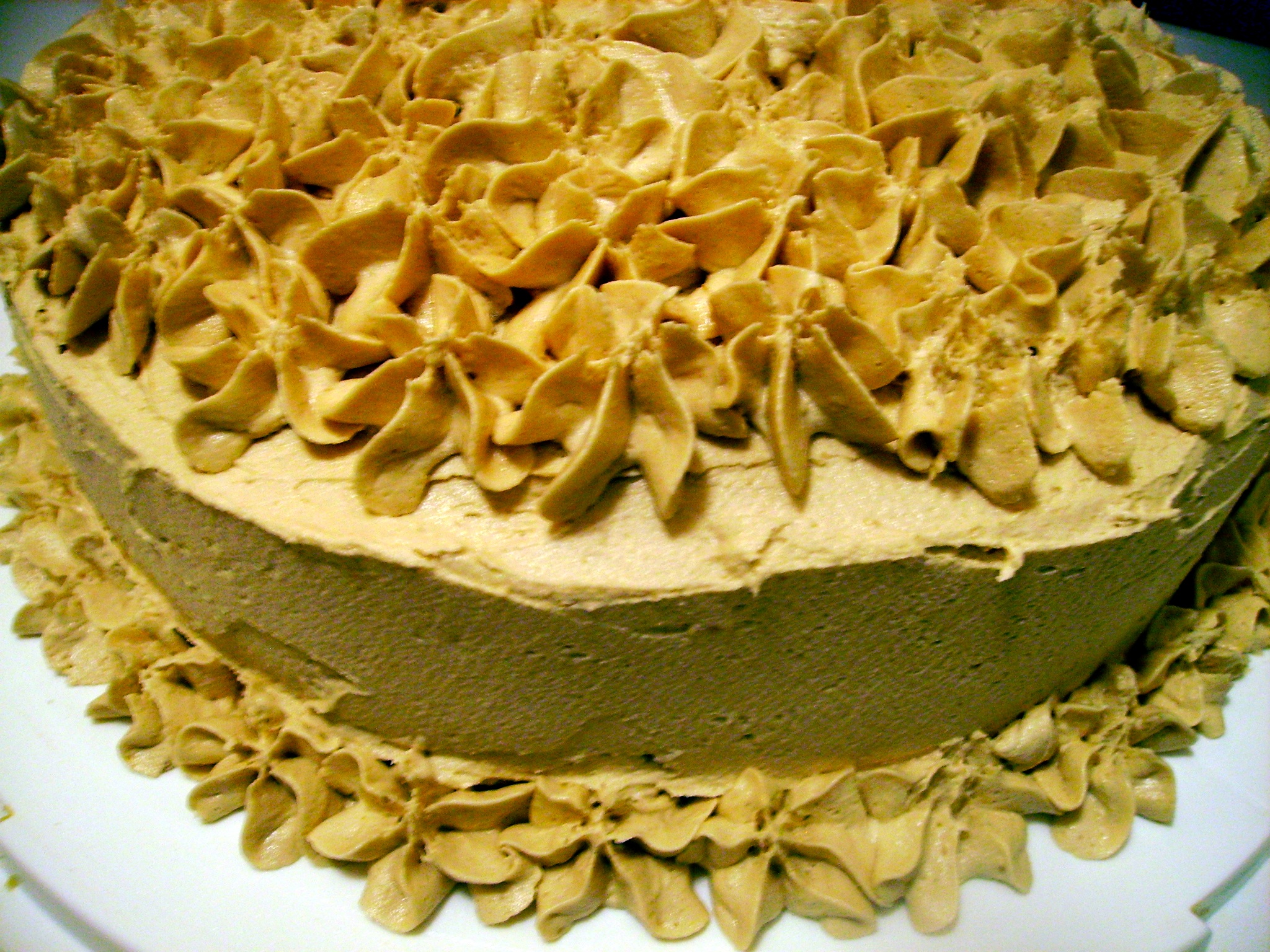 If you are feeling particularly fancy, you might pull out a 1M (large star) piping tip, and add a few decorations to your cake. You might, in fact, intend to artistically dot the top with, say three stars…but then realize that now the cake looks lopsided, and hey you have a lot of frosting left over…and end up covering the entire cake in stars. But that's up to you.
Serve with milk or coffee. Seriously. The cake is wonderful but very sweet. 🙂
Pumpkin Caramel Layer Cake
lightly adapted from Annie's Eats
makes one round 2-layer cake/16 slices
Cake Ingredients:
2 sticks unsalted butter
1 cup light brown sugar
1 cup sugar
2 cups flour
2 tsp. baking soda
1 tsp. cinnamon
1 tsp. nutmeg
½ tsp. ginger
1 tsp. salt
1½ cups pumpkin puree
1 cup low-fat buttermilk
4 large eggs
1 tsp. vanilla extract
Filling Ingredients:
¾ cup heavy cream
¾ cup sugar
¼ tsp. fresh lemon juice
½ cup unsalted butter, cut into large pieces
Frosting Ingredients:
2 cups light brown sugar
1 cup heavy cream
1 cup unsalted butter, cut into large pieces, divided
1 hearty pinch sea salt
Directions:
Preheat the oven to 325°. Line the bottoms of two 9″ round cake pans with parchment paper. Grease the parchment, as well as the sides of the pans.
To make the cake, cream the butter and the sugars in a mixer bowl on high speed. Beat for 2 minutes, scrape the bowl, and continue beating for another 2 minutes.
Meanwhile, combine the flour, baking soda, spices, and salt in a medium bowl. In a separate bowl, combine pumpkin puree and buttermilk and mix until smooth.
When the butter mixture is very creamy, add the eggs one at a time, mixing well between each addition. Scrape the sides of the bowl as necessary. Add the vanilla extract and beat on high for 30 seconds.
With the mixer running on low speed, alternate adding the dry ingredients and the wet ingredients, scraping the bowl as necessary. Mix until just combined. Remove the bowl from the mixer and use a rubber spatula to finish mixing the batter, until smooth and thoroughly combined.
Immediately divide the batter between the prepared cake pans, spreading evenly.
Bake for 45 minutes or until a toothpick inserted in the center comes out clean. Cool for 10 minutes in the pans, then invert onto a wire cooling rack and allow to cool completely.
While the cakes cool, begin to make the filling. In a small saucepan, heat the cream over medium-low heat, but do not allow to boil. In another small saucepan, combine sugar and lemon juice. Caramelize the sugar for 3–5 minutes over medium-high heat, stirring constantly with a whisk to break up any lumps.
When the sugar becomes liquid and amber-colored, quickly remove the saucepan from the heat. Add the hot cream, half at a time. Add the butter, one piece at a time, stirring to incorporate completely before adding the next piece. Cool in the refrigerator 45 minutes.
While the filling cools, begin to make the frosting. Heat the brown sugar, heavy cream, ¼ cup of butter, and salt in a large saucepan over medium-high heat, stirring frequently. Bring the mixture to a boil. Allow the mixture to continue boiling while stirring constantly, for 2 minutes.
Transfer the bubbling mixture to a stainless steel mixer bowl and allow to stand at room temperature for 1 hour.
When the filling in the fridge is cool, transfer it to a medium bowl. Using a hand mixer, beat the filling for 2 minutes, until light in color and silky (but not fluffy).
When the frosting has cooled for 1 hour, beat it on low speed for 30 seconds to loosen. Increase the speed to medium and beat for 2 minutes, adding the remaining butter one piece at a time. Scrape down the sides of the bowl. Increase the speed to high and beat until the frosting becomes light and fluffy, about 5 minutes.
Assemble the cake. Place one of the pumpkin cake layers on a cake platter. Spread the burnt sugar filling evenly on top of cake, leaving a small edge so the filling won't mix with the outer frosting. Top with remaining layer of cake. Frost sides and top of cake with brown sugar icing. Use remaining frosting to pipe decorative accents onto top and bottom edge of the cake. If the icing is still warm, refrigerate the cake for 30 minutes before serving.
Enjoy!