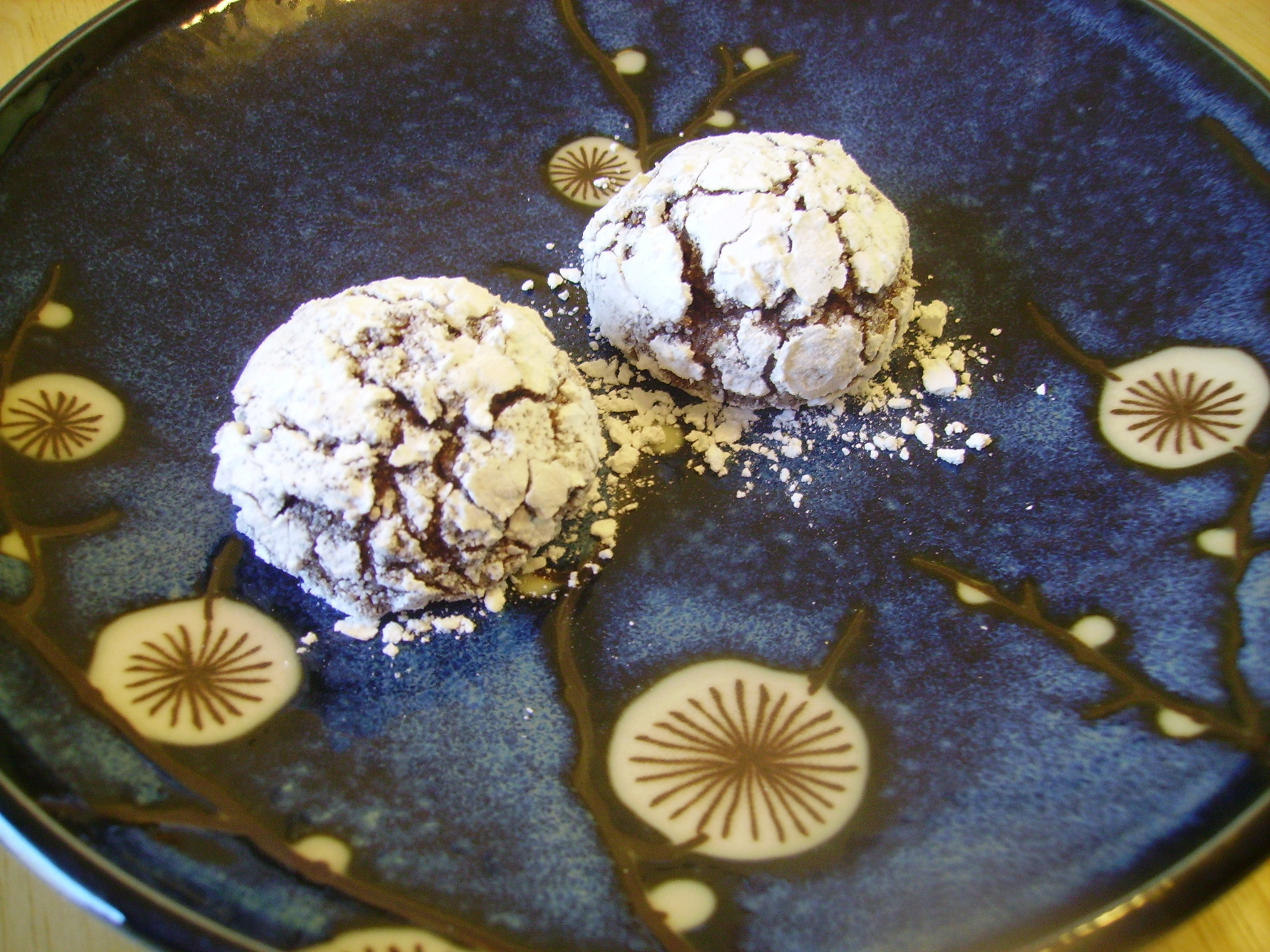 The first time I ever tried a crackle cookie was seriously disappointing. It was kind of flavorless and much too stiff, and every time I tried to take a bite my face and lungs got covered in a fine layer of confectioner's sugar. After that experience, I basically decided I didn't like crackle cookies at all, and vowed not to be tempted by them in the future. And hey, I like enough sweets that when I find one to exclude from my plate, that's almost always a good thing.
But thank God I changed my mind.
I was pouring through one of the cookbooks I got for Christmas, looking for something more exciting than chocolate chip cookies to entertain me on a Saturday evening, and I came across this recipe for a Mexican hot chocolate version of crackle cookies. Mexican hot chocolate is a perfect winter flavor combination: rich, chocolatey, and spicy. I basically leaped up from the couch and ran to the kitchen to start making these, prior completely prejudice forgotten.
Though I still recommend not breathing in while taking a bite of these cookies, I definitely think you should try them out. They are moist and tender with a lightly crunchy crust, sweet and just a little spicy, and full of amazing dark chocolate. Yum!
Start by dry toasting ½ cup whole almonds. I toasted my almonds in a pan on the stove, stirring often as the nuts got warm and constantly once they started to brown. You could also toast them for 10 minutes or so in a 375° oven. Set the nuts aside to cool.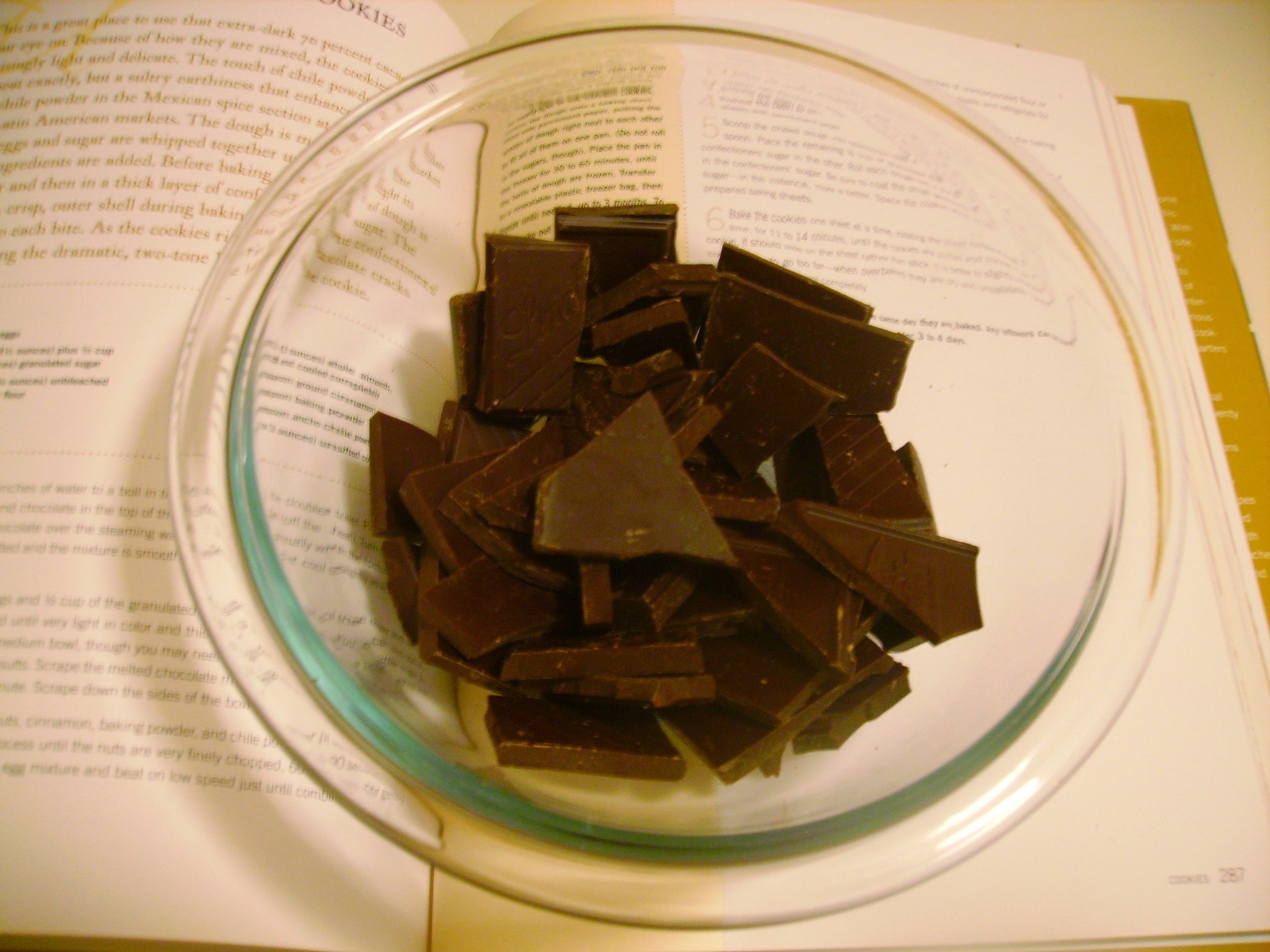 Meanwhile, melt your 70% dark chocolate with butter and Kahlua. If you don't normally have such a dark chocolate in your kitchen, you can buy bars of this in most grocery stores, or if you are lucky, you might be able to find bittersweet melting chocolate…either way, I definitely don't recommend going with a semisweet chocolate; the cookies turn out quite sweet and not at all bitter, but they would probably be too sweet with a lighter chocolate. As for the melting, you can go the double boiler route if you want to, but I just warmed everything in the microwave for 45 seconds and then stirred until it was smooth. Simplicity is your friend.
While the chocolate mixture cools slightly, whip the eggs and ⅓ cup sugar in a mixer bowl for 5–6 minutes.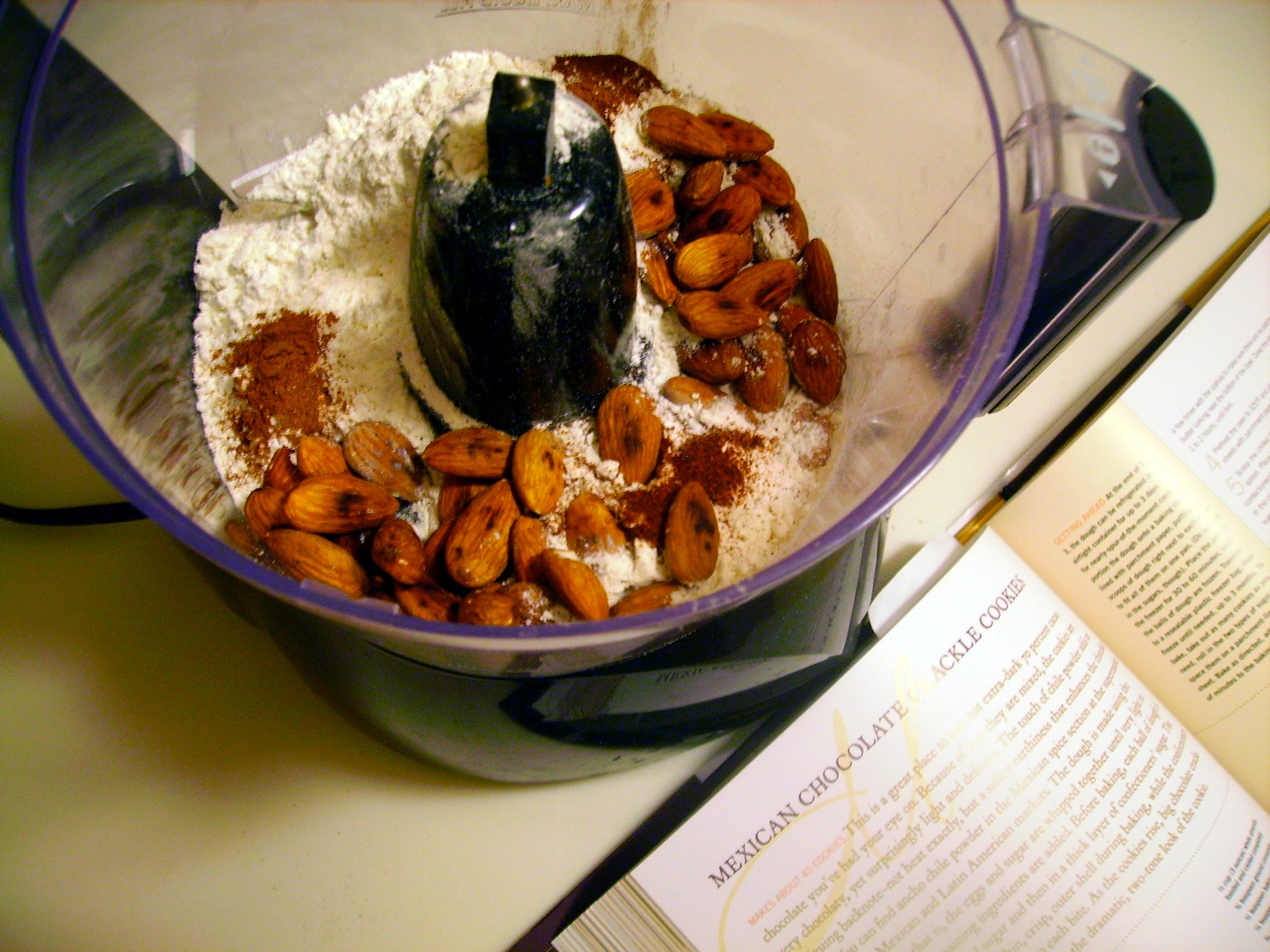 In a food processor, grind the toasted nuts, flour, baking powder, and spices. You want the nuts to be very fine (though if you want a slight crunch to your cookies, you could let the nuts remain a bit larger, about the size of aquarium pebbles, if you can picture that).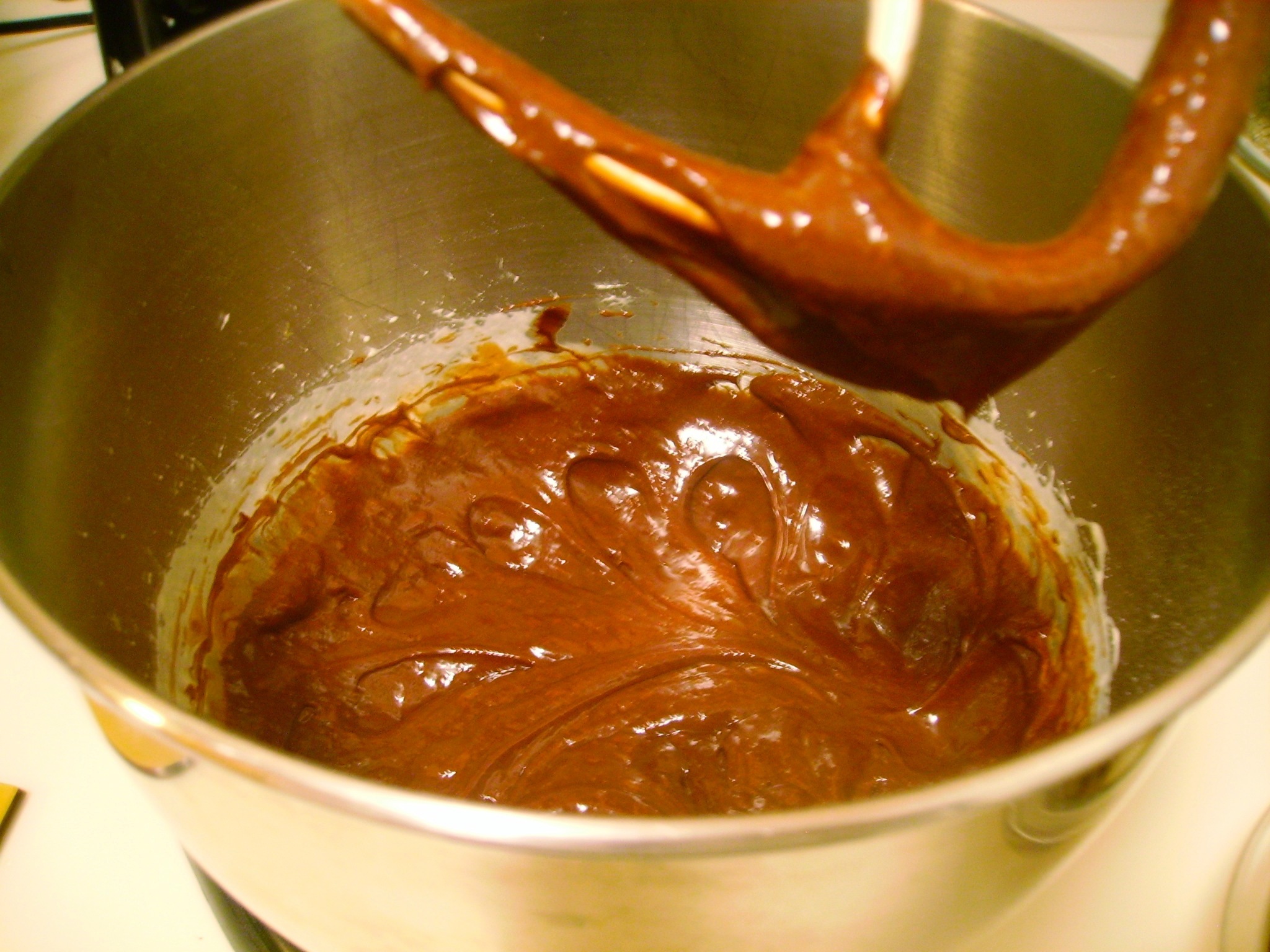 When the eggs are pale and creamy, whip in the melted chocolate. Stir in the flour/nut mixture.
Cover the mixer bowl with plastic wrap and refrigerate the dough for 1 hour.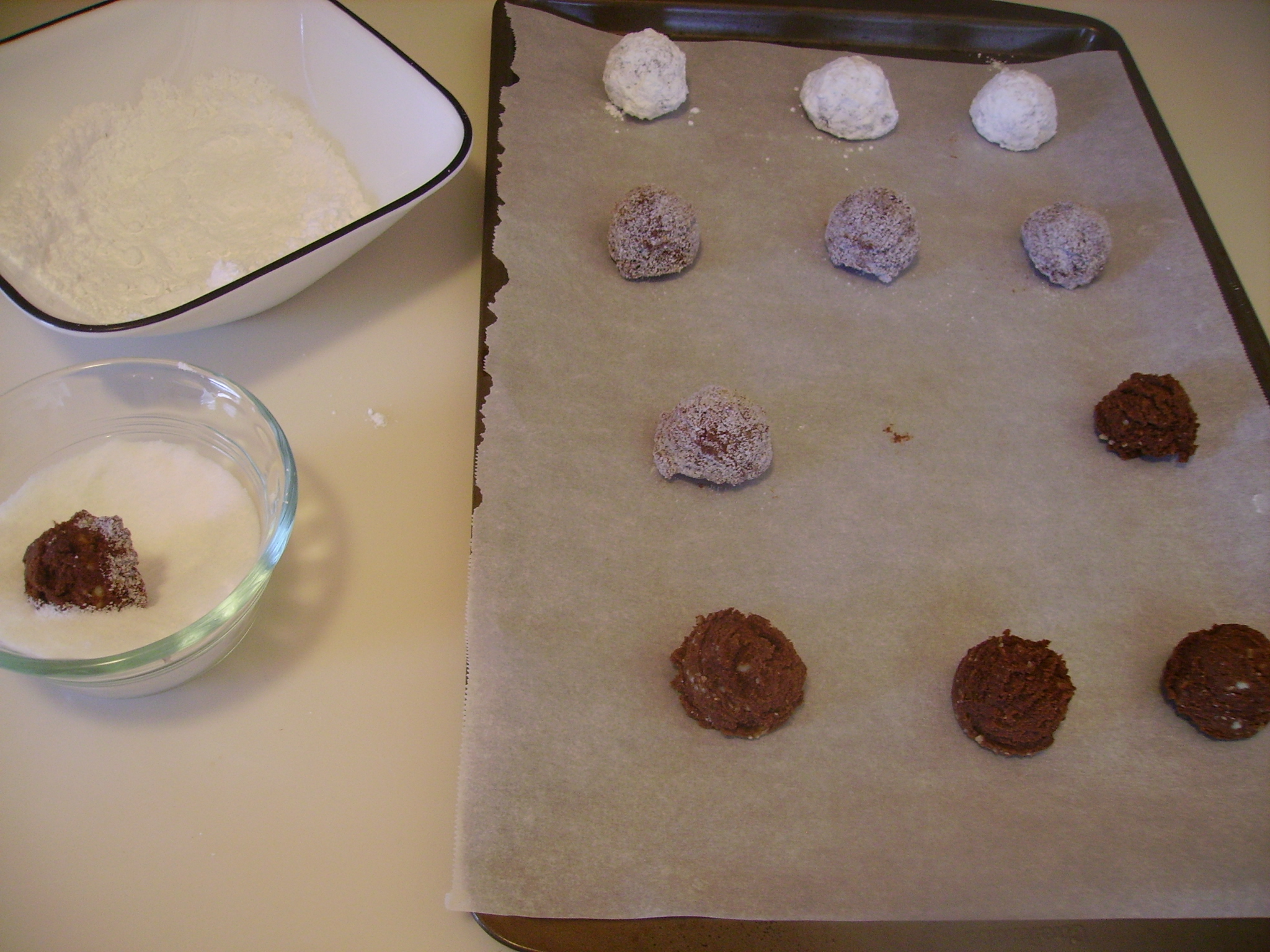 When the dough is chilled, scoop the cookies out in about 1″ balls onto a parchment-covered cookie sheet.
Roll the cookies first in granulated sugar for texture, then in powdered sugar for sweetness. The dough balls should still be cool and stiff; if they have returned to room temperature, then stick them back in the fridge for 10 minutes or so.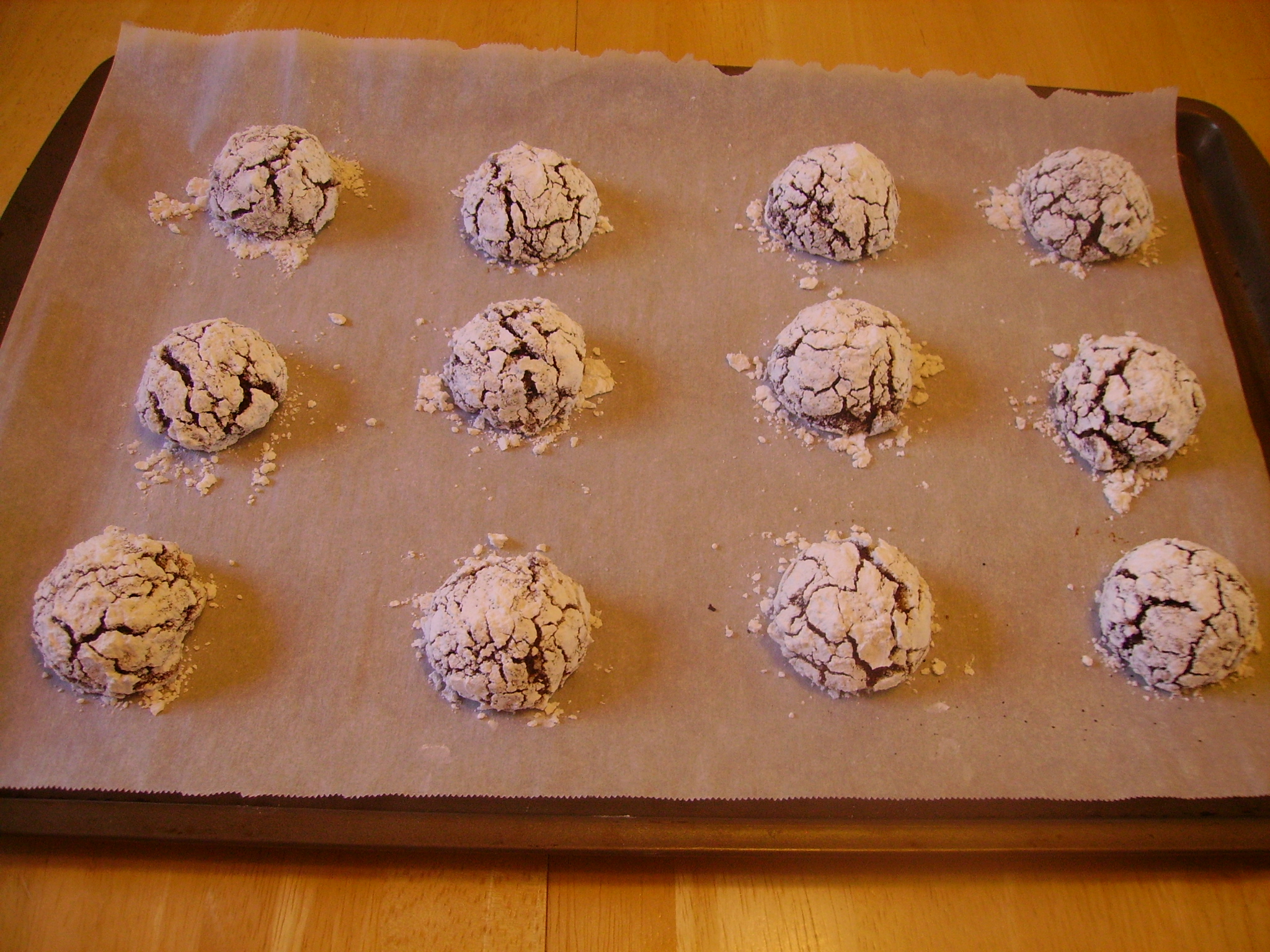 Bake the cookies for 12–14 minutes at 325° (underbaked is much better than overbaked!). They should be crackled in appearance, and soft but solid. Eat warm or cool, with coffee or actual hot chocolate. Delicious!
Mexican Hot Chocolate Crackle Cookies
very lightly adapted from The Art and Soul of Baking
makes about 3 dozen
Ingredients:
6 oz. 70% bittersweet chocolate, chopped
3 tbsp. unsalted butter
1 tbsp. Kahlua
2 eggs
⅓ cup sugar, plus ¼ cup
½ cup whole almonds, toasted and cooled completely
¾ cup flour
½ tsp. baking powder
¾ tsp. cinnamon
½ tsp. chili powder
1 cup confectioner's sugar
Directions:
Melt the chocolate, butter, and Kahlua together in a small bowl. Stir until the mixture becomes completely smooth. Set aside to cool slightly.
Whip the eggs and ⅓ cup sugar in a mixer bowl for 5–6 minutes, until thick and creamy. Stir in the chocolate mixture and whip for 1 minute more.
Meanwhile, combine the nuts, flour, baking powder, cinnamon, and chili powder in a food processor. Pulse or process until the nuts are very finely, evenly ground.
Stir the nut-flour mixture into the chocolate batter. Scrape the sides of the bowl to ensure that everything is completely combined.
Cover the bowl with plastic wrap and refrigerate for 1 hour, or until the dough is very stiff and cold.
When ready to bake, preheat the oven to 325°. Fill two small bowls, one with the remaining ¼ cup granulated sugar, and the other with unsifted confectioner's sugar.
Scoop the cookies into approximately 1″ balls and set them onto a parchment paper–covered cookie sheet. Roll each cookie first in granulated sugar, then in confectioner's sugar. Try to get the confectioner's sugar coating rather thick, so the sweetness of the sugar will offset the spiciness of the chili powder in the cookie dough.
Bake the cookies for 12–14 minutes, until puffed and crackly looking. The cookies should retain their shape when picked up. Transfer to a wire rack to cool.
Enjoy!