Isn't it funny how much harder it can be for people to identify flavors when they have no idea what they're eating?
I brought these brownies, an old favorite of my family's, to my Bible study last week. They basically consist of a chocolatey brownie, a layer of coffee-flavored buttercream, and a layer of chocolate ganache. Two people separately looked at the layer of coffee frosting and must have thought, "Hmm, that's about the color of peanut butter," took a bite and immediately said, "This is so good. Is there peanut butter in this?"
Haha.
Well I promise there is nary a nut in this recipe, and I'm not sure how the coffee could be confused with peanut butter, but the brownies are amazing. Topped with a rich frosting and a layer of creamy melted chocolate, how could they go wrong?
The brownies are fairly typical. No surprises, nothing difficult.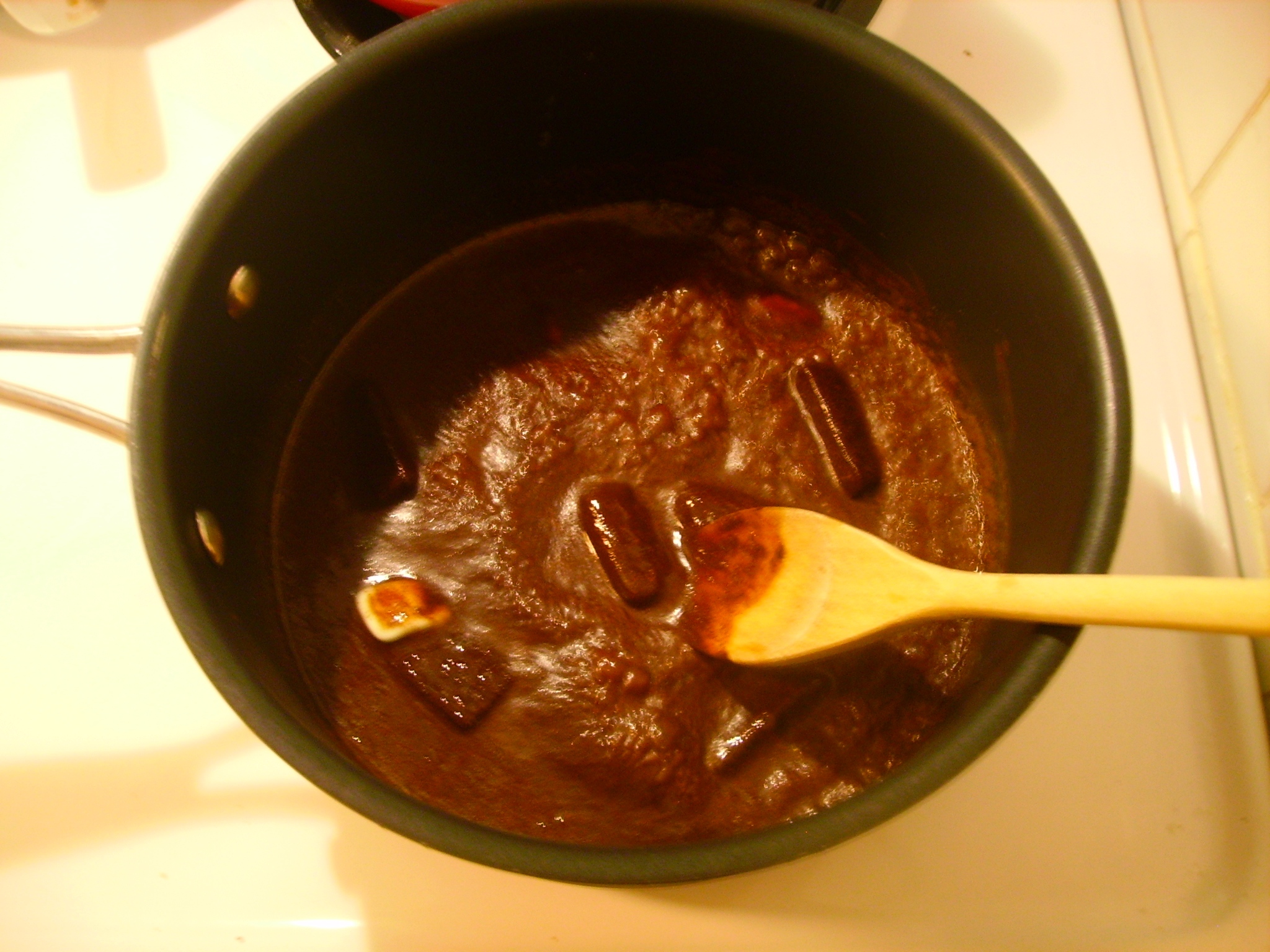 Melt unsweetened Baker's chocolate with butter, either in a saucepan over medium heat or in the microwave using 30-second lasts to prevent burning the chocolate.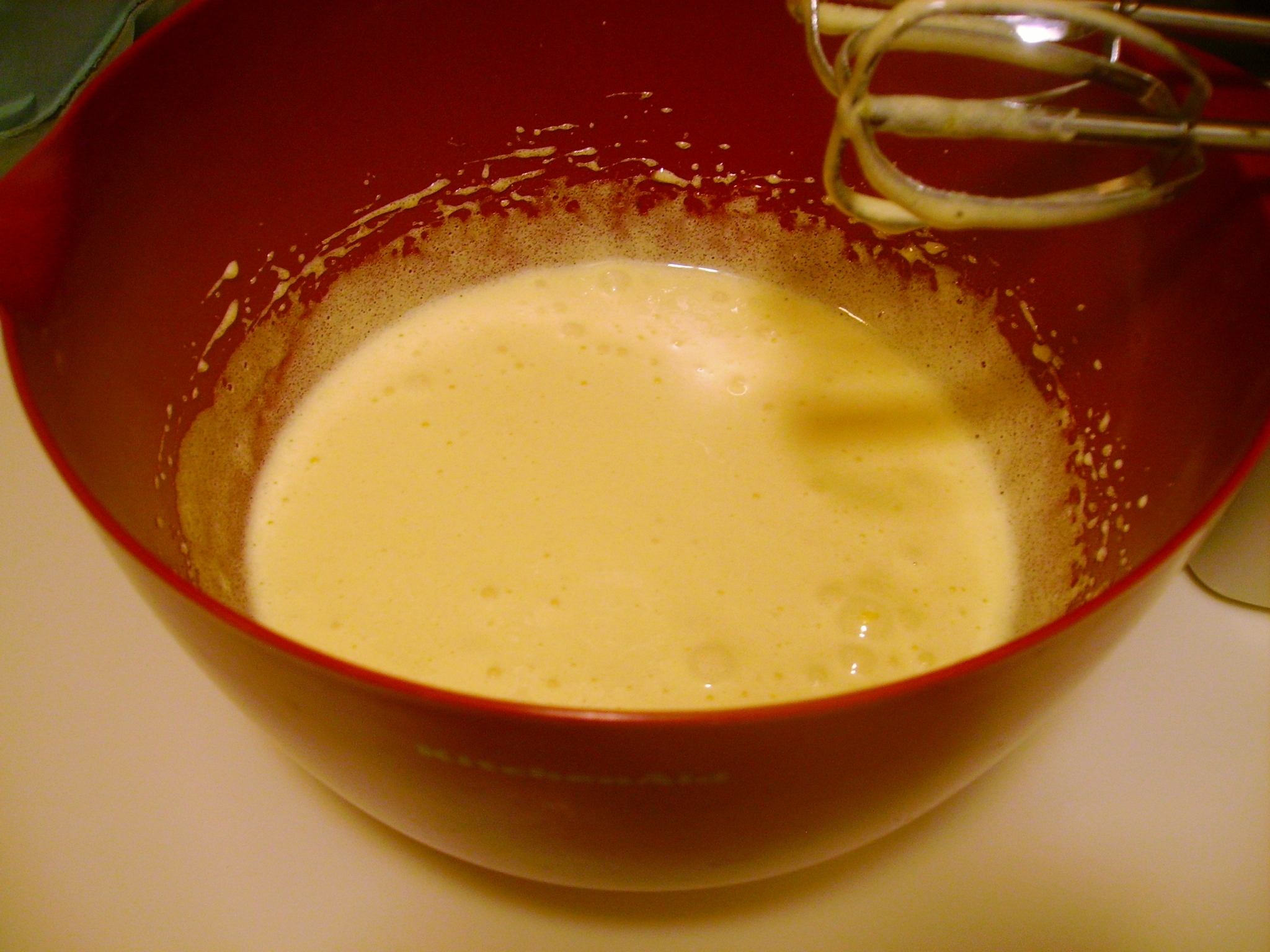 Meanwhile, beat the eggs, sugar, and vanilla in a mixer bowl. When the egg mixture is light and creamy, stir in the melted chocolate. Stir in the flour and baking soda (you can combine them separately if you want, but these brownies aren't too fussy so you can also save the bowl and the extra step if you like).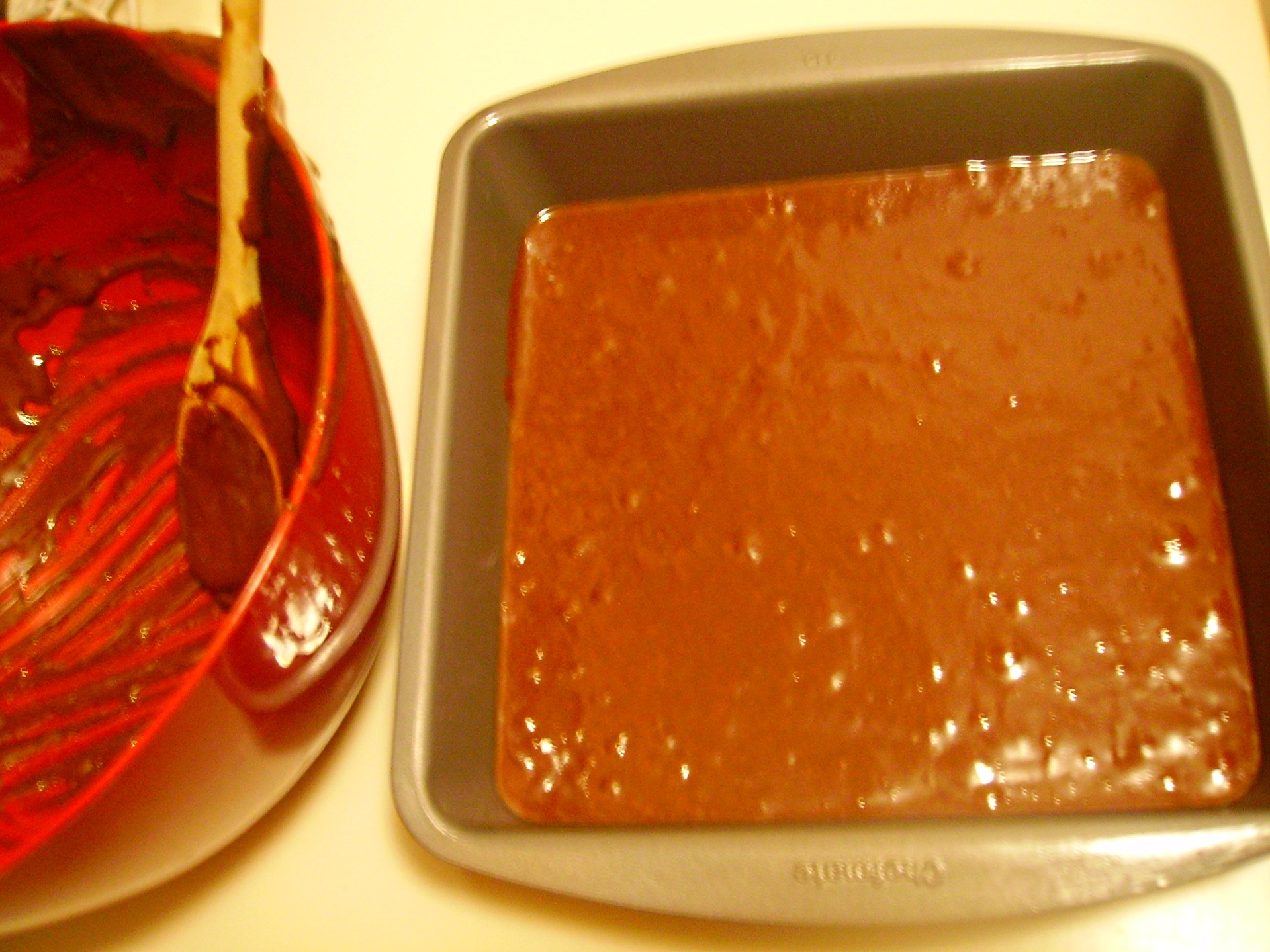 Thoroughly grease an 8″ square pan (I used cooking spray because I was lazy, and it turned out fine). Pour the brownie batter into the prepared pan. Bake at 350° for 25–30 minutes. Because these brownies need to support two rich frostings, I recommend not underbaking them, despite how awesome slightly underbaked brownies are. If you insert a toothpick into these brownies, it should come out clean.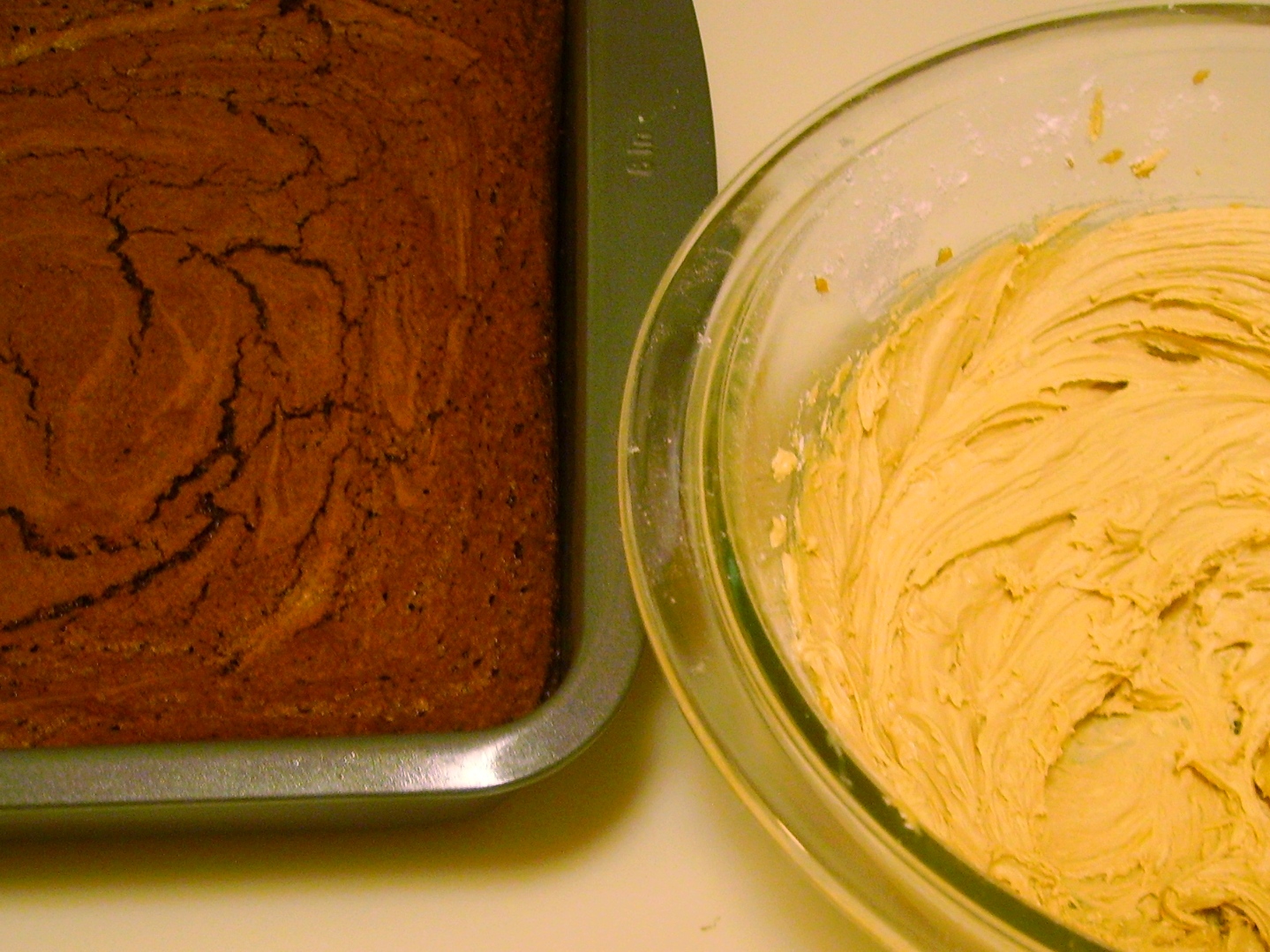 As soon as the brownies come out of the oven, start making the coffee frosting. You want to spread the frosting over the brownies when they are still warm, for maximum creamy awesomeness even after the brownies have cooled completely.
Stir the coffee granules into the cream. Keep stirring until all the instant coffee has dissolved.
In another bowl, beat the butter and powdered sugar together. In effect, since there is so little butter in this frosting, you will end up with slightly denser powdered sugar, and you shouldn't be able to see any pieces of butter in the bowl. Beat the coffee cream into the sugar. Continue beating until the frosting becomes smooth and thick.
Spread the warm brownies with the coffee frosting. The frosting should begin to melt a little while you work, but you should still have enough frosting to spread a layer evenly over the whole pan.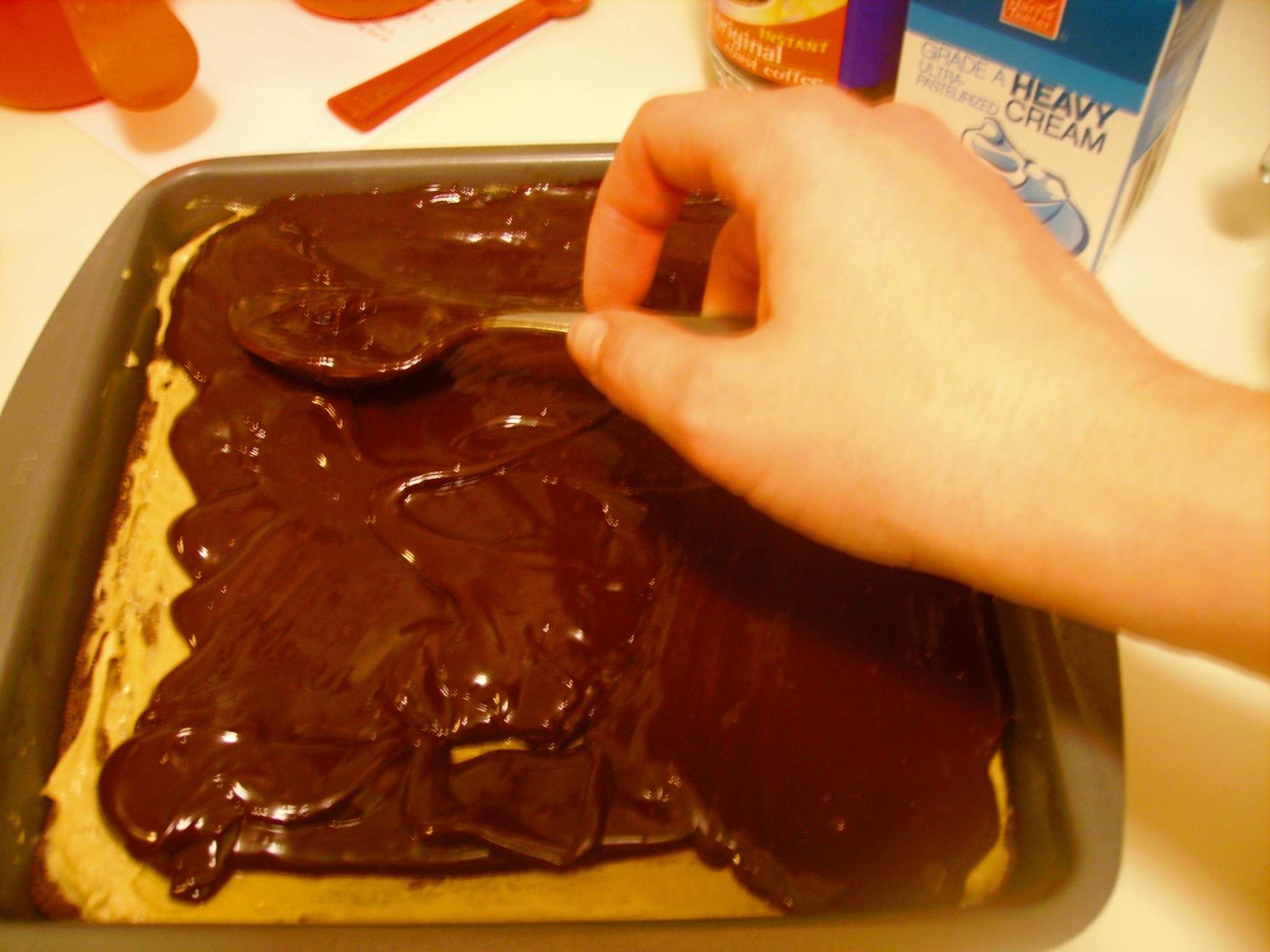 Melt the chocolate chips with the cream. I did this in the microwave so the ganache would be ready faster. When the mixture is very smooth, spread it over top of the coffee frosting.
Let the frosted brownies set at room temperature for at least 30 minutes. After 30 minutes, they will still be warm and the ganache may still be a bit runny, so you may want to put them in the fridge for a few minutes if you want to eat them right away.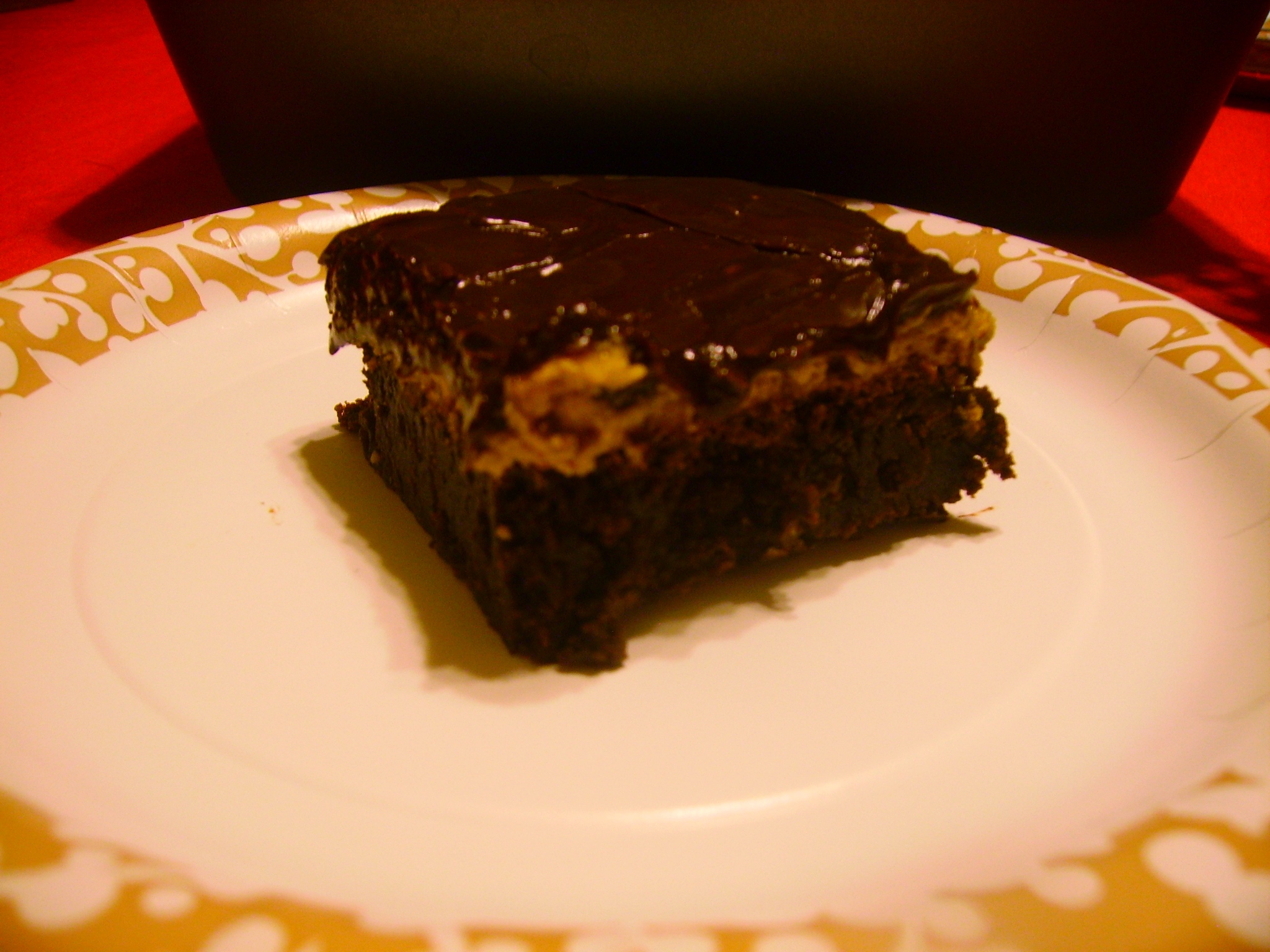 Cut with a plastic knife. Serve with a cup of coffee.
Coffee Brownies
from one of my mom's cooking magazines, accidentally misplaced (but at least I had already copied the recipe down!)
makes 16 brownies
Brownie Ingredients:
½ cup butter, cut into chunks
3 oz. unsweetened Baker's chocolate
2 eggs
1 cup sugar
1 tsp. vanilla extract
⅔ cup flour
¼ tsp. baking soda
Filling Ingredients:
1 tbsp. heavy cream
1 tsp. instant coffee granules
2 tbsp. butter, softened
1 cup confectioner's sugar
Ganache Ingredients:
1 cup semisweet chocolate chips
⅓ cup heavy cream
Directions:
Preheat oven to 350°.
To make the brownies, melt butter and Baker's chocolate over low heat in a small saucepan. In a small mixing bowl, beat eggs, sugar, and vanilla until light and creamy. Stir in the chocolate mixture. Combine flour and baking soda and slowly add to the chocolate mixture.
Spread the brownie batter into a greased 8″ square baking pan. Bake for 25–30 minutes.
As soon as the brownies come out of the oven, combine the cream and coffee granules in a small bowl; stir until coffee is dissolved. In a small mixing bowl, beat butter and sugar until no chunks of butter are visible. Add the coffee mixture and beat until it becomes creamy. Spread over cooling brownies.
In a small saucepan, combine chocolate chips and cream. Stir over low heat until chocolate is melted and mixture is thickened. Cool slightly. Carefully spread over filling and let stand for 30 minutes, or until the ganache is set.
Store in the refrigerator.
Enjoy!