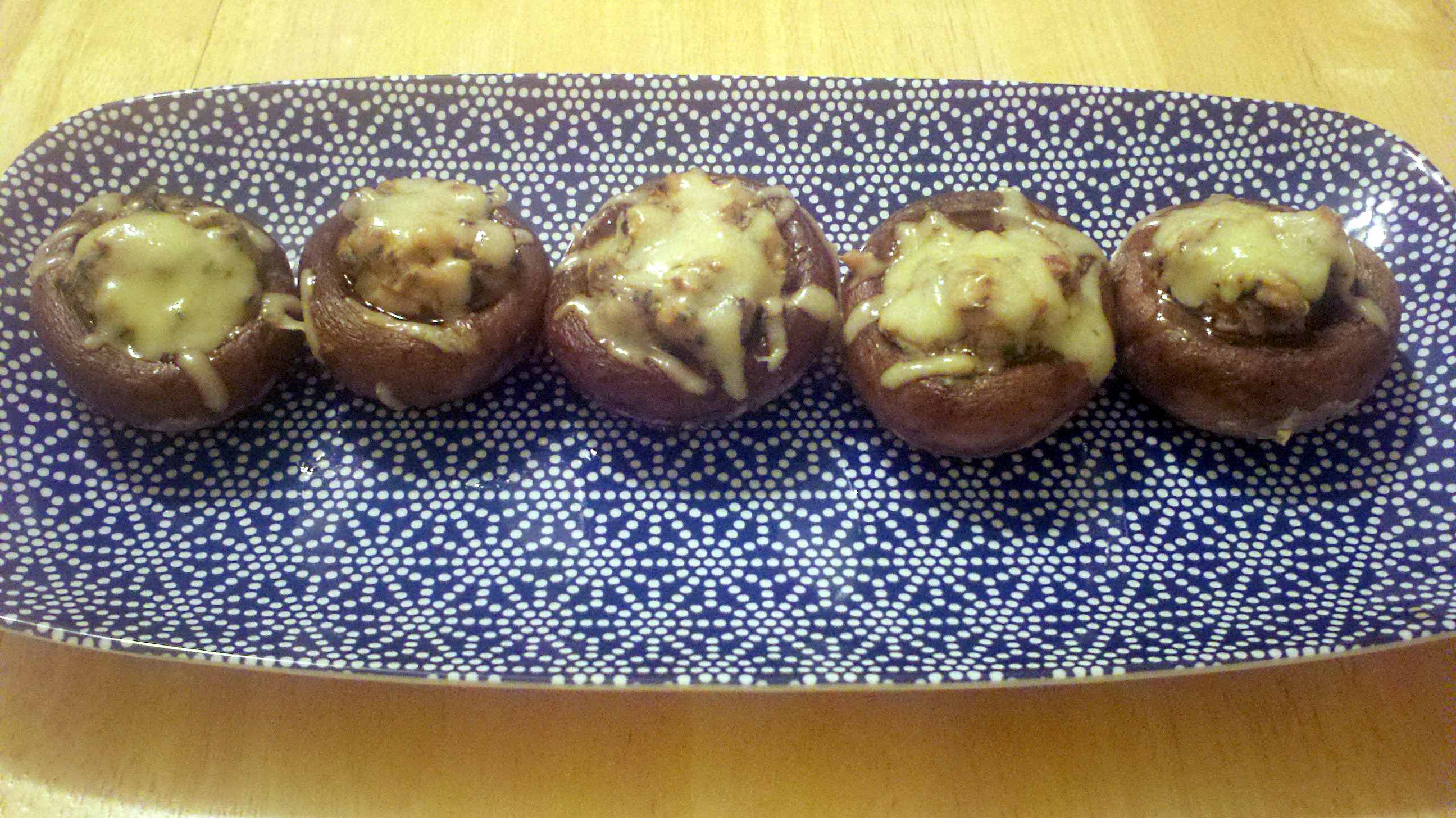 Sometimes it's hard to find veggie-friendly appetizers at parties for, oh…say…the Superbowl. Even things that seem like they might be vegetarian often contain hidden meats or meat broth, like this Tex-Mex dip I ate once. Disappointing. So I always make a point to bring a few appetizers of my own that are delicious and meat-free.
Even if you aren't a vegetarian, these stuffed mushrooms will keep you wanting more! Just don't do like I did last time and serve them on a cake stand…your friends will be misled by the coincidentally desserty presentation and think the mushrooms are mini cinnamon buns…and no amount of awesome mushroomy cheesiness will bring them back from that shock!
The first time I made these mushrooms was during summer vacation after my first year of college. My best friend and I were trying to build up some cooking skills by selecting exciting foods each week to learn to prepare. We called it our "wife training"…which made sense for her, since she was engaged. Me, I don't know what I was doing. This mushroom recipe was one of the first recipes I was ever in charge of making…and I learned very quickly how important it is to read the recipe all the way through before you start cooking. Yes, that's right…I promptly chowed down on all the mushroom stems, only to read about two sentences later that I needed them for the filling. Doh. Not reading the whole recipe carefully before I start is a mistake I still make quite frequently…oh well. We all have our vices.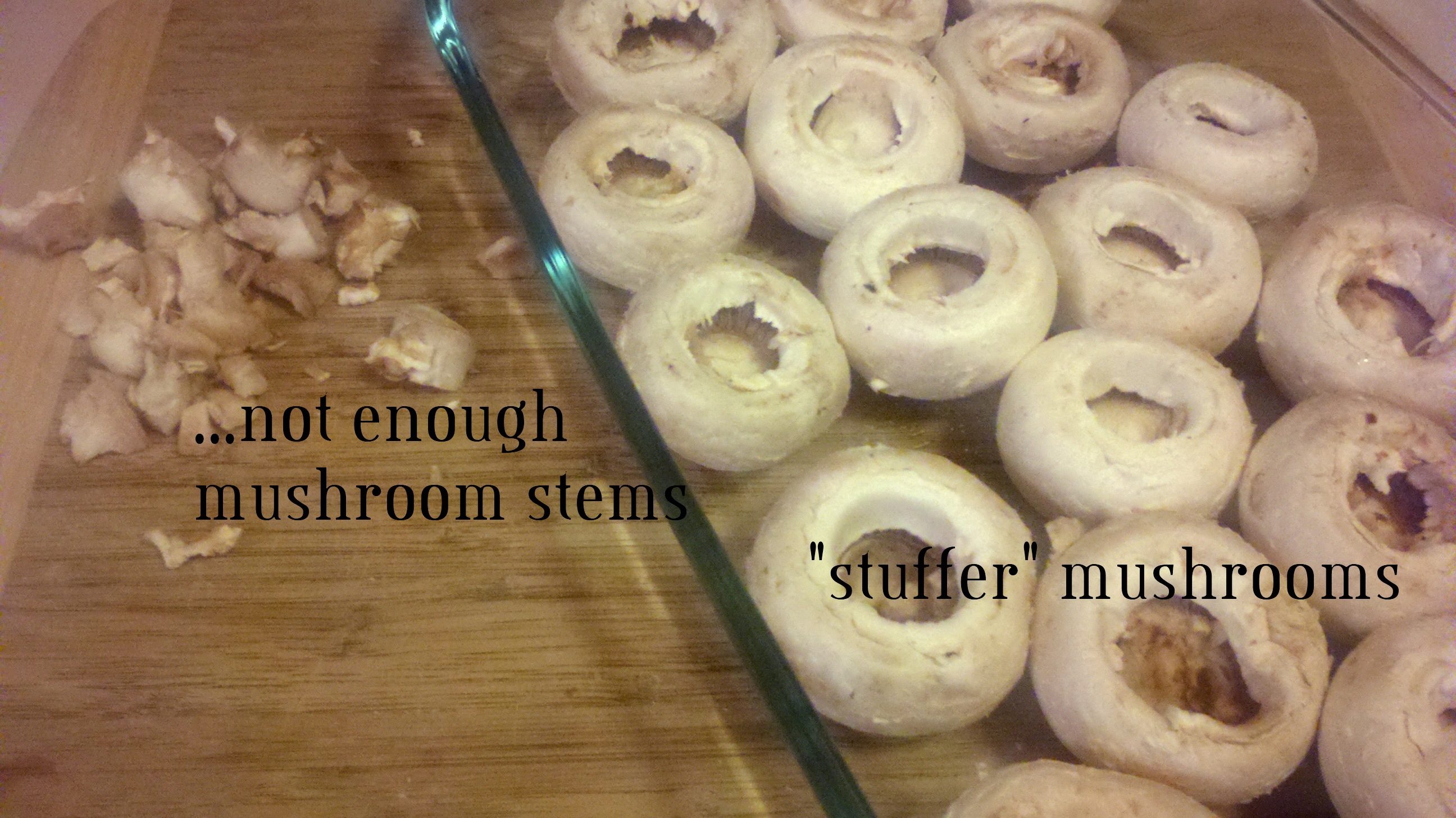 Start by breaking the stems off of 16 or so large button mushrooms. Set the stems aside to go into the filling. Don't let Harris Teeter trick you into buying their beautifully large "stuffer mushrooms." It sounds perfect, but the stems are already broken off. Yes…continuing to learn things the hard way…
Set the hollowed-out mushroom caps into a large baking dish and brush them with melted butter. Bake the empty caps for 7 minutes to soften them.
Meanwhile, mince the mushroom stems (or, in my case, several baby bellas…) and a shallot. Sauté in a little bit of butter until the shallots are clear and the mushrooms have released some of their liquid, about 5 minutes. Sprinkle the mixture with flour and stir until the flour is absorbed.
Stir in the sour cream and chopped parsley. Season to taste with salt and pepper. When the filling mixture is thick and very aromatic, remove from the heat.
Spoon small amounts of the stuffing mixture into the partially cooked mushrooms. Start with just a little stuffing per mushroom; you can always add extra later.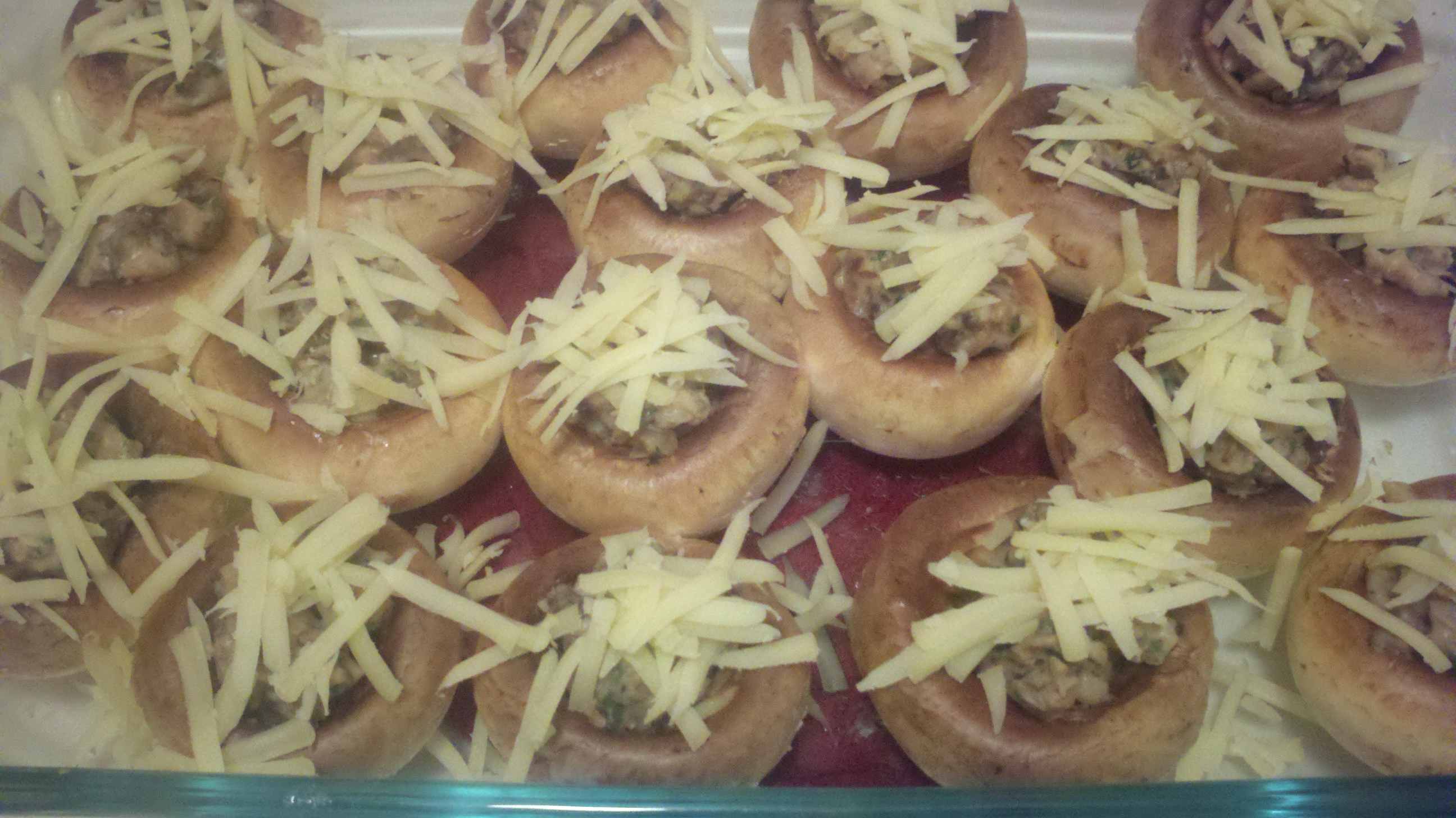 Top with the grated Swiss-style cheese of your choice. I used Gruyère, but Emmenthaler or Jarlsberg would work just as well! Or, if you are not a a fancy cheese type, go for regular grated Swiss.
Bake the stuffed mushrooms for 15 minutes. When ready, the mushrooms will be dark brown and juicy, and the cheese will be bubbly and lightly brown.
Be careful when eating, as cooked mushrooms do often release juices.
Stuffed Mushrooms
lightly adapted from a long-forgotten church cookbook
makes 16
Ingredients:
16 large button mushrooms
4 tbsp. melted butter, divided
1 large shallot, minced
1½ tbsp. flour
½ cup low-fat sour cream
1 tbsp. chopped fresh parsley
salt and black pepper
½ cup grated Swiss, Ementhaler, or Gruyère
Directions:
Preheat oven to 375°.
Remove stems from mushrooms and reserve. Brush dirt off mushroom caps using a soft towel and place them upside-down in a glass baking dish. Brush with 2 tbsp. melted butter. Bake for 7 minutes.
Meanwhile, mince mushroom stems. Sauté with shallot in remaining melted butter. Lower heat and add flour slowly. Stir in sour cream until thickened. Add parsley, salt, and pepper.
Fill the mushroom caps with stuffing. Top with cheese and drizzle any remaining butter.
Bake for 15 minutes.
Enjoy!