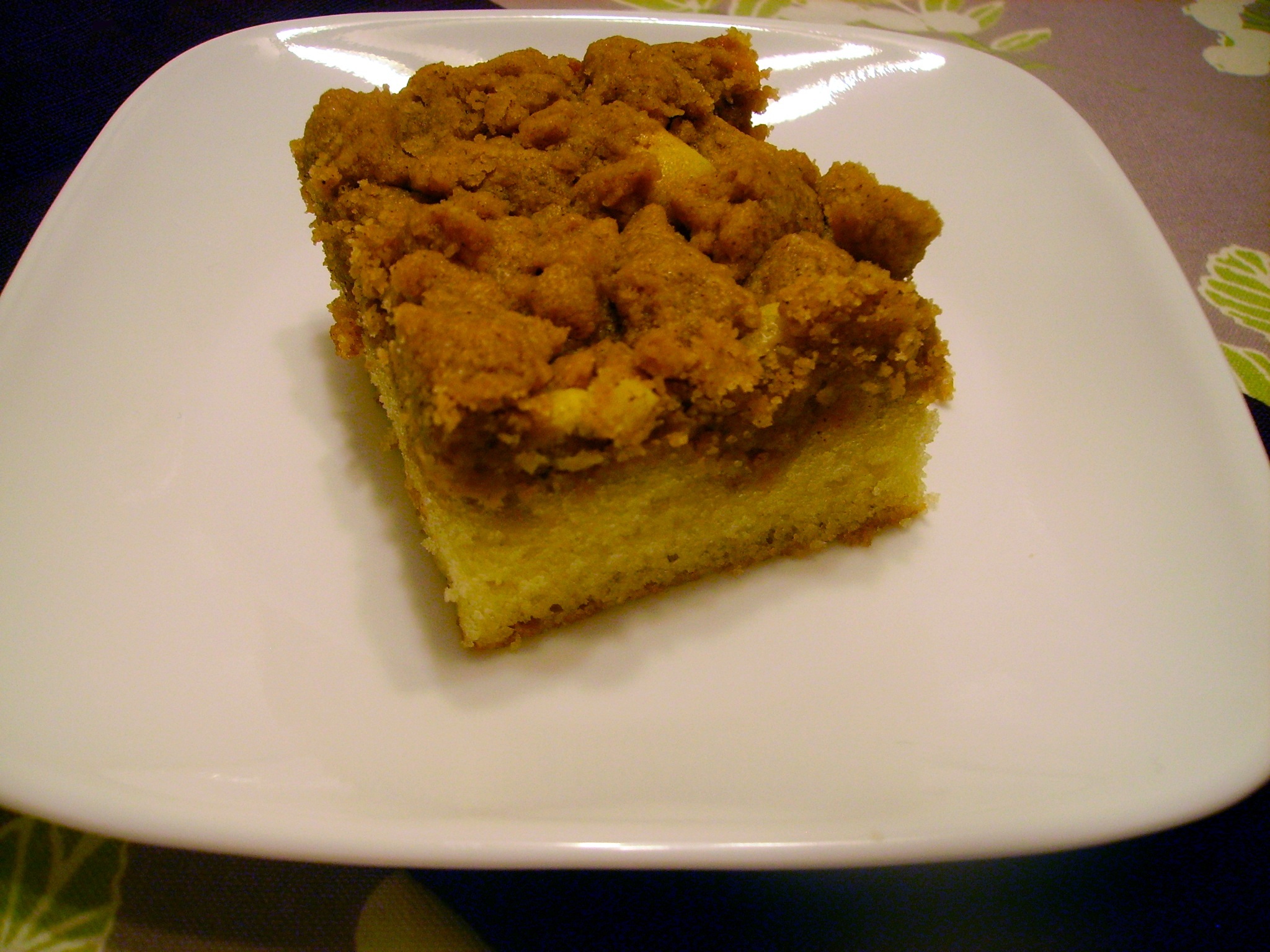 When I was a kid, coffee cake meant a box from Entenmann's. Or, if luck was on my side, maybe a Ukrop's box (moment of mourning for the dearly departed grocery chain of my youth) containing a round, almond-and-icing-covered cake, which was more to my liking.
Please don't misunderstand me—my mom is a masterful baker, and she certainly could have made a coffee cake if she had been interested in doing so. But she loved that cream cheese–filled Entenmann's loaf dearly…and, let's admit it, when you have two nutty kids to get ready so you can go to church, and you must entice them out of bed with sugary breakfast foods (moment of thanks for having such an array of wonderful breakfasts as a kid), it must be nice to have said fancy breakfast already prepared every once in a while.
So now, many years later, I've been around the coffee cake block a few times. My husband lists coffee cake among the few sweet baked goods he will eat without reservation, but for a while I still had a hard time seeing what all the fuss was about. I mean, Entenmann's cakes are nothing to write home about, and most crumb cakes are dry with much too little of that sugary topping, am I right?
Cue this recipe, which made its rounds through the blogosphere a few years ago (but full of rhubarb, which I naturally omitted). With as much sugary crumb as soft, moist cake, this coffee cake definitely has me coming back for seconds…and, er, thirds… It does take a bit of time to prepare, but if you make this coffee cake on a Saturday night, it will be waiting for you to eat before church on Sunday morning! Or, even better, you can serve it in the afternoon/evening to visiting friends. Who says coffee cake is only for breakfast?
You may notice from my pictures that I made a double recipe…I was going the serve-at-night-to-friends route. Hey, we are young! Coffee and cake at 8:00? Yes, please!
Anyway, the recipe posted below makes only one cake.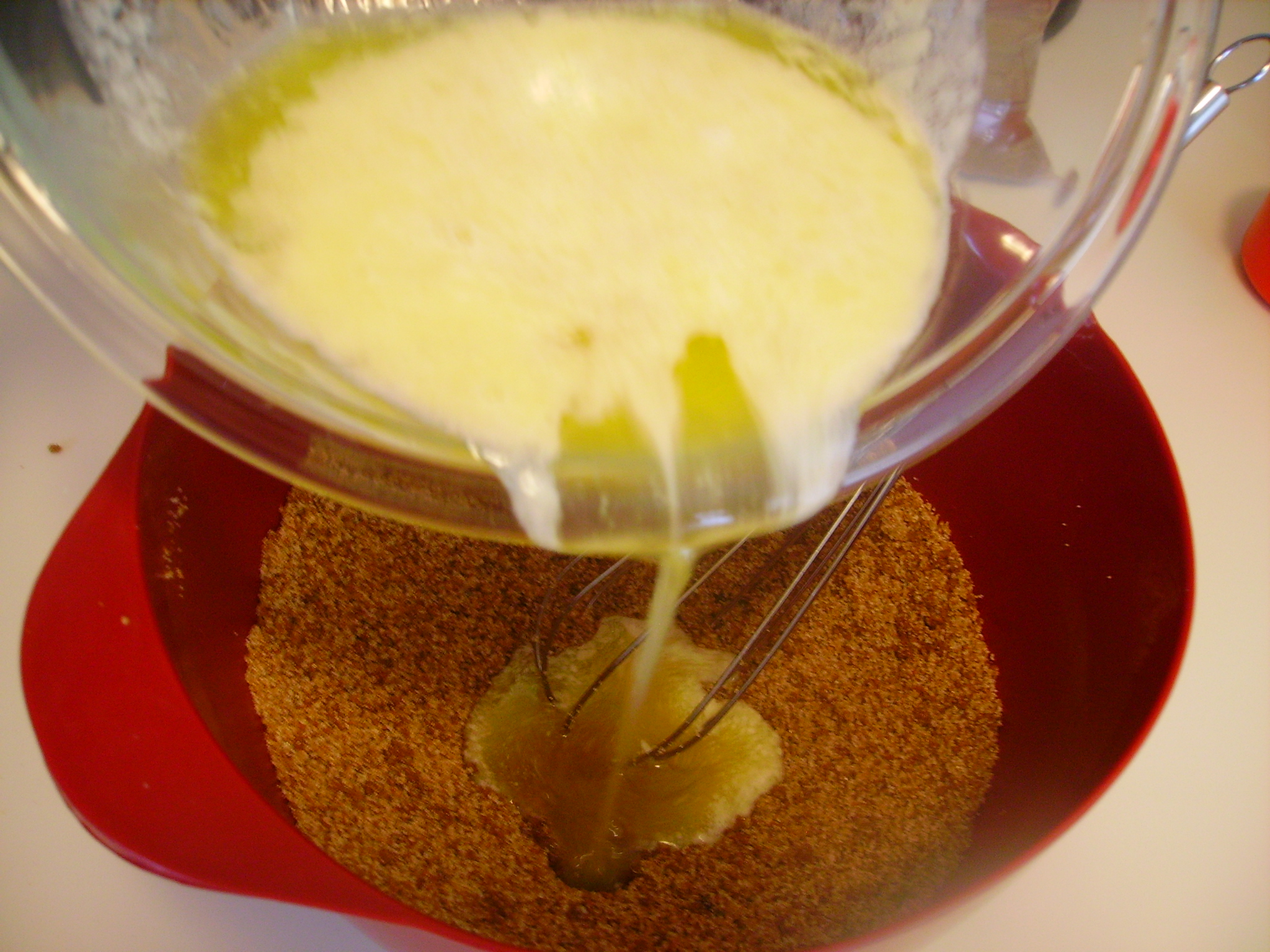 Start by making the crumb topping. Whisk together the brown sugar (in this case, dark brown works best), granulated sugar, cinnamon, and ginger. In a separate bowl, melt the butter. Drizzle the butter into the sugar mixture and whisk until smooth and shiny.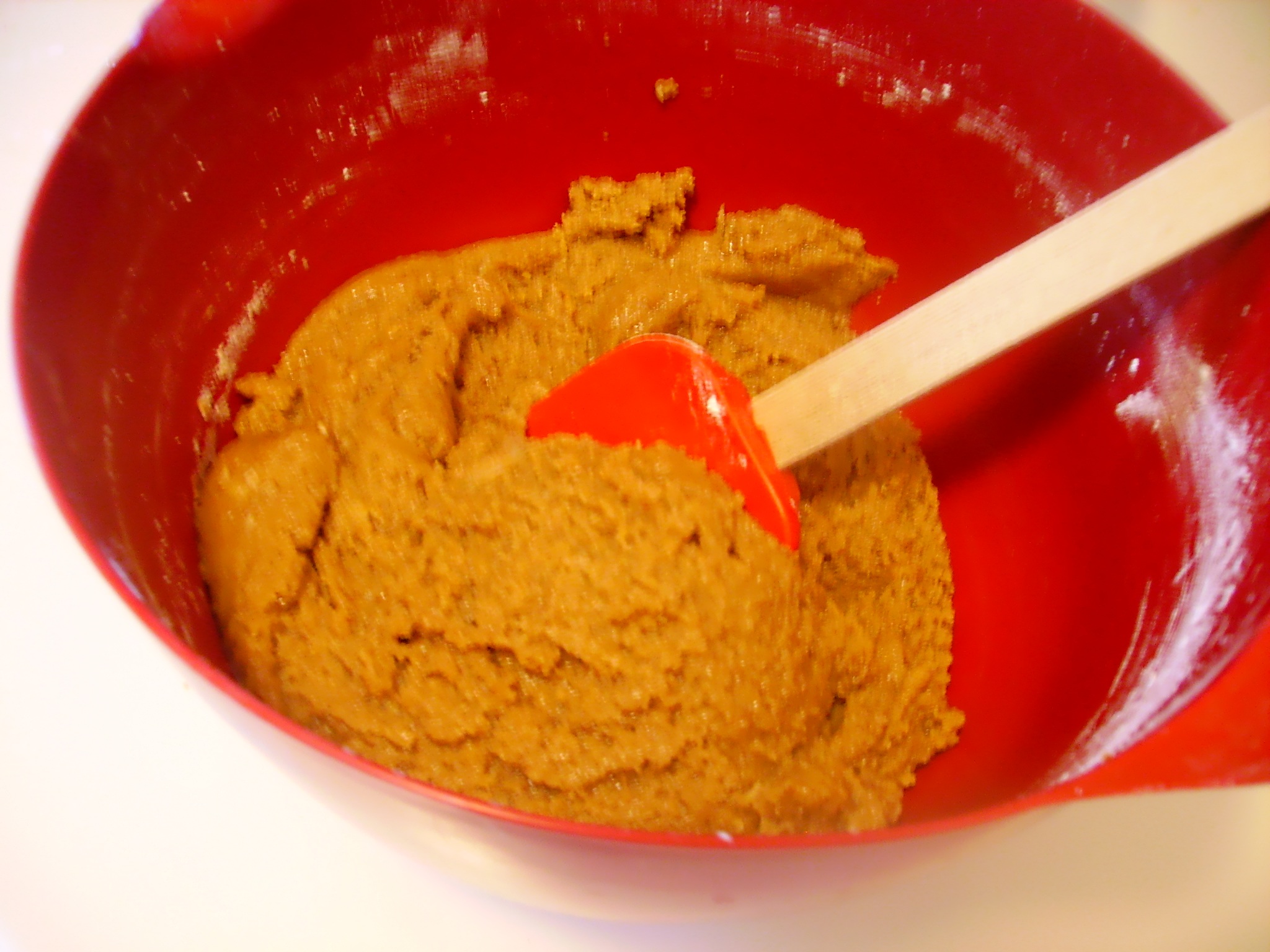 Stir in the cake flour. The mixture won't look crumbly at all, so don't worry about that. As it sits, waiting for you to finish making the cake batter, it will harden, and you will be able to crumble it over the cake when the time comes.
By the way, if you don't have cake flour and you don't want to buy any, you can use this quick cheat: Measure an equal amount of all-purpose flour, but from every 1 cup AP flour, remove 2 tbsp. before adding it into the rest of the ingredients (likewise, remove 1 tbsp. from ½ cup AP flour, and so on). This is because cake flour is finer and has a lower protein ratio than AP flour, so you must use less AP flour than you would cake flour in order for the recipe to come out similarly.
While the crumb cools and sets, make the cake. In a medium bowl, mix together the sour cream, egg, yolk, and flavorings.
In a mixer bowl, stir together the cake flour, sugar, baking soda, and baking powder. Add in the soft butter and a spoonful of the sour cream mixture. Stir until the flour is moist and clumpy.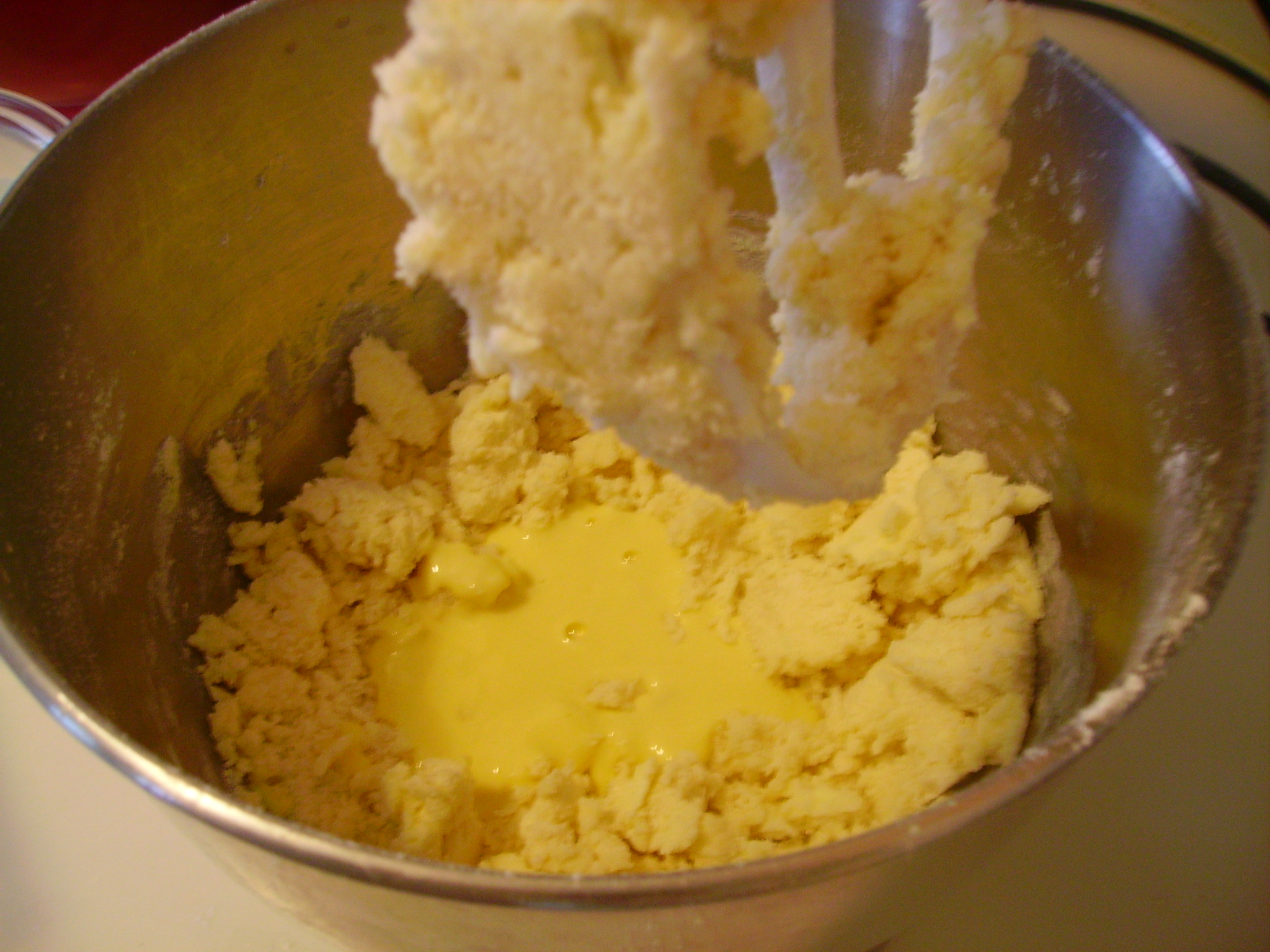 Add the remaining sour cream mixture in two batches, stirring on medium speed for 30 seconds between additions and scraping the sides and bottom of the bowl thoroughly.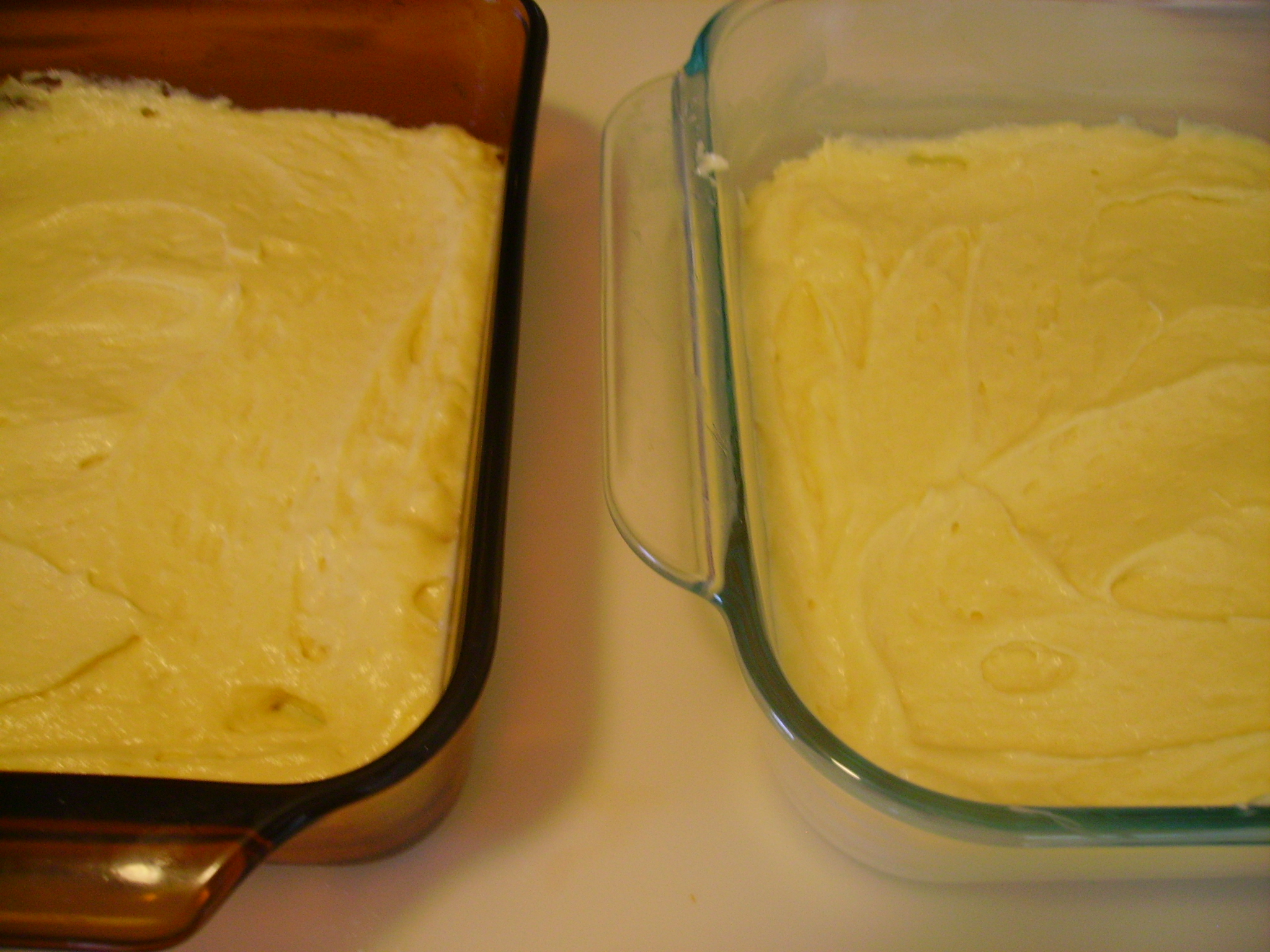 Pour the batter into a greased 8″ square baking dish.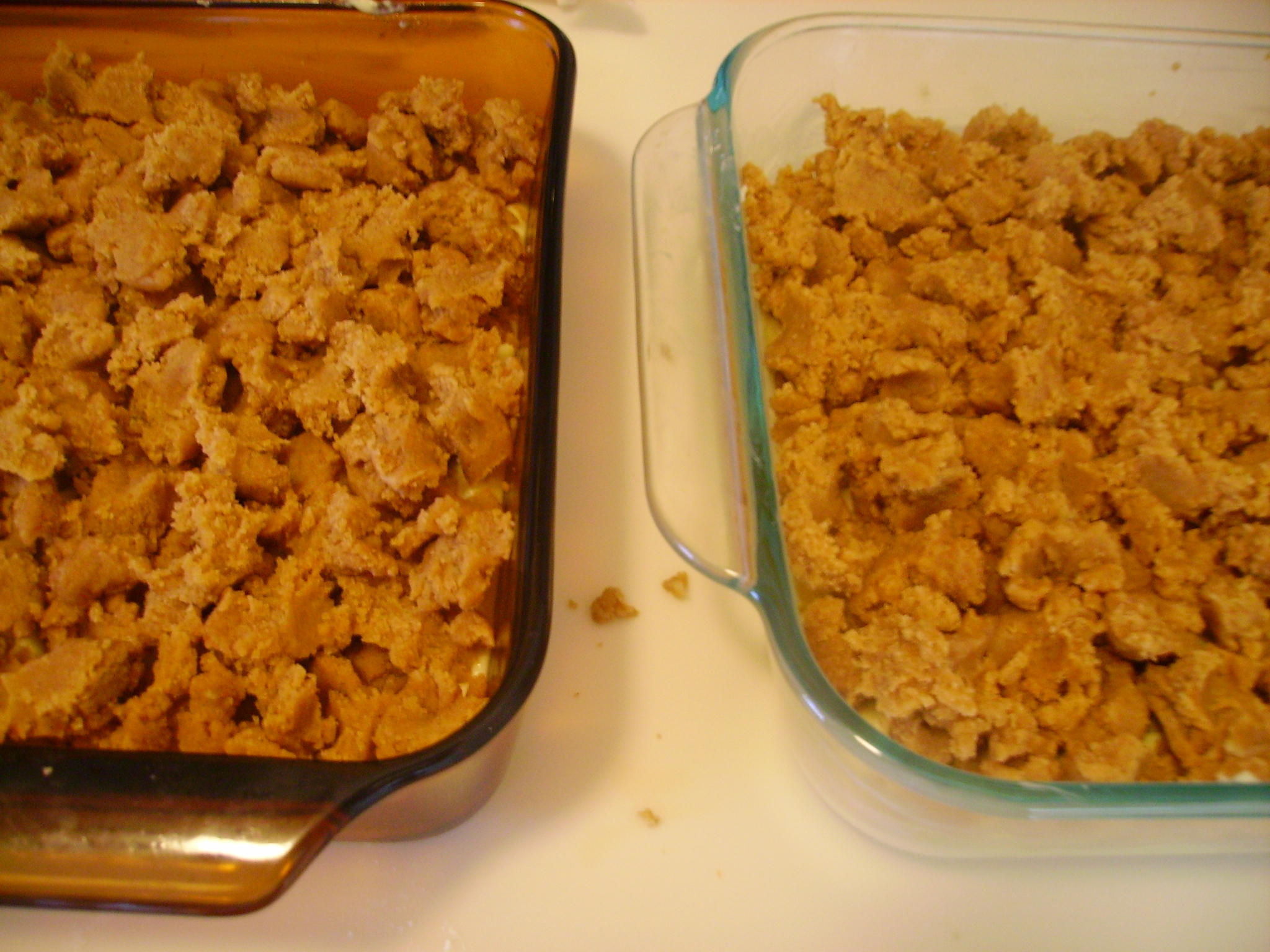 Grab the cooled crumb mixture and pull off medium-size chunks. Drop the crumb pieces over the cake, covering it as evenly as possible. As you may be able to guess by the name of this coffee cake, you don't want the crumbs to be small, but neither do you want them to be enormous or the cake will be hard to cut. Keep in mind that in places where the crumb layer is thin, the cake may rise up through the crumb during baking (which isn't really a problem, but it is less pretty).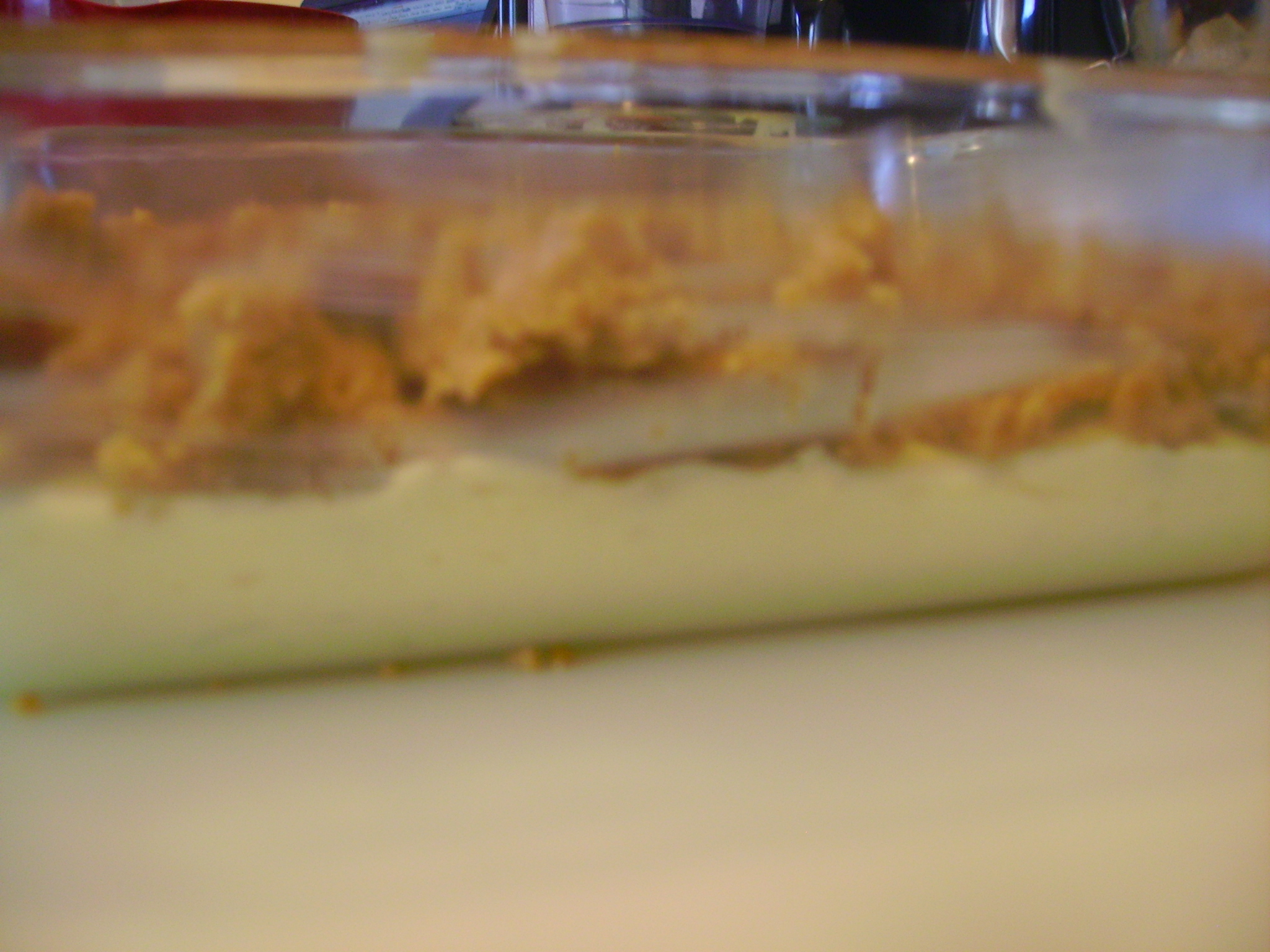 Bake the cake for 40–50 minutes at 325°. Test with a toothpick for doneness; my cakes were done after 40 minutes.
Cool before cutting. The cake is wonderful warm, so you really can serve it at whatever temperature you like, but I recommend letting it cool for about 1 hour, at which point it will be slightly warm but cool enough to handle easily.
Big Crumb Coffee Cake
adapted from Smitten Kitchen
serves 9
Crumb Ingredients:
½ cup dark brown sugar
⅓ cup sugar
1 tsp. cinnamon
½ tsp. ginger
½ cup butter, melted
1½ cups cake flour
Cake Ingredients:
⅓ cup low-fat sour cream
1 egg
1 egg yolk
1 tsp. vanilla extract
1 tsp. almond extract
1 cup cake flour
½ cup sugar
½ tsp. baking soda
½ tsp. baking powder
5 tbsp. butter, softened, cut into cubes
Directions:
Preheat oven to 325°. Grease an 8″ square baking dish.
To make crumbs, whisk sugars and spices in a large bowl. Whisk in melted butter until smooth. Add flour and stir or press together with a spatula. It will be a wet, sticky dough, but it will dry and stiffen quickly. Leave it pressed together in the bottom of the bowl and set aside.
For the cake, stir together sour cream, egg, egg yolk, and flavorings in a small bowl and set aside.
In a mixer bowl, stir together flour, sugar, baking soda, and baking powder. Add softened butter and a spoonful of sour cream mixture and mix on medium speed until flour is moistened. Increase speed and beat for 30 seconds. Add half of the remaining sour cream mixture and beat for 20 seconds, then repeat. Scrape the sides of bowl and make sure everything is combined.
Spoon batter into the prepared dish. Crumble crumb mixture over the cake in big, ½″ crumbs. They do not have to be uniform; having some smaller crumbles will make the cake easier to cut when it's baked.
Bake for 40–50 minutes, or until cake passes a toothpick test. Cool completely before serving.
Enjoy with coffee!