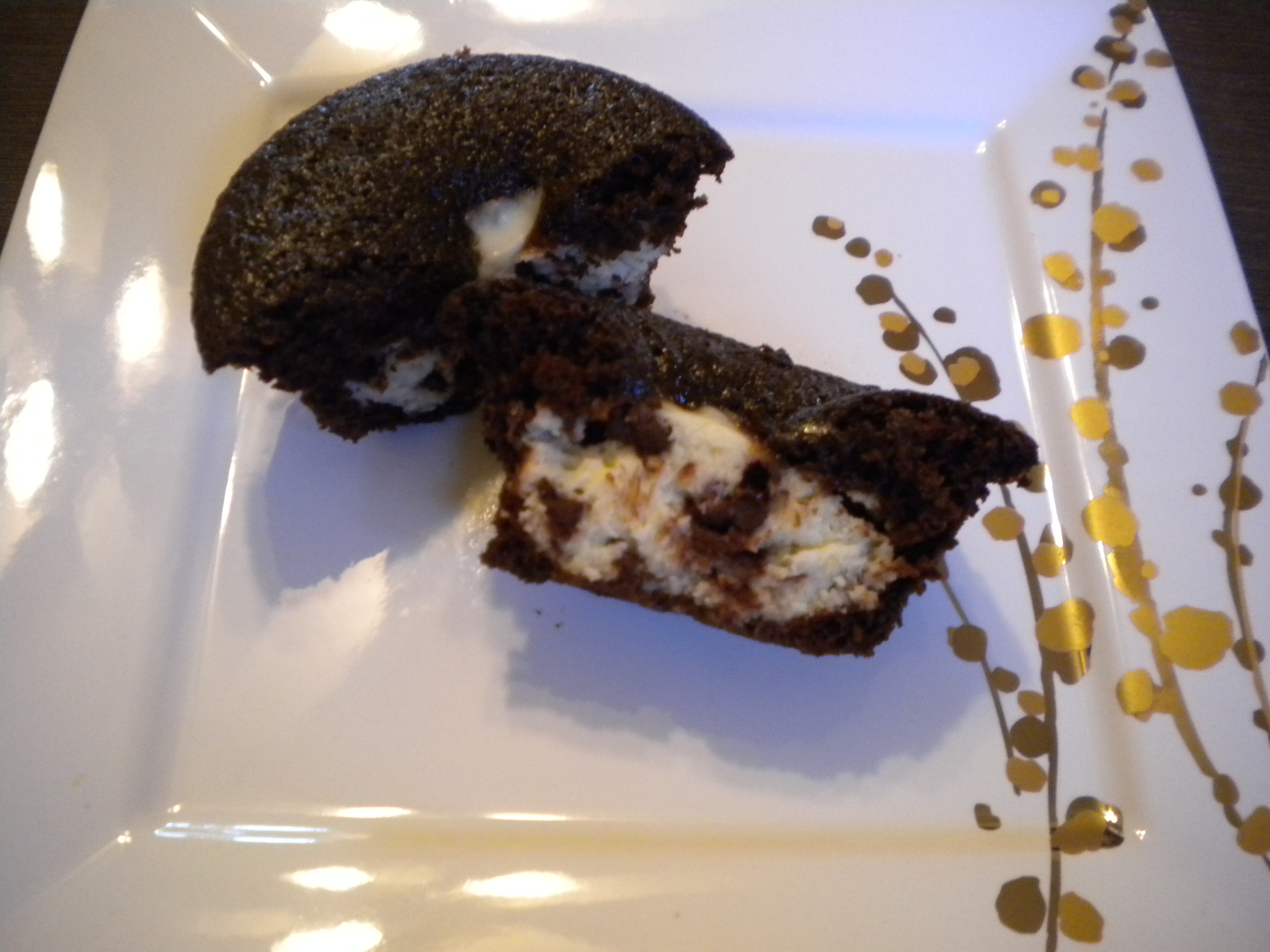 Don't you just love it when fate guides you to a recipe for something delicious, and you happen to have all of the ingredients on hand?
A few weeks ago I was semi-randomly clicking through food blogs, both those near and dear to my heart and new finds, and I stumbled across this super easy recipe for black bottom cupcakes. I was mentally transported back to high school, when about halfway through my 30-minute drive home from school, I would convince myself to take a small detour so I could swing by Starbucks and get a gigantic, cream-cheese filled cupcake and an even more gigantic mocha frappuccino with about a quart of whipped cream. Yes, those were very healthy times for me…and I'm not quite sure how I always seemed to have just enough cash for these extravagances, but there you go.
It's been a really long time since I've gotten a black bottom cupcake from Starbucks (it's probably also been a long time since they even carried them!), but they were a pretty amazing treat for me. Chocolate so dark and moist that it was actually black, a soft cheesecake center…what more is a teenage girl to want? (Aside from, say, fitting into her jeans…)
I knew I had to make these cupcakes without delay. You should, too, as soon as you find some unassuming victims to share them with…as I can attest, it's hard to eat only one!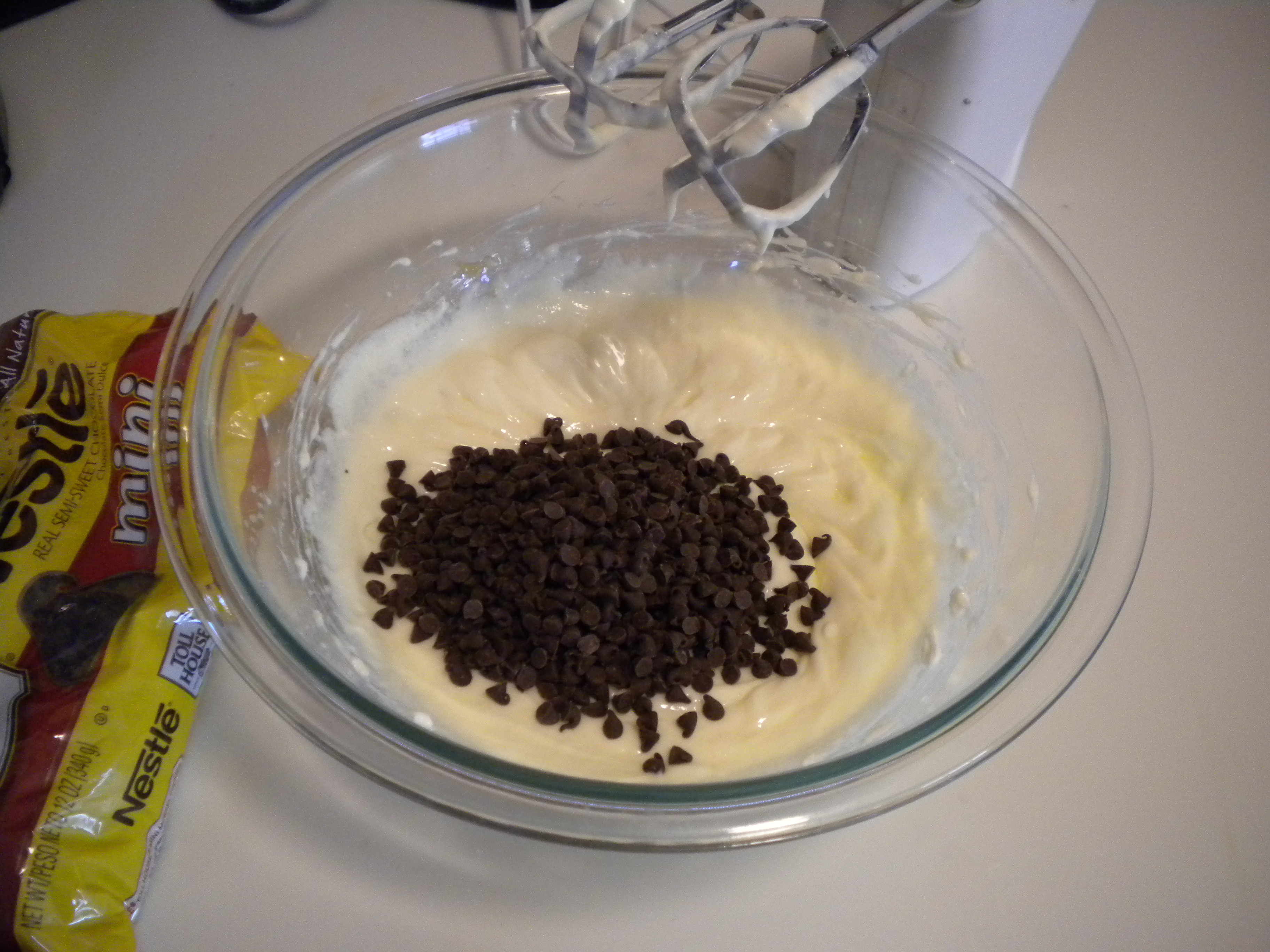 First, make the cheesecake batter. Start with room temperature cream cheese and mix it with sugar, an egg, and a pinch of salt. Stir in your chocolate chips—I went for the minis here, to get better dispersal but also so that the cheesecake would still be the star of the center of the cupcakes.
Don't freak out if you taste the cheesecake batter at this point and think, "Wow, that tastes just like cream cheese." Don't add any more sugar, even though you may be tempted. I promise the slight tartness of the cheesecake complements the sweetness of the chocolate cupcake perfectly.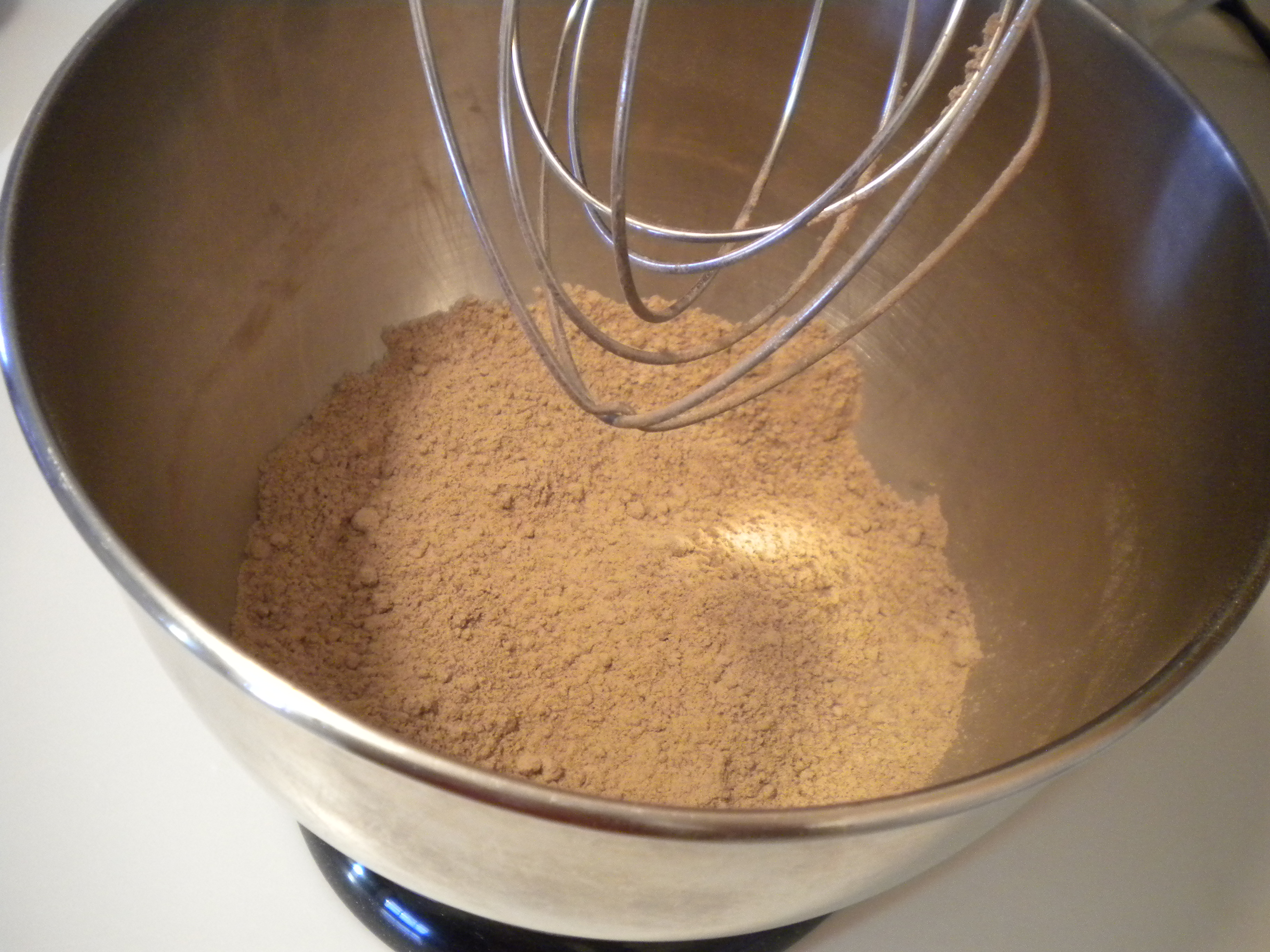 Whisk or sift together the dry ingredients for the cake batter, to make sure all of the cocoa and the leavening are well distributed.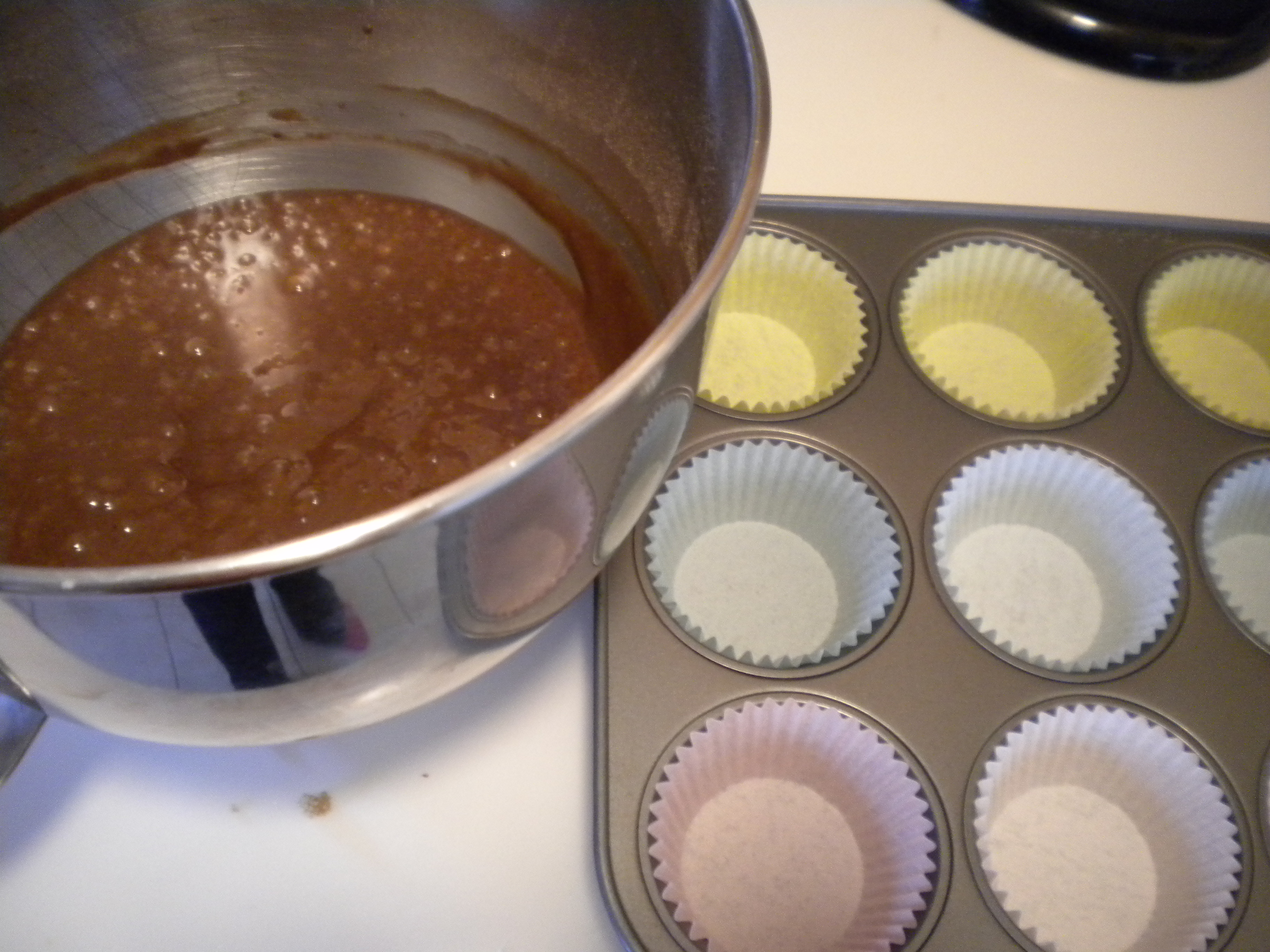 Make a well in the center of the flour mixture and add in the wet ingredients. If you don't have cider vinegar, you can use regular white vinegar for the same effect. Stir until a soupy cake batter comes together. Make sure to scrape the sides of the bowl well.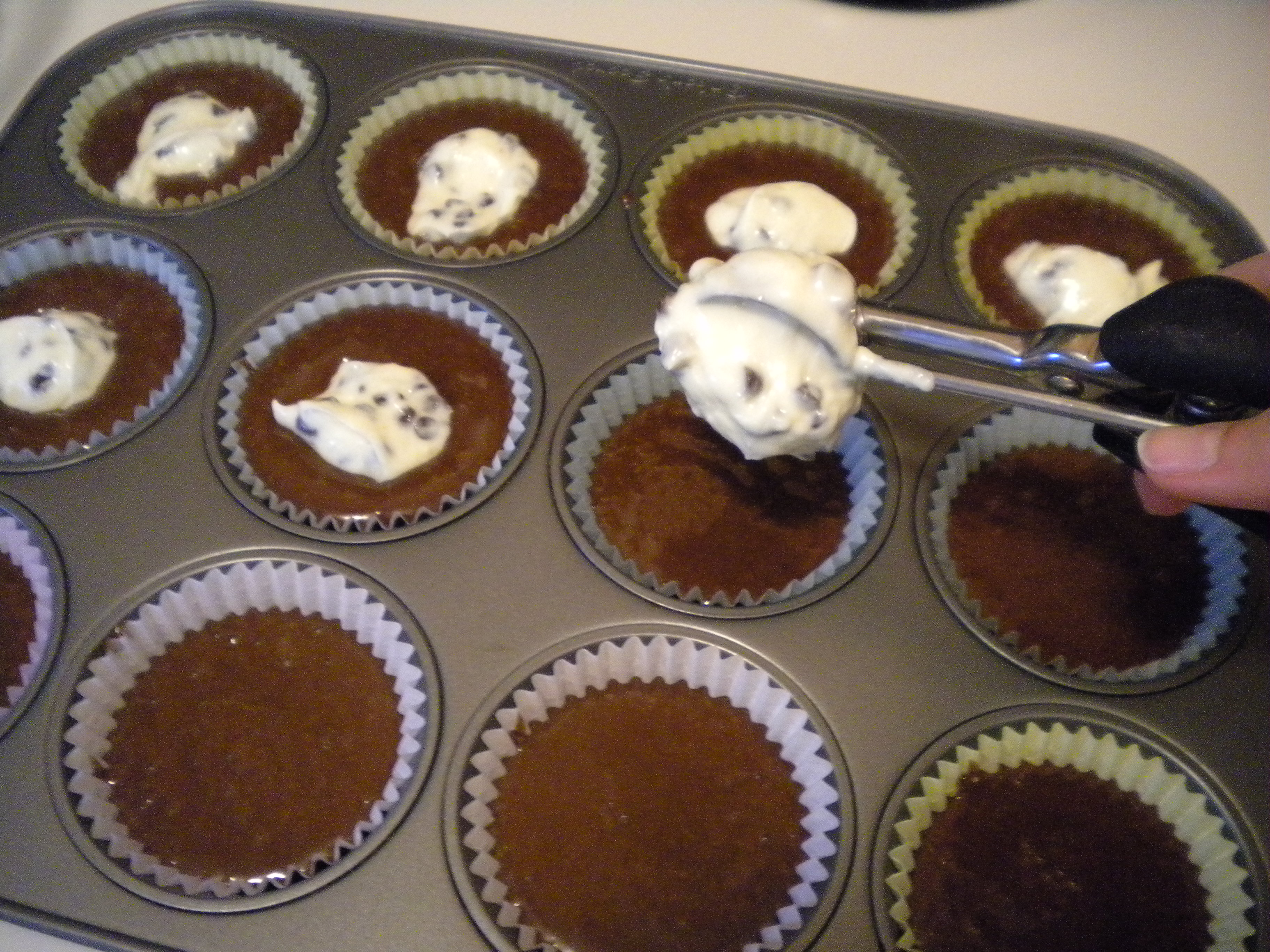 Divide the batter equally among 12 lined muffin cups. Each cup should be about ⅔ full. I actually had about 1 cupcake's worth of batter left over in my bowl, which I didn't add in because I didn't want the muffin liners to completely overflow when I spooned in the cheesecake batter. Better to underfill slightly than overfill and regret it. Plus, more batter for you to lick off the spoon later!
Spoon a heaping tablespoon of cheesecake into the center of each cupcake. It will likely sink down. My cupcake liners were pretty full at this point.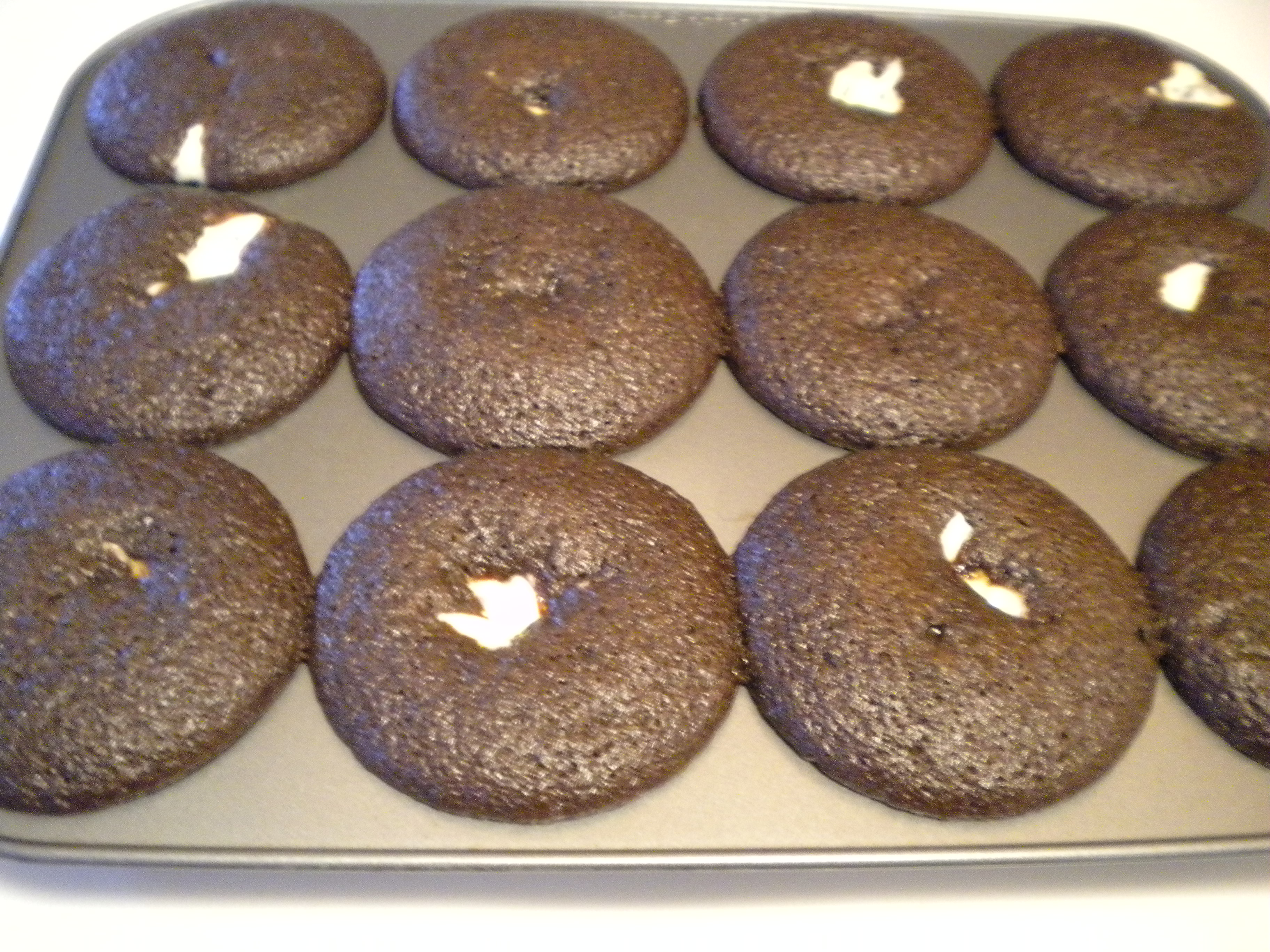 Bake the cupcakes for 25 minutes at 350°. Let them sit in the pan for a few minutes before removing to a wire rack to cool.
Black Bottom Cupcakes
lightly adapted from Smitten Kitchen
makes 12
Filling Ingredients:
1 8oz. package cream cheese, room temperature
⅓ cup sugar
1 egg, room temperature
⅛ tsp. salt
½ cup mini semisweet chocolate chips
Cupcake Ingredients:
1½ cups flour
1 cup brown sugar
5 tbsp. cocoa powder
1 tsp. baking soda
¼ tsp. salt
1 cup water
⅓ cup vegetable oil
1 tsp. vanilla extract
1 tbsp. apple cider vinegar
Directions:
Preheat oven to 350°. Line a muffin tray with paper cups.
Make the filling. In bowl, beat cream cheese, sugar, egg, and salt until soft and fluffy. Add in the chocolate chips and set aside.
Make the cake batter. Whisk together the flour, sugar, cocoa powder, baking soda, and salt in a large bowl.
Make a well in center of the dry ingredients and stir in the water, oil, vanilla, and vinegar. Blend well, but don't overbeat.
Fill muffin cups about ⅔ full with chocolate batter, then top with a large dollop of the cream cheese mixture.
Bake for 25 minutes, or until tops of cupcakes are puffed and set.
Cool on a wire rack.
Enjoy!