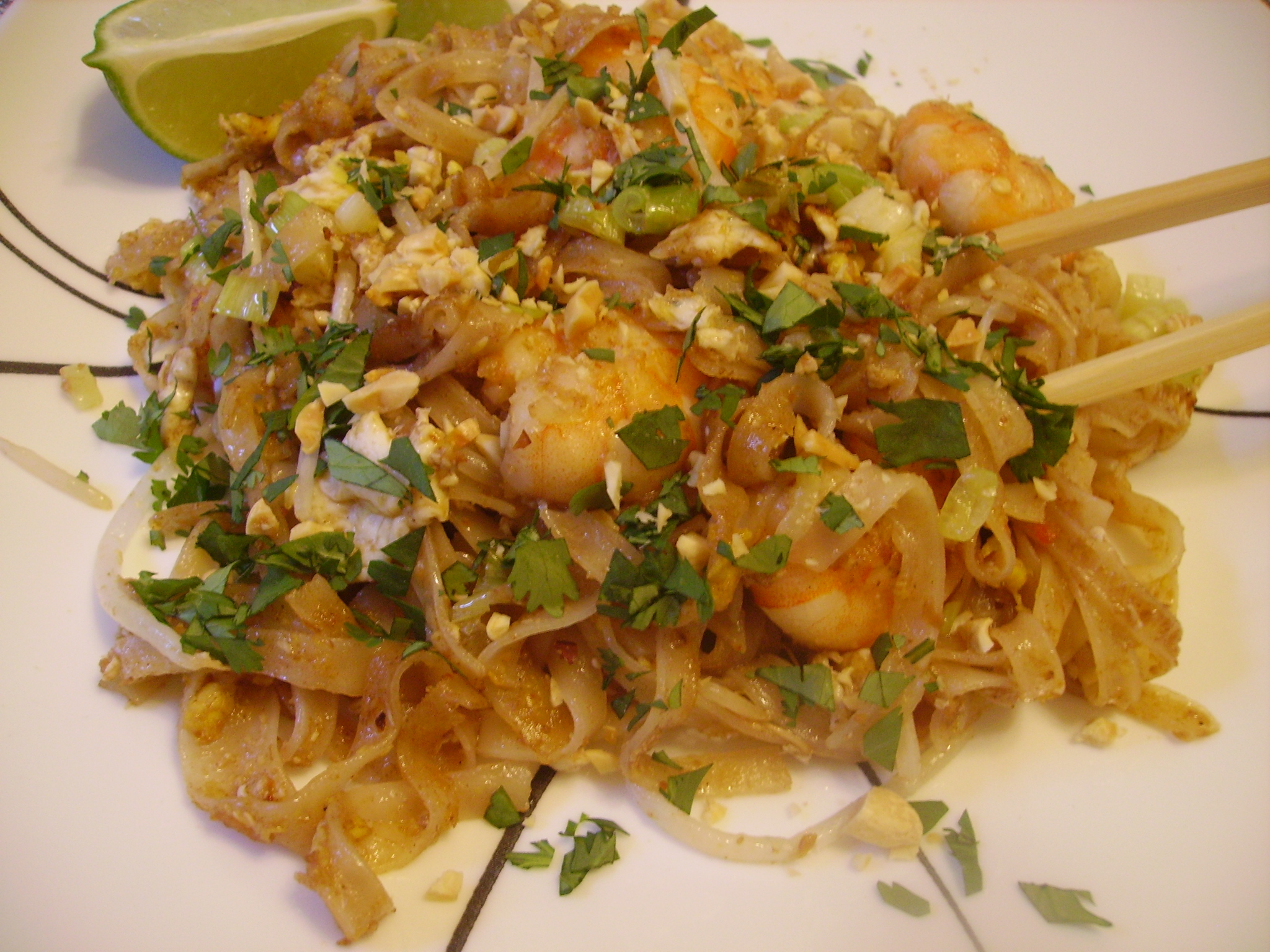 So, my husband loves Asian food. That sounds like an over-generalization, but I can almost guarantee that if the cuisine originated from somewhere in the Far East, he would be perfectly happy eating it every day for every meal. Korean food, Chinese food, Thai food, Vietnamese food…you name it, he's there.
I find it challenging to make most of these foods at home, because most of the dishes he truly loves require a lot of somewhat unusual ingredients and really are easier to make in huge portions. That's why I was excited to be assigned A Scientist in the Kitchen for this month's Secret Recipe Club swap. Here is a girl who is currently living in Thailand, making her own versions of classic Thai dishes at home!
I knew I had to try making Pad Thai, which is one of Dave's new favorites. He is in love with this amazing Thai place near our house that makes an award-winning spicy Pad Thai (maybe you remember seeing Nong crush Bobby Flay on TV in a Pad Thai throwdown?), so I knew that if I were able to make a good Pad Thai at home, it would be a hit.
Having previously read up on Pad Thai, I knew that I would need to make some modifications to the recipe Gay posted on her blog. The most important change I knew I had to make was to add tamarind, which I know is the secret to the sour-tart flavor of the Pad Thai at Thai Basil. I went ahead and used Nong's recipe for the sauce, because why mess with a good thing when I know my husband loves the flavors of her Pad Thai?
I also made some modifications to suit my personal tastes. For one, I skipped the chicken and tofu and went for shrimp instead. I had read somewhere that 7 is a lucky number in Thai culture, so I made this dish with 14 shrimp. I also added an extra egg, because I wanted the dish to be a bit higher in protein. And in the past, when I have made rice noodles, I began by soaking them in cold water rather than cooking them hot, so I incorporated that here as well. Finally, it seemed like some ingredients were missing from the ingredient list, so I added in the dried shrimp and chilies mentioned in the directions of Gay's recipe.
So let's make some Pad Thai! It's not as challenging as it may seem…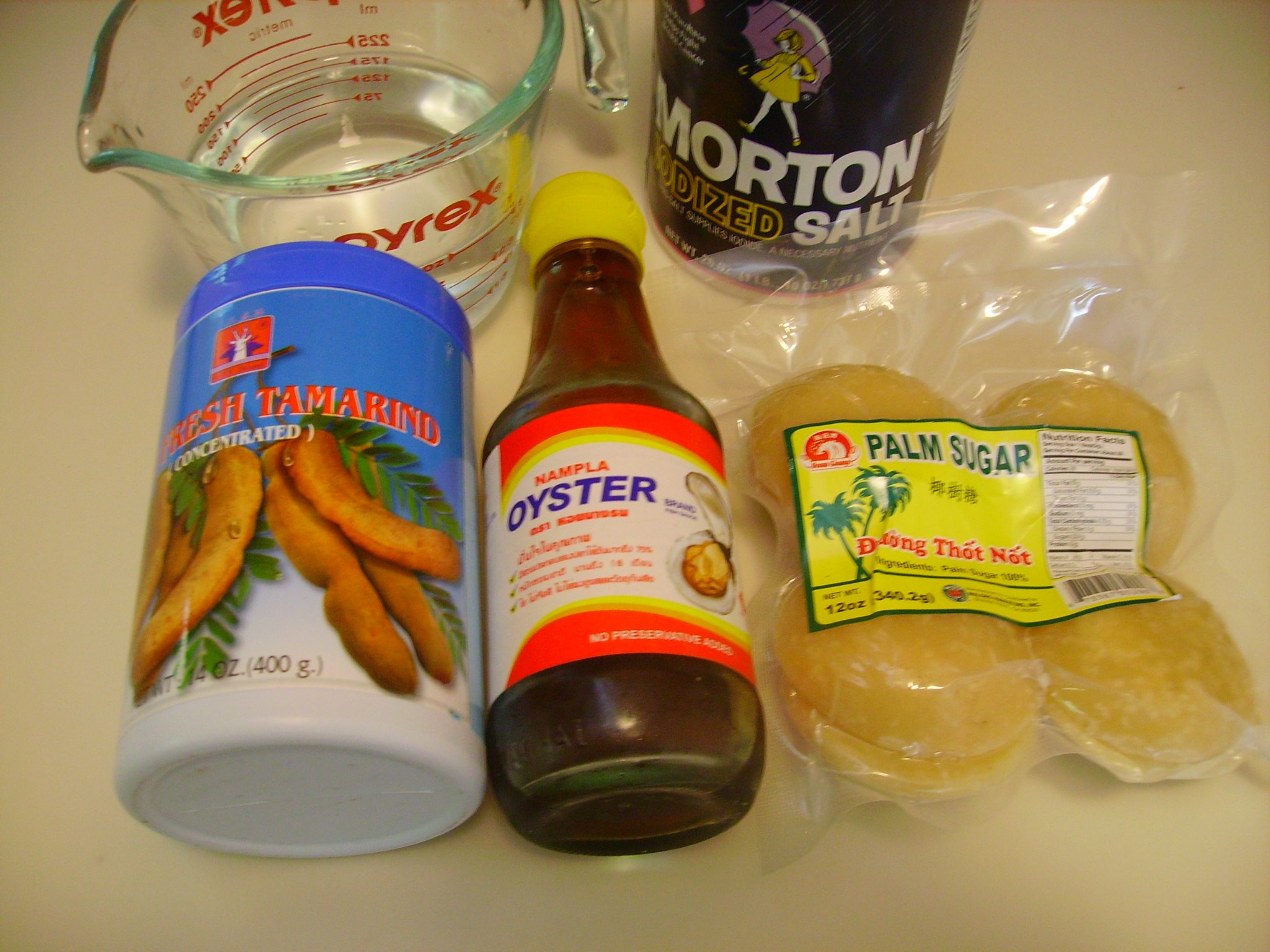 First we have to make the sauce. This is very easy, but smells rather terrible. Sorry. I had to open all the windows and doors in my house, turn on fans, light candles…it's true, baby and I may be super sensitive to smells right now, but I thought the Pad Thai sauce was just about the worst thing I had ever smelled. Still, it tasted good when all was said and done! But don't say I didn't warn you…
Anyway, I took a picture of all of the sauce ingredients for you, because sometimes when I go into an Asian market, things are labeled differently than what the recipe calls for, which can make me very uncertain about what to buy. Hopefully you will feel a little more secure. So…tamarind juice (all I found in the Asian market was concentrated, and that seemed to be exactly the right thing, flavor-wise, when all was said and done), palm sugar (this comes in very firm, solid lumps…you could grate it if you want to, but I thought that would take too much time and effort, so I figured out how many ounces I needed and just cut off the right amount with a very sharp knife; it melted in the pot while everything else was cooking), and fish sauce (yes, this picture clearly shows the word oyster, but I actually have Oyster brand fish sauce, whose label is specifically designed to panic poor cooks like me who were sure they had some fish sauce in the fridge…) are what you need. And mix in some water and salt, too.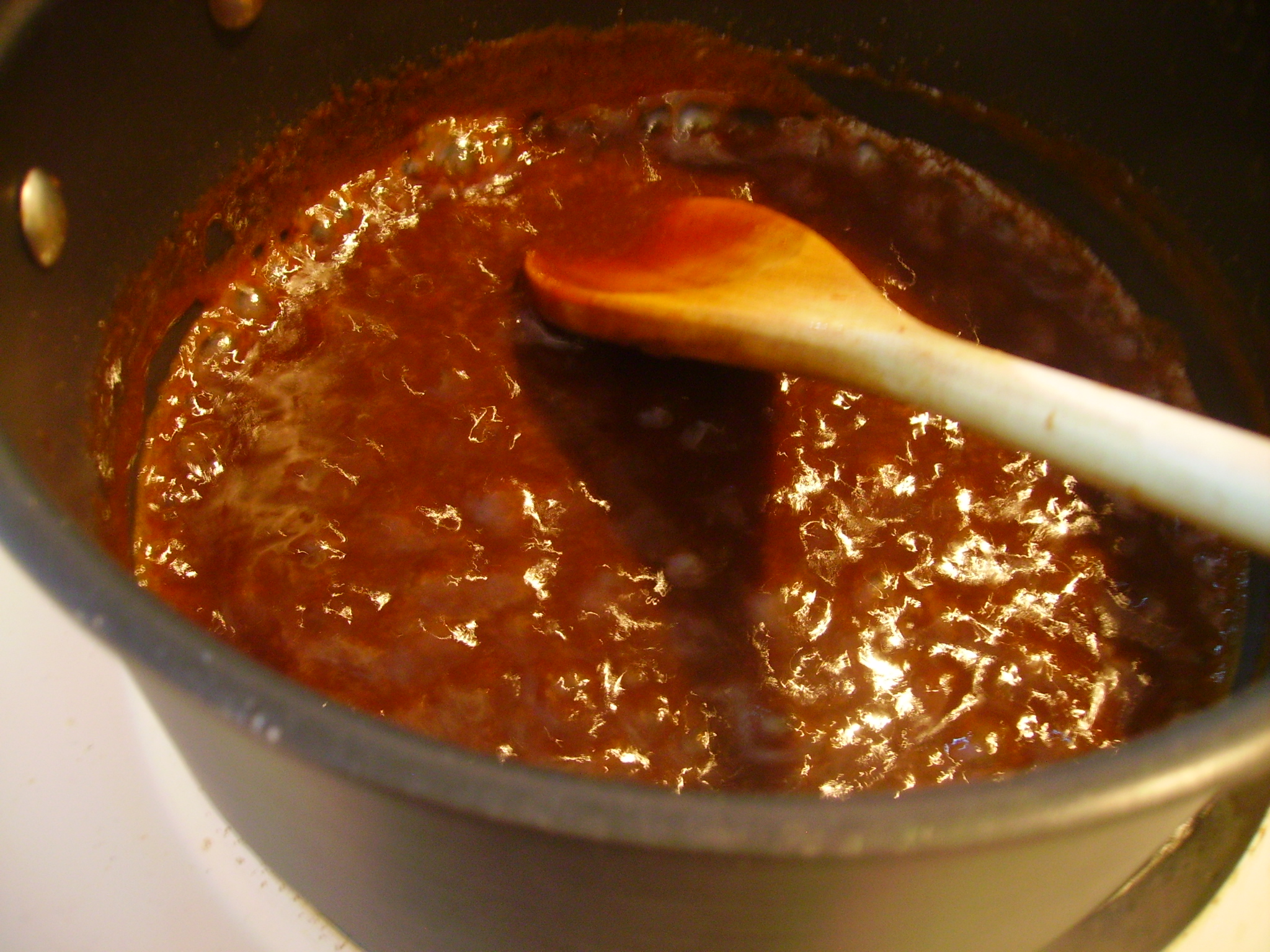 Set all of these things over low heat, stirring occasionally, until it reduces into a sticky gummy syrup. If you cook this sauce too fast, the flavors won't combine as fully, but the Pad Thai will probably still be delicious. Remove from the heat when it reaches the desired consistency. And don't panic if it becomes extremely sticky and a bit more solid as it cools; you can always reheat it if you need to when you are ready to add to the noodles.
Meanwhile, soak the rice noodles in cold water for about 1 hour. I didn't take a picture of this, as it was completely uninteresting, but after the hour is up the noodles should be soft and pliable, though still a bit firmer than you'd want to eat.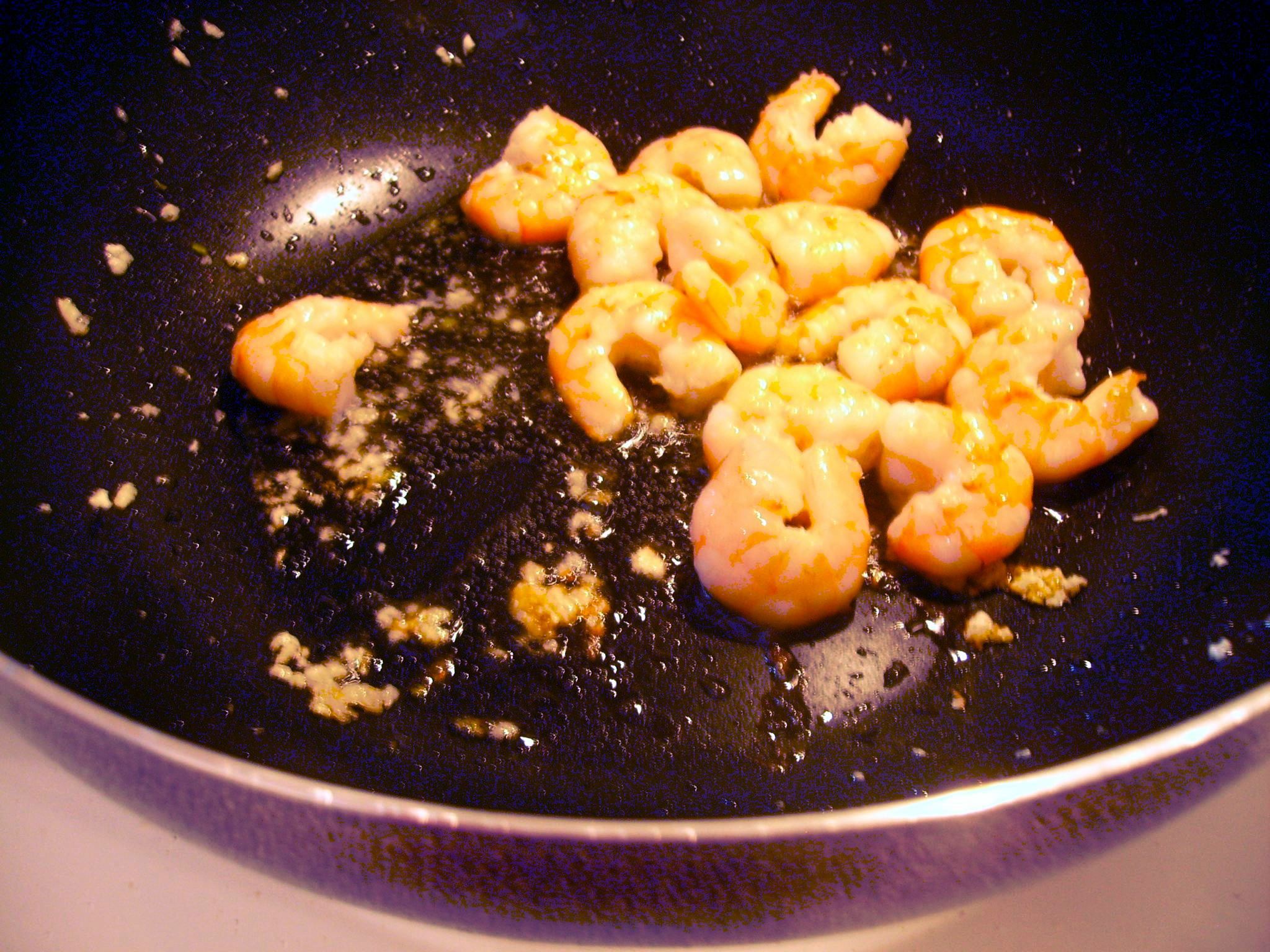 Grab your favorite wok. Heat minced garlic in oil until fragrant, then drop in the prepared shrimp. I advise you to buy peeled and deveined shrimp, because it saves a lot of time and effort! I bought mine at the Asian market, though, where my only options were "heads on" or "heads off." Guess which one I picked?
Turn the shrimp until they are completely opaque and firm. Add in the dried shrimp flakes (you are unlikely to find this unless you can make it to an Asian market; what I bought was called "dried shrimp with chilies") and stir, then remove the shrimp from the heat to prevent them from overcooking.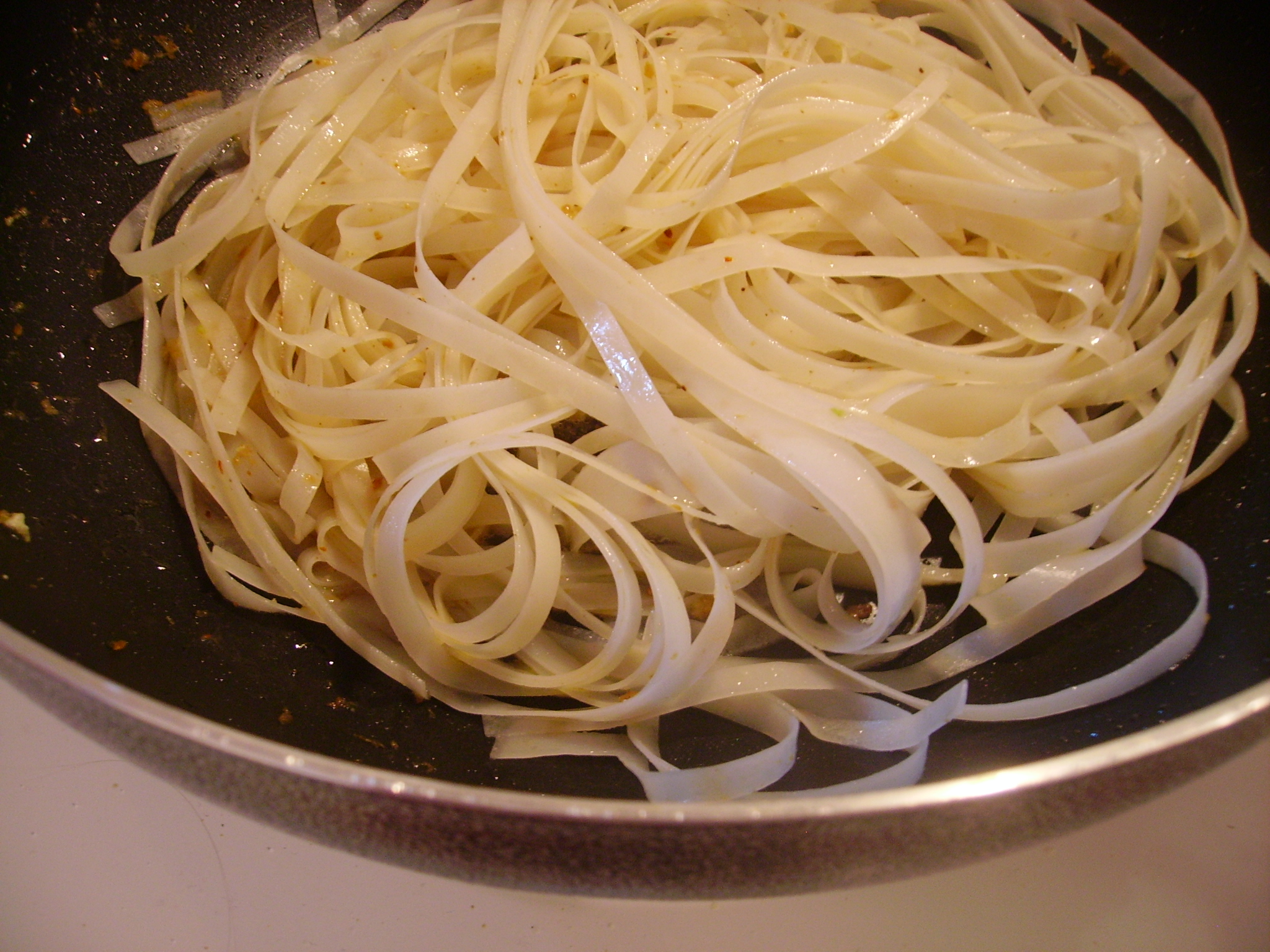 Finally, time to add in the noodles! I used about 5½ oz. noodles, which seemed to be plenty. Drain the water, then put them in the pan and toss with tongs. They will cook a bit more over the heat, but you should work quickly to avoid letting them get gummy (er…I didn't quite succeed in this, and Dave still loved the meal, so don't stress). If the noodles begin to stick together, add some water to help loosen them back up. Add in a few large spoonfuls of the cool Pad Thai sauce, which by this point will be super sticky, like molasses. Toss until the noodles are evenly coated, then add the shrimp back in and push the noodles off to the side.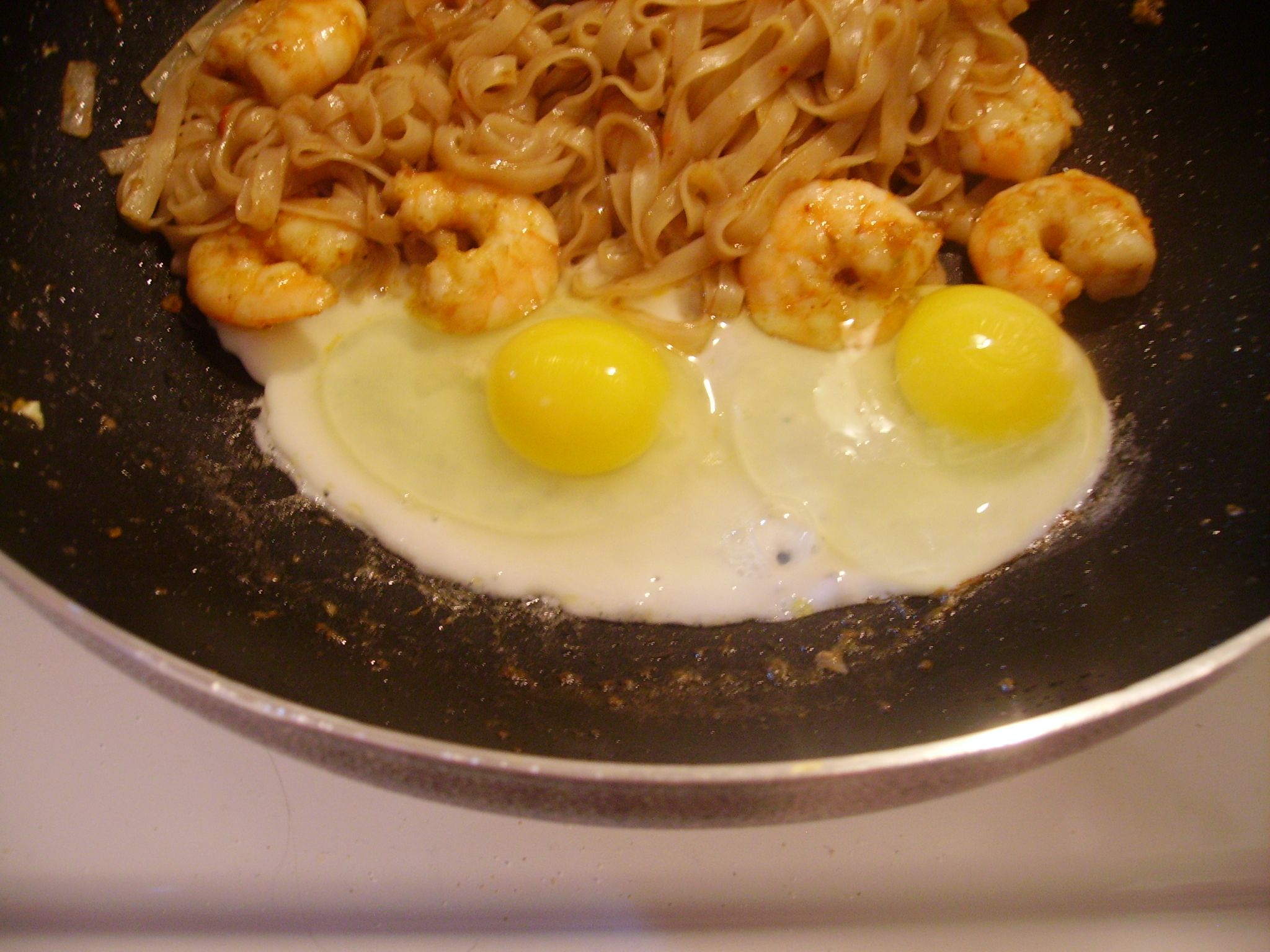 Crack two eggs into the pan and let them cook for about 30 seconds, until the whites are about half done. Scramble them off to the side, then mix the scrambled eggs into the noodles.
Stir in the scallions, bean sprouts, and ground chilies (this is kind of like a gelatinous paste, but it is indeed labeled "ground chilies")—as a side note, if you are really intolerant of hot foods, you should skip the chilies, but I found that the spiciness was just part of the background.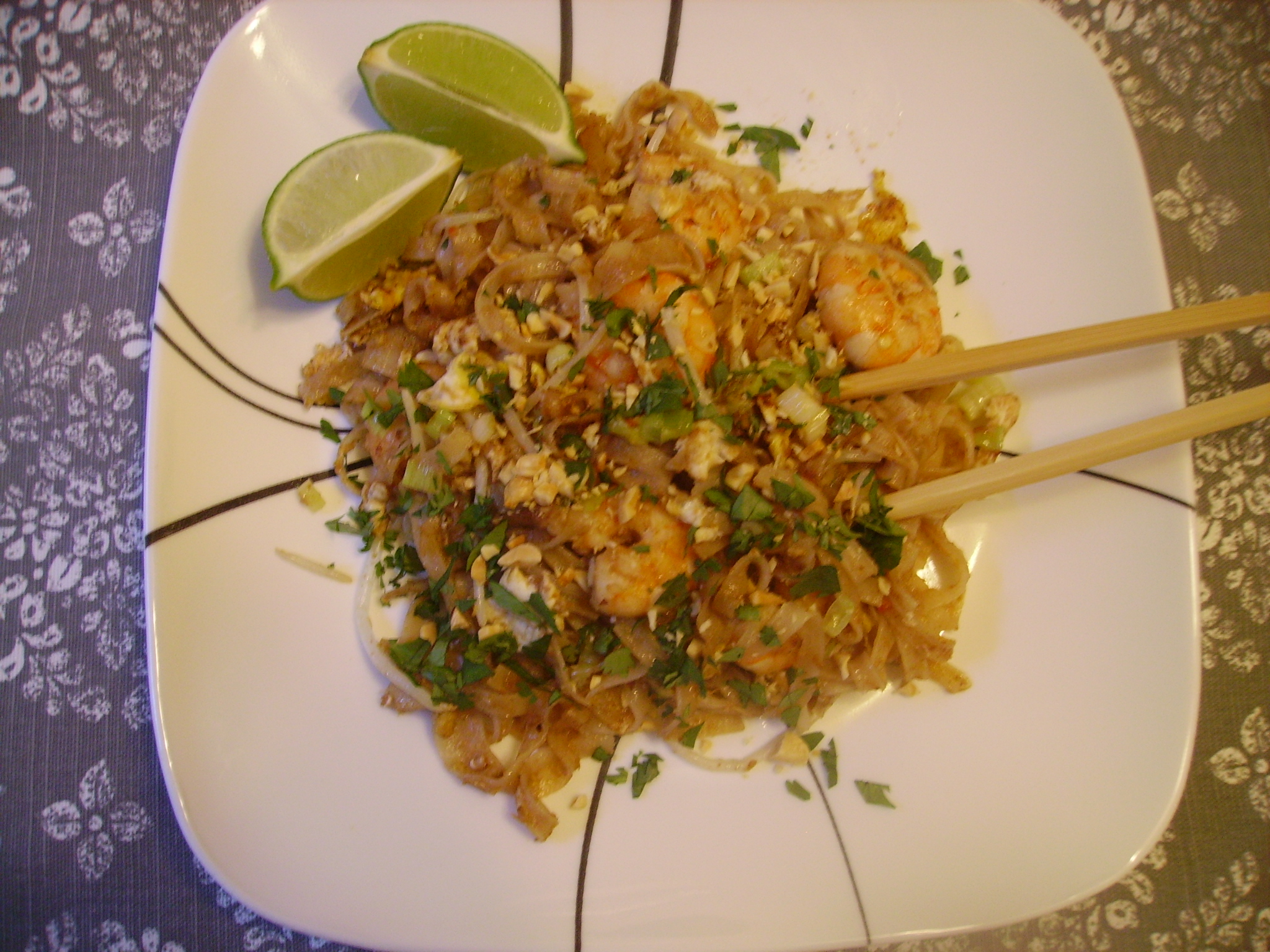 Remove the wok from the heat and plate the noodles. Garnish as desired with peanuts, cilantro, extra bean sprouts, and some lime wedges. Obviously, skip whatever you are allergic to or intolerant of, but do be sure to squeeze your lime wedge over the Pad Thai before you take your first bite! The extra tang really complements the sour-tart of the Pad Thai sauce. Yum.
Pad Thai
adapted from A Scientist in the Kitchen and Nongkran Daks
serves 2
Pad Thai Sauce Ingredients:
1 cup tamarind juice (concentrated)
1 cup (about 5½ oz.) palm sugar
1 cup water
½ cup fish sauce
2 tsp. salt
Noodle Ingredients:
3 tbsp. vegetable oil
3 cloves garlic, minced
14 medium (21-25) shrimp*, peeled and deveined
1 tbsp. dried shrimp (optional)
4–7 oz. medium wide rice noodles, soaked in cold water until soft
¼ cup water, as needed
2 eggs
½ tsp. ground hot chilies, or more to taste
1 bunch chopped scallions
½ cup bean sprouts, plus extra for garnish
crushed roasted peanuts
chopped cilantro
1 lime, cut into wedges
Directions:
Mix all the sauce ingredients in a saucepan over medium low heat for about 60 minutes, until it becomes thick and syrupy. Stir occasionally to prevent burning. Set aside.
Heat wok over low heat. Add the oil and the garlic and stir fry until garlic is fragrant. Add the shrimp, turning until they are cooked through, then add the dried shrimp if using. Mix well, then remove the shrimp from the wok to prevent them from overcooking.
Add the noodles to the pan and toss quickly. Add the water to the noodles to help prevent them from sticking together. When the noodles are warm, add in about ⅓ cup of the Pad Thai sauce. Mix the shrimp back into the noodles, then push the noodles off to the side of the wok.
Crack the eggs into the pan and let them cook for several seconds, until the white is about half done, then scramble. When egg is fully cooked, toss it into the noodles.
Mix in the chilies, scallions, and bean sprouts, and stir for several seconds. Remove from the heat.
Serve the Pad Thai garnished with extra bean sprouts, crushed roasted peanuts, cilantro, and lime wedges.
*Note: About ¾ lb. chicken, pork, tofu, or a combination of proteins may be substituted for shrimp.
Enjoy!