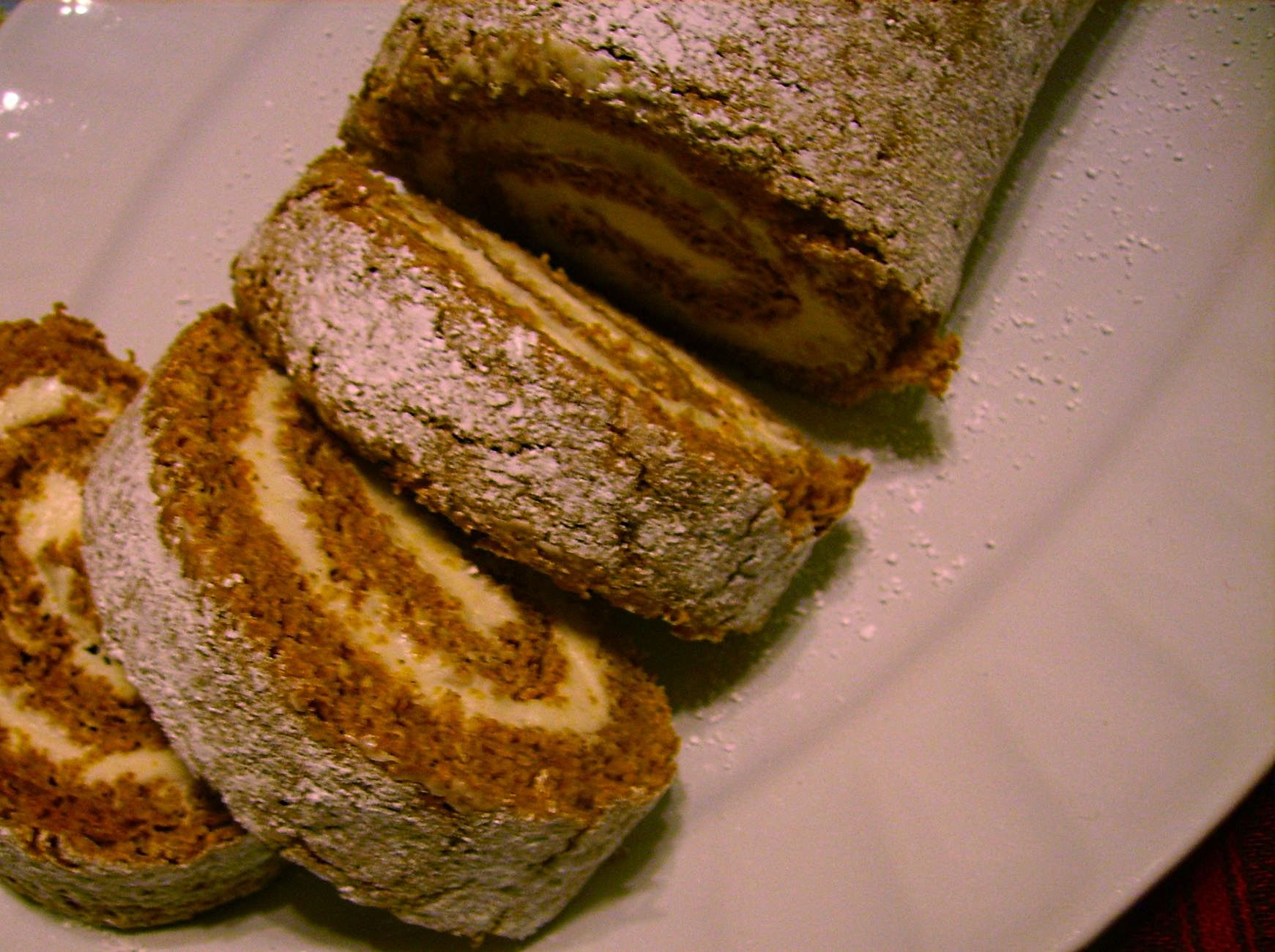 Yay! It's Fall! Let's celebrate by eating as much pumpkin-inspired food as possible! Let's wrap our houses in oranges and reds and put various gourds in our front porches.
When I whipped the season's first can of pumpkin out of my cabinet, the first thing I wanted to make was this pumpkin roll cake. It's amazing! And easy! Not too sweet, slightly cinnamony, filled with cream-cheese goodness…ahh, pumpkin desserts, how I have missed you these last few months!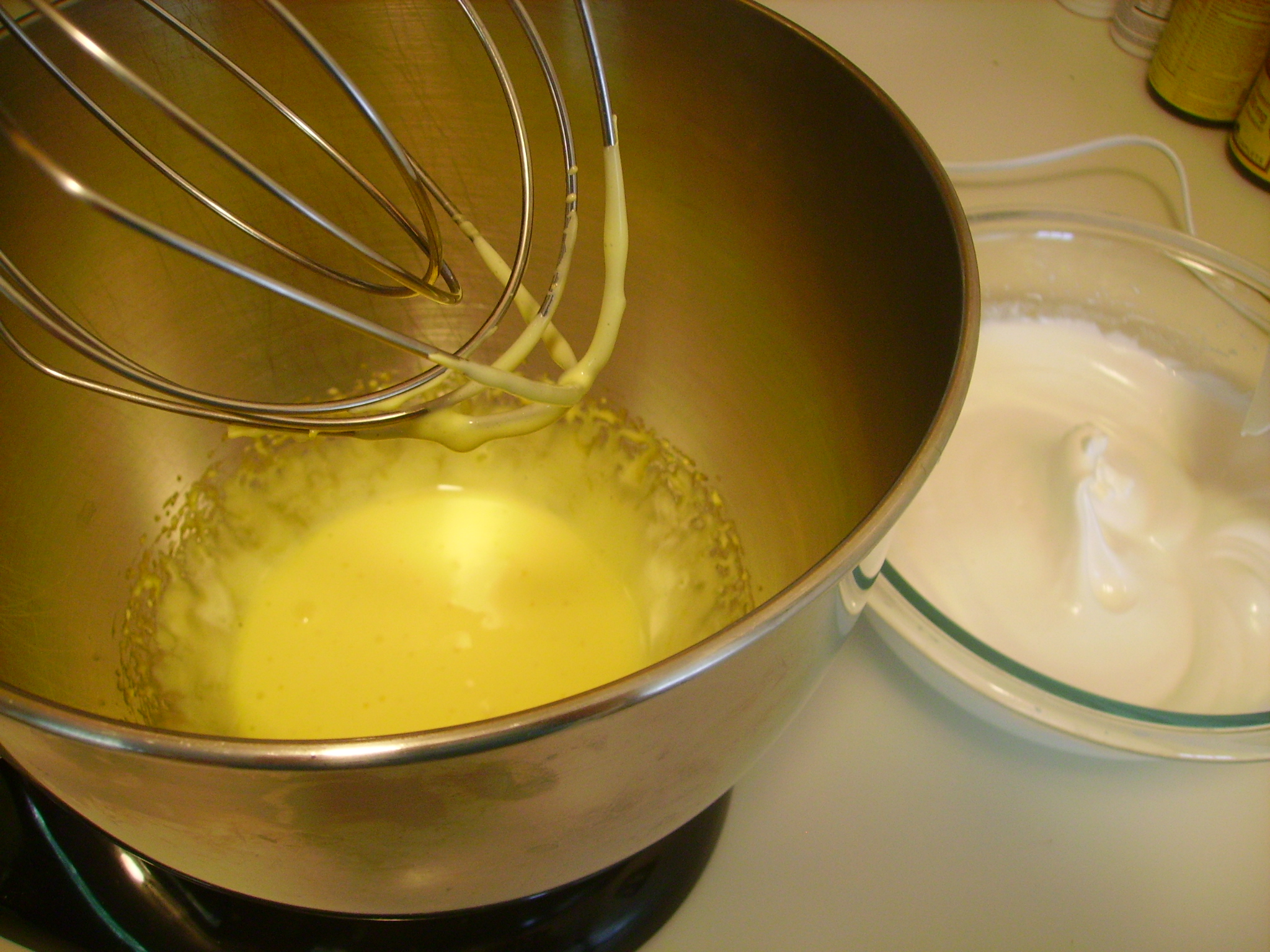 Start by separating the eggs, then beat the yolks until they become thick and silky, a nice light yellow. This took me about 10 minutes because I did it in my stand mixer bowl, which was slightly too large for only three yolks. But no worries, it worked eventually, and saved me using an extra bowl! Plus, you can make the meringue in the meantime.
So, what are you waiting for? Make the meringue! Using a hand-held mixer, beat the whites until soft, foamy peaks form. Add in ½ cup sugar and continue beating for another few minutes, until the meringue becomes stiff and glossy.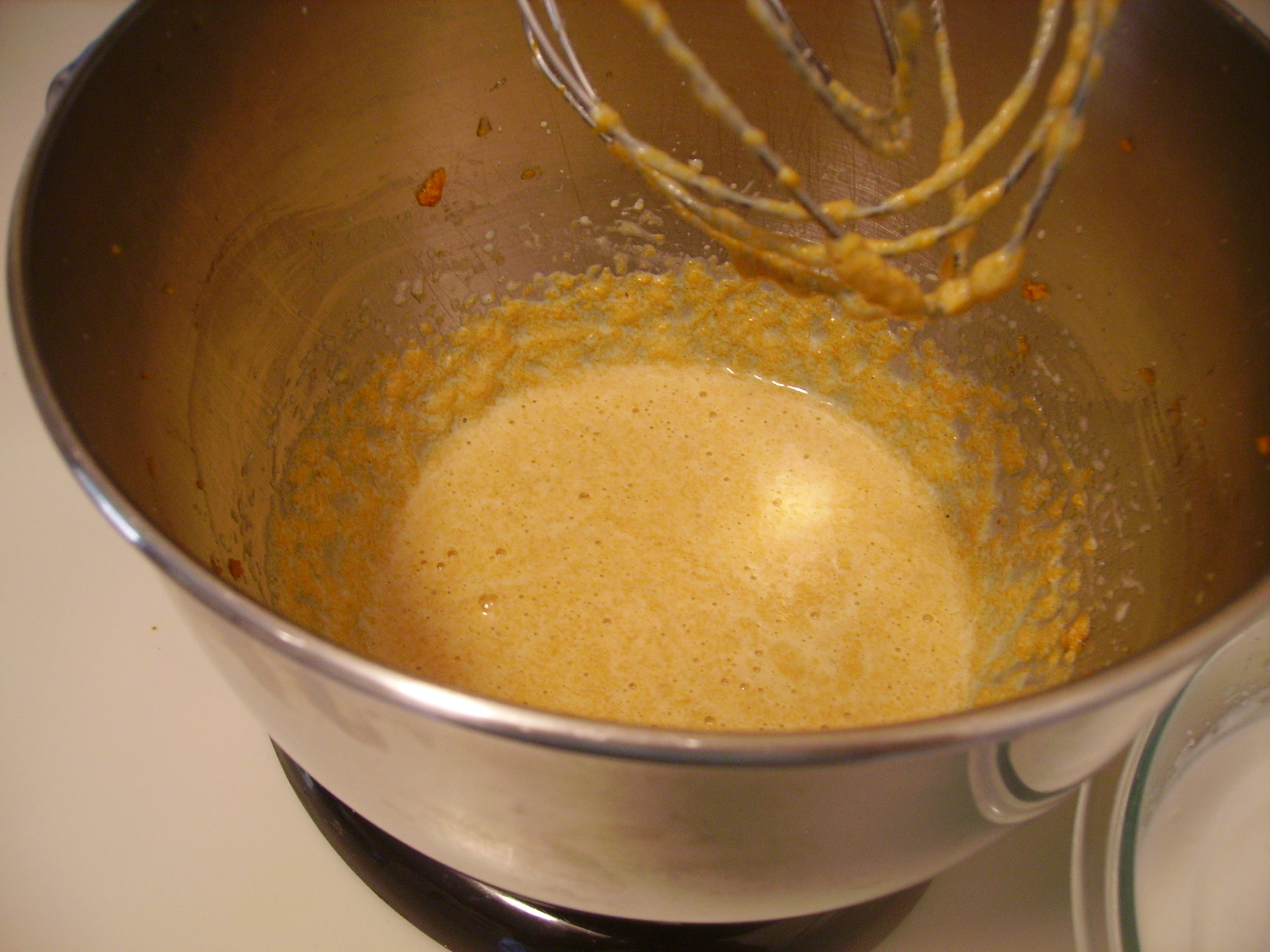 When the yolks are ready, add in the remaining ½ cup sugar and the pumpkin and mix until combined.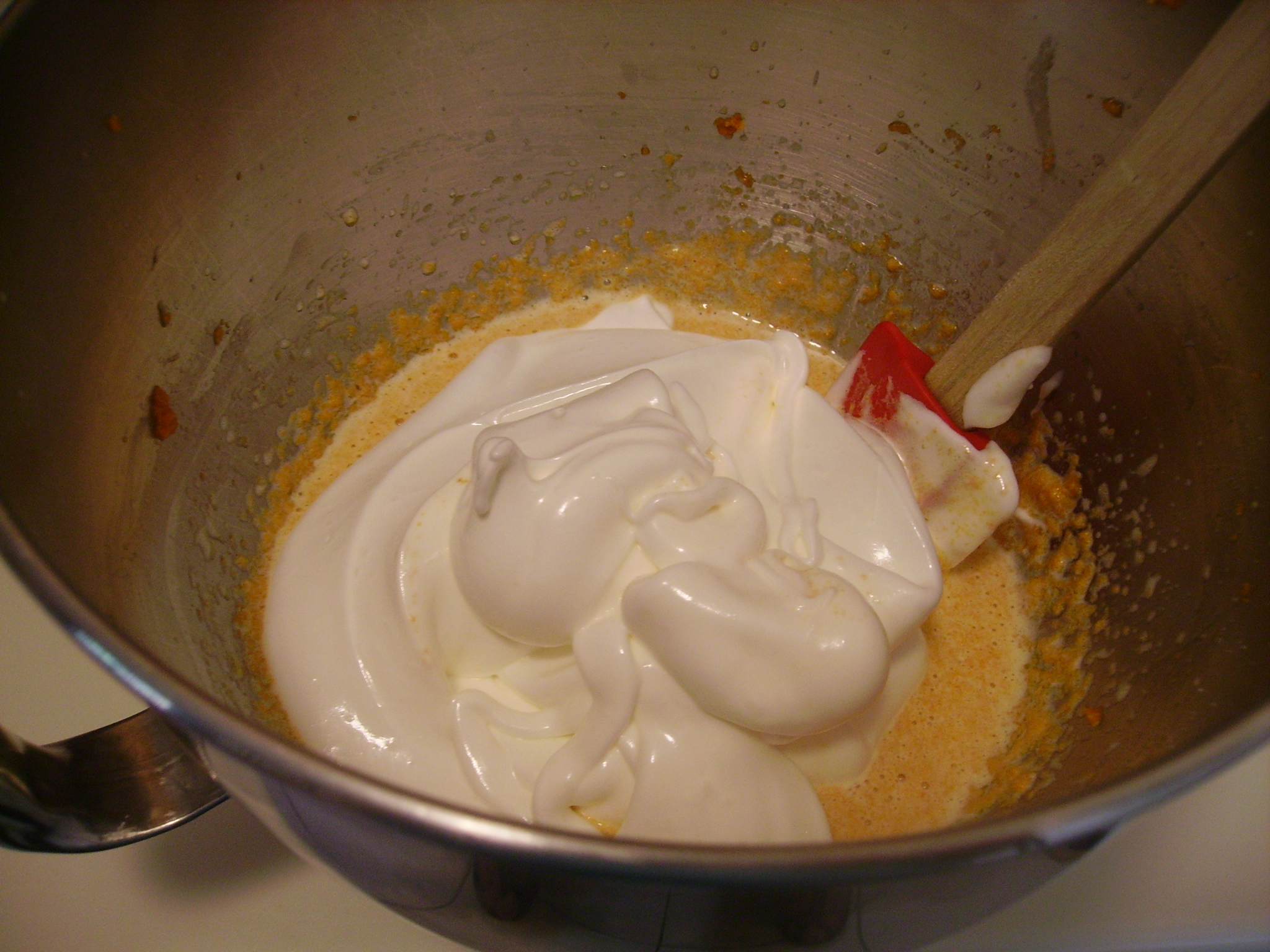 Fold the meringue into the yolk mixture. Stir in the dry ingredients.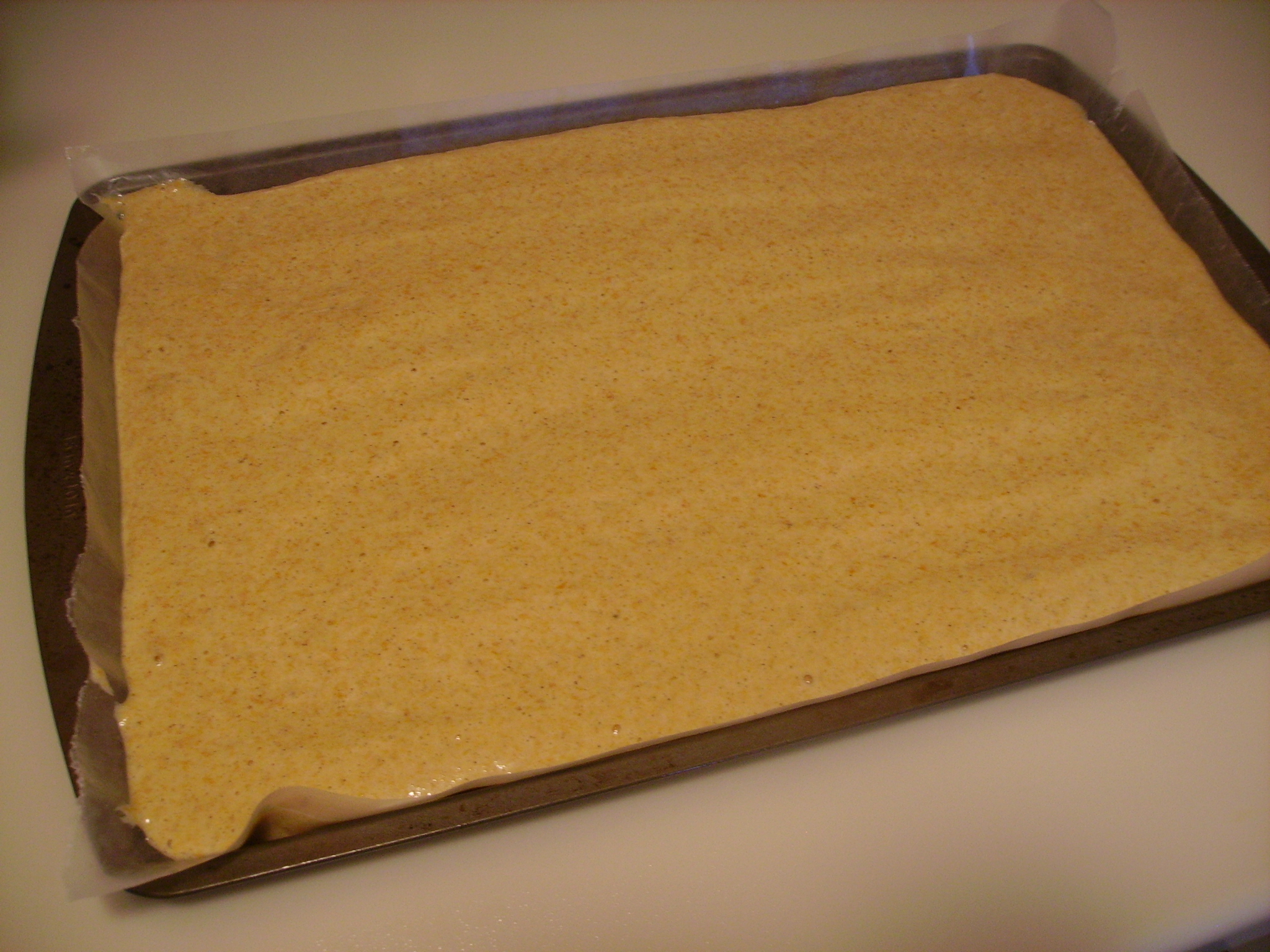 Spread the batter onto a wax paper–covered jelly-roll pan (a 15″x10″ rimmed cookie sheet). Bake at 375° for 12 minutes, until the spongey cake springs back when you press it lightly.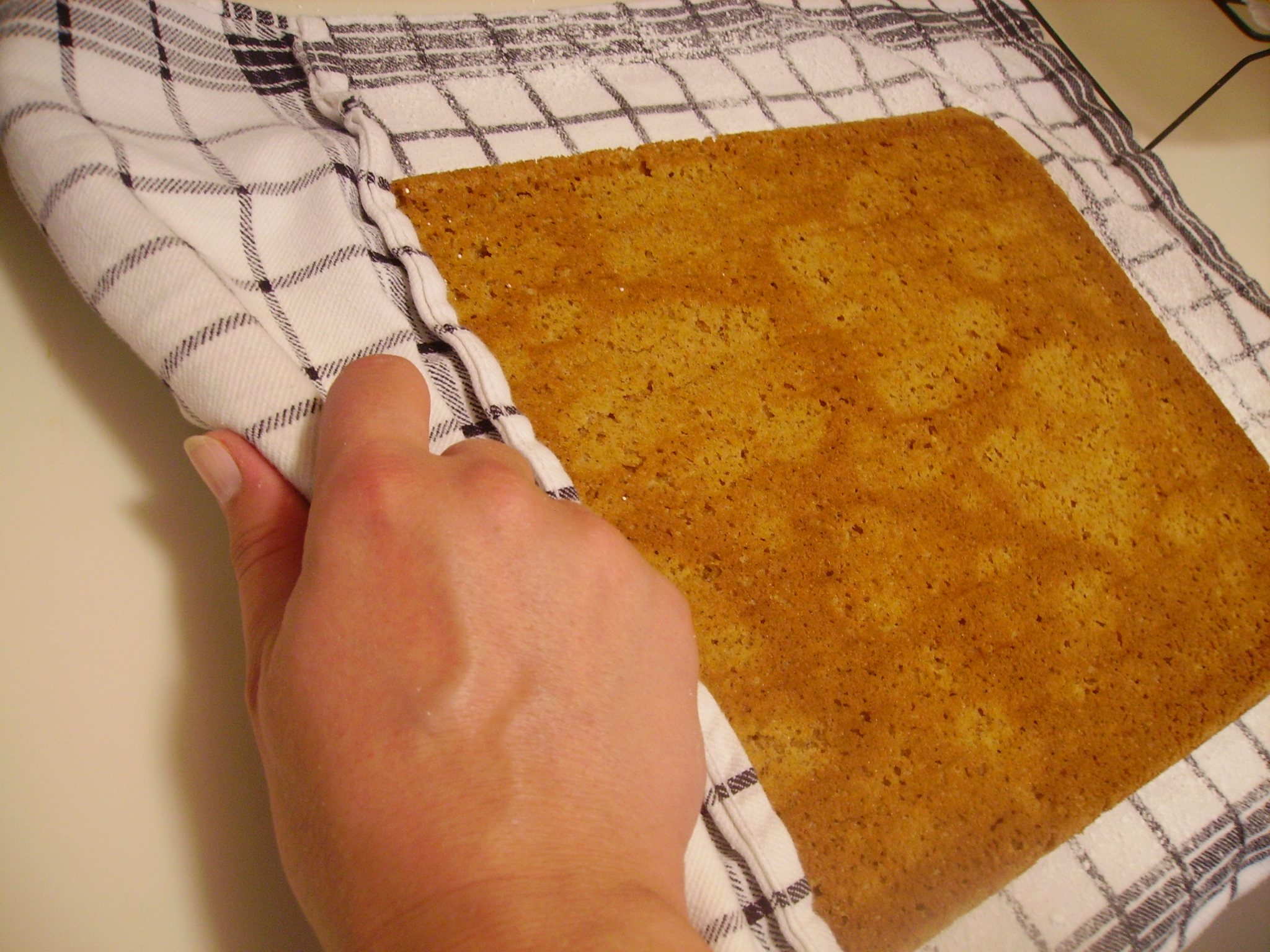 Let the cake cool for a few minutes on the pan, then turn it onto a smooth, confectioner's sugar–covered kitchen towel. Roll the cake up in the towel to finish cooling. This will probably only take about 5–10 minutes.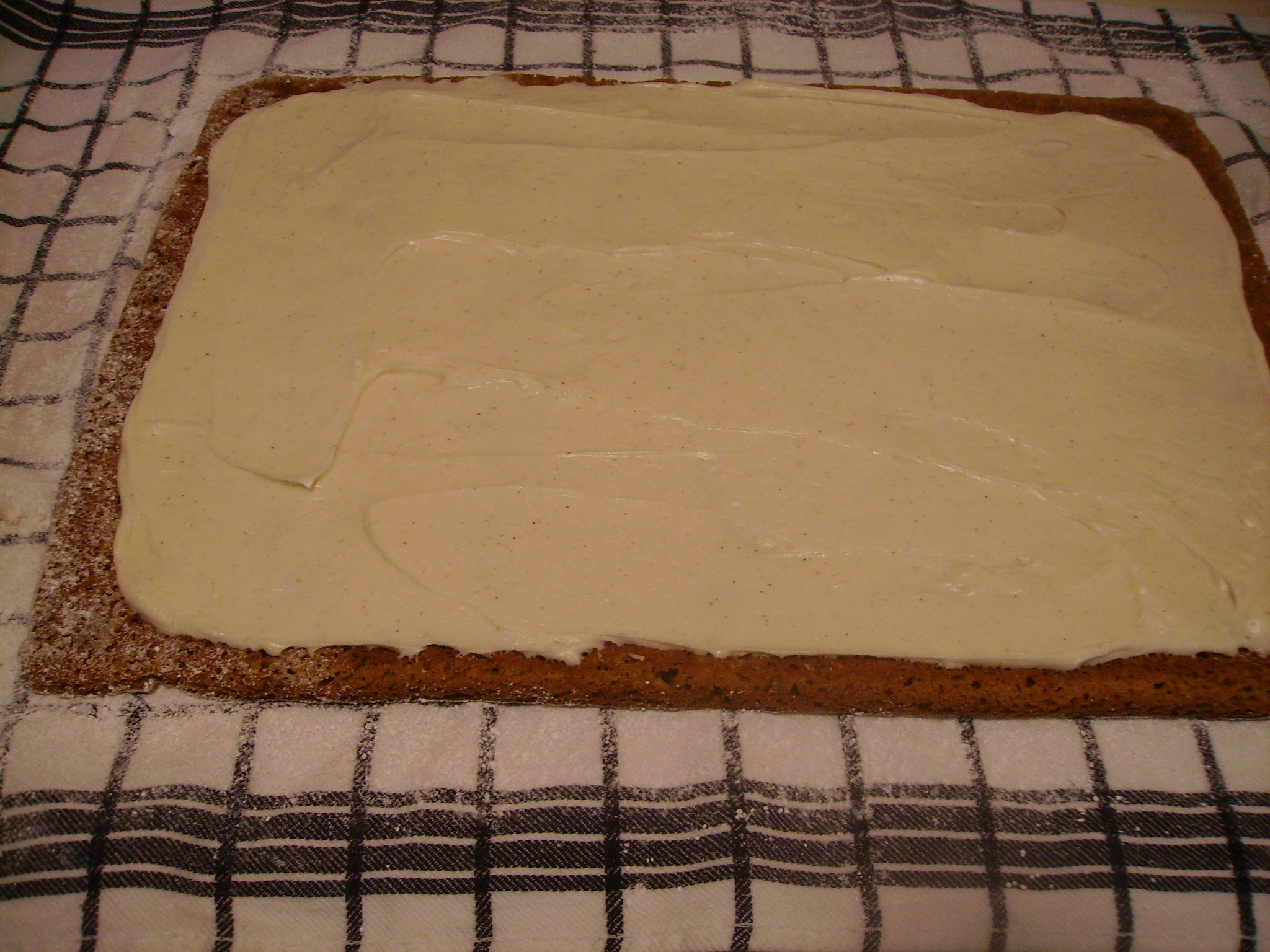 Meanwhile, make the cream cheese filling. With far less sugar and butter than a proper cream cheese frosting, it complements the pumpkin quite well. Sift the sugar into the bowl with the cream cheese. Add in the butter, vanilla, and cinnamon and beat until the filling becomes smooth and creamy.
Unroll the pumpkin cake, then spread it evenly with the cream cheese filling, leaving about ½″ on all sides.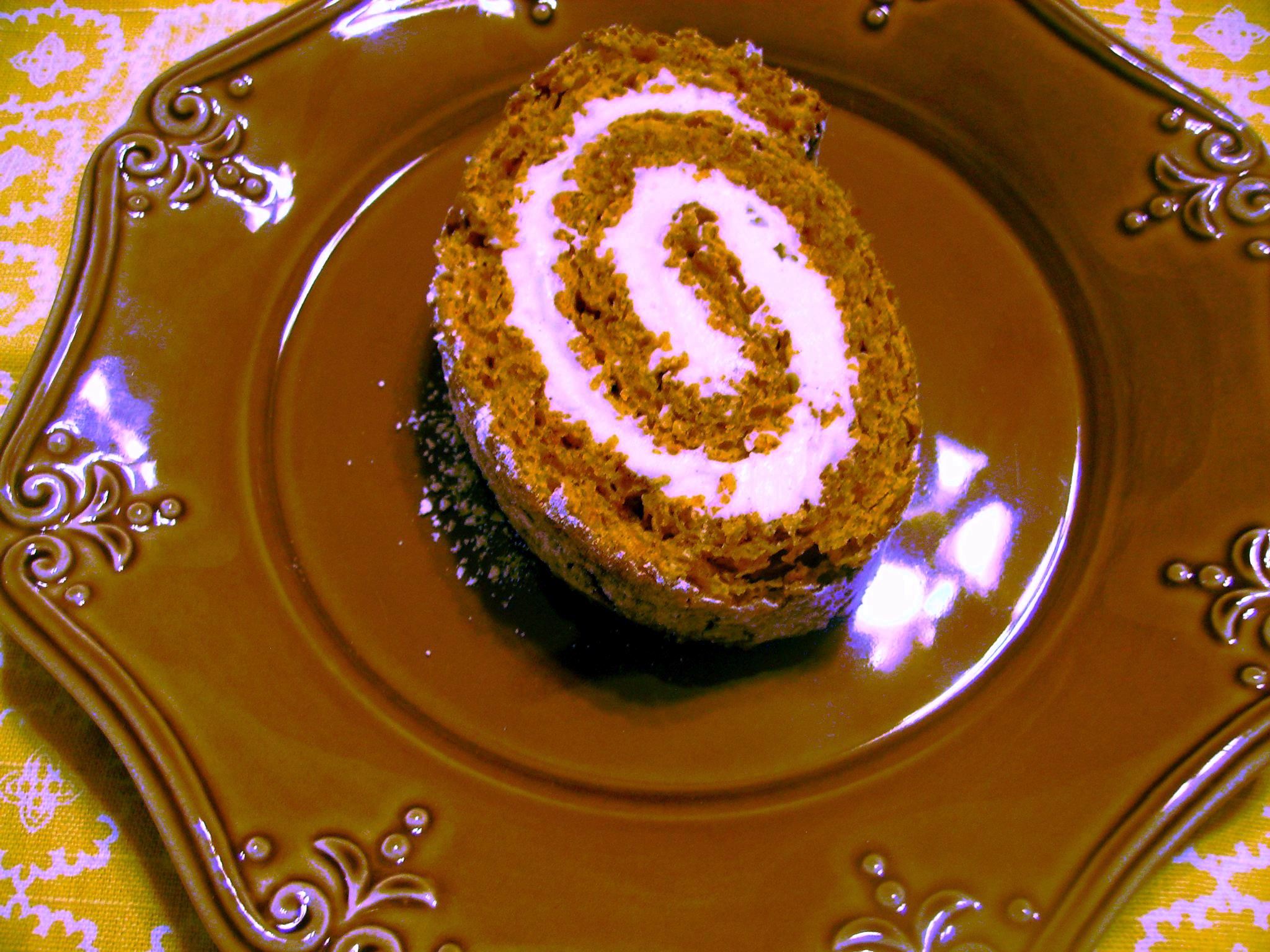 Roll the cake back up. Transfer it to a serving platter, then cover with plastic wrap and store in the freezer for at least 30 minutes. Remove from the freezer 15 minutes before serving. Cut with a sharp, serrated knife.
Pumpkin Roll Cake
lightly adapted from Taste of Home
serves 10
Cake Ingredients:
3 eggs, separated
1 cup sugar, divided
⅔ cup canned pumpkin
¾ cup flour
1 tsp. baking soda
½ tsp. cinnamon
⅛ tsp. salt
Filling Ingredients:
8 oz. cream cheese, softened
2 tbsp. butter, softened
1½ cups confectioner's sugar, sifted, plus extra
½ tsp. vanilla extract
¼ tsp. cinnamon
Directions:
Preheat oven to 375°. Line a 15ʺx10ʺ jelly roll pan with waxed paper. Grease the paper and set aside.
In a large bowl, beat egg yolks on high speed until thick and lemon-colored (this may take several minutes). Gradually add ½ cup sugar and the pumpkin, beating on high until sugar is almost dissolved.
Meanwhile, in a small bowl, beat the egg whites until soft peaks form. Gradually add remaining ½ cup sugar, beating until stiff peaks form. Fold the meringue into the egg yolk mixture.
In a separate bowl, combine the flour, baking soda, cinnamon, and salt. Gently fold into pumpkin mixture. Spread batter into the prepared pan.
Bake for 12–15 minutes, or until cake springs back when lightly touched. Cool for 5 minutes.
Turn cake onto a smooth kitchen towel dusted with confectioner's sugar. Gently peel off waxed paper. Roll up cake in the towel jelly-roll style, starting with a short side. Cool completely on a wire rack, about another 5 minutes.
While the cake cools, make the filling. Beat together cream cheese, butter, confectioner's sugar vanilla, and cinnamon until smooth.
Unroll the cooled cake; spread filling evenly to within ½ʺ of the edges. Roll up again.
Cover and freeze until firm. Remove from the freezer 15 minutes before cutting and dust with additional confectioner's sugar. The cake may be frozen for up to 3 months.
Enjoy!