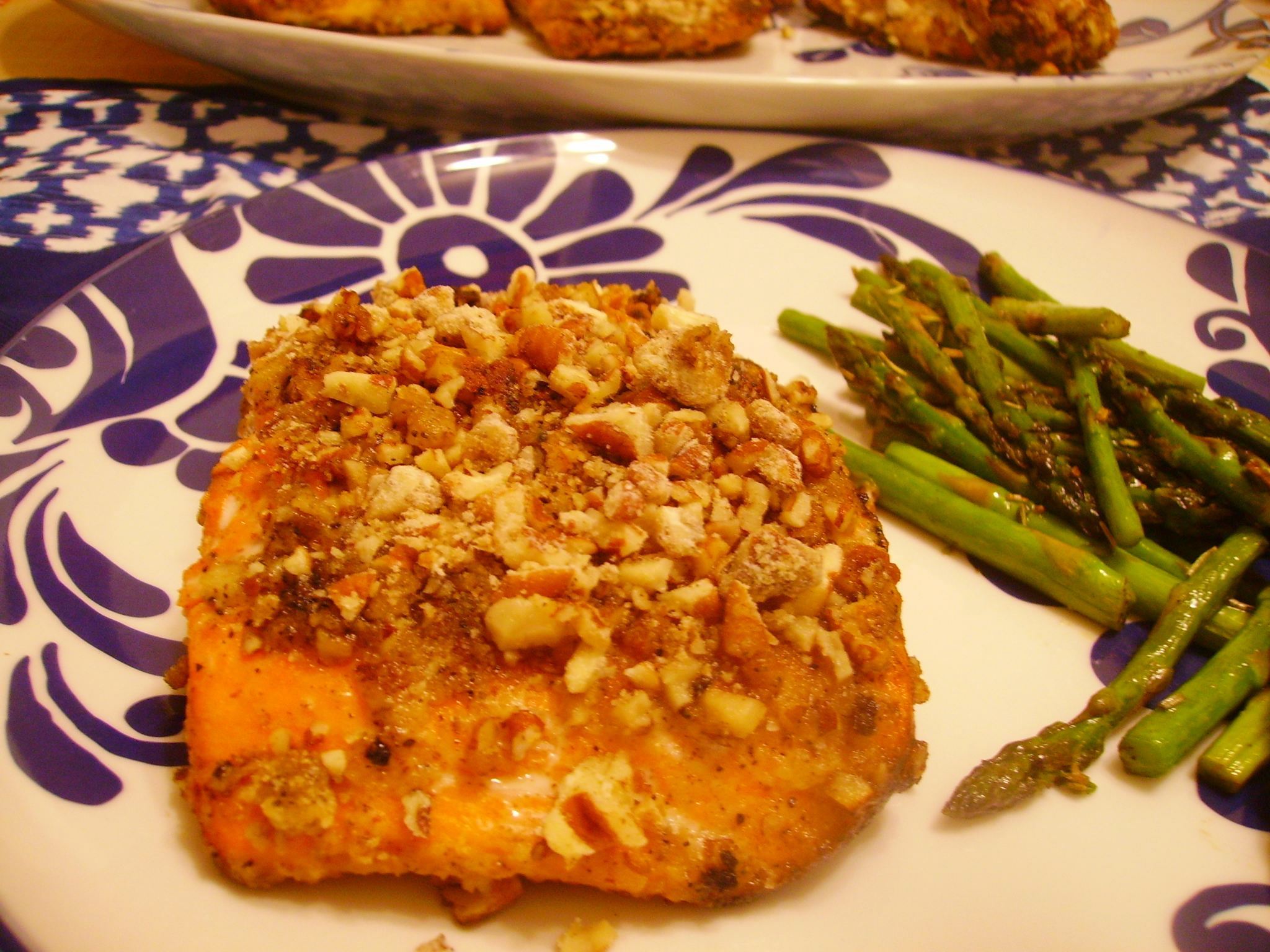 When I was little, I thought I hated fish. (Okay, what little kid doesn't think they hate fish?…especially when fish sticks are one of the main examples they have to work with…) In my case, I had a scarring experience with flounder, which to me tastes fishy in all the wrong ways. I still refuse to eat flounder.
But the main reason my hatred of flounder doesn't extend to all fishes is this salmon dish. My mom made this recipe for Sunday dinner one week and insisted I try it…and to my great surprise, I discovered that I liked salmon! And I've never looked back.
If there are any resistant palates in your family or circle of friends, try this salmon out! It's very easy to make, and it's delicious! Relatively mild flavor with just the classic salt and pepper as spices, a nice crusty coating from being browned, all accented by nice, toasty pecans…yum!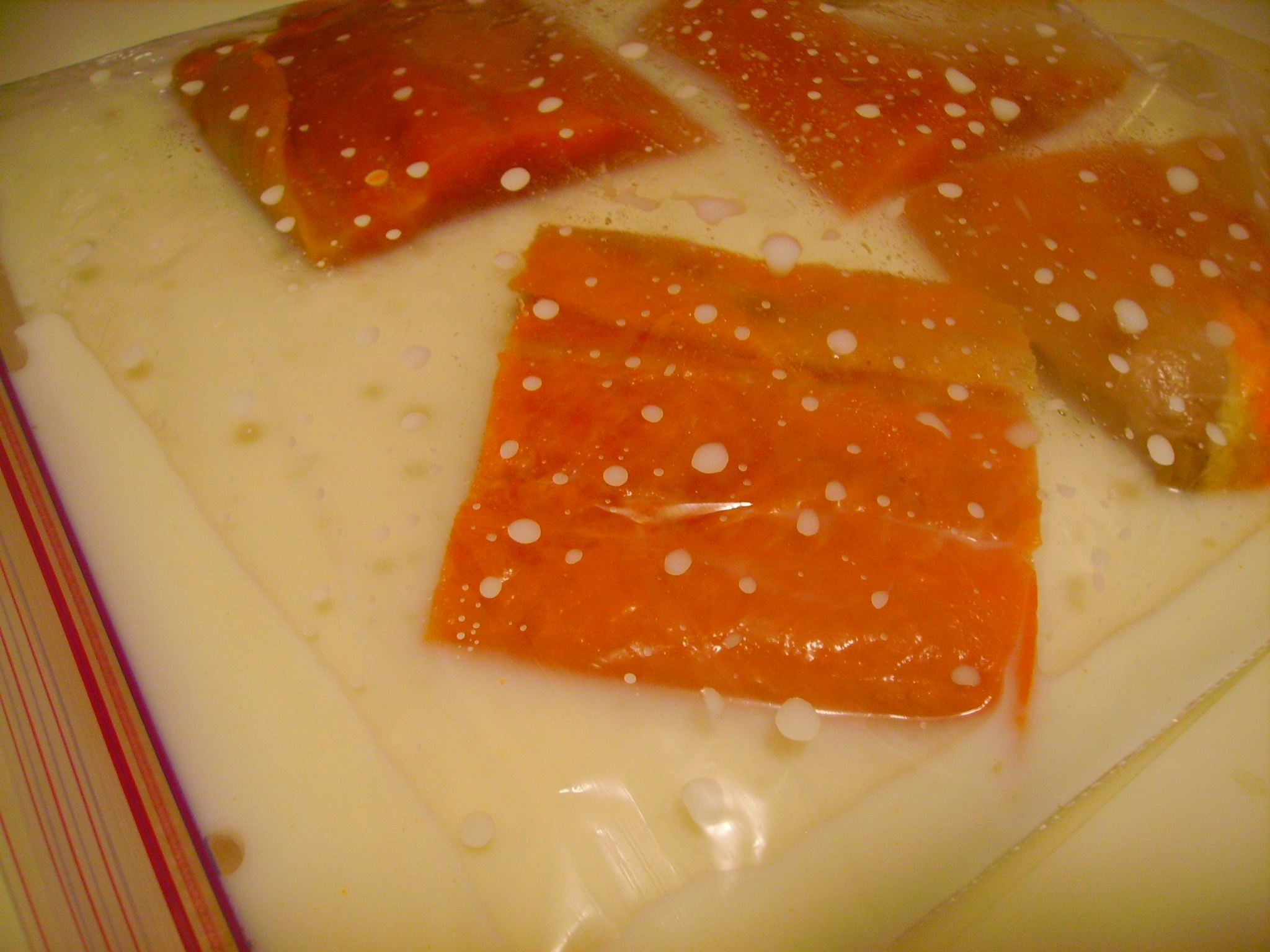 First, place the salmon fillets in a gallon-size Ziploc. Pour in the milk and seal the bag; let it sit for 10 minutes or so while you prepare the pecan coating.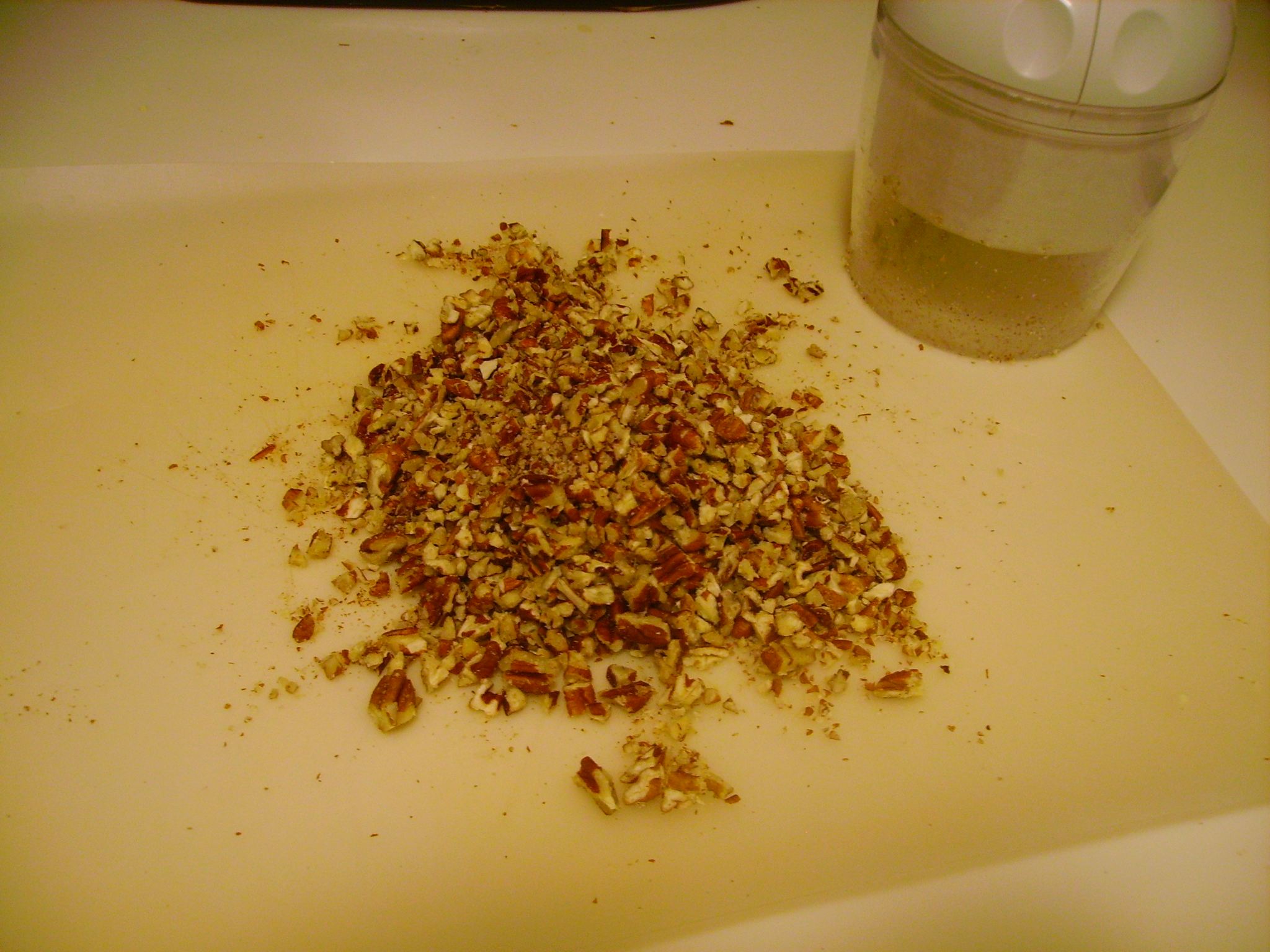 Chop up the pecans very finely. For this, I like to use my handy dandy slap chop…this saves oodles of time and makes the pecans nice and relatively even and small. Yay! Of course, you can also chop with a knife, but it will just take a bit longer.
Combine the chopped pecans with flour, brown sugar, seasoned salt, and pepper.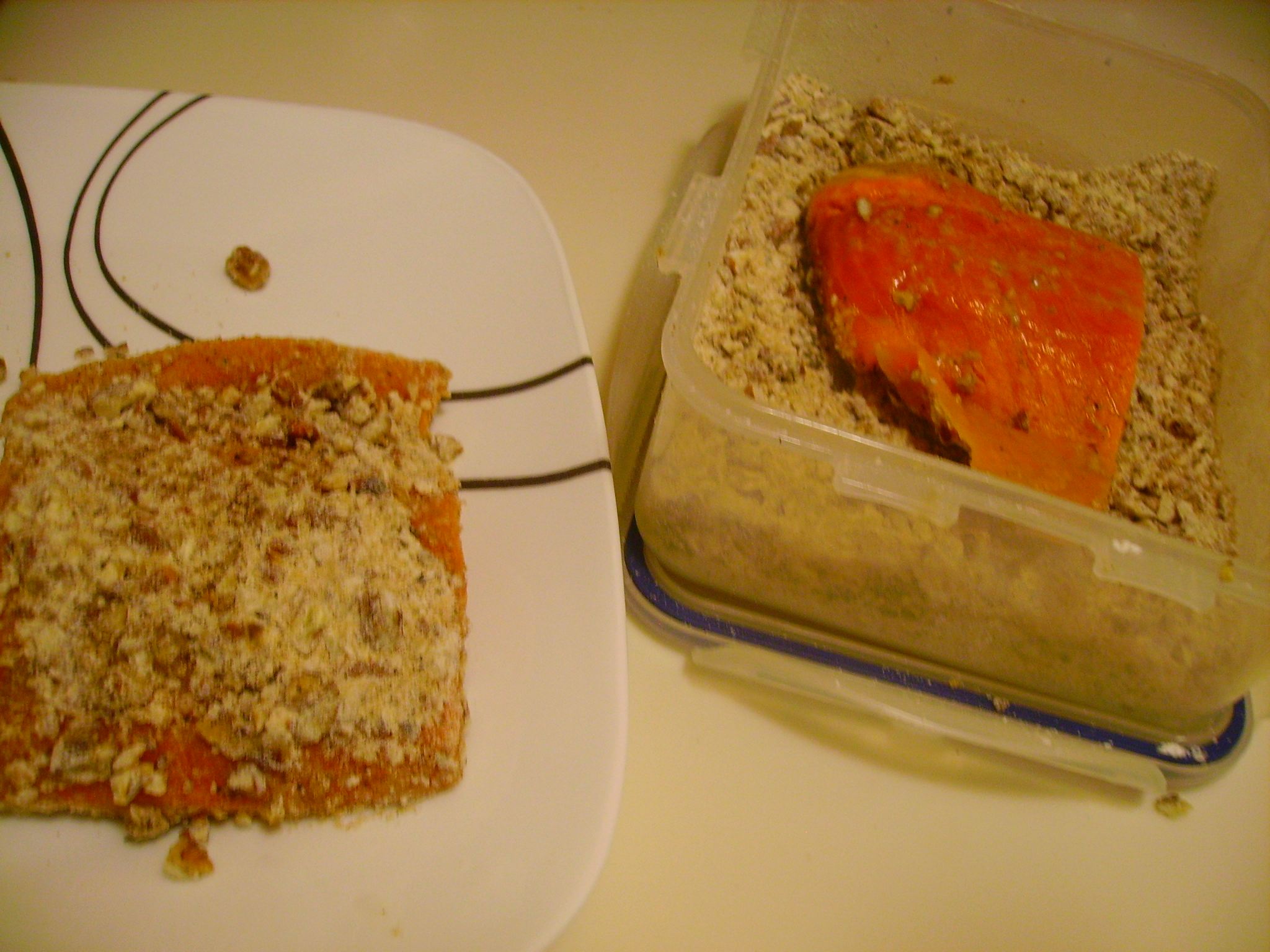 Remove the salmon from the bag and press it into the pecan coating. For me, this took a bit of doing, as the coating didn't really want to stay on. I mostly scooped it onto the fish and pressed, rather than trying to pick it up by pressing the fish down onto the coating.
Heat a little oil in a large skillet over medium heat. Don't let it get too hot, or the pecans will burn the second you place the fish in the pan. Brown the fish in the skillet, just a minute or so on each side.
Transfer the fish to a baking dish or cookie sheet. Bake at 400° for 8–10 minutes. I baked for 9 minutes, which turned out to be a little too much in my case, as my fillets were not that thick. Oops! Lesson learned: if your fish takes a little longer to brown, or they are not terribly thick, then test them a little early, around 6 or 7 minutes, to see whether the centers are firm and flake easily.
When the fish are cooked, heap a little of the extra pecan coating on top and serve.
Pecan-Crusted Salmon
from Mom
serves 4
Ingredients:
4 6oz. salmon fillets
2 cups milk
1 cup finely chopped pecans
½ cup flour
¼ cup brown sugar
2 tsp. seasoned salt
2 tsp. black pepper
3 tbsp. vegetable oil
Directions:
Place salmon fillets in a large resealable plastic bag; add milk. Let stand for 10 minutes then drain.
In a shallow dish, combine the pecans, flour, brown sugar, seasoned salt, and pepper. Coat fillets with pecan mixture, gently pressing into fish.
In a large skillet, brown salmon in oil over medium heat—be careful not to burn the nuts. Transfer to a baking sheet.
Bake at 400º for 8–10 minutes or until fish flakes easily with a fork. Coat fillets with remaining pecan mixture.
Enjoy!