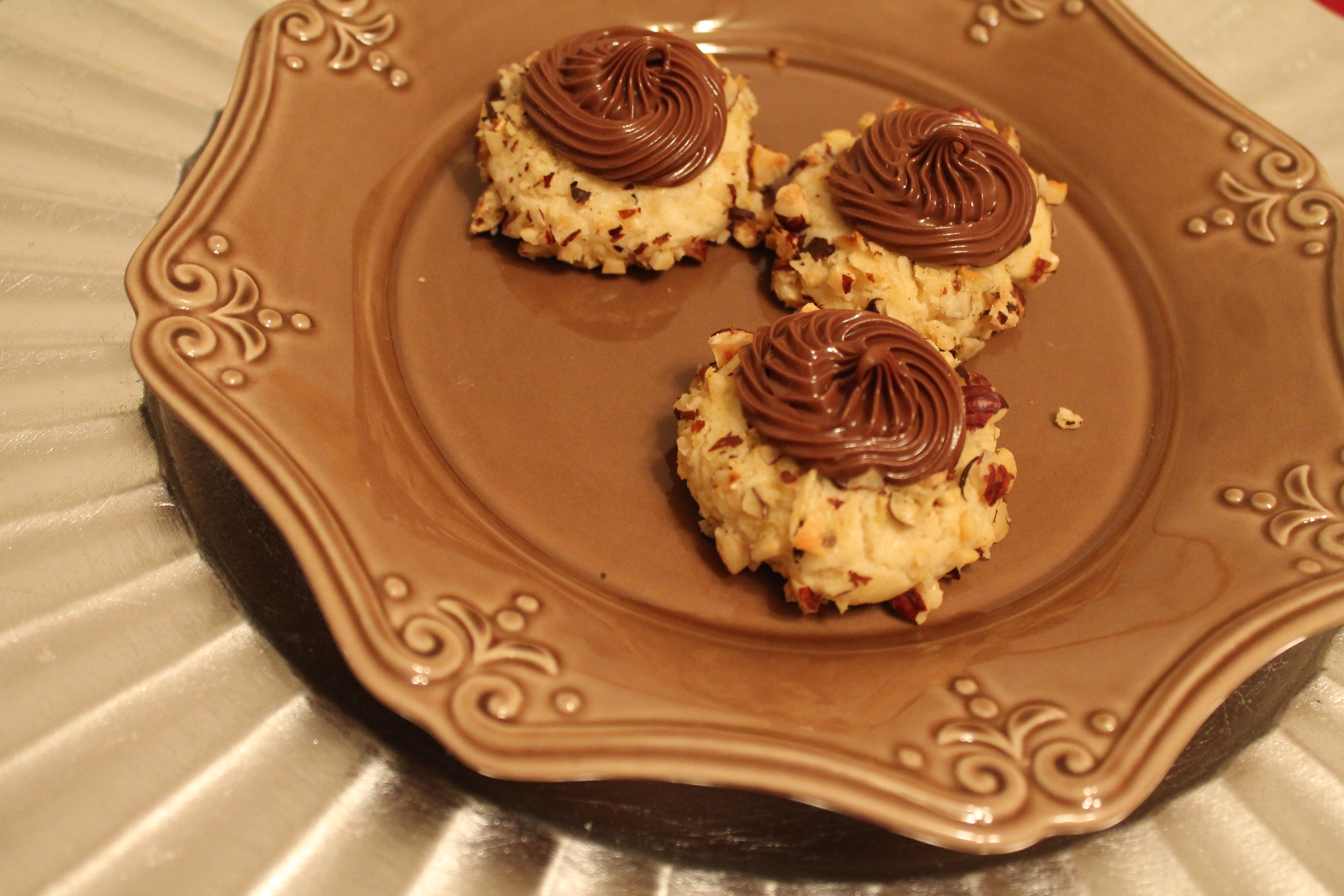 Okay, I don't know about you, but December is a really busy time of year for me. And it's not just Christmas–my husband's birthday is also in the middle of December! Plus, with baby Jake hanging around, demanding us to cuddle with him and coo with him, it just seems like the whole month passed by in a whirlwind.
This year, we decided not to have our annual cookie party (alas!). I just didn't have time to make 12 different kinds of cookies like I did last year. But that doesn't mean I didn't think about cookies and long for cookies…I mean, really, a Christmas season without any cookies at all is just a travesty.
So in case you are looking for one last interesting cookie to bring to friends or set at your table, here is a new favorite of mine: hazelnut kisses! Sugar cookies rolled in shards of hazelnuts, topped with a generous swirl of Nutella? Yes, please!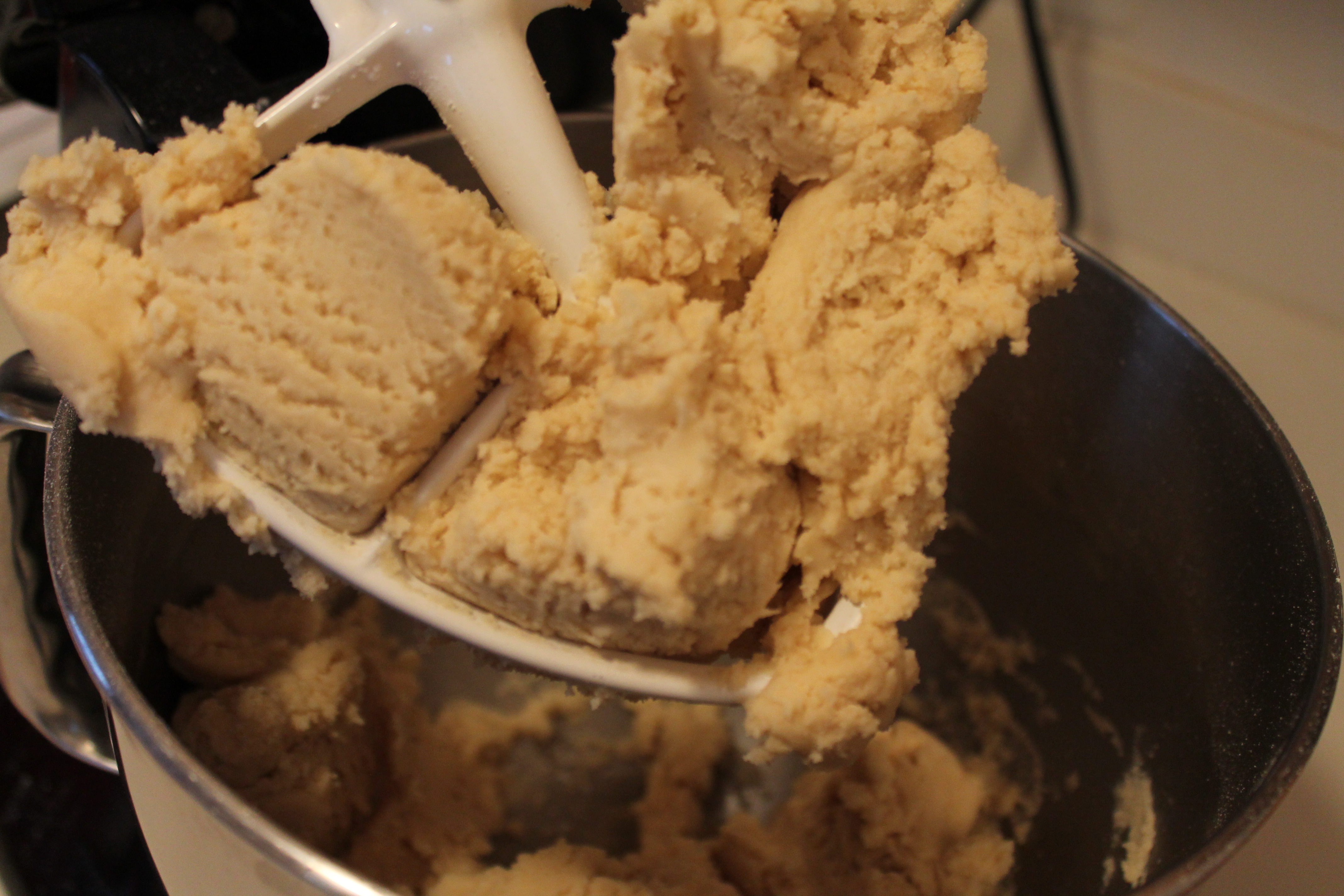 Start by making a batch of your favorite sugar cookies. I, personally, love Betty Crocker's recipe, which I included below. She can't go wrong. But if you want to go with a different sugar cookie recipe…or (gasp!!) use packaged sugar cookie dough…increase the flour by ½ cup so they will hold a firmer shape.
Let the dough chill for 30 minutes. Then, using a 1″ cookie scoop, scoop out evenly-sized dough balls onto a parchment paper–lined cookie sheet.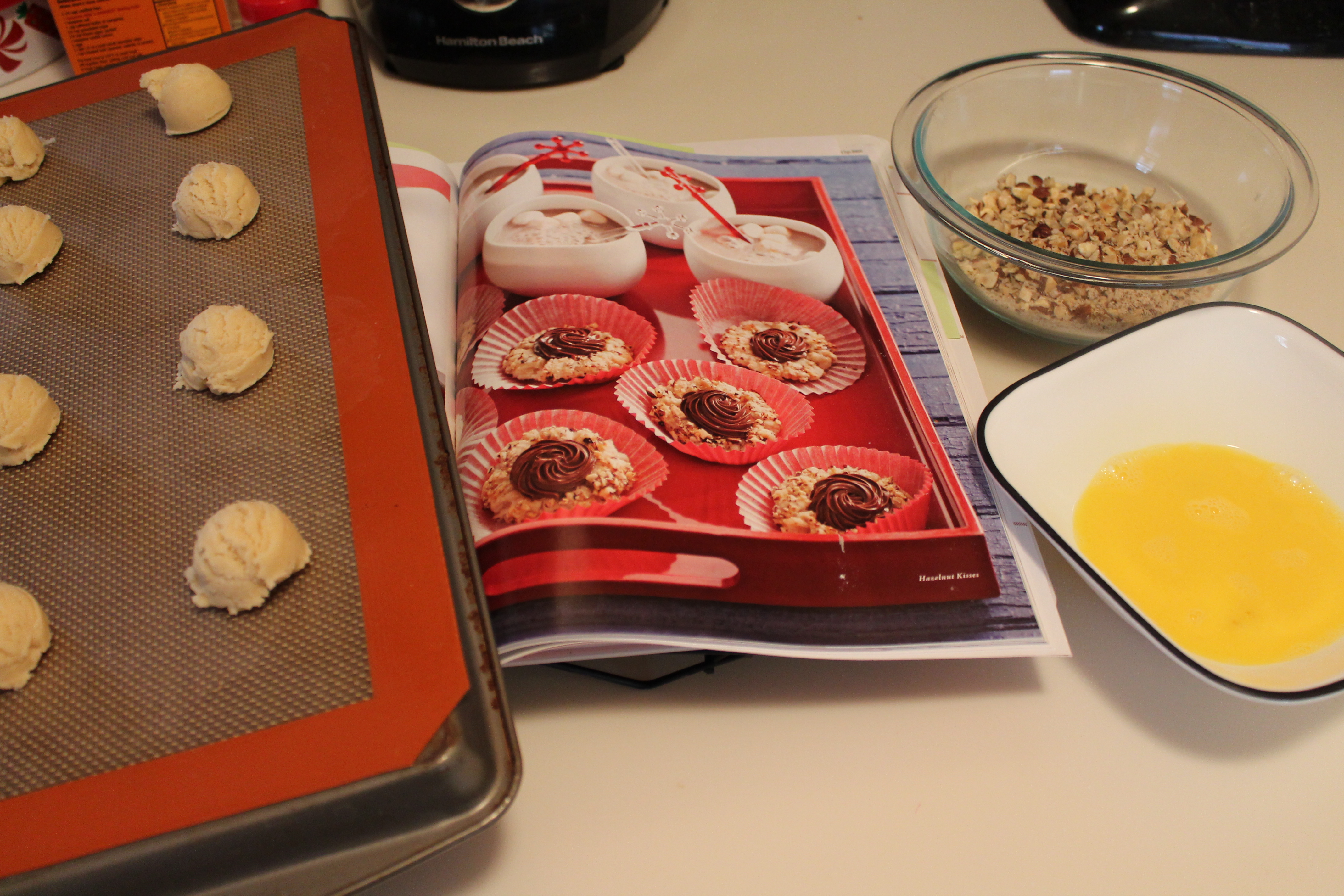 Next, grab two bowls to use in coating the cookie dough balls in hazelnuts. Fill one with a mixture of lightly beaten egg and water. Fill the other with finely chopped nuts. I mean, really chop them finely. Chop them until you think they can't possibly get any smaller, then chop them some more. Otherwise you will end up having a hard time coating the cookies, and they will have these giant honking pieces of nut all over them. No good.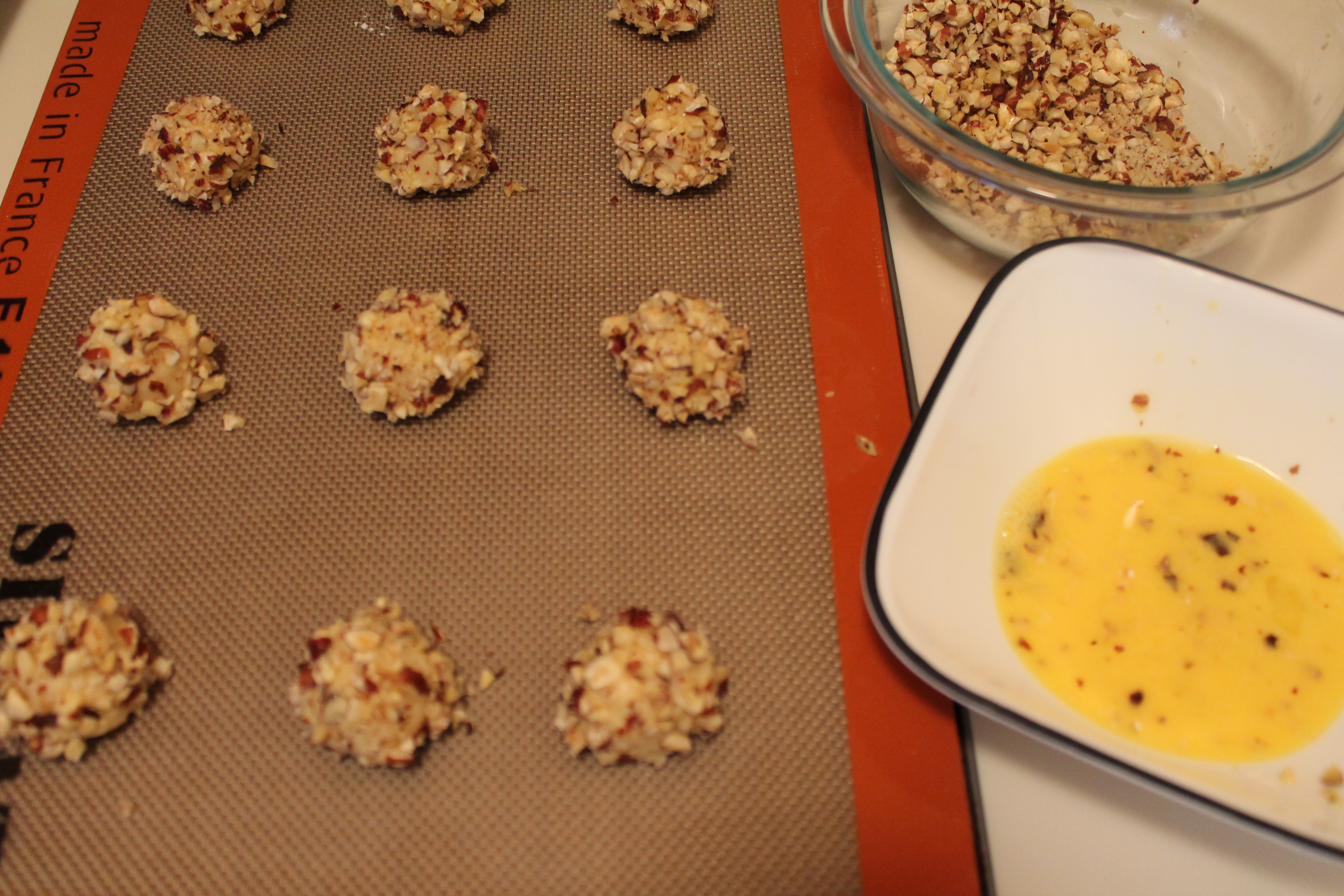 Now comes the tedious part. Dip each cookie ball in the egg mixture, then roll around in the nut mixture, covering the whole dough ball evenly. I recommend using one hand for each bowl, meaning that when you scoop the dough out of the egg mixture and drop it into the nuts, you should switch hands for the coating process. It's not a huge deal if you don't do this (and you can see from my picture that I did a few cookies all with the same hand…) but it will keep you from coating your fingers in nuts, and also keep your egg mixture nut-free.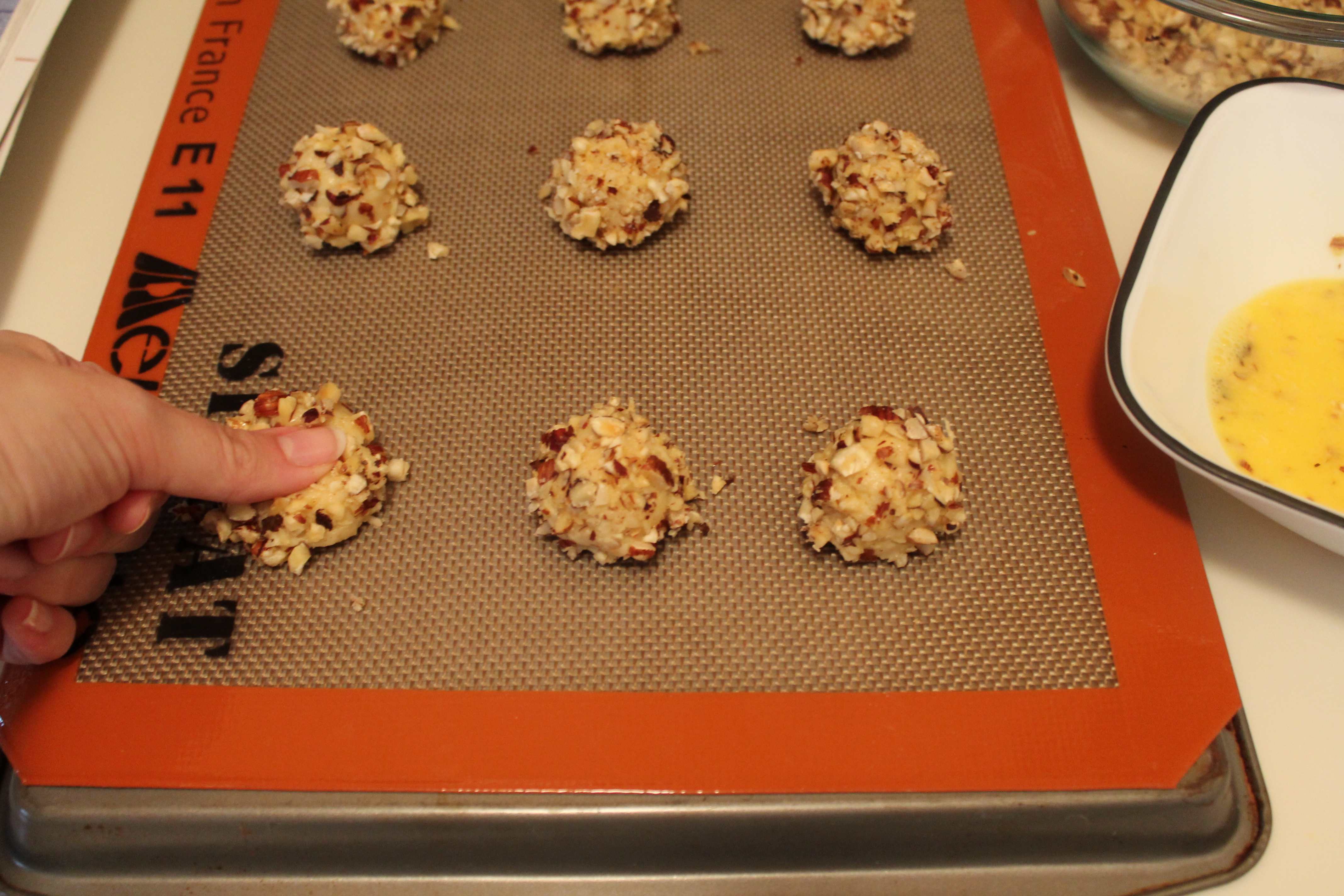 Set the coated cookies back on the cookie sheet. Give them a thumbprint (try not to make it too deep…and if the dough cracks around the edges, just press it back together until it is circular again).
Bake for 10 minutes at 375°.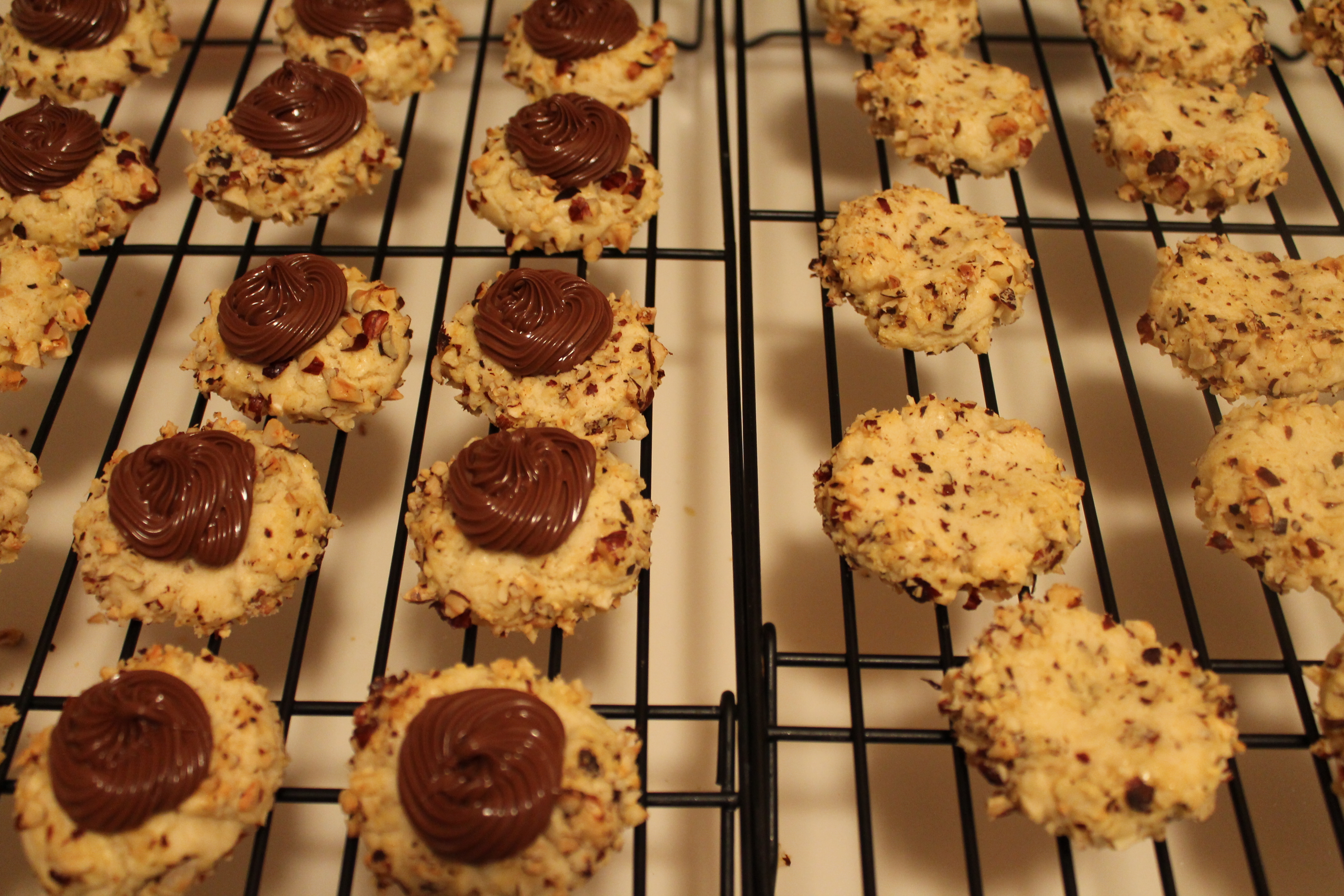 Let the cookies cool completely on a wire rack. Then grab a pastry bag (or a large Ziploc) and fit it with a nice, start-shaped pastry tip. Fill the bag with Nutella and go to town. I used quite a lot of Nutella on my cookies, probably almost 1 tbsp. each, because I love Nutella. You can really use as much as you want, but keep in mind that the cookies themselves are a bit dry and crumbly, and the nuts really cut into the sweetness, so Nutella adds back a bit of moisture and a great chocolatey note. Yum!
P.S., I found it useful to chill the cookies for about 30 minutes to help the Nutella set a bit. This made them easier to arrange later. I also only frosted about half of them initially to bring to a Christmas party; the unfrosted cookies were very easy to store, and then I could add a dollop of Nutella to each when I was ready to sample another one!
Hazelnut Kisses
adapted from Better Homes and Gardens, Christmas Cookies Edition 2012 and Betty Crocker
makes almost 5 dozen
Ingredients:
1 cup salted butter, softened
1½ cups confectioner's sugar
2 eggs, divided
1 tsp. vanilla extract
½ tsp. almond extract
3 cups flour
1 tsp. baking soda
1 tsp. cream of tartar
2 tsp. water
1½ cups very finely chopped raw hazelnuts
1½ cups Nutella or other chocolate-hazelnut spread
Directions:
Thoroughly mix butter, confectioner's sugar, 1 egg, and extracts. Blend in flour, baking soda, and cream of tartar. Cover; chill 30 minutes.
Preheat the oven to 375°. Line two baking sheets with parchment paper.
Scoop 1″ balls of dough onto the prepared cookie sheets.
In a medium bowl, whisk together the remaining egg and the water. Place chopped hazelnuts in a second bowl.
Dip each cookie ball first in the egg mixture, then into the nuts. Roll around and press the nuts into the dough if necessary. Set cookies back on the sheet about 2″ apart. Press your thumb or the back of a teaspoon into the cookies to create an indentation.
Bake for 10 minutes, or until golden. Remove to a wire rack to cool. If the cookies have puffed up during baking, gently press the centers back down.
When the cookies are completely cool, fill the indentations with Nutella.
Enjoy!