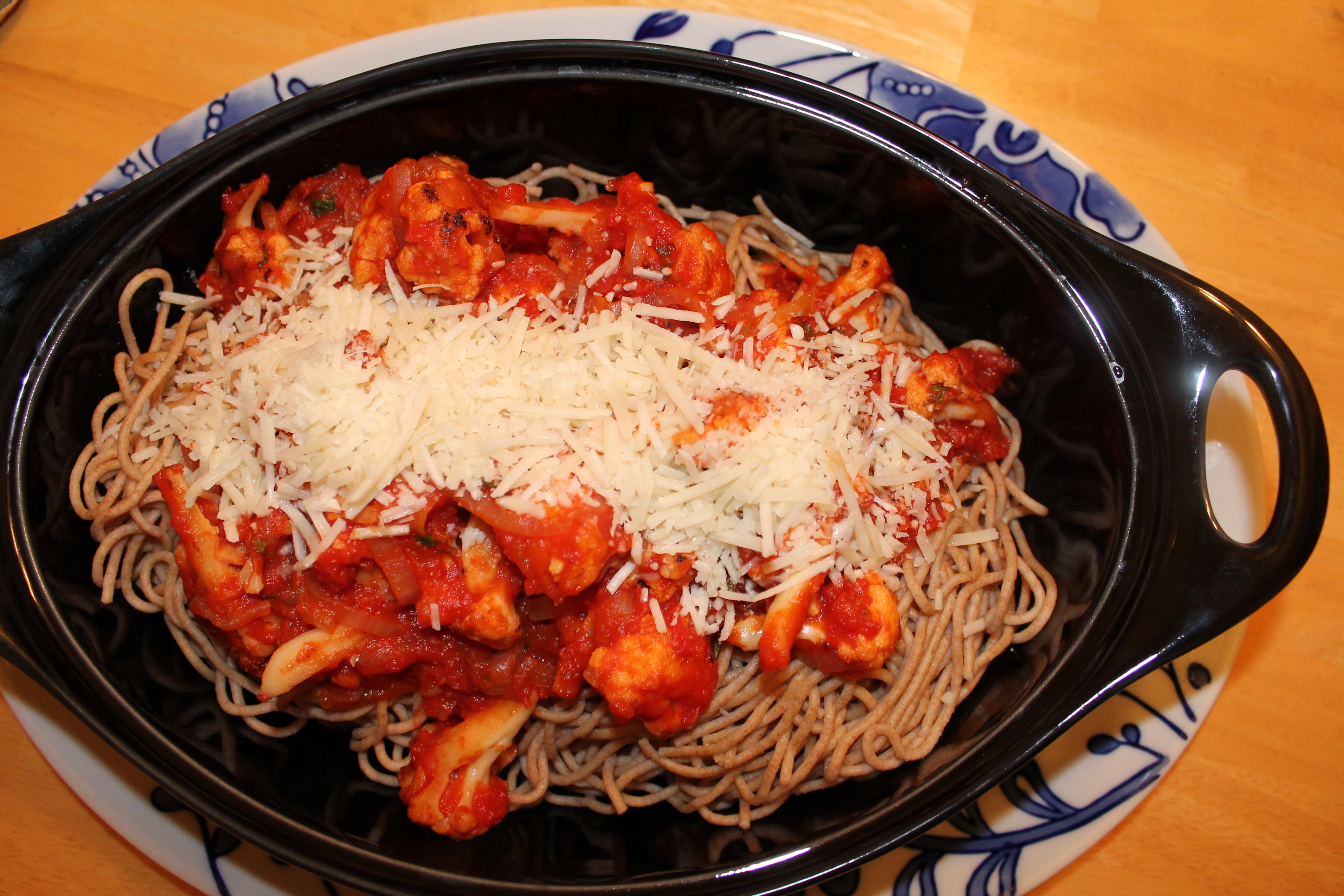 Okay, so last time I told you about making my own pasta. Super yum! But this time, we should talk about delicious pasta sauce. Pasta sauce with sautéed cauliflower in it. And onions. And crushed red pepper.
I'm hungry again just writing about it.
This sauce is easy to make and uses a vegetable that I, personally, think subs well for meat when combined with juicy tomatoes (is that silly?…I mean it's nothing like meat, but it adds a nice toothsome bite). As you sauté it with crushed garlic, it takes on a deep, crusty flavor that really brings the sauce to life.
From start to finish, this meal took about 30 minutes, including making a salad. It's a weeknight must!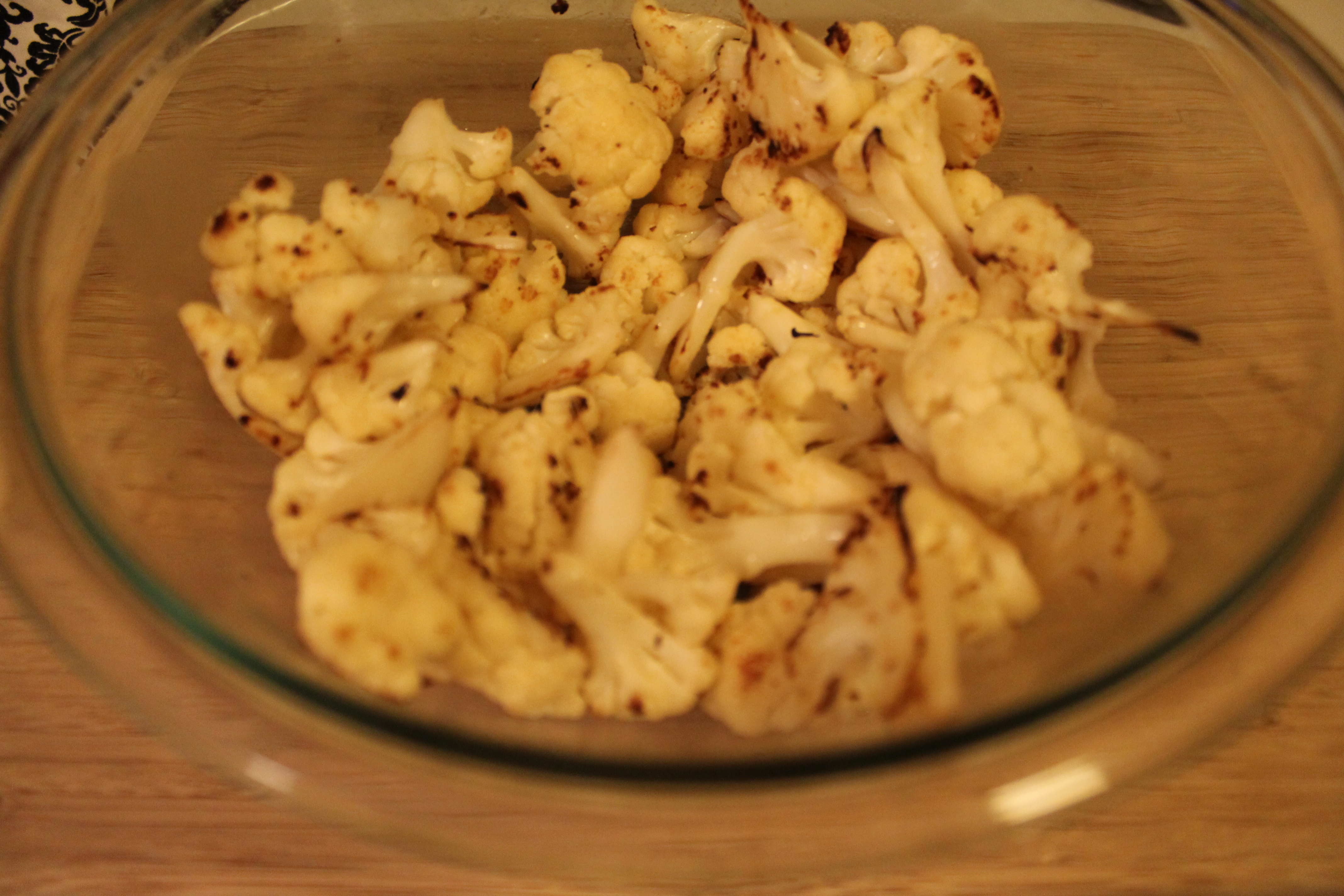 Chop up your cauliflower into small pieces. The original recipe called for 1″ chunks, which Dave and I decided were a bit too large. Next time, I will just chop into mini-bites. Also, peel and crush several cloves of garlic with the flat of your knife.
In a very large pan, sauté the cauliflower and garlic in a little olive oil, about 20 minutes. This will seem like way too long, but just stir regularly and keep going.
Finally! Remove the cauliflower from the pan. Pick all of the crushed garlic out, along with any particularly blackened little pieces of cauliflower.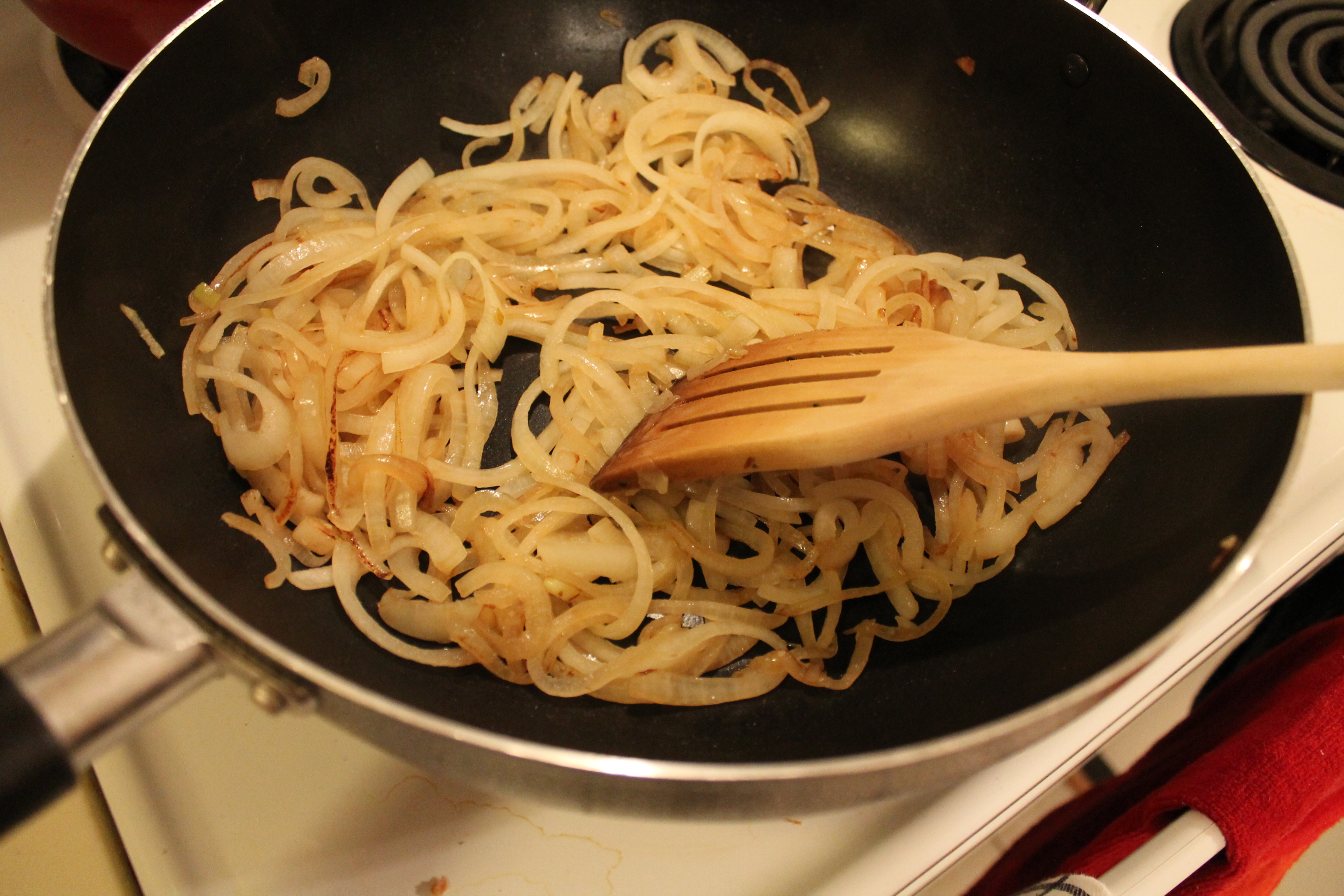 Sauté thinly sliced onions in another small splash of oil. When they are slightly browned, add in the crushed tomatoes and crushed red pepper. Now, crushed red pepper is not for the faint of heart, but if you want this sauce to have any heat at all, you must add at least 1 tsp. For a completely spice-less sauce, you should still add ½ tsp. to give the tomatoes a bit of depth. I, personally, recommend going for the larger amount of pepper and bringing the pepper to the table for an extra sprinkle when you serve the pasta.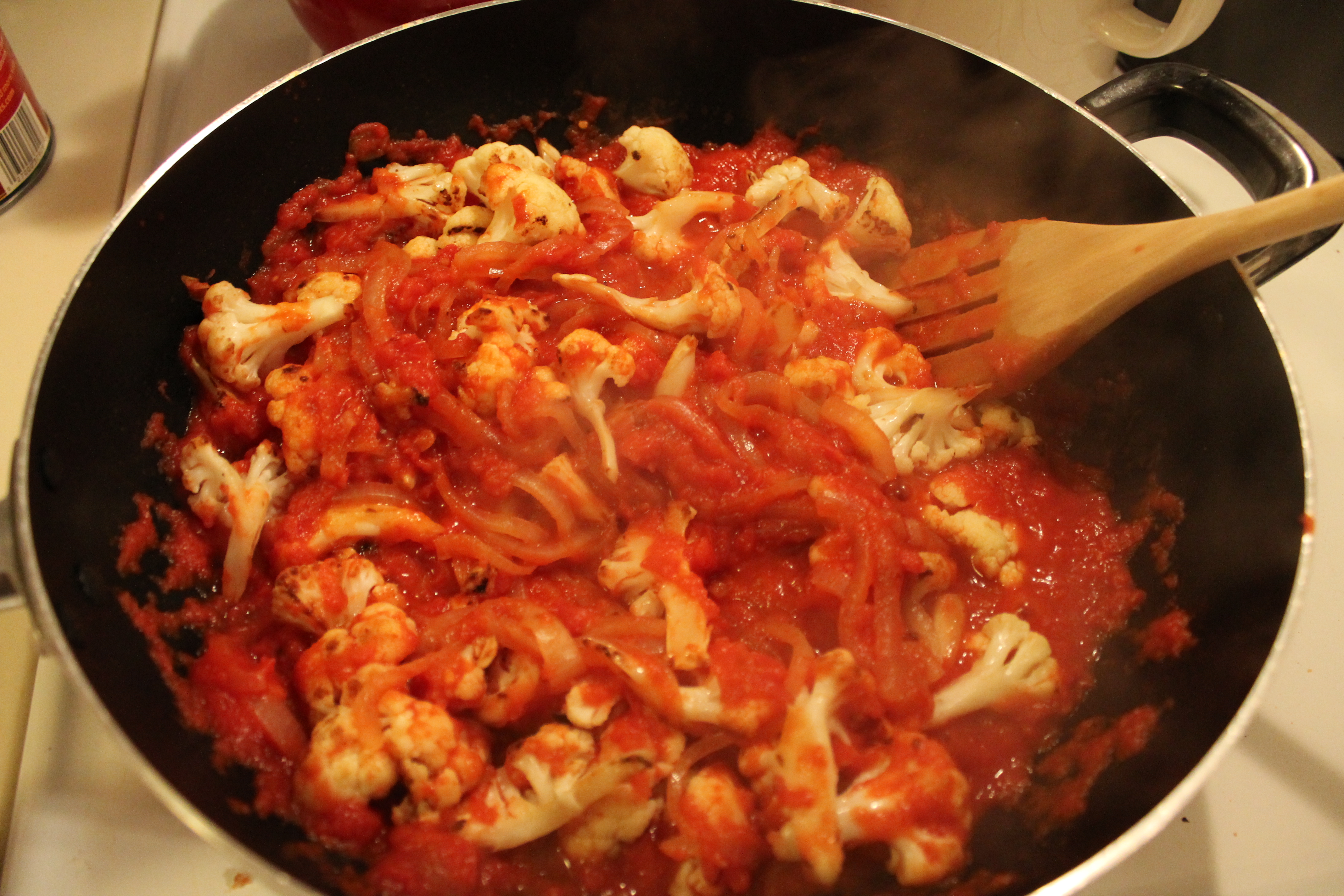 When the sauce has thickened slightly, add the cauliflower back to the pan, along with chopped parsley. Season with salt and pepper (okay…I am forever forgetting to season things while I am cooking…I can be a bit scatterbrained. But isn't it better to salt at the table than to realize you over-salted when everything was in the pot? My main reason for telling you this is that I felt that the pecorino, which is quite salty, added enough seasoning for my taste. So just be cautious with your seasonings!).
Meanwhile, cook your pasta. Since I was working with fresh pasta, I dropped my noodles into the boiling water right after returning my cauliflower to the tomato sauce. If you are working with dried pasta, you should set it in to boil at the same time as you begin cooking your onions.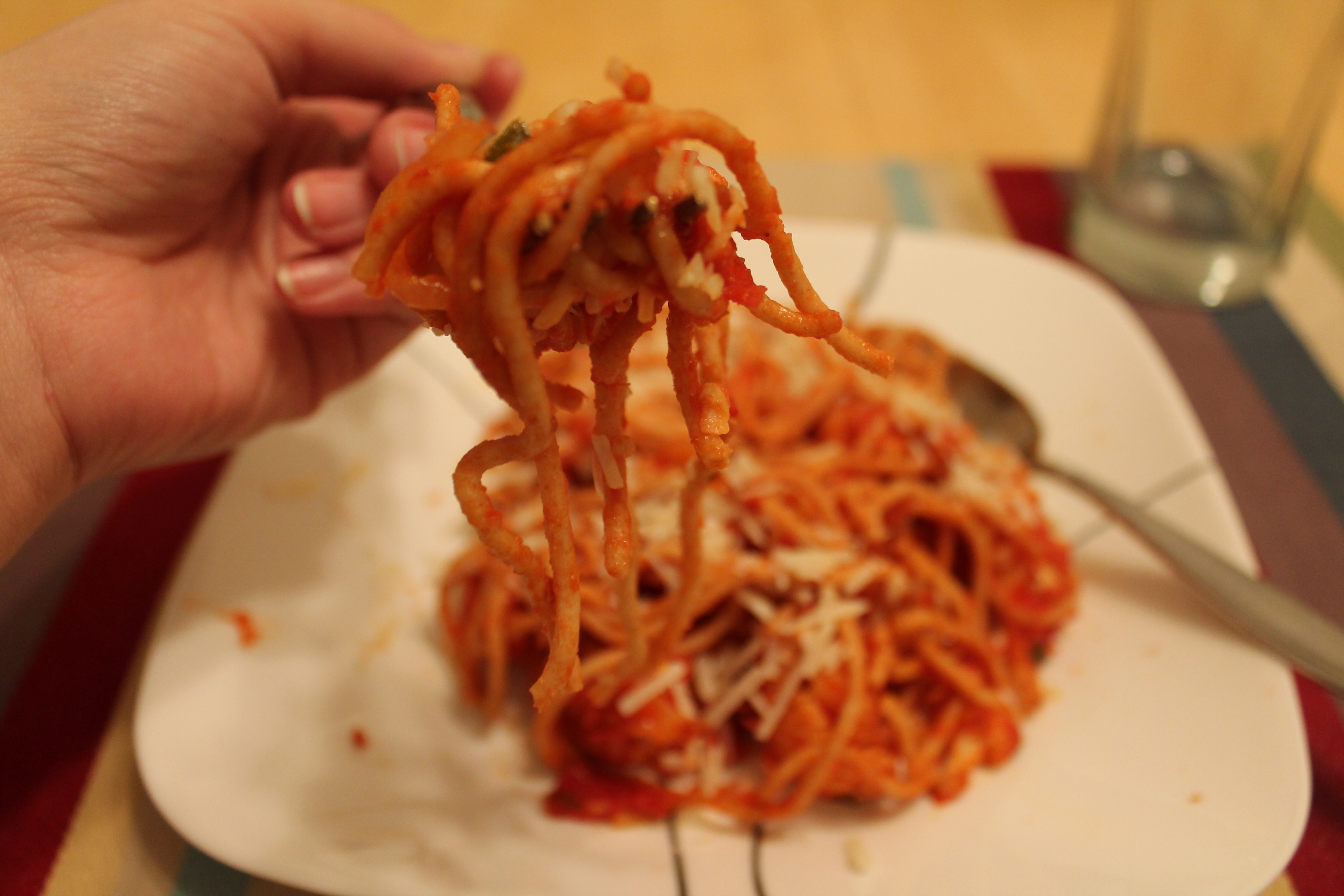 When your pasta is cooked and drained, and the cauliflower in the sauce is heated through, toss the noodles with the tomato sauce and about half of the pecorino. Set the rest of the cheese on the table for people to sprinkle atop their heaping plates of pasta!
Spaghetti with Spicy Cauliflower Sauce
adapted from The Complete Book of Pasta and Noodles
serves 4–6
Ingredients:
¼ cup olive oil, divided
1 medium head cauliflower, trimmed and cut into ½″ florets
5 medium cloves garlic, crushed
1 medium yellow onion, thinly sliced
28 oz. crushed tomatoes
1–1½ tsp. crushed red pepper
2 tbsp. minced fresh flat-leaf parsley
salt and fresh ground black pepper
1 lb. spaghetti
½–1 cup grated pecorino
Directions:
Heat 3 tbsp. oil over medium heat in a large, heavy-bottomed skillet. Add the cauliflower and garlic. Sauté, stirring occasionally, until the cauliflower is golden, 15–20 minutes. Remove from skillet. Pick the garlic out from the cauliflower and discard.
Add the remaining 1 tbsp. olive oil and the onion to the pan and cook until golden brown, 7–10 minutes.
Add the tomatoes and red pepper to the onion and cook until slightly thickened, 2–3 minutes. Return the cauliflower to the pan and heat through, 2–3 minutes. Stir in the parsley. Season with salt and pepper to taste.
Meanwhile, cook the pasta according to package directions. Drain and return to the pot.
Stir the cauliflower sauce and ¼ cup pecorino into the pasta. Serve immediately with extra cheese and crushed red pepper.
Enjoy!