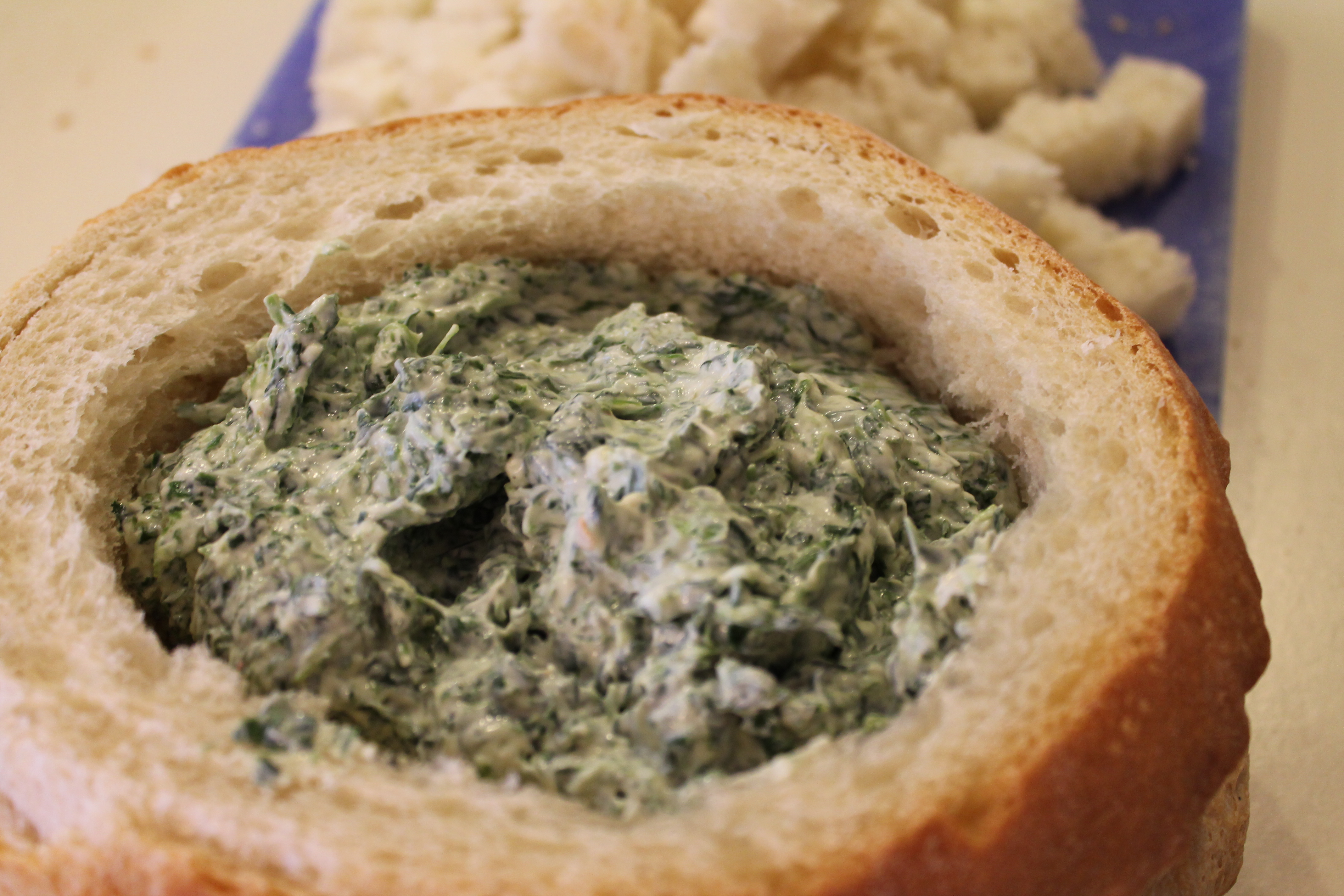 When I go to a Superbowl party, I like to camp out by the food table. I mean, I've said it before and I will say it again…I hate football. The only interesting thing on the TV all night will be the commercials. And with the exception of some creative and hilarious Snickers commercials a few years ago, they have also been going seriously downhill.
So it's really important that the food table be stocked with some amazing appetizers. Like this spinach dip!
It's so delicious, and a lot less gluttonous than you might imagine. (Not that it's good for you…let's not get carried away here.)
The best part about this dip is that you can make it in 5 minutes. Which is about how long it will take until it is gone. Maybe we should make a double batch.
Honestly, the only thing to this dip is a whiz through the food processor. If you don't have a food processor, you can still easily make it with a hand mixer or even a good, old-fashioned spoon!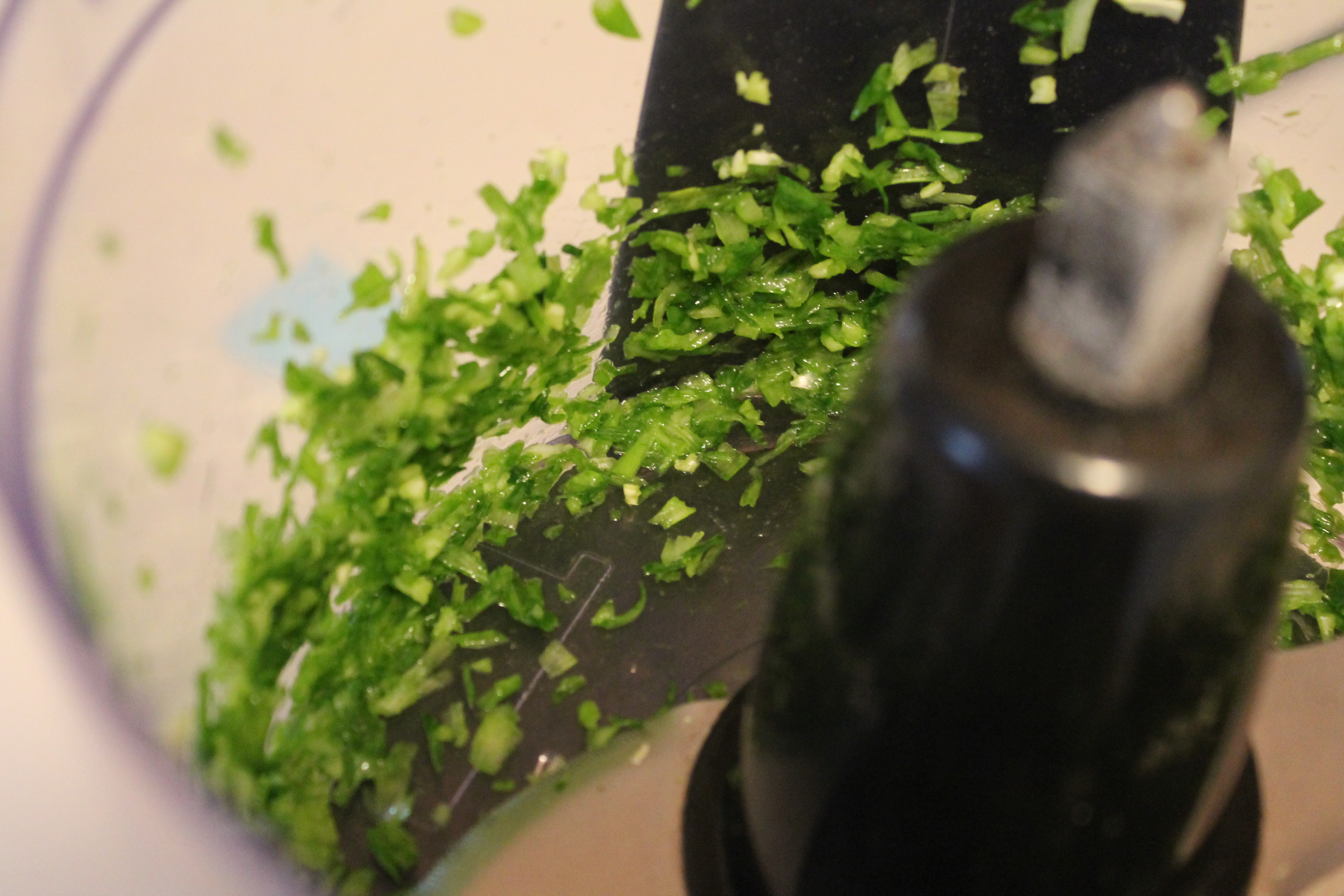 First, cut a handful of scallions and a large clove of garlic into a few pieces. Pulse in the food processor until they become very fine. (If you don't have a food processor, chop these finely.)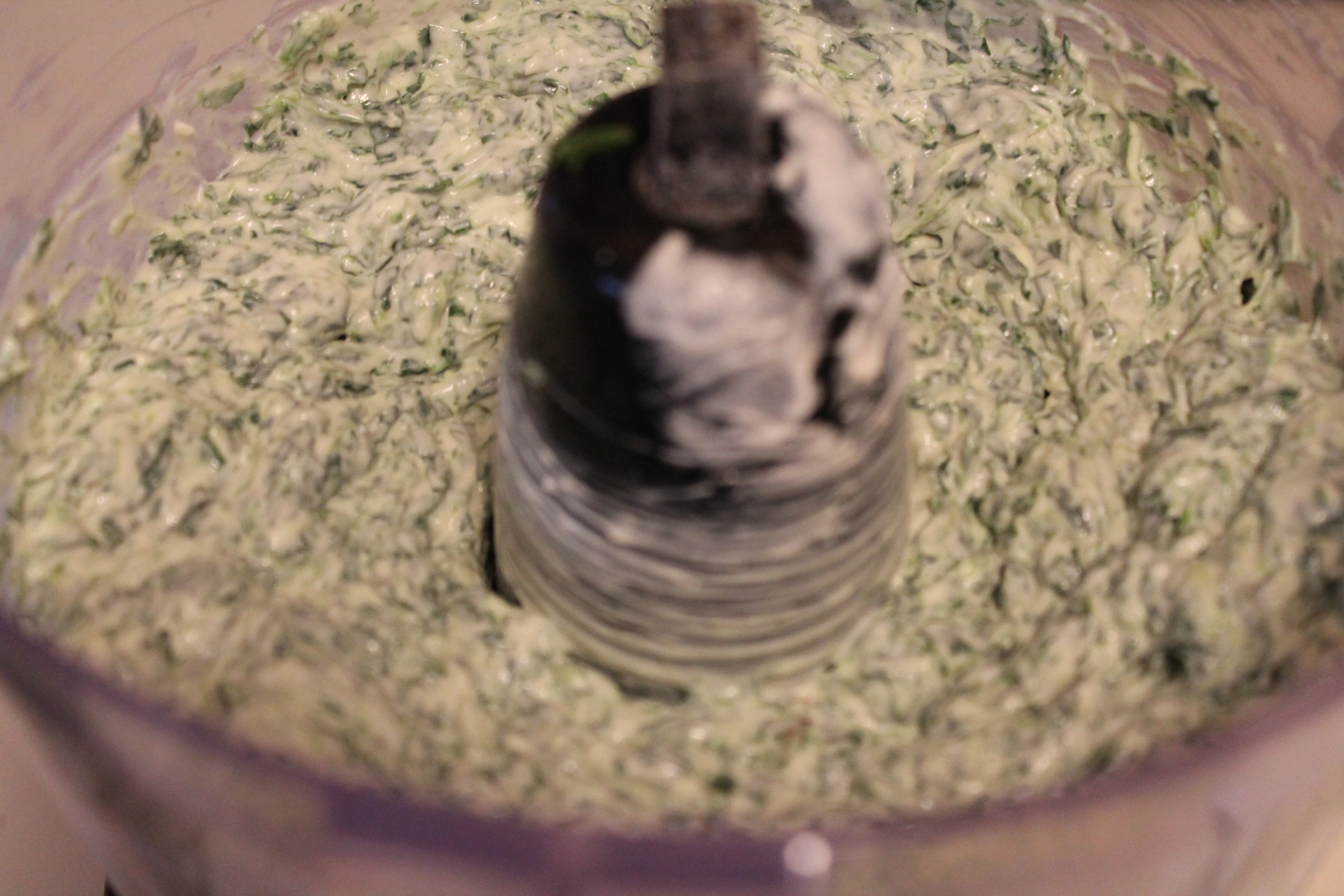 Add in all the rest of the ingredients and pulse until creamy. Or just stir by hand! Whatever boats your float, as a friend of mine from high school used to say.
Now, I like to serve my spinach dip in a bread bowl. I just buy a round of bread at the grocery store (try sourdough or a good country white), but you could also make your own! Then, making a bread bowl is a cinch.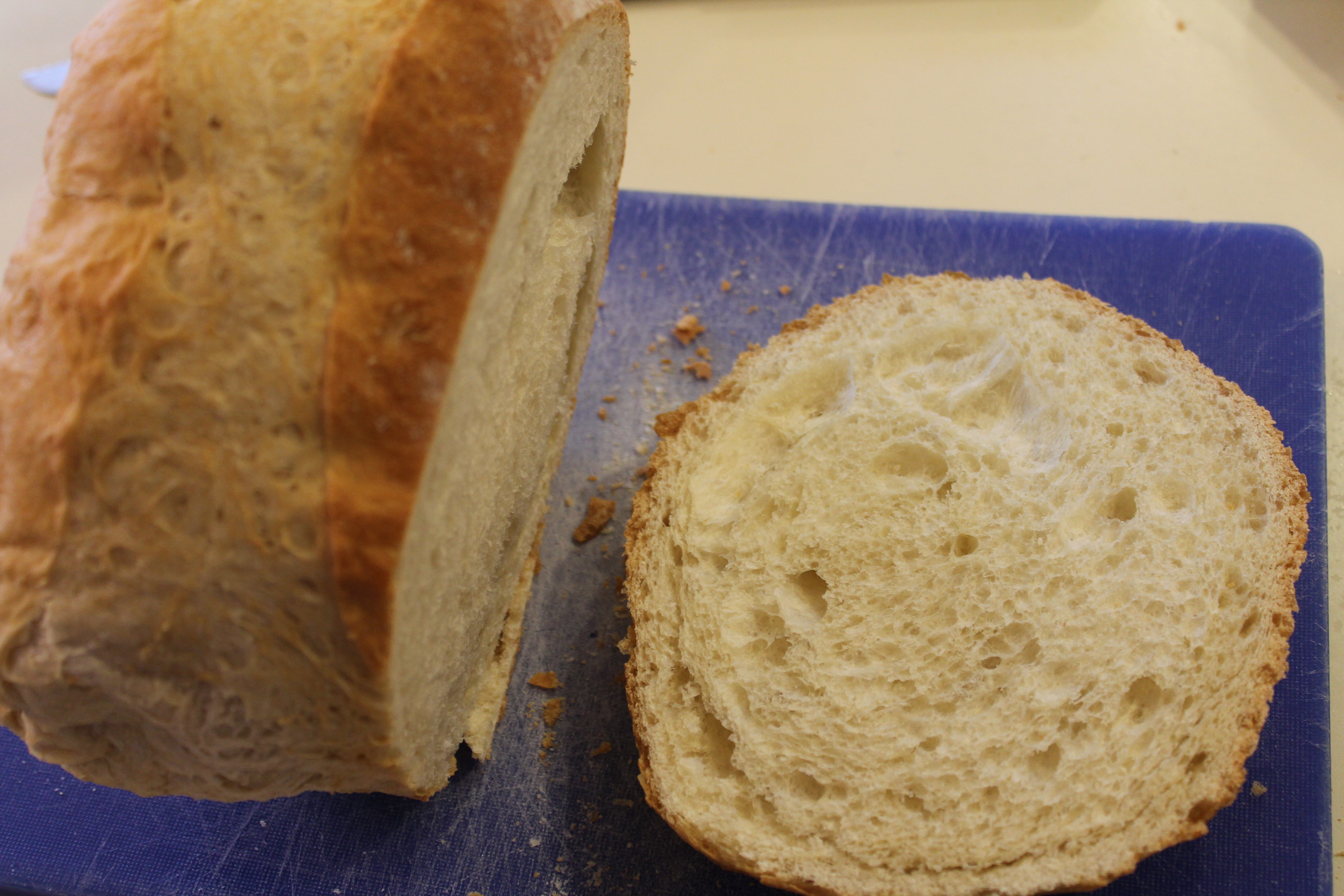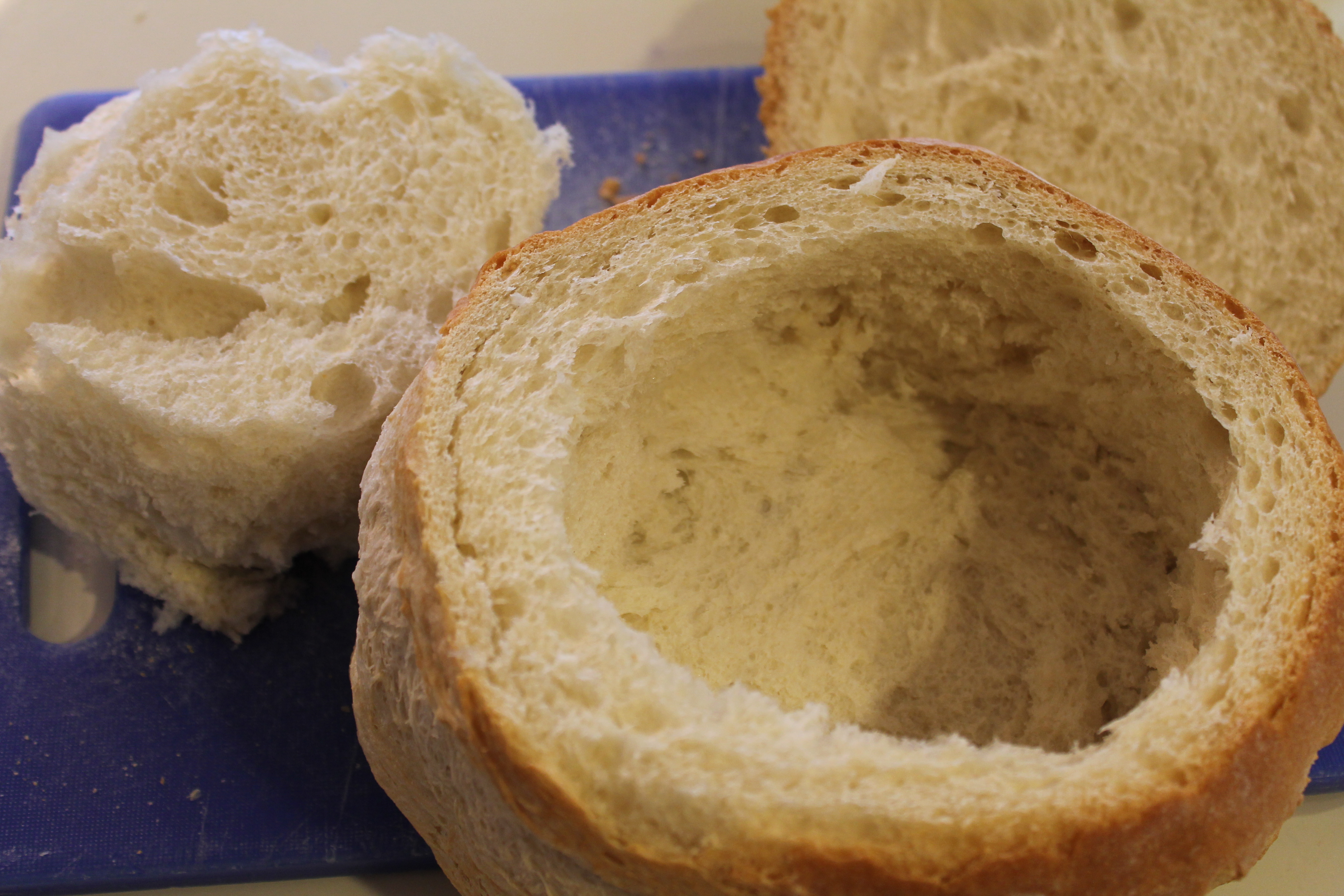 First, cut off the top of the bread with a large, serrated knife. Then, using a smaller serrated knife (or the big one, if you are slightly more dextrous than I am), cut a deep circle inside the bread, about an inch from the edges. Stick your fingers down into the slit you just made and grab the inside of the bread and pull. It should come right out in one big chunk, leaving a hollowed out bread round behind it.
Cut the inside of the bread (that is, the chunk you just pulled from the inside) into pieces, whatever size you like. I recommend aiming for larger chunks, though…I always get carried away and cut mine a bit too small, which means people end up getting slightly dippy fingers when they swipe the chunks through the spinach dip.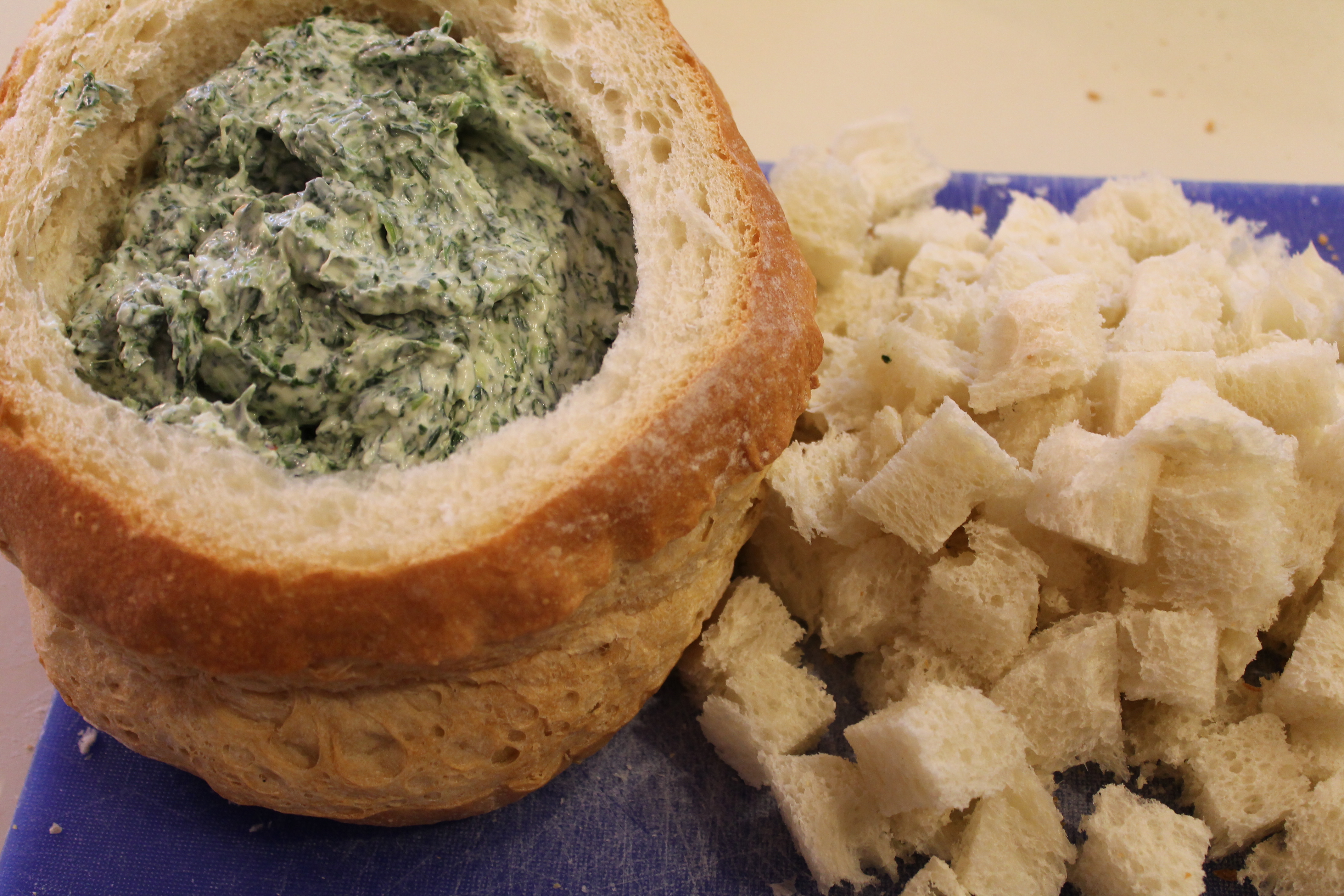 Just before leaving for your party/right before your guests arrive, scoop the spinach dip into the hollowed out bread bowl. Set the chunks of bread beside the bowl, and voilá! Appetizer heaven.
Spinach Dip
adapted from Food Network
serves 6–8
Ingredients:
1 large clove garlic
½ cup roughly chopped scallions, light and dark green parts
1 10oz. package frozen chopped spinach, thawed and drained well
1 cup low-fat sour cream
½ cup low-fat mayonnaise
½ cup low-fat cream cheese
1 tsp. Worcestershire sauce
1 tsp. fresh thyme
dash of hot pepper sauce (Texas Pete)
dash of crushed red pepper (optional)
½ tsp. salt
¼ tsp. white pepper
1 round loaf crusty bread (country white, pumpernickel, etc.)
Directions:
In a blender or food processor, finely mince the garlic and scallions. Add the remaining ingredients, except the bread, and blend until smooth. Taste and adjust the seasonings as needed.
The dip can be refrigerated for up to 2 days.
Just before serving, make a bowl out of the bread by cutting about 1″ off the top. Remove the bread from the center, hollowing out the loaf. Cut or tear the insides of the loaf into chunks for dipping.
Stir the dip well and place into the bread bowl.
Serve dip alongside the bread and some raw veggies for dipping.
Enjoy!