When I was a kid, my mom made the best brownies at all the church potlucks. I mean seriously, they were simple, fudgy, and sometimes topped by a colorful sprinkle of mini m&ms. Nothing compared!
And yet, time after time, we would come home from said potlucks with half the batch leftover. It was a complete mystery…how could our fellow worshipers not see that they were passing by the best plate of brownies on the table? They were making beelines for the more frilly desserts, the brownies with all the frosting or the cheesecake swirls. And yet for all their curb appeal, most of those fancy-looking desserts tasted exactly like crunchy cardboard.
Oh well, we figured. More for us! And we enjoyed the spoils of everyone else's dessert-selecting mistakes.
Memories of those beautiful, tasteless brownies at church potlucks haunted me, in a way. I developed a sort of bipolar snobbishness about my baking ("My food isn't pretty, but at least it tastes good!") on top of a massive case of low self-confidence ("Well I think it tastes good, but what if no one else likes what I bring, and then they think I'm a terrible baker, and I have to bring most of it home?").
I also eschewed such extravagances as cheesecake on my brownies.
Who really needs cheesecake on a brownie, anyway? Isn't it good enough when they are sweet and chocolatey and soft enough to melt in your mouth?
I obviously hadn't met these particular cheesecake brownies yet. The brownie part is rich and dark, and the tangy cheesecake is thickly swirled through the chocolate. Each bite dances with flavor. They are perfection!
(And yet, true to potluck form, when I brought these brownies to a party, half the batch came home with me. No joke. Oh well, more for me!)
Seriously, we need to make a batch of brownies right away. They will be beautiful and they will be swirly and you know what? They will be drool-worthy and delicious!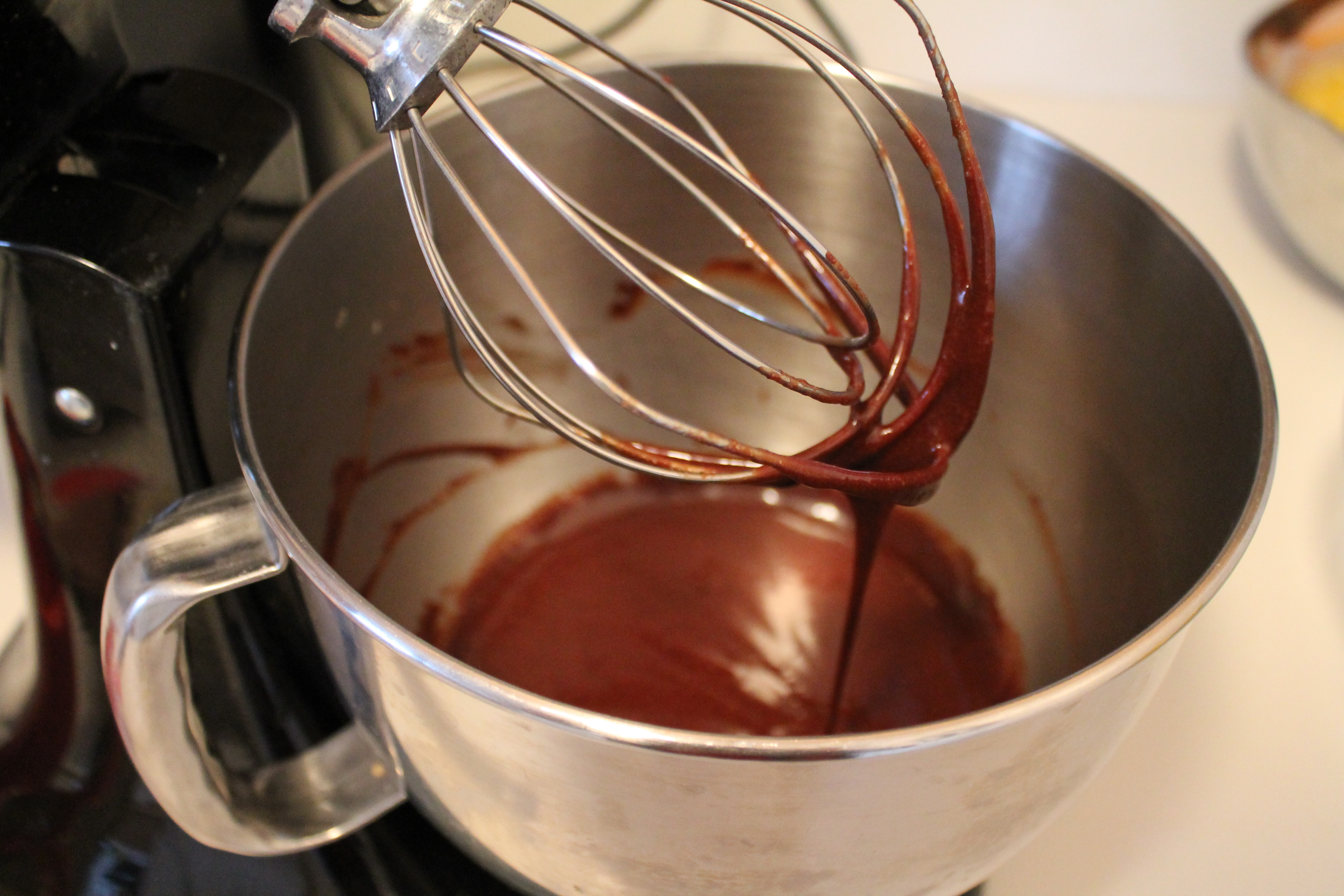 Melt your butter and chopped chocolate in a double boiler. I prefer bittersweet chocolate (in the 60–65% range) for the brownie base, because I don't want them to turn out too sweet. But in a pinch, you could definitely use chocolate chips and your brownies would still be amazing. If you don't have a double boiler, or don't want to make an extra dish dirty, you can easily just use a heatproof glass bowl or your mixer bowl over a small pot of simmering water. Whisk, whisk, whisk until everything is melted and lovely.
Add in the sugar, followed by the eggs, and whisk until thick and smooth.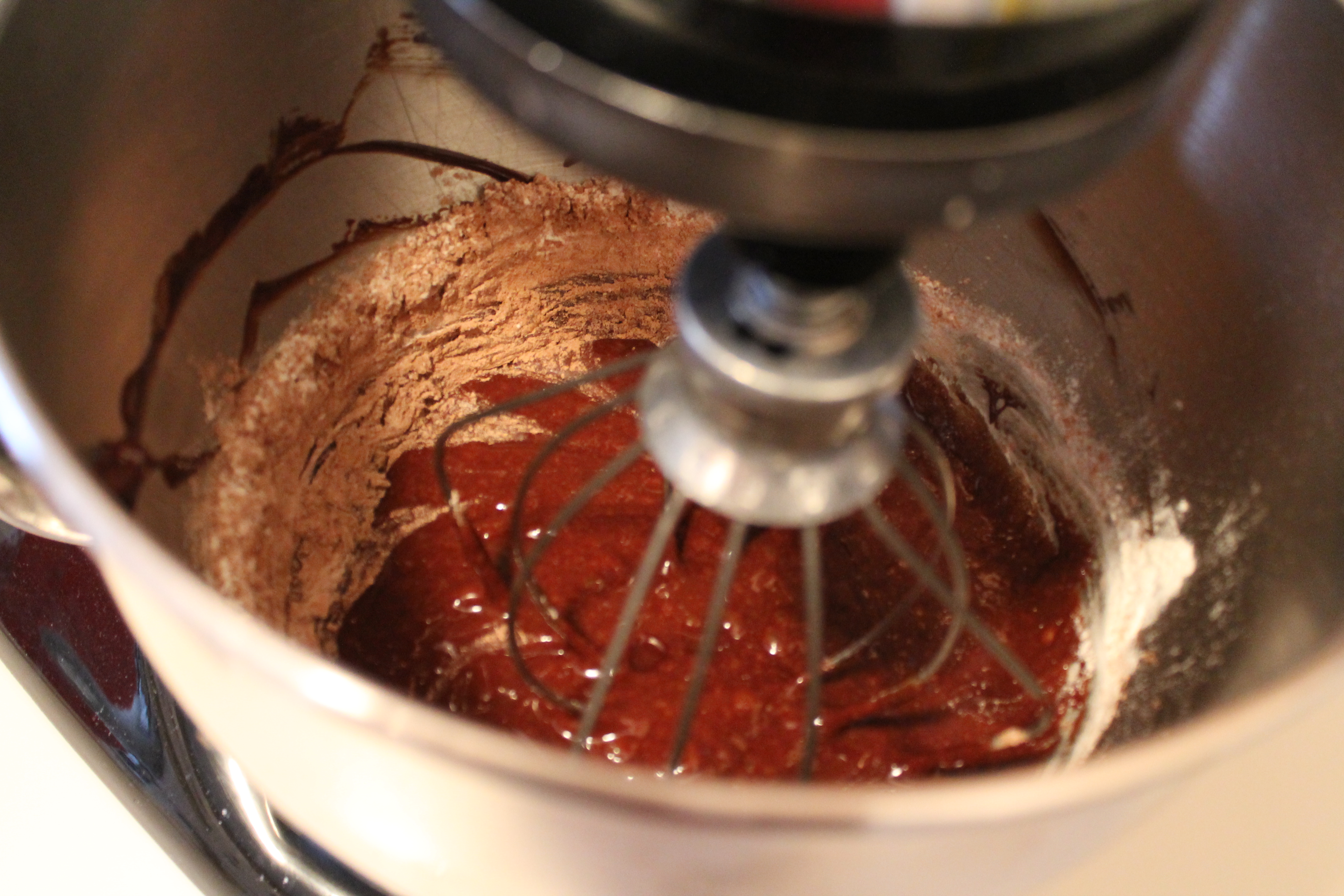 Stir in the flour, cocoa powder, and salt. Your batter should be glossy. You should lick the beater a little, just to make sure it tastes great. (It will.) Go ahead and stir in the chocolate chips.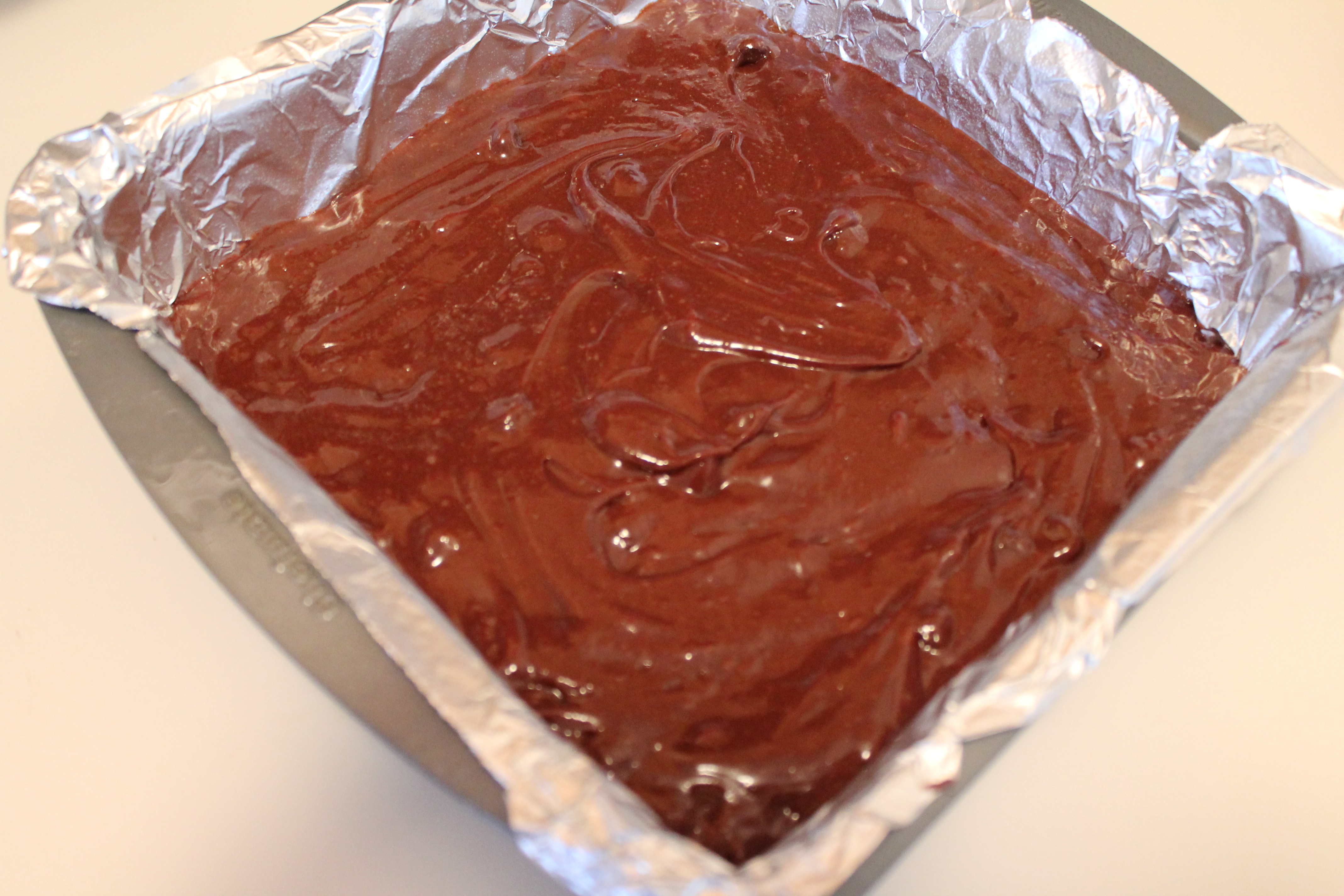 Pour the brownie batter into a foil-lined and greased 8″ square baking dish.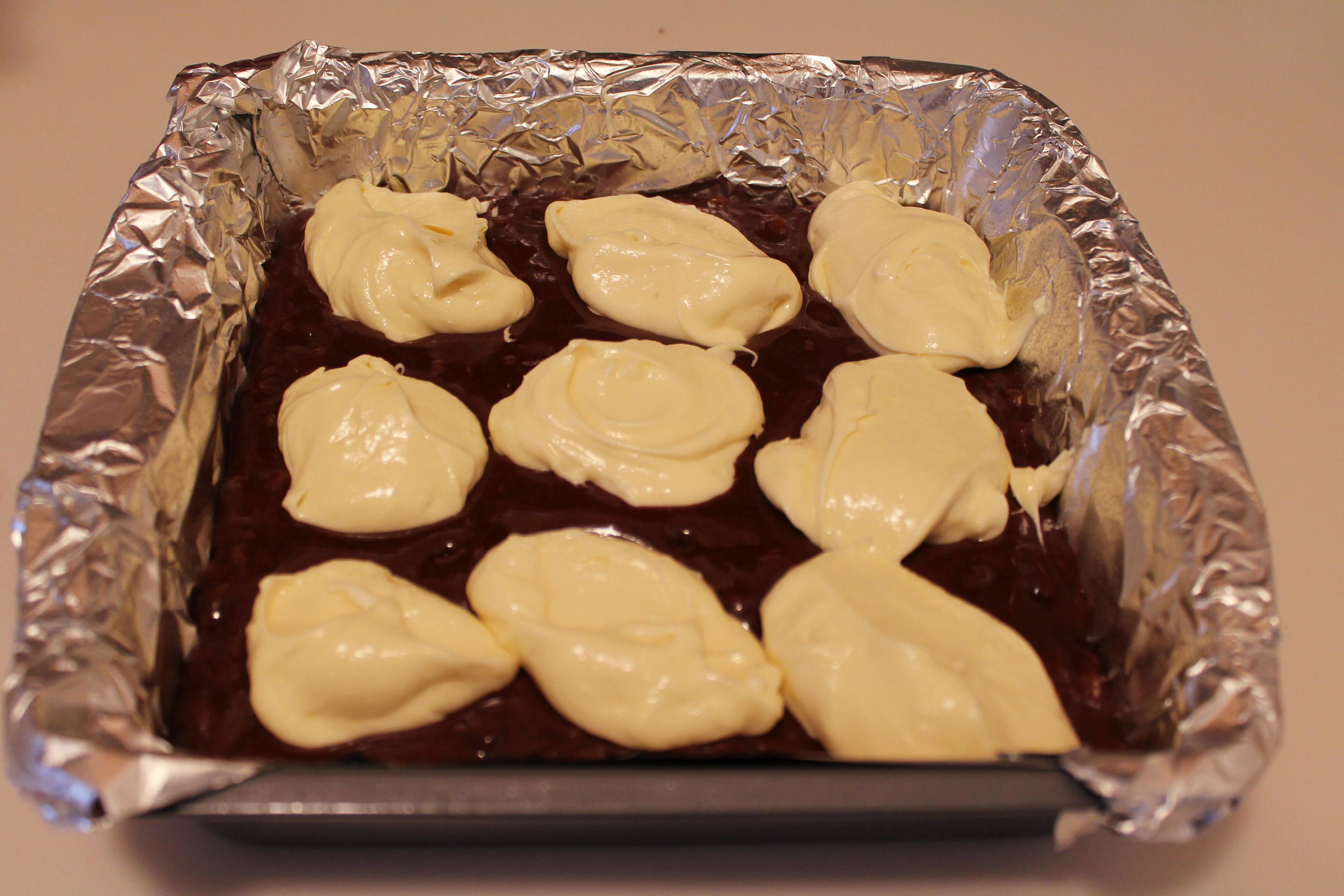 Make the cheesecake. Blend together room temp cream cheese, sugar, an egg yolk, and a splash of vanilla. Blend until it's completely smooth. You must start with room temperature cream cheese, or else it will be very lumpy, and ultimately too stiff to swirl nicely…which will result in muddy-looking brownies. Boring, and actually less tasty.
Drop the cheesecake onto the brownie batter in 9 large spoonfuls.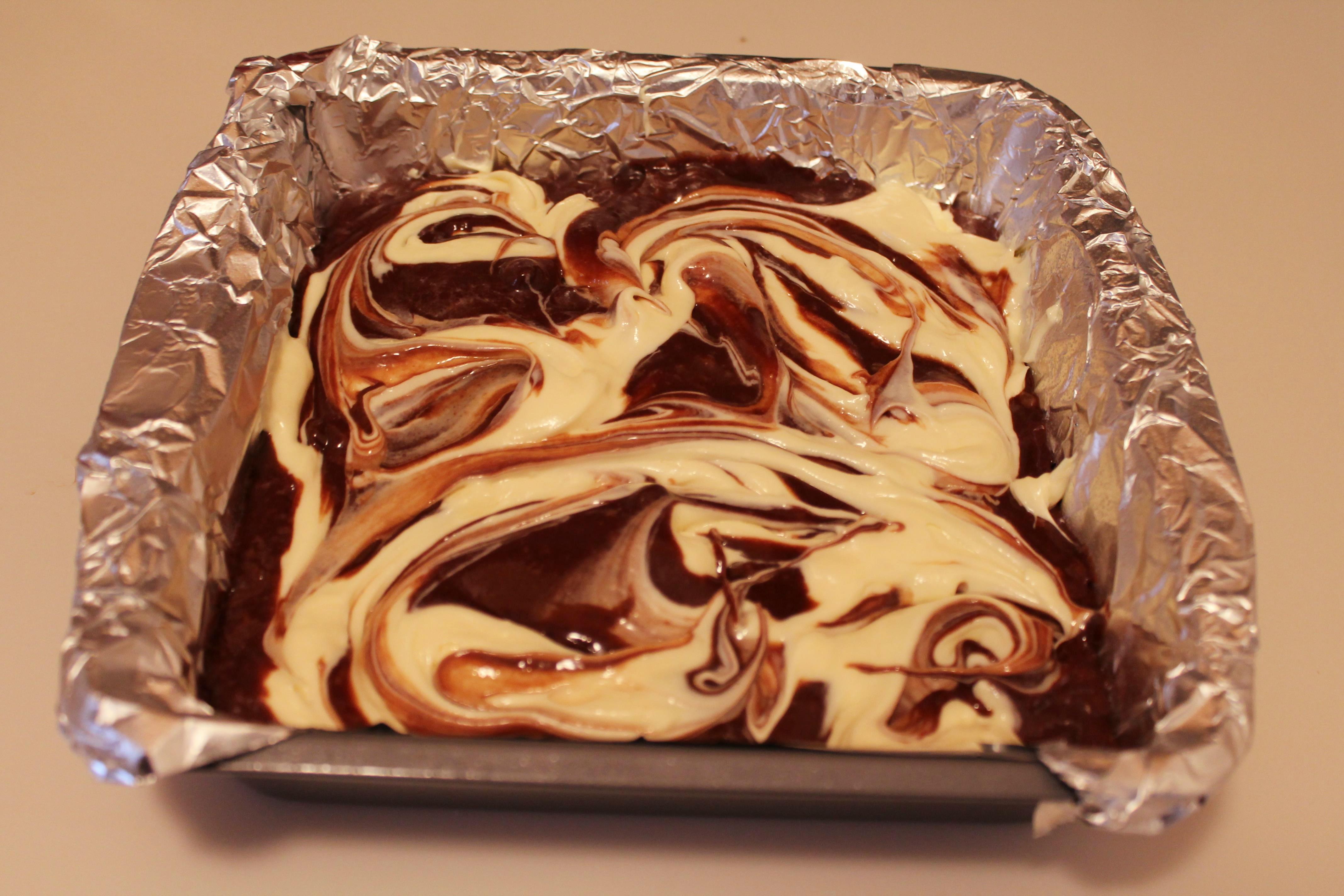 Take a small spatula (NOT a butter knife!) and boldly swirl the cheesecake with the brownie batter, making scooping motions. Don't get too carried away, because you do want there to be large layers of cheesecake throughout the brownies, and overswirling will dilute the flavors!
Bake for 35 minutes at 350°, until the center is just set. These brownies are best when very moist and just lightly golden on top.
Cheesecake Swirl Brownies
from David Lebovitz
makes 16
Brownie Ingredients:
6 tbsp. unsalted butter, cut into pieces
4 oz. bittersweet or semisweet chocolate, chopped (about ⅔ cup)
⅔ cup sugar
2 eggs, room temperature
½ cup flour
1 tbsp. cocoa powder
⅛ tsp. salt
1 tsp. vanilla extract
½ cup semisweet chocolate chips
Cheesecake Ingredients:
8 oz. low-fat cream cheese, room temperature
1 egg yolk
5 tbsp. sugar
⅛ tsp. vanilla extract
Directions:
Preheat oven to 350°. Line an 8ʺ square pan with foil and mist lightly with non-stick spray.
In a double boiler, melt the butter and chocolate, whisking until smooth. Remove from heat and beat in the sugar, then the eggs.
Mix in the flour, cocoa powder, and salt. When the mixture is smooth and glossy, add in the vanilla and chocolate chips.
Spread the brownie batter evenly in the prepared pan.
In a separate bowl, beat together all the ingredients to make the cheesecake topping.
Distribute the cream cheese mixture in 8 or 9 large dollops across the top of the brownie batter. Using a small spatula or a butter knife, roughly swirl the cheesecake into the brownie batter.
Bake for 35–40 minutes, or until the batter in the center of the pan feels just set. Test with a toothpick to make sure the center is not gooey.
Let cool, then lift out the foil and peel it away. Cut the brownies into squares.
Enjoy!