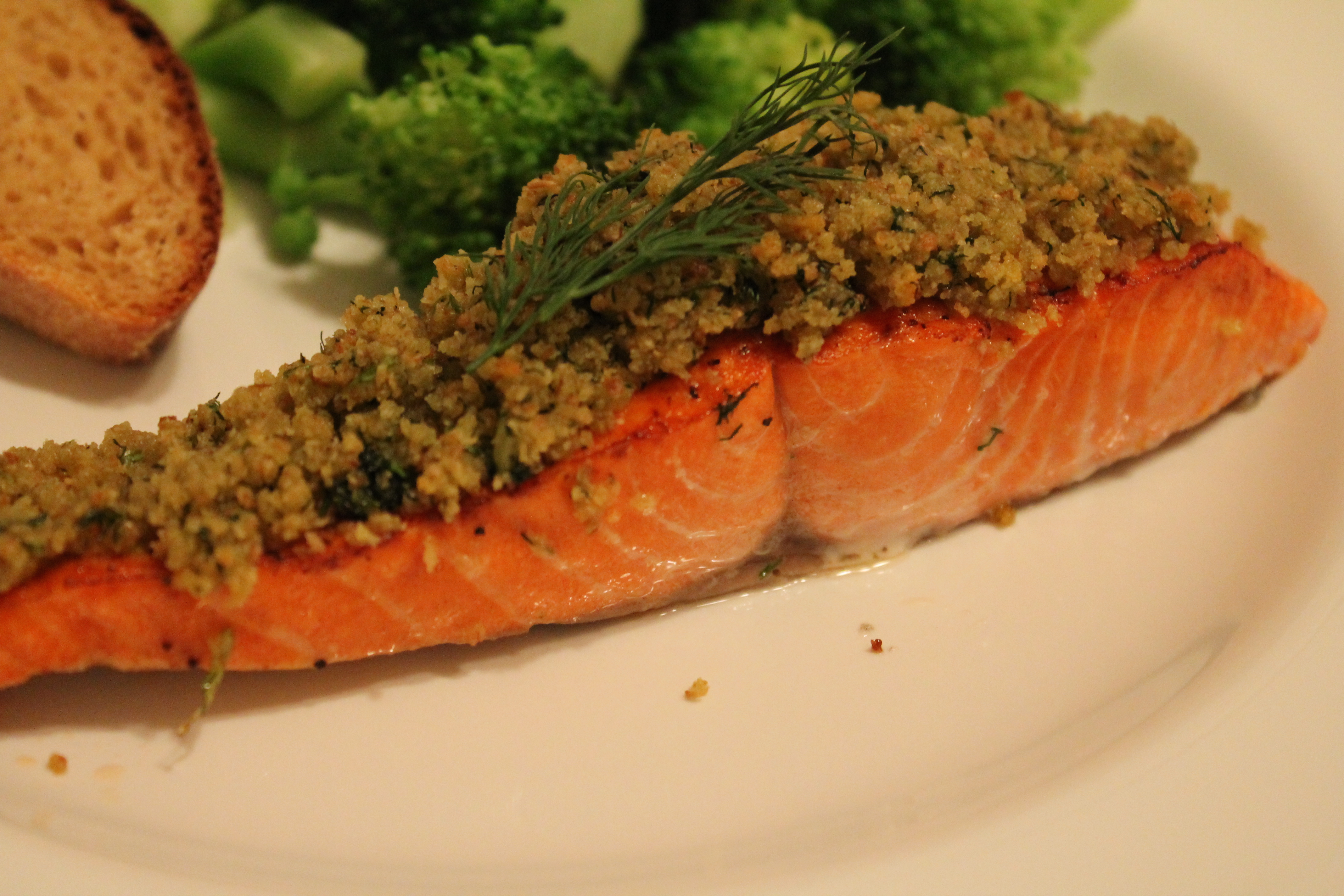 Sometimes the kitchen is a magical place. It can take an ingredient or combination of ingredients that I have never liked and transform them into something delicious that I want to eat again and again!
That pretty much exactly describes how I feel about dill, which I have never liked…not in pickles (blech) or eggs or anything else. And yet, one day I spotted a simple recipe that highlighted dill in a breadcrumb topping, and for some reason I knew I would love it.
And I did!
This dish is so easy to make.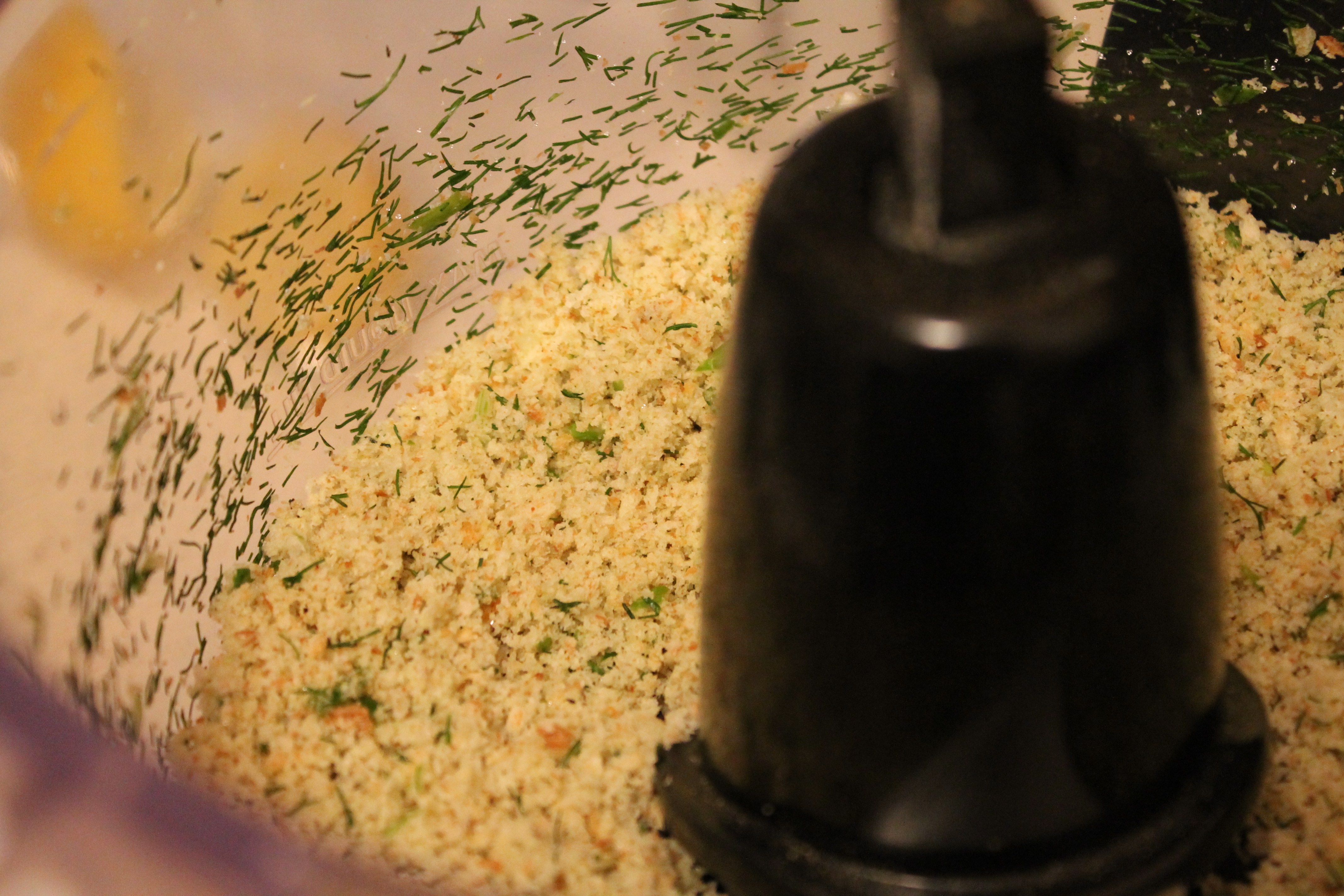 Start by making the breadcrumb topping. You can use any kind of bread you'd like. I used 2 slices of Nature's Own Honey Wheat, because it's what I had, but I think whole grain breads would also be great. Just use a nice, soft bread that will make nice, lush breadcrumbs.
Rip up the bread and toss it into a food processor. Pulse until evenly sized crumbs form. Toss in 2 scallions and a large palmful of fresh dill. Season with salt and pepper. Pulse again.
Drizzle in melted butter and lemon juice. If you need to go dairy-free, of course you can use olive oil! Pulse a few times to incorporate the liquid. The mixture should look like damp sand.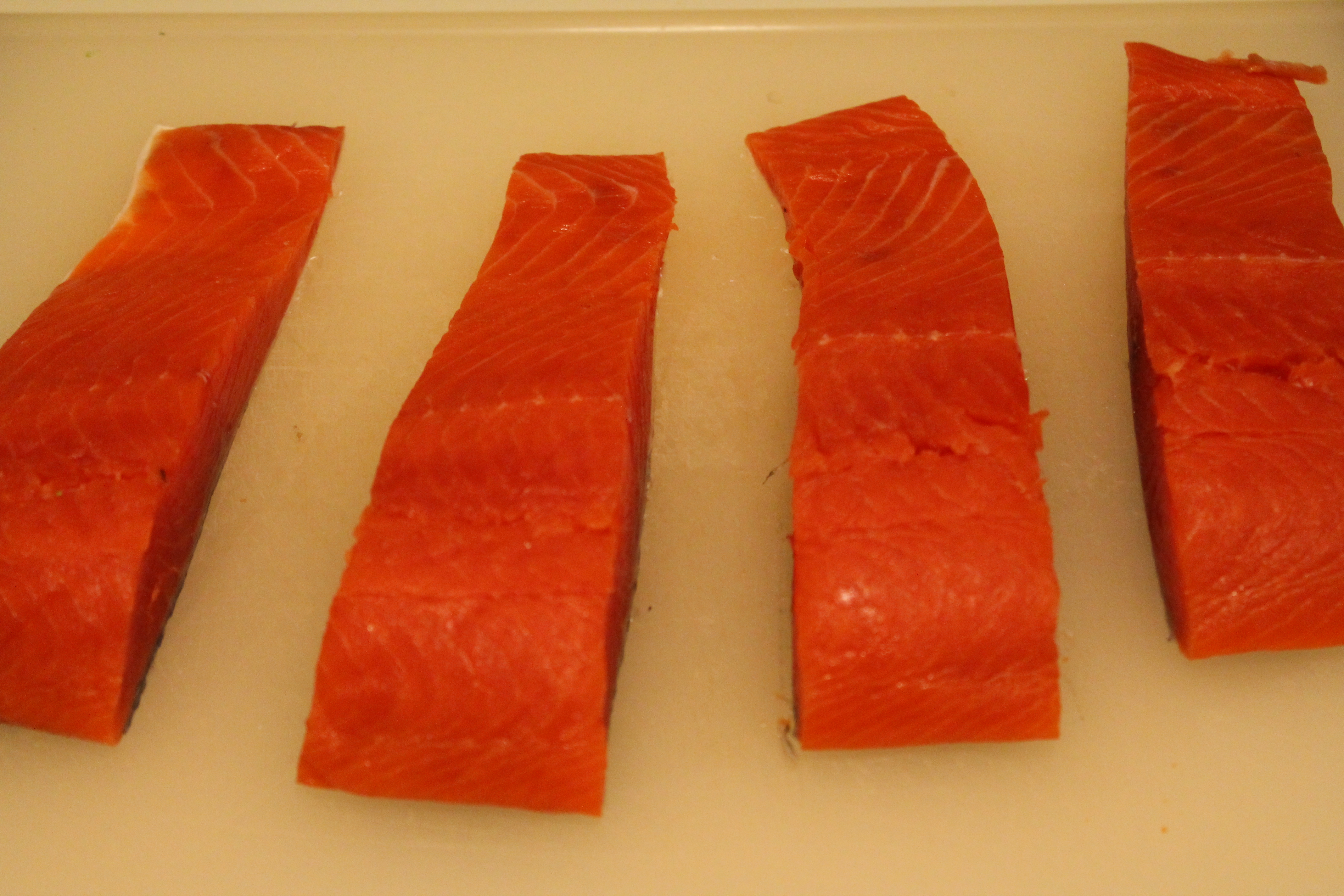 Cut up your salmon flank. I prefer long, skinny fillets for this dish, but you can cut your salmon however you'd like! There is no need to skin the salmon, unless you like the challenge; it will just slide right off the salmon once it's cooked. Pat the fillets dry. This will help them brown well. Season lightly with salt and pepper.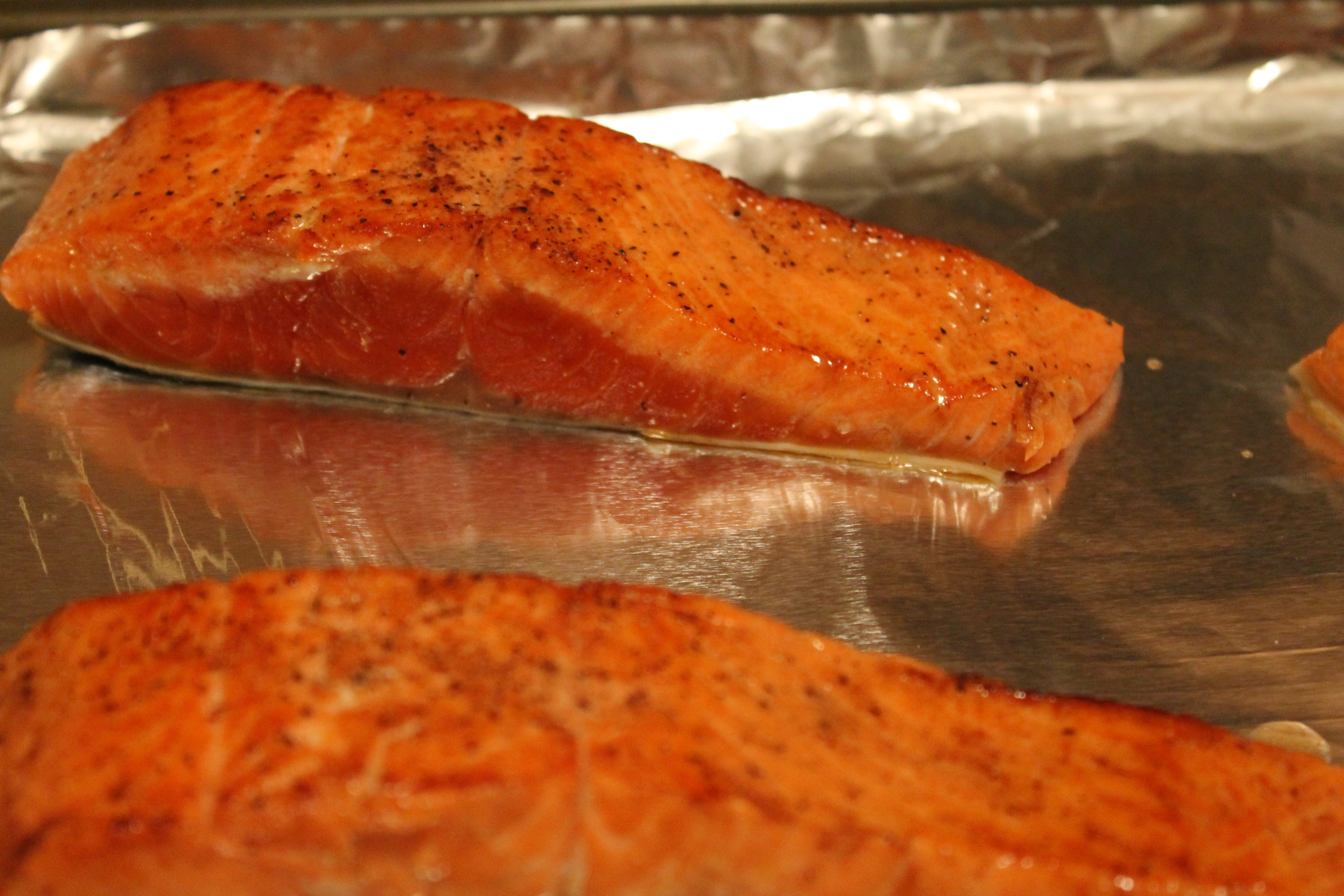 Heat 1 tbsp. butter in a skillet. Lightly sear the fleshy side of the salmon for about 2 minutes.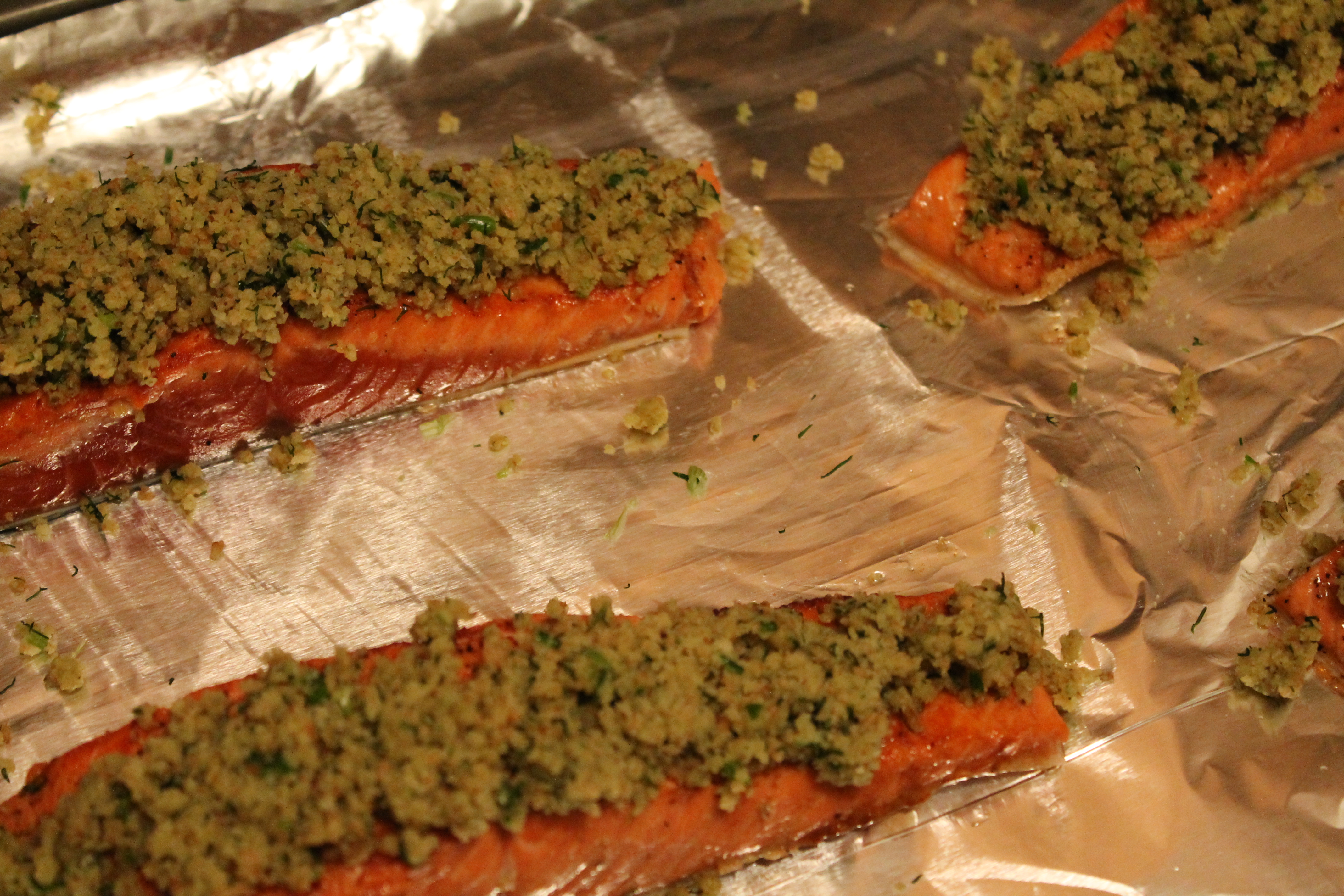 Transfer the fillets to a foil-lined baking dish, skin side down. Top each with a quarter of the dilly breadcrumbs.
Bake for 8 minutes at 400°, until the thickest part of the fish flakes easily with a fork.
Dilly Crumb-Topped Salmon
lightly adapted from Five Ingredient Fix
serves 4
Ingredients:
2 slices sandwich bread
salt and black pepper
2 tbsp. fresh dill
2 scallions, roughly chopped
2 tbsp. melted butter
1 tsp. fresh lemon juice, plus extra
1 tbsp. cold butter
4 6oz. salmon fillets
Directions:
Preheat oven to 400°.
Pulse the bread in a food processor to make fresh crumbs. Lightly season with salt and black pepper, then add in the dill and scallions. Process until the dill is well mixed in. Pour in the melted butter and lemon juice. Process until wet, crumbly clumps form.
Pat the salmon dry, then season tops lightly with salt and pepper.
Melt the cold butter in a large skillet over medium heat. Sear the salmon, seasoned side down, for 2 minutes.
Transfer salmon to a foil-lined baking dish, skin side down. Top each fillet with the dill breadcrumbs.
Bake 8–10 minutes, until flesh flakes easily with a fork.
Enjoy!