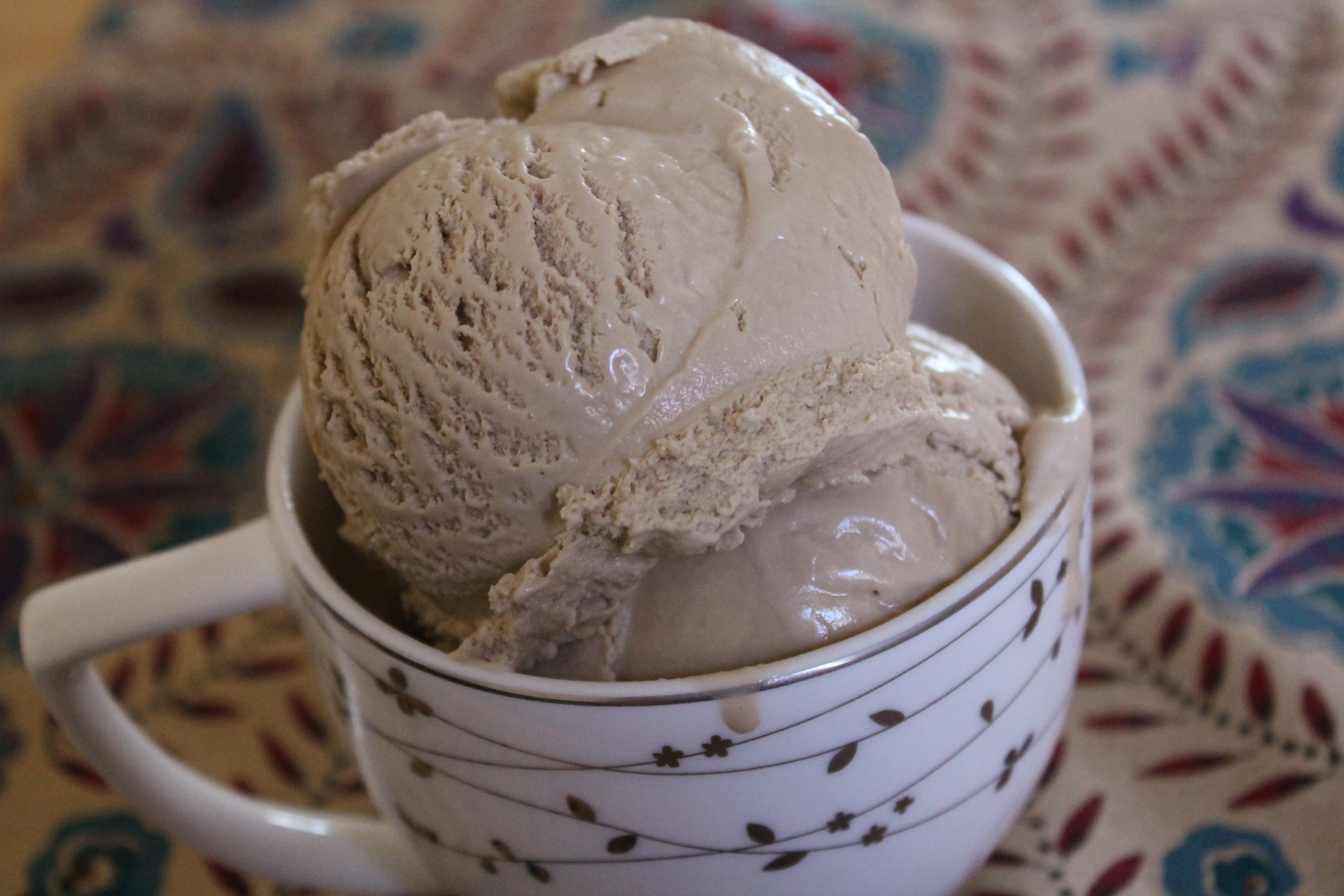 Smells Like Brownies is turning 2! It's so hard to believe that it's been two years since I finally got up my nerve to type my first blog post. So, to celebrate, let's make some amazing espresso ice cream!
This ice cream tastes just like a latte. It has an incredibly rich coffee flavor, creamy and just barely sweet.
Anyone who knows me knows that is a major must…I am a very heavy coffee drinker, sometimes to the tune of a cup an hour from dawn til dusk (yikes, that's way too much caffeine, right?). I am not at all a coffee snob, but I always drink it black.
Coffee is one of the only things in my life that must never be sweetened. In my opinion, sugar (and, come to think of it, flavored syrup of any kind) completely ruins a great cup of coffee. It's not that I like my coffee super strong or anything, though I admit a certain sense of pride whenever someone asks if I want room and I say no. It's just that the bold, slightly bitter flavor of coffee is perfect as it is. So, to me, this ice cream is absolutely perfect!
(And don't worry if you like your coffee with half a cup of sugar poured in…this ice cream appeals to everyone I've served it to!)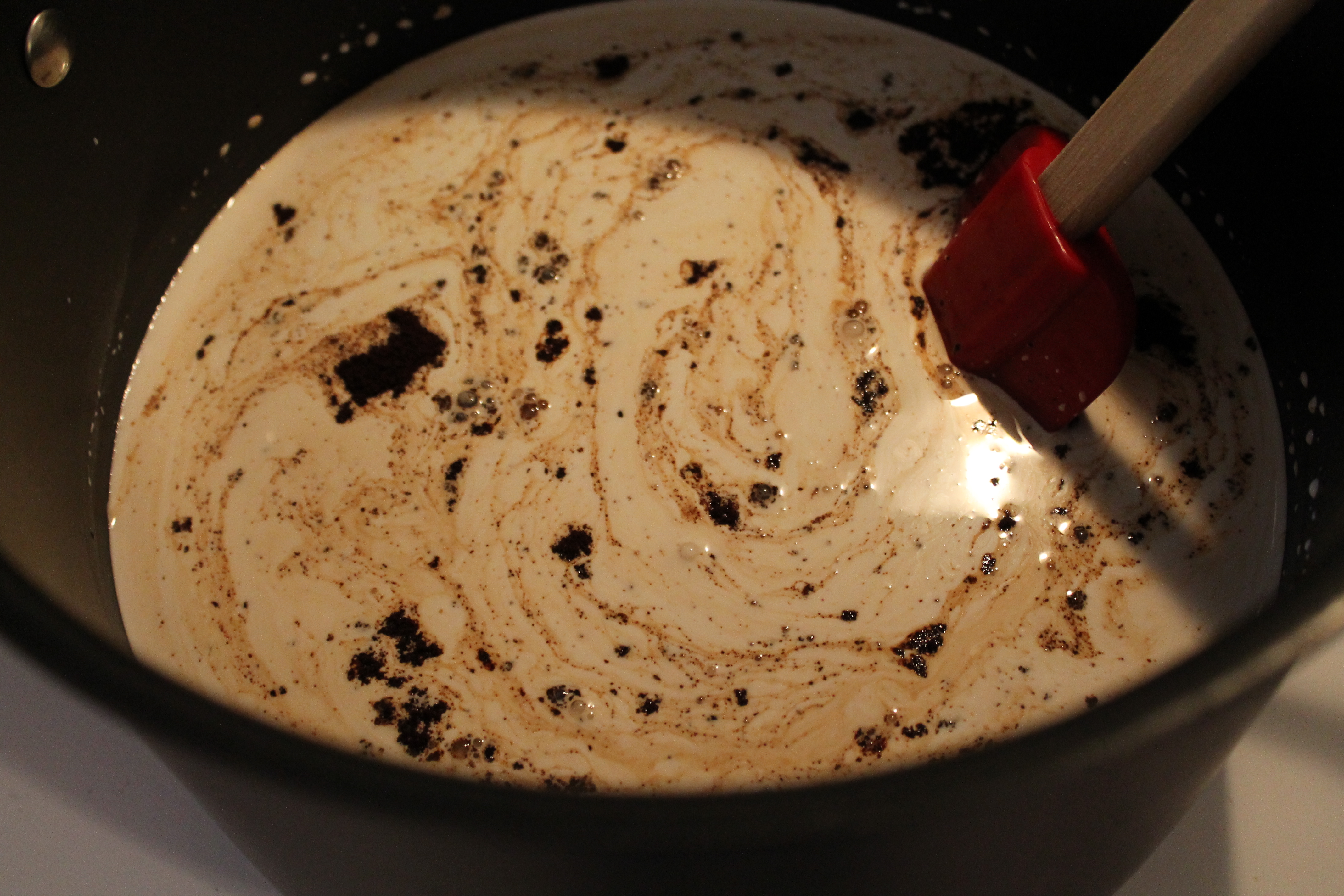 First, we heat our cream and milk with the sugar, espresso powder, and instant coffee granules. Stir continuously to prevent the cream from burning on the bottom. Holy moly, the kitchen smells amazing!
(By the way, in case you are alarmed by the volume of liquid in these pictures…I was making a double batch for my sister-in-law to use in an ice-cream cake! The recipe below is for a single batch, which makes 1 quart of ice cream.)
Once your cream mixture comes to a simmer, remove it from the heat.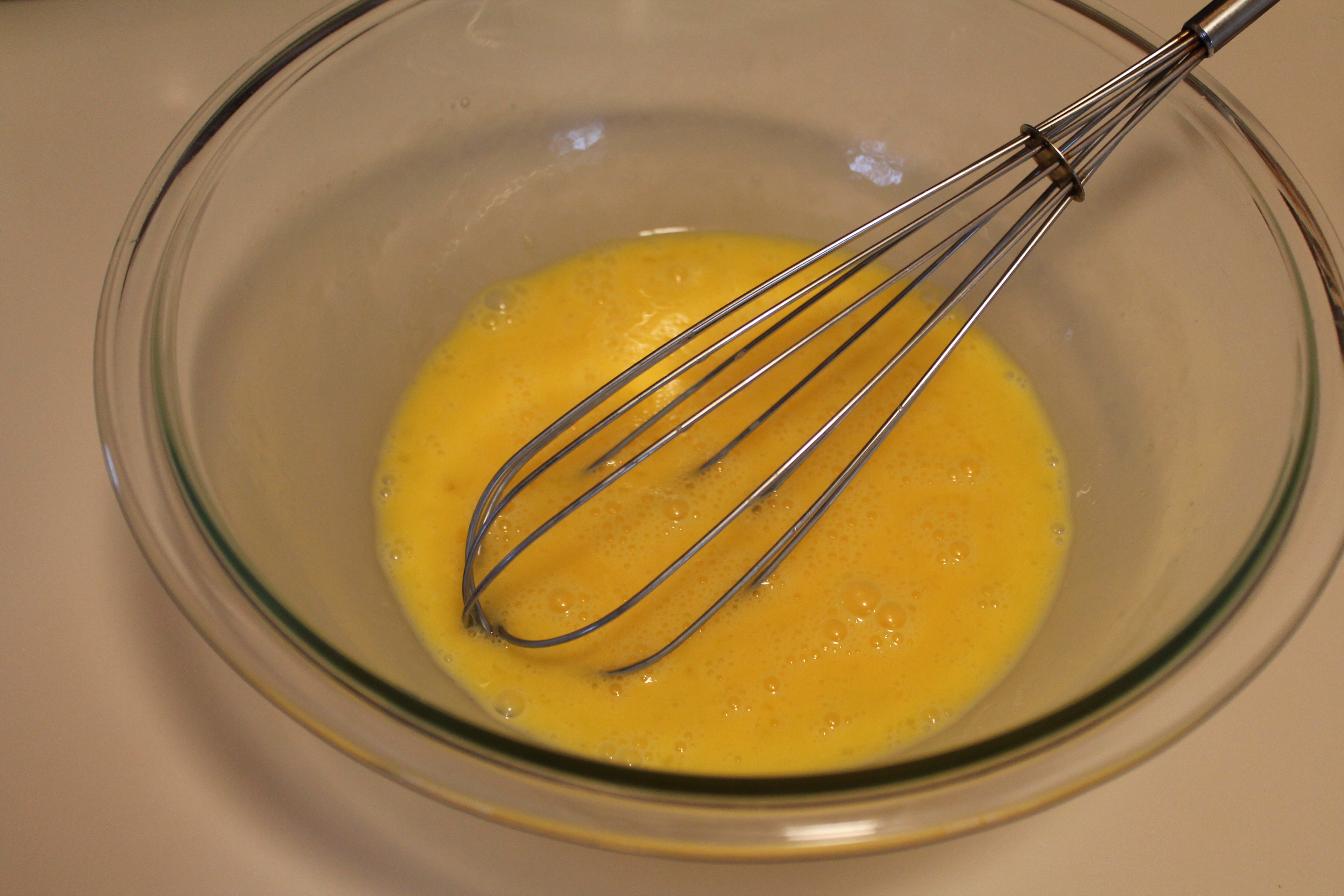 Meanwhile, whisk together 3 eggs. Yes, we are going to use whole eggs in this recipe! It's slightly less rich, but it's also a bit less challenging, in that you won't have any egg whites hanging around in your fridge when all is said and done.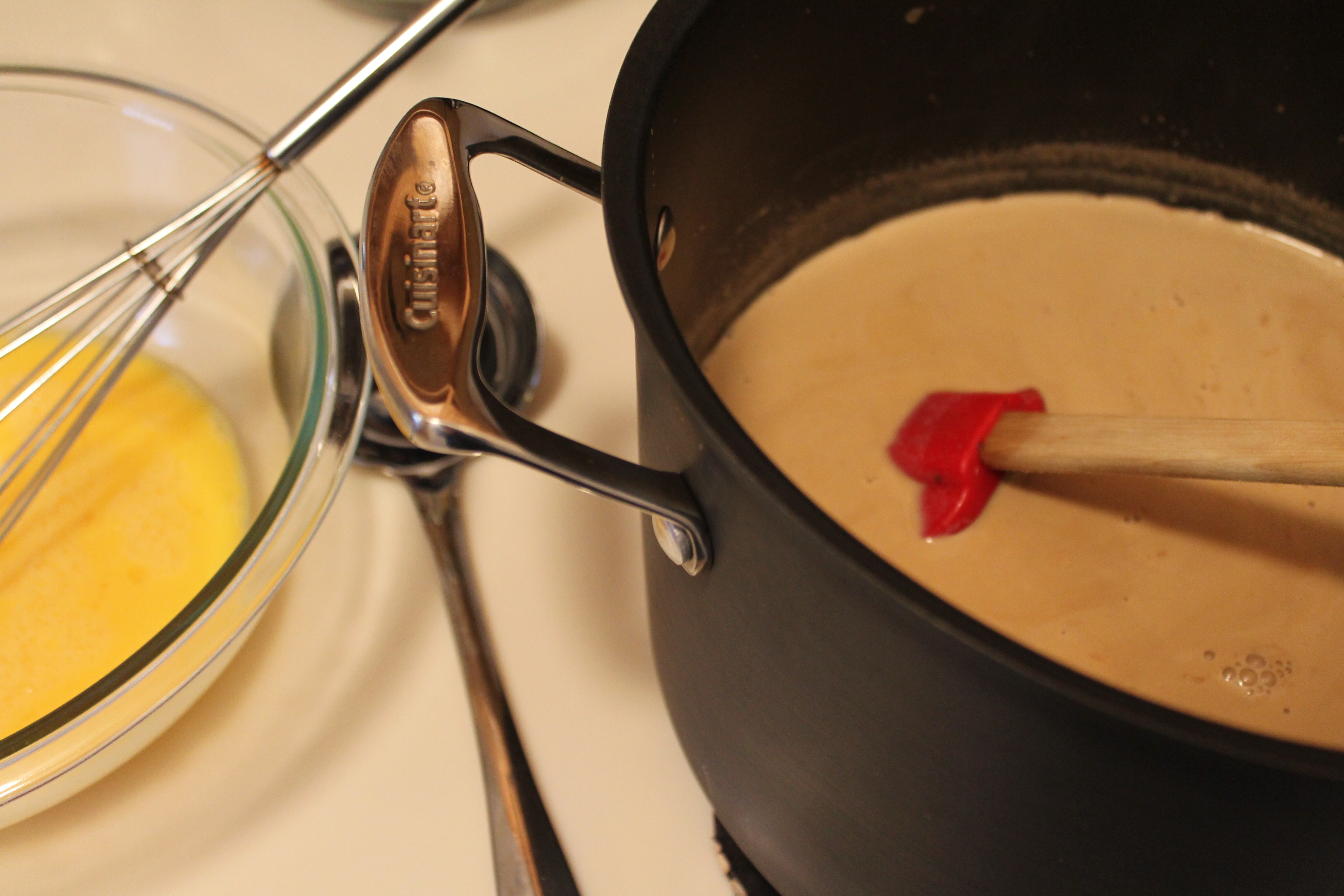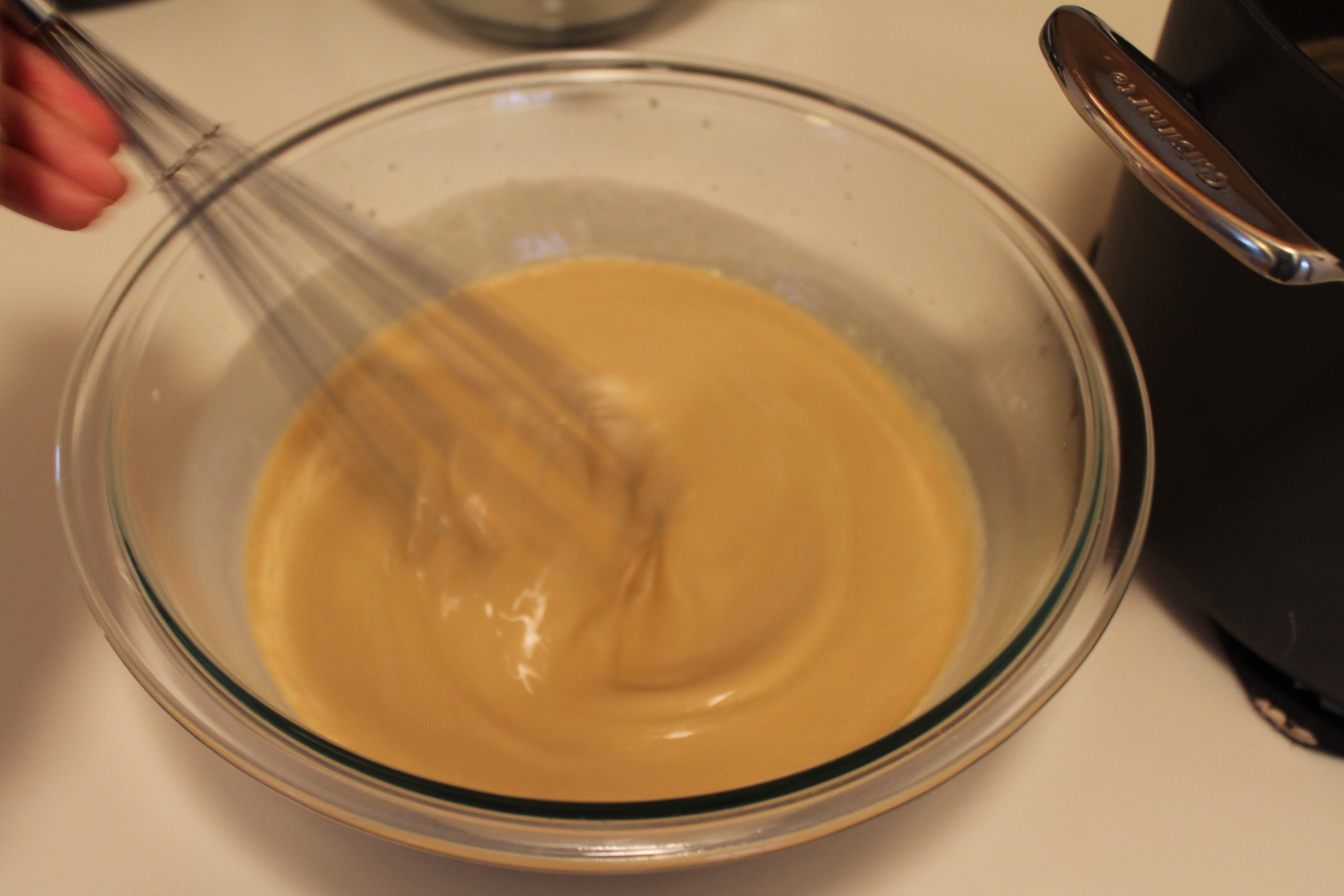 Carefully temper your eggs. Very slowly, while whisking vigorously, pour about 1 cup of the hot cream mixture into the eggs. This allows the eggs to heat gradually and (hopefully) not cook.
Now you can pour the hot eggy cream back into the main cream mixture, again whisking to help incorporate the eggs without cooking them.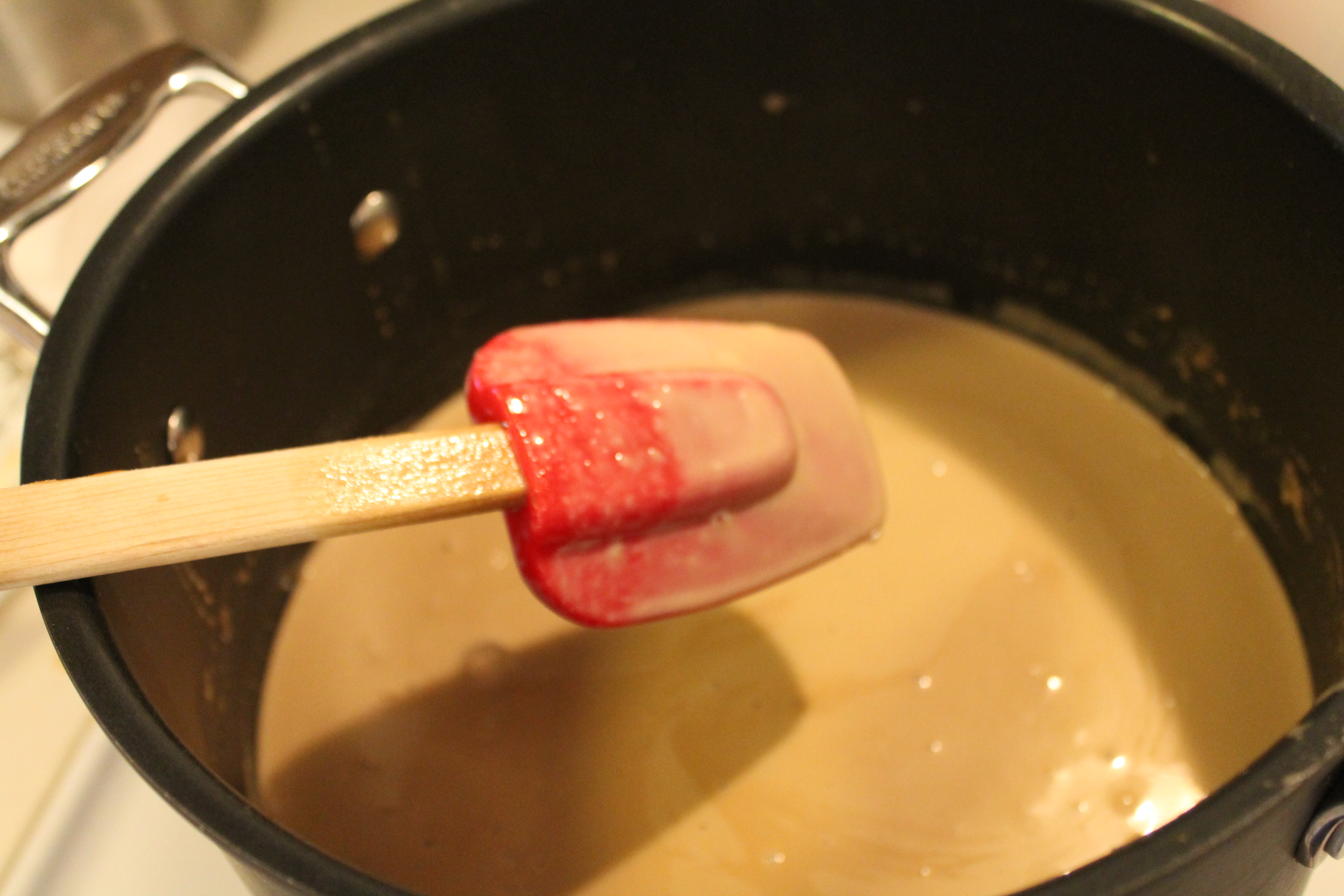 Return the pot to the heat and stir about 5 minutes with a spatula or wooden spoon. When the batter has thickened enough to coat the back of the spatula, remove it from the heat.
Pour the ice cream through a fine mesh strainer to catch any wayward bits of egg that overheated.
Place a sheet of plastic wrap directly against the hot batter to prevent a skin from forming. Chill in the fridge for 2 hours.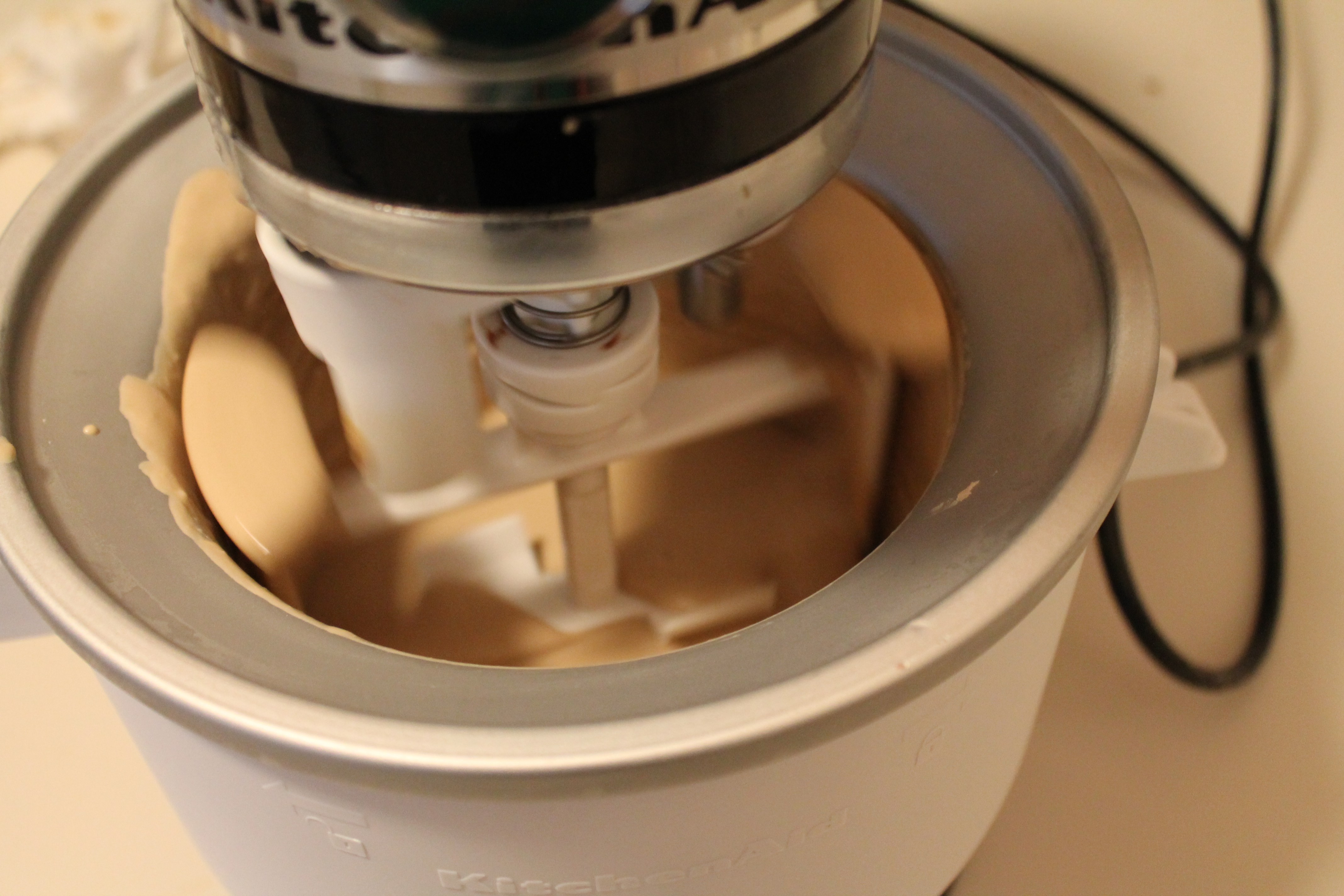 When you are ready, churn the ice cream! Don't forget that many ice cream makers require almost a day of lead time in the freezer! In my case, I had to make half of the ice cream one day and half the next, since I was trying to do a double batch. An insufficiently chilled ice cream maker simply won't churn the batter into a luscious, thick ice cream…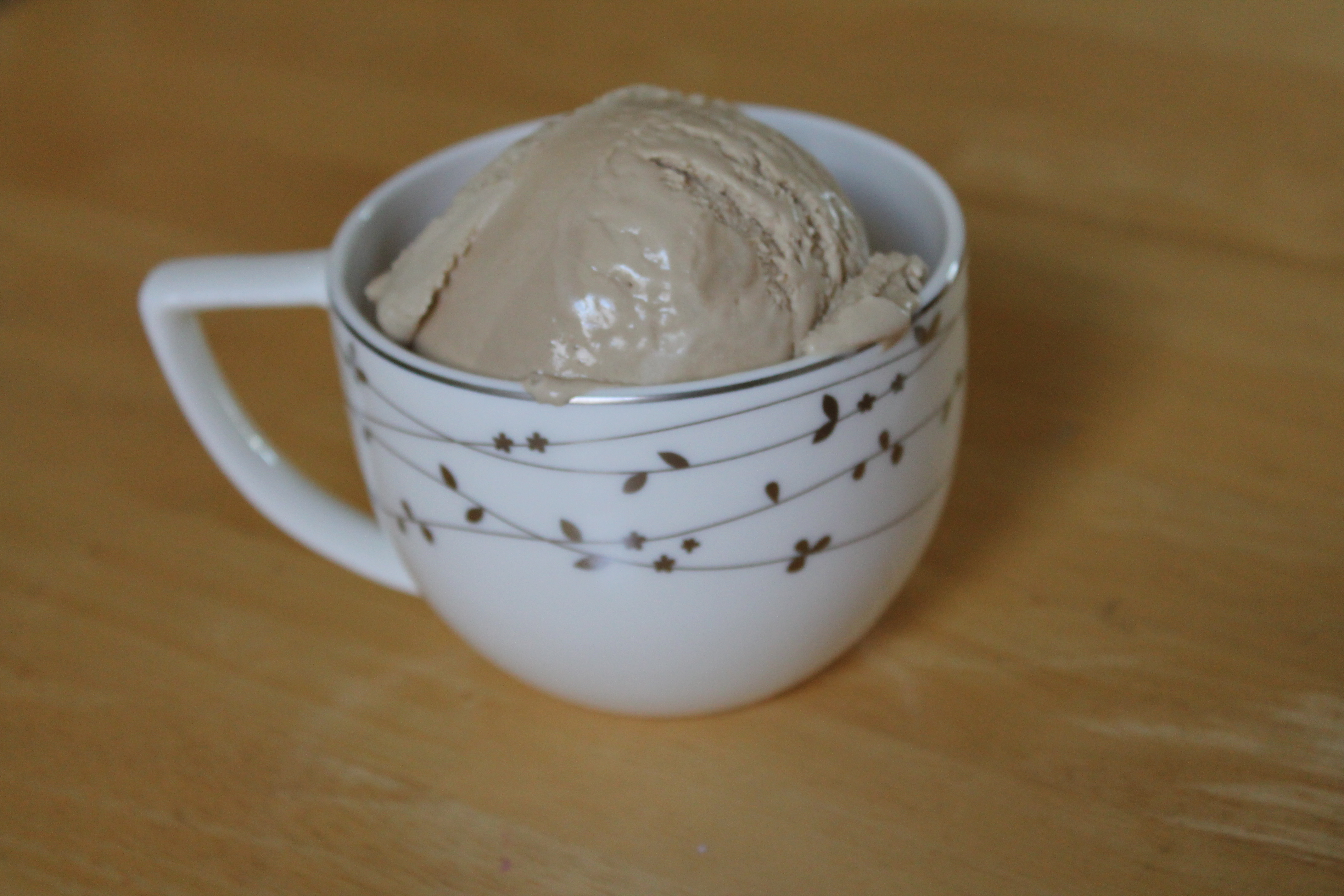 Store the ice cream in a shallow container in the freezer for at least 1 hour before eating. Homemade ice cream freezes a bit harder than store-bought ice cream, so you may need to sit it on the counter for 10 minutes or so before you scoop it. (Or longer, if you intend to spread it inside a delicious chocolate cake! Yum!)
Espresso Ice Cream
adapted from Emeril Lagasse
makes 1 quart
Ingredients:
2 cups heavy cream
2 cups whole milk
¾ cup sugar
1 tbsp. instant coffee granules
1 tbsp. instant espresso powder
3 eggs
Directions:
Combine the heavy cream, milk, sugar, and coffees in a medium, heavy-bottomed saucepan. Bring to a gentle boil over medium heat. Remove from the heat.
Beat the eggs in a medium bowl. Whisk 1 cup of the hot cream mixture into the eggs. Gradually add the egg mixture in a slow, steady stream to the hot cream.
Cook over medium-low heat, stirring occasionally, until the mixture thickens enough to coat the back of a spoon and reaches 170° on an instant-read thermometer, about 5 minutes.
Remove from the heat and strain through a fine mesh strainer into a clean container. Cover with plastic wrap, pressing down against the surface to prevent a skin from forming.
Chill the ice cream batter thoroughly in the refrigerator at least 2 hours.
Churn the ice cream about 20–30 minutes, according to your ice cream maker's instructions.
Transfer to an airtight container and freeze until ready to serve, at least 1 hour.
Enjoy!
1 year ago on SLB: Rotini with Asparagus and Goat Cheese
2 years ago on SLB: Brown Butter Chocolate Chip Cookies