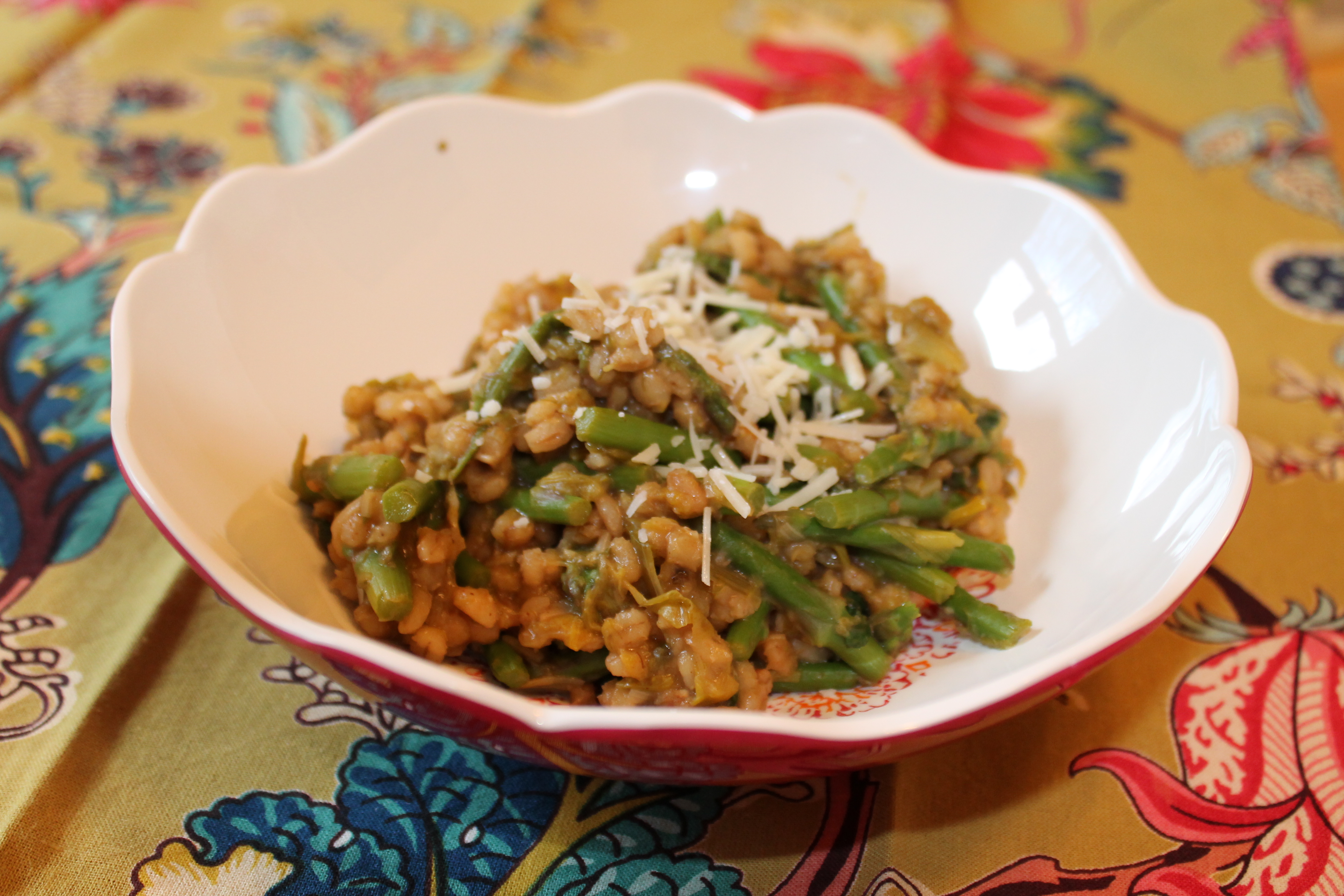 At last, at last! Asparagus is in season!
Do you know how wonderful spring is to me? Don't get me wrong…I have a somewhat masochistic enjoyment of the gloomy gray end of winter. But I am so excited to welcome back the most wonderful of all vegetables: asparagus.
(Side note: Did you know that Germans are so pleased by the beginning of spring that they celebrate with festivals devoted entirely to asparagus? Also, how excited am I that the farm we joined for our CSA this year is doing it up asparagus-style for Mother's Day!?)
So my friend Sarah of Well Dined and I conspired to make you a great lunch full of asparagus and creamy, chewy barley. It takes about an hour to put together, but it's super healthy and delicious. Don't be afraid of barley! It's a whole grain full of fiber and antioxidants, and because it's so low on the glycemic index, it can actually help lower blood sugar, yay!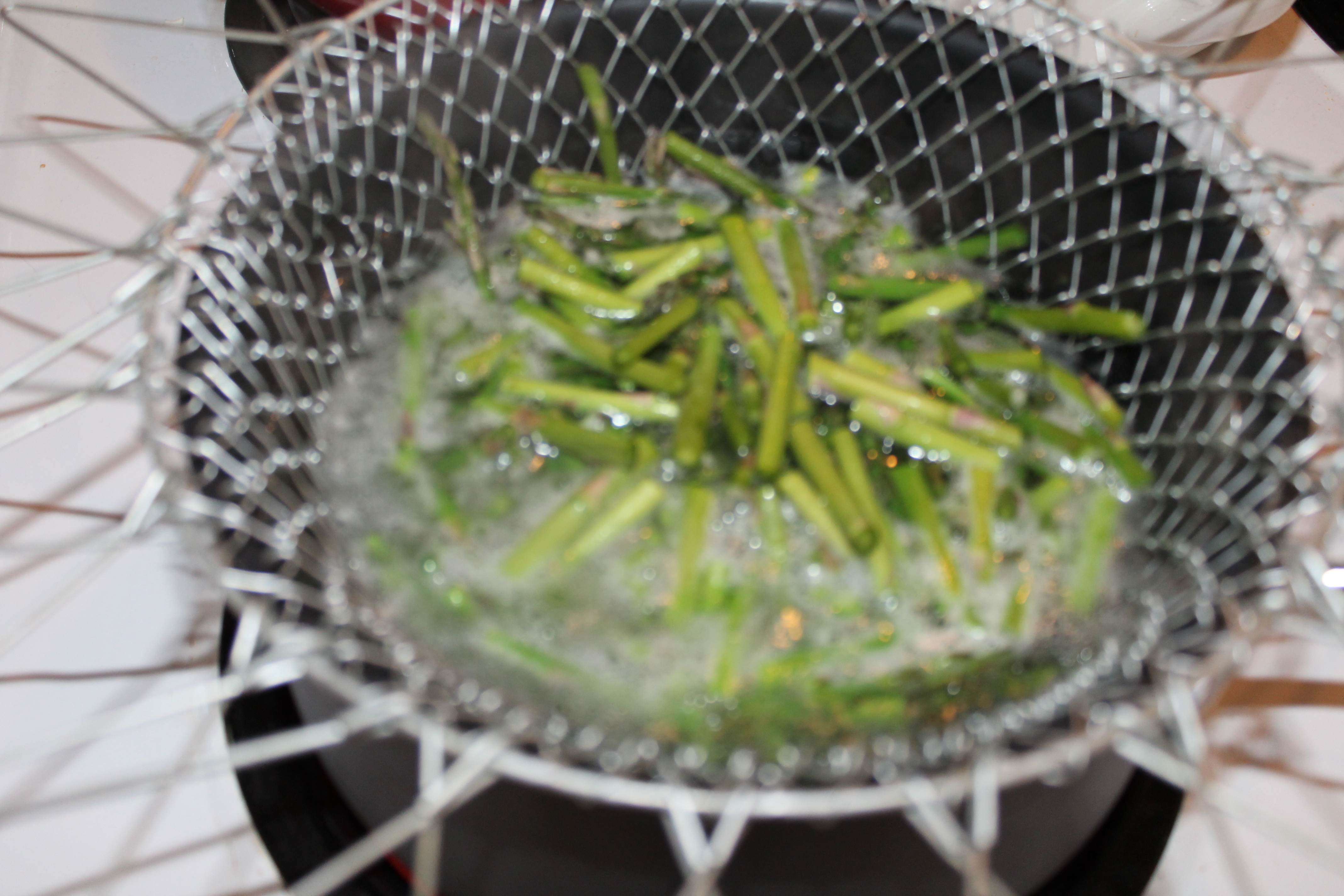 Start by blanching your asparagus (boil it for 2 minutes). The crazy contraption in my photo is a steamer basket I inherited from my grandmother, but you could just as easily pour the blanched asparagus into a colander. As soon as you have drained the asparagus, plunge it into a bowl of cold water to stop it cooking any further.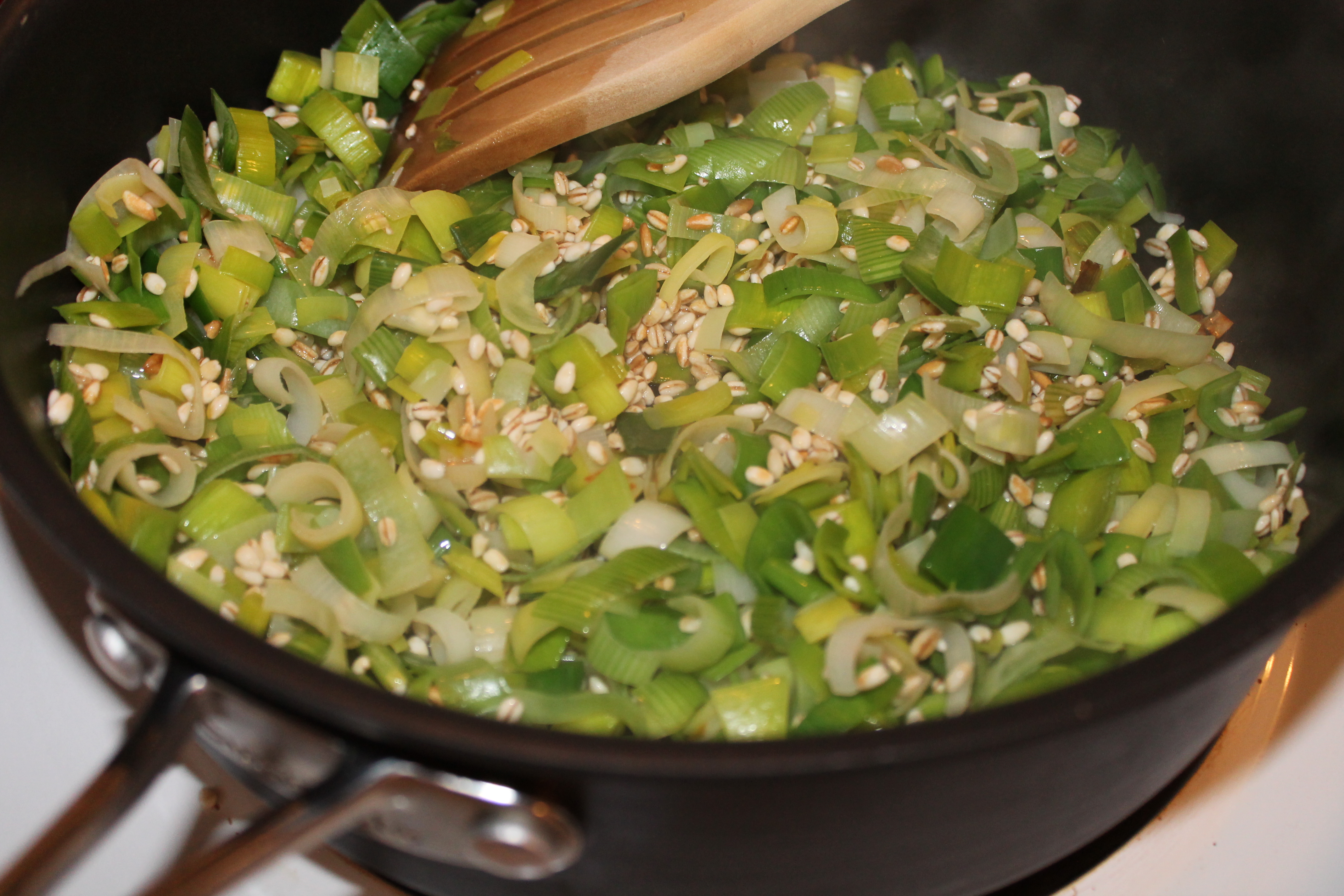 Next, sauté the leeks until they are beginning to soften and have cooked down to about half their original volume. Next time I am just going to give these a quick shake and immediately add the barley, because I would have liked the leeks to have more of a presence in the final product.
Add in the barley and stir to coat with oil.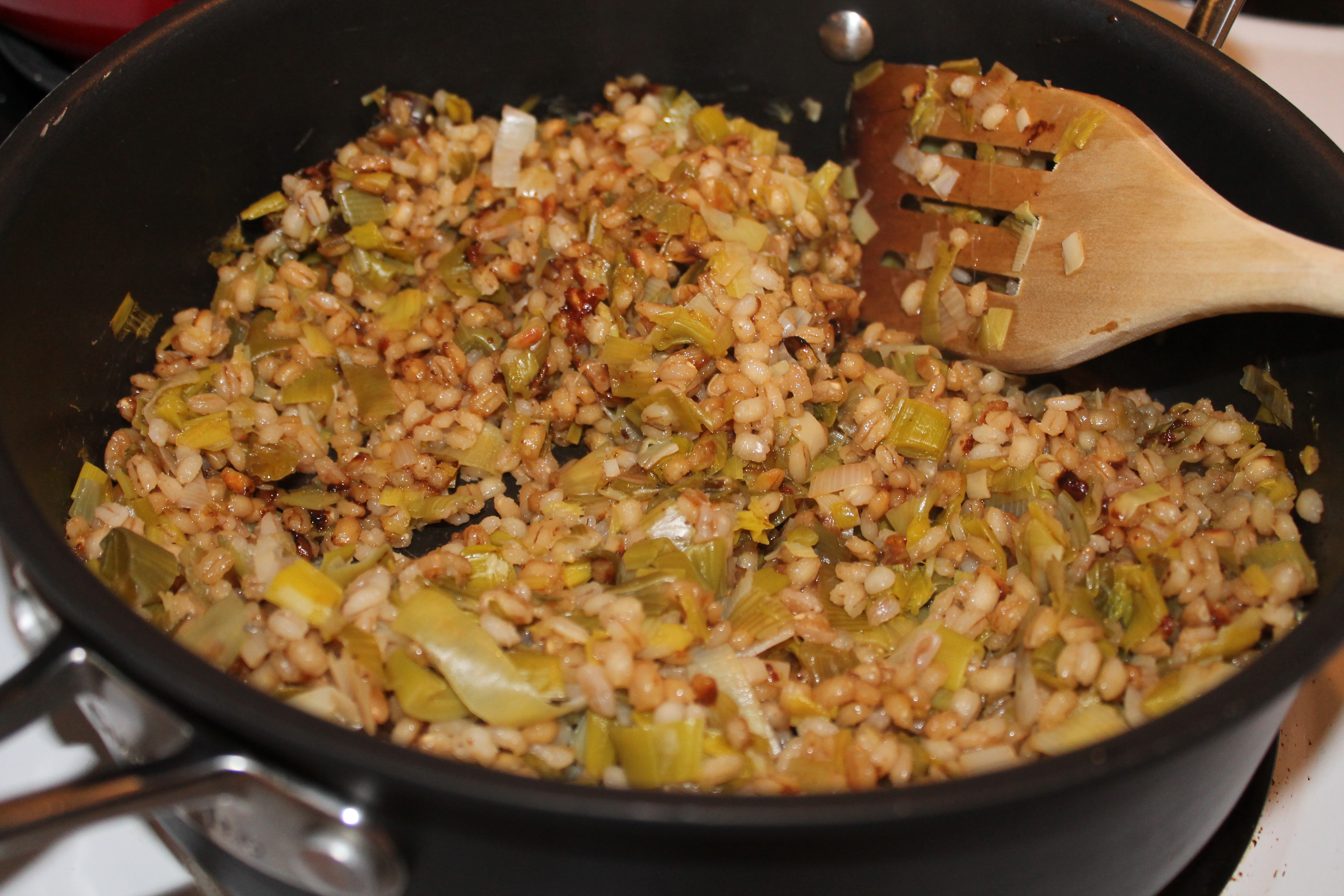 Stir in your wine. I used a sweet white, but you can use whatever you want. Or, if you don't want to open a whole bottle of wine just to use a quarter cup in your recipe, you could just go for water. But I won't judge you if you decide to go for it and then pour yourself a glass of wine to help you cook…
Add in the water. Cook over low heat for 35–45 minutes, covered. At least, that's what the recipe says. After doing this, I have concluded that you should, in fact, stir this occasionally, unless you want the bottom to be very crusty. That's not exactly my cup of tea, so next time I will be stirring!
Test the barley. If it's still crunchy in the center, add some more water and keep going. We added 1 cup water and stirred until it was absorbed, mainly to counteract the effect of the stir-free simmer.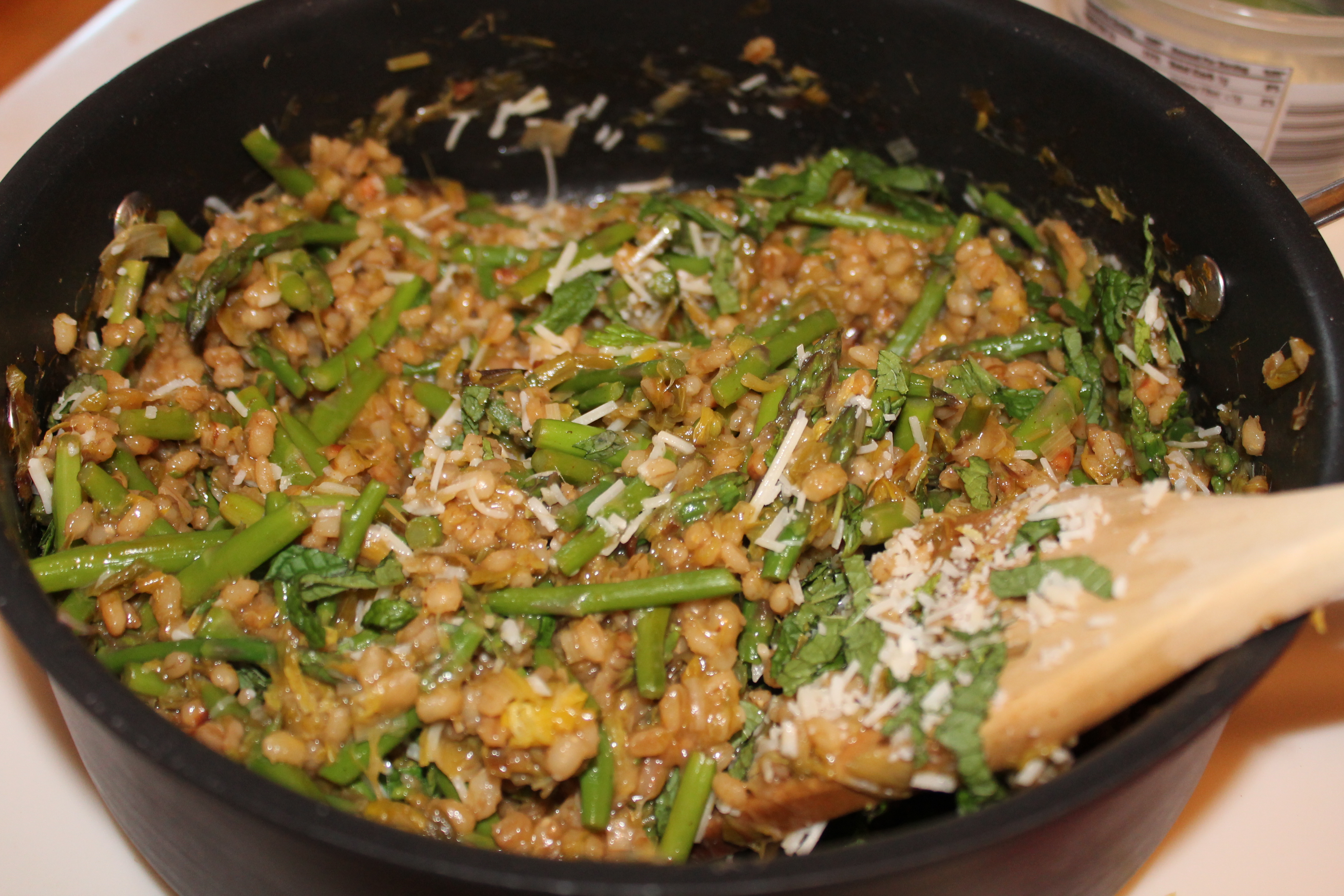 Add in the asparagus and stir for a few minutes to incorporate. Remove the pan from the heat and stir in 3 tbsp. parmesan, lemon zest and juice, mint, and pepper. Taste and adjust seasonings as needed. A bit of extra lemon juice never killed anyone!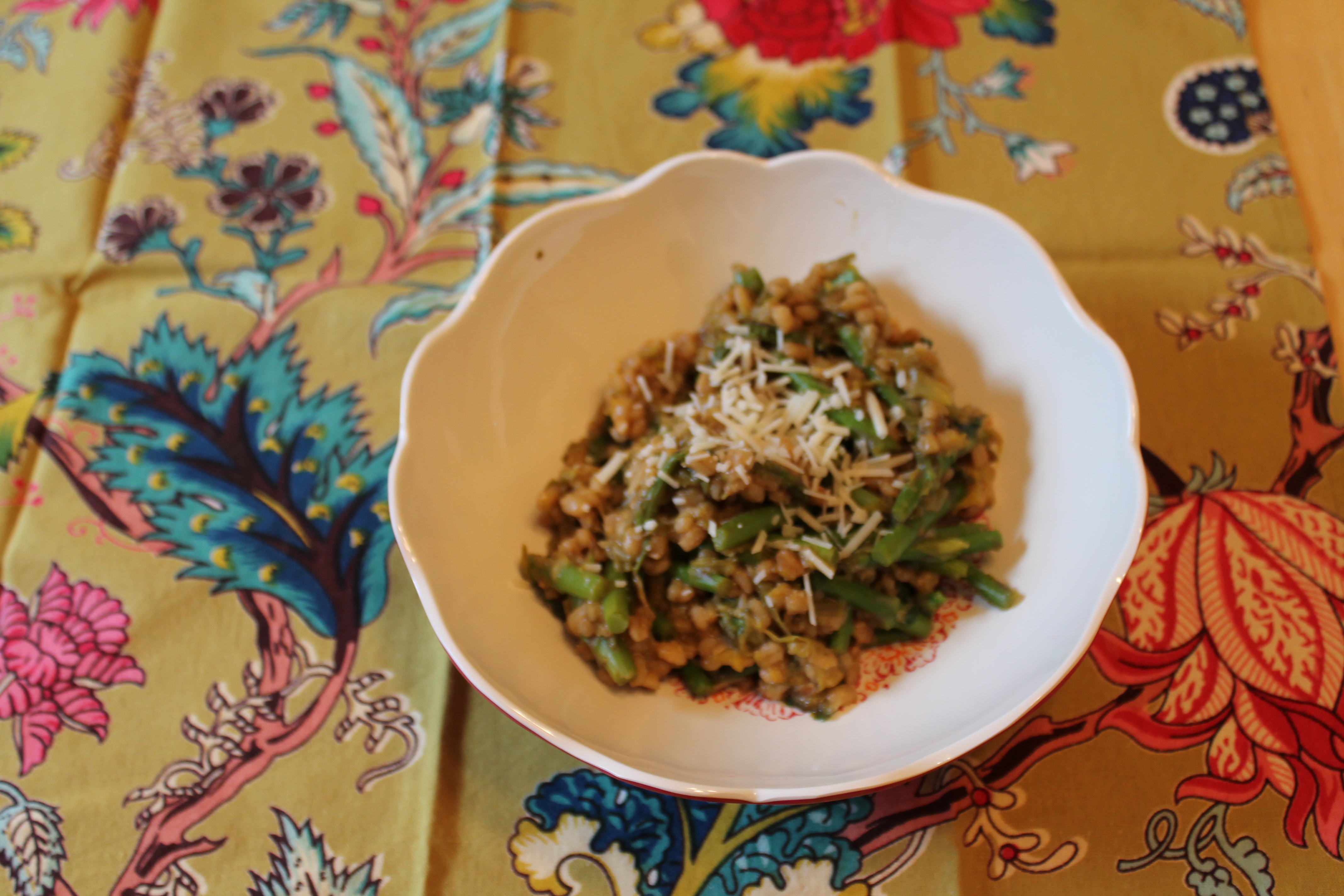 Spoon into serving bowls and top with extra parmesan. Yum.
Barley Risotto with Asparagus
adapted from The Master Your Metabolism Cookbook
serves 4
Ingredients:
1 lb. asparagus, trimmed and cut into 1″ segments
1 tbsp. olive oil
2 cups thinly sliced leeks (white and green parts)
1 cup dry pearled barley
½ cup white wine
3 cups water, divided
½ tsp. salt
3 tbsp. shredded parmesan, plus extra
zest of 1 lemon
juice of 1 lemon
¼ cup slivered fresh mint
⅛ tsp. black pepper
Directions:
Blanch the asparagus for 2 minutes. Immediately plunge into cold water to stop the cooking. When cool, drain and set aside.
In a large saucepan, heat the olive oil over medium heat. Add the leeks and cook, stirring, for 1 minute. Add the barley and stir to coat with oil. Cook, stirring occasionally, for 2 minutes.
Stir in the wine and cook until it is absorbed.
Add 2 cups water and bring to a simmer. Reduce heat to low and cover. Let the barley simmer gently, stirring occasionally, until water is absorbed and the barley is tender, about 35–45 minutes.
Add salt. Gradually stir in the remaining cup of water. The barley should be tender to the bite. Remove the pan from the heat and add in the asparagus, 3 tbsp. parmesan, lemon zest and juice, mint, and pepper. Taste and add more lemon juice and pepper to taste.
Divide the barley among four bowls. Sprinkle with extra parmesan and serve.
Enjoy!
One year ago: Butter Buddies
Two years ago: Nana's Blondies